10 Best Pregnancy Books Reviewed in 2019
last updated
Jul 10, 2019
For nine months, you will be growing a human inside of you. In order to make sure you are providing your little mini-me with everything they need while in the womb, you're going to have to crack open a few pregnancy books. In addition to providing you with information on caring for your baby, the books will also help you understand how your body will be changing and how to overcome the most dreadful pregnancy symptoms. There are thousands and thousands of pregnancy books available for soon to be parents. We figured the news of being pregnant was overwhelming enough so we created a list of the ten best pregnancy books to help you on your journey. Many of the authors are professionals and some are even parents themselves. Whichever book or books you decide to buy, we're confident that they will fully prepare you for parenthood.
In a Hurry? The test winner after 35 hrs of research
What to Expect When You're Expecting
Why is it better?
Considered the pregnancy bible of America
Is read by more than 93% of all pregnant women
Packed with plenty of tips, insight, and advice
Hundreds of questions are answered
Contains medical and lifestyle topics
In a
Hurry? Editors choice:
Test Winner: What to Expect When You're Expecting
19
Researched Sources
35
Hours Researching
18
Products Evaluated
Educational Value
Accuracy
Emotional Development
Value
By Default
In Depth Review Top 10
What to Expect When You're Expecting
Belly Laughs 10th Anniversary Edition
Dude You're Gonna Be A Dad
Expecting Better
The Mama Natural Week-By-Week Guide
Taking Charge of Your Fertility
The Impatient Woman's Guide
Pregnancy, Childbirth, and the Newborn
It Starts with the Egg
The Big Fat Activity Book
Table of contents
Criteria Used for Evaluation
Expert Interviews & Opinions
Other Factors to Consider
Frequently Asked Questions
Sources
10 Best Pregnancy Books Reviewed
1

. What to Expect When You're Expecting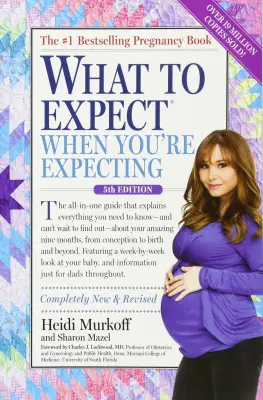 Considered the pregnancy bible of America
Is read by more than 93% of all pregnant women
Packed with plenty of tips, insight, and advice
Hundreds of questions are answered
Contains medical and lifestyle topics
Was contradictive in the reading topics
Some said it was too elementary in information
Authored by Heidi Murkoff with contributor Sharon Mazel, What to Expect When You're Expecting has received over 4,000 online reviews from readers. This 656-page book is offered in hardcover, paperback, Kindle, and digital formats and is considered the pregnancy bible of America.
Read more
This fabulous tell-all pregnancy book is read by more than 93% of all women who read pregnancy books and was named by USA Today as one of the "Most Influential Books of the Last 25 Years." It contains advice and information on cesarean trends, breastfeeding, home and water births, IVF pregnancy, and multiple pregnancies. This is a necessary book for anyone trying to get pregnant or who is already pregnant and would make a fantastic gift for a baby shower. It is jammed with information about every topic related to pregnancy that you could imagine and then some.
Educational Value
Medical topics include prenatal screening, the Zika virus, and medication safety. Lifestyle subjects such as GMOs, juice bars, fads of health foods, raw diets, organic and grass-fed, e-cigarettes, omega-3, push presents, and posting of the baby bump are neatly featured.
Accuracy
Everything couples would want to know about pregnancy is in this wonderfully informative book. This pregnancy book is hugely popular and considered the go-to book for any question you may have about the subject. It has certainly earned its place in the best-selling books list across the country.
Emotional Development
It is packed with plenty of tips, insight, must-have-information, and advice for new mothers and fathers, plus filled with empathy, humor, and warmth. Hundreds of questions are answered that will satisfy almost any question you can think of about pregnancy. It even gives help for dads.
Value
It is the New York Times longest-running bestseller ever and has over 18.5 million copies printed in circulation. While this great book is over the average paperback price, it is not the highest-priced book on this list. It definitely is worth it for the huge amount of practical advice and information.
2

. Belly Laughs 10th Anniversary Edition
Offered in Kindle, hardcover, and paperback forms
Gives the truth about childbirth and pregnancy
Crass, candid and honest in the dialogue
Loaded with plenty of personal stories
This tells of author's real first child pregnancy
Some parts may be boring
Some felt that a few areas were over-exaggerated
Belly Laughs is written by the famous Jenny McCarthy, who is an actress, celebrity TV host, and former playmate. This wonderful book tells of the pregnancy ups and downs of her first child in 2002. It is offered in Kindle, hardcover, and paperback forms and is the tenth-anniversary edition of this title.
Read more
The 194-page book gives the basic truth about childbirth and pregnancy, plus tells of the pains, joys, and disfigurements in an interesting, funny, entertaining way. McCarthy is crass, candid and honest about pregnancy. This is a fabulous book for anyone who has been, is, or is thinking about becoming pregnant.
Educational Value
Each chapter tackles a particular topic and is loaded with plenty of personal experience and stories from the author. Topics include delivery, pregnant sex, hemorrhoids, hormonal rage, granny panties, and morning sickness.
Accuracy
Informative and funny, this pregnancy book tackles some wild topics that most books will not touch. The author is perfectly open and honest about her own experiences with her own pregnancy, which are quite relatable.
Emotional Development
We often would like to hear from celebrities about their very personal family life and personal struggles. This book does just that with Jenny McCarthy. We find out that they are just like everyone else, even during pregnancy.
Value
Priced at below the average for such books in paperback, this witty book gets its great qualities from the many personal stories and hilarious format. It is truly a fun and valuable asset during those 9 challenging months.
3

. Dude You're Gonna Be A Dad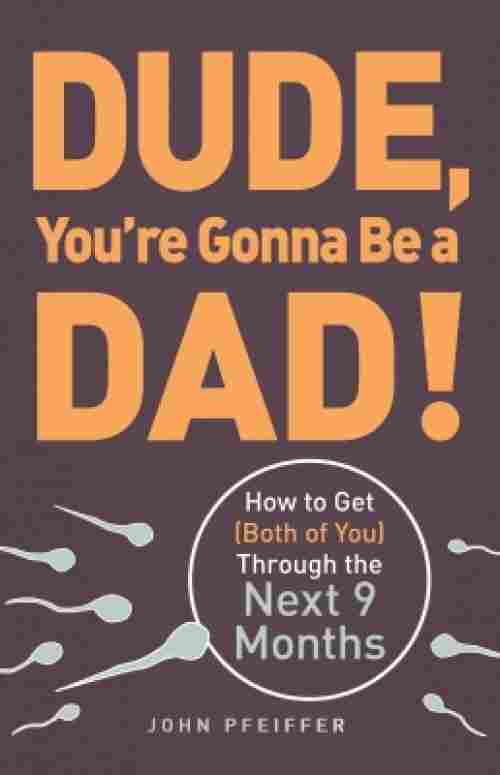 Available on the Kindle as well as in paperback
Packed with humor
The author encourages men to be involved throughout the entire pregnancy
Easy read
Some reviewers found the book's humor to be misogynistic
If your child's father is feeling a little overwhelmed by the idea of becoming a dad, the book "Dude You're Gunna Be A Dad!" may be just the thing they need to ease their anxiety. While the book is full of humor, the author is constantly encouraging men to be involved in the pregnancy journey.
Read more
Whether the guy in your life is old fashioned and likes to turn the pages of his book or swipe them on an electronic device he is able to have his own copy. This book is available on the Kindle and in paperback form.
Educational Value
You won't have to worry about having to explain all of the pregnancy terms to your guy as this book breaks down the basics for him. It is perfect for soon-to-be-dads since it's educational and entertaining.
Accuracy
After conquering the journey of fathering a newborn, John Pfeiffer wrote this book to not only share his journey but to help other men who might be experiencing the same struggles.
Emotional Development
While many pregnancy books are full of useful tips and tricks, this one is designed to lighten the mood. Preparing for a child can be a stressful process, this book is packed full of humor to help ease the stress.
Value
Even though many reviewers weren't too keen on the frat boy humor the book actually provides some helpful tips to men as well as encourage them to be involved in the pregnancy journey.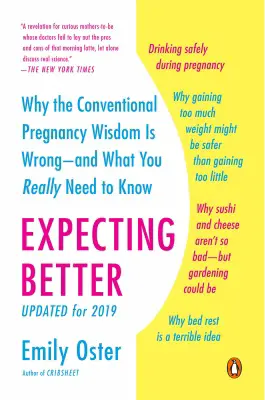 Explains the advice that you really should know
Debunks the myths told to pregnant women
Penned from the perspective of a mother
Tells of bad effects and benefits of activities
Provides peace-of-mind with simple explanations
Some buyers did not like the author's attitude
It may not ease pregnancy anxieties
Debunking the common myths given to pregnant women and explaining the advice that you should really know, Expecting Better is written by Emily Oster. She is a professor of economics, and her work has been included in Esquire, Forbes, Wall Street Journal, and the New York Times.
Read more
This fantastic book includes the information of what is good and bad for the pregnant body and breaks it down into an informed analysis for the expectant mom. Offered in formats of hardcover, Kindle, paperback, and audio CD, this 335-page account provides peace-of-mind with the simple explanations that truly make sense. It is penned from the perspective of a mother who discovered many untruths about the usual pregnancy knowledge we sometimes take for granted.
Educational Value
Oster tells of the dangerous effects of some activities and the benefits of others that were considered harmful. She does the same with popular foods and no-nos such as a glass of wine. This is an educational book for every expecting parent.
Accuracy
The facts on important pregnancy issues are given to the reader in a format complete with calculated figures to support the claims. "Expecting Better" truly puts a new twist on pregnancy information for the reader who wants all of the details.
Emotional Development
The concept and experience of pregnancy are told through the beneficial work of this author who is both a mother and an economist. Our professions in life do have a major impact on our beliefs, advice, and viewpoint of even common happenings.
Value
This terrific book costs a bit more than the average but is such an interesting read and full of interesting relevant topics for those interested in becoming or already are pregnant. It is truly a valuable item that you will treasure during the pregnancy.
5

. The Mama Natural Week-By-Week Guide
Guide is informative, inspiring and fun
Explores current research of the natural birth
Features many relevant pregnancy topics
Includes plenty of pregnancy stories
Makes a perfect pregnancy companion
Remarks that it did not include much new information
May be just great for first-time moms
If you're wanting an in-depth look at your pregnancy week by week then this next book is for you. Genevieve Howland, who is known for her Mama Natural Youtube Channel, wrote The Mama Natural week-by-week pregnancy guide.
Read more
A woman's full-term pregnancy is broken down into this 528-page paperback book. Although it is also available on the Kindle. This book combines both the modern and ancient approach to pregnancy and childbirth. Howland emphasizes how pregnancy is not a medical condition of a beautiful rite of passage. The book also contains birth and pregnancy stories from other women of various backgrounds.
Educational Value
As you read through the book you will also gain advice and knowledge from a Certified Nurse Midwife, lactation consultant, doula, and a Registered Nurse. You will learn about what you should be eating and even be given weekly recipes.
Accuracy
This book is full of helpful information for women who are thinking about having a natural pregnancy. With the book covering every week of a full term pregnancy women can feel like they have someone helping them through the entire process.
Emotional Development
You will be given natural remedies to help you overcome the negative pregnancy symptoms in each trimester. You will be more relaxed, put at ease and comforted while also highly informed on epidurals, the labor process, and breastfeeding.
Value
Right at the average cost for these books, this pregnancy guide is so valuable in its practical advice from the famous mom on the natural alternatives to medicine for having a child. It is a great book for living a more organic and healthy lifestyle.
6

. Taking Charge of Your Fertility
Features many relevant pregnancy topics
Contains the Fertility Awareness Method (FAM)
Features valuable informative charts
Includes an insert of the most important ideas
Has six new chapters the original does not
Author is not positive or helpful with fertility problems
Advises medications for birth control too much in this natural book
Featuring topics of reproductive health, pregnancy achievement, and birth control naturally, the book Taking Charge of Your Fertility is the twentieth-anniversary edition of the original national bestseller. It is written by Toni Weschler and offered in formats of a paperback, library binding, and Kindle.
Read more
This fabulous pregnancy book contains 560 pages and contains the popular Fertility Awareness Method (FAM). It tells you how to maximize conception chances, expedite treatments of fertility, understand your own sexual health, and use birth control without devices or chemicals. Featuring charts for menopause, breastfeeding, birth control, and pregnancy achievement, it also includes a color insert that highlights the most important ideas of the book.
Educational Value
This anniversary edition of the original book adds plenty more information to guide a woman in natural ways of childbirth, contraception, and pregnancy. It is truly a one-of-a-kind read.
Accuracy
The author explains her Fertility Awareness Method in this edition, which has helped millions of women. With charts and a colorful insert, women can learn so much about their own bodies.
Emotional Development
This volume has six new chapters the original does not on preserving fertility, medical conditions, and balancing hormones, plus is loaded with humor, wisdom, and knowledge for women.
Value
Valued for its natural suggestions and solution of pregnancy and birth control, this book is priced above the average for paperback pregnancy books and It's a helpful asset while expecting.
7

. The Impatient Woman's Guide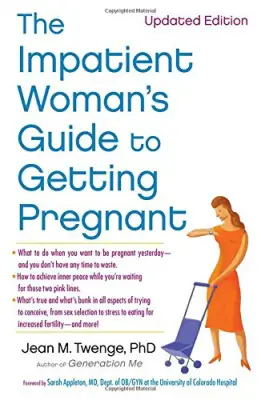 Is a fabulous girlfriend guide to pregnancy
Compassionate, funny, and friendly
Is the result of extensive research
Tells how to talk with others about conceiving
A great companion for bedside reading
A few readers felt the author has a sexist attitude
Some did not gain any new knowledge with the book
The Impatient Woman's Guide to Getting Pregnant is offered in Kindle, paperback, audio CD, and audiobook forms and is a fabulous girlfriend guide to becoming pregnant. Jean M. Twenge is the author who discusses social pressures, in-laws, and biological pressures in this fabulous book that is both intimate and comforting.
Read more
She is a professor and sociologist with three children and claims that there is less for a woman to be worried about in getting pregnant than others would have you believe. Twenge has completed extensive research on the subject and adds her own personal experiences for a complete guide for the woman trying to become pregnant. The author discusses pregnancy timing, times to have sex, ovulation times, prenatal diets, and how to increase the chances of either a boy or a girl. It is the perfect companion for bedside reading because it is compassionate, funny, and friendly.
Educational Value
In its 273 pages, it features the sexual, social, psychological, and medical elements of pregnancy. This volume also tells how to talk with others about conceiving and how to deal with the letdown of miscarriage.
Accuracy
Written in a positive upbeat way, the author speaks quite frankly and accurately about previous information on getting pregnant and the real truth of the matter. It is certainly a new twist on an old concept.
Emotional Development
This emotional book gives a woman plenty of advice on how to speak to others about conceiving and miscarriage. It covers some delicate topics that are not usually touched on in other pregnancy books.
Value
Priced below the average, this great pregnancy book has the fabulous quality of speaking to the reader as a friend. The fresh dialogue and a load of information make it a valued bedside companion.
8

. Pregnancy, Childbirth, and the Newborn
Is an authoritative guide for pregnancy
Based on the most current medical research
Is recommended by health organizations
Does not contain all of the scary what-ifs
Considers the many types of families today
Chapters from the third edition were removed in this fourth edition
Focuses mostly on delivery
Written by Penny Simkin, Janet Whalley, and Ann Keppler, this fourth edition book is an authoritative guide for pregnancy and childbirth. It has already sold over 1.5 million copies and is based on the most current medical research. The authors wear many professional hats including a physical therapist, childbirth educator, registered nurse, lactation consultant, childbirth teacher, social worker, and physical therapists.
Read more
Offered in Kindle and paperback forms, this terrific book describes the usual processes of pregnancy and birth that are natural. It does not contain all of the scary what-ifs, but when complications are mentioned, helpful solutions are given. This amazing book has a reassuring tone with an empowering voice, which considers the many types and structures of families today. These include single parents, blended families, adoptive and surrogate families, and lesbian and gay parents.
Educational Value
Their expertise is what makes this volume the treasure it is for expectant and new parents. With 512 pages, it puts parents in control of the pregnancy and childbirth and is recommended by well-known health organizations.
Accuracy
The many professional occupations of the authors of this fabulous book are incredible. With so much experience and professional knowledge, the book is packed with valuable and well-researched information.
Emotional Development
The aim of this great book is not to scare but to inform and provide comfort, so it does not have the usual frightening chapters with harsh words on the negative things that could possibly go wrong in pregnancy.
Value
Being the highest in the cost of all paperbacks here, this wonderful book is well worth the price because of the expertise of the writers. They hold many titles among them making them experts in pregnancy and childbirth topics.
9

. It Starts with the Egg
Provides the details about egg quality
Introduces the latest research findings on fertility
Gives practical suggestions
Recommendations are evidence-based
Has well-researched, easy-to-follow advice
Made some women paranoid about mentioned dangers
Was a bit repetitive for a few readers
Available in Kindle, paperback, and audiobook formats, this terrific pregnancy book about egg quality was written by Rebecca Fett. It shows how simple changes can make huge differences in becoming pregnant and gives the best details about egg quality.
Read more
Topics include recurrent miscarriage, age-related infertility, and IVF cycles that fail. This 306-page book introduces the latest research findings of improving fertility and egg quality for women with its well-researched easy-to-follow advice. Because this wonderful book is available in reading and listening formats, you can choose to listen to the contents as you relax or read it with a hard copy where you can make important notes in the book along the way.
Educational Value
Fett tells how to minimize your exposure to phthalates and BPA, how to pick the correct supplements and vitamins to protect eggs that are developing, and how to improve your success rate with sound nutritional advice.
Accuracy
Practical suggestions about delivering a healthy baby. The recommendations are evidence-based to increase fertility. The book is a balanced reasoned review of the most recent scientific research on healthy pregnancies.
Emotional Development
The author explains some of the most complicated research studies in an easy to understand format perfect for want-to-be moms. Once you understand the science of pregnancy, you are less frightened of the journey.
Value
Costing more than the average price but not one of the highest-priced books, It Starts with the Egg is packed with current research on egg health and fertility making it a valuable find you won't regret purchasing.
10

. The Big Fat Activity Book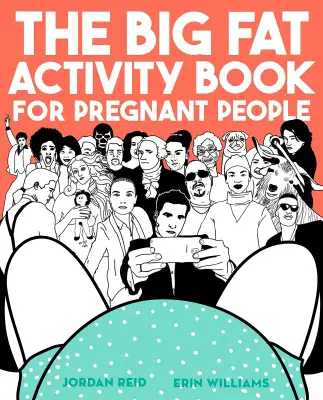 Funny with an incredible sense of humor
A great gift for a baby shower
Includes plenty of activities and puzzles
Great pick-me-up for stressing moms-to-be
Down-to-earth, witty, and clever
Has some foul language
Some felt it overemphasized accidental pregnancies too much
The Big Fat Activity Book for Pregnant People is written by Jordan Reid and Erin Williams. Both authors are professional career writers, and Williams is an Oncology Data Specialist. This is a great gift for moms-to-be because it is a witty take on what it is like to be pregnant. No baby shower should be without a copy of this amazingly funny book!
Read more
Funny with an incredible sense of humor, this activity book is packed with journaling pages, mazes, quizzes, hysterical musings, and fill-in-the-blanks. This activity book will help you pass the time during those medical appointments. With the book being available as a paperback, you will easily be able to slip it into your purse or backpack. While you can fill out the book by yourself, many women love filling it out with their guy as it provides a great bonding experience. If you are looking for a cute funny gift that would be great at a baby shower or for an easy-going mom-to-be, then this witty pregnancy book is just the thing.
Educational Value
Included are word find puzzles with topics such as terrible baby names, and the things you cannot have when you are pregnant, things asked of baby doctors, birthing advice from others, and hilarious quiz subjects. It will certainly be the life of the party!
Accuracy
If your nightstand is cluttered with informational pregnancy books, this is a great one to add to the pile as it provides helpful tips in a humorous way. Written by a professional writer and an oncology specialist, It's funny yet medically accurate as well.
Emotional Development
Throughout your pregnancy, you will spend a lot of time waiting in doctors offices. It is a great pick-me-up for those stressing the hard moments of pregnancy. Down-to-earth, witty, and clever is what all the literary critics are saying of this treasured book.
Value
We find this book to be highly affordable and a great gift for your pregnant friends. Priced under the average paperback book price for these pregnancy titles, this is a wonderful collection of activities for parties and the pregnant woman you know.
Criteria Used for Evaluation
Educational Value
When you decide to purchase a book on a certain subject you are embarking on an educational journey that will truly flourish your mind. Each of these books has pregnancy topics that are what most women want to know about, plus a few of them go into detail about other related subjects. These include childbirth, contraception, reproductive health, miscarriage, and the newborn.
The basic of pregnancy are covered in each book, but in widely different ways that are special to the author. Some of them take a humorous approach to lifting the spirits of the pregnant woman, while others have a more serious side in explaining the details they want to explore. Two of these are meant for a fun break from all the problems of pregnancy to allow a little laughter on the subject. They all help in their own way to educate, inform, and entertain the reader on the subject of pregnancy.
Accuracy
With the most online reviews and the best ratings in this category, these ten pregnancy books are the best of the best for readers to enjoy. They have all been written by talented individuals who understood the whimsical yet over-whelming period in the lives of the many soon-to-be parents. The struggles that almost everyone confronts when expecting a child are quite relatable and accurately presented in each individual book. We searched for the top books covering this subject looking through product descriptions, customer feedback, and reviews to showcase these excellent books for you to purchase. Consumers have overwhelmingly picked these top ten as the ones they would buy again because they are so good. We list them in this informative buying guide with all of the juicy details for your enhanced shopping experience.

Emotional Development
Pregnancy is an emotional time since you are going through many changes that can seem confusing and rather challenging. Almost nothing can truly prepare you for the adventure of becoming a parent however you can get a sense of comfort by knowing you are not alone. Many people faced the same struggles and gained a clearer understanding of the process by reading the stories of experienced individuals.
The books on our list will not only provide educational and accurate content about the subject of pregnancy but offer emotional support and advice for soon-to-be moms. As you go through a sensitive stage, you will be comforted by the idea that all of your insecurities and fears are rather normal and expected, so you can truly get peace of mind every time you turn the page. These books will help parents process their feelings, relax and feel more excited about the wonderful journey that lies ahead of you.
Value
It is truly hard to determine the amount of merit a book has since it truly depends on the educational, emotional and entertaining content it provides for each individual reader and as we know well, it can be rather complex to put a number on subjective experience. However, we made sure to present you with the overall value that an item of this kind has for most of the customers by analyzing the comments, critics and moral stories shared by the readers and writers.
It seems unfair to compare the prices to the value of the book since the lessons and comfort provided from the mindful experience are often priceless yet we tried to give you a clearer image of the worth of the products in order to help you make the right decision for your budget and your character. We hope that these books will guide you through the challenging period of becoming a parent and will be a valuable asset during the pregnancy.
Most Important Criteria
(According to our experts opinion)
Experts Opinion
Editors Opinion
Users Opinion
By Default

Parents, Did You Know?
Not only will reading books during pregnancy comfort you and provide emotional well-being, but studies have shown that reading aloud for your baby can also have a positive impact during fetal development. This process is known to help with developing early language learning capabilities.
Parents, Did You Know?
Books that thoroughly explain the process of pregnancy are beneficial not only for expecting moms but for their partners as well. Psychologists and couples therapists advice to embark on the educational journey as a unit in order to create an even more meaningful bond as soon-to-be parents.
Other Factors to Consider
Entertainment Value
Books are not just tools for learning, they are also a way to entertain yourself especially if you are supposed to be resting during your pregnancy. Even though most of these are written by doctors or professionals in pregnancy and childbirth fields, the tone and word choice are perfect for the common person to read and understand.
Many have simple charts, illustrations, and guides to further the understanding of introduced concepts and ideas given. There is no need to worry that they will be boring with mindless chatter from scientists who can speak endlessly about technical medical terms. They are all plainly expressed and can be enjoyed fully with pleasure and understanding since the nature of each individual book is lighthearted and fun.

Compatibility
For those that want the information of these books, but do not have the time to spend reading a book, several other formats are offered for these. We wanted to provide you with information about all the possible formats that are more compatible with your lifestyle and preferences. Look for those that offer audiobook or audio CD, so you can listen o the book being read to you.
The other formats available are hardcover, paperback, and Kindle. The Kindle version is perfect for those on the go who do not want to carry around a book. The other two formats are the traditional page-flipping books that are the usual form. All of the books are not offered in all of these formats, so check which is available for the one you are interested in. At the end of the day, no matter which book style you choose, we are quite certain that it will make a valuable impact on your life.
Frequently Asked Questions
q:

Which pregnancy books have the highest ratings from satisfied customers?

a:

The Mama Natural Book and Taking Charge of Your Fertility Book have the highest ratings online of any pregnancy books offered currently.
q:

Do any of these cover topics beyond pregnancy, such as birth control and childbirth?

a:

Yes, Pregnancy, Childbirth, and the Newborn; The Mama Natural Book; Taking Charge of Your Fertility; and It Starts with the Egg all cover topics other than just pregnancy.
q:

Are these books written by professionals or doctors with medical knowledge and experience or just mostly mothers?

a:

All of them were written by experts in the medical or sociology fields, plus many are also mothers. Some of them have authors that are very talented in their professions and have several titles of expertise.
q:

Do these all come in the Kindle or audiobook format?

a:

No, the only format that was consistent throughout all of the books was the paperback form. Check to see if the book you are interested in has the format you prefer. We tried to list the forms when it was offered in the product description for each.
q:

Which book would make the best baby shower gift?

a:

Any of these would make splendid gifts for expectant parents, but the Big Fat Activity Book and Belly Laughs would be huge hits at the shower itself. They contain plenty of fun and witty questions and activities that could be enjoyed at the baby shower.
q:

Which book has the most medical information from experts?

a:

For most medical information about pregnancy try the Mayo Clinic Guide and It Starts with the Egg for current sound medical advice.