The Scout Motto is "be prepared." Maybe you feel like you've outgrown crafts and cookies and chaperoned camping trips, but the crux of the scout movement is a solid philosophy to apply to your adult life. And nothing makes an adult feel quite so unprepared as parenthood. There are tons of tools out there for moms-to-be, but we know that expectant fathers need a little attention and affirmation too. So we've gathered ten of our favorite books about fatherhood for you to browse. Some of these are funny, some of them are sentimental, some of them are pretty straightforward, but all offer dependable advice that hundreds of other dads-to-be have found to be helpful. We hope you think it is, too!
10 Best Books on Fatherhood Reviewed
1. Strong Fathers, Strong Daughters: 10 Secrets Every Father Should Know
Having the most online reviews from customers of any of these books on fatherhood, Strong Fathers, Strong Daughters explains the importance of a strong father figure in a young female's life.
Expand to see more
It talks of the protector and counselor roles of dads and is offered in an MP3 CD, audiobook, Kindle, paperback, and hardcover formats. Written by Meg Meeker, who has over thirty years of adolescent medicine and pediatric experience, this profound book provides ten amazing secrets for fathers. Meeker is an expert in teen health and has a successful medical practice with her husband and four children. She is a fellow of the American Academy of Pediatrics and the National Advisory Board of the Medical Institute, which makes her remarkably qualified to give parenting advice. The topics of this 290-page book include how to be a father who is strong, how a father's guidance strongly influences a daughter's life, how to issue respected ground rules, common mistakes of fathers, how to aid in a daughter's decisions, and true stories of great fathers who helped their daughters in peril.

Benefits
The brilliant topics addressed in this volume really speak to the heart. They include strength, influences decisions, and true accounts to relate the wisdom of other dads.

What We Like About It
Books written by knowledgeable authors impart to the reader their expert advice, such as this one on fatherhood. Meeker has over thirty years of experience with child/parent relationships to make this a highly informative read.

Cost and Value
Priced a little over the average for these fatherhood books in paperback, this great volume is valued for its expert advice and offered secrets for dads on parenting.
Pros
Explains the importance of a strong father figure
Emphasizes the roles of protector and counselor
Offered in many superb formats
Provides ten secrets for fathers
Author has plenty of advisory experience
Cons
Dwells on the negative issues
Offers some overly-controlling advice for dads
2. Be Prepared: A Practical Handbook for New Dads
Be Prepared is offered in Kindle and paperback editions and written by Gary Greenburg and Jeannie Hayden. It is 244 pages of funny and witty advice, tricks, and tips for success to help new dads master their first year.
Expand to see more
Included are detailed instructions and easy diagrams for what is exactly essential in fathering. Fun topics featured include changing the baby at a crowded stadium, staying awake while at work, making a hotel babyproof, and making an emergency
diaper
with a towel and duct tape. There is also plenty of practical advice that is efficient, such as basics on
bathing
, childproofing, entertaining, and feeding. Foods to not give the infant, homemade toys for the bathtub, and dad exercises are in this impressive volume as well. It is neatly organized by age of the child from newborn until the age of one-year-old.
Benefits
Containing instructions, diagrams, and just the essentials for being an outstanding dad, this marvelous book takes fathers down the easy road to understanding the role of parenthood.
What We Like About It
This book is neatly organized by the age of the infant. dads can easily look up the correct age of their child to get the needed tips and tricks quickly and without having to read the whole book at once.
Cost and Value
With an average book price, Be Prepared gets its grand value from its witty approach and practical topics. Even veteran dads will appreciate the authors splendid take on fatherhood.
Helps new dads with year one
Has lots of advice, tricks, and tips
Includes instructions and diagrams
Funny, organized, and witty
Has plenty of practical advice
Has some misspellings and typos
A few thought the book was more of a joke gift than a practical guide
3. The Baby Owner's Manual: Operating Instructions, Trouble-Shooting Tips, and Advice on First-Year Maintenance
Written by Louis Borgenicht M.D. and Jon Borgenicht, who are a pediatrician and his son. The Baby Owner's Manual gives useful advice for those needing and wanting the child care basics. Dr. Borgenicht has his own practice of sixteen years and is an assistant professor of medicine.
Expand to see more
His son is a writer, dad, and entrepreneur. Available in Kindle and paperback formats, this impressive 256-page
book
provides guided instructions and diagrams to address hundreds of popular questions. It gives wonderful tips on how to swaddle a baby, when to bring the child to the doctor, and how to make an infant sleep at night. this fabulous book is a much-needed tool for those new to parenting or those that have missed a few steps along the way.
Benefits
Sometimes pictures and illustrations relate information to a reader better than words. Caring for an infant is one of those times. This great book has guided diagrams to help you understand the needs of the baby.
What We Like About It
Many questions are answered in this important book on fatherhood that many men would probably be embarrassed to ask out loud. The advice can be trusted from the exceptional sources.
Cost and Value
The cost of this splendid book is slightly above average and is valued for the expertise of the authors, the terrific illustrations, and the practicality of the information.
Pros
Written by a father-son team
Authors are a doctor/professor and a writer/entrepreneur
Gives useful advice for the childcare basics
Available in Kindle and paperback formats
Provides guided instructions and diagrams
Cons
Some found the information outdated
A few said the topics were not deep
4. Dude, You're Gonna Be a Dad!: How to Get (Both of You) Through the Next 9 Months
Offered in paperback, Kindle, and audiobook forms, this outstanding fatherhood book will help men avoid the many ways of ignorance concerning fatherhood. It gets the father to focus on ways to help the mother and enlightens dad of his duties and the necessary decisions ahead.
Expand to see more
Written by John Pfeiffer, Dude, You're Gonna Be a Dad! Has 226 pages, plus is well-organized and easy to read. The author has three children and is a great coach for dads-to-be. This terrific book is full of usable advice and tips and leads you from the pregnancy announcement to the delivery room with tons of suggestions and information along the way. For a fabulous new parent gift, this would be a treasured item.

Benefits
While most fatherhood books focus on getting the dad through the rough times, this one explains to him exactly how he can help the mother. A huge part of his job is to be there for her and see that she is okay through the whole experience.

What We Like About It
The layout of this beneficial book is quite organized from the beginning to the end. It takes you from the start of the pregnancy to the point of the baby being born, coaching the new dad all the way.

Cost and Value
This is an average-priced book on this list with the qualities of a friendly book that men will appreciate. It is like talking to a friend and getting plenty of trustworthy advice.
Pros
Gets dad to focus on helping mom
Enlightens of fatherly duties and decisions
Is a great coach for future fathers
Well-organized and easy to read
Full of usable advice and tips
Cons
Made some men feel uncomfortable with the macho attitude
A few felt it was not very informative
5. The Expectant Father: The Ultimate Guide for Dads-to-Be
The Expectant Father is offered in the formats of a paperback, hardcover, Kindle, and audiobook and is the fourth edition of the original book on its twentieth anniversary. This one is expanded, updated, and revised and is a month-by-month guide that is information-packed, ground-breaking, and top-selling.
Expand to see more
It is written by Armin A. Brott and Jennifer Ash, who are both veteran writers of parenting books and articles. Brott has interviewed thousands of dads for this book and includes the expertise of top doctors such as sociologists, psychologists, birth-class instructors, and obstetricians. The Expectant Father has splendid humor, cartoons, and a gentle approach to the topic of parenting, plus provides a readable and friendly companion to those looking for some guidance and confidence. Some additions to this edition are current safety and health information, important technology, alterations in men's mental capacities from being involved in the pregnancy, what society expects of the new dad, and new resources. It gives current research on the common questions everyone always has, such as how to be a good dad, hanging out with the guys again, what to do with the new baby, and how the infant affects your relationship with the mom.

Benefits
Thousands of fathers were interviewed for the content of this extraordinary book on parenting. Add to that that both writers are veteran authors with children of their own, and you have the results of a truly spectacular book.

What We Like About It
This is the twentieth-anniversary edition of the same title with brand new information added in. The authors have revised, updated, and expanded the fatherhood information to be even better than before.

Cost and Value
Being one of the most economical books on our list, this volume is valued for its collections of advice from top doctors in many fields and its current research findings.
Pros
Is a month-by-month guide
Includes the expertise of top doctors
Has a gentle approach to parenting
Provides a readable and friendly companion
Gives current research on the common questions
Cons
The book was not helpful for a few people
Some of the ideas in it were a bit off-center
6. The New Father: A Dad's Guide to the First Year (New Father Series)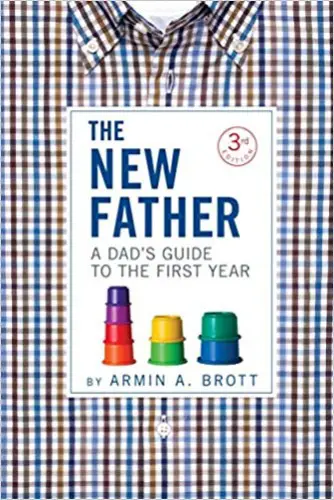 Written by Armin A. Brott, The New Father is an essential guide for the first year of fatherhood and covers a multitude of
relevant topics
. This is the revised and updated version that is in the format of a month-by-month tool for the development of the baby.
Expand to see more
Available in the formats of a paperback, hardcover, and Kindle, this 338-page volume explains how the infant changes and grows within the first year. Topics include family matters, you and the baby, what is happening with the infant, and what is happening with the mom. It features humor and wisdom in an enjoyable fashion to delight the reader and make the content very interesting. New to this edition is technology changes affecting fatherhood, research on a father's love, being an involved dad, impact of dads on boys and girls, healthcare and vaccines, massages for the infant, and abilities of the baby.

Benefits
The topics discussed in this superb book are practical for the everyday care of an infant and how a dad should approach his part of the care. The information is clear and concise for an easy read.

What We Like About It
This is an updated version of the original The New Father that has plenty of new advice for the first year of fatherhood. Almost everything that will occur with the new parents and the baby is all written here in this crash course on parenting.

Cost and Value
Just like Brott's other fatherhood book we highlight here, this one is priced under the average but is so full of valuable information for the new dad. The updates alone are priceless.
Pros
A guide for the first year of fatherhood
Covers a multitude of topics
Is a month-by-month tool
Explains infant changes
Features humor and wisdom
Cons
Some men were turned off by a few of the topics
It did not impress a few people with the information
7. Home Game: An Accidental Guide
This New York Times' Best Seller is exactly what it claims to be: a bit of an accidental guide to fatherhood. It started when author Michael Lewis decided to keep a written record of exactly what actually happened following the birth of each of his children.
Expand to see more
There are three children total: two girls and a boy, and plenty of hilarity ensue. The book is at times poignant, being very upfront about the frustrations one might face in fatherhood. But the book is also full of laughter. The first incident involves his daughter screaming obscenities at a boy and chasing him away after he tried bullying her and her sister, only for Lewis to realize that none of the horrified parents around him know he's the father. Naturally, he does the responsible thing, and swims quietly away to save face--but even in the midst of this uncomfortable and hilarious situation, he also feels immense pride in his daughter for standing up for herself. The push, pull, and nuance of Lewis' accounts of everyday family life is what makes this book worth the read. This is not his first successful book, and it shows in the skill and ease with which he writes. He and his family are utterly relatable, and his collection of essays is an honest depiction of the ups and downs of being a dad.

Benefits

We know it can be both terrifying and exciting stepping into parenthood. Sometimes the overwhelming nature of it all can make you feel like you're the only one who's ever been uncertain, embarrassed, frustrated, or lost. Lewis does a great job of documenting typical, shared experiences in a way that feels welcoming, honest, and funny.

What We Like About It

It's easy for books to be so factual that they feel hollow, or else so sappy that they feel overwrought with cliches. This book strikes the perfect balance of comedy and heartfelt confessions.

Cost and Value

It's at a pretty standard price point for a book this length. You can save a few more dollars by getting the kindle edition if that appeals to you at all.
Pros
New York Times' Bestseller
Full of comedy
Great look at typical, everyday situations in family life
Lewis has written several other successful books
Heartfelt and honest without being cliche
Cons
This isn't really a how to, but rather a collection of essays, so if you want tips and tricks, look elsewhere
8. Dad's Playbook: Wisdom for Fathers from the Greatest Coaches of All Time
Available in formats of Kindle and hardcover and written by parenting expert Tom Limbert, Dad's Playbook is 120 pages of amazing quotes and photos of well-known coaches.
Expand to see more
It contains over a hundred useful quotes from great coaches such as Tommy Lasorda, Vince Lombardi, John Madden, Phil Jackson, and plenty more. Limbert applies this sage advice to the topic of fatherhood and includes pictures of the famous coaches. This impressive book will inspire dads to be the greatest because it parallels dads with coaches who discipline, love, mentor, and motivate others.

Benefits
Not only does the reader get the words of wisdom from the iconic men, but pictures of each one is in the book also to be enjoyed. It is a work of art to behold, especially for sports fans.

What We Like About It
Any dad would love to have this book of wisdom from the some of the most famous coaches of all time. This is an outstanding volume to be handed down to future generations for a valued take of fatherhood.

Cost and Value
This is the most economical book on this item list, and it has the fabulous qualities of numerous famous quotes from well-known coaches and a parenting expert author.
Pros
Features words of wisdom from famous coaches
Contains over a hundred useful quotes
Includes pictures of the men
Will inspire dads to be great
Written by a parenting expert
Cons
Some people thought the book would be more substantial
Was not what some buyers expected
9. Man vs. Child: One Dad's Guide to the Weirdness of Parenting
Man vs. Child is a witty, fresh, and entertaining book on fatherhood written by Doug Moe. He is a long-time popular performer of Upright Citizens Brigade and teacher. This fantastic book has 194 pages and is offered in hardcover, Kindle, audio CD, and audiobook formats.

Expand to see more
It gives real practical parenting advice and answers important questions most dads wonder about from time to time. This fun book is for dads of newborns to teenagers and includes survival lessons and quizzes to test yourself on various topics. Man vs. Child will make a wonderful Father's Day gift or present for a new dad.

Benefits
Moe is a veteran performer and teacher, who is also a dad. This terrific book is his take on the role of fatherhood in the form of witty advice for soon-to-be or current dads.

What We Like About It
Parenting advice does not have to be dull and boring, nor does it have to sound like a laundry list of instructions. This funny book on fatherhood will enlighten dads while giving them some new insights on the job.

Cost and Value
Being one of the higher-priced books in this list and not in a paperback form, we used the hardcover edition for the price comparison. It is highly entertaining because of the performer author and valued for its wit and charm.
Pros
Real parenting advice
Witty, fresh, and entertaining
Answers important questions
For dads of newborns to teenagers
Includes survival lessons and quizzes
Cons
Could have used more practical advice said some buyers
Had almost too many jokes in it
10. Hero: Being the Strong Father Your Children Need
Offered in hardcover, paperback, Kindle, MP3 CD, and audiobook editions, Hero is written by Meg Meeker. She is the author of several books and has over thirty years of experience in counseling parents and teens and practicing medicine in adolescence and
pediatric
fields.
Expand to see more
This fabulous 226-page book lets you know that you can be the hero your child needs and admires. Meeker has experience working closely with the NFL's Fatherhood Initiative and gives easy instructions step-by-step in this volume to help fathers with their children. She says fathers are more important to children than their mothers and relates how to fix a distant or strained father/child relationship. This wonderful book gives secrets for widowed dads, divorced dads, and stepfathers to rebuild or maintain a lasting relationship with their kids.

Benefits
Meeker has plenty of experience and great advice for fathers in this volume about heroes. Whether you have been a dad for years or just now beginning, this is a book you will treasure for its wisdom.

What We Like About It
For those who do not have the time or would like to relax when reading this book, it is available in MP3 CD and audiobook editions. You will gain the knowledge of the book as it is read to you.

Cost and Value
This is one of the most expensive books on this list because of its many offered formats, the experiences, and expertise of the author, and the fabulous instructional content of the book.
Pros
The writer has counseling and medical experience
Author has worked with the NFL's Fatherhood Initiative
Gives easy instructions step-by-step
Provides help for distant or strained relationships
Gives secrets for widowers, divorcees, and stepdads
Cons
Has some redundant phrases throughout
Some buyers noticed editing errors that distracted their reading
Criteria Used in Evaluation of the Best Books on Fatherhood
Top-rated and most-purchased
All of the books here are the best-rated and most-reviewed books online in this category. Customers have overwhelmingly chosen them as the best of the best books on fatherhood and would purchase them again. We search through the feedback, reviews, and product descriptions to bring you all of the relevant details you need to make the most intelligent choice for the new or soon-to-be father in your life. Our summary sections give you these details of each item, so you can pick the perfect one you love best.
Informative
New dads or soon-to-be dads are hungry for knowledge on this new job they have or will have very soon. They want to know all about what is happening, what will happen next, and most importantly what is expected of them. Each of the books tells in its own way a little piece of that puzzle. They all take a different approach to the subject of fatherhood and provide answers to some very intriguing questions. Even veteran fathers will be able to learn something new in these books devoted to the glorious topic of parenting.
In many formats
Whether you like your books to read yourself or you prefer for them to read to you, these fatherhood books come in many formats to satisfy the one you want. We list the formats of each book in the summary section. These can include hardcover, paperback, Kindle, audiobook, audio CD, board book, and MP3 CD. You can listen, or you can read them yourself to gain the knowledge you need to be a terrific father to your new baby.
Practical
The advice, suggestions, tips, and hints in these amazing books are practical and useful for the new parent. You can count on using most of what they contain to help you navigate through the pregnancy and the first year of life of the infant. some are for the pregnancy and others are for the birth and afterward, but each has valuable information that the new dad will love to know. Many of these fantastic books answer questions that men might be afraid to ask their doctor, friends, or wife. This way, the new dad gets the knowledge he needs to be a grandfather and keeps his pride intact at the same time.
Cost and Value
The average of these wonderful parenting books is $10, and the price range for all of them is $7 to $14. These are the costs for the paperback version, which was a common format for all of the books except three. For those, the hardcover or board book price was used in this price comparison. Other forms of the book are offered but were not considered for the cost and value analysis. Buyers can choose from the audiobook, audio CD, MP3 CD, hardcover, and Kindle formats for some other options of enjoying these terrific books on fatherhood.
Tips on being a new or expectant father
Before the birth, give the mom some time and space for herself and get up with her for those midnight feedings after the birth. Practice listening and helps children understand how special they are. Learn what kids want from a father and be creative in spending time with them. Treat your child the same way you wanted to be treated as a child when you were young. Be affectionate with your infant, even when they are older and don't be worrisome about being an excellent dad. You will be. Don't ever be abusive to your child and be involved in their education always. Understand that raising daughters is not the same as raising sons. Know that parenting advice is everywhere and plenty of it is contradictory, so choose your guidance carefully. Lastly, it all passes by much too quickly, so enjoy and savor every minute of your new fatherhood…and congratulations!
FAQ
Frequently Asked Questions
Q: Which of these books would make great gifts for new dads in particular?
A: Any of these books would be perfect for new dads and there are a few for veteran dads too. We list those further down. Whether the child is born yet or not, give the new father you know a gift that will keep on giving. The knowledge that he gains now will be handed down from generation to generation making the fatherly line strong and supportive for all to come.
Q: Which would be best for dads who have children already?
A: For those dads that already have a young child and maybe having another, great books for them to have are Strong Fathers, Strong Daughters, Hero, and Dad's Playbook. These all give impressive tips and advice on strengthening the bond between fathers and children.
Q: Which book has the most reviews currently?
A: Most reviews online go to Strong Fathers, Strong Daughters because of the valuable content and the excellent reputation of the author. Be Prepared is second for reviews from consumers and has a high rating as well.
Q: What books are the best one according to customers?
A:It depends on how you're evaluating satisfaction. "Strong Fathers: Strong Daughters" has over one thousand reviews and still averages 4.6 stars on Amazon, which means that it's pretty universally appreciated. But not every book is for everyone, so your best bet when choosing what you want to read, is to consider what you hope to get out of the book: are you looking for spiritual guidance? Try "Strong Fathers: Strong Daughters," or "Hero." Do you want something a little more practical and advice-based? Look into "Dude, You're Gonna' Be a Dad!" or "The Expectant Father." If you could use a few laughs from someone relatable, check out "Homegame." If you really aren't sure what you're looking for, you can always read reviews for more in-depth discussion of a book's content. The top reviews usually do a pretty good job of laying out a feel for the style, tone, and usefulness of the book.
Q: Which books are offered in listening formats such as CD or audiobook?
A: Strong Fathers, Strong Daughters; Dude, You're Gonna Be a Dad!; The Expectant Father; Man vs. Child; and Hero are all the books in this list that have either the audio CD or the audiobook format option. These can be enjoyed as you relax at home or when you are driving instead of listening to music or the radio.
Q: Do any of these books have a funny approach to fatherhood for an interesting reading book, as well as being informative?
A: Yes, several of these fit those criteria for being funny and helpful with practical advice. These include Be Prepared, Man vs. Child, and Dude, You're Gonna Be a Dad!
Sources
Top Ten Tips for Being a Great Dad,

Online Article

,
,
10 Tips for New Dads,

Online Article

,

Jul 27, 2017

,
10 Ways To Be a Great Dad,

Online Article

,
,