Fisher-Price is one of the most trusted names in children's toys, gadgets, and gizmos. The company has been making high quality, highly educational, and value-laden children's toys since 1930. Established by Herman Fisher and Irving Price together with Helen Schelle and Margaret Evans Price, Fisher-Price focused on the design and development of children's toys that provided intrinsic play value, superb ingenuity, reliably strong construction, excellent value for the buck, and developmental action. It is not really surprising anymore if any Top 10 Toys list will always include a product from Fisher-Price. In this article, we will explore the 10 classic Fisher-Price toys in 2019 that speak of the great roots of a great company which is still very relevant to this very day.
Our Picks Of Classic Fisher Price Toys
Fisher-Price Little People Big Animal Zoo
Age rage: 12 months to 5 years old
Fisher-Price Little People Lil' Movers Baby School Bus
Age range: 12 months to 5 years old
Fisher-Price Laugh & Learn Smart Stages Crawl Around Car
Fisher-Price Little People Loops 'n Swoops Amusement Park
Age range: 18 months to 5 years old
Fisher-Price Brilliant Basics Baby's First Blocks
Age range: 6 months to 8 years old
Fisher-Price Think & Learn Code-a-Pillar Toy
Age range: 3 to 8 years old
Fisher-Price Classic Xylophone
Fisher-Price Little People Sit 'n Stand Skyway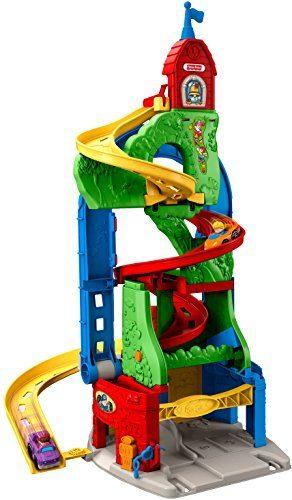 Age range: 18 months to 5 years old
Fisher-Price Dance & Move BeatBelle Baby Toy
Age range: 9 months to 3 years old
Fisher-Price Little People Animal Friends Farm
Age range: 12 months to 5 years old
How We Chose the Top 10 Classic Fisher Price Toys in Our List
How do you define a classic? Most will describe it as something that is consistently performing well in its particular field. If this is true, then one can only talk of a classic if it has been in existence for a considerable time already. Furthermore, within that span of time, it has consistently performed exceptionally well or has achieved a certain level of standard that others simply cannot match. For example, the American muscle car Shelby Mustang is considered a classic since it continues to outshine newer, more contemporary muscle cars, despite the fact that it was built in the mid-1960s. The Shelby still commands the awesome respect of car enthusiasts and automobile experts all over the world. Such is a classic.
Being in the toy industry since the 1930s, we can thus, say that Fisher-Price is already a classic, a stalwart if you please, in the design and production of high quality, value-laden children's toys. As such, we explored the many products that have ever come out from the company's design tables and factory assembly lines to give you the best 10 classic Fisher-Price toys in 2019. To do this, we had to really concentrate on the performance of these products both in the market and in the homes of consumers where these are eventually put to the test by the harshest, toughest critics and product evaluators of all time – kids themselves. That being said, we never included anything that had a consumer rating of less than 4.3 stars. We believe this is a fair-enough cutoff score especially if we equate a classic with consistently high performance.
We did not rely on these scores alone, however. Of course, we also looked at the developmental appropriateness of these classic toys from Fisher-Price. While the company can always be relied upon to produce high quality and developmentally appropriate playthings, we still had to examine each and every item to determine the kind of benefit that these will bring to children of a particular age. Unfortunately, this was never easy since the company has always made it clear right from the very beginning that it will only produce toys with intrinsic play value. In other words, all of these are designed to optimize the development of kids.
Choosing Toys for Your Kids
We have always espoused the need for making sensible choices when it comes to buying toys for kids. Most parents will simply let their kids choose what they like. Others will buy toys based on their own personal experiences as kids. However, while these methods may seem to work for some, it does not really take into consideration what's in the best interest of the child. Here are some tips on how you too, can choose toys for your kids a bit more sensibly.
Take time and make a conscious effort to learn the developmental traits that are expected of your child. This is very important since toys are supposed to help children develop and grow optimally.
Choosing the right kind of toys for your kids is choosing safe toys. It doesn't make any sense to choose something that will inherently put your kid in harm's way. So, be mindful of telltale signs of mediocre quality construction. Read the labels for harmful chemicals or substances integrated into the manufacture of the toy. Read authoritative reviews.
Go for reputable brands. It may sound cliché but there's logic to such line of thinking. Well-established brands will do everything they can to protect their image. A faulty product, a strongly written criticism, or even a botched marketing program can hurt a company's reputation forcing it to do drastic measures. Reputable companies don't want their image getting hurt. Just look at Fisher-Price, for example.
The Bottom Line
Fisher-Price has been around for close to 90 years. And in those 9 decades, the company has never faltered in its commitment to bringing kids only the best, highly valuable, and truly ingenious toys and playthings. The 10 classic Fisher-Price toys in 2019 are a testament to the company's continuing dedication and commitment.