Top 10 FurReal Friends Toys Reviewed In 2019
last updated
Jul 10, 2019
Finding the right plush companion for your little one can be quite hard since you are embarking on an enchanting quest in the land of cuteness where fluffy creatures are welcoming you with innocent eyes and happy faces. Therefore, we created a list with one of the best and most reputable brands of plush pet toys that come with electronic components which bring them to life and provide an interactive and entertaining experience for children. The My FurReal Friend Toys on our list have captured the hearts of satisfied owners and have many positive reviews online. Since deciding which MyFurReal Friend is the most adorable is almost impossible, we made sure to provide you with some additional information about the features and accessories that come with these undeniably charming buddies. Meet the top 10 My FurReal Friend Toys for 2019 and good luck in picking a favorite!
In a Hurry? The test winner after 30 hrs of research
Pax, My Poopin' Pup
Why is it better?
Adorable interactive plush puppy companion
9 doggy treats, leash and clean up bag included
Comes with happy and funny, pooping voice sounds
Prepares children for the responsibility of a real dog
In a
Hurry? Editors choice:
Test Winner: Pax, My Poopin' Pup
17
Researched Sources
30
Hours Researching
16
Products Evaluated
Design
Creativity
Emotional Development
Value
By Default
10 Best FurReal Friends Toys Reviewed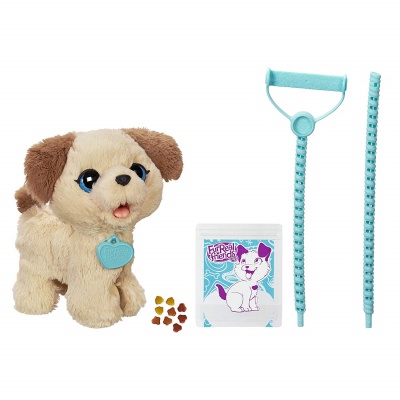 Adorable interactive plush puppy companion
9 doggy treats, leash and clean up bag included
Comes with happy and funny, pooping voice sounds
Prepares children for the responsibility of a real dog
Leash breaks apart easily
Pax really loves the treats that your kid gives him. Unfortunately, having too much makes Pax want to 'go' in an instant. At any rate Pax will tell your kid that he really has to go. Your kid will have to take Pax for a walk and be ready with his cleanup bag.
Read more
Ever since we were little kids, we all wanted a little puppy as a pet. While real puppies are undeniably cute, Pax, not only is a bundle of cuteness but also won't provide expenses for real pet food, vet appointments or smelly surprises on the floor.
Design
This furry electronic pet comes with a blue heart-shaped pendant, a leash that detaches in 2 parts, 9 little doggy treats and a cleanup bag in case It makes a mess during playtime.
Creativity
With so many pieces included, children are prepared for pet adventures with Pax. The puppy makes noises when it's happy or needs to go for number 2, so the creative flow is effortless.
Emotional Development
Learning how to take proper care of a puppy by feeding it and cleaning after their poop, will help your children develop not only a bond with Pax, by also take responsibility for their pets.
Value
My Poopin' Pup is a valuable toy that is going to prepare your little one for an actual encounter with a real pet and provide many unforgettable interactive play-pretend activities.
2

. Get Up & GoGo My Walkin' Pup Pet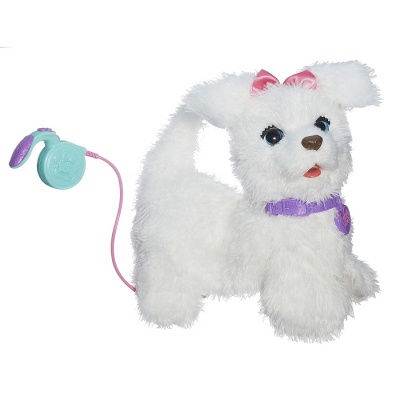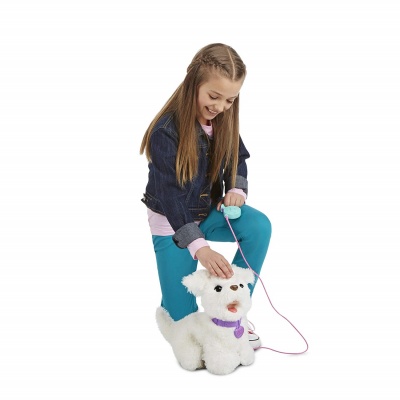 Soft plush real-like electronic puppy
Comes with leash controller for walking
It can walk, sit, tilt head, wag tail and bark
It features an app and instructions
Some customers found it overpriced
GoGo is a loveable, energetic pup that doesn't really like being caged. That's why your child will have to walk GoGo every day so she will not get bored and develop serious puppy behavioral issues. GoGo walks, sits, wags its tail, tilts head, and even barks when spoken to.
Read more
While It is wonderful to have a plush cuddly companion, not many toys can be walked with a specially designed leash. Well, fortunately, GoGo is not your average plush toy. She loves taking long walks and responds to your presence with loving puppy gestures.
Design
This white puppy with cute pink ribbons on the ears has a purple collar with a pendant on it and it comes with a mint leash controller that compliments the overall adorable design.
Creativity
It can't be hard to imagine having a real puppy when the pretend pet has the ability to walk beside you, sits and barks with joy. The creative playful scenarios are truly endless.
Emotional Development
Your child will definitely get emotionally attached to GoGo even though she's not a real puppy. She truly acts like one and provides validation and attention to her buddies.
Value
Some customers might find this FurReal Friend a bit overpriced, however, the many features make it quite exceptional. The value of friendship and the memories are priceless.
3

. Torch, My Blazin' Dragon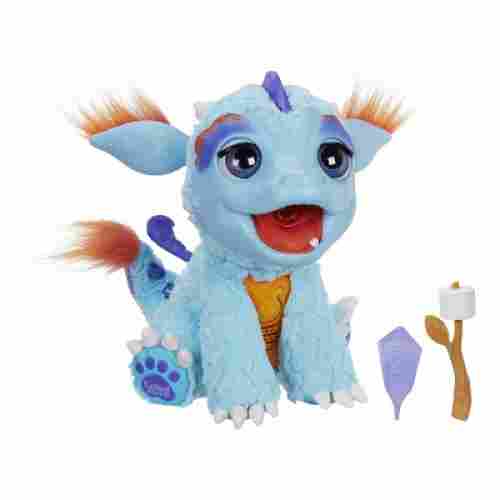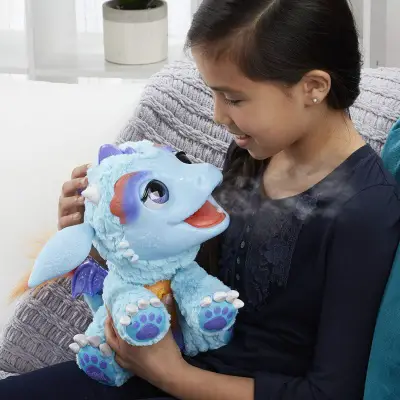 Remarkable and adorable electronic dragon pet
Unleashes creativity and imagination through play
The treat changes color and the crystal is a bottle
Movements come in 50 different combinations
Too bulky and firm to snuggle with in bed
Can you imagine having a pet dragon? Ask your kid if he would like one. If he says, yes, then get Torch, your kid's future Blazin' Dragon. This is one dragon your kid will love to pet as he elicits more than 50 different combinations of movements and sounds as its behavioral responses.
Read more
Let's face it, even adults are obsessed with dragons. Game of Thrones and other fantasy genre TV shows and movies are constantly reminding us of the magnificent supernatural beauty of these creatures. So how about a cute dragon pet for your little one?
Design
This whimsical dragon is made of soft blue material with feisty furry ears and an adorable jawline with only 1 tooth sticking out. It comes with a marshmallow stick and a water-filling crystal.
Creativity
Your children might be too young to play Dungeons and Dragons, but they can definitely invent many role-play adventures with this mythical buddy while boosting their creativity and imagination.
Emotional Development
While your little one is feeding their baby dragon with a color-changing treat and gives them water from the crystal, they will learn about providing proper care and experience emotional comfort.
Value
Is there anything cooler than having a first pet that happens to be a loving dragon? It will be hard to top that even with a real animal, so Torch is truly an unusual yet valuable furry friend for every child.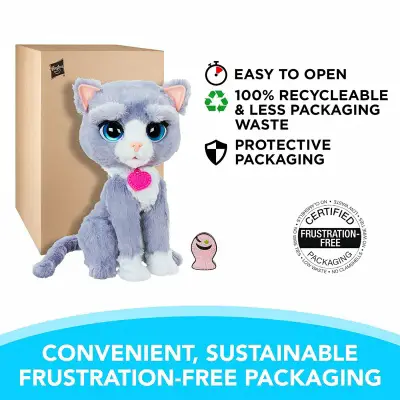 Enchanting plush kitten with electronic components
Interactive companion with cute MEOW voices
Changes moods when fed, cuddled or groomed
Comes with a fish treat and instructions included
Some parents found the voices annoying
If you have a child who's really into cats and kitties, then let Bootsie be her furry friend. With Bootsie's super-soft fur, you should no longer be surprised if all she wants is to be cuddled all day long. Watch your kid wave at Bootsie and she will also make fun expressions.
Read more
In Asian culture, cats are symbols of good luck, prosperity, and fortune. We are quite certain that Bootsie will bring much joy to your loving home after you introduce her to your children.
Design
With soft, silky fur and wide blue eyes, this kitty is truly dreamy and acts like a real cat. It has a pink heart-shaped pendant on her neck and comes with a cute fish treat accessory.
Creativity
Kittens are truly charming and enjoy playtime activities just like your little one. Your child will no longer imagine having a cat, as instead only playful scenarios with this kitten.
Emotional Development
Bootsie has an innocent look in her eyes that make her a trustworthy companion. Your little ones will be able to share all their secrets with this friend and she will never judge them.
Value
This is a very relatable pet since it changes its moods from happy to cranky and loves snuggling. Your children will enjoy her expressions and become best friends in no time.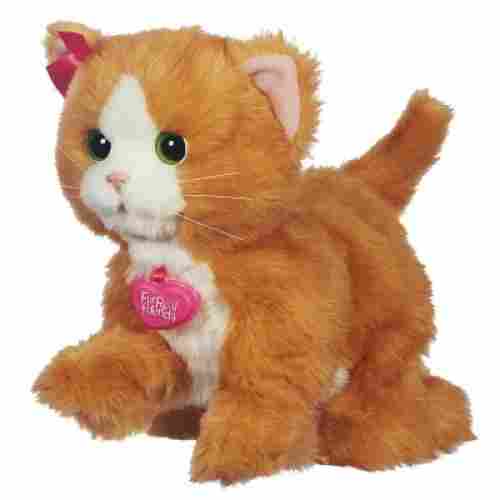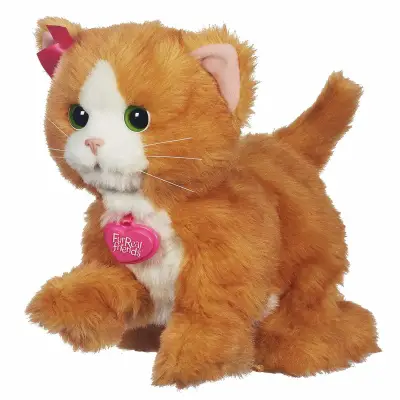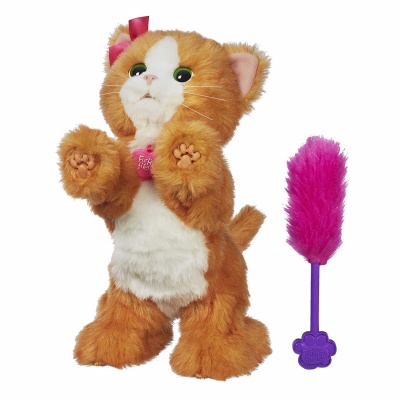 Makes cute sounds and movements
Soft fur tested for safety and durability
Comes with cat toy and pet care guide
The required 4 AA batteries are included
Too rigid as a sleeping companion toy
This is one kitty that really knows how to sing. Touch Daisy's paws and it will begin meowing a remarkably familiar melody. Whatever your kid does to Daisy, she will be responding with a variety of actions. Why? That's because there's nothing Daisy loves better than to play all day.
Read more
The paws of this kitty are incredibly cute! They look so realistic and soft, they almost tempt you to touch them and make a bond with Daisy. She will respond with a song and soon before you know it, you'll be best friends.
Design
Daisy has a mesmerizing fur that has been made of safe and tested materials. With a pink ribbon on her ear, a heart pendant around her neck and green eyes, she is a one of a kind!
Creativity
It's easy to imagine Daisy as your best friend when she jumps with joy when you are around, wiggles her paws and makes happy kitten sounds. The pretend scenarios are endless.
Emotional Development
Accompanied with a pet care guide, a cat toy, and meow melody, Daisy will teach your children how to properly nurture animals and will also comfort them with a lovely symphony.
Value
Everybody wants a kitten, but nobody wants a mess around the house. The high-quality fibers of Daisy's fur have been tested for durability and won't easily fall out during playtime.
6

. Baby Cuddles My Giggly Monkey
Made of high quality durable materials
Comes with cool purple sunglasses
Responds with different baby sounds
Starts to giggle when being tickled
Screwdriver required to change batteries
Baby Cuddles is not your mischievous monkey. In fact, she's so well-behaved that young kids will find comfort just snuggling up to this plush and furry brown and white monkey. Unfortunately, she really loves to giggle especially when her feet and tummy are tickled. She'll be grooving to any beat, too.
Read more
We've all longed for a baby monkey when we were younger, no matter how crazy and impossible it seemed. Well, let's face it, a robotic interactive toy is as close as we all can get to actually having a pet monkey.
Design
Baby Cuddles will greet you with arms wide open, innocent blue eyes, fuzzy fur and a very cool pair of purple sunglasses. It comes with a pet care guide and loves giggling!
Creativity
Cuddles will inspire your little ones to dress it up and take it on many creative adventures around the house. They will laugh for many hours as they invent the next game.
Emotional Development
How can you not get emotionally attached to a cuddling buddy that loves being tickled and hugged! Kids will learn how to properly care for this baby that enjoys nurturing.
Value
Having both a toy and a baby pet that happens to be a monkey is by far the most entertaining scenario for children. They will become more responsible while being amused.
7

. StarLily My Magical Unicorn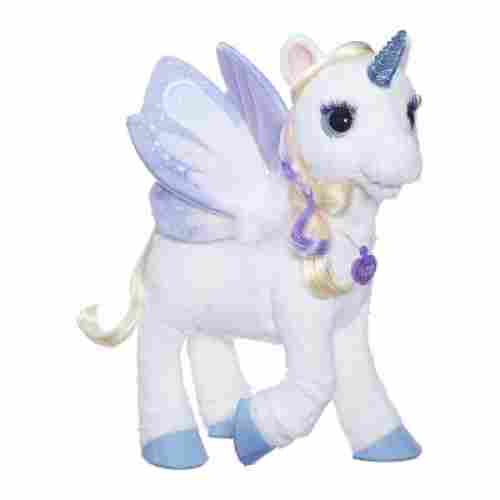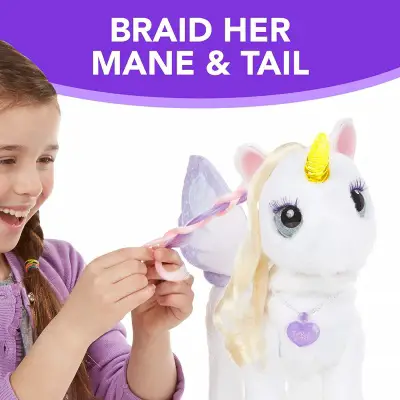 Interactive real-like unicorn toy
Over 100 sound/motion features
The horn lights up in many colors
Comes with app and berry toy treat
App uses a lot of phone memory
Unicorns are such fantastic, magical creatures that reside in the imaginations of many children all over the world. Getting StarLily, however, will be a dream-come-true for young aspiring unicorn pet owners. StarLily comes with a horn that gives off a dazzling light while her lovely butterfly-like wings can spread open, letting her fly.
Read more
We've seen many unicorn inspired toys on the market, and even though they all appear whimsical, StarLily is quite exceptional with the many dreamy features that make her appear real-like and magical.
Design
With glittery eyes and velvety wings decorated with silver swirls, StarLilly is truly captivating. Her horn lights up in different colors and her silky smooth mane has blue details.
Creativity
Explore the magical world of unicorn on the fun app that comes with this toy or embark on a quest in wonderland, flying with your unicorn buddy during pretend play scenarios.
Emotional Development
Your child can groom StarLilly's mane, give her a sugar treat toy and watch her respond to his/her voice and cuddles. Children grow an emotional bond through interactive play.
Value
With over a 100 motion and sound features, and quite lovable looks, StarLilly will certainly become your favorite pet in no time. It is truly one of a kind and a valuable investment.
8

. Pom Pom My Baby Panda Pet
Charming soft-furred panda toy
Adorable details and movements
Bottle and toy accessories included
Comes with 45 cute baby responses
The included batteries don't last
This is not Poh when he was still a baby found by Mr. Ping. But your kid can call her Pom Pom. Like Poh, Pom pom has a cute and really adorable face. And all she wants is to feed, not on bamboo leaves, but on her bottle and to play with your kid.
Read more
If your children love Kung Fu Panda or you just want to introduce them to one of the most lovable animal breeds on the planet, Pom Pom is undeniably the right choice for you. Seriously, is there anything cuter than a chubby panda?
Design
A baby panda with a pink flower on one ear and an adorable tiny panda accessory? Does the cuteness ever end? The yellow bottle is also decorated with cherry tree flowers.
Creativity
It might seem impossible to imagine yourself in a panda shelter in Japan, however not for your little one, once he/she meets Pom Pom and they invent a whole magical world.
Emotional Development
Pandas love lounging, eating and resting, just like your little one. With 45 responses included, your children will feel validated by the adorable mini version of themselves.
Value
This is an excellent gift for birthdays since everybody loves pandas, and the children who don't just haven't been introduced to one yet. And what's better than a plush panda pet?
9

. Cuddles My Giggly Monkey Pet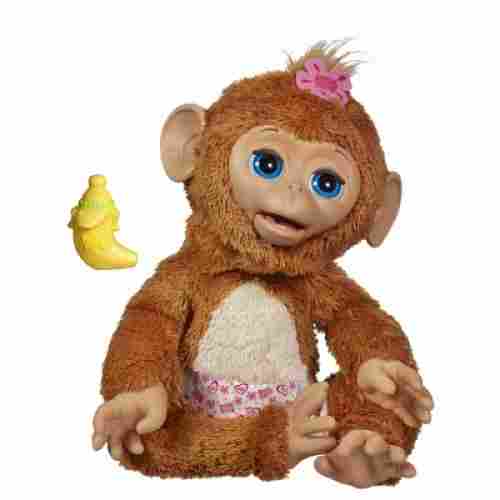 Closes eyes when it's sleep mode
Responds to swinging upside down
Constructed of safe tested materials
Comes with banana bottle accessory
The fur is shedding sometimes
Baby Cuddles has fully grown and she no longer is contented with just baby stuff. Cuddles now wants your kid to play with her more actively. She still giggles, though. But, she definitely loves cuddling and can elicit some really crazy monkey sounds every time your kid tickles her.
Read more
If your child already had baby Cuddles, moving on to the grown version would be quite amazing since you allow your child to grow and develop with its companion. Just like a real pet!
Design
Cuddles is a toddler now, so she wears a cute diaper, a pink flower ribbon on her head and has a banana bottle! She still loves giggling, but also swinging around and upside down.
Creativity
Cuddles loves the same adventures when she was a baby, except she is now prepared for more challenging creative scenarios that your child can explore with the many features.
Emotional Development
This pretend pet closes its eyes when you put him to bed so it would be a lovely loyal companion when your child is learning to adapt to a new bed far away from the parents.
Value
Made of safe tested materials, Cuddles is truly a durable and loyal friend that your child will appreciate and enjoy getting adorable voice responds every time they play together.
10

. My Happy-To-See-Me Bouncy Pup
Undeniably adorable electronic puppy
Spins, bounces and reacts to the child
Cute puppy voices make it real-like
Demo batteries included with the toy
Puppy accessories are not included
Dogs are very sociable animals. They'll jump and perform spins in front of you just so you'll recognize and acknowledge their presence. Take for instance this lovable puppy that makes really happy puppy sounds every time your child cuddles with it. This pup jumps and spins because it's so happy to see you.
Read more
Even though this puppy comes with instructions, you can pretty much figure it out in an instance since it is so easy to use and all it takes is just child to turn it on and enjoy the interactive experience.
Design
This is a well-designed puppy with light brown fur and pink ribbons on each ear. It comes with joyful features that complement its adorable looks, such as cute puppy sounds.
Creativity
Take it on walks, watch it bounce around, imitate the noises. So many creative scenarios are possible with this puppy. It's so pretty, your children can even draw it as an art project.
Emotional Development
Everybody remembers their first plush companion who gave you so much validation through sounds and cute gestures, a long-lasting emotional bond is bound to happen.
Value
The puppy knows when you are around, spins, jumps and enjoys being petted on the back. So many valuable memories will be created once you bring it home to your children.
Criteria Used for Evaluation
Design
Since there are many adorable electronic pretend pet companions on the market, that pretty much come with similar features, the overall design of the toy is our most important criteria. We searched for the best FurReal Friends toys that are quite unique and come with versatile accessories in order to provide a magical interactive experience. Our list is based on many positive comments from satisfied buyers however we made sure to provide you with both the pros and cons of each individual item.
These charming little friends were invented by professional Japanese engineers, brought on the market by a reputable US brand and the final form of the electronic creatures undeniably captivating and high-quality. The materials of which the FurReal toys are made are safe for children and durable enough to withhold bonding grooming activities and many enchanting adventures. We dare you to act indifferent to the cuteness!
Creativity
Plush companions are truly a source of inspiration for many imaginary scenarios between your child and the FurReal buddy. The electronic components give the animals even more realistic look, so the creative flow in the pretend play games seems natural and effortless. The puppies and kittens are incredibly charming, while the dragons and unicorns are magically captivating. Children will enjoy embarking on many whimsical quests with their little pets while being in your own home, backyard or the park.
The will have much fun picking cute names or nicknames for their buddies and even drawing them and recreating their form from play-do. The creative possibilities are truly limitless and by getting a FurReal toy for your little rascals, you allow them to unleash their imaginative persona and develop an artistic approach to everyday activities such as grooming, feeding or taking care for those who are in need.

Emotional Development
Plush pet companions have been a positive source for emotional development between children and their play-pretend friends. When there are electronic components involved, the imaginary scenario becomes interactive so your little ones can feel validated and their effort will seem appreciated by their new companions. The FurReal Friends will listen to your secrets and never tell a soul about your insecurities. They will comfort you when you feel lonely and create a safe space for sharing your feelings.
Fantasy role-play has allowed children to face their fears and become a little bit braver knowing they have a loyal buddy by their side that truly understands and never judges. These types of activities also help shy and introvert children become more confident with socializing and sharing their thoughts. Your kids will definitely form an emotional bond with these toys and cherish the memories for many years to come.
Value
These products are quite valuable for our little ones since they prepare them for the nurturing and grooming responsibilities of owning a real pet. They are also made of high-quality electronic components and durable and easy to maintain synthetic fibers in order to prolong the life and original shine of their new best friend. Parents will appreciate them as well since unlike real pets, they don't require vet appointments, regular food supply, nor they make a mess around the house.
However, their true value is providing an interactive play-pretend experience for the little ones which will not only provide comfort for children but some peaceful time for parents as well. Children will become more responsible, creative and caring towards animals throughout many bonding scenarios and mommies and daddies will be able to enjoy their well-deserved rest knowing their kids are spending their free time productively.
Most Important Criteria
(According to our experts opinion)
Experts Opinion
Editors Opinion
Users Opinion
By Default

Parents, Did You Know?
Even though the FurReal Friends is a brand run by Hasbro, Dreamright Toys and Tiger Electronics, these robotic plush companions are actually a Japanese invention by the reputable Sega Toys Company and the year of its origin is unknown. The toy division as we know of today was originally created in 2002 and during the holiday season that same year, the FurReal Cat became a massive success on the market.
Parents, Did You Know?
The FurReal Friends have many versatile animals that they feature, and they differentiate in size and types of animals as well. You can find plush companions from guinea pigs, to regular house pets such as adorable puppies and cats, to mythical creatures such as dragons and unicorns. There are models that your children can hold in their hands and some so big, they can even ride them. The fun choices are endless!
Other Factors to Consider

Accessories
If the mesmerizing looks and electronic features aren't enough for your little ones, brace yourself! Charming interactive accessories have been added to the packaging of these lovely companions in order to give the final design additional touch of magic. With many components included, such as treats, rattles, bottles and walking accessories so your child can feel like it has a real pet that longs for care and nurture. The accessories are very colorful and compliment the design of the pets with their tasteful and flattering style.
While the tiny components might represent a choking hazard for toddlers, they are perfectly safe for the intended age range and made of safe and tested toxic-free materials. These pieces are very important for creative-play pretend scenarios since they allow children to find out the purpose of each item, use it correctly and imagine how a responsible caregiver acts and takes care of animals.
Entertainment Value
These cute little objects are meant to boost creativity and form an emotional bond with their owners however that wouldn't be possible if they weren't fun and amusing for the tiniest members of society. They come with so many amazing features it is almost impossible to get bored with a toy of this kind. Plush companions are amazing but robotic plush buddies are even more entertaining since they respond to your presence and keep you invested in the play-pretend scenario.
You can take your FurReal Friends on vacations and road-trips so your child can feel amused while you're driving for hours. Your little ones can even sleep with them and share bedtime stories with their pets while adapting to their new bed away from the parents. They can even introduce them to their other friends and enjoy many playful activities while developing their social skills. With the FurReal Friends toys, the fun is truly never-ending.
Frequently Asked Questions
q:

Are any of these pretend-pets more suitable for girls or boys?

a:

Pets are for everyone, including pretend ones! We are quite certain that no matter the gender, your child will enjoy the many play-pretend scenarios with any of these cuddly little plush animals. if you are concerned about a specific design, you can let your child choose his/her own favorite animal from the list.
q:

Are the FurReal Friends made from real fur?

a:

No, they are definitely not! Hasbro has included in their website that all the FurReal Friends plush toys are made of 100% synthetic materials, polyester or acrylic to be more precise. That means that they are also safe for children, easy to maintain and quite durable.
q:

Are the FurReal Friends plush animals suitable for toddlers?

a:

While toddlers will find them quite amusing and cuddly, it is recommended that you wait until your child is 4 or older, to introduce him/her to a FurReal Friend companion. They come with small accessories and marble eyes that might represent a choking hazard for the tiniest members of the family.