Are you picking out a pair of shades for your cool little dude or dudette? If you are, you probably already know that style, while a fun and important factor, isn't the only thing you need to look for. Sunglasses are an important part of protecting our bodies from the sun's more harmful rays, specifically UV rays. When you're browsing Ray Bans and aviators, be sure to consider whether the sunglasses are UVA- and UVB-protective, as well as possibly being polarized. (Sunglasses labeled as UV 400 are also safe bets, as they will block any and all UV rays up to 400 nanometers in wavelength.) UVA rays are long-wave ultraviolet A rays, and UVB are short-wave ultraviolet B. Both can be harmful. UVA rays can penetrate deeper into the skin and change aging factors such as wrinkle formation, while UVBs are more likely to burn the superficial layers of your skin, and both are terrible for your eyes as well. UVA exposure can damage the retina of your eye, so look for UV-protective lenses. Cheap sunglasses might help reduce glare, but they won't actually filter out the harmful light. And if you want your little one squinting a bit less and seeing with greater clarity, polarized glasses block the reflective glare that make it difficult to see while wearing shades. Below, we've collected an assortment of options that are guaranteed to help your children see safely, clearly, and look super cool doing it. Enjoy!

Our Top 3 Picks
Polarspex Kids Sunglasses

Our rating
Polarized
Price:

See Here

Duco Kids Sunglasses

Our rating
Rubber Flexible Frame
Price:

See Here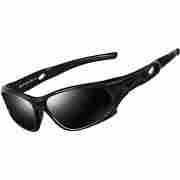 ATTCL Kids Sunglasses

Our rating
Composite lens
Price:

See Here

The Best Sunglasses for Kids & Babies in 2018
Polarspex Super Comfortable Polarized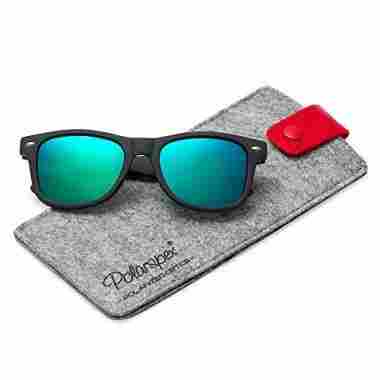 Duco Sports Style Polarized
ATTCL Hot TR90 Polarized Wayfarer Style
RIVBOS RBK003 Rubber Polarized
SOJOS Clout Goggles Cat Eye Vintage Model
VATTER TR90 Unbreakable Polarized Sport Glasses
Babiators True Blue Classic
My First Sunglasses – Wayfarer. 100% UV Proof
Baby Banz Adventure Banz Kidz
TRUST OPTICS Soft Flexible Polarized
Criteria Used in Evaluation of the Best Sunglasses for Kids & Babies
The criterion for the 10 Best Children's Sunglasses was something that was more difficult than other lists that we have created. Our experts wanted to make sure that they were safe, stylish, and cost-effective. Protecting kids from harmful situations is something that everyone tries to do, but to also make sure that they are going to like being protected (ie: wearing the sunglasses) is another important factor. Lastly, we wanted to make sure that the sunglasses were budget friendly. Kids are not always the most responsible people with their personal items. So they often lose items or they accidently get broken. Sunglasses are one of those things.
Sunglasses need to offer protection from harmful UVA and UVB rays. All of the sunglasses on this list block either 99 or 100 percent of these harmful rays. Along with protecting their eyes, we wanted to make sure that the sunglasses were in line with the styles that kids are wearing these days. A suggestion would not be a good suggestion without making sure that they would be well-liked. The last factor that contributed to the criteria was budget-friendliness. All the sunglasses listed were selected for different budgets but are all super price-friendly. The list was created with the best 10 sunglasses because of the reviews. Each of the sunglasses on this list has nothing but the highest-star ratings. Please enjoy.
Features that every pair of sunglasses should have
When purchasing sunglasses for kids it is very important for them to have a few key features. These features are not only important to fit of the glasses but are ideal to make sure that they offer the best level of protection.
Key features for sunglasses for kids:
Securely fit: The sunglasses should fit the child securely, but also not too tightly. If they fit right it not only makes them feel good but it also makes sure that they are given the best protection that is possible. The center of the glasses should line up with the center of their face without any gaps on the sides.
Shape of sunglasses: There are many different styles of sunglasses on the market. The most important thing to keep in mind here is the shape of the sunglasses should work well with their face shape. They should protect while also looking good as well.
Protective lenses: The idea of having the kids wear sunglasses is to protect their eyes. So, you want to double check and make sure that the lenses protect from at least 99 percent of the harmful UVA and UVB rays. Otherwise, the sunglasses are just a fashion accessory and are not protecting at all.
Sunglasses should be worn even on cloudy days
Kids should always wear sunglasses when they are outside unless it is nighttime. Even on the cloudiest or overcast days the sun's harmful rays are passing through those clouds and can damage the eye. Our eyes are at as much risk as our skin when we are outside. It is suggested that you protect your eyes and skin from the sun at all times. Wearing sunglasses is as important as wearing sunscreen.
Reflective surfaces like sand, snow, and water reflect the rays even more making them even stronger so not only is it important to wear sunglasses on a daily basis, but it is super-important to wear them when you are at the beach, pool, lake, or playing the in snow and whether the clouds are covering the sun or not. They all offer the same damaging sun rays exposure.
Difference between sunglasses for toddlers vs. kids
It is very important for babies and toddlers to wear sunglasses when they are outside because it protects their eyes from the damage that they can be exposed to over the course of their lifetimes. It is said that we are exposed to more sun in the first 18 years of our lives, so that means the first year of life starts the year pf protecting their little eyes.
The main difference between sunglasses for toddlers, babies, and kids are the size of the lenses and frames. This means that you don't want glasses that are too big or too small. The fit of the glasses is just as important as the protective lenses. If they do not fit well, they will not protect well. Smaller glasses with straps are available for babies and toddlers where smaller framed glasses that typically look just like the glasses adults wear are for kids. It is just important that no matter the make or style that they fit well and offer the best level of protective lenses.
FAQs
Frequently Asked Questions
Q: What are UV rays and why are they harmful?
A: UV rays are ultraviolet rays that come from the sun and are just past the violent/harmful mark on the visible light spectrum. It is broke into three different types of rays; UVB, UVA, and UVC. They each have a wavelength and cause different types of damage to the eye.
Q: How do you prevent UV rays from damaging your eyes?
A: The only and best way to protect eyes from harmful rays is to simply wear sunglasses. Make sure the sunglasses protect from both UVA and UVB rays.
Q: What are the different types of lenses that sunglasses have?
A: There are many types of lenses on the market that can be placed in sunglasses. Each of the different types of lenses protect in different ways. It is important to check with an optician on what is the best for the type of eyes that you are trying to protect.
Q: Are colored-lens sunglasses okay to wear?
A: The color of the lenses in the sunglasses is a personal choice. Different colored lenses don't protect eyes differently. It is only important to make sure that they are blocking 99 to 100 percent of harmful UVA and UVB rays. The rest is up to the person wearing them.
Q: Do babies need sunglasses?
A: Yes, babies should always wear sunglasses to protect their eyes. The more exposure that we have to the harmful UV rays the more chances that there could be damage. The exposure is over the lifetime of your eyes so it is important to start protecting the eyes as soon as possible.
Q: Where can I buy the sunglasses that are listed on the Best Sunglasses for Kids guide?
A: All of the sunglasses listed on our site have a link below the product picture. This link takes you directly to Amazon where you can purchase the sunglasses. These sunglasses can be delivered to your home or a destination of your choice.