10 Beach Gear Items for Your Baby in 2019
last updated
Aug 15, 2019
Thinking of hitting the beach with your baby? Then you will need some gear. Packing up and going to the beach before having a baby was pretty simple, but now your little one will need a few items to keep them safe, out of the sand, and protected. All of these items have been selected to give you the best experience with your little one at the beach. They are well worth the investment and will prove to give you and your little an experience that will keep you coming back to the beach for many years to come.
In a Hurry? The test winner after 50 hrs of research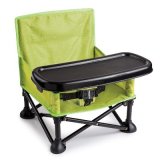 Summer Infant Pop and Sit Booster
Why is it better?
Folds into one piece unit
Has detachable tray that is dishwasher safe
The tray can be used for food or play area for toys
The chair can be used almost anywhere - beach, yard, car, table
Fabric seat is machine washable
In a
Hurry? Editors choice: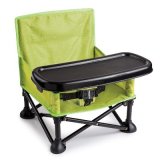 Test Winner: Summer Infant Pop and Sit Booster
20
Researched Sources
50
Hours Researching
16
Products Evaluated
Safety
Design
Brand
Durability
By Default
10 Best Beach Gear for Baby Reviewed
1

. Summer Infant Pop and Sit Booster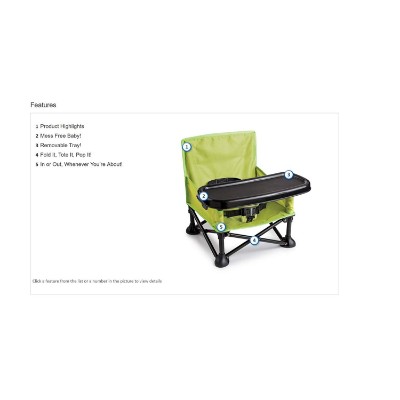 Folds into one piece unit
Has detachable tray that is dishwasher safe
The tray can be used for food or play area for toys
The chair can be used almost anywhere - beach, yard, car, table
Fabric seat is machine washable
Has age and weight limitations
The seat belt is in an awkward position and can be hard to undo
Unless you go to an exclusive private beach club, you won't be seeing any amenities that will make your infant feel super comfy while being mesmerized by the breaking of the waves and the rustle of leaves from distant palm trees. Beaches may have cabanas complete with loungers and beach chairs but these are essentially designed for adults, at most older children. To solve this, you'd have to bring with you the Summer Infant Pop N' Sit portable booster chair.
Read more
Safety
The Pop N' Sit Booster chair is easy to set up, lightweight, compact, and easy to clean. There are so many good points to this product it is hard to describe them all. It can be used almost anywhere that you need a chair for your baby, and it has a harness to keep them strapped in for safety. The food/toy tray and the fabric seat can be washed by machine, plus it is BPA free. This is a must have for anyone that is on the go with baby a lot.
Design
Simply place it on any standard sized dining chair, secure the legs of the Summer Infant onto the standard chair, and watch your little one eat with gusto. The Summer Infant Pop N' Sit was designed for ultimate portability. It conveniently folds in one go so you can bring it anywhere, not only the beach but also the park and even the mall. When your child is done using the tray, you can easily wipe any dirt and debris with a clean piece of moistened cloth and the tray turns into your young child's play table.
Brand
The good news is that the tray is also removable so you can easily remove the fabric seat and pop it in your washing machine while the tray can be easily stored for later use. You can also pop the tray in your dishwasher for a more thorough cleaning. Removing the tray also helps convert this infant beach chair into a full table booster.
Durability
This way, the baby will have his or her deluxe chair. It has storage pockets in the rear and comes with a 3-point safety harness to keep your young child secured in his or her seat. Do take note that the Summer Infant Pop N' Sit Portable Booster is recommended only for children who are at least 6 months of age and who weigh no more than 37 pounds.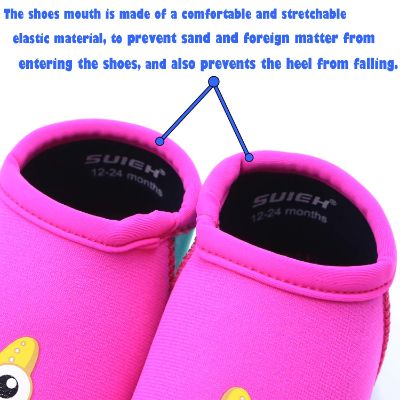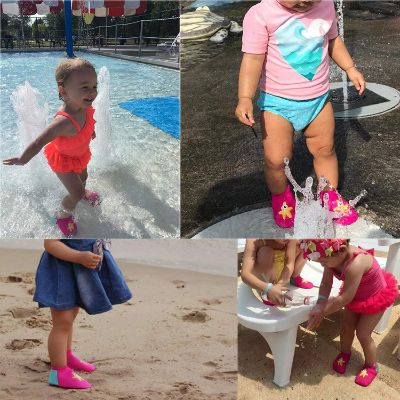 Comes in a variety of color patterns and sizes
Protects from items that may be in the water and hot sand on the beach
Made of high-quality protective materials
Comfortable to wear - very soft and keeps feet warm in water
Shoes float - easy to find
Not waterproof
Hard to put on - nothing to hold on to for grip
While younger babies have the luxury of being carried around by mom wherever they want to go, older infants who may have already learned to walk will often find it quite difficult to do so at the beach.
Read more
Safety
The water may be inviting but beneath the surface can lurk many obstacles that can hurt babies' sensitive skin, even though we're talking about the feet here. When on the beach, the sand can be quite unforgiving especially when the sun is already up. Be prepared to protect your infant's feet with the SUIEK Unisex Baby Infant Beach Shoes. Made of a hundred percent high-quality neoprene material, the SUIEK Unisex Infant Beach Shoes are perfect for both treading the waters and even walking on hot sandy beaches. The SUIEK comes with a fully elastic collar which snugly fits around the upper portion of an infant's ankle. While the beach shoes provide full protection for the feet, it is nonetheless, super comfy as it is ultra-soft as well. When used in swimming activities, the neoprene material will keep your infant's feet warm and toasty so he or she will not suffer any hypothermic syndromes staying in the water.
Design
These soft, comfortable beach shoes stay on well in the water and while walking on the beach or pool or in the backyard at home. Because they will float in water, they will be easy to find if they happen to come off.
Brand
There are several colors and patterns to choose from as well as sizes. These shoes not only look great, but they are extremely functional too. They will protect small feet from items in the water at the beach and even the hot sand when walking and playing.
Durability
The SUIEK comes in a variety of sizes that are appropriate from ages 6 months up to 3 years. It also comes in a variety of colorful patterns and designs to give your young child the option of walking on the beach in full fashion glory.
3

. SoHo Mesh Lightweight Bag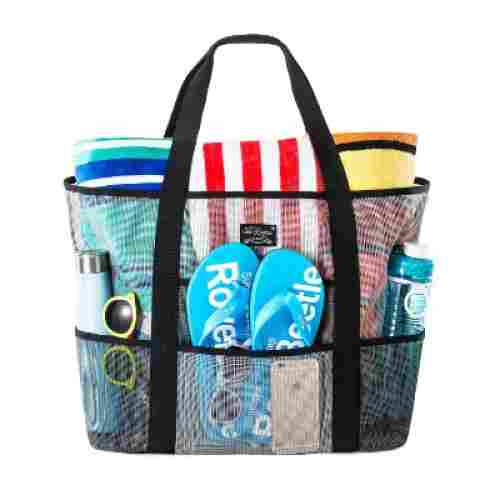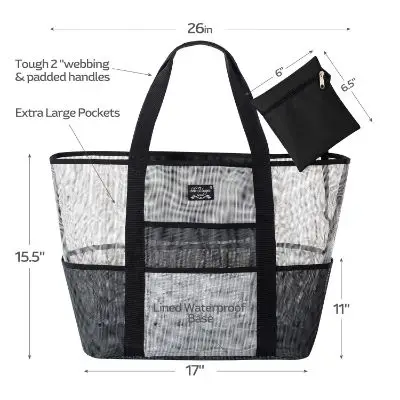 Large capacity beach bag great for everything baby needs
Constructed from reusable mesh
Features 8 large capacity pockets
Included zipped pocket on inside for valuables
Material quickly dries allowing sand to fall through the material
Straps do not go all the way under the bag
The material has a chemical smell
Going to the beach with a baby can prove itself as an adventure all in its own. When on an adventure you will need all the supplies and gear that your little one might need, which can add up pretty fast. This bag is great for the beach. It features a reusable mess that is perfect for carrying everything your baby will need.
Read more
Safety
Super capacity for a super job. This bag is everything that a mom needs for a day at the beach. It holds a ton of stuff and with all the pockets it is easy to keep things organized.
Design
The extra-large bag with the 8 spacious pockets gives the bag a large capacity plus it keeps everything separated and organized allowing you to quickly find what you need. Inside the bag, you will even find a zipped pocket that is great for your keys or other valuables. The mesh material dries quickly it is great wet and also allows lots of air for things that you would place in the bag.
Brand
The material that this bag has been created from is a durable heavy duty mesh that is great for allowing items to dry and also be able to get air to sandy items. When the air is able to get to the sandy items placed in the bag the sand quickly dries and is able to fall through the mesh material.
Durability
Sand is able to fall down through the mesh as well. The material is a high-quality durable mesh that is able to withstand tears and wear. To carry the bag there are extra-long black straps that make it easy to place over your shoulder. When you carry all the items and more that your little one needs at the beach will always be organized and easy to access when you use this bag.
Includes 4 great toys to make almost anything in the sand
Made of durable, safe materials
Comes in bright, beautiful colors
The bucket has a bottom stand on it to prevent spills
Product may be smaller than pictures appear
Plastic may be thinner than competitor products
What's going to the beach without the chance to build sand castles and other structures in the sand? If we associate the beach with the surf, kids definitely associate it more with sand play. That's why you just got to have the Hape Kids' Beach Toy Basics that already includes a hand rake, a shovel, a sand sifter, and a bucket. These may not be enough in the sand sculpting chores of your kid but these are surely guaranteed to bring lots of fun, nonetheless.
Read more
Safety
While we can guarantee absolute fun for young toddlers, we would like to emphasize caution when letting your older baby play with sand. It's not necessarily because of the nature of the beach tools but rather the tendency of sand to get inside the body of kids.
Design
The Kids' Beach Toy Basics is a great starter kit for great sand play at the beach. These will entertain for hours and help develop your child's creativity, especially when making things with the sand. Not for just beach use, these make great toys to play with at home as well.
Brand
We strongly recommend that you provide adequate supervision every time your young kid plays with sand. That said, the Kids' Beach Toy Basics are guaranteed to be made of kid-safe materials and finished with non-toxic substances. This should be the perfect set of tools to foster creativity and imagination in a very young mind.
Durability
This four-piece beach toy set will last for years because it is made with durable safe materials that can stand up to rough play. The bright colors of each item are easy to find in sand or dirt and children just cannot seem to put them down.
5

. SwimZip Unisex Sun Protection Hat UPF 50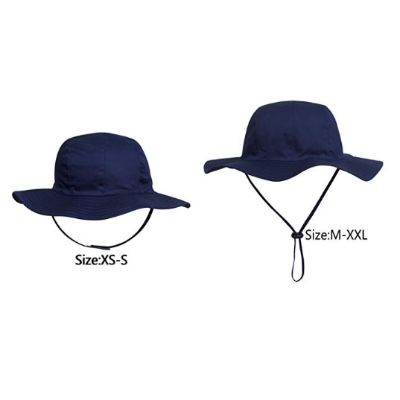 Available in many colors and sizes
Has adjustable chin and head strap
Made of durable material that blocks UVA and UVB rays
Fast-drying
Sizes may run small
Straps could break depending on use
One of the things that draw people to the beach is the warm glow of the sun. Unless you're a fan of night swimming, images of beach fun always include a brightly shining star in the middle of the day. Unfortunately, the intense brightness can often reflect off substances on the beach especially on the water. The chin strap is equipped with a breakaway safety mechanism to prevent choking
Read more
Safety
You can apply sunscreen lotion to your infant but he or she will need something to protect his or her face from the intense heat and glare of the sun's rays. The adjustable chin and head strap help keep the SwimZip right where it should be: on your kid's head so it keeps on protecting your precious child for as long as there's the sun above.
Design
The material used on the SwimZip is also fast-drying. Even if it does get wet, you don't need the full day to have it dry. Should it land on water, fear not as it will never sink. So, while the SUIEK will protect your infant's feet, the SwimZip will protect your baby's head and face.
Brand
With a brim that is sturdy and lightweight, this cute, adjustable hat is perfect for the little one when outside. This unisex hat protects from harmful sun rays and is fast-drying. When other hats get floppy because they are wet, this wonderful hat and brim will keep its shape in the water. There is a safety release strap to prevent choking on the adjustable chin strap, so this has was created with the safety of your child in mind. With so many sizes and colors to choose from, your child may want more than one!
Durability
That's why we decided to include in this list the SwimZip Unisex Child Wide Brim Sun Protection Adjustable Hat with UPF 50 which is made available to you in 7 fun summer colors and is perfectly sized for kids between the ages of 0 and 6 months. The SwimZip has been treated with a special formulation of sun protection factor rated at 50+ to help guarantee that the materials on the hat will never crack or get damaged from the intense heat of the sun.
6

. Thinkbaby SPF 50+ Organic Sunscreen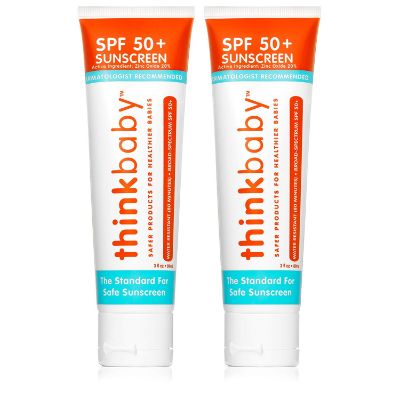 Broad spectrum protection from UVA and UVB rays
Water resistant
Free from harmful chemicals
Not a heavy lotion - leaves a thin layer on the skin
Does not last long if going in the water
Is oily on the skin
The thickness of the skin of babies is essentially thinner than what we have as adults. They may already have stratum corneum on the outermost layer of the epidermis yet this is still significantly thinner than what is found on adult skin. That's why babies' skin is more prone to sunburn and other skin irritations.
Read more
Safety
We need to protect their skin while they are basking under the sun. Sadly, we cannot apply on their skin the sunscreen product that we are using as adult formulations are different from pediatric preparations. A great solution is applying Thinkbaby's Safe Sunscreen with an SPF rating of 50+. This formulation from Thinkbaby is already of the broad spectrum type, more than capable of shielding young children's skin against both UV-A and UV-B rays from the sun It has been tested and certified to be free from biologically harmful substances and chemicals including oxybenzone and avobenzone as well as UV chemical absorbers. Thinkbaby also boasts of the highest level of resistance against water at 80 minutes, simply suggesting that your baby will be protected for at least that long if he or she decides to stay in the water. Let your baby enjoy his or her time in the water or even on the beach without having to worry about sunburn and many of its dreaded complications. You can ensure this with the Thinkbaby Safe Sunscreen.
Design
Thinkbaby is also the very first sunscreen product to pass the stringent requirements for whole foods premium care, further highlighting its safety profile, especially when applied onto the skin of very young kids.
Brand
Safe Sunscreen is a great sunscreen available for your baby during outdoor activities. It protects from UVA and UVB sun rays and is free from chemicals. This product does need to be reapplied if participating in water activities, primarily because it is plant-based and does not contain the chemical ingredients. Not a bad trade off for skin protection that is natural and safe for your baby and the environment.
Durability
The Thinkbaby has all the right ingredients for superb sun protection and safety profile for the super sensitive skins of babies.
Portable activity station for baby
Constructed from heavy duty nylon
Features attached floor for keeping baby's feet clean and sand free
Nylon loops attached for connecting toys
Lightweight design makes it easy to carry right along in your bag
The material is not washable, only wipe down
The seat is large, toys and snacks seem to collect in with baby
Having a snack at the beach or getting the baby out of the sand to play with some toys can be tough. This activity station has been designed to solve that problem and more. It is a lightweight and portable designed seat that is designed to fold up and go to the beach. The bottom of the station features a floor pad that keeps baby's feet clean and out of the sand.
Read more
Safety
Portable items that allow you to easily carry them down to the beach make packing for the beach that much more easy. This activity station is lightweight and weighs about 7 pounds. It folds right up to fit into your bag.
Design
It has four adjustable heights that allow you to adjust as baby grows. When a baby is placed in the activity station there is a snack and drink holder to keep everything close to them plus helps from the items falling off the tray on to the sand.
Brand
There are even loops made from nylon that have been constructed to attach all toys and items that baby needs. This is great for helping to prevent them from falling in the sand plus keeping them in reach. At the beach keeping baby feed and out of the sand can be hard, but this activity station is perfect for playtime and mealtime.
Durability
It is always a struggle to keep baby out of the sand and be able to eat at the beach. This activity station solves that problem and move. It is great for snacks, playing, or allowing them just to relax and watch the waves with you.
8

. Mac Sports Heavy Duty Collapsible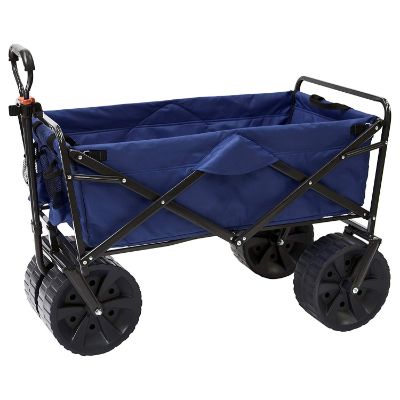 Makes a great ride for baby
Big enough to carry all necessities to the beach
Has cup holders in it
Folds into a small space
Has all-terrain tires for almost any rough ground
Front wheel placement makes it prone to tipping
Needs brakes added
If you like to give your infant a very unique ride on the beach, instead of getting an all-terrain vehicle like a dune buggy, you'd better get the Mac Sports Heavy Duty Collapsible Folding All Terrain Utility Beach Wagon. Like all wagon type of ride-on toys, the Mac Sports come with four extra-large tires mated to a fully folding chassis.
Read more
Safety
We feature it here because it can make a wonderful ride for your little one, especially on the sand. The bottom is soft enough with a cushiony feel to make the ride comfortable and not hard to sit on. Why carry everything when you can just unfold this nifty wagon and haul it there and back!
Design
This is one all-terrain wagon that you'll never have problems bringing anywhere as it will only take no more than 10 inches of your horizontal space and a maximum of 32 inches of vertical space. Babies will have a great time riding on their own all-terrain wagon.
Brand
The Heavy Duty Beach Wagon is a great item to use to carry everything to the beach or any outdoor activity you go to. It is durable and lightweight and folds into a small space when not in use.
Durability
The heavy duty frame is covered with a heavy duty fabric material which should be great for riding your baby and all of his or her stuff on the beach. It even comes with cup holders made of mesh materials to keep your or baby's drinks. The folding chassis and frame of the Mac Sports allow it to be folded and secured in as little as 9.7 inches of horizontal space. When fully set up, the wagon measures a full 36.2 inches by 24.6 inches by 21.4 inches.
9

. Monobeach Pop Up Portable Tent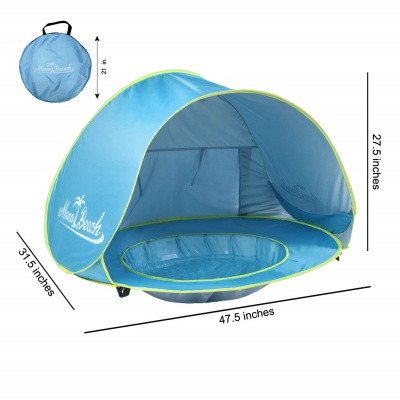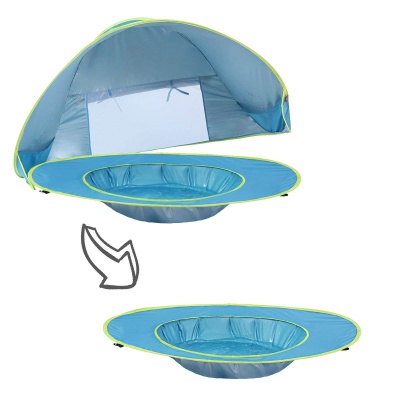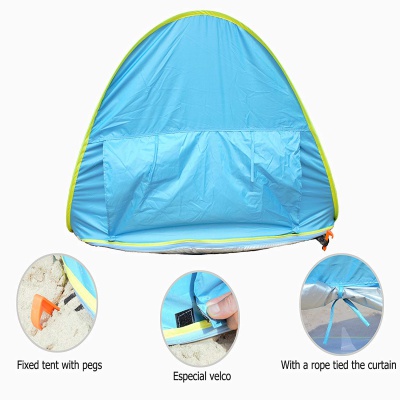 UV 50+ protection rating
Storage pocket
Provides shade
Lightweight and easy to set up and disassemble
Mini pool for baby to play in
You'll have to dig a small hole in the sand to provide room for the mini pool
Does baby want to play in the water but maybe the sea is just a little too much for them still? This innovative Portable Protection Shelter by Monobeach allows them the best of both worlds.
Read more
Safety
Babies love to splash around in the water, but the ocean might still be a little scary or unsafe for them, and it's exhausting to constantly be keeping an eye on both their safety and temperament while at the beach. You can keep your child safe from the sun's harmful rays with the material given a UV rating of 50+.
Design
Designed for children under 3 years of age, this little shelter has a mini pool where baby can splash around in a safe amount of water without having to spend too much time in the sun, or get close to the turbulent sea.
Brand
Monobeach is dedicated to developing and manufacturing environmentally friendly, high-quality products for families looking to enjoy recreational time in the great outdoors. This tent also features a storage pocket and two-way zipper, so you can give the baby a little bit of privacy while still being able to peek in, and keep all of their favorite water toys with them, too.
Durability
The tent is an automatic pop-up sunshade, which is lightweight and easy to deconstruct and set up. It comes with its own carrying case, as well as four stakes in case you need to secure it.
10

. Artyish 100% Organic Bamboo Towel
Organic bamboo fabric
Highly absorbent
Comes with a hood
Great for use at the beach or home
Super soft
It can get dirty quickly especially outdoors
What's one thing your baby needs at the beach? A towel! When it comes to your baby, understandably, you want only the best -- Which is why we've searched for the absolute softest, comfortable, and cuddly towel you can find for your baby. Inevitably, whether it's sand or water, towels end up being used as double duty for both laying on as well as cleaning off when it's time to go home. This towel is strictly for the use of drying baby with a few extra-added features that make it perfect for at-home use, too.
Read more
Safety
This Baby Boss towel is made with Organic bamboo fabric which is why it's as soft as -- dare we say it -- a baby's bottom! Because of its bamboo material, it's made to be incredibly strong, durable, and will last through years of uses. This is also why it's the perfect towel to bring to the beach as well since it'll hold up well to the elements.
Design
This hooded towel not only keeps babies dry and protected but also comes with a hood that will keep the sun off of them. It's so multi-use that its versatility lends itself to a plethora of uses, making it the perfect towel.
Brand
Baby Boss has created the perfect, all-around multipurpose towel and we couldn't be happier to have found it. Towels are often the most forgotten thing for beach trips in addition to sunglasses and sunscreen, but this towel is will quickly become an unforgettable staple in your household.
Durability
The interesting thing about bamboo is that it's naturally hypoallergenic and antibacterial, which makes it perfect for use in a towel specifically made for babies. The towel itself is large in size to suit a variety of different baby ages and is also light-years ahead of other towels as far as absorbancy rate and its ability to soak up moisture.
Criteria Used for Evaluation
Safety
The safety of your little one is our number one concern. It is for this reason that we focused our search on items or products that can make the overall beach experience for the youngest members of our family to be very memorable and truly meaningful. We would want them to grow up cherishing very fond memories of their time at the beach. So, we looked for items that can protect them from the harsh elements that are inherent in a beach setting, those that can bring comfort to them while they are either swimming or simply lounging on the beach, and those that can provide them a whole new meaning to the word "beach fun."
Design
The beach can offer a lot of opportunities to have fun, enjoy the cool water, and feel the wind blowing against your face. Unfortunately, it may not be the safest place for babies to be, especially if you're going to go there at the height of the summer heat. It can easily get crowded on the beach as well, making it almost impossible to find a spot that you can turn into your own temporary private space. These were the things that continued to pop in our heads when we decided to share with you the beach gear items that very young children will greatly benefit from.

Brand
Items that are used in public must be stylish and popular because others will view them. These products are quite appropriate for outdoor use and will be the envy of other parents, especially the clothing items and the folding beach chair. These are simply must-have items that will draw attention and make you want to take pictures of your infant constantly. Many colors are provided for several of the products, so the choice is good to match outfits or other accessories.
Durability
It was a tall order since we are essentially looking at the best products across a variety of product categories. Nevertheless, we persevered simply because we want your baby to have only the best. For this, we have ordinary customers to thank for as they provided us with invaluable input on what products we should consider including in our final list. A minimum score of 4.1 on current customer satisfaction rating systems also provided ample weight on the final score for these products.
Most Important Criteria
(According to our experts opinion)
Experts Opinion
Editors Opinion
Users Opinion
By Default

Parents should know
All of these products are highly transportable because they are meant for outdoor activities, therefore they are all lightweight and easy to carry and load. Most are made of durable, safe materials that will last for years of use indoors or outdoors. All of the products can be stored away without losing their shape or vitality and can be tucked away for future outings.
Parents should know
Going to the beach strengthens family ties and allows everyone in the family to really have a good time. For babies, while they still have no idea why they are at the beach, the experience will forever be imprinted in their memories. You can help create a very positive experience by getting any or all of the 10 beach gear items for your baby in 2019.
Other Factors to Consider

Effectiveness
None of the products listed here are frivolous, meaning that they all have a purpose for a common parental issue. They are safe, easy-to-use, and best of all effective for what they were intended to do. Even though similar products are on the market too, these were chosen because they are the best of what the manufacturers have to offer. They are superior products that get the job done for your child.
Age Range
The sizes and ages recommended for most of these items are from infants of a few months to approximately 6 months in age. This will depend heavily on the individual size and age of each infant. Sizes of a few of the items run small, so following manufacturer's recommendations on sizing is very important.
Protection
There are many reasons why you should take your baby to the beach. Unfortunately, while there are many benefits to bringing our youngest kids to the beach, there are inherent risks that we should also be aware of so that we can safeguard their absolute enjoyment. Here are some tips on how you can ensure optimum safety for your kids when taking your baby to the beach.
Be mindful of critical hours when the sun is at its most intense heat and glare. Make sure your child will be in the shade during these times or at least provide them with ample UV protection like sunscreens, hats, and clothing.
Always keep a bottle of refreshing water with you. Even though your baby is not complaining of thirst, you should be proactive in keeping them hydrated. Water loss can be at its greatest during certain times of the day.
Always keep an eye on your kids, especially the younger ones. If you have more than one kid, then get your spouse or someone you trust to supervise and look after the older child. Your baby should always be your focus.
Institute breaks in between sand play and beach activities. The longer children stay out in the sun, the greater is the risk of UV-related concerns as well as dehydration. So, get them in the shade and have some food and drinks to feast on before continuing with the beach activities.
Don't ever forget the age-appropriate sunscreens, wide-brimmed hats, and other UV-protective devices such as shades. Remember that your little angel's body is different from yours.
Frequently Asked Questions
q:

Size is always a problem, especially for young children. When ordering these items, particularly the clothing, should a bigger size be purchased or a smaller one?

a:

This would depend on the item and the child. If the child generally must choose regular clothing a bit larger than normal, then buying a size larger would be best. The opposite would be best for smaller sizes. Look closely as to what the manufacturer has to say about the product sizes and judge accordingly.
q:

Does the sunscreen featured here prevent sunburn for babies?

a:

The manufacturer says it helps prevent sunburn. Sunscreen is supposed to protect from UV rays and most time will only say that it helps prevent sunburn, not totally prevent it. Using shade clothing will help in this matter.
q:

Will the Portable Booster chair topple over?

a:

It should not topple over. The suction cups on each leg are designed to prevent that from happening.
q:

Are the clothes featured here machine washable?

a:

Yes, the two hats and the beach shoes are machine-washable.
q:

Will the pop-up tent topple over on a windy day at the beach?

a:

It should not blow over if you use the stakes supplied with the shade product.
q:

Does the folding cart come in different colors?

a:

No, the only color available is color shown in the picture.