When bathtime is over, all your baby wants to do is snuggle up and get warm and dry. With such sensitive skin, they'll need towels that are specially designed not to irritate them. There are plenty of baby towels out there to choose from. We recommend a terry cloth or bamboo option and strongly suggest a hood. Many towels even have cute little animal faces on the hood for your baby to peak out from under. These ten bath towels were too cute for us to resist and we think you'll love them too!
Our Top 3 Picks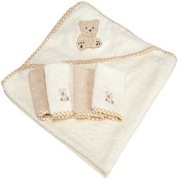 Spasilk Hooded Terry Bath Towel

Our rating
100% Cotton
Price:

See Here
Clevamama Splash & Wrap Bath Towel

Our rating
92% Cotton, 8% Polyester
Price:

See Here
Binztec Muslin Baby Bath Towel

Our rating
Ultra Absorbent
Price:

See Here
Our Picks Of The Best Baby Bath Towels
Luvable Friends Animal Face Hooded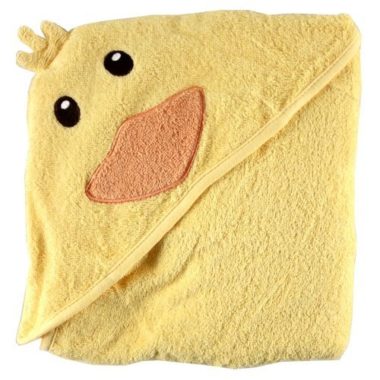 Clevamama Splash and Wrap
San Francisco Organic Bamboo
KeaBabies Hooded Organic Bamboo
Land of the Wee Extra Soft
Lucylla Super Absorbent Lamb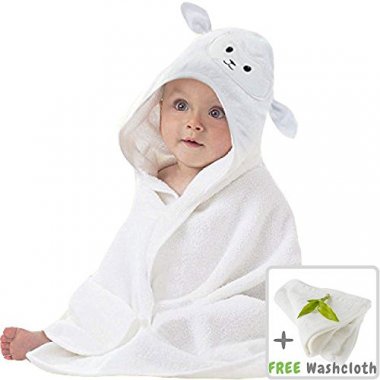 Spasilk 23-Piece Essential Set
Medical Grade Natural Antibacterial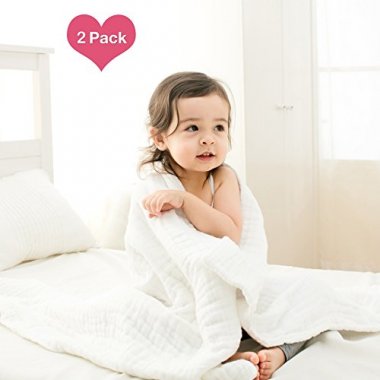 Criteria Used in Evaluation of the Best Baby Bath Towels
Bath time is about so much more than just cleaning your little one. It's a great time to bond and play with your child while also stimulating their development. For newborns, the warm water provides a sense of security. As your newbie relaxes and floats in the water, you will have your hand resting gently under their neck for support. This is the perfect opportunity for you to soothe your baby by calmly singing or talking to them. As your baby continues to grow, bath time doubles as play time. Playing in the bath will stimulate your child's senses and development in many ways. Their fine-motor skills will increase as they splash around and reach for bobbing bath toys. Their senses will be stimulated as they use all five in the tub. They will feel the warm water and the different textures of the bath toys. Some toys make noises, allowing them to stimulate their hearing. Most bath toys are brightly colored and will appeal to their sight. Babies love to put things in their mouth, thus their sense of taste will get plenty of stimulation as they taste the water and bath toys. The smell of warm water and a whiff of baby shampoo will dance through their nostrils as they are bathed.
We know how important bath time is for your kiddo, which is why we took creating this list of baby towels seriously. After diligent research, we decided that it was most important for the towels on the list to be soft, absorbent, and durable.
Texture
A baby's skin is highly sensitive. In fact, way more sensitive than that of an adult. While it is possible, we recommend that you get your baby a towel of their own instead of using one of yours to dry them off. A towel that you have been using for weeks, months, maybe even years has more than likely lost it's plush. If you take that towel and try to dry your baby, it will irritate their skin. A crying uncomfortable baby after bath time is never a good thing. Cotton, muslin, and bamboo are the three main types of fabrics we recommend as they are all very soft. However, chenille is also a good choice as it soft and grows softer with every wash. It is important to gently stroke or pat the water from your child's skin because rough drying motions will irritate their skin.
Absorbency
The absorbency level of the toddler towel is very important because your baby will need to be warm after bath time. Babies get cold easily as they have a harder time maintaining their body temperature. Keeping them warm after a bath will prevent them from getting sick. Thick fabrics will soak up the water quickly and provide warmth for your baby. The quicker the water is absorbed, the quicker you can get a diaper back on your baby thus preventing accidents from happening. Bamboo and cotton are both highly absorbent and provide extra warmth.
Durability
Durability was a priority for us because we know raising a child can be expensive. As a couple of these towels can be considered pricey we wanted to make sure they would last, especially if they were made big enough for your baby to use as they grow into a toddler. Polyester is one of the strongest fabrics. Therefore towels that are made up of a cotton-poly blend are guaranteed to survive multiple washes. Bamboo is able to resist bacteria and odors! This will allow it to outlast towels composed of other materials. Muslin is another fabric known for its durability. It's natural lightweight fibers have been proven to withstand several washes without pilling. Once your child falls in love with the softness of their towel they will want to keep it forever. Forever might be impossible, but the durability of the towels on our list will ensure that your child will get plenty of uses out of their favorite towel.
FAQ
Frequently Asked Questions
Q: Why can't I use an adult towel for my baby?
A: The skin of an infant is far more sensitive than that of an adult. The fabric of an adult towel is too rough. Also, adult towels are way too big for a baby.
Q: What should I look for when picking out a towel for my baby?
A: Choose a fabric that won't be rough on your baby's skin. Cotton, muslin, and bamboo are all good choices.
Q: Do all of my baby towels need a hood?
A: While the hood would keep your baby's head warm, it is not a necessity. Once your baby is lifted from the water, their bodies start to chill. We love hoods because it'll warm them back up.
Q: How many towels do I need?
A: Babies don't need to be bathed every day. In fact, two to three times per week is fine for a baby. It all depends on how often your willing to do laundry. You can reuse the baby washcloth for several baths, thus we recommend having at least four baby towels in your closet.
Q: Can both of my children use the same towel?
A: We strongly recommend that you do not let your kids share towels. Wet towels are capable of harvesting germs, which will raise the chances of all your kiddos getting sick. We suggest getting each child a different colored towel to prevent them from using each other.
Q: Should I give my baby a sponge bath or tub bath?
A: You should only give your baby a sponge bath for up to four weeks after they are born. This time period allows the circumcision and navel, from the umbilical cord being cut off, to heal completely. Although, if your baby has trouble with tub baths, in the beginning, you can go back to sponge baths for a couple of weeks and then try the tub again.