10 Best Baby Bathtubs From Infants to Toddlers
last updated
Aug 21, 2019
Bath time is one of those times that can be a really great bonding moment for a baby and his or her parents. Especially if you have the perfect tub so your little one actually enjoys bath time, making your job as a parent much easier! Finding the right tub is a huge decision when preparing to have a child. You, of course, want your baby to feel safe and secure when bathing, so it is very important to look into certain factors such as the material they are made out of, how sturdy they are, and if they are going to make your little one feel safe when using it. We took some of the hard work out of researching and selecting the best tub for you and compiled a list of the 10 Best Baby Bathtubs rated and reviewed in 2019. Enjoy!
This is the best product on our list that is currently in stock: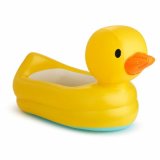 Hot Inflatable Duck
Why is it better?
Color-changing temperature gauge
Texture prevents slipping
Easily stored
Slip-resistant and supportive
In a
Hurry? Editors choice: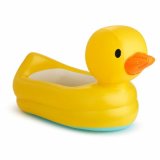 Test Winner: Hot Inflatable Duck
12
Researched Sources
30
Hours Researching
20
Products Evaluated
Comfort
Design
Safety
By Default
Top 10 Picks
1

. Fisher-Price Whale of a Tub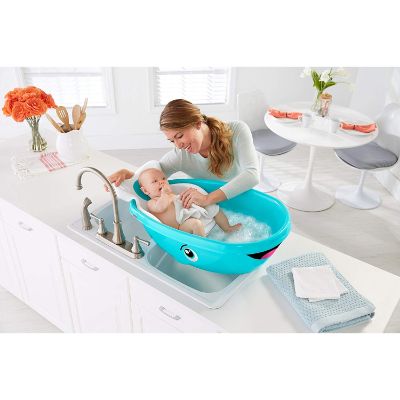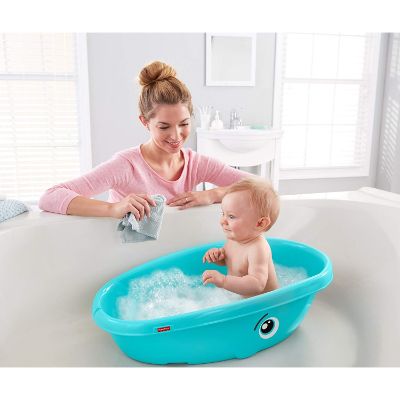 Infant seat with a cozy padded seat on the back to prevent baby from slipping around
Features removable baby seat from more room when they enter toddler age
Easy clean up with flush drain plug
Great for the sink or the tub
Provides a safe and comfy place for baby to toddlers to bath
Removable seat constructed from hard plastic
Details on the outside of the tub are stickers that easily come off when exposed to water
Bath time should be a fun and relaxing time for both the little one and the caregiver. Having a bathtub that is suited for your growing little ones makes the process so much easier. This is a plastic tub that features a removable seat that can be used in both the sink and the bathtub. It grows with your little one as they grow.
Read more
Comfort
The bathtub features a contoured infant seat that has been constructed from plastic and features a foam headrest. The headrest is great for keeping your little one as a baby comfortable during the bath and allows you to keep them secure in the water. When they are sitting on their own the seat is easily removed and allows for a larger space to be able to safely bathe your toddler.
Design
Bathing your little one can be a struggle. The more they wiggle the wetter they get and the wetter they get the more they wiggle. This seat has been designed to help with that. Bathing a little one with one hand is hard enough so the surface of the infant seat features a non-slip coating that helps keep them secure during the entire bath. The whale-shaped tub with all these great features for your growing little ones will always bring a smile to their face.
Safety
From the foam headrest to the non-slip surfaces this bathtub has been designed to keep your little one safe and secure during bath time. Keeping them secure and feeling safe will build their confidence during bath time and allow them to enjoy the experience. This creates a great time to be able to bond with them.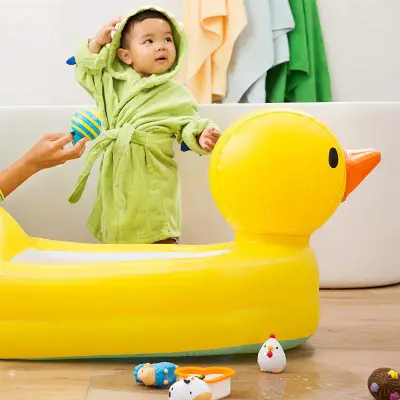 Color-changing temperature gauge
Texture prevents slipping
Easily stored
Slip-resistant and supportive
Needs to be inflated
Not for use under 6 months
The bottom of the duck is textured to prevent your baby from slipping. The tub inflates and deflates easily so you can store and transport it without any trouble and the tub changes color to help alert you as to whether the temperature is appropriate for your baby or not.
Read more
Comfort
One of the things that concern us parents about bathing our young children is the temperature of their bath water. Sure, we can always use a thermometer but it's too cumbersome. With the White Hot Inflatable Duck Tub, we don't have to fret with guessing the correct temperature of our babies' bath water. The inner wall of this inflatable duck bathtub turns white from light blue if the water is too hot for baby's comfort. There simply is no second-guessing the water temperature. Just keep it in blue and you can be sure baby will be alright. The bottom is also textured so baby won't be slipping underwater.
Design
Since this tub is inflatable, it works perfectly for traveling and fits nicely in any storage space. There is no worry of leaks as well due to the quality materials this tub is made of.
Safety
Don't let this cute duck fool you, the tub is durable and versatile. Parents feel at ease seeing the tub holds a small amount of water. This makes it safer for the infant and easier but is still large enough to hold a toddler.
3

. Baby Inflatable by Intime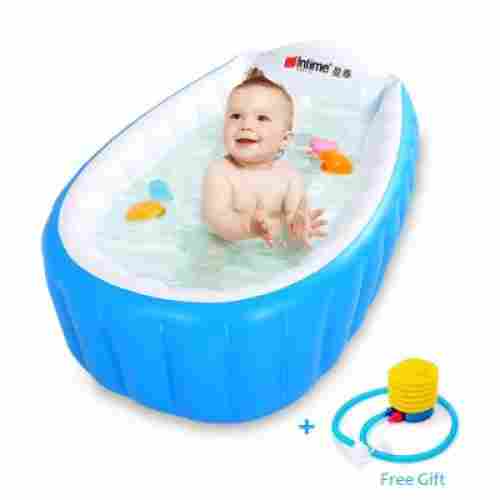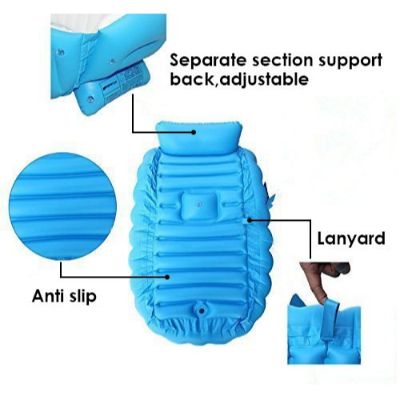 Created from inflatable PVC materials
A soft and smooth bathtub that is easy on their sensitive skin
Bottom features anti-slip design on inside and outside
Includes inflatable raised center for extra added leg support
Easy clean up with large drain plug
Included pump is hard to use and unreliable
Center support does not offer much of a decline for smaller babies
Making your baby or toddler love bath time with this inflatable bathtub is easy. When your little one is a baby they will love relaxing in this tub and as they get older they will then playing with a few toys and enjoy getting a bath. The bathtub is a large inflatable tub that has been constructed from BPA free materials that are PVC. The material is soft and smooth making it a durable and practical place to have your little one a bath.
Read more
Comfort
The comfort is all in the design of this bathtub. It has been created from a soft and durable PVC material that is then filled with air. What is more comfortable than air? Not much. Not only is smooth against their skin but it also protects from bumps as they move around as they get older.
Design
The bathtub is easy to inflate with the included pump. The pump is hand powered and will have the bathtub inflated and ready to go in just a short time. Once the bath has been completed cleaning up is just as easy. It features an oversized drain plug that is in the bottom that releasing all the water right out. The tub even has a storage pouch built right into the side. This is great for holding the baby wash and cloth when you are bathing them. The tub can also be hung to dry by the attached rope.
Safety
Safety is always one of the most important features of anything that has to do with your little one so, this company has created this bathtub with lots of baby safe features. It has a slip-resistant material on the bottom of the bathtub. The material is both inside and outside the tub. This helps prevent slipping from the sink or the tub and from the little one from slipping when inside. Plus there is also a raised section that has to be inflated. This offers extra support for their little legs. In the rear of the tub, the backrest has been created at a 45-degree angle for added support.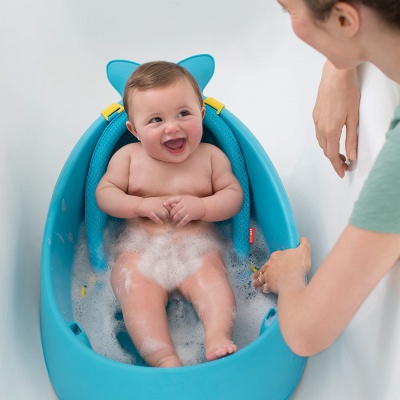 Adjustable sling
PVC and phthalate free
Includes storage hook
Non-slip bottom
For a more realistic Moby Dick bath time experience, give your baby the Moby Bathtub with Sling. It features 3 stages of soft mesh sling adjustments commensurate to the developmental milestones of children. Stage 1 is for newborns up to 3 months old while Stage 2 is for young infants up to age 6 months. Stage 3 is for sitters and young children who weigh no more than 25 lbs. It comes complete with a swivel hook for easy storage and a drain plug for easy cleaning. The interior surface has a non-slip texture.
Read more
Comfort
With two locking positions for the sling and features necessary to support three stages of development, bath time will be good and cozy for young children for a while to come.
Design
We absolutely love the whale design. And the mesh sling conforms to the shape of the whale as if you don't know that it's there. The drain is conveniently located for a quick cleanup and easily fits in the tub. This tub includes a rotating hook feature to hang wherever you need to store. What more can you ask for?
Safety
The 3 stages are perfect for each stage of development. Everyone from newborns to toddlers can benefit from the cozy style headrest and sling. The sling can be locked in 2 positions for support and is textured for a non-slip bottom. Parents can also rest easy knowing this tub is PVC and phthalate free.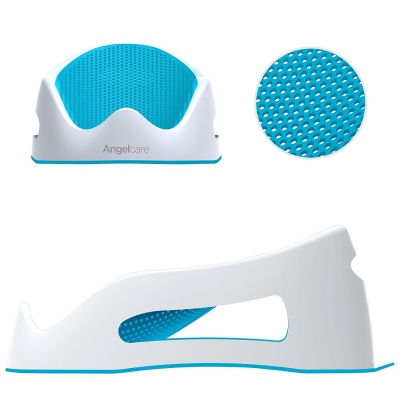 Fits in sinks larger than 23" x 14"
Soft mesh lining
Mesh allows water to drain quickly
Ergonomic design for back support
Better for girls; puts pressure on boys' parts
Venting can lead to chilly babies
This ergonomic little tub can fit inside sinks that are larger than 23" x 14" and hangs easily over it when done. It's lightweight, durable, and made not to trap any nasty bacteria.
Read more
Comfort
The mesh is gentle on baby's skin and the ergonomic design provides them support so that they can comfortably stay upright even if those little muscles are still learning the mechanics of sitting up.
Design
This design is perfect for parents looking for an easy, compact solution. It fits inside larger sinks and when you're finished you can hang it on the wall right above the sink for easy access. It even includes a little loop for hanging storage!
Safety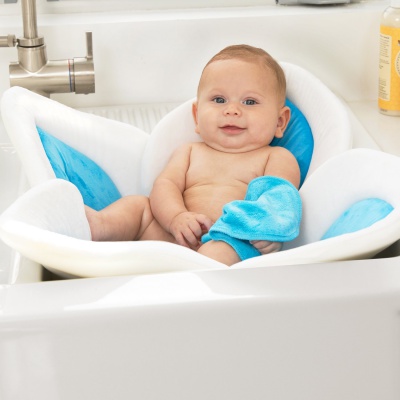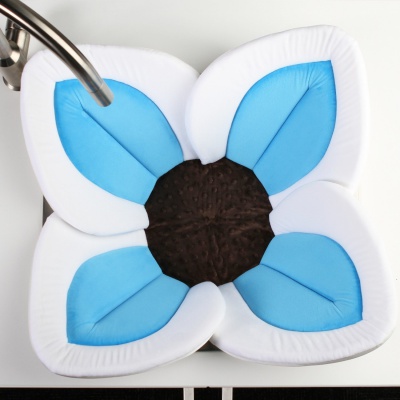 Easy to dry and store
Safely cradles your baby
Easy to use
Super soft flower provides a comfortable experience
Some reviewers experience longer drying times
With the flower measuring in at 33 inches from tip to tip, it is perfect for newborns and babies up to 6 months old. It is super easy to use, it fits into most sinks and is easy to pack up and store. You have control over the depth of the pool and all fabrics involved are machine washable.
Read more
Comfort
The Blooming Bath Lotus has modernized the traditional baby bathtub and the process of giving your little one a bath. The four wide lotus petals make it possible for you to bathe your baby in any sink at any time. The large petals completely cover the inside of the sink to provide a comfortable area for your baby. You won't have to worry about your child's skin being irritated as the fabric is super soft. Not only do the petals make bath time comfortable but they also make it safe in the way that they cradle your baby. The bath flower comes in a variety of colors but the white trim of the petals provides a simple, elegant, and clean look.
Design
When it is time for a bath simply plug the sink drain, put the flower in the sink and pool the water to your desired level. When bath time is over all you have to do is wring out the excess water and place the flower in the dryer for 10-15 minutes. You can even throw it in the washer machine to clean it. The flower folds up making it easy for you to store it.
Safety
This flower puts a unique spin on bath time that benefits both you and your baby. Your baby will be comfortable and safely cradled while being washed. You have better control over the amount of water in the tub and with the flower easily folding up you won't have to worry about storing a big bulky plastic tub.
7

. Disney Nemo Inflatable Safety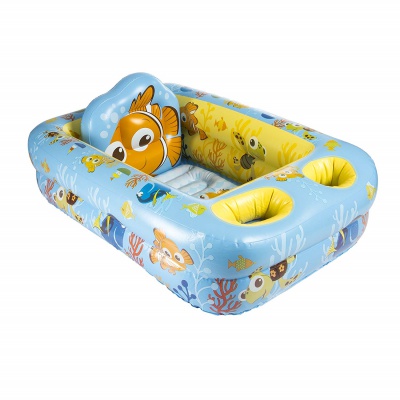 Includes hook for drying and/or storage
Equipped with 2 storage pockets for soap & shampoo
Lightweight & Portable
Multiple animated character patterns to choose from
Has a minimum weight requirement of 30.9 pounds, so is essentially made for an older baby or small toddler, not an infant
If you are looking for a baby bathtub that isn't made out of a hard material, takes up little to no space making it super convenient to travel with, as well as easy to store, and features some of your child's favorite animated characters, then this is the tub for you. Best of all, this is so easy to keep clean because you can easily deflate, rinse, and hang it up to dry all within a few minutes time making bath clean up a breeze! This bathtub has the highest minimum weight of all the tubs on the list at 30.9 pounds but we wanted to make sure to include it for convenience, travel, or even a little time in the water outside or at the beach. This tub will surely be a great addition to your baby gear!
Read more
Comfort
This product features a nice soft inflated, non-slip surface that has some texture to it and an easy-to-read display to help you regulate the water temperature. There are even two big pockets on the end to hold your shampoo bottles!
Design
The biggest and most obvious benefit of this particular style of tub is how lightweight and portable it is! You can literally store one in your travel bags and take it with you everywhere and it won't take up any space at all until you need to use and inflate it! It weighs less than 2 pounds but inflates to be large enough to hold a toddler! Best of all, if your child isn't a fan of Finding Nemo, there are 4 other patterns to choose from! Your little one could be taking a bath with his favorite Sesame Street Characters, Mickey Mouse, Minnie Mouse, or even some of the Disney Princesses instead!
Safety
We love the fact that it is a different type of tub then otherwise featured on our list. It is inflatable so it is made of a cushioned soft material so you never have to worry about how comfortable your baby is or if they may get hurt, as long as you are using it properly.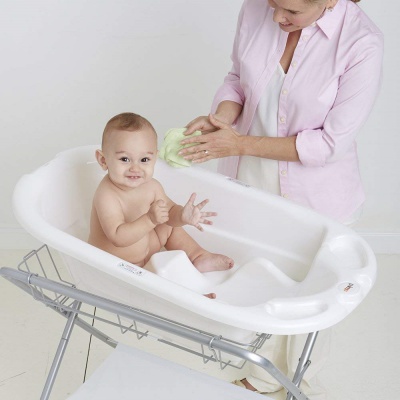 Conforms to infant's body
Great for newborns up to 24 months
Drain plug for easy cleanup
2 positions for bathing
Loop for storage not included
Too big to fit in the sink
Want a luxury-looking bathtub for your baby? Then get PRIMO's EuroBath made of premium plastic that has been certified free from phthalates, lead, and BPA. It is designed with the growing baby in mind complete with a shape that is formed after the anatomy of young infants. It features safety supports for the kid's forearms and legs. This helps prevent the young child from slipping. The design is optimized for 2 possible bathing positions – reclining for younger babies 0 to 6 months of age and sitting for infants 6 to 24 months old.
Read more
Comfort
The EuroBath Pearl White allows two positions for bathing. The tub also is molded to fit an average infant's body proportions.
Design
This supportive design is safe for infants as well as easy to clean and store. There are no loose parts or seams, therefore it can be used regularly long term.
Safety
Parents love knowing their little one can't slip around in this tub due to the anatomical design. It is nice knowing this tub is made from recycled Polypropylene in the USA and free of BPA, PVC, and lead.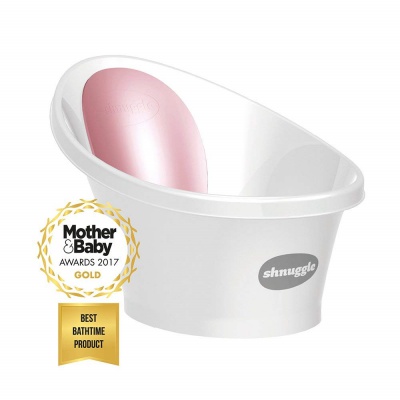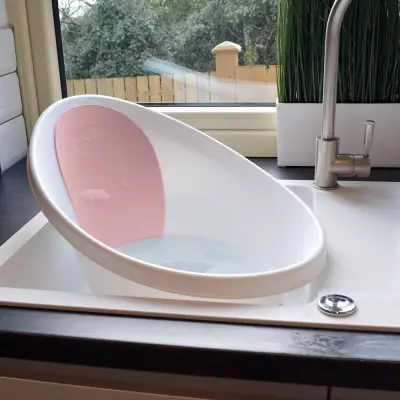 Lightweight
Large backrest provides support
The base is designed with rubber on the bottom for safety
Bum bump allows you to have both hands free
The size of the tub may make it hard to store
The Shnuggle Bath is an award-winning tub that will make bath time easier and safer. The rolling flow top and smooth curves show this tub was designed with newborns and babies up to 12 months in mind. The large foam backrest provides support to your baby's body while they are being bathed. The tub only holds 2 liters of water. Even with the water, this tub weighs under 10 pounds which makes it easy for you to transport. Its compact size makes it easy for you to use it in the shower, sink, bath or on the floor. The base of the tub is equipped with rubber to keep the tub from moving around in the shower or on the floor. The tub is all white but the foam backrest comes in several different colors. Composed of plastic, this tub is durable so you can wash your baby in it until they grow out of it.
Read more
Comfort
As your baby starts to sit on their own, the bump will continue to provide them with support as well as boost their confidence levels. Not only is the foam backrest soft, but it also is warm which will help keep your baby warmer when the water begins to turn cold.
Design
The tub is designed with a bum bump that will help support your baby as they recline, which gives you both hands-free. You won't have to worry about them slipping and sliding in the tub. With an extra hand free, you can wash, play and bond with your baby better.
Safety
With safety as our first priority, the large foam backrest and the bum bump really stood out to us. Both features provide support for your baby's body and will prevent them from slipping and sliding. It also gives you the opportunity to wash your little one with both of your hands free.
10

. Summer Infant Comfort Height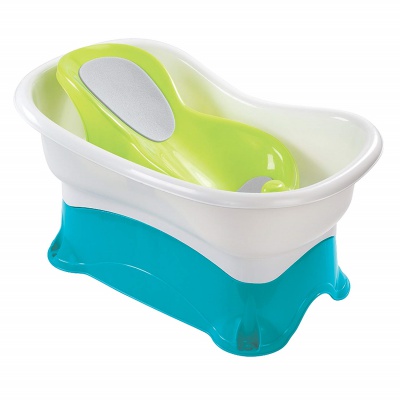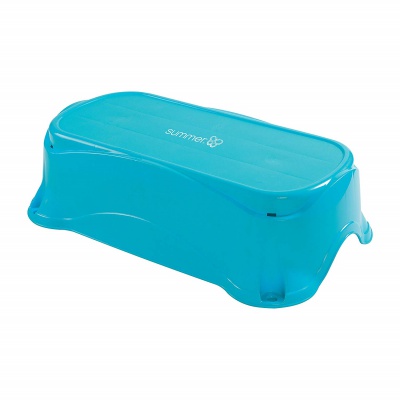 Removable base
Top and base lock together securely
An infant can be raised up to prevent back strain for parents
Features a sturdy seat with wiggle room
Might not fit into all sink sizes
The simplicity of this tub makes it easy to use, easy to clean, and easy to put together. It's just your basic infant bathtub with no frills but it's one that's built well and will last for years as your child grows. The tub is great for toddlers up to two years of age and is a tub that will definitely grow with them!
Read more
Comfort
The best part about this Comfort Height bathtub is the fact that it's raised, which allows you to bathe your baby with more comfort and it gives them a feeling of being higher up, and not "sitting on the ground", so to say.
Design
The locking and unlocking base of this infant bathtub is a big selling point, mainly because it pulls its own weight as far as a growing baby goes. The tub is good for use for toddlers up to age two, which makes it a great investment with an adjustable height an additional stool or bench piece.
Safety
Its interior seat has a slimline design that raises infants up to the appropriate height and allows them to feel secure without restricting them too much. The top and the base lock together to create solid one-piece bathtub unit, and later on, the base can be unattached and used as a stool when babies get older and no longer need to be raised as high.
Criteria Used for Evaluation
Comfort
Textured bottoms and head pillows are an added bonus in some bathing tub options. The textured bottoms decrease chances of slipping and the head pillows can cradle an infant's head and neck for optimal comfort. Slings are another feature needing considerations. Slings can be adjusted for support and comfort depending on the needs of your little one. By adjusting the sling, many of these tubs can be used for infants to toddlers. Hammock styles geared towards newborns and reclining positions are best for supported sitting up. Seated tubs are best for independent toddlers. On the other hand, some parents find the sling cumbersome and more work. It all comes down to personal preference and the age of your little one.
Design
Some models include shower nozzles, but there can be some risks involved. Having a constant flow of water can be a drowning hazard and attaching the nozzle directly to the water source could experience sudden temperature changes. We recommend a nozzle that comes from a basin of temperature controlled water with a button feature to turn off the flow when not in use. Another consideration is where you prefer bathing. Some people like bathing in the sink, so they don't have to get on their knees or strain their back. The added counter space can be nice for extra toys and soap. Some parents enjoy bathing in a regular bathtub due to the extra space. Again, it depends on personal preference and what works in your household.
Safety
There are many features to look for when purchasing a baby bathtub, but the most important factor is safety. There are a few things that fall into this category including drowning hazards, chemicals and mold. Firstly, it is important to find tubs designed to minimize the risk of infants rolling over, sliding or otherwise getting hurt. Having an ergonomically built tub can minimize these risks overall. Although, any child under 6 years old should be heavily monitored, according to American Academy of Pediatrics. In addition, the components of the product should be mold resistant and BPA-, phthalate- and PVC-free along with any other harmful chemical.
Most Important Criteria
(According to our experts opinion)
Experts Opinion
Editors Opinion
Users Opinion
By Default

Parents, Did You Know?
By the time young children are able to sit up, they will already begin to build their self-confidence. They know that Mom is always there should something go wrong. They know that they can explore their bathtub, play with their bath toys, and have as much fun as they possibly can in their bath tubs while Mom and Dad are watching, giving them encouragement. This helps build self-esteem in the young child.
Parents, Did You Know?
A survey conducted by Johnson & Johnson revealed that 13 out of 20 parents never use their mobile phones while they are bathing their babies. Compare this with the 27 out of 50 parents who use mobile phones while cuddling their babies. Using mobile phones or any form of digital technology during baby time is counterproductive to babies' optimum development because the attention of parents are divided between their mobile phones and the care and attention they give their babies. This is not a good way to care for our young children. So, Moms and Dads out there, please do provide 100 percent attention to baby.
Other Factors to Consider

Educational Value
Infants benefit a lot in terms of their cognitive, physical, emotional, and social development during bath time. This is especially true if Mom hops onto the tub with her little one. It's more than just cleaning the little child's body. It's a whole body and mind experience for the little one.
It is understood that the main benefit of bath time for babies is hygiene or cleanliness. In pretty much the same way as we adults take a bath to clean ourselves, remove the dirt and dust that have accumulated over the course of the day in our bodies, babies too need to have their bodies cleaned. Sometimes when they regurgitate the milk they ingested or even soiled their diapers or got in contact with dirty items, they may be exposed to a lot of harmful substances. For us, these are harmless. But for them, owing to a still immature immune system, even a tiny speck of dust might prove dangerous already. So, bathing allows us to remove dried up regurgitated milk, dust, dirt, and other particles to keep our baby's skin healthy.
Many pediatricians say that one of the most important benefits of bathing for infants is improving their circulation as well as stimulating their muscles. By gently massaging our babies' bodies, we are able to facilitate the more efficient flow of blood all over our baby's body. This brings much-needed oxygen and other nutrients to the brain to aid in its optimum development. It also nourishes the young heart and brings vital nutrients to the muscles and other organs. This helps in the optimum growth and development of these body organs.
Now, when we touch our babies while they are bathing, we are actually improving their sensory development. When we make funny faces or elicit fun sounds, their eyes grow in amazement. They get fascinated by the splash of water including its temperature. And when there are bubbles, just looking at them float and then pop is already a very wonderful experience for them. Add bath toys and the whole bath time experience can really be an exciting sensory adventure for them.
And this is how babies learn. They see things. They hear and are able to touch the things they see. It's all sensory to them. All of these sensations are integrated in their developing brain providing the foundation for the development of their cognitive skills. When they grow up, their brains will integrate these foundational pieces of information to new ones creating an entirely new and different concept. And as they continue to grow and experience a variety of things and sensations, their cognitive development grows with it.
Aside from the cognitive development that bath time fosters, babies also develop their emotional skills. They are able to form trust with Mom and Dad. They learn that the touch of Mom brings them comfort and gives them the reassurance that they are loved and cared for. For young infants, bath time is a very special moment where Mom or Dad can be with them 100 percent. This also means that Mom's attention is 100 percent focused on baby.
Frequently Asked Questions
q:

Why is it important for the tub to be BPA free?

a:

A: BPA stands for Bisphenol A and many people have seen the BPA-Free labels. BPA, along with other chemicals have been linked to causing hormone imbalances, thyroid issues and even brain damage and cancer. These effects have been tested extensively since 2007 and has been extremely controversial substance since. It is mostly found on plastic but can be found on many household items.
q:

Can this tub fit in my sink?

a:

Sink can vary significantly depending on size and shape. Some sinks can handle many types of baby bath tubs while others might have a bowl-like shape causing instabilities. We recommend measuring the size of your sink and reference the size of the tub to see what works best.
q:

How much water should I put in my tub and at what temperature?

a:

You should only put just enough water necessary, generally about 2 inches. Infants can drown in 2 inches or less of water and should be supervised at all times. Babies can kick or roll, and falling could put them headfirst into the water. Most babies enjoy warmer waters, between 82 and 86 degrees.
q:

I lost a piece for my tub. Can I order a replacement?

a:

You can order a replacement from the manufacturer's website for some of these products. Others feature replacements sold on Amazon.
q:

When should I stop using the sling?

a:

When your little one is able to sit more independently, you can transition to a more upright position. As they are gaining the strength to sit independently, they can use just the tub portion. It's generally recommended for 3 months or until 15 pounds. Children should still be supervised at all times until they are 6 years old.
q:

How many inflation zones does the Munchkin White Hot Inflatable Duck have?

a:

There are 2 inflation zones for the easiest setup. One is for the sides and the other is for the bottom.