Bath time is one of those times that can be a really great bonding moment for a baby and his or her parents. Especially if you have the perfect tub so your little one actually enjoys bath time, making your job as a parent much easier! Finding the right tub is a huge decision when preparing to have a child. You, of course, want your baby to feel safe and secure when bathing, so it is very important to look into certain factors such as the material they are made out of, how sturdy they are, and if they are going to make your little one feel safe when using it. We took some of the hard work out of researching and selecting the best tub for you and compiled a list of the 10 Best Baby Bathtubs rated and reviewed in 2019. We have no doubts you will find exactly what you are looking for among the options we have chosen to feature below.
Our Top 3 Picks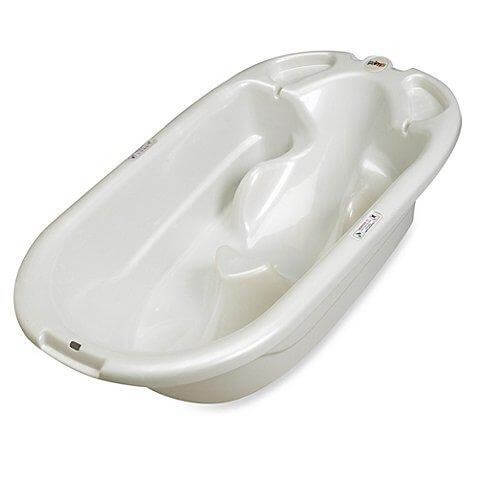 Primo EuroBath

Our rating
Anatomical Shape
Price:

See Here
Shnuggle Bath

Our rating
High Foam Backrest
Price:

See Here
4-in-1 Sling N Seat

Our rating
Suitable up to 25 lbs
Price:

See Here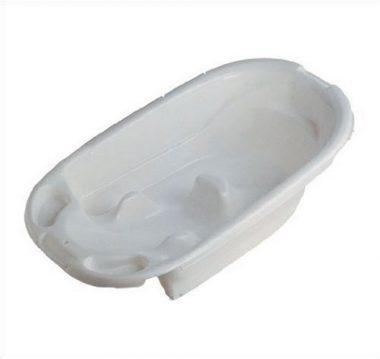 Fisher-Price 4-in-1 Sling 'n Seat Tub
Summer Infant Comfort Height Bath Tub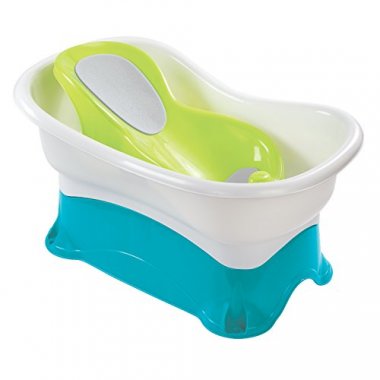 Sure Comfort Deluxe Newborn Tub
Smart Sling 3-Stage Bathtub
Precious Planet Whale of a Tub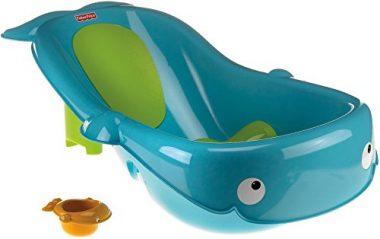 Disney Nemo Inflatable Safety Tub
Criteria Used In Evaluation of The Best Baby Bathtubs for Infants
There are many features to look for when purchasing a baby bathtub, but the most important factor is safety. There are a few things that fall into this category including drowning hazards, chemicals and mold. Firstly, it is important to find tubs designed to minimize the risk of infants rolling over, sliding or otherwise getting hurt. Having an ergonomically built tub can minimize these risks overall. Although, any child under 6 years old should be heavily monitored, according to American Academy of Pediatrics. In addition, the components of the product should be mold resistant and BPA-, phthalate- and PVC-free along with any other harmful chemical.
Slings are another feature needing considerations. Slings can be adjusted for support and comfort depending on the needs of your little one. By adjusting the sling, many of these tubs can be used for infants to toddlers. Hammock styles geared towards newborns and reclining positions are best for supported sitting up. Seated tubs are best for independent toddlers. On the other hand, some parents find the sling cumbersome and more work. It all comes down to personal preference and the age of your little one.
Textured bottoms and head pillows are an added bonus in some bathing tub options. The textured bottoms decrease chances of slipping and the head pillows can cradle an infant's head and neck for optimal comfort. Some models include shower nozzles, but there can be some risks involved. Having a constant flow of water can be a drowning hazard and attaching the nozzle directly to the water source could experience sudden temperature changes. We recommend a nozzle that comes from a basin of temperature controlled water with a button feature to turn off the flow when not in use.
Another consideration is where you prefer bathing. Some people like bathing in the sink, so they don't have to get on their knees or strain their back. The added counter space can be nice for extra toys and soap. Some parents enjoy bathing in a regular bathtub due to the extra space. Again, it depends on personal preference and what works in your household.
What Determined The Tubs in Our List
Choosing the top bathtubs for babies is quite interesting simply because they all serve the same function. It all boils down to the quality of the craftsmanship, the thoughtfulness in the design, the safety of the materials used in the design, and the overall reputation or credibility of the company that produced it. Of course, there are added features in these miniature bathtubs so we also had to examine their usefulness in terms of helping the infant optimize his or her growth and development. It was a very challenging endeavor to come up with a list of the finest infant bathtubs; nevertheless, it was fun doing it.
Babies' Bath Time and the Implications to Their Development
Infants benefit a lot in terms of their cognitive, physical, emotional, and social development during bath time. This is especially true if Mom hops onto the tub with her little one. It's more than just cleaning the little child's body. It's a whole body and mind experience for the little one.
It is understood that the main benefit of bath time for babies is hygiene or cleanliness. In pretty much the same way as we adults take a bath to clean ourselves, remove the dirt and dust that have accumulated over the course of the day in our bodies, babies too need to have their bodies cleaned. Sometimes when they regurgitate the milk they ingested or even soiled their diapers or got in contact with dirty items, they may be exposed to a lot of harmful substances. For us, these are harmless. But for them, owing to a still immature immune system, even a tiny speck of dust might prove dangerous already. So, bathing allows us to remove dried up regurgitated milk, dust, dirt, and other particles to keep our baby's skin healthy.
Many pediatricians say that one of the most important benefits of bathing for infants is improving their circulation as well as stimulating their muscles. By gently massaging our babies' bodies, we are able to facilitate the more efficient flow of blood all over our baby's body. This brings much-needed oxygen and other nutrients to the brain to aid in its optimum development. It also nourishes the young heart and brings vital nutrients to the muscles and other organs. This helps in the optimum growth and development of these body organs.
Now, when we touch our babies while they are bathing, we are actually improving their sensory development. When we make funny faces or elicit fun sounds, their eyes grow in amazement. They get fascinated by the splash of water including its temperature. And when there are bubbles, just looking at them float and then pop is already a very wonderful experience for them. Add bath toys and the whole bath time experience can really be an exciting sensory adventure for them.
And this is how babies learn. They see things. They hear and are able to touch the things they see. It's all sensory to them. All of these sensations are integrated in their developing brain providing the foundation for the development of their cognitive skills. When they grow up, their brains will integrate these foundational pieces of information to new ones creating an entirely new and different concept. And as they continue to grow and experience a variety of things and sensations, their cognitive development grows with it.
Aside from the cognitive development that bath time fosters, babies also develop their emotional skills. They are able to form trust with Mom and Dad. They learn that the touch of Mom brings them comfort and gives them the reassurance that they are loved and cared for. For young infants, bath time is a very special moment where Mom or Dad can be with them 100 percent. This also means that Mom's attention is 100 percent focused on baby.
A survey conducted by Johnson & Johnson revealed that 13 out of 20 parents never use their mobile phones while they are bathing their babies. Compare this with the 27 out of 50 parents who use mobile phones while cuddling their babies. Using mobile phones or any form of digital technology during baby time is counterproductive to babies' optimum development because the attention of parents are divided between their mobile phones and the care and attention they give their babies. This is not a good way to care for our young children. So, Moms and Dads out there, please do provide 100 percent attention to baby.
By the time young children are able to sit up, they will already begin to build their self-confidence. They know that Mom is always there should something go wrong. They know that they can explore their bathtub, play with their bath toys, and have as much fun as they possibly can in their bath tubs while Mom and Dad are watching, giving them encouragement. This helps build self-esteem in the young child.
The Bottom Line
Bath time is a wonderful time for young kids. It helps stimulate their physical, cognitive, social, and emotional development. It helps foster parent-child relationship. And with our list of the top 10 bath tubs for babies, you now can have a more productive time with your infant.
FAQs
Frequently Asked Questions
Q: Why is it important for the tub to be BPA free?
A: BPA stands for Bisphenol A and many people have seen the BPA-Free labels. BPA, along with other chemicals have been linked to causing hormone imbalances, thyroid issues and even brain damage and cancer. These effects have been tested extensively since 2007 and has been extremely controversial substance since. It is mostly found on plastic but can be found on many household items.
Q: Can this tub fit in my sink?
A: Sink can vary significantly depending on size and shape. Some sinks can handle many types of baby bath tubs while others might have a bowl-like shape causing instabilities. We recommend measuring the size of your sink and reference the size of the tub to see what works best.
Q: How much water should I put in my tub and at what temperature?
A: You should only put just enough water necessary, generally about 2 inches. Infants can drown in 2 inches or less of water and should be supervised at all times. Babies can kick or roll, and falling could put them headfirst into the water. Most babies enjoy warmer waters, between 82 and 86 degrees.
Q: I lost the sling for First Years Sure Comfort Deluxe Newborn To Toddler Tub. Can I order a replacement?
A: You can order a replacement from the manufactures website.
Q: When should I stop using the sling?
A: When your little one is able to sit more independently, you can transition to a more upright position. As they are gaining the strength to sit independently, they can use just the tub portion. It's generally recommended for 3 months or until 15 pounds. Children should still be supervised at all times until they are 6 years old.
Q: How many inflation zones does the Munchkin White Hot Inflatable Duck have?
A: There are 2 inflation zones for the easiest setup. One is for the sides and the other is for the bottom.