At some point in your journey of being a parent, you will experience your child's first fever. While some fevers won't cause any harm to your child, others can be a sign of something serious. In order to find out if you need to call your doctor, you will have to take your child's temperature, especially since your little one won't be able to tell you they're not feeling well. If you don't have a baby thermometer yet, it is time to get one. With our list of the ten best baby thermometers, you won't have any trouble finding one for your family.
Our Top 3 Picks
QQcute Digital Infrared Forehead Thermometer

Our rating
Fever Alarm
Price:

See Here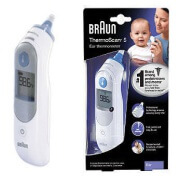 Braun Digital Ear Thermometer for Babies

Our rating
+Protective case
Price:

See Here
Digital Medical Thermometer Best FDA Quick

Our rating
Free e-book
Price:

See Here
OCCObaby Clinical Forehead Baby Thermometer
Thermoscan5 Ear Thermometer
Equinox Digital Non-ContactThermometer
iProven DMT489 Gray Cap Thermometer
Baby Forehead and Ear Thermometer – iProvèn TMT-215
Forehead and Ear Thermometer by DrKea
Kinsa QuickCare Smart Digital Thermometer
Non-Contact Forehead Medical Infrared Thermometer by Dr. Madre
Purple Safety Baby Digital Thermometer
VeraTemp Non-Contact Thermometer
Criteria Used in Evaluation of The Best Baby Thermometers
Because baby thermometers are vital to the safety and health of children, we were rather strict with our evaluating criteria. As always, safety is the most important aspect of ranking and rating these thermometers. No mercury thermometers or other harmful thermometers are included on this list, and each thermometer has inherent safety features that will be discussed in the Safety section. Accuracy was our second biggest concern. This is because a thermometer is only as good as its rate of accuracy. We included numerous types and models of thermometers with varying rates of accuracy, but all rates are safely above 97%. We discuss these rates in greater depth under the Accuracy section. Finally, our third biggest concern was comfort. It doesn't matter how accurate or safe a thermometer is if that thermometer isn't comfortable for the child. For comfort, we specifically looked at the construction and convenience of the thermometer. We discuss these details in greater depth under the Comfort section.
Safety
For the safety of all children, we included numerous types of thermometers on this list. This is because what might work best for newborns might not be safe for older children. For instance, rectal thermometers are great for newborns because they won't protest as much as an older child would. But oral thermometers, while great for older children, are a choking hazard to babies and newborns. We also abstained from mercury-based thermometers. This is because mercury-based thermometers have been linked to tons of health issues such as nerve damage, mental impairment, and seizures.
Accuracy
Because a thermometer is only as great as its accuracy, we selected thermometers with accuracy rates exceeding 97%. It's also for this reason that we included numerous types of thermometers. Rectal thermometers are the most accurate measures of temperature, while the mouth and ear method are the least. Though these different types of thermometers have varying accuracy rates, all of the thermometers on this list are greater than 97%. With that being said, no matter how accurate a thermometer can be, it can never be equal to 100% accuracy. The closest you can get to perfect accuracy is in a medical setting.
Comfort
Finally, we have comfort. Though this is the last aspect we search for in thermometers, that doesn't mean comfort is any less important than accuracy or safety. All of the thermometers on this list are designed for both the comfort of the parent and child. The construction of the thermometer is meant to fit comfortably in the hand and also to take the temperature of the child in a comfortable and non-painful way. Even the more invasive options, such as the rectal thermometers, come with features such as guards to ensure comfort and safety.
What Determined the Top Baby Thermometers in Our List
If you are thinking about the same thermometer that were used on us when we were still kids, don't worry because those glass thermometers are clearly things of the past. Today, everything is digital. Unfortunately, as there are so many products that claim to provide the most accurate temperature readings, it is very important to choose which ones are truly the best.
It is for this reason that we came up with this top 10 list of the best baby thermometers. We had to carefully examine each product to determine their accuracy as well as ease of use. We also had to take into consideration whether it will be comfortable for baby as any undue stress can only elevate the temperature even further. We then looked at any sign of certification or recognition from accredited government agencies as well as professional organizations as these are often indications of quality. The different features of the thermometers were also taken into consideration as well as the reviews and feedbacks of parents like us.
Fevers among Babies and How to Take Your Baby's Temperature
Nothing worries Mom and Dad a lot more than feeling baby hot and flushed. Couple this with the knowledge that babies' immune system and thermoregulation are not yet fully mature and parents can be seen scrambling for answers as to why their babies feel hot. Is it fever? Or is it just Mom and Dad's apprehension that is making them feel baby is warmer than usual.
There are many reasons why babies have a fever. In most cases, it is often an indication of an infection. Among babies, the most common infections are those caused by viruses and the fever, if any, should readily subside within three days. These often coincide with known seasonal infections like flu season and cold season. However, if the fever persists for more than three days and is unusually high there is a very strong likelihood that your baby has a bacterial infection. This is especially true if the fever is accompanied by other manifestations such as earache, the production of thick and tenacious phlegm, and other signs and symptoms. If you really suspect bacterial infection, make haste as this is usually a medical emergency especially in the first three months of life.
But how do you know it's really fever? More importantly, when does the body temperature of your baby mean that it is already fever?
The American Academy of Pediatrics says that any 3 month old baby who has a body temperature of not less than 38oC or 100.4oF is deemed to have fever. Doctors, particularly pediatricians, recommend bringing your baby to his or her primary healthcare physician or pediatrician if he or she has fever and any one of the following:
The baby looks very sick, very irritable, and/or unusually sleepy or drowsy
The baby shows other manifestations like severe ear pain, stiff neck, repeated vomiting, unexplained rash, or diarrhea
The baby has had convulsions or seizure
The baby has been in an unusually hot place like an overheated car
The baby has known immune system problems
The baby's temperature rises to more than 40oC or 104oF
The baby's condition seems to be getting worse
The baby's fever has persisted for more than 24 hours
It is clear that the temperature we should all be watching out for is the 38oC or 100.4oF mark. As such, we should all be competent in taking the body temperature of our kids.
There are four different methods of taking the temperature of children. These include the use of rectal thermometers, axillary thermometer, oral thermometers, and tympanic thermometers. For young infants below the age of 3 months, there is only one method that is considered to be highly accurate-–the rectal method. For infants older than 3 months, tympanic and axillary thermometers are considered acceptable. The use of oral thermometers are generally reserved for older children preferably at least 4 years old.
Understand that rectal thermometers are the most accurate, albeit quite inconvenient. It provides a very accurate measurement of the body's core temperature. Axillary, tympanic, and oral thermometers are susceptible to temperature fluctuations of the surfaces upon which the temperature probe is in contact with. These thermometers only provide an estimate of the internal body temperature. Thebgood thing, however, is that these methods provide convenience for Mom and comfort for Baby. Unfortunately you won't really be able to gauge your baby's temperature very accurately.
Today's thermometers are very easy to use because everything is already digital. There is no more need for trying to figure out the mercury readings in old mercury-filled glass thermometers of old. Today, it's as easy as following the manufacturer's instructions and keeping the probe as clean as possible. You only need to place the thermometer in the intended body part, wait to hear its beeping sound, and then read the digital display.
It is important to keep a record of your baby's temperature readings so you will have an idea whether his or her fever is decreasing or not. At the very least, you will have something to show your baby's pediatrician should you decide to bring your baby to the clinic. This will help in the planning of your baby's care.
Fever in very young children can scare even the toughest Moms and Dads. That's why we have listed the top 10 baby thermometers so you will feel more empowered to care for your baby.
FAQ
Frequently Asked Questions
Q: What kind of baby thermometers are there?
A: There are numerous types of thermometers. Here is a small breakdown of the possible thermometers you can purchase:
Oral Thermometers: These are one of the most common thermometers and they have a rather high accuracy. These thermometers can be placed under the tongue for temperature taking. Though they are not as accurate as rectal thermometers, they are much more comfortable for children to use.
Smart Thermometers: These thermometers can be integrated with phones and other smart devices for constant updates and cataloguing of your child's health. They usually come with patches that read your child's temperature, and then the information is sent to a smart device.
Axillary Thermometers: These thermometers do not have to be inserted into your child, but simply placed in the armpit. Though this method isn't as acute, it's more comfortable and convenient for both child and parent. Axillary thermometers are usually recommended for sleeping children because the method won't disturb their rest.
Ear Thermometers: As the name suggests, ear thermometers take a child's temperature through the ear canal. This method is more accurate than the axillary thermometers but still less accurate than the rectal thermometers.
Temporal-artery Thermometers: The newest kind of thermometer, temporal-artery thermometers use infrared technology to gauge the temperature of a child's forehead. This method is the most comfortable, but it's also the most expensive. This type of thermometer is also only for children 3 months and older.
Rectal Thermometers: The most accurate thermometer, rectal thermometer is recommended for children of all ages. However, this thermometer can be the most uncomfortable and dangerous if not used properly. When using the rectal thermometer, please be sure to properly clean and lubricated the device. Rectal thermometers are best for taking extremely sensitive temperatures.
Multi-use thermometers: These thermometers can be used orally, rectally, or axillary. They are one of the least expensive types of thermometers, but they must be thoroughly cleaned after each use. Multi-use thermometers also give some of the most accurate readings, especially when used rectally.
Q: Which type of baby thermometer is best for my child?
A: Which type of baby thermometer is best for your child completely depends on the individualistic needs of the child. Most children do well with all these thermometers with the exception of the rectal thermometer. If your child needs highly accurate temperature readings, then rectal thermometers are the best option. However, rectal thermometers shouldn't be used past the age of 2 years unless a doctor is performing the reading.
Q: When is it appropriate to use a thermometer instead of my hand?
A: We know that most parents generally use their hands as their first thermometer, and this practice is completely fine. Our hands are very sensitive and can tell us a lot about our child. If your child is showing obvious symptoms, such as vomiting, diarrhea, lethargy, coughing, etc., then you can probably go straight to a handheld thermometer for accurate readings.
Q: What are some general safety tips for a baby thermometer?
A:  Some general safety tips for a baby thermometer include: keep the thermometer in a safe and secure location, keep the thermometer clean after every use, never leave your child alone with the thermometer, never take your child's temperature less than one hour after a bath and less than three hours after a full meal, and take multiple readings whenever possible.
Q: What features should I look for in a baby thermometer?
A: Above all else, consider the needs of your child first before buying a baby thermometer. Your child's age will ultimately decide which thermometer works best for them. After consulting your child's age, look at the different types of thermometers. Most parents opt for a multi-use thermometer because they are both accurate and multifunctional.
Q: Are rectal thermometers safe?
A: Yes, rectal thermometers are extremely safe. They also give out the most accurate readings. If you're concerned with using a rectal thermometer on your child, understand that you don't have to use a rectal thermometer. Even though they are the most accurate, other thermometers give you pretty accurate readings as well.
Q: How can I get my child to sit still enough to take an accurate temperature?
A: Older children can be reasoned with, so as long as they know what a thermometer does and why it's important, getting them to sit still should be easy. For younger children, use a thermometer that won't be disrupted by bodily movements for an accurate reading. Forehead and infrared thermometers are great for fussy or restless babies.
Q: Can I use a mercury thermometer?
A: No, mercury thermometers should never be used. Mercury thermometers were popular in the '70s and '80s because we didn't know the health risks associated with mercury. If you're using a mercury thermometer, dispose of it properly in favor of a digital one. While mercury vapors are the real danger, we just don't want to take any risks when it comes to our children.
Q: How do I properly clean my baby thermometer?
A: How you clean a baby thermometer depends entirely on the kind of thermometer you have. For the most accurate methods, clean the baby thermometer in accordance with the written instructions provided. Most of the time, a thermometer can be cleaned with gentle soap and warm water. Some thermometers, in fact, can be placed in the dishwasher for sanitation purposes.
Q: How can I tell if my baby thermometer is broken or giving inaccurate readings?
A: Sometimes, it can be rather difficult to tell if a baby thermometer is giving you the wrong reading. If the baby thermometer is flashing a digital reading that seems either way too high, or way too low, then it most likely is giving you an incorrect reading.  Also, if you notice the LED screen petering out or flashing with a pair of fresh batteries, then it's time to invest in a new one.