Saving space in your child's bedroom may seem like an impossible task with their mountain high pile of clothes and their variety of toy bins scattered throughout their room. Loft beds are a huge space saver and so are bunk beds if you have multiple children in one room. Both styles of beds fill vertical space, leaving more floor space for activities and other bedroom furnishings. Purchasing bunk beds may even save you money as it cuts out the need for a box spring or headboard. Bunk beds increase the level of bonding between siblings. Some loft and bunk beds are even designed with the ability to be separated, thus making it easy for your child to rearrange their room. It's no secret that kids love forts. Loft beds and bunk beds provide you with the perfect foundation for building a blanket fort. Both styles are available in a variety of designs and materials so it will be super-easy to find one that matches the decor of your child's room. Some are designed with shelves, dressers, or desks, thus providing you with more space-saving options. Others may be equipped with a slide to add a little extra touch of fun to your child's room. We created a list of the 10 best bunk and loft beds to make your hunt for the perfect one a little easier.
Our Top 3 Picks
Storkcraft Caribou Bunk Bed

Our rating
Convertible in 2 Beds
Price:

See Here
DHP Twin-Over-Twin Bunk Bed

Our rating
Metal Frame & Ladder
Price:

See Here
Dorel Living Bunk Bed

Our rating
Full Solid Wood
Price:

See Here
Caribou Hardwood Twin Bunk Bed
Dorel Twin over Twin Metal Bunk Bed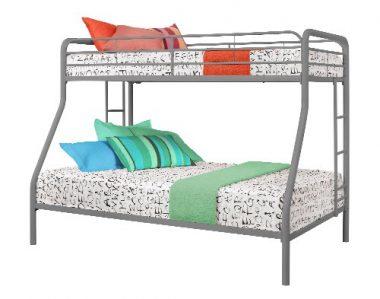 Full Solid Wood Kid's Bunk Bed
DHP Junior Twin Metal Loft Bed
Dorel Twin over Full Bunk Bed
Twin over Twin Metal Bunk Bed by Walker Edison
Gunmetal Bunk Bed by Coaster Home Furnishings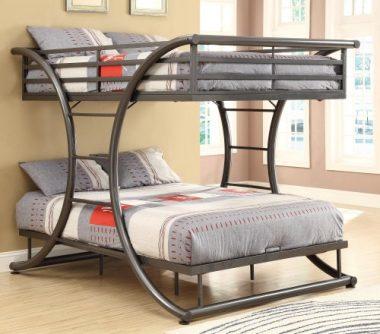 Twin Metal Loft Bed by WE Furniture
DONCO Kids Dark Cappuccino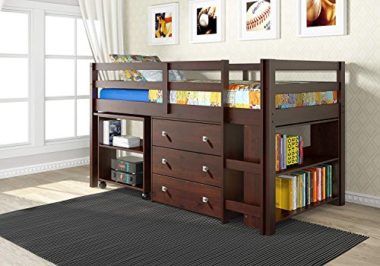 Criteria Used in Evaluation of the Best Top Bunk/Loft Beds for Kids
Whether you are in the process of revamping your life or in the middle of a move, finding the perfect bed is ultimately one of the most important decisions we are faced with. That may seem a bit dramatic but think about it for a moment. Sleep is vital to our health and well-being. If you are not sleeping in an environment that leaves you feeling happy, secure, and comfortable, how will you ever ensure you face the day well-rested, confident, and collected?
Here is a list compiled of some of the best bunk/loft bed options available. These beds were designed with your child's well-being and comfort in mind. The durability and quality materials used to construct these beds will give you peace of mind. There is nothing more comforting than knowing your child is exposed to only the best.
The world we live in has become so populated and there are so many gadgets and devices that are available in our lives taking up space. We have limited yard space, smaller homes with more rooms, etc. It can be hard to find decor for your child's room that is both functional and aesthetically pleasing. These beds are designed to take up little space and add more functionality to any room. Children can be resentful of the fact they have to share their room with their siblings. With these pieces, you will find something that will serve its purpose and leave your child feeling a bit happier about their sleeping arrangements.
These pieces come in a variation of colors and styles, from cute and fun to sleek and sophisticated so no matter what effect your child is trying to give they will feel confident and happy in their domain. The versatility of color and style allow the bed to fit into many decor options and give you a longer time frame for this bed to be functional and desired. Each bed also features the ability to be easily dismantled. This means as your family and your home grow, your children can keep their beds, even if they end up no longer sharing a room.
Due to coordination limitations, it is not recommended that small children be put on the top bunk. It can seem like a very exciting adventure and may be acceptable for them to play around in or trade off with adult supervision. Falls can easily occur and these beds are designed to minimize injury should falling occur.
What Determined the Top Bunk/Loft Beds for Kids on Our List
One of the major concerns of parents is the risk of injuries that may be the result of a fall by a toddler. It is for this reason that manufacturers of bunk beds explicitly recommend the use of their bunk/loft beds only by children who are at least 6 years old. Unfortunately, we know that most parents cannot wait that long before they can buy these pieces of furniture for their children, especially if space is an issue. As such, our primary focus in the selection of the beds for our list is safety especially that of the top bunk.
We had to make sure that there are plenty of safety features in this furniture that will help prevent falls or perhaps even mitigate the seriousness of injuries in cases where falls are inevitable. Railings are a standard and these must be of the wrap-around type. Additionally, the sturdiness of the leg supports, especially for the upper structures had to be ascertained by looking at any indications of quality manufacturing. For instance, we know that these pieces of furniture must be able to pass certain tests of quality standards such as those provided for by the CPSC and the ASTM. And since we're concerned about our kids' safety, we also had to make sure that the materials used in the finishing of the furniture are nontoxic and made of child-friendly materials and substances.
The overall design was also taken into consideration. Wood products are often considered a classic. However, we had to be sure that the wooden furniture we're including on our list is made of high-quality, solid wood and not some wood composite. For beds that use metal or steel, we had to ensure that they are also aesthetically pleasing and would be fun and enjoyable to sleep in, especially by kids who are quite picky when it comes to their very "own" furniture. We had to be certain that what we have included on our list are worthy of a child's praise.
Lastly, the thoughts of parents and customers who have been kind enough to leave feedback, comments, and reviews about these products were also considered. These provided us with the means to determine the accuracy of our own shortlist. At least, we can say that we represent the views of the majority of parents who are also looking for the best bunk beds in 2019.
Safety Considerations in the Use of Bunk Beds for Kids
There have been a lot of issues concerning the use of bunk beds by kids. Unfortunately, while companies and manufacturers have tried to improve the safety features of their products as well as issuing recommendations for their use only on children at least 6 years of age, there are still some consumers who are adamant against using bunk beds for their young children.
Again there is nothing wrong with using bunk beds. The main issue is that young children, especially toddlers and pre-schoolers are known to have very active imagination. They can readily climb up almost anything and pretend to be Superman or any other superhero they can think of. That is why many experts recommend getting bunk beds that can be transformed into individual beds so that the risk of falls is minimized until such time that children have reached the right age.
Understanding our children's developmental skills is also important. If we think that we cannot dampen their spirit of exploration, maybe we can forego with the bunk beds for now. Regrettably, this is not an option in homes with single bedrooms or just not enough space for everyone. In such cases, vigilance is advised.
The Bottom Line
Bunk beds are excellent sleeping furniture for homes that have issues with space. However, as there are safety concerns regarding its use, it is very important to heed the advice of experts. Never allow young children to take the upper bunk. Hopefully, our top 10 bunk beds for kids have enlightened you on what to look for.
FAQ
Frequently Asked Questions
Q: What will keep my child from falling off the top bunk?
A: All of the beds on this list are equipped with guardrails around the top bunk. These rails protect your child from rolling off the bed while they sleep.
Q: How do I decide between a bunk bed or a loft bed?
A: Deciding on your needs will make the decision easier. Loft beds are great if you're wanting space underneath the bed. Bunk beds work for families that have more than one child.
Q: How are bunk beds cost-effective?
A: Bunk beds will allow you to save money when buying a home. By putting two children in one room, that's one less bedroom you need. Also, bunk beds that convert into two separate beds will help you save money over time. Once your children grow out of the bunk beds, you can put their beds side by side.
Q: One of my children likes to sleep with the light on, the other doesn't. How do I keep them both happy when they share a bunk bed?
A: Try a clip-on lamp as it will strictly illuminate the bed it is near. Try putting the child who likes the light on, on the bottom bunk and then hang curtains around the bottom to give them his/her own den. The child on the top will no longer be bothered by the light.
Q: Will a bunk bed hurt or help the relationship between siblings?
A: It will help. As your children share a room they will bond and learn how to share.
Q: What is the age range for these beds?
A: Some are sleek enough for your teens, but they also have the ability to be great for younger children and multi-children families who have limited space. They are suitable and aesthetically pleasing for children ages 4 to 15. The top bunk is never recommended for small children because they may not have the coordination to climb down and injury may occur.
Q: Are they easy to assemble and take down?
A: Most of these beds feature the option to take the top bed off and turn them into two separate beds.
Q: Is there a mattress included?
A: These sets do not come with extra materials. They come with the frame pieces to put the structure together.
You May Also Like
10 Best Baby Cribs
10 Best Beds For Toddlers
10 Best Toddler Pillows
10 Best Baby Gliders