10 Best Humidifiers for Babies Reviewed in 2019
last updated
Jun 07, 2019
If you live where the climate is hot and dry, or if your home has incredibly low humidity levels, there is a very good chance that you have thought of buying a humidifier or already have. Falling asleep and waking up with a dry itchy throat is a good indicator that there isn't enough humidity in your home. This is a more common issue then you may think. That is why we have compiled our list of the 10 best humidifiers for babies and kids in 2019, so you can protect your child from respiratory problems and dry skin.
In a Hurry? The test winner after 23 hrs of research
VicTsing Cool Mist
Why is it better?
Tubular flow duct increases speed
Tilted nozzle provides wider coverage
Arc handle makes it easy to transport
Anti-slip grooves provide a secure grip
In a
Hurry? Editors choice:
Test Winner: VicTsing Cool Mist
31
Researched Sources
23
Hours Researching
16
Products Evaluated
Design
Ease of Use
Value
By Default
10 Best Humidifiers for Babies Reviewed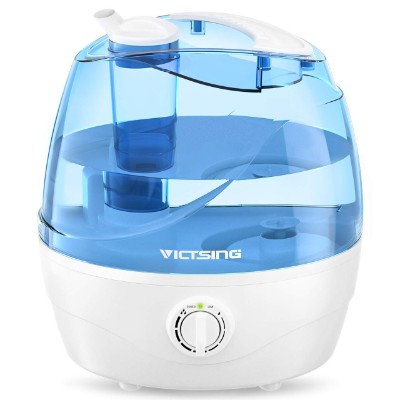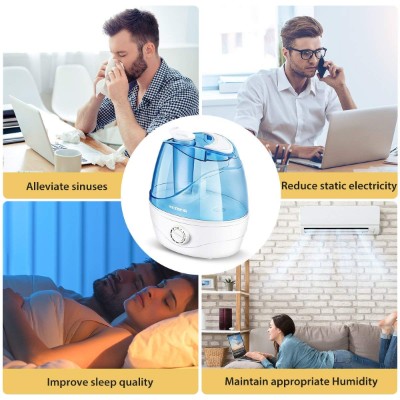 Tubular flow duct increases speed
Tilted nozzle provides wider coverage
Arc handle makes it easy to transport
Anti-slip grooves provide a secure grip
On high setting, it will only run for six hours
The VicTsing will keep just the right climate for you all through the night. At 32dB, this humidifier is quieter than a computer. The whisper-soft sounds allow you to sleep peacefully through to morning. A dial knob allows for precision in controlling the mist effect and automatic shutoff ensures that once the two-liter tank is empty, the machine quietly and safely powers down.
Read more
Design
The dial knob makes it easy for you to control the volume of the mist release. The tube shape of the flow air duct increases the humidifying speed by 20 percent. Whether you choose a gentle or fast pace release, the humidifier remains quiet. With the ability to hold up to two liters of water, this humidifier can run for up to 10 hours on low. When it runs out of water it will automatically shut off.
Ease of Use
The nozzle is tilted 45 degrees which provides a wider area of humidifying coverage. You can turn the knob in any direction. The arc-shaped handle makes it easy for you to transport this humidifier from room to room. The handle is designed with anti-slip grooves to provide you with a more secure grip.
Value
This humidifier is made out of anti-bacterial material to inhibit bacterial growth. Its ultra-quiet misting will help relieve congestion and promote a good nights rest. It is also equipped with dial knob mist control instead of button control like some other humidifiers, making it much more precise and effortless to adjust mist output volume.
2

. VicTsing Wood Grain Cool Mist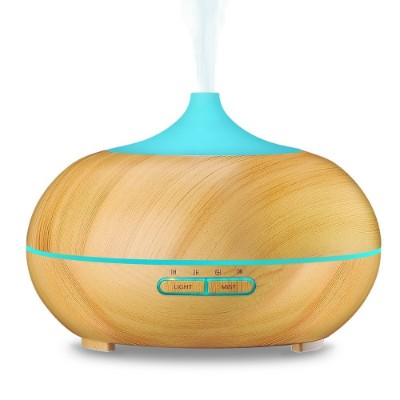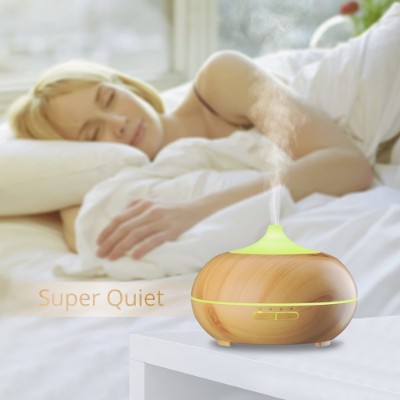 Has adjustable timer
Rotating colored lights
Turns off automatically when water well is empty
Brightness of light can be adjusted
Runs quietly
Directions confusing
Might leak a bit when removing the lid
If you're looking for a kid and baby humidifier that works as effectively as it is aesthetically pleasing, then the Vic Tsing Aroma Essential Oil Diffuser Wood Grain Ultrasonic Cool Mist Humidifier is an absolute must.
Finished in beautiful wood grain topped and lined with LED lights that can be easily changed with a press of a button, this Vic Tsing product exudes with elegance and style that it makes for a fashionable décor to any office or room in your house. And if you happen to have a spa, then this is also a perfect item for you.
Read more
Design
The color changing effects of the LED light should provide for a fantastic visual stimulus for young babies as the light can be programmed to stay on or change into 7 different colors every so often. The real beauty of this device is in its ultrasonic technology allowing for whisper quiet humidification so it won't disrupt baby's sleep. Additionally, the LED lights can be dimmed to provide for a softer and more relaxing glow.
The humidification process starts with filling the chamber with 300 mL of water then adding your favorite essential oil depending on the needs of your baby or child. You can then set the Vic Tsing product to run continuously for up to 10 hours or just set it to run for 1, 3, or 6 hours, depending on your needs.
Ease of Use
The color changing effects of the LED light should provide for a fantastic visual stimulus for young babies as the light can be programmed to stay on or change into 7 different colors every so often. The real beauty of this device is in its ultrasonic technology allowing for whisper quiet humidification so it won't disrupt baby's sleep. Additionally, the LED lights can be dimmed to provide for a softer and more relaxing glow.
The humidification process starts with filling the chamber with 300 mL of water then adding your favorite essential oil depending on the needs of your baby or child. You can then set the Vic Tsing product to run continuously for up to 10 hours or just set it to run for 1, 3, or 6 hours, depending on your needs.
Value
This humidifier earned the number 1 spot because not only is it an amazing humidifier for any room of your home, but it is also an aromatherapy diffuser! On top of that great feature, it can also be used as a nightlight in a nursery since it has 7 different colors it can project. There are 4 different timer modes on this humidifier, 1 hour/3 hours/6 hours/steady on.
3

. Essick Air AIRCARE MA1201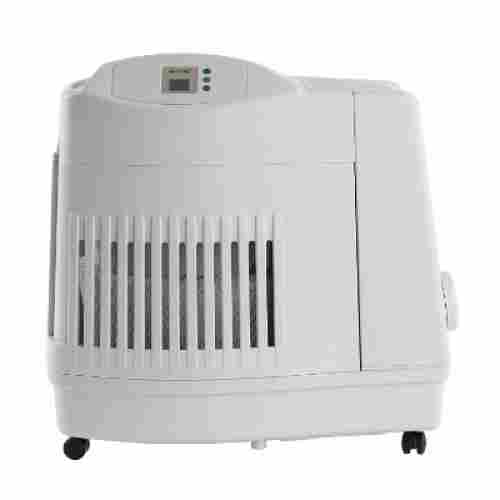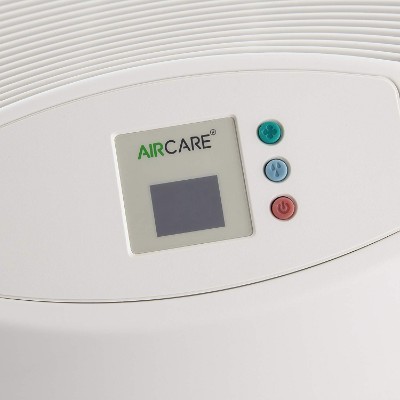 Provides up to 3,600 square feet of coverage
3.6 Gallon tank
36-hour runtime
4 fan speeds
ETL approved
Can take a long time to turn off (possibly several days) upon first use
Reviewers report that the humidity sensor can fail and is unrepairable without replacing the unit
While most of the humidifiers on this list are individual or even portable units designed to work in one room at a time, the Essick Air Aircare Whole-House Style Evaporative Humidifier is all about taking care of the home as a whole. It employs the physics of evaporation to provide up to 3600 square feet of space with upwards of 43% or above humidity and can run for a whopping 36 hours.
Read more
Design
Having a whole home humidifier can help prevent your baby from developing concerns like the flu and certain allergies while also reducing pet dander and dust. All of which make little lungs very happy. Healthy lungs are good for parents just as much as our babies and purchasing this whole house system is like buying a get well present for the whole family. Keeping your device clean is important as any mold that develops would offset any health benefits that you may be receiving but the large size of this unit makes it ideal for cleaning and avoiding the mildew issues that can afflict smaller models.
Ease of Use
While that may seem like the Essick Air AIRCARE would consume a lot of power, believe it or not, this style of humidifier will actually take money OFF your electric bill by creating a comfort level in your home's air that will allow you to feel right at home without cranking up the AC or the heat. The 3.6-gallon tank means fewer refills and more comfortability. The customizable humidity settings and multiple fan speeds give you the ease of control to keep the air in your home as healthy as it can be which is important for your child's natural development.
Value
While this may be one of the more pricey humidifiers on our list, there is a good reason for that. With the Essick Air AIRCARE MA1201, you can revel in the joy of being able to simply program the humidity and fan settings and walk away, knowing that your entire house, not just one room of it, is going to be a peaceful and relaxing place for your entire family to enjoy.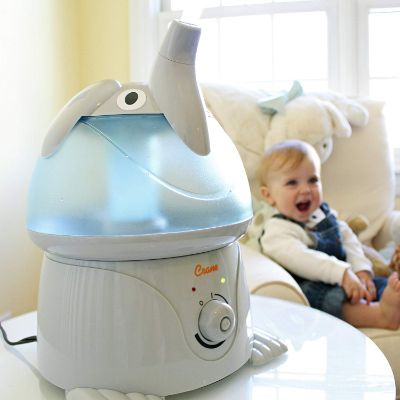 16 different adorable designs
Can change the spout direction on the elephant
High/medium/low humidity settings
Can last roughly 24 hours on medium setting
Automatically shuts down when the tank is empty
Difficult to clean
Can cause damp spots in the surrounding area if turned up too high
It can be hard to find a more adult appliance in a design that's appealing to kids, but Crane has that corner of the market covered for you! They've created sixteen different unique designs that quickly put boring humidifier tanks to shame. Most of the available models are cute little animals ranging from elephants to ducks, to penguins. There are even a sweet Hello Kitty Design and a train! An auto-off function shuts the system down once the tank is empty for safety purposes and energy conservation. With a one-year warranty, Crane is a great gift for families, whether your own or others'!
Read more
Design
We love that Crane has gotten so creative! The animals are all adorable and help to mask what otherwise could easily be an eyesore in any room, especially a kid's. For optimal performance, you want to see about an inch of humidity rising. Too much and you might end up with a damp spot around the unit, so make sure you're monitoring what the best settings are when you're getting this little guy ready to go!
Ease of Use
This machine is truly quiet and great for small spaces. It can run for up to 24 hours on the medium setting so you won't have to refill every few hours. The only catch is the cleaning process; the tank and all the device's crevices can be difficult to reach and disinfect.
Value
Crane runs in the middle price range. There are a few humidifiers that cost a little less and plenty that cost more. There's no fancy digital interface, but it's effective and unique so we think it's a solid choice, especially for children's rooms!
5

. Pure Enrichment MistAire Ultrasonic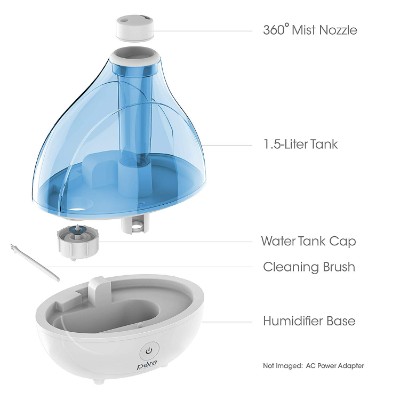 Noiseless
Ideal for medium- to large-sized rooms
The knob makes it easy to operate
Speed and direction of the mist can be adjusted
Circuit board is unprotected from water
The MistAire Ultrasonic from Pure Enrichment lasts up to 16 hours. Choose between high and low power settings. You can even turn on the night light function if you want a soft, soothing glow to help ease you into Lily White's gentle embrace. A 360-degree nozzle gives you full control over where the mist sprays in any room. Don't put up with dry air any longer; give yourself the comfort you deserve.
Read more
Design
When the water level is low, the humidifier automatically shuts off. The knob makes it easy to operate. Using the knob, you can turn it on and off and adjust the humidity levels. The noiseless technology will allow your child to sleep peacefully while it runs.
Ease of Use
You can easily adjust the speed and direction of the mist to fit your needs. The size of the tank allows this humidifier to provide coverage for medium- to large-sized rooms. Not only will the mist calm your child, but so will the night light.
Value
The knob on the front of the humidifier makes it super easy for you to adjust and control the settings. While the added nightlight makes it kid friendly for any child's room. This humidifier has a big enough tank that it can run for 17 hours straight before automatically shutting off, and it is also equipped with a low water indicator so you never have to worry about going to sleep and not having enough water in the tank to last the night.
Quiet
Equipped with an optional night light
Water indicator light lets you know when its time to refill the tank
Fights the growth of mildew and mold
Water easily spills out if accidentally knocked over
Looking for a tank you don't constantly have to refill? The PureGuardian by Guardian Technologies is .5 gallons and equipped for up to 30 hours of run-time. Silver Clean protection helps to purify the water inside the tank and keep it free of mildew or mold. All you have to do is fill the tank and enjoy! Slim design allows you to easily situate this humidifier in any room and three-speed settings let you customize your experience and climate.
Read more
Design
You can choose between three different speed settings for the release of the mist. The cool mist isn't the only thing that will soothe your child. This humidifier also includes an optional night light that will relax and calm your child as they drift off to sleep.
Ease of Use
You won't have to worry about mold and mildew as this humidifier is equipped with silver clean protection. Designed with ultrasonic technology, it is completely quiet as it releases mist into the air. It has the ability to run for 30 hours on one full tank. When it's time to add more water, the low water indicator light will turn on.
Value
This humidifier will run for 30 hours straight on one full tank. If you happen to lose track of the time, the water indicator light will let you know when it's time to refill it.
7

. Everlasting Comfort Ultrasonic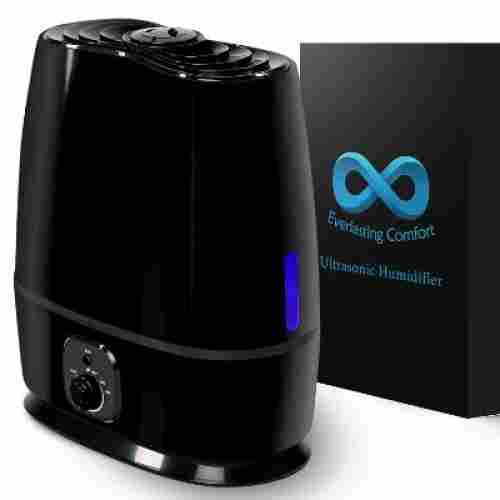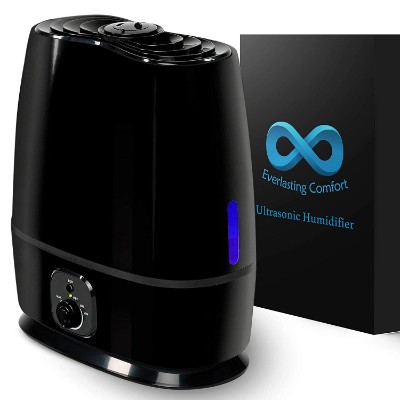 Large 6 Liter Capacity
Auto Shut Off
Whisper Quiet
Built-In Oil Diffuser
Tight corner make unit difficult to properly clean
Reservoir can leak
One of the biggest annoyances when it comes to humidifiers are the filters and pads that are required to keep the misting air clean and free of airborne irritants. The Everlasting Comfort Ultrasonic Humidifier eliminates the need for these replaceable filters while still keeping your little one's room delightfully humidified and relaxing. Filters are often a huge added cost to the lifetime of owning a humidifier and since this unit can also be used directly with tap water eliminating the need to purchase special distilled water.
Read more
Design
This is a great choice for families on a budget. The 6-liter tank is also large enough to use in rooms up to 400 square feet so whether you put this unit directly in your child's room or just in the room next door, you can have peace of mind knowing that they will receive all the benefits of properly clean and humidified air.
Ease of Use
There is nothing quite as relaxing as sitting down after a long day with the delightful scent of lavender in the air. Nothing clears clogs sinuses as peacefully as eucalyptus. What both of these scents have in common is that they are both easily attainable, scientifically-backed aromatherapy essential oils that can be added directly to this device via its built-in oil diffuser. Give yourself and your child the best comfort possible with a constant mist of clean and beautifully scented air.
Value
The initial price point of this unit is about the same as other units of the same capacity but the ability to run it without the added cost of filter replacements make this the best choice in the budget category. This humidifier helps combat insomnia, allergies, asthma, and head colds while reducing airborne viruses and bacteria.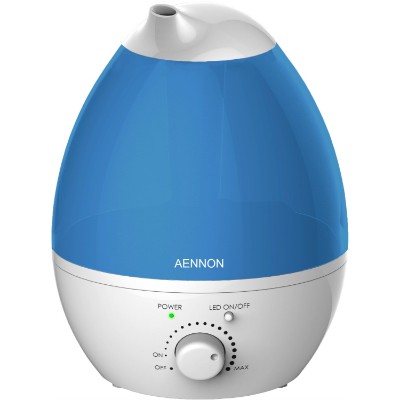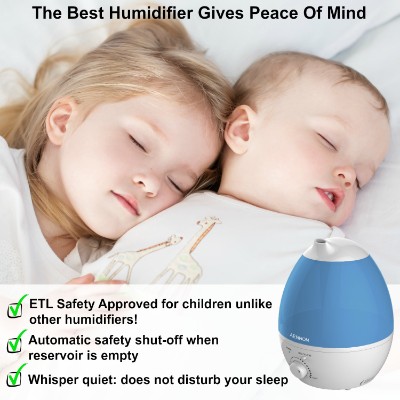 Auto shutoff
Powerful to deliver a lot of vapor
Can be used as a diffuser, nebulizer, and more
ETL approved for kid safety
Finely adjustable vapor knob
Some people have mold problems
As with all cool mist units, it needs to be cleaned often
If you love the Vic Tsing cool mist humidifier but prefer a more contemporary design, then Aennon's Cool Mist Ultrasonic Humidifier is for you.
It technically has the same features as the Vic Tsing product including 7 colored LED changing lights, an optional compartment for essential oils, and an ultrasonic motor to give you ultra-quiet operation. However, Aennon has three-quarters of its body that actually glows in either warm or soft light, unlike the Vic Tsing where only the top and a middle band actually glows. Furthermore, the Aennon can be used for a variety of other applications. It can serve as a nebulizer, ionizer, aromatherapy diffuser, air purifier, and moisturizer. This makes it a truly versatile device that is perfect for any modern home. Simply fill the 1.3-liter chamber with water, switch it on, and adjust the speed of the mist.
Read more
Design
Here's another plus for the Aennon. Instead of the usual dual-speed settings, the speed dial comes in 18 small increments so you can actually fine-tune the speed and intensity of the mist that you want to be delivered. The Aennon can run for 6 full hours. It also comes with a filter chamber to help remove unwanted particles from the mist so you get clean vapors all the time. Additionally, this greatly reduces the odor that may emanate from the device.
Ease of Use
This is one of the most top rated Ultrasonic Humidifiers on Amazon. It's also a little pricey, but not bad and probably worth the extra cost. The vapor is cool, the color of the light can be chosen or even turned off for a dark room. Safe for kids as it's cool mist. Provides healing mist to help prevent colds or flu by keeping sinuses moist. This model turns off automatically when water gets low.
Value
The Aennon Ultrasonic may not be as popular as the Essick Air AIRCARE nor the one from Vicks but it sure is a great way to maintain the excellent quality of inhaled air in any room, especially your kid's bedroom. What do kids love more than color shows? This humidifier has a 7 color changing nightlight that you can set to just one particular color or to rotate between all 7 colors to put on a color show to help your little ones fall asleep. This humidifier also can be used for more than one purpose. It can be used as a Humidifier, Nebulizer, Moisturizer, Air Purifier, Ionizer and Aroma Diffuser for soothing aromatherapy.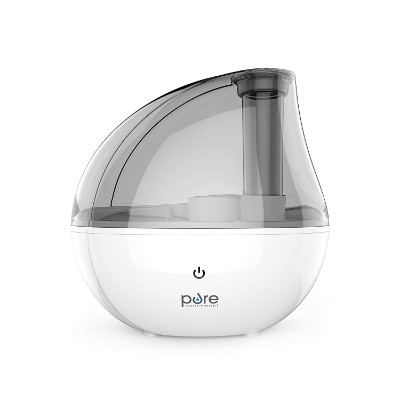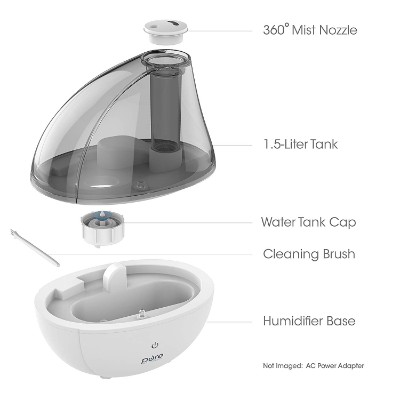 High and low mist settings
Includes disk cleaning brush
Equipped with a water tank cap
The lack of a handle makes it difficult to refill
With up to 25 hours of continuous humidification and a 1.5-liter tank, the Pure Enrichment Silver MistAire is the perfect nighttime aid. It even includes the option of a soft night light function that bathes the room in a soothing glow while you sleep. It's whisper-quiet and includes the necessary tools to make cleaning and maintenance a breeze. With coverage up to 250 square feet and a maximum output of 4 oz of moisture per hour, this little machine can keep a decently sized room comfortable for all!
Read more
Design
On a low setting, the humidifier will release up to 2 ounces of mist per hour, on the high it will release 4 ounces per hour. The 1.5-liter tank allows it run for up to 25 hours. With its quiet technology, it can easily go in your little one's nursery. Even the control beeps have been designed to be quieter so your little one can sleep without being disturbed.
Ease of Use
The nozzle rotates 360 degrees, thus giving you the option to have the mist released in any direction. You won't have to worry about water spilling out if the tank is lifted or bumped off the base. The tank is designed with a water tank cap which secures the water inside. Along with the humidifier, you will also receive a disk cleaning brush. Using the brush will help prevent mold and mildew.
Value
Parents often get frustrated with other humidifiers because water spills everywhere if it is accidentally bumped. With this humidifier, the water is locked inside the tank via the water tank cap. This product also comes with a 5-year warranty!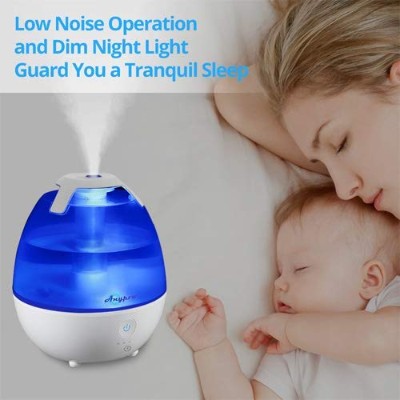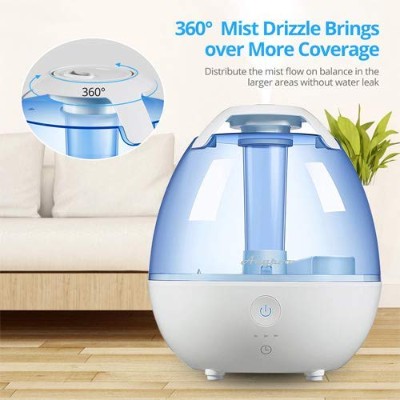 2 Liter and 3.5 Liter options available
Blue nightlight
360-degree nozzle for precisely aiming mist
Whisper quiet under 40 decibels of sound
Antibacterial properties make it difficult to clean
Small opening makes draining water when storing difficult and may develop mold more easily
When you are shopping for an air humidifying unit, especially with your little one in mind, there are a lot of similarities between products so the little differences can really make or break a particular model. In this case, the biggest draw of the AnyPro Ultrasonic Cool Mist Humidifier is its detachable power cord.
Read more
Design
Any parent who has ever tried to juggle an infant in one hand and pretty much anything else in the other knows that a dangling power cord is a tripping hazard just waiting to happen. Add in multiple misting levels and a gentle blue night light to help your baby sleep restfully throughout the night and you can have peace of mind knowing that your little one is getting the best sleep they can. Plus you never have to worry about the baby buggle juggle again!
Ease of Use
This unit is just the right size for your baby's nursery, whether you choose the 2 or 3.5-liter option. The low timer options allow you to set it for either 1, 3, or 6 hours which is perfect for both everyday bedtimes and those occasional congested nights. Lacking the multitude of lights of some products on this list, the AnyPro opts instead for a blue light only. Studies have shown that blue light is optimal for promoting restful sleep and encouraging cognitive development.
Value
This humidifier is nearly silent when running and compact enough to squeeze into tight corners when working with a small room which is beneficial when dealing with a nursery where items cannot be placed on the floor. Equipped with a soft blue nightlight to help your child fall asleep, this is just another reason this unit is perfect for a child's room or nursery. The tanks come in 2 sizes, half a gallon or gallon tanks.
Criteria Used for Evaluation
Design
Of course, we put items on our list that we feel will be useful to you and perform at least at expectations or higher. The least they should do is perform the desired purpose, that is humidifying the air. If they have bells and whistles, so much the better.
The reputation of the manufacture is important, as well, as the better the reputation and the longer the company has been in business, the better chance we have of choosing a good product. Customer service performance is important, too, and we do our best to avoid companies that have negatives in this area. If they are rated highly by the BBB, all the better. That is always a wow factor.
Ease of Use
We love when we find products that are highly rated by the buyers of the product, especially if they have several hundred reviews. That tells us that many people are buying the product. If a high percentage of these buyers leave positive reviews, that is awesome. We take seriously what the reviewers say. Though sometimes their views are subjective and depend on the environment, we can take most of them at their word. Reading reviews also give us added detail about product functions, as well.
Value
Choosing the best kid and baby humidifier is quite challenging because of the different variants available. Some prefer a warm mist type while many choose a cool mist humidifier. Some prefer ultrasonic dispersion while others prefer steam vaporizers and even impellers. The point we're trying to make is that these health-giving gadgets come in a variety of options and it would be a grave injustice if we only include one or two of them. That being said, we tried to include a representative product for each major category of children's humidifiers so that you'll have something to choose from.
Most Important Criteria
(According to our experts opinion)
Experts Opinion
Editors Opinion
Users Opinion
By Default

Parents, Did you Know?
Using a humidifier adds moisture to the air and prevents dryness that causes irritation to all parts of the body. When you use a humidifier it prevents the dry air from causing your skin, throat, and lips to be dry.
Parents, Did you Know?
Using a humidifier helps your respiratory system. When adding moisture to the air it helps the body be able to effectively breathe and use all the air that it is taking in.
Other Factors to Consider
Safety
Safety is our prime concern, as it should be with all product manufacturers. Products can be replaced, but kids cannot. We try to choose the best designs possible, explain any problems that might occur and, why. We know that warm mist humidifiers can be a problem in a child's room, but we included the Vicks warm air humidifier because Vicks is a good company, and many parents love the Vicks products.
Also, the hOmelabs humidifier gives you a choice of warm or cool mist. If you have concerns about the warm air, just use the cool air when you are using this around children. So with this one, you have your choice. Some adults love the warm air with this unit.

Logic
As you may have already noticed, the products in our selection were either best-sellers in their respective categories or have obtained thousands of rave reviews from leading online commerce platforms such as Amazon. We also considered existing product ratings. Regrettably, as we have already said above that we want to provide you with a representative sample of various types of these gadgets so it is inadvertent that you have not seen certain products that had way more stars than those we have included here.
In our search for the top kiddie humidifiers, we had to look at the different features that make them unique. We then carefully examined these features and determined whether they would provide a tremendous benefit for our children, particularly infants, or would they be detrimental to their health in the long run. Noise levels were not really objectively measured and we only based our evaluation on the reviews and experiences of consumers. Safety was also a major consideration since a great majority of these devices run on either electricity or battery power. Economic considerations were thus, factored into the search so you'll get real value for your money.
Lastly, the company's reputation had to be factored in as well. We are pretty confident that companies that have been in the business for a long time can be inherently trusted upon to provide safe and high-quality products; lest, they tarnish their good name.
Frequently Asked Questions
q:

How do I choose a humidifier for my room?

a:

The first thing you need to figure out is how large the room is that you are using it in. You can measure it and go from there. The optimal humidity level is 30-60% for most people. Pick a unit that will work in that room. You want to also consider the size of the space the humidifier takes up on your nightstand.

You would also have to pick whether you want a cool mist or warm mist unit. Cool mists make more noise but are safer around kids. Warm mist units clean the water of bacteria so you don't have microorganisms going out into the air when you use the humidifier. But they may be harder to clean.
q:

What about noise?

a:

In general, the cool mist humidifiers make more noise. The ultrasonic ones tend to make less noise as they don't have a fan.
q:

Should I buy a cool or warm mist humidifier for my preschooler?

a:

Actually, both types of humidifier will raise the humidity in the room, and thus, in your child's lungs and air passages. The big difference is in safety, as the warm mist units contain hot water. But warm air humidifiers kill off the microorganisms that go into the air when the steam is vented, so that's a plus. Most pediatricians recommend cool air for kids.
q:

I can't afford a humidifier. How can I put moisture in the air without one?

a:

Basically, you can look for ways that will allow water to evaporate into the air. The most often heard remedy is to put ice cube trays on the radiators. You can do the same thing with water bowls. Someone says you can put a rack of wet clothes in the room and let them dry. That might crimp your style as far as moving about the room, but it would work.
q:

How do I know I need a humidifier?

a:

If you want to solve the problem of dry, brittle air in your home, then a humidifier is a good idea. You can tell the air is dry if you are having problems relieving symptoms of colds, flu, allergies, or asthma. If your skin is dry and even cracking, you have a problem. If your child is having bloody noses often, then it may be time to invest in a humidifier. Or if you have had cracking problems with your wood furniture or woodwork, that may be a signal that your air is too dry.
q:

Are humidifiers good for a moist climate such as the Pacific Northwest where there are a lot of mold problems?

a:

No, ideally these are devices that help out people in drier climates. If used in an area where there is already high humidity or moisture in the air, there is a very real possibility of mold problems developing in your home. If one is in need of a diffuser these can be a good option but always take into consideration the climate you live in and if added moisture would be detrimental or beneficial to your families health.