If you have a little one at home, every season probably feels like flu season. And while being sick is awful, watching your child suffer through symptoms can make even the most equipped and grounded parents feel helpless and frustrated. It's difficult to know what's the right call to make: is it too early to take them to the doctor? Is this over the counter medication actually going to alleviate symptoms, and what are all of these complicated ingredients in it? What is the responsible maximum number of popsicles for my child to consume in a day, and why do they only like two of the five flavors in every box we buy?
You don't want them to suffer, but you don't want to pump them unnecessarily with medication that is going to be either ineffective or functional but damaging to their health in other ways. Our bodies learn to build natural immunities, but not every cold, flu bout, or infection can be willed away through sleep and Disney marathons. And even if they can, it's a miserable process trying to recover.
Of all the contenders, the cough is among the worst. It keeps kids up at night, making it hard for them to rest and heal. They spray germs everywhere when they don't cover their mouths. It runs their throat raw if it gets too intense. Luckily, there are plenty of kid-friendly cough medicines on the market to help ease symptoms and make the process of getting better bearable, at the very least. We've collected the highest rated products on the market for you and your family. Just add a spoonful of sugar to help the medicine go down. (Please don't though, actually. Sugar is debatably an enemy of the immune system)
Our Top 3 Picks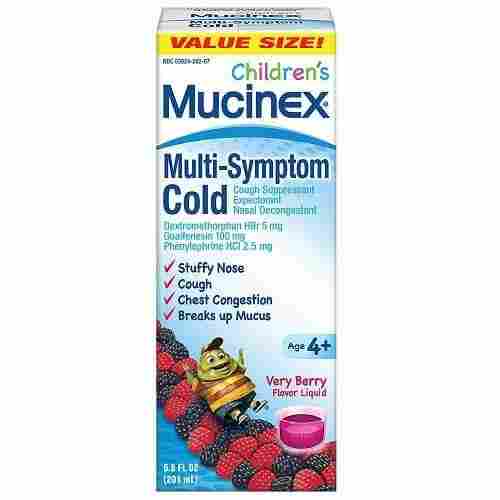 Mucinex Multi-Symptom

Our rating
Ages 4+
Price:

See Here

Sambucus Elderberry

Our rating
Elderberry Infused
Price:

See Here

Zarbees Naturals

Our rating
Dark Honey
Price:

See Here

Our Top Picks Of Cough Medicines for Kids
Boiron Coldcalm 60 Tablets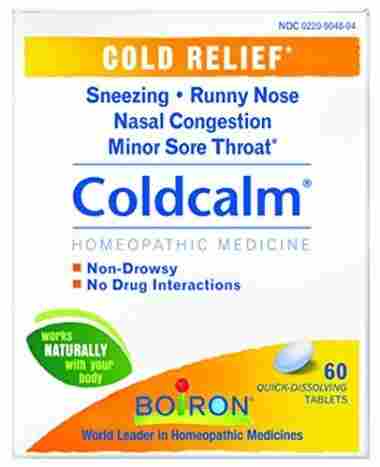 Nature's Way Umcka Children's Cherry Syrup
Mucinex Children's Mini Melts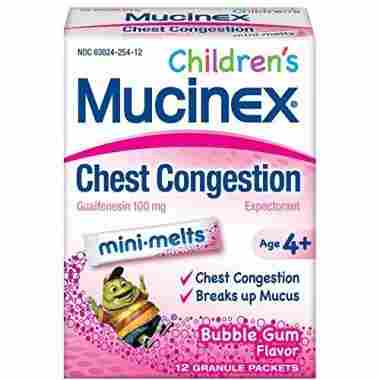 Little Remedies Sore Throat Pops
Children's Multi-Symptom Relief
Naturals Children's Cough Syrup
Nature's Way Kids Bioavailable Elderberry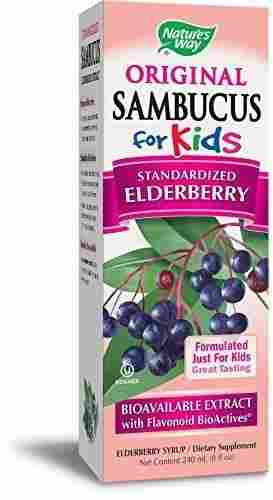 Kids Cold – Cough Day and Night Value Pack
Zarbee's Naturals Children's Cough Syrup with Dark Honey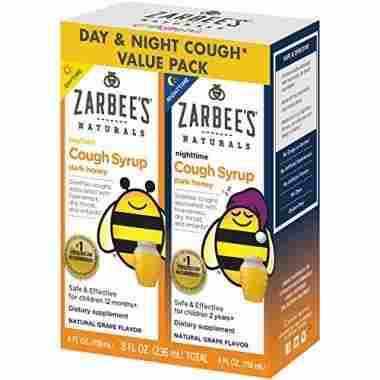 Zarbee's Naturals Baby Cough Syrup + Mucus
Criteria Used In Evaluation of The Best Cough Medicines for Kids & Toddlers in 2018
There are several things we considered when choosing the 10 best cough medicines for kids and toddlers in 2018. They include the following:
All Natural
Looking for the best children's cough medicines, we wanted to find the ones that were all natural. Although not all of these are all-natural, they are safe for children at least 12-years-old and older. However, there are also some on this list that can be used for children under 12-years-old.
Works Day and Night
Some of these cough medicines work for daytime and nighttime. Some of them work at night to help suppress your child's cough so he or she can get a good night's sleep and some work during the day, also, so their cough can be suppressed enough to get through their day without any disruptions from a fitful cough. The ones that work at night can help them sleep well, so they will be able to get through their day without any disruptions from not getting enough sleep the night before.
Tastes Great
We know how hard it can be for you to get your children to take their medicine, especially if the taste isn't that good. This is why most of these baby cough medicines have great tasting flavors including honey, berry, grape, and more. Although this isn't the most aspect of a cough medicine, it is still important because the only way you will get them to take it is if the taste is good enough for them.
Works Well
One of the most important aspects of a cough medicine is that it works well for your child so it can reduce or get rid of a cough altogether for them and make them feel better all the way. This is why we chose these cough medicines for children since they all work well to help with many of the symptoms of a cold, cough, and even the flu.
How We Chose the Amazing Kiddie Cough Medications in Our List
Before we reveal to you how we chose the cough medicines for kids in this list, we would like to reiterate that even over-the-counter medications can be particularly addicting because of certain components that are included in the formulation of these drugs. That's why it is imperative that you follow the recommended dosage instructions. And if you are not sure just how much is right for your child, your doctor can provide you a more concrete explanation as to what you need to do.
This is the basis of our selection. We have to make sure that these drugs are safe for children and that these do not pose significant threats to their overall health and wellness. It was essential for us to choose formulations with a relatively safe profile when used among kids. Even if it contains natural ingredients, the safety profile of these ingredients was carefully evaluated. It doesn't necessarily mean that just because it's all-natural, it is already safe. Even naturally-occurring substances can have an effect on our body. What more if ingested or consumed by children whose body organs are not as efficient as those found in adults?
We looked into the customer rating of each of these products and decided to include only those with no less than 4.5 stars. It is our understanding that many consumers often base their decisions on existing product ratings. The more popular the product is, the greater is the likelihood that other consumers will buy. Of course, we did not let the ratings totally dictate the outcome of this search as we also had to consider the responses or experiences of moms and dads everywhere.
Choosing the Right Cough Medications for Your Kids
Before you start buying over-the-counter baby cough remedies, it is important to understand what coughing really is. Many individuals have this idea that a cough is a disease or a health condition. Not many realize that coughing is a very normal process of our body to get rid of something that is irritating the airways. Our airways are very sterile environments. If there are irritants in the airways, the cough reflex is activated in an effort to move this irritant out of the airways. It is for this reason that many doctors do not recommend the use of cough suppressants for kids as this inherently suppresses the cough reflex. It's like preventing your body from eliminating the irritant that is causing the cough.
Unfortunately, many individuals think that the best management for coughing is by taking medicines. In case you're wondering what your options are, here are some of the most common types of cough medications.
Mucolytics – As the term implies, these effectively break up the bonds of the mucus plugs making them a lot easier for expectoration. Examples are acetylcysteine and bromhexine. Take note, bromhexine should never be given to kids who are younger than 6 years old.
Expectorants – These works almost in the same manner as mucolytics. However, the mechanism of action is on increasing the hydration of the mucus plugs, making these a lot more liquid so they are easily expectorated. Examples are guaifenesin, sodium citrate, and ammonium chloride.
Demulcents – These are airway protectants or surface coaters wherein they provide a protective layer on the pharynx or the throat. This minimizes the irritation of the airways leading to a decrease in coughing. Examples are glycerol and sugar. These can be safely given to kids.
Suppressants – These should never be used on kids because they cause drowsiness, constipation, nausea, and vomiting. Additionally, like we already said, you are essentially preventing your child's body from getting rid of the irritant in his or her airways. Examples are codeine and dextromethorphan.
The Bottom Line
While we do understand the concern you may have if your child has cough and cold, it is better to seek medical advice rather than risking your kid's overall health. If you do insist on giving your child a cough medicine, then choose any of our 6 cough medicines for kids. At least you'll feel more confident about giving these to your precious one.
FAQ
Frequently Asked Questions
Q: How effective is Mucinex Children's Multi-Symptom, Cold Relief Liquid for a child's cold symptoms?
A: It is one of the most effective cough medicines on the market today. That is why it is in the number one spot on this list.
Q: Does Zarbee's Naturals Children's Cough Syrup contain melatonin?
A: The Zarbee's daytime cough syrup for kids does not contain melatonin inside it as an ingredient but the nighttime version does have it inside of it as an ingredient.
Q: What is the youngest age that can take Nature's Way Sambucus for Kids Bioavailable Elderberry?
A: This cough medicine for children is not recommended for children under a year old.
Q: Is Hyland's 4 Kids Cold and Cough Day and Night Value Pack a homeopathic substitute for Mucinex for Children?
A: Although this should not be compared to Mucinex, it does contain all-natural ingredients within it so it is safe for children and adults as well. However, it is only intended to relieve cold and flu symptoms temporarily until you can get your child to a doctor.
Q: Are these different cough medicines for kids good to use at least until I take my child to their doctor for a prescription medication?
A: Yes, many of these, if not all of them, work for the temporary relief of cold and flu symptoms at least until you take your child to the doctor.
Q: Are these cough medicines for children easy on price?
A: Yes, many of them are inexpensive. You can actually find them cheaper online than in your drugstore. However, you will have to wait for it to be shipped to you unless you find a store you can order online at and pick up yourself.