Remember the fun jewel-toned hair and goofy grins on Thomas Dam's classic troll dolls? Well, if you're looking for something your children will find new and compelling, while it takes you on a trip down memory lane, DreamWorks Animation's Trolls movie is just the right stop for your family. Household favorites such as Anna Kendrick, Zooey Deschanel, Gwen Stefani, James Corden, Justin Timberlake, and Russell Brand voice these adorable heroes as two of them try to save their village from Bergens, creatures who like to feast on poor, unsuspecting trolls.
The movie has been a hit with kids across the nation since its release. If your little ones are begging for Trolls toys to add to their collection, the good news is that there's a huge array of high-quality options available to you. Whether you're looking for a coloring book to take on road trips, a cute new doll to carry around the house, or a family board game with fun for all, you'll find what you need right here. Join Poppy and Branch as they venture out into the world to bring their friends back home safely, discovering the importance of teamwork, bravery, and compromise along the way. Action figures for imaginative play, Trolls headphones, plush toys, coloring books and group games: there are hundreds of ways to incorporate kids' favorite miniature heroes into their playtime.
Our Top 3 Picks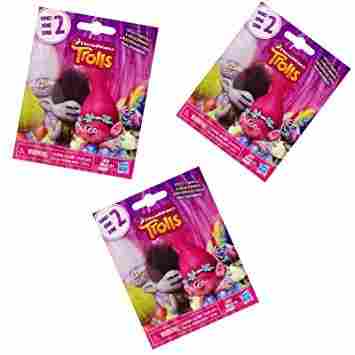 DreamWorks Trolls Surprise

Our rating
Bling Bag Surprise
Price:

See Here

Just Play Trolls Poppy Wig

Our rating
Authentic Details
Price:

See Here

Poppy's Coronation Pod

Our rating
Lights & Music
Price:

See Here

Dreamworks Trolls Table Lamp pink
Age Range: At least 4 years old
Benden Trolls Imagine Ink Magic Picture Coloring Book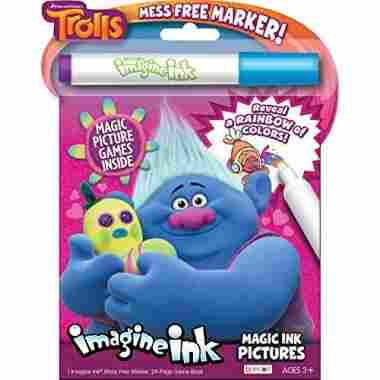 Age Range: At least 3 years old
DreamWorks Trolls Poppy's Coronation Pod by Trolls
Age Range: At least 4 years old
Pillow Pets DreamWorks Trolls, Poppy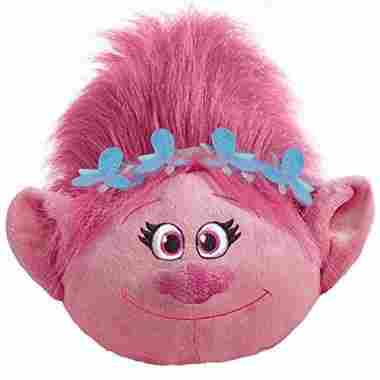 Age Range: At least 4 years old
Trolls Light-up Tracing Pad
Age Range: At least 4 years old
DreamWorks Trolls POD'ular Troll Tree
Age Range: At least 4 years old
DreamWorks Trolls in Trouble Game by Hasbro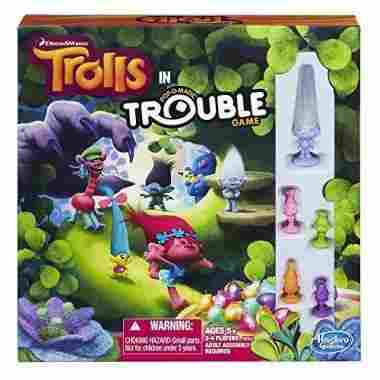 Age Range: At least 5 years old
Trolls Poppy 9 Inch Figure by Trolls
Age Range: At least 4 years old
Trolls Poppy Talkin' Troll Plush Doll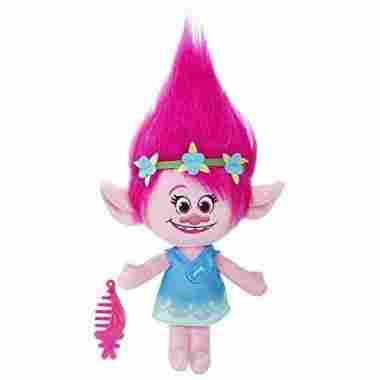 Age Range: At least 4 years old
Max Fun Set of 13 Trolls Dolls
Criteria Used in Evaluation of the Best DreamWorks Trolls
Children in this modern age are no longer restricted to just playing with toys intended for "girls" or "boys." The youth of today is well aware of gender stereotypes, unlike the generations in the past. Girls are no longer prevented from playing with "boys only" toys. Boys are no longer prevented from playing with "girls only toys." This generation is not afraid of technology. This new demand is pushing the creativity and imagination of toy makers in the industry.
We worked hard to choose the best Trolls toys that kids of any age will enjoy! Children are always looking for the newest, creative, and innovative greatest toy for their birthday or holiday gifts. Kids today expect high-quality, durable, and interactive toys to keep their imaginations at full speed! Providing toys that educate and stimulate your children contribute to our society as a whole. We can provide a way for them to express themselves in a safe, creative, and non gender-stereotype environment.
There is a variety of toys on this list to choose from to help your get that perfect gift for your child! The Troll toys on this list are perfect your favorite fashionista, audiophile, hairstylist, event coordinator, skater, and much more! You are only limited by your imagination!
BASIC RESEARCH
Research has shown technology and non gender-specific toys are the new standard in our society. Games and toys that use all parts of the brain are now available. Stimulating our imaginations and using technology through these toys can benefit our society, allowing young minds to grow and adapt in a positive and creative way. Toys that require sharing and taking turns improve not just children in an individual level, but our society as a whole. Our job is to assist parents in choosing the best toys to assist in the education and entertainment of their child to prepare them for skills they may need later in adulthood.
What determined the best Dreamworks Trolls on our list
It was never easy choosing the best Troll dolls to be included in a particular list like this. This is perhaps because dolls are inherently a matter of personal preference. For instance, there are children who prefer a Barbie over a Bratz doll while some would rather pick an American Girl doll over any other types of toys. The point is that we have to think as DreamWorks Trolls fans ourselves so we can be effective in coming up with this list. It would simply be a shame if we included something that will not be loved by kids.
And speaking of kids, it was imperative that the developmental appropriateness of these products were ensured. We wouldn't want children to simply be playing with these. We also want them to learn something and, hopefully, come out better children in the process. To support our initial evaluation of these products' ability to aid children in their growth and development, we had to read the experiences of moms and dads everywhere especially about their kids' experiences with these playthings. We wanted to identify any similarities in their observations with our assessment. We know this is a very unscientific way of establishing relationships between variables but we were confident that it is the closest thing we can do to make for a more credible product evaluation.
Dolls and kids' development
When we talk about dolls, it is inadvertent that we only think of it as a toy especially for girls. But the fact is, even boys can benefit from playing with toy dolls. And, in case you're wondering what it is that playing with dolls can provide to our kids, here are some of the reasons why kids should play with dolls.
It helps refine their motor skills especially when performing grooming activities on their dolls such as combing or styling the hair. These require the absolute control of the muscles of the hand which can lead to enhanced motor coordination.
It improves the cognitive skills of children especially in the creation of roles to play. While these may not be readily apparent, they do form the basis of scientific problem solving skills later in life.
It helps enhance language development by using the different words and phrases that they can think of to give life to their role play.
It introduces them to the idea of nurturing and caring. For kids, dolls are like their own babies which they must learn to care for.
The bottom line
The Trolls bring happiness and joy to everyone who happens to understand their true essence. And with these 10 best DreamWorks Trolls Toys in 2018, you can bring some of the positivity and happiness right in your home.
You May Also Like
10 Best Ghostbuster Toys
10 Cool Spiderman Toys
10 Top Rated Batman Kids Toys
10 Best Minion Toys
FAQ
Frequently Asked Questions
Q: What size are these Trolls Figures?
A: Depending on the toy, these figures start at 2.5 inches to 9 inches for the plush.
Q: What kind of hair do the Trolls figures have?
A: Styleable Troll hair.
Q: How durable are these Troll figures?
A: These Troll figures are made out of durable plastic and can be used in the bath or pool.
Q: How loud are the Hair-ific Headphones by Trolls?
A: Specifically designed to protect your kids hearing.
Q: What makes these the best Trolls toys?
A: These items are officially licensed and look exactly like your favorite characters. They were chosen for their creativity, durability, entertainment, and to power your imagination.
Q: Will my child be interested in these dolls if I have boy children?
A: Yes! Of course. If your child has a good imagination, which most do, he or she will love playing with these dolls. They are very funny looking to children and many families seem to love the hairstyle of these dolls. Just because it is a doll does not mean it is geared for a specific gender.