Best Board Games for Kids 2019
last updated
Jul 22, 2019
Whether you are planning a family fun night, trying to get the kids off their phones, or trying to pass the time on a rainy Saturday afternoon, a great board game can come to the rescue. They provide kids with so many positive experiences. When spending time outside is not possible, they are a great alternative to spending time together and also providing children with an experience that offers many benefits. It is a wonderful experience to challenge your children mentally. It boosts their cognitive skills–short- and long-term memory, information recall, and information retention. Working the mind through playing it also benefits them socially. The question is what kind of a game are you looking for? Some of them offer a quiet time activity while others will get everyone in the house up and moving. Here are the best board games for kids.
In a Hurry? The test winner after 47 hrs of research
Guess Who?
Why is it better?
Encourages social play
Increases speech-language skills & comprehension skills
Improves vocabulary
Displays diversity
In a
Hurry? Editors choice:
Test Winner: Guess Who?
23
Researched Sources
82
Reviews Considered
47
Hours Researching
23
Products Evaluated
Design
Educational Value
Effectiveness
By Default
10 Best Kid's Board Games Reviewed
Encourages social play
Increases speech-language skills & comprehension skills
Improves vocabulary
Displays diversity
The cards for the board could be made thicker so they don't easily fall out
Parents get ready to feel a sense of Nostalgia as you watch your child enjoy the classic game of Guess Who. Designed for two players, each player has a tabletop board with small windows. The windows flip up to reveal 24 faces of men and women with their names written underneath.
Read more
Design
Each player draws from the deck of cards included in the box and does not show the other player. Each card represents one of the 24 faces on the board. Since the original version of guess who, the character cards have been updated to display more diversity Both players take turns asking questions about the physical features of their opponent's card. For example, one player might ask "Does your person wear glasses?" or "Does your person have blue eyes". Questions can only be answered with yes or no. If the answer is no, then the person who asked the question puts all people with glasses or blue eyes down on their board. If the answer is yes, then they put down all the people without glasses or blue eyes. The first person who guesses their opponent's character wins.
Educational Value
With two gameboards in the box, your child is encouraged to engage in social play. As your child uses the process of elimination to determine their opponent's character they will be increasing their deductive reasoning skills. As they listen and respond to the questions they are being asked they will improve their comprehension and speech-language skills. Your little one's vocabulary will improve as they work to come up with adjectives. These fun board games for kids will instill a healthy level of competition in your child and will increase their confidence level when they come out victorious.
Effectiveness
While the objective of the game is simple enough for young children to play, people of all ages will enjoy trying to guess their opponent's character. Guess Who is a classic game that has been around for generations, it's great to see that it has evolved with the times and now includes more diversity in the characters.
Suitable for large groups
Great family night game to involve everyone
Kids have fun solving a mystery
Helps to improve educating guessing and problem-solving
Fun characters and realistic looking game pieces and game board art
It's time to add some mystery and intrigue to your family's game night. Last but not least is Clue, the highly interactive family favorite that turns every player into a suspected murderer! Clue is great for kids ages eight and up but is fun for adults as well. It's also great for groups up to six but suitable for groups as small as two.
Read more
Design
Your goal as a player is to answer all the Who's, What's, and Where's about who's been killed and which player has done it. Follow five classic characters and one new one -- Dr. Orchid -- as all players try to unravel the mystery by narrowing down who has what weapon in which room. Once you've collected enough clues, it's time to make your educated guess. Everyone will have a blast trying to solve the mystery of who killed Mr. Boddy in Tudor Mansion!
Educational Value
The basis for Clue is problem-solving. While the clue-collecting aspect makes kids feel like they're solving a real mystery, they're also working on their method for the process of elimination and strategy skills as well.
Effectiveness
Classic games are classic for a reason and Clue is no exception to this. This board game is cloaked in mystery and intrigue, and we are sure that your children will love it!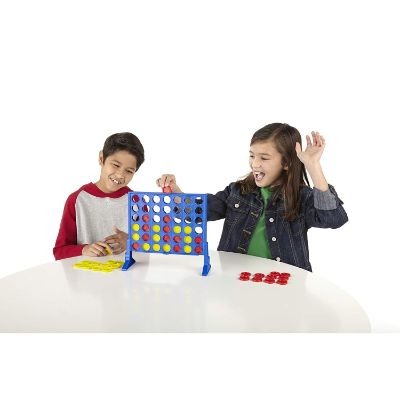 Easy gameplay
Requires focus and strategy
Helps develop motor skills
Can be played by younger children
Three different ways to play
Only two players at a time per grid
Some users felt the materials used were cheap
If you or your child ever enjoyed tic tac toe, we think you might like Connect 4. This simple game involves yellow and red tokens as well as an empty grid with six open slots per column and seven per row. Players take turns slipping their tokens into the grid, trying to get four of their same color uninterrupted vertically, horizontally, or diagonally.
Read more
Design
This game is meant to be played by only two people, so we don't suggest it if you're looking to entertain a large party. But if you just want some one-on-one time with your kiddo, this is a great game that's easy to understand and play. There are three ways to play: the classic structure described above, "Connect 4 Frenzy" (in which both players drop tokens at the same time with one hand in a wild race), or a version in which you can use your turn to either add a disc, or eject one from the bottom of the grid using the pop-out feature.
Educational Value
Connect 4 is a game of strategy more than luck. It asks players to not only consider how they will get four dots in a row but how they will prevent their opponent from getting to it before they do. Children can flex some motor skills and dexterity as they learn to slide their tokens into place and they'll have to focus and consider cause and effect as they work to keep their opponents from beating them to four in a row.
Effectiveness
This game has no complicated rules or setup, making it a quick and easy classic. It's recommended for children ages six and up, but children as young as four can probably grasp the basic mechanics if you want to team them up with an older partner that can help them along. We like that it allows families with really young ones to play and that it isn't confusing or daunting in any regard. Plus there aren't a million little pieces and cards to worry about as choking hazards and long-winded clean-up. If you're trying to play with more than two players, consider buying a few grids and setting up a tournament so that players aren't waiting around for their turn.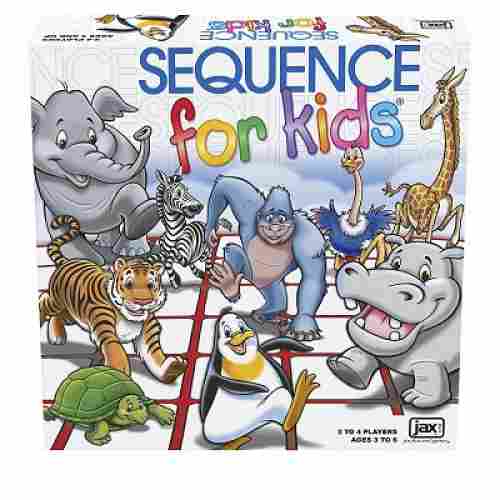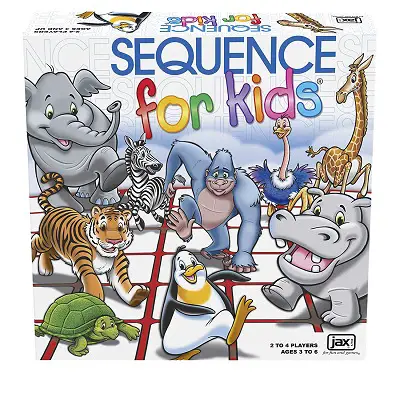 More Kid compatible as opposed to adult version
Parent interactive
84 playing chips in red, yellow, blue and green colors
Instruction manual included
Can be used in classroom for team-building activity
Can become boring and repetitive
Can be difficult for younger children
It can be hard to find a kid's board game that's inclusive for the whole family. Sequence for Kids is a great way for a broader age range to play together. Children don't have to be able to read to understand and compete in it; all they have to do is be able to help sort the animals, pieces, and pictures categorically.
Read more
Design
This game consists of using matching cards in conjunction with the board layout to get a row of pieces, or a "sequence". By using certain cards the players have been dealt, they can choose to use a card to place one of their pieces in an attempt to string them together to many a row. The game becomes interesting when unicorn and dragon cards are thrown into the mix; unicorns mean a chip can be placed anywhere, while a dragon chip means moving another player's chip. For a fun game that makes good use of critical thinking, Sequence is definitely one to consider.
Educational Value
There's no need for players to have advanced reading skills to take part in it and that makes it open to all ages. It's an entertaining way to use your noggin to come up with a winning strategy without needing to spend a bunch of time reading game cards or instructions!
Effectiveness
It's a very nice way to relive the past while at the same time help encourage little ones to think strategically. It can be a great tool for strengthening family ties as Sequence can also be played in teams.
5

. The Sneaky Snacky Squirrel Game
Good toy for Preschoolers
Squirrel handler for acorn collection pieces helps coordination
20 multicolored acorn pieces aids color recognition
Easily understandable rules for children
Encourages development of patience in child
Spinner wheel is easily broken
Cardboard accessories of questionable quality
Based on the book of the same name, the Sneaky, Snacky Squirrel game seems deceptively easy but helps children to categorize, strategize, and match. For added fun, you can read along with the book while you play. The Sneaky, Snacky Squirrel is always up to all kinds of silly adventures that will have little ones giggling nonstop.
Read more
Design
The game is played by using the colored spinner to try and land each one of the colors, which match up with one of the acorns in each tree that each player is given at the beginning of the game. The goal is similar to Bingo because the first person to have a fully lit acorn tree, wins! As players go through this game they can read along with the Sneaky Snacky Squirrel and see what silly things he's up to on his way to collect as many acorns as possible. This board game teaches strategic thinking as well as matching skills and is a great one to play in a group at school or on weekends. The book is simple to read and will help children improve both their written and verbal skills in addition to teaching them how to read along. This is one adorable game that is perfect for preschool as well as elementary school ages.
Educational Value
Reading along with a funny book makes playing the best kids board games more entertaining because little ones will have something to relate their gameplay to. This one helps to improve a well-rounded variety of skills that are important to a growing child.
Effectiveness
The Sneaky Snacky Squirrel is excellent for reinforcing young kids' color recognition, pre-handwriting skills, fine motor skills, and hand-eye coordination. It also helps in the development of children's matching skills, organizational or sorting skills, and strategic thinking skills. Perhaps, more importantly, is that the board game teaches kids about the value of waiting for one's turn.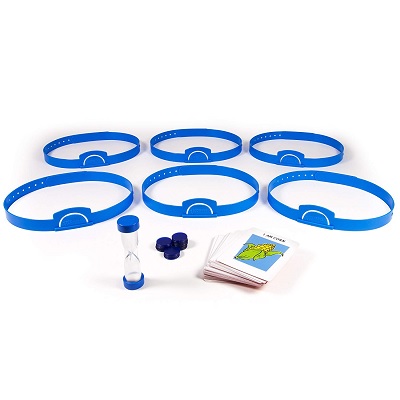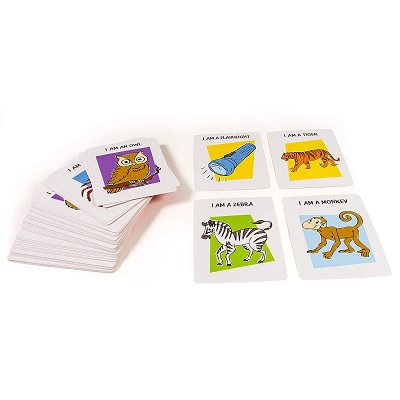 Non-reading learning tool
Deck of 74 well-made playing cards
Playing chips and headbands make for simple interactive play
Helps in increasing child's vocabulary
Fosters critical thinking
Headbands can be uncomfortable
Can be too intellectually challenging for young children
Similar to charades or the Heads Up app, this game gives players a secret card that they wear on their heads. Other players can see their picture and they can see other players' pictures. Participants then ask each other questions and the first to guess their own card wins. This is a wonderful and inclusive activity, especially for those who still struggle to read during games.
Read more
Design
Before playing, each player is equipped with a headband that will hold a future card. When a player gets a card, he or she is required to stick it in their headband without looking at it. When the timer starts, they have the chance to ask everyone else questions about what may be on the card in an effort to guess it before time runs out. This game is sure to be tons of fun and is best played in larger groups, but can be played with as few as two people. It's great for ages eight and up and fun for the entire family or a group of friends! The more cards you guess right, the more points you rack up and the closer your team it to winning -- Better put on those guessing hats, or in this case, Hedbanz!
Educational Value
The unique guessing aspect of this game encourages solid thinking skills and mystery solving. Without knowing what the card is on their headband, the player is required to take the answers they receive and piece them together to solve the mystery picture.
Effectiveness
It's all about kids' depth of vocabulary. The more things and objects he or she knows, including their descriptions, the better the kid is in winning in this fun activity. It can be a great addition to any child's party.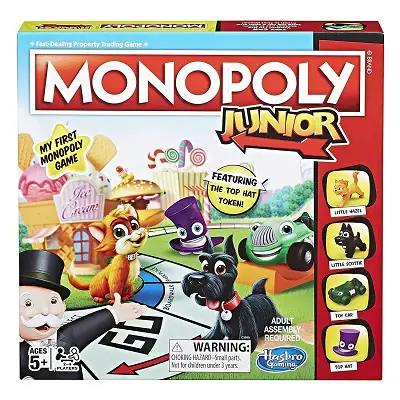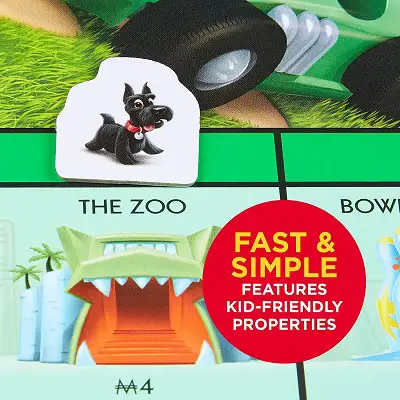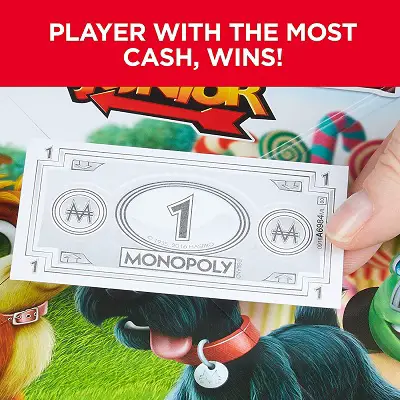 Classic board game made kid-friendly
Best suited for kids over the age of 5 years old
Great for two to four players
Simple and fast gameplay
Boosts cognitive development skills
Game only includes one dollar bills
Each game takes 20 to 40 minutes
Be the first to collect all the necessary properties to create a monopoly--but do it in style! This rebranded version of the classic game is made to be appealing to children. The money is all in dollar bills to make counting easier, the tokens are cute little animals and characters, and the gameplay is significantly shorter than in the adult version.
Read more
Design
Being designed just for the kids, the game has simple rules and is played much faster than the regular version. All of the properties are kid-friendly and have fun names. Included with the game board are junior tokens, chance cards, signs for sold properties, banknotes, and character cards, along with a detailed instruction guide. This kid version of the timeless, classic board game will be the hit at your next party.
Educational Value
Fun board games for kids deal a lot with cognitive skills. They stimulate the parts of the brain that control memory, information preservation, and advanced problem-solving skills. These skills help develop and boost the mind along with sharpening both long-term and short-term memory.
Effectiveness
Easy game to play with the kids. The easy and simple prompts make it possible for the kids to play alone. This is a great classic game with a kid-friendly theme.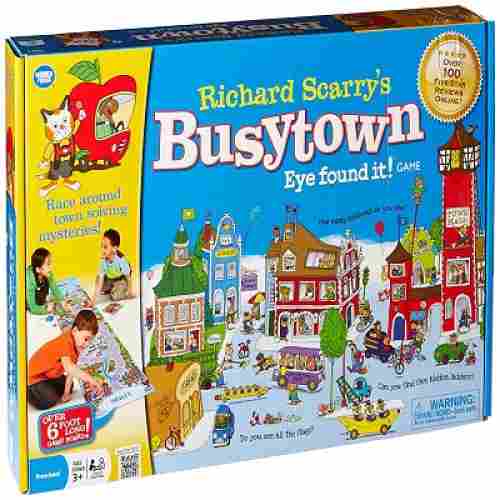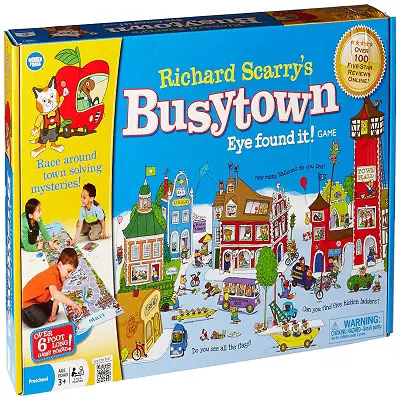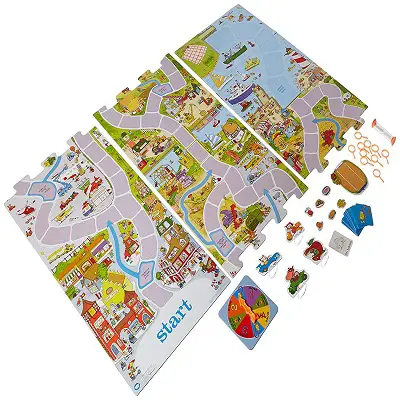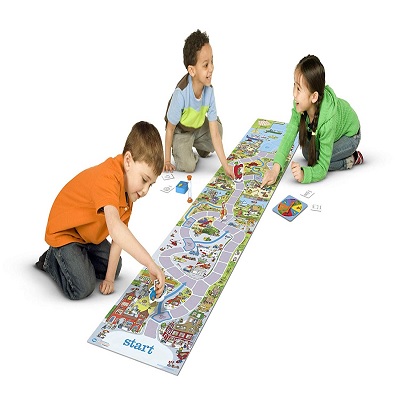 Hones observational skills
Encourages cooperation
Promotes physicality
Teaches causal relationships
2-4 player game
Some concepts of the game can be too abstract
The 6ft game board can be too cumbersome
Richard Scarry is well known for its bright, bustling town filled with fun characters and silly situation and now your child can feel like they're apart of it. The Busytown Eye Found It board game consists of a six-foot board (whoa!) that depicts all the aspects of town like that kids have grown to love, as well four moving pieces and bases, one spinner, one ferry tile, ten magnifying glass tokens, six food tiles, 30 goldbug cards, one sand timer, and an instruction manual.
Read more
Design
All of these pieces come into play one the spinner begins going and within seconds this game board becomes one giant game of hide-and-go-seek. Each person is instructed to find the item depicted on the card that they choose by the timer runs out, but there's a kicker -- everyone is allowed to play "eye spy"! This creates a fun challenge for kids to use all the skills they have to be the first one to spot what's on the card, otherwise, someone else will be jumping away with their extra turn. This game is a blast and can be played with two to four players, ages three and up.
Educational Value
Richard Scarry's Busytown game forces kids to use their visual and memory skills to remember where things are and find them under a time limit. This creates a challenge but adds to the fun without being stressful and overwhelming.
Effectiveness
It's a great activity for cooperative play as the whole 6-foot board game will have different sections that require strategic coordination. It can accommodate up to 4 players at a time so this should be great for fostering strategic thinking.
9

. Pie Face Showdown Game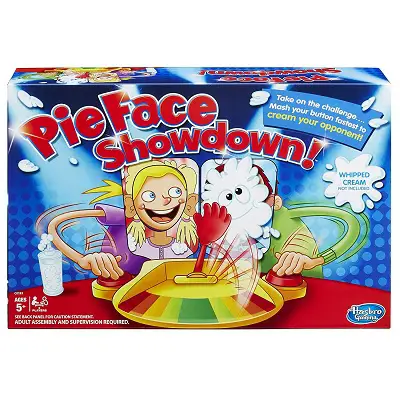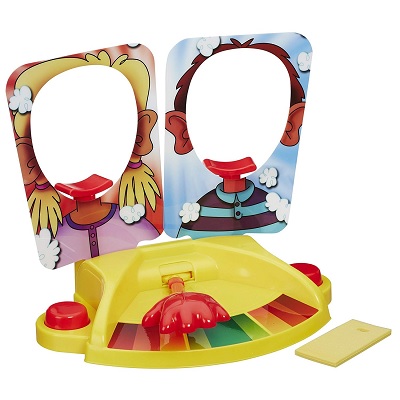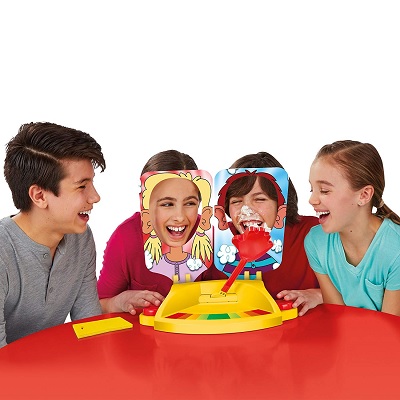 Kids enjoy the simple repetitive action
Helps parents be more playful
Enhances reaction time
Teaches how to take turns
Develops healthy sense of humor
Throwing arm mechanism can get jammed
Pie cream can slide off very easily
There's a reason that dunk tanks are a hit at the carnival: it can be a lot of fun to watch someone you know get a little messy. It's all in good fun! This game is a tug-of-war style interface where players hit a button repeatedly to try to keep the pie closer to their opponent and farther from themselves!
Read more
Design
The way the game works is that each player is first set up with a headrest that comes with the game and before the game starts both players are required to lean their faces against the included face cut-outs. A red button is placed in front of each player and it's attached to a meter -- this is what will determine which player gets a face full of cream. At the count of three, both players begin hitting the red button in an effort to push the meter closer to the other opponent. Whichever player can't keep up will soon be the unfortunate pie-eater! The "pie" is simply just whipped cream (not included) or can be substituted with a dampened sponge (included) for a food-free fun activity. This kids' board game is simple enough but honest in on an important skill: Timing. With the use of hand-eye coordination, players are literally forced to hit the button as many times as they can while keeping a rhythm steady enough to force the meter in the opposite direction.
Educational Value
Hand-eye coordination is the absolute key to winning this game. If a player misses hitting the button or misses a beat, he or she is at risk of going home with a face full of whipped cream!
Effectiveness
It's great family fun. It can teach your little ones about numbers and helps as well in the reinforcement of motor skills.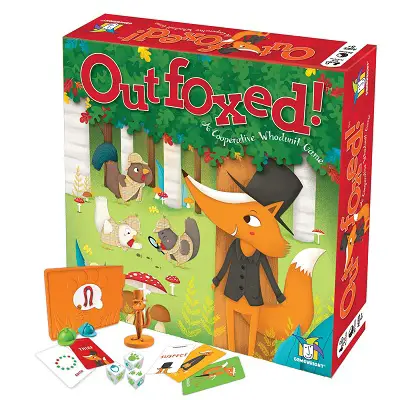 Detective game, move around the board and find clues
Instruction manual includes both Spanish and English
Best-suited for children ages 5 years old and older
For two to four players
Encourages social interactions
Goal of the game is very easy, no challenge
Instructions are confusing and hard to understand
Outfoxed is a cooperative mystery game made just for children! The prized pot pie has gone missing and it's up to the players to figure out who took it. Everyone moves around the board and collects information in a similar fashion to Clue, but this game is much more kid-friendly in tone and theme.
Read more
Design
The goal of the game is to move around the board and collect clues about the missing prized pot pie. Using the evidence scanner, players are able to determine who is not the suspect. They will have to work quickly and together with the other players because if they don't the guilty fox will be out of the game before they know it. Who will catch him, no one knows? The game is best for children over the age of 5 years old for two to four players. Each round of the game takes about 20 to 30 minutes to play. This "who did it" game will be the best one to hit the table since the pizza arrived.
Educational Value
Social interaction between children is a great benefit of kid board games. It allows children to interact in a setting, helps develop relationships and builds strong bonds. Board games are not only good for relationships between other children but with adults as well. Game night is a way to interact with your children and build a positive relationship.
Effectiveness
A quick and simple game that the little ones will enjoy. Great game for the family fun night and everyone in the family can be included.
Criteria Used for Evaluation
Design
There are hundreds of creative options for family fun out there! When you pick a fun activity for family night, you want to know that you're setting your loved ones up for the best time that can be had. That's why we suggest choosing games that are appropriate to the various age levels of skill sets of all the players involved. This can be challenging at times, but you can always team players up if someone is struggling, or play a game that is slightly easier and introduces your own challenges for the older players.
There are lots of great classic board games for teens too! Also, there are innovative and new designs and even games that require the use of your smartphones! Whichever you choose, you'll be helping to build lots of developmental skills for everyone involved. Most games are designed to increase confidence, social skills, focus, foresight, motor skills, and more!
Educational Value
Whenever you think of kid board games, you will automatically think of intelligence, wit, and strategic thinking. While it is true that best kids games have been utilized by many professionals to get an idea of the cognitive abilities of individuals and not only children, board game does provide additional benefits other than cognitive.
For starters, on the physical side of things, many of them allow young children to master the control of their fine-motor skills. This requires absolute coordination of the different small groups of muscles of the hands and fingers to move board pieces. Rolling a dice may seem benign but this requires coordination of the muscles and tendons of the hand plus the strength and balance coming from the forearm and the wrists. Additionally, some of them also help reinforce hand-eye coordination and the development and enhancement of their spatial intelligence.

Effectiveness
Best kids board games may be very popular to all members of the family but choosing the right kind of table games for kids may not necessarily be that easy. You really have to make sure that the degree of complexity of the board game is just right for the cognitive level of children. As such, we have done our part to bring to you the 10 best and most popular board games for kids you will ever find in the market today.
We assigned our team of researchers to scrutinize each one of them today, making sure that they are on par with the developmental requirements of children across different stages. We had to make sure that the game will be able to help further enhance children's psychomotor and cognitive development as well as help foster beginning emotional and social skills. We also had to look at what other consumers and parents who have already bought the board game said about it and identify any concerns or issues that they may have regarding the board game. Lastly, we also had to consider the manufacturer's credibility and trustworthiness as an organization.
Coming up with a credible list of the 10 most popular and highly rated board games for kids is not easy, but we did it anyway. We hope you will find something on our list that will merit your attention and consideration as a suitable gift to your children.
Most Important Criteria
(According to our experts opinion)
Experts Opinion
Editors Opinion
Users Opinion
By Default

Parents, Did you Know?
That playing board games is a great way to teach your children practical life lessons. Most games teach children about good deeds and virtues. This will help encourage their career development and also help teach them about the art of negotiation.
Parents, Did you Know?
Family fun night at home is a great way to save money and it also benefits the kids. It creates an environment that allows them to be able to bond with family and friends in a comfortable home setting.
Other Factors to Consider

Social Development
We understand that in this, close family and friend activities are paramount. Aside from the mechanics of the kids board games, the most crucial aspect of cognitive development comes from times of bonding. There's that give and take that comes from learning about cooperation and competition; team efforts that can result in a win or a loss; and, also how to take responsibility in both scenarios. This develops healthy self-esteem in children.
The educational benefits have shown that in many cases fun board games increase IQ in middle schoolers, as well as helping verbal skills. Most strategic games aid in quick response and decision making, not just in hand-eye coordination, but in making quick judgments and assessing situations. Many games that require a well-thought-out response are the equivalent of working out a mental muscle, a process researchers have coined as metacognition. The more parents can guide their children in the process of learning through games, the greater the benefits will be on average.
Frequently Asked Questions
q:

Will the manufacturer's warranty cover any parts that go missing over time with normal usage?

a:

The answer is yes! But, it will take some doing! The details of the warranty usually stipulate a complete replacement of the game, rather than parts. Also, there is a timeline for the life of the warranty. Since a lot of companies don't like to hear too much bad talk about their products and services, sometimes things can get lost in the shuffle with customer service before the problems can be adequately addressed.
q:

How can board games be more effective in cognitive development over physical activity?

a:

In a way, it's like comparing apples to oranges. In some regards, they are like different seasons for different stages of development in life. Older children will tend to be more naturally sedentary, will learn and comprehend more complexities that can arise out of board game play. There is the fact that some concepts also need to be shown symbolically through games, rather than acted out, to illicit comprehension.
q:

Will some of these games grow with my child?

a:

For sure! Some of these games have already grown with at least three living generations already. Games such as Clue and Monopoly can be kept for decades and passed down like heirlooms if it's seen fit! They're more allegorical games delving into deeper realities that can always be revisited for years to come.
q:

Why play physical board games instead of doing these things virtually?

a:

Studies have shown that people still need solid human interactions, particularly children! Sure, everything these days is online and virtual, but that's not what we were designed for. Children have a tendency to thrive more through this interaction of showing, explaining, pointing, and guiding. It develops not only relationships but deeper comprehension and aptitude.
q:

In what way can board games aid in divergent thinking?

a:

Most of these games are more-suited to convergent rather than divergent thinking. Games such as Monopoly can be suited to divergent thinking. But this has more to do in the realm of what takes place once the participants step away from the board. Many of these games serve as blueprints for a much larger scale model. It can lay a foundation on which the child can expand and improvise on at a later date and within a different context.
q:

Can a travel-friendly version of most board games be purchased?

a:

Surprisingly, yes! Monopoly has both a Grab 'N Go version, as well as several travel versions that include zip-up travel cases. A quick Google or Amazon search and a travel version can probably be easily found almost any table game. For long road trips that will have a semi-permanent destination, it might be best just to pack off the full-sized tabletop version of whatever game you enjoy.