10 Best Family Board Games Reviewed and Rated in 2019
last updated
Sep 07, 2019
In the days of technology and digital hobbies, something like a board game still holds a small place in the hearts of families all over the world. There's no need to plug them in for a charge, they can be played virtually anywhere, and they're inexpensive. Not to mention, they're a ton of fun! Whether your family is full of avid game-players or just seeking a new activity to do on Friday nights, we've got some board games that you might want to consider. They are a great way to pass the time and perfect for character-building, family bonding, and making memories. Take a look at the best family board games featured on our list!
In a Hurry? The test winner after 28 hrs of research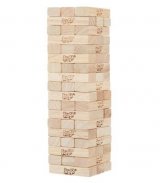 Jenga Classic Game
Why is it better?
The blocks are of high-quality wood
Great for any age
Perfect for large or small groups
Simple concept and easy to play
No confusing rules
In a
Hurry? Editors choice: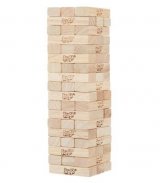 Test Winner: Jenga Classic Game
20
Researched Sources
28
Hours Researching
15
Products Evaluated
Entertainment Value
Social Development
Educational Value
Ease of Use
Value
By Default
10 Best Family Board Games Reviewed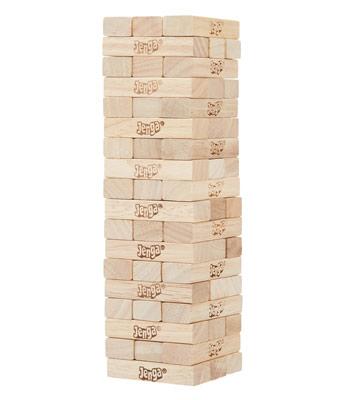 The blocks are of high-quality wood
Great for any age
Perfect for large or small groups
Simple concept and easy to play
No confusing rules
Needs plenty of space when blocks go flying
For a game that's all about precision and accuracy, Jenga is perfect for your family game night. If nothing else, you'll be able to laugh over the looks on your kids' faces when they repeatedly knock over this block tower!
Read more
Entertainment Value
Jenga can be played with anywhere from one player to an entire group -- There's really no limit to how many can try their hand at keeping this leaning tower standing upright. The great part about this game is that it's simple and uncomplicated, all it takes to play is a steady hand.
Social Development
We all remember playing this game as a kid but now you can play it with your entire family and trust us, it'll be twice as much fun. The social skills exercised with gameplay are valuable. Whether you play with just a few people or plenty, Jenga is fantastic for groups of people. It is an exciting game for family night or for parties, sleepovers, and get-togethers of all sorts.
Educational Value
This game is incredibly simple but has a concept that's really challenging as far as both critical thinking and logic go. It definitely takes some thought when deciding which blocks to pull out.
Ease of Use
Jenga is completely timeless and possibly one of the easiest games to set up and play next to regular card games. It's fun for any age and has no limit to the number of players.
Value
Jenga falls beneath the average price point of our guide. This game is a classic family board game and there are plenty of ways to add new spins to it (such as writing silly dares on the blocks) if you want to teach this old tower new tricks!
2

. Watch Ya Mouth Family Edition
Kid-friendly for all ages
It doesn't take any special skill or thought
Mouthpieces come in various sizes
There aren't many rules and gameplay is simple
It's hilarious
Washing the mouthpieces can be annoying after each game
This game isn't nearly as inappropriate as it sounds and trust us, it's a ton of fun. You'd never think a mouthpiece could be this hilarious until you try to speak while wearing one. Watch Ya Mouth is one card game you and your family won't want to miss. It's hilarious and comes as a fresh take on a traditional card game, not to mention, its award-winning.
Read more
Entertainment Value
Using the creative notion that was initially viewed as childish and turning it into a great family game is something that we totally applaud. This amazing item will excite your kids plenty. This game is similar in concept to charades or Pictionary -- Players wear the accompanying mouthpieces that stretch your mouth into funny positions and have to speak whatever words are on the card of their choosing. It's up to the other players to guess what they're saying which results in a hilarious laugh-off as you've never heard before.
Social Development
Repetitive play is fun because every person who takes a turn will say each word in a different way. That means that even if the same card is played twice, it won't get boring or repetitive.
Educational Value
Players have to be creative to get their words across to the others in playing this unique and interesting game. It does take some skill in manipulating the mouth and the tongue to win.
Ease of Use
Similar to when kids would squeeze their cheeks together and say funny words, this game took that idea and completely ran with it, creating a fun game for everyone.
Value
Watch Ya' Mouth is above our calculated average. This is a more contemporary game but it's fun for all ages and truly is something that even young players can understand and get behind due to its comedic nature.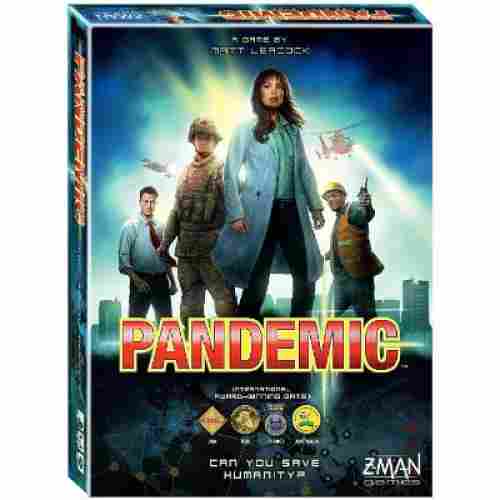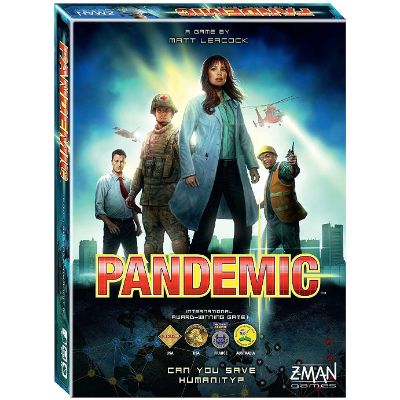 Offers cooperative play
Great for ages 8 and older
Longer game play; about an hour
Can be played with 2-4 players
Multiple difficulty levels available
Will eventually lose its replayability
Pandemic is a 60-minute adventure brought to your family room table by Z-Man Games. Intended for 2-4 players, this co-op game pits players together as they battle to stop four dangerous diseases on the cusp of infecting the whole world. This game is a great choice for families looking to build solidarity and avoid competition. It allows players to work together towards a common goal and against an invisible enemy within the game.
Read more
Entertainment Value
This game is recommended for ages 8 and up. It's a more mature game that requires some comprehension of rules and gameplay. The subject matter is also a little grim so you might want to play this with your older children and pick something else out when the toddlers and young kids tag in.
Social Development
We love the cooperative elements of this game. Many games as players to compete against each other and while friendly, healthy competition can be fun, it's also lots of fun to feel like you're part of a team.
Educational Value
Pandemic requires teammates to trust each other and work together. There's strategy involved and it actually does teach some practical points when it comes to avoiding viruses spreading quickly.
Ease of Use
You'll want to read the rules over and get a feel for how game-play works. It isn't a simple two or three-step process but it's also not so complicated as to be difficult to get the hang of it.
Value
This is the most expensive item on our list. It's a far more involved game than many of its competitors and appeals to older kids, who are often harder to please, so we think it's worth it if your family loves game night.
Improves reasoning skills
Helps kids learn to be detectives
With 74 different cards, it won't get repetitive
Teaches teamwork
Brings families closer together
Doesn't give much guessing time
You read that right...Headbands are no longer just good for fashion! And when you put on this type of HeadBanz, anything is fair game for your family. There's no need to wear mouthpieces with this game. Instead, you'll be wearing headbands!
Read more
Entertainment Value
While there are specific rules each player needs to follow in order to avoid making the game too easy, it's a simple concept overall and leaves plenty of room for silliness. Each player will get a card when it's their turn to go and, without looking, they'll need to place the card in their headband. While they won't have any idea what it says, the game works a bit like a reverse-charades: They need to ask the other players questions in order to figure out their own card. Kids will get to test their deductive and reasoning skills all while building bonds with the rest of their family.
Social Development
This game is simple fun, but it takes plenty of thought on the player's part. It's a great way for families to come together and work as a team in order to see each other succeed.
Educational Value
It allows kids to get creative and rack up points by using their reasoning skills as a basis for winning. Even the youngest of children can succeed at playing and winning this game often.
Ease of Use
This is basically one giant guessing game with a fun and creative twist where you need to rely on your fellow players to help you answer the question of, "what on earth is on my head?"
Value
This game hovers right around the median price point of our list. If you like silly games and games that are great for broad age ranges, we think you'll find this to be a valuable pick.
Encourages teamwork
Helps kids to bond with their families
Good for groups or in pairs
Age-friendly
It's interesting using reasoning skills
The replay value isn't very high
Depending on how good your family's reasoning and deductive skills are, this game will either be smooth sailing or adequately challenging. However you play, it's sure to be a blast figuring out who's got who.
Read more
Entertainment Value
There are some rules to make the game a bit more challenging but overall, it's easy, fun, and great for kids who love to solve mysteries. The whole family will love this unique game. It's simple enough; each player gets either a blue or red board and pictures of imaginary people to stock them with. Both players get alternating turns to ask questions in an attempt to knock down the other player's person in a process of trial and error elimination, based on a card they've picked out of the deck. The first player to guess all of their opponent's person cards wins!
Social Development
This game could be played in teams or one-on-one, which is why it's so versatile. It's a fun family game because when working in groups, it takes a ton of teamwork in order to succeed.
Educational Value
The great thing about this game is that it teaches kids how to look for tiny details and point out the small things that will lead them to victory. It is quite educational in some important concepts. Guess Who? Is another great game that allows all the players involved to use their reasoning and deductive detective skills to narrow down all the different people their opponent has on their board.
Ease of Use
A lot of brainpower is involved when guessing the player on a person's card and not everyone will be good at it right off the bat. However, after playing a time or two, it will become easier.
Value
Guess who is on the lower end of our price range. This game is a classic but with a facelift. If you love nostalgic games you played as a kid, invest in this one.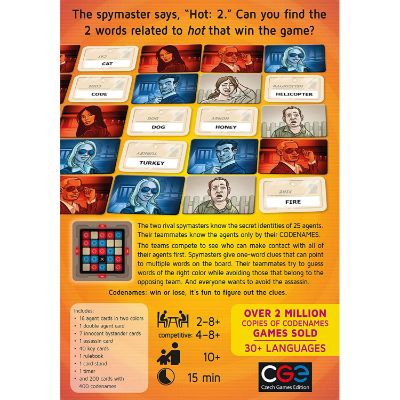 Great wordplay game
Offers cooperative and competitive elements
Easy-to-follow rules
Quick game-play (15 minutes)
Can be played by larger groups
There's some downtime as the other team gives the clues and does the guesswork
Looking for a little mystery--a little espionage? Codenames has all of that and then some. This game involves two spymasters and their opposing teams. The spymasters know the identities of twenty-five secret agents in the field and it's up to their teams to guess and make contact with as many as they can before their rivals do.
Read more
Entertainment Value
This game lasts roughly fifteen minutes so it's a nice quick turnaround and can accommodate children with short attention spans. It's also good for 2-8 or more players, so you can play it with big parties.
Social Development
There's a competitive element to this game as well as a team-building one. You'll need to work together with your own teammates to win but you'll also have to outsmart the other team!
Educational Value
We love that this game incorporates wordplay. Children are constantly learning and absorbing information so expanding their vocabulary and critical thinking skills while also having fun? Yep, count us in!
Ease of Use
Recommended for ages ten and up, this game has simple rules and is pretty silly without being so low-stakes that it's uninteresting. There are a few twists and turns such as a double agent card, but the game-play is easy to follow.
Value
Codenames is around our guide's average, sitting above it by only a few dollars. You can also invest in the expansion pack if you're interested in the Picture version!
Great for up to six players
Detailed and artistic playing board
Little details like weapons and character cards make the game enjoyable
Kids do their own deducting
Solving the mystery is challenging
The replay value isn't super high with this game
Clue is a family favorite because it's got a unique twist to it in the sense that you're actually playing out a mystery story. It's full of details that are great for the imaginative mind. The game comes with everything you need to visualize the perfect murder mystery, including character cards, tiny weapons, and a highly-detailed game board featuring the mansion where it all takes place.
Read more
Entertainment Value
For kids who have wild imaginations and love anything with a good mystery, this is one game that your family has to try out for your next game night. It is murder mystery fun at its best! Throughout the game, players will receive clues as to "whodunnit", which they can then write down in order to make their final guess. This game comes with a new character, Dr. Orchid, who makes a surprisingly suspicious dinner guest in this murder mystery story. Did she actually commit the crime? You'll just have to play to find out!
Social Development
This is one board game that will really get everyone near involved. Even those who are not playing will be excited at watching and guessing for themselves who the mystery person is.
Educational Value
Clue is a classic game designed to test the mystery-solving skill set of each of its players. As long as you've followed the rules, then inevitably someone will be the first to solve the mystery and win the game.
Ease of Use
In the age of video games and PC gaming, a game like a Clue is great because the main component is your brainpower! Use your problem-solving skills to solve the mystery before the others.
Value
Clue sits right smack dab in the middle of our guide's price range. This classic can be played over and over again with different results each and every time, giving it a lot of longevity in the gaming world.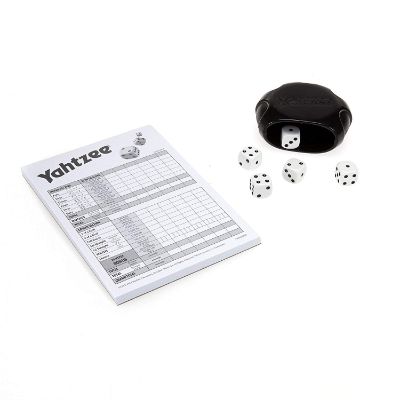 It doesn't take much to play
Improves math skills
Much of it is luck and not skill
It's great for large groups
Long-standing reputation
It can get boring rather quickly
Yahtzee is a game of luck, so give your hand a shot at rolling the dice! It's fun and competitive in a friendly way that's sure to be a hit during family game night. This game isn't new by any means, but it's still just as much fun as it always was. The gameplay could not be simpler and the only tools you'll be using in-game are five dice, which makes it simple enough for any age.
Read more
Entertainment Value
Similar to playing poker with playing cards, each roll of the dice (just like each hand) counts for a different amount of points. It's your goal to make it to 50 in order to win the game. Each player gets a scoreboard to keep track of the numbers they've rolled, and the goal of the game is, of course, to be able to yell, "Yahtzee!" before anyone else! The only rules you and your family need to follow are those specific to rolling: You can roll three, four, or five of a kind in addition to the full house or a straight.
Social Development
The best part of playing this terrific game is yelling the word Yahtzee out loud. The game gets everyone in the family involved to forget current happening and be a part of the revelry.
Educational Value
Although it's minor, the math involved in this game is what makes it interesting. Kids will have the responsibility of keeping track of their own points and adding them up as the game moves along, which can improve math skills.
Ease of Use
This game can be played virtually anywhere with a flat surface. It doesn't take up much room and the rules are super simple, which makes it great for travel, playing while on trips, or bring to a friend's house.
Value
Yahtzee is on the low end of our price range. Inexpensive and great for nostalgia's sake, this game is fun for kids and adults alike.
Easy for young children
Still holds up as a good family game
Can be played in large groups
Simple gameplay
Kids won't need help when it's their turn
Somewhat basic and can be boring
This kid-friendly version of a classic game makes things simple while still maintaining the same level of fun. Kids will be able to play Charades with the rest of the family without needing any help at all! The only thing that makes this game different from traditional Charades are the card options -- They've been made simpler and designed so that kids can read them on their own without help from adults, which can often take some of the fun out of the guessing game.
Read more
Entertainment Value
This is one game that does not hinge on simplicity, even if it is aimed at kids. It is possible that even the seemingly easiest topics could ultimately be the most challenging. With this version of Charades, kids can act out their own cards without needing help from anyone and they'll actually feel like they're involved. It allows them to have center stage while also boosting their confidence a little so that they can act independently.
Social Development
We've all played Charades before because it's easy, fun, and great for big groups. Charades for Kids is a child-friendly option for kids but will be loved by the entire family regardless of age.
Educational Value
Some of these card options might be even more challenging since they have been somewhat simplified, which just adds to the fun for adults. It will keep them intrigued in the excitement.
Ease of Use
The great thing is that kids can take this game anywhere and play with anyone, without needing any help at all. It is so simple that kids do not need parents or older kids to play it well.
Value
Charades for Kids is beneath our median price point. This game might seem like a glitzed up version of something you can play for free, but having some guidance and extra structure can help little ones as they learn and play.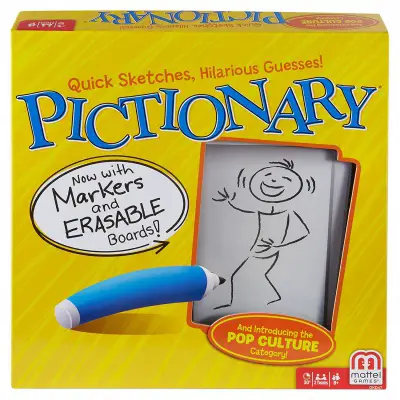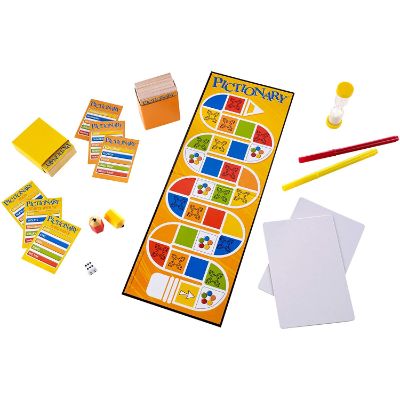 Environmentally-friendly
Modernized and updated
Fun for all ages
Comes with two types of cards
Much more efficient
Markers might dry out and need replacing
Perhaps drawing is more your family's idea of a fun game night? This game has been modernized so you won't be drawing on paper. We promise it is much more fun than traditional Pictionary. This version of Pictionary comes in the form of a board game which is very easy to use and understand. The board is basic and for each picture guessed correctly, the successful team moves forward accordingly.
Read more
Entertainment Value
The introduction of a dry-erase board really helps this game in the way of being modern, not creating waste, and keeping you and your family from using the back of old drawings in order to play. In order to draw, Pictionary has gone away from the traditional pen and paper route and including erasable boards with dry-erase markers. This makes it easy, fast, and tons of fun to draw and guess different topics. Each picture can be erased easily and if you make a mistake, simply wipe it away and start again.
Social Development
You know that we couldn't just end this list without the addition of an awesome game such as Pictionary, and this game has been updated and modified so it's even more worthy of game night.
Educational Value
This game includes the traditional timer as well as a total of 200 cards -- 120 adult cards and 80 kid-friendly cards -- So that gameplay is structured and provides a challenge.
Ease of Use
You can say goodbye to the old days full of random Pictionary sheets that you couldn't do anything with once they were used. This is a much more user-friendly version for everyone.
Value
Pictionary is below the median price of our guide. This game can be played again and again and is hilarious regardless of the artistic skill level of you and your friends.
Criteria Used for Evaluation
Entertainment Value
If your child is having a bad day, the game night can come as a welcome surprise to both uplift and improve their mood. It can help to take their mind off of whatever is bothering them and help shift their focus so that everything is shed in a brighter, more positive light. If they're comfortable doing so, the game night can also be a place where they can talk openly and freely; where the lines of communication can be open and extend both ways. Game night is an exciting way to bond with others and have plenty of fun.

Social Development
Game nights are a great way to ensure that your entire family has at least one bonding experience per month, if for no other reason than to keep up with each other and keep a strong family connection. Board games often require you to be vocal and involved, which indirectly helps to boost a child's confidence. By being encouraged to play a game and, by extension, play a certain role within that game as a player, kids will slowly begin to open up and get more comfortable speaking to others.
Educational Value
There are many times in life when your kids be forced to work with others to solve problems and come up with strategies and solutions, so why not let game night be the first place they experience this? This will broaden their horizons and encourage them to be active when solving problems rather than passive and letting someone else solve problems for them. Simple games develop the mind for critical thinking, imagination, and creativity in a fun and exciting way for lifelong use.
Ease of Use
Each of these wonderful games comes with simple to follow instructions, making them very easy to learn and understand. They come with large game boards that fold and unfold easy and game pieces that are durable and long-lasting for many sessions of fantastic game playing. Children of many ages will love to use and learn these games because they are not only fun but engaging to teach them exciting skills and talents.
Value
There were many different factors that went into picking out the best board games for bringing families together on game night. First of all, you always want something that's fun and entertaining--not something you'll get bored with within the first 20 minutes. We had to evaluate the total length of gameplay, replay ability factor, difficulty level, and the number of players allowed. These are tiny logistical details that make a big difference in the way you choose a game.
Most Important Criteria
(According to our experts opinion)
Experts Opinion
Editors Opinion
Users Opinion
By Default

Parents, Did you Know?
Board games help your child improve certain skills. A game such as Yahtzee can help with math skills, Clue helps with problem-solving and reasoning, Jenga helps hand-eye coordination, etc.
Parents, Did you Know?
Don't discourage the use of simpler games for your children. Even a game such as Pictionary can help with hand-eye coordination, as it teaches how to make the connection between what is seen to representing it on paper.
Other Factors to Consider

Portability
All of these products are highly portable to be played indoors or outdoors whether you are at home or away on a vacation. They do not take up much space when stored or packed in luggage for use on trips or away at relatives' homes. Because they come in sturdy boxes that close well, all of the small pieces and boards are stored nicely inside for a durable item that lasts through being transported.
Durability
Board games must be made of durable materials to be played over and over again many times. We are not often very easy with our game pieces and boards and are often quite rough with the parts. These items are built to last for many years of continuous play by children and adults, so they can provide many periods of enjoyment, as our children explore the wonders of game playing.
Frequently Asked Questions
q:

What is the age group like for these games?

a:

They're great for any age. Some, like Trivial Pursuit, are better for kids over age 8, solely for the sake of being able to read and understand the game. It never hurts to involve very young kids in games they cannot fully understand just so they can participate in the family fun and bonding.
q:

Can they be played one-on-one?

a:

Sure! All games require at least two players.
q:

How travel-safe are these?

a:

Some are more compact than others--Yahtzee, Jenga, and Watch Ya Mouth would all be great choices for games.
q:

How will these strengthen family bonding?

a:

Many of these games require teamwork which serves as an excellent bonding experience. Others require some competitive skill, which can bring families together in the sense that you really get to know one another and even share some laughs in the process. Language abilities, social talents, and the art of getting along well with others are all exercised and developed with these exceptional games.
q:

Are they quick to play?

a:

Some games are quicker to play than others. Any game with a timer will inevitably take longer than a game such as Jenga or Guess Who?. The games of Trivial Pursuit, Yahtzee, Clue, and Pictionary are classic games that take longer than the others to complete a full round of play.
q:

If they turn out not to be as fun as we thought, can it be returned?

a:

Each return policy varies within the company, but we don't see why it would be an issue to replace the game if you're unhappy with it. It's best to contact the company first before making the purchase, however, all of these games have been very highly rated as far as the fun factor.