10 Best Trivia Games & Quizzes for Kids Rated in 2019
last updated
Jun 29, 2019
Trivia nights are a smash hit in many cities these days, both big and small. While plenty would consider this a fun night out for the adults, family game nights could certainly benefit from the challenging and fun competition that trivia and quiz games inspire! If your family is looking to test their knowledge, consider one of these fantastic games. Fun and learning don't have to be mutually exclusive concepts; get the best of both worlds with one of our top ten picks below!
In a Hurry? The test winner after 17 hrs of research
Hasbro Trivial Pursuit Family Edition
Why is it better?
Good for all ages, 7-adult
Can play individually
Has adult and child questions
Easier rules
Updated questions
In a
Hurry? Editors choice:
Test Winner: Hasbro Trivial Pursuit Family Edition
19
Researched Sources
17
Hours Researching
22
Products Evaluated
Design
Effectiveness
Value
By Default
10 Best Trivia Games for Kids Reviewed
1

. Hasbro Trivial Pursuit Family Edition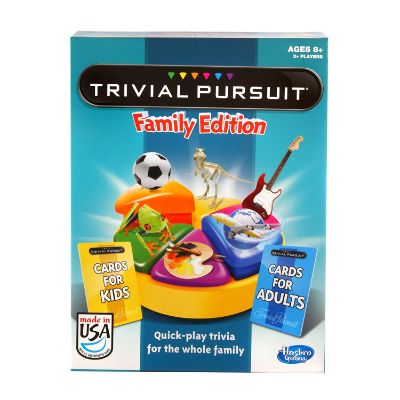 Good for all ages, 7-adult
Can play individually
Has adult and child questions
Easier rules
Updated questions
Pieces could be a choking hazard
Needs more cards
Sometimes the playing field just doesn't seem quite even, no matter how hard you try to curb the rules. When families play games together, it's important that there are varying levels of challenge in play to help children and adults compete in a way that is fun and still formidable too all ages. Hasbro's Trivial Pursuit Family Edition bridges the gap by offering two separate decks of cards: one for kids and one for adults. With over 1,400 total cards, there's plenty of information to soak up! The classic game receives two new twists in this version: a showdown feature and a shortened playing time to accommodate young attention spans!
Read more
Design
Kids can play on a team or by themselves and test their skills with the 1,200 questions. This kit includes the game board, a box of blue cards for adult players, a box of yellow cards for the children, two cardholders, six scoring tokens, thirty-six wedges, die and the instructions. There are six categories of questions written for ages eight and up.
Effectiveness
This game is great family fun. The rules are slightly different from the classic game, a little more streamlined. It is updated to include more current events and the questions are age appropriate. It moves quickly to keep children's interest. They can have fun learning without even realizing it. It is much improved and streamlined to move a little more quickly so the game does not take quite as long as the original version. This is a great way to spend time together on family get-togethers, enjoy a few laughs and get a little education along the way.
Value
The best part about this game is that it is designed to challenge kids on their own level with questions just for them. It has an adult deck and a child deck so the whole family can play all together and challenge each other.
2

. CHRONOLOGY: The Game of All Time!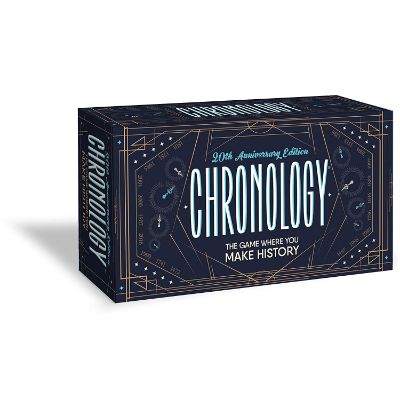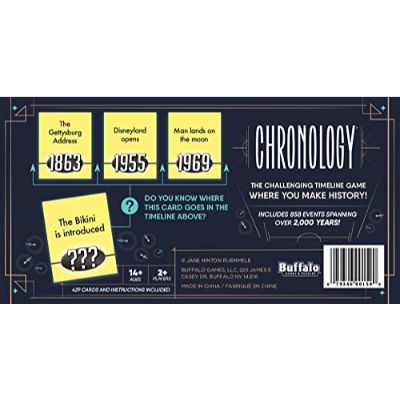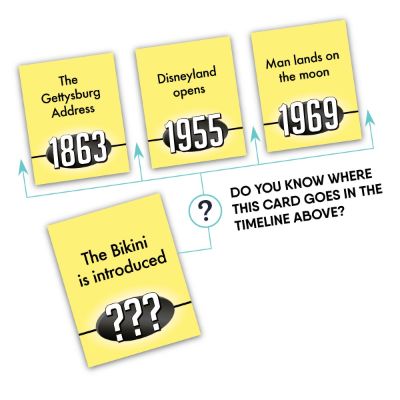 858 total events
Easy to understand game play
Fun, educational way to study History
Good for larger groups (up to 8 players)
Family friendly content
Can be difficult for younger players who don't understand much History yet
The history of the world is a long and often very strange tale. Buffalo Games' Chronology: The Game of All Time! addresses both the major events that have helped to shape humanity's progress and culture...and also just some zany, hilarious facts. What came first: mayonnaise or decaffeinated coffee? Read about Lincoln's Gettysburg Address and the invention of John Deere's first plow.
Read more
Design
The set includes 858 events total, written on 429 double-sided cards. A player reads a historical event from a card and you decide where that event falls in your own timeline/hand of cards. If you're correct, you keep that card. The first player to reach a timeline of ten cards wins. This game is made in the United States and most suitable for two to eight players ages fourteen and up. The game builds memory recall, especially when played over and over again, as players recognize events they've seen in rounds before.
Effectiveness
This game is a great way to help children and adults alike understand the placement of major historical events, as well as some fun, less significant historical markers. It helps to build categorical skills as well as to understand cause and effect, and build memory recall.
Value
It's a nice mix of major historical events and silly little sidebars. It's incredibly straightforward and easy to play and there are enough cards that this won't get boring after a few rounds.
3

. Everything Kids' Giant Book of Jokes, Riddles, & Brain Teasers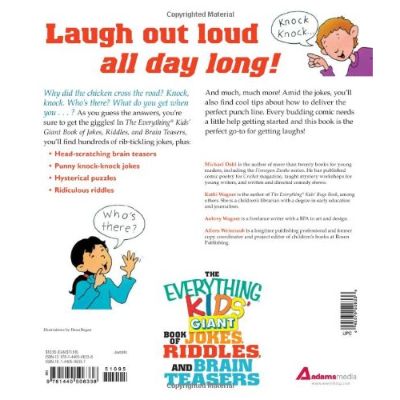 Giant book of quizzes, jokes, and teasers
Inspires laughter and joke telling
Feature information and tips on how to start telling jokes
Great for engaging with friends and family
Promotes the skills of strong leadership
Errors in spacing and spelling
Some content is not meant for children under the age of 5 years old
Guessing, giggling, and getting the answers right are all things that will come from this book of quizzes. The book contains more than just quizzes; within the pages, they will find brain teasers, jokes, riddles, and puzzles, but nonetheless, they will all quiz the mind. One of the greatest things that come from this book is how the little ones will be able to share jokes with their teachers, friends, and family.
Read more
Design
They are easy to read, fun to remember, and get laughs from everyone. The best part will be to see them coming up with questions or jokes of their own. Inside the book, readers will find hundreds of different kinds of teasers for the brain, jokes that will knock-knock a crowd, quizzes that test the mind, and riddles that rock. Along with the riddles and teasers, kids will also find tips and hints on how to deliver the content. Every quizzer needs quizzing and this is the book to do it.
Effectiveness
Trivia and quizzes are able to inspire and create ideas within children that will make creative thinking a process that enables them to enhance their leadership skills. Strong leaders are great at coming up with creative ideas and processes.
Value
Great trivia book to be able to take on the go. The puzzles, quizzes, and jokes are a great way to entertain kids in the car or on a plane.
4

. North Star Wits & Wagers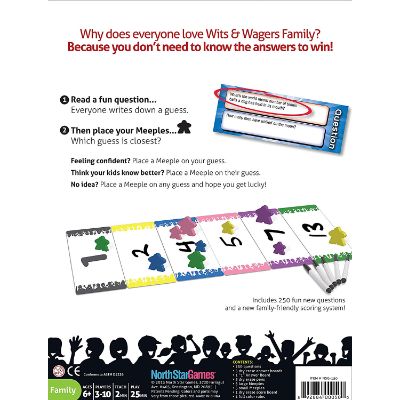 Guessing game with points awarded
Easy rules and fast rounds
Intended for players over the age of 6 years old
The game includes everything needed to play
Builds strong self-confidence skills
Maximum of 5 players for best results
Not super challenges, great for younger players and mixed crowds
Wits and Wagers is a game in which players must decide who among them knows best. Players read one of 250 different questions and then everyone writes down a guess on a small dry erase board. You then place your token (called a "meeple" here) on the answer you think is most accurate. The player with the most accumulated points at the end of the game wins! This game is intended for three or more players ages six and up. An average round of Wits and Wagers lasts 25 minutes and it has won over 39 awards! It makes for great fun, regardless of if you're breaking it out at a party or settling down for a cozy family game night.
Read more
Design
The game is best suited for more than three players that are over the age of six. Each round of play takes about 25 minutes. One of the best parts is kids can face their parents and can beat them. It is a family-friendly game where no matter your age you have the upper hand. The set includes the questions cards, dry erase markers, dry erase boards, an answer board, 'Meeples', scoreboard, and a full booklet of easy to follow instructions. Host the next family game night with this game.
Effectiveness
Trivia games are a great way to bring the family together for a game night. When families and friends join together for games it allows children to compete in a safe social setting that helps develop their self-confidence. While they build their self-confidence in an environment that they feel comfortable in it also allows them to easily branch out when in a different environment. Self-confidence is a skill and trait that builds strong individuals.
Value
We love when everyone in the family can get involved in game night with little to no help at all. It really makes the younger kids feel like they are a part of the game without having to always look for help.
5

. Melissa & Doug Smarty Pants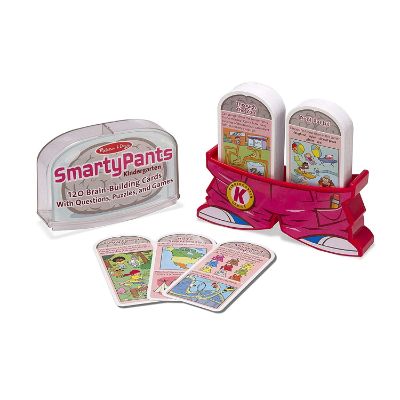 Trivia card challenge game created for kindergartners
Colorful, creative, and fun learning cards
Each card provides a challenge
Set includes 120 cards and fun card, holder
Improves cognitive brain development
The lid is included to hold the cards does not stay on well
Lots of cards included in the set, hard to keep them together
Smartypants isn't such a bad nickname, these days! Being informed and curious are good qualities to have and it's important to encourage them in young children. The Melissa and Doug Smartypants Trivia Set is comprised of 120 cards full of questions and silly activities such as tongue twisters, pictures with hidden objects, math challenges, mazes, vocabulary games, and more. These cards come in sets designed for different ages and scholastic grade levels. They're fun to play together but kids can just as easily enjoy them all on their own! Each deck comes in a cute, silly little holder shaped like a pair of pants that holds the cards together for easy storage and travel.
Read more
Design
Each of the cards has been created to have colorful illustrations, are creative in their delivery, are fun, and colorful. The set has been carefully designed to ensure that it meets the standards of curriculum for that age group and adapts to their style of learning. It creates a fresh, lively, and spiced up a new way of learning that has some humor to it without all the books and paper quizzes. Keep the kids engaged for hours learning and laughing with this set of challenge cards.
Effectiveness
Trivia for kids is a great way to improve their cognitive skills. The games played with trivia cards are a way to cross-train their way of thinking called asymmetric thinking. It is inspired by thinking in patterns and helping their brains to learn to fire on all cylinders.
Value
Great new approach to learning and teaching kindergartners. The box included lots of humor and playful jokes, but the knowledge is right in there. Keeps kids engaged for long periods of time.
6

. Trivial Pursuit - Harry Potter Edition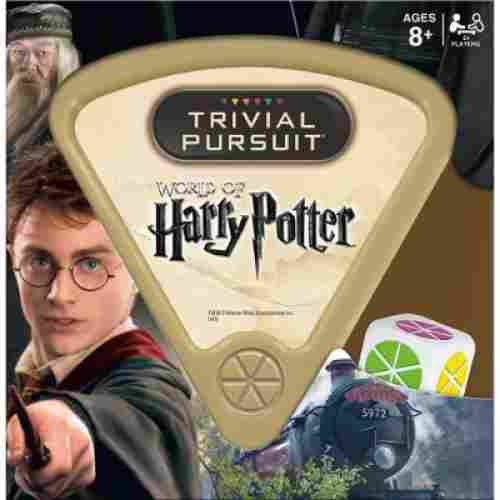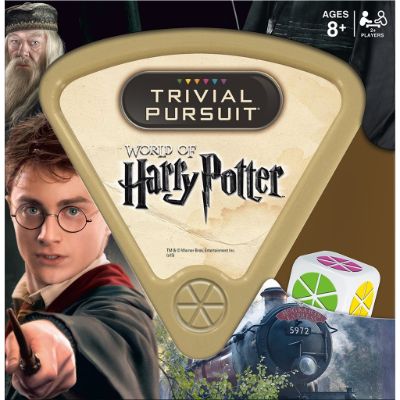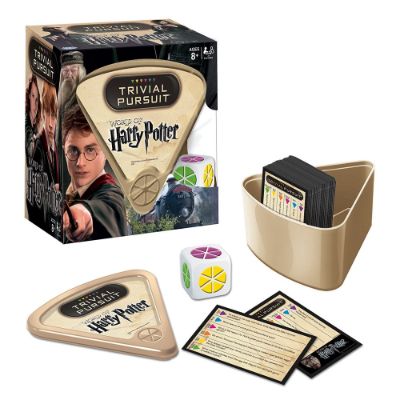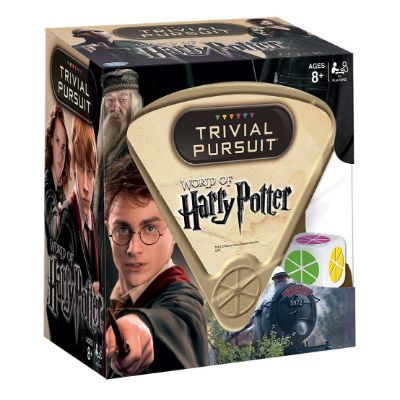 Portable wedge holder
Questions range in difficulty
Addition to Harry Potter collection
Brings back memories
Does not follow books, just movies
Does not come with the board
Have a Potter-obsessed peewee? Fans of all ages will love this Harry Potter themed Trivial Pursuit game. It includes 600 questions based on the Harry Potter movies, so even young fans who haven't fully made it through the book series can enjoy. This game moves quickly and makes travel and storage a cinch. The first player to answer twelve questions correctly wins! Created to be compact, this game doesn't require a board: just the dice and the question cards included in the wedge. Gryffindors, Hufflepuffs, Slytherins, Ravenclaws, and muggles unite to enjoy an informational romp around the Wizarding World together.
Read more
Design
This is a quick game to play. It is easy to store and convenient to carry. It is a game you can play in the car or anywhere. The first player to answer twelve questions wins. This is a fun way to test your knowledge of the Harry Potter world. The questions range in difficulty. There are six categories in the game: The Dark Arts, Magical Spells and Potions, Magical Creatures, Magical Objects, Magical People and Animals, and Hogwarts. You win by collecting six cards.
Effectiveness
This game will challenge even expert wizards. The game is quick to play so it is perfect for a spare moment. The rules are easy to follow. The first person to answer twelve questions correctly wins. It's quick and simple.
Value
The container is small enough to put into your purse so it can be taken anywhere and used to pass the time.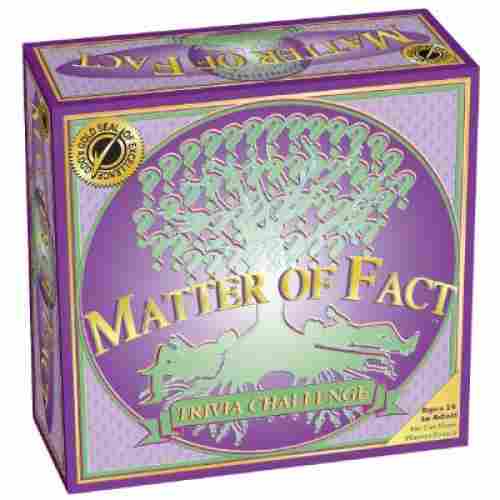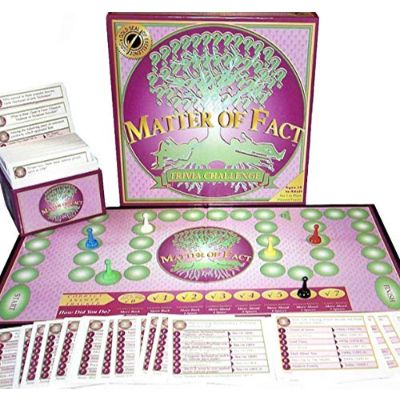 Great for game night
Good mix of subjects
Fun to play in teams
Cards are two-sided
The game is cute, not very challenging
Needs more cards
Matter of Fact never gets old due to the sheer amount of questions you'd have to go through before recycling! 240 game cards include 3,360 questions total. This is a game best suited to older children, as the suggested age range is sixteen and over. You only need two players to engage and subjects range from literature to history to pop culture to science. Each card presents a challenge with seven different questions to follow. Players compete to answer as many questions as they can correctly. Let's see how much you really know!
Read more
Design
If you stumble, you may end up moving backward. Go down the list of questions and see how many you can answer. You can also get help from teammates. The questions come in a variety of fun formats. There are subjects for current affairs, educational, pop culture, food and drink and lots more. This makes a great party game.
Effectiveness
This is a game that can be fun for the whole family. There is a huge range of topics to choose from, and the answers are multiple choice instead of you trying to come up with your own. All of the questions come in lots of fun formats.
Value
The variety of moving backward and forward adds to the fun of the game. We like having so many topics to choose from.
8

. National Geographic Quiz Whiz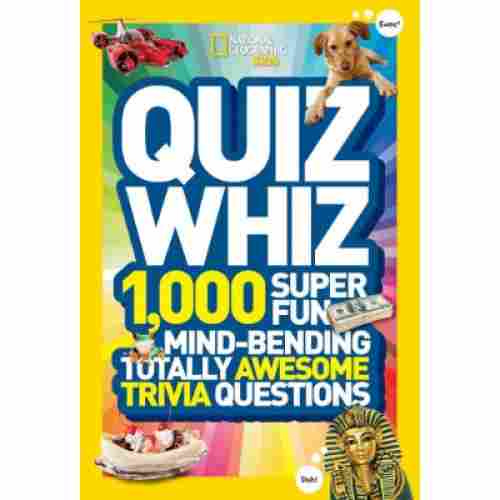 Best suited for kids ages 8 years old to 12 years old
The book includes 176 pages of trivia quizzes
Pages feature colorful designs, fun photos, and more
Based on National Geographic website information
Facilitates better memory capacity
Some questions can be really obscure
Pages can come loose easily
If you want something that's easy to carry around so your family can quiz each other on the spot, National Geographic has an entire book dedicated to "super fun, mind-bending, totally awesome" facts! This book includes 1000 quiz questions about animals, countries, weather, geology, and more! Quizzes come in a variety of themes such as picture-based, true-and-false, and multiple choice. The content is wide and rich and appeals to a large swath of age ranges, from young minds to grown adults. With vibrant pictures and clean, well-laid-out presentation, families can stay entertained by the substance of this book for hours on end! Throw it in the car, or a purse or backpack, and learn while you travel, or break it out during parties for a more social kind of fun.
Read more
Design
Wonder who will score the highest? Each of the quizzes features dynamic designs, colorful photos, and more. The questions are based on features from the National Geographic website and include true and false type questions along with themed, photo, and world fact questions. The book is compact and makes for a great traveling game along with an addition to the game shelve at home.
Effectiveness
Trivia games and quizzes are a great way to increase memory capabilities and intelligence. When you exercise the brain with fact, figures, and basic knowledge you exercise the brain to its full capacity. When you exercise your brain regularly like other parts of your body it becomes strong and more effective.
Value
Quizzes on world knowledge are something that is always great for the kids to have. This compact and easy to carry the book is a great way to introduce and test their knowledge without having to have multiple books.
9

. The Wonder Forge Pictopia Disney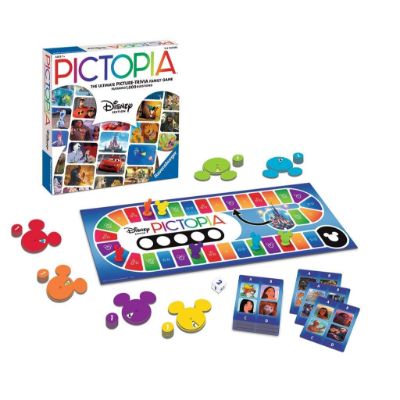 Tests Disney knowledge of parks, movies, and television hits
Offer competitive twist
Features more content on the corresponding app
Turn-taking the game with single and team play
Develops communication skills
Steps in each turn can be harder for younger players
Game rounds take longer than most games
The Pictopia Disney Edition promotes strategy, critical thinking, and bonding! Test yourself and other players on your Disney knowledge, with factoids ranging from classic animated films to blockbuster hits, Disney channel television, themeparks, and more! Players even get the chance to learn how much they know about other players with the "guess my answer" feature. Connect to the Pictopia app (available for iOS and Android operating systems) for even more Disney-fueled content. Everyone gets the chance to answer separately and as a team and the Final Challenge round raises the stakes for everyone involved!
Read more
Design
The game is super competitive, but there is also a twist. Each player takes a turn by either guessing at the question or being the host by asking the question. All the players have a chance to guess what the images are and when correct they are able to move their mover towards the space castle. The player who reaches the space castle first wins. The game features over 180 questions. So, test your knowledge against your kids with this fun Disney Trivia game.
Effectiveness
Playing trivia games is a great way to foster your child's communication development and increase their conversation skills. When playing games it gives your children an opportunity to engage in conversations and learn how to effectively communicate with a team or single players. This will be beneficial to them throughout their life and career.
Value
Anything that brings the family together is always fun and this fun is surrounded by the love for Disney. Each family member has a chance to let their knowledge be known with this game. It is easy enough for the little ones, yet challenging enough to keep the bigger ones interested.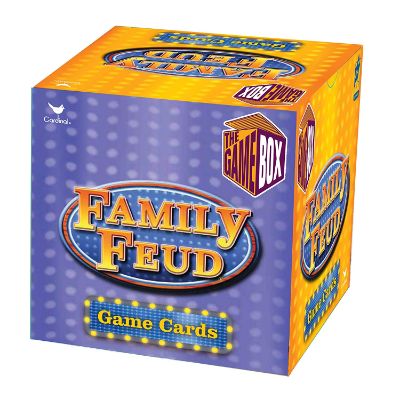 Great for ages nine and up
203 trivia cards total
Perfect for travel, especially road trips
Easy cleanup and storage
Family-appropriate content
Some cards feature pretty outdated questions and content
Need something that's easy to play on-the-go? This Family Feud pack is compact and convenient when it comes to traveling. No messy setup or large board required; just pack the box up and carry it with you wherever you're headed. Hundreds of questions keep players guessing for hours. Similar to the television show, this game will test your family's knowledge on a range of topics.
Read more
Design
The content is family-friendly and there are 203 total cards. An even number of players is helpful but not entirely necessary. This game is especially great for road trips, as the driver can also safely participate. To add a little flair, consider purchasing buzz buttons and a dry erase board from a discount crafts store to make the game more like the show viewers know and love.
Effectiveness
These fun trivia cards will test teams' knowledge on a whole slew of subjects. The more families play, the more children become familiar with the questions and answers and the better their memory gets. Additionally, plenty of cards ask questions younger players can answer. (I.E. Q: Name a masked personality. A: Spiderman, Zorro, Batman, etc.)
Value
It's easy to play without a lot of setup and cleanup. The box it comes in works perfectly for storage and is small enough that it can be thrown in a backpack or large purse when the family is traveling.
Criteria Used for Evaluation
Design
Since trivia is such a beneficial learning tool, as well as being an engaging recreation, we wanted to find games that would pique kids' interest and keep their attention. We found some wonderful examples which incorporate colorful games that are fast-paced and not too long. There are also a lot of excellent trivia games featuring some of their iconic shows and subjects.

Effectiveness
Having cards that contain difficult and easy levels is extremely attractive in these trivia games. Siblings of varying age groups are able to challenge each other and have questions designed for their level. Having games that are portable is a nice feature as well since there are so many opportunities to use them. You can have fun during long car rides, at the laundromat, in the doctor's waiting room, or over a meal.
Value
It is also nice to have a game that is interesting for teenagers since sometimes they can be harder to engage. If you have games with different levels, they might enjoy playing with a younger sibling or challenging mom and dad for some good quality family time. Games that focus on their interests like Star Wars or Harry Potter might be more likely to grab their attention as well.
As we mentioned before, trivia is a superb exercise for your child's developing brain and thought processes. These games encourage them to be hungry for learning, seeing how fun it is without even realizing it. When they get a question right, their self-confidence grows and they get a rush or neuro-reward. It is very satisfying and can help increase their self-esteem.
Most Important Criteria
(According to our experts opinion)
Experts Opinion
Editors Opinion
Users Opinion
By Default

Parents, Did you Know?
Trivia games and quizzes are a great additional to family fun night. They bring the family together and allow many generations to be able to play one game and have fun doing it.
Parents, Did you Know?
Cognitive development is happening throughout your entire life so make the most of it. Playing trivia games and quizzes with your kids are a great way to keep those skills sharp.
Other Factors to Consider

Social Development
Playing trivia games can improve memory. It also improves cognition, the process you use for knowledge and comprehension. The games can be relaxing and relieve stress. It can also help your brain learn to perform under pressure. Trivia games are good for parents too because they exercise the frontal cortex which is the first thing to wear out with age if you don't use it.
Have fun expanding your knowledge and instill a healthy love of trivia at an early age. Kids can learn to put their phones down and interact. It will increase their ability to focus. Trivia also helps your brain practice cross training because you have to focus on all the different subjects which can help mental agility.
Emotional Development
Kids trivia games encourage social interaction, healthy entertainment and just getting back to having family game nights or fun with friends. Playing games together as a family has so many benefits. It increases family cohesion and helps family members to get to know each other better and develop closer relationships. Children will feel happier and healthier being connected to a group and being part of a bonded family.
Playing the games exercises their problem-solving and decision-making skills. It can teach them teamwork. They learn patience and focus as they learn to wait their turn. They practice good communication and learn to follow instructions and rules. These kids trivia games and quizzes can be an invaluable teaching tool and a fantastic way to create some lasting family memories.
Frequently Asked Questions
q:

What are the benefits to kids' trivia games?

a:

Your brain is a muscle and trivia exercises it, so that makes trivia especially good for young brains.
q:

Where does the word trivia come from?

a:

It comes from a Latin word which basically means "crossroads," hinting at something that can be found anywhere. That led to the modern meaning of the word which basically means "of no real importance."
q:

Are there games on this list that younger children can play?

a:

A lot of these games are certainly geared towards an older demographic. Most of them are appropriate for ages 7 or 8 and up, but the Melissa and Doug Smarty Pants game is great for ages 5 and up, and the Wits and Wagers game is appropriate for ages 6 and up.
q:

For the Smarty Pants games, if my child is super smart should I get them a grade level ahead?

a:

Getting a grade ahead would definitely make it more challenging for them. The game will last longer and you can spend time going slower through the questions and discussing them.
q:

Is the Matter of Fact game only for older kids?

a:

They are saying this game is more difficult so it would probably be better for around high school age kids.
q:

Will any of these games help my children with academic subjects?

a:

Yes, plenty of these games are meant to help children memorize scholastic information or learn about subjects that are pertinent to their school studies. While some of these products are geared more towards pop culture, even then, your child is receiving developmental benefits linked to stronger memorization skills, socializing skills, and confidence.