10 Best Barbie Dolls & Toys for Kids Reviewed in 2019
last updated
May 05, 2019
Barbie dolls have been around for many generations and are a classic doll toy that people love to play with and also collect. The concept of the doll first appeared around the 1960s and changed the toy industry forever. As the company celebrates their 60th birthday they are just as popular then as they are now. The world totally embraces the world of everything Barbie. Many kids dream of the perfect birthday party when they receive that special doll they have been eyeing up at the store. Others love collecting them and watching their collection grows with unique dolls that have come from makers. The doll is a true trendsetter. She was then and still is today. Everyone's collection always has space for more and we have found the best Barbie dolls and toys.
In a Hurry? The test winner after 15 hrs of research
Made to Move Pink
Why is it better?
Available in two options
Bendable body
Can wear barbie shoes
Sold in a variety of ethnicities
In a
Hurry? Editors choice:
Test Winner: Made to Move Pink
15
Researched Sources
15
Hours Researching
17
Products Evaluated
Design
Entertainment Value
Ease of Use
By Default
In depth review top 10
Made to Move Pink
Walk & Potty Pup Brunette
Student Flippin Fun Gymnastics
Doll & Horse
Dreamtopia Fairytale Dress Up
Ultimate Kitchen
Careers Baby Doctor Playset
Fairytale Ballerina Pink
Dreamtopia Rainbow Lights Mermaid
Birthday Wishes Collector Doll
Table of contents
Criteria Used for Evaluation
Other Factors to Consider
Frequently Asked Questions
Sources
10 Best Barbie Dolls & Toys Reviewed
Available in two options
Bendable body
Can wear barbie shoes
Sold in a variety of ethnicities
Joints may not look pleasing.
Barbie Made to Move is the modern version of the classic Barbie doll.
Read more
Design
She is equipped with 22 joints in her arms, elbows, neck, legs, wrists, torso, and hips. She wears black leggings to increase her flexibility and either a pink or blue top. This Barbie is sold is a variety of ethnicities which makes it a great barbie for everyone. She can wear clothes and shoes from other barbies. Both the doll and her clothes are made of durable materials so your child will be able to enjoy her for years to come.
Entertainment Value
She can basically move into any position imagined, which is great because she can mimic whatever your child's passion is. Pose her in a ballerina pose when it's time for your child to go to ballet. Sit her criss-cross applesauce when your child hosts a tea party.
Ease of Use
Her hair is long and manageable so styling her is fun and easy.
2

. Walk & Potty Pup Brunette
Cute Barbie and pup set
Wind-up puppy and she really walks
Load plastic waste pellets into the pouch on puppy's side, then press her tail to dispense
Scooper and broom included
Different doll faces and skin tones available
Poop pellets are very small and easily lost
Teach your children about the responsibility of pets with Barbie's new dog-walking doll.
Read more
Design
This perfect little pooch really does walk and go potty. Simply wind up the knob on puppy's side and pull backward on the leash gently; the pup will walk all on her own! Pushing on puppy's tail signals her that it's time for a potty break. Barbie comes equipped with a broom and scooper so she can clean up after her pooch. The included bone fits in the dog's mouth, and a feeding bowl finishes this picture-perfect set. Barbie comes dressed in a cute, casual outfit to take her pal for a stroll, but will fit into any standard-sized Barbie clothes. This particular doll has Caucasian and African-American options to choose from. Kids will love this gorgeous doll and her cute, furry friend! Perfect for the animal lover in all of us.
Entertainment Value
Kids with pets may know that there are some added responsibilities when caring for an animal, but this Barbie dog-walker instills the necessity of nurturing and cleaning up after your cute fluffy friends. We love that this doll can be purchased in multiple ethnicities as well; representation is important. When children see themselves being reflected back at them, they tend to feel more understood and capable.
Ease of Use
Children can play independently as they will have no trouble winding up the pup on their own.
3

. Student Flippin Fun Gymnastics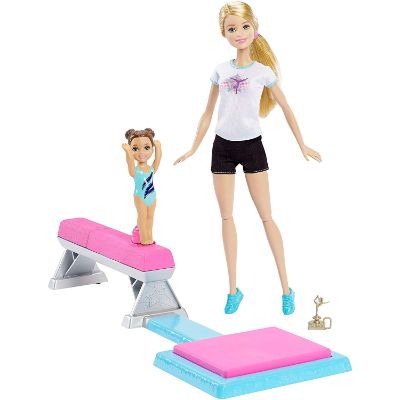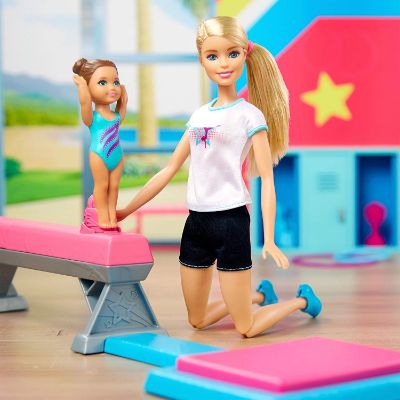 Barbie and toddler student included
Barbie articulates to be able to move naturally as she coaches
Balance beam and landing pad
Magnetic technology lets Barbie's student flip and land perfectly
Easy to operate
Barbie's student-only articulates at her arms, which move up and down
Spring into imaginative play with this fun and functional Barbie gymnastics set.
Read more
Design
Barbie is a gymnastics coach training her student to win first prize! Barbie herself is fully posable, with articulation points throughout her body allowing her to stand, lunge, sit, and kneel. Her toddler pal is weighted and magnetized so that when you put her on the end of the pink balance beam and launch her, she flips and sticks her landing almost every time!
Entertainment Value
It's no wonder the set comes with a golden 1st place trophy when Barbie and her pupil work so hard and so well together. You'll receive Barbie, her student, a balance beam, and a landing mat. Creative play is an essential part of child development, and this Barbie set allows lots of imaginative adventures to play out as Barbie and her student practice and compete for the gold.
Ease of Use
The trick operates simply, with a lever to pull back on the balance beam, and a silver button to push, to send Barbie's student flipping straight to the top of her division. Practice makes perfect!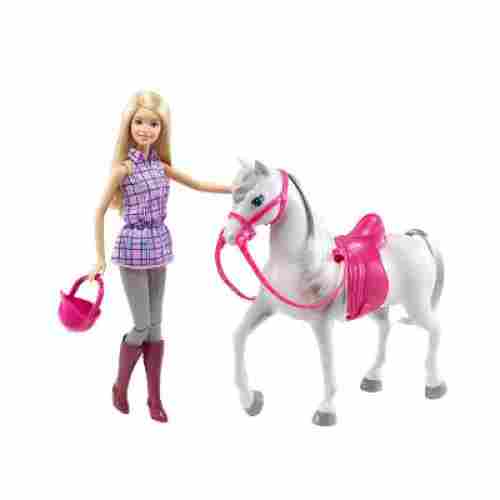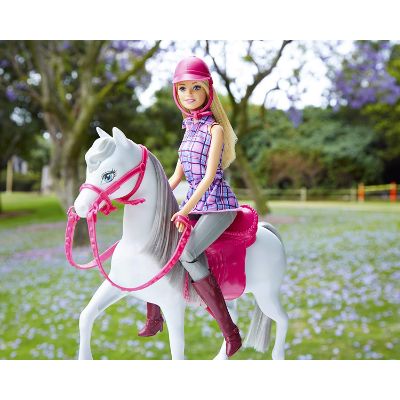 Knees bend
Encourages Imagination
The horse has a brushable mane.
Horse's saddle, reins, and bridle can be removed.
At some point, every little girl asks for a pony for their birthday. If that serves as an unrealistic possibility for your family, we got you covered with this next listing.
Read more
Design
Barbie and Horse will have your child smiling as soon as they open the box. Barbie is dressed in a stylish riding out complete with a plaid shirt, riding boots, and a pink helmet. Her horse is dressed to match with a removable pink saddle, bridle, and reins
Entertainment Value
Your child's imagination will run wild as they come up with adventures for Barbie and her trusty steed. Barbie's knees bend, which allow her to actually sit and ride on her horse. Equipped with a helmet, Barbie is promoting safety to little riders.
Ease of Use
Both Barbie and her horse have long silky hair, so your child can style them both for their afternoon adventures.
5

. Dreamtopia Fairytale Dress Up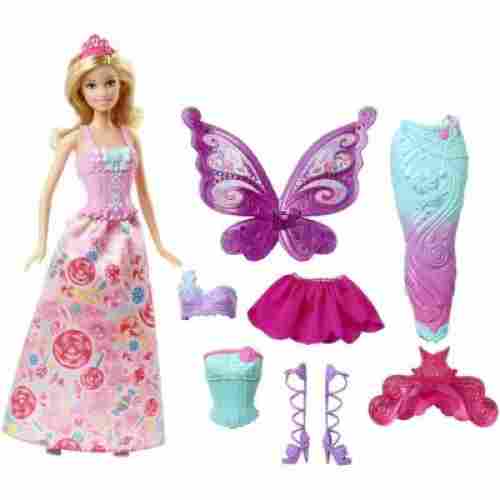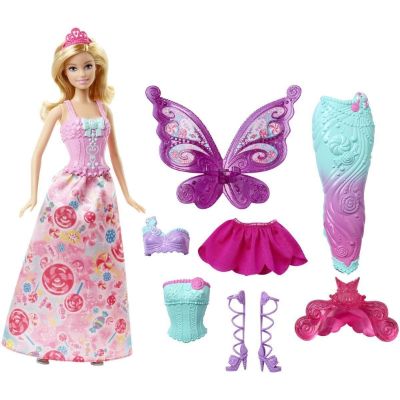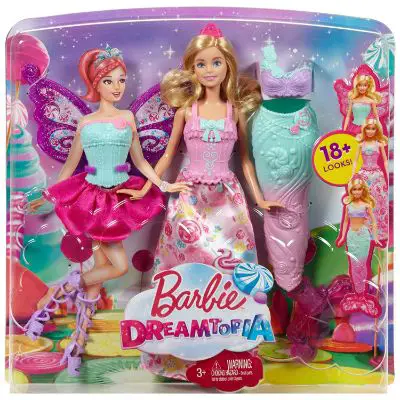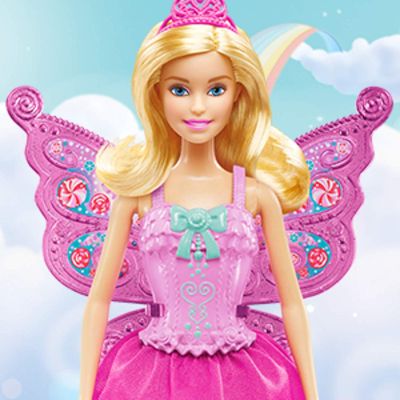 Barbie's hair is brushable
Comes with several different outfits
Comes with accessories
Encourages imaginative play
Some of Barbie's outfit pieces may break easily
This would make the perfect first Barbie set for your little girl.
Read more
Design
Most Barbies will come with realistic clothing or some kind of theme, and this one is slightly different. Now your child can live out Barbie's Fairytale with a little help from her wardrobe as well. Featured in her special list of outfits is a perfect pretty mermaid tale, purple fairy wings, and a pair of gorgeous lace-up shoes along with the most perfect fairy skirt.
Entertainment Value
Any girl would be thrilled to have this Barbie as part of her collection and it'll inspire so much creativity and imaginative play. As with most other Barbies, kids will have fun brushing Barbie's hair as well and dressing her up to match whatever fairytale character they decide on that day.
Ease of Use
Imaginative play is so important in a child's life and Barbies can encourage the best of it. With a few simple accessories and outfit changes, your child will be busy for hours creating magical tales with her new favorite doll.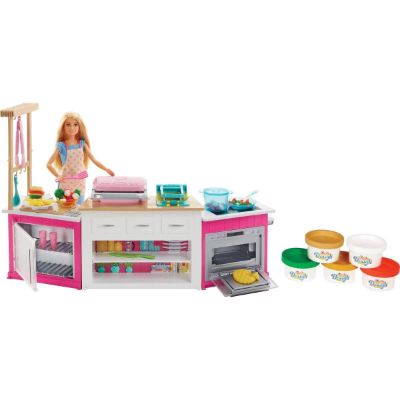 Barbie with ultimate kitchen set
Doll comes fully dressed in a blue dress with apron and shoes
Features lights, sounds, and soft dough food molds through kitchen areas
Includes 20 piece kitchen accessory kit
Fully interactive playset boosts creative playtime
Kitchen areas are broken down into 3 pieces, hard to keep connected
No on and off switch to control the lights and sounds
For those little ones that love helping in the kitchen and also playing with Barbie dolls this is the best of both worlds.
Read more
Design
It is the ultimate kitchen playset featuring lights, sounds, and even dough molds for creating their own food. The kitchen set up for the dolls includes multiple play areas that have food molds. Each area has a featured food that you would prepare in that area of the kitchen and has included the mold for that food. In the oven area, there is a pizza pie mold, on the counter, there is a sandwich mold maker, and on the sink area, there is a veggie mold. Along in the set, there are five cans of colored dough, but the fun doesn't end there. To make the kitchen set complete included is a 20 piece set of kitchen tools. From the pans to the forks everything to complete a role playing meal has been included. The Barbie is incorporated with the set, too. She is a doll that is wearing a very fashionable blue dress with a polka-dotted apron. She even has on white shoes to complete the whole outfit. From the trendy Barbie to the working and interactive kitchen this Barbie set is great fun putting some role playing fun into the Barbie world.
Entertainment Value
The set includes all the fun of playing kitchen but incorporates the pretend doll role playing as well. Lights, sounds, and moving parts are featured in the set with this Barbie doll. Playing with Barbie can be a great time, but when fully interactive scenes come along with her it makes it even more amazing. From the food mold to the dinning of the oven this fully interactive Barbie set is a huge hit.
Ease of Use
All of the molds are easy to operate, thus making this a great set for children of all ages.
7

. Careers Baby Doctor Playset
Comes with two babies
Serves as a good role model
Includes plenty of doctor accessories
Durable doctor stand
Clothes can not be removed
Barbie Baby Doctor Playset is also from the careers collection.
Read more
Design
The playset includes an exam table, doctor accessories, and two babies to care for. She also comes with a care station that includes a tub for each baby and storage space to hold her accessories. Teal scrubs, white shoes, and a stethoscope have her looking professional.
Entertainment Value
When your child plays with this barbie they will be helping care for patients.
Ease of Use
This Barbie will develop your child's compassionate side as she helps barbie care for patients. The realistic details on the barbie and her accessories take pretend play to the next level. Barbie's doctor station is durable, thus your child can enjoy the fun for years to come.
8

. Fairytale Ballerina Pink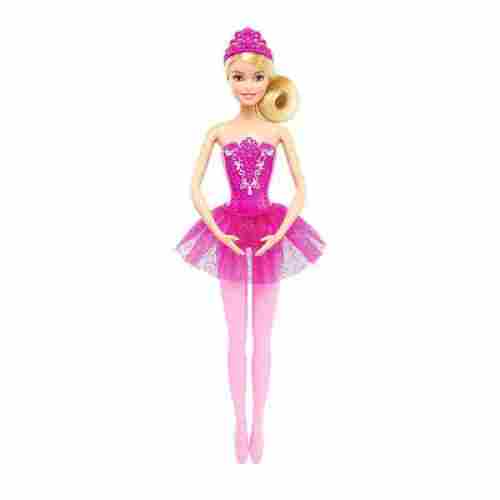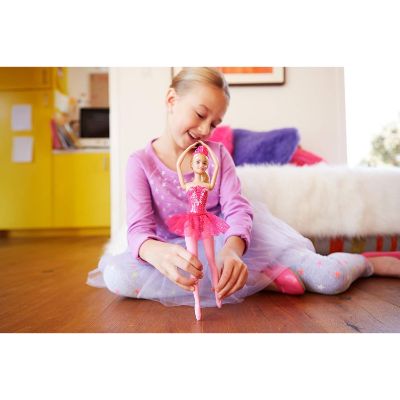 Realistic outfit
Barbie is able to be put in poses
Will be motivational to dancers
Great for collectors
Doesn't come with any accessories
This doll is a must-have for your little dancing ballerina.
Read more
Design
Any little girl who loves to dance or even has a love for ballet will absolutely adore this pretty pink Barbie in all of her glory. Everything from her detailed up-do to her hot pink tutu has been well-thought-out to be made as realistic as possible. Kids will love spinning and making Barbie pirouette, and soon enough she'll be the start of the show.
Entertainment Value
For kids who take dance lessons, there's nothing more inspiring than having a doll who motivates and encourages them. This Barbie will inspire your little girl to give it her all and dance just like her doll does!
Ease of Use
The best part is this Barbie is just one of the fairy tale collection Barbies that kids can collect and play with together. It'll have any child jumping or in this case, dancing, up and down for joy!
9

. Dreamtopia Rainbow Lights Mermaid
Lights up
Waterproof
Comes with a crown
Lightweight
Does not bend at the waist
If your child is always begging to take their toys into the pool and tub, the Barbie Dreamtopia Mermaid doll is perfect for them.
Read more
Design
This mermaid Barbie is designed with a pink halter top, multicolor tail, and accessorized with a pink crown. This doll will stimulate your child's creativity as they engage in imaginative play. The pushing of the button will increase your child's fine motor skills. The bright colors on barbie's tail, as well as the lights, will stimulate your child's sensory development. Bath time just got more fun with this Barbie!
Entertainment Value
As soon as she's dipped into water her tail will light up! If she wants to hang out on shore for a little bit, her light show can still be enjoyed with the push of a button. The lights even shine in different patterns.
Ease of Use
The button is easily accessible as it is located right on her necklace. The mermaid's outfit does not come off so you don't have to worry about losing her clothes or setting them out to dry separately.
10

. Birthday Wishes Collector Doll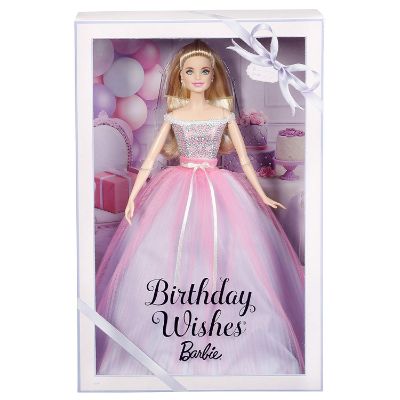 Barbie doll created for a special birthday wish
Features party dress with printed bodice with pearly neckline
Skirt constructed from pink tulle with blue accented over
Included with the doll are high heels and pearly earrings
Perfect gift to help cherish the day for many years to come
Doll does not bend to full seating positioned at hips
Packaging is not well constructed, does not stand up well through the mailing system
What better way to celebrate a birthday than with a special Barbie to mark the day.
Read more
Design
This is a birthday wish Barbie doll that is there to join the celebration on your child's special day. The doll is dressed in a very special party dress. On the dress, there are featured trim with a pearly ascent around the neckline with pearl and petal artwork on the body of the dress. The dress part is made from fluffy pink tulle that has a blue accented to match the top half of the dress. Around the waistline, the dress has a white satin bow that just brings the whole outfit together. The Barbie is also wearing beautiful high heels with sculpted bows. To complete the accessories she has pearly earrings. Along with the doll comes a doll stand that allows her to be put on display. It is perfect for a birthday celebration gift that they will be able to cherish for many years to come.
Entertainment Value
Birthdays only happen once a year and when your little one has a big day coming up there is no better way to celebrate than with a special gift. This birthday Barbie is perfect for that day. She is dressed for the party and ready to make the day a special one for them to remember.
Ease of Use
Barbie is lightweight and can be grasped by tiny hands, thus making her easy to enjoy by younger children.
Criteria Used for Evaluation
Design
Diversity played a huge role in looking at each barbie's design. When making this list, we wanted Barbies that appealed to children from all different backgrounds. Barbies with different skin tones, hairstyles, eye colors, etc. A few years ago, Mattel received criticism that Barbie gave little girls a negative self-image or at least to the little girls who weren't thin, blonde, and blue-eyed. Mattel has been making diverse barbies since the beginning but even more so now. For instance, the fashionista collection brought around new skin tones and body shapes. Curvy and tall Barbies were released and appealed to many little girls. Barbies with naturally curly hair and different colored hair flew off the shelves as little girls were ecstatic to see Barbies like them. This list includes many Barbies that venture out from the thin, blonde, blue-eyed stereotypical Barbie, many of which can be enjoyed by both boys and girls. They ignore society's standards of beauty and promote body positivity, which will increase your child's confidence. Along with being more relatable, these unique Barbies give your child a sense of real-world diversity.
Entertainment Value
Barbie has the ability to influence children everywhere. They might want to dress like Barbie or wear their hair like her. While she is a fashion icon, she has always been so much more than that. She was created with the goal to inspire little girls to aim high, chase their dreams, and break the glass ceiling. The first career Barbie was an astronaut and since then, more than 150 career Barbies have been released. Barbies in the form of doctors, veterinarians, musicians, etc., all inspiring children that they can be anything they want to be when they grow up. Not only will your child have a blast playing with Barbie, but she will be instilling in them a passion to be successful.
Ease of Use
In order for a child to fully be able to enjoy their barbie and receive the developmental benefits the toy must be easy to use. When compiling this list we made sure that the Barbie's were easy to carry and play with. We wanted all features to be easily accessible. Furthermore, if the barbie has cloth clothing your child will have no trouble changing her outfits or even styling her hair. Any barbie that has posable joints can easily be put into a variety of positions.
Most Important Criteria
(According to our experts opinion)
Experts Opinion
Editors Opinion
Users Opinion
By Default

Parents Did You Know
Barbie is named after the creator's daughter, Barbara, and Ken is named after their son, Kenneth.
Parents Did You Know
Barbie's first career was a teen model, but has since had a variety of other jobs.
Other Factors to Consider

Physical Development
Barbie not only provides hours of fun for your child, but she also stimulates several areas of development. As your child creates scenarios and immerses into pretend play she will be using her imagination. Creativity and imagination are crucial to a child's development. As your child changes Barbie's outfit or even moves her limbs, she will be developing her fine-motor skills and improving her strength and dexterity. Caring for her doll will foster a sense of compassion in your child. Your child's confidence and independence will grow as she plays more with Barbie. Dressing Barbie will encourage them to dress. Playing with the careers dolls will motivate them to aim high and to chase their dreams.
Frequently Asked Questions
q:
At what age should I purchase my child a Barbie?
a:
As some Barbies contain small parts that could be a choking hazard, we recommend purchasing Barbies for children aged 4 and over.
q:
Can all Barbies wear the same clothes?
a:
The original Barbie dolls could swap clothes. The new Barbies that were created with different body shapes may not be able to fit the clothes of the original Barbies. However, more clothes can be purchased for those Barbies, so you will never have to worry about her not having enough outfits.
q:
This Barbie has too much makeup for my child, what can I do since I like everything else on her?
a:
Many of Barbie's heads can be taken off and swapped.
q:
Can I purchase fashion accessories for a Barbie Doll, like shoes and hair brushes?
a:
Yes, Barbie doll accessories can be purchased in addition to the dolls. They come in sets that can be found anywhere that the dolls and fashion sets are sold.
q:
Are there celebrity Barbies?
a:
Mattel has created tons of celebrity Barbies, the first being Twiggy in 1959. Nicki Minaj, Zendaya, and Katy Perry all have Barbies created after them as well.
q:
How much does the average doll cost?
a:
If you're wanting a basic Barbie doll with no frills or accessories you can purchase one for around $7. Celebrity Barbies and Barbies with playsets tend to be more expensive at around $30.