In March of 1959, Barbie stepped onto the scene, and she's been turning heads and winning hearts ever since. Within her first year of manufacturing, Mattel sold more than 350,000 dolls, despite their initial misgivings over the idea of an adult doll. Prior to Barbie's entrance, most children's dolls were infants. When Ruth Handler, the wife of one of Mattel's founders, came up with the idea to introduce a line of dolls for little girls that had adult lives and jobs, her husband and his contemporaries were unenthused. But upon seeing a German prototype of her idea, Handler managed to foster some excitement within the company, and soon Barbie was a household staple.
Over the years, Barbie's image has undergone several transformations. She's held hundreds of different jobs and spends time with a diverse group of friends. Mattel's current push for diversity and positive body image means that we're now seeing a market with dolls that actually bear resemblance to the very real people around us. While there has been past controversy over Barbie's image and perceived intelligence, there are plenty of examples of Barbie Dolls that encourage young girls to pursue rigorous careers or practice kindness.
Barbie is fashionable, but she's become far more than the teenage supermodel she originally emerged as. Today, Mattel has a Barbie to meet most any wish list. Your little one can take home a glamorous princess, a ballerina, a veterinarian, a businesswoman, a beekeeper, an athlete, a robotics engineer, and plenty more. There's a Barbie for any occasion, and we have 10 of our current favorites right here.
The Best Barbie Dolls and Toys for Kids Reviewed
Dreamtopia Rainbow Lights Mermaid
Student Flippin Fun Gymnastics
Careers Farm Vet Doll & Playset
Dreamtopia Fairytale Dress Up
Careers Baby Doctor Playset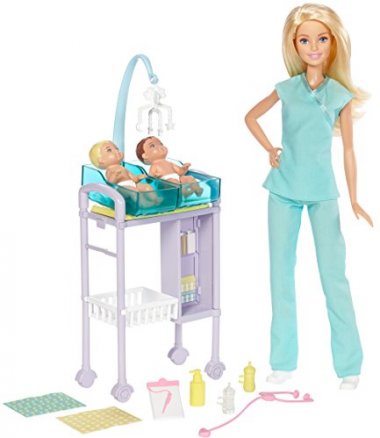 Fashionistas Doll 32 Denim Curvy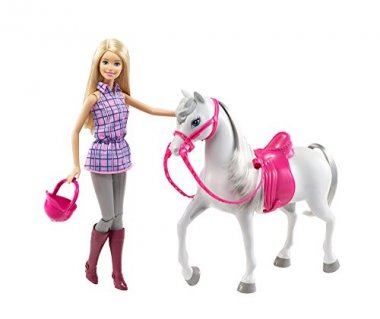 Walk & Potty Pup Brunette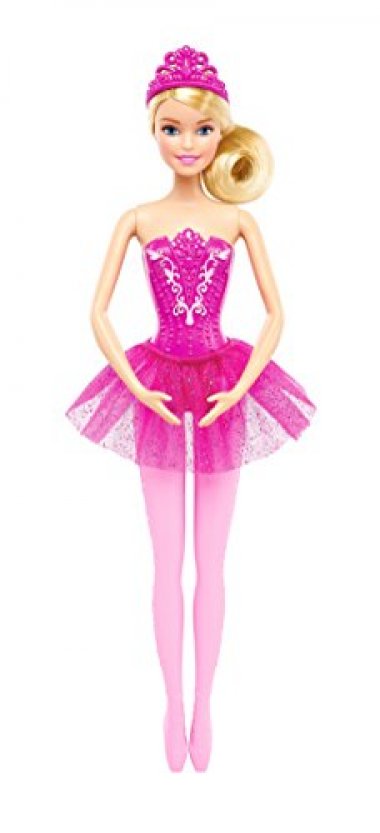 Criteria Used in Evaluation of the Best Barbie Dolls and Toys
Toys serve as a window for children. Playing with toys allow your child to discover themselves as well as the world around them. Seeing as how they are so important, we performed diligent research to make sure the dolls on this list were developmentally appropriate, diverse, and could provide inspiration to your child.
Developmentally Appropriate
Barbie not only provides hours of fun for your child, but she also stimulates several areas of development. As your child creates scenarios and immerses into pretend play she will be using her imagination. Creativity and imagination are crucial to a child's development. As your child changes Barbie's outfit or even moves her limbs, she will be developing her fine-motor skills and improving her strength and dexterity. Caring for her doll will foster a sense of compassion in your child. Your child's confidence and independence will grow as she plays more with Barbie. Dressing Barbie will encourage them to dress. Playing with the careers dolls will motivate them to aim high and to chase their dreams.
Diversity
When making this list, we wanted Barbies that appealed to children from all different backgrounds. Barbies with different skin tones, hairstyles, eye colors, etc. A few years ago, Mattel received criticism that Barbie gave little girls a negative self-image or at least to the little girls who weren't thin, blonde, and blue-eyed. Mattel has been making diverse barbies since the beginning but even more so now. For instance, the fashionista collection brought around new skin tones and body shapes. Curvy and tall Barbies were released and appealed to many little girls. Barbies with naturally curly hair and different colored hair flew off the shelves as little girls were ecstatic to see Barbies like them. This list includes many Barbies that venture out from the thin, blonde, blue-eyed stereotypical Barbie, many of which can be enjoyed by both boys and girls. They ignore society's standards of beauty and promote body positivity, which will increase your child's confidence. Along with being more relatable, these unique Barbies give your child a sense of real-world diversity.
Inspiration
Barbie has the ability to influence children everywhere. They might want to dress like Barbie or wear their hair like her. While she is a fashion icon, she has always been so much more than that. She was created with the goal to inspire little girls to aim high, chase their dreams, and break the glass ceiling. The first career Barbie was an astronaut and since then, more than 150 career Barbies have been released. Barbies in the form of doctors, veterinarians, musicians, etc., all inspiring children that they can be anything they want to be when they grow up. Not only will your child have a blast playing with Barbie, but she will be instilling in them a passion to be successful.
FAQ
Frequently Asked Questions
Q: At what age should I purchase my child a Barbie?
A: As some Barbies contain small parts that could be a choking hazard, we recommend purchasing Barbies for children aged 4 and over.
Q: Can all Barbies wear the same clothes?
A: The original Barbie dolls could swap clothes. The new Barbies that were created with different body shapes may not be able to fit the clothes of the original Barbies. However, more clothes can be purchased for those Barbies, so you will never have to worry about her not having enough outfits.
Q: This Barbie has too much makeup for my child, what can I do since I like everything else on her?
A: Many of Barbie's heads can be taken off and swapped.
Q: Should I be concerned that my son is playing with dolls?
A: No, dolls provide many benefits to children of both genders.
Q: Are there celebrity Barbies?
A: Mattel has created tons of celebrity Barbies, the first being Twiggy in 1959. Nicki Minaj, Zendaya, and Katy Perry all have Barbies created after them as well.
Q: How much does the average doll cost?
A: If you're wanting a basic Barbie doll with no frills or accessories you can purchase one for around $7. Celebrity Barbies and Barbies with playsets tend to be more expensive at around $30.