10 Best Stress Balls for Kids Reviewed in 2019
last updated
Jun 25, 2019
Frustration and anger aren't only reserved for adults. As simple and carefree as childhood might appear to us now (hindsight is 20/20, after all!), being a kid can be a truly stressful and trying experience at times. As children learn how to cope with and navigate their feelings, equip them with the proper tools to do so healthily. Fun and colorful stress balls and stress toys can be a great way for children to express their rage and frustration without harming anyone or anything. Something squishy and gooey made to relieve negative feelings is useful for anyone. The emotional relief of a simple stress ball is remarkable. As adults, we know this is true. These featured stress toys have the best ratings and review comments from buyers currently. And if you want to give them a squeeze now and then, we won't tell.
In a Hurry? The test winner after 22 hrs of research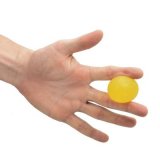 The Friendly Swede Hand Grip Small
Why is it better?
Shape allows varying uses
Durable and therapeutic
Various resistance levels included
Non-toxic materials
Great for kids and teens
In a
Hurry? Editors choice: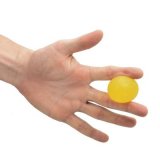 Test Winner: The Friendly Swede Hand Grip Small
19
Researched Sources
22
Hours Researching
15
Products Evaluated
Design
Texture
Sensory Stimulation
Emotional Development
By Default
10 Best Stress Balls for Kids
1

. The Friendly Swede Hand Grip Small
Shape allows varying uses
Durable and therapeutic
Various resistance levels included
Non-toxic materials
Great for kids and teens
Level of stiffness may be too high for young children
The material may feel sticky to some
These egg-shaped balls are popular for people looking for stress relief and also to exercise their hands. The shape makes them a perfect fit for various positions on the hand including in palm and between fingers.
Read more
They're one of the most versatile on the list. Made by the Friendly Swede, these are non-toxic and have a gently textured exterior. Since they know that resistance levels aren't always easy to determine before purchasing, they included three variations in the set. They're constructed to be stiffer than others on this list which makes them ideal for children who would benefit from increased hand/wrist strength. We appreciate that even if they were exposed to heat, they would remain intact and safe.
Design
One thing that sets these apart from others is the high-quality material they're made of. The thermoplastic rubber never releases toxic chemicals. This is especially important since this list is for children's products.
Texture
They are 5.8 cm in length and have what we'd call a medium resistance. As an example, they can't be completely compressed like a foam ball. It is a texture that is durable and long-lasting.
Sensory stimulation
The quality of these is similar to what you'd expect in a therapeutic setting. These stress balls have the shape and resistance that is great for building strength and affecting the senses of the child positively.
Emotional development
It's that same firm resistance level that makes them a great choice for teens that are looking to relieve stress with a squeezable, handheld ball. Releasing toxic emotional stress is quite beneficial.
2

. Serenilite Hand Therapy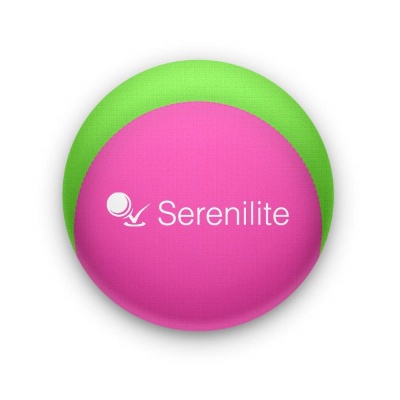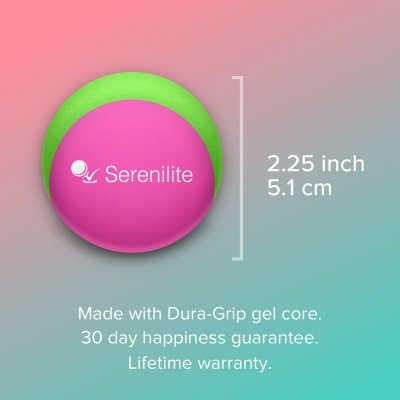 Tear-resistant material
Gel core is durable
Comes in five different colors
Strengthens muscles
Comfortable to use
Nothing eye-catching about it for kids
Perhaps the most comfortable stress ball, this Serenilite Hand Therapy Stress Ball, has a gel core that's also tear-resistant, making it perfect for little kids.
Read more
It doesn't matter how rough they're playing with their stress ball since this wonderful item keeps on going until they're floating on a stress-free cloud. Kids are known for being hard on their toys and stress balls are no different. By doing something physical like squeezing this stress ball, kids are not only focusing on something in real life but are expending their energy squeezing the stress ball rather than worrying.
Design
Even the words "hand therapy" are in the name of this product to show how beneficial they are at helping people relieve their frustrations. You can count on this item to help kids relieve their stress each day.
Texture
Even though it seems like it would not last long at all once you feel it, this incredible stress ball is tear-resistant to last a long time. It provides a soft texture that can be worked over and over mechanically by the hands.
Sensory stimulation
It also doubles as a therapy ball, working hand and finger muscles to improve strength and dexterity. As the hands work the ball, the release of stress in the body happens to physically calm the child.
Emotional development
For children who do suffer from anxiety, it's a relief to know that they have something in their hand that's nearly indestructible. This stress ball makes use of modern technology to relieve an age-old problem: Anxiety.
3

. Liberty Imports Planet Earth Soft Foam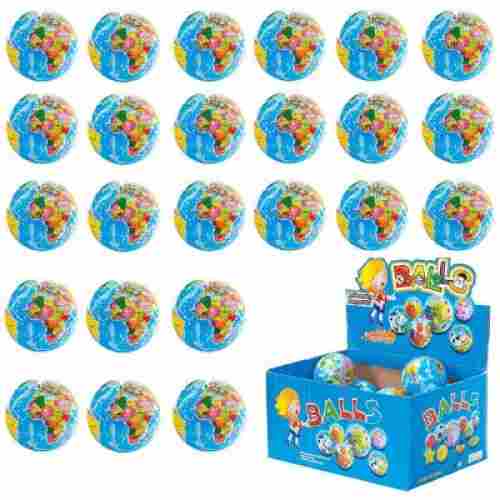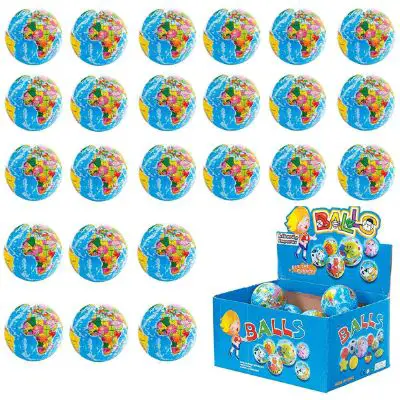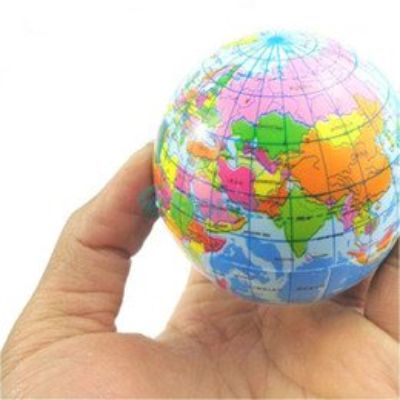 Set features 24 globe themed stress balls
Each stress ball features world map with details
Created from soft and durable foam
Stress ball measures at 2 ½ inches
Promotes visual and physical stimulation relieving stress
Outer lay does flake off after many uses
"Made in" stickers when peeled off removed globe design
When the weight of the world seems like it is comes down this stress ball will make things seem a little lighter. The stress ball features a geographical theme that helps squeeze away the stress after a long day. Looking at the ball is stress relieving enough then putting its magic in the palm of the hand and squeezing melts away the stress and exercises the muscles.
Read more
Design
Created from super dense foam this stress ball makes the world of difference. As the stress builds up in the body it creates tension. Being able to release the tension and work the muscles of the hands increasing the blood flood which decreases the tension throughout the body. The design and feel of the ball is soft and it is great design for kids.
Texture
Each of the stress balls created by this company have been made to last. They are each constructed from high quality materials that are tested to ensure they will last through the toughest days. The durable design also is able to withstand all the squeezing, banging, and clanging that kids are able to put these stress balls through.
Sensory Stimulation
The globe is already a sphere that everyone likes to look at so making it into one super stress relieving ball was a great idea for kids. They are able to use the ball as a visual stimulating object then in the same turn are able to use the ball to physically be able to relieve stress. Both visual and physical stimulation is pleasing to children.
Emotional Development
When children have a hard day it is often hard to get them to open up to what exactly caused the day to be rough. Providing them with a physical stress relieving object like this globe ball is able to release that tension and allow them to open up regarding the issue. It also helps prevent built up frustration that can just build up over a normal day.
4

. STRONG Hand Therapy Grip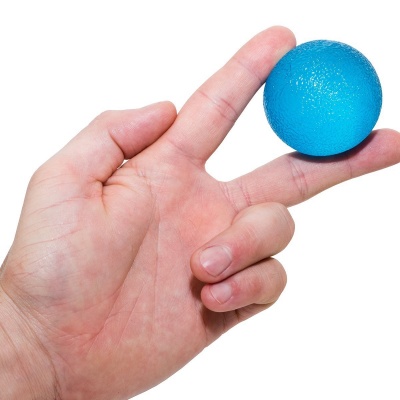 Color-coordinated set
Three levels of resistance
Great for high-stress levels
Good for varying levels of arm exercise
Improves muscle function and mobility
Highest level (lavender) might be too firm for younger kids
Not only are these stress balls effective, but they're also fun. Each color stands for the amount of resistance you'll get and vary from light, medium, and full-on resistances.
Read more
A child's muscles will respond to each ball differently and can be used for various stress levels -- Obviously with the most resistance being for the highest stress days since it takes more focus and concentration to squeeze it. This is a great way for kids to improve muscle coordination as well while increasing their arm strength. Having three stress balls in one set, each with varying levels of intensity, it's great for catering to a child's individual stress level. By having options, they're able to choose the correct color for how they're feeling, thus effectively relieving their stress in the best way possible.
Design
Giving children a choice in the resistance of the material of this set of products is great. if they want to move up a level they can as their strength is improved and they feel more empowered.
Texture
Three levels of density give kids the freedom to choose how hard they need the ball to be. They may feel really stressed and want something very hard but yet pliable to release their emotions.
Sensory stimulation
The color-coded options are visually appealing to kids that must match their anxiety level to the density of the ball. This provides some choices for the senses in how best to deal with personal feelings.
Emotional development
Color-coded stress balls give kids a healthy way to manage their stress and anxiety. By being able to choose the firmness of each stress ball, they're essentially learning how to say, "this is how I feel, and this is what I need today".
Lots of different options in one set
Cute, colorful faces and objects
Squishy, soft, material and one light-up toy
Comes with a warranty and 100% guarantee
Helps muscular relaxation and mental energy focus
Mostly filled with sand mostly; not great for rough play
These fun stress balls are all modeled after emojis. This Neliblu set includes a dozen different stress toys, all meant to provide the ultimate self-regulatory therapy.
Read more
Backed by the company, when you buy these stress-therapy toys from Neliblu or an authorized reseller, your purchase is covered by their 100 percent money-back guarantee and manufacturer's warranty. Squeeze those stresses away with 12 silly new friendly accessories! They're all great for sensory accessories, and the variety allows children to try out a few different options and gravitate toward the one that works best for them.
Design
Choose from fun, bright shapes, and smileys such as hearts, apples, basketballs, caterpillars, and more. This exhilarating batch is vibrantly colorful and super silly for all ages.
Texture
This variety pack gives lots of options. Not all of them are squishy, soft stress balls. Some are harder plastic, while others are light-up toys for more entertainment and fun.
Sensory stimulation
Stress balls help with muscular relaxation, as well as calming and focusing the mind. These stress toys are beneficial to all children (and adults!) but have specifically been hand-picked to help children with autism and ADHD.
Emotional development
Stress balls help to focus on energy and relieve physical as well as emotional tension. This fun variety pack is a great starter set for children learning to manage their anger and daily stresses.
6

. Big Mo's 3 Party Pack Emoji
Designed with popular Emoji faces
Comforting and pleasing to kids
Is a large variety pack of twelve
Great for large families or classes
Good party favor idea
Not the highest quality and may degrade over time
While these stress balls start out as a fun party favor, in reality, they're actually very effective. They're the most traditional and regular foam stress balls that can offer a ton of relief to a child who's dealing with stress.
Read more
There are 12 balls that come in a set, so these stress balls are perfect for larger families. By having so many, your child never has to worry about losing one and always has options as far as funny faces go. Every child is familiar with those amusing emoji faces that we see all over social media and in the mall, stamped across pillows. These stress balls are a kid-friendly way to help kids express their anxiety in a healthy way.
Design
Made to be quite entertaining for party bag stuffers and giveaways, this dozen stress balls are delightful even if they are not squeezed. Kids can put them on their room shelves or desks just to have a positive item near.
Texture
These balls are the usual softness and feel that one would expect from a stress ball. It is firm yet giving to hand pressure, even from a young child that has minimal hand strength.
Sensory stimulation
The adorable faces can be as helpful to kids as the spongy material of the toy itself. When children see happy faces or silly expression, they automatically have a change of mood.
Emotional development
The cute and silly emoji faces are relatable to kids and make them feel a little more at ease while providing them with a laugh and giggle each time they give their ball a squeeze.
7

. Impresa Products Tear-Resistant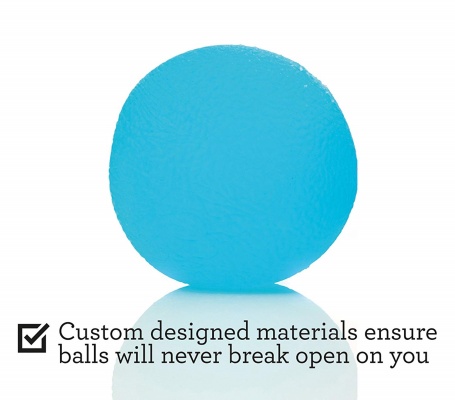 Set of three terrific balls
Vibrantly colored to hold the attention
Helps to redirect a child's focus
Encourages stress relief
Physically stimulating to improve fidget habits
They're not as soft as gel-filled cores
These stress balls are super colorful but have a pretty serious mission: To help kids suffering from OCD, ADD, ADHD, and other attention or anxiety disorders.
Read more
This makes them perfect for elementary school since they're just the right size to fit in your child's backpack. If the school is where your child has the biggest problem, then these stress balls might be just the thing to put them back on course. Since these are physical toys, the child is left with more room to focus mentally at school and at home. It's great to see stress balls being made specifically for kids because many times we don't even realize that they feel stress, too.
Design
Each pack contains three different stress balls that can help increase focus, redirect attention, and, of course, manage stress levels. They are designed to help even the most attention deficit children gain some control.
Texture
They're perfectly safe for younger kids since they're non-toxic and made without BPA, phthalates, and latex materials. They're small enough to be portable and function great as a way to redirect a child's focus.
Sensory stimulation
The variety of this package of stress relievers gives the child some visual as well and tactical pleasure. since they have three to pick from, they can use them all together or one at a time.
Emotional development
These stress balls will help them to cope in the most minimal way possible and are small enough to be taken virtually anywhere. If kids can have such pocket toys to use in their pockets, anxiety can be reduced anywhere.
8

. Neliblu Globe Squeeze 2
Builds strength, dexterity, and motor skills
Cute and different earth design
24 total units in the set
2" diameter means they easily fit in little hands
Can be used educationally as well
Inconsistencies in texture
Continents are not detailed or distinguished
Does it feel like you've got the weight of the world on your shoulders, sometimes? Well, take that and redirect it right into the palm of your hand, where you can squeeze the stress away with these globe shaped Neliblu stress relief toys.
Read more
Stress balls are a highly prized self-regulatory therapy resource, as they allow the individual to identify when they are feeling overwhelmed or tense, and to cope with it in an easy, physical manner. Additionally, the large headcount in this set means you can use them as party favors, have replacements on hand, or designate stress toys for the car, school, various rooms in the house, etc. Your little ones will never have to go far to find one.
Design
These earth-shaped stress toys are great for young children who are learning about the world. They're stylish and sensible as a set of two dozen toys for friends and family or as a back-up in case your child loses or breaks theirs.
Texture
Squeezy, spongy, and safe for ages three and up, these therapeutic global stress toys help children to identify and cope with their feelings. It's a fun little idea to have a squishy globe; children are drawn to patterns and shapes that they recognize.
Sensory stimulation
They improve grip strength, mobility, dexterity, and fine and gross motor skills. Stress toys give children an outlet in which to focus their feelings and help to relieve muscular tension by tightening and relaxing the body.
Emotional development
They're the perfect tool to help relieve emotional stress and discomfort, as well as relaxing tense or atrophying muscles. The earth design is distracting and different than regular stress ball patterns.
9

. The Friendly Swede Hand Grip Extra Small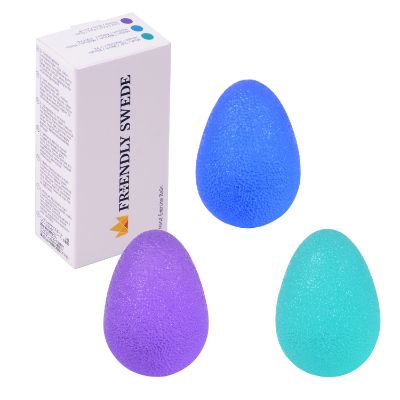 Rubber and squishy egg shaped stress ball
Constructed from thermoplastic rubber
Available in three different sizes: Small, Medium, or Large
Comfortable and easy squeezing design
Promotes a sense of calm and reduces stress
Not recommended for children that are under the age of five years old
Texture of the rubber is tacky and lint sticks to is easily
Moving those fingers and exercising those hands is one of the best ways to relieve stress as it is happening. These stress balls have been designed to be able to be taken anywhere that the kids go. They can be placed in their pocket, their bag, or even added to their locker at school. When life gets stressful stretching and working those fingers can relieve the daily stress of life.
Read more
Design
The design of this stress ball is truly unique. It features an egg-shaped design. The size, shape, and feel of the egg-shaped ball is great for training the fingers and forearms to grip and foam muscle memory. Working that muscle set has a great way of relieving stress. It is a comforting and easy egg to grip making it that much easier to squeeze away the stress.
Texture
Each egg is constructed from a non-toxic rubber that is tear resistant. The rubber is a thermoplastic blend that makes it super durable. The durability is ideal for kids. Even after many issues, the egg will not lose its shape even after being compressed for a long period of time. It will increase their focus and create a sense of calming each time they use them.
Sensory Stimulation
The soft and rubbery texture of the egg is great for triggering a sense of relaxation. When stress is immediately put upon us the tension build right up in the body. The design and texture of this stress egg ball has an amazing effect that is easily able to put kids in a better place.
Emotional Development
Using a stress ball has been proven to be an effective way to manage and deal with stress. Providing children with the tools that allow them to be able to manage their stress effectively allows them to be more effective people in life. As they grow and experience more stress they will be able to use those effective tools to be able to properly major it.
10

. Teacher Peach Motivational Set
Three balls per set
Six colors to choose from
Printed motivational sayings
Soft but durable
Small enough to carry around easily
Some users feel the foam set is too expensive
Teacher Peach Motivational Stress Balls give you words of gentle affirmation for the moments in which you perhaps need them the most.
Read more
Each set comes with three balls and each ball measures about two and a half inches in diameter. These are great to have around the house, in the classroom, or to put in your little one's backpack for wherever the day might carry them. These mantras can be helpful, especially to children old enough to read but young enough to still need the reminder as they work through their anger. Then again, we never really outgrow the need for that reminder, so these are great for teens and adults, too!
Design
These inspirational stress toys come with a variety of motivational sayings printed on them, such as "Focus. Listen. Breathe.", "Yes, I can do this!", and "Be quiet. Be calm. Be kind."
Texture
They work well as a fidget toy but are designed to be a true-blue (or pink, purple, green, teal, or red!) stress ball. They're durable and soft, strong enough to squeeze but soft enough that they won't hurt you.
Sensory stimulation
They come in six soothing colors and are soft but durable, so you can channel your frustration into a productive, safe outlet. They are visually appealing and beneficial as well as physically.
Emotional development
These stress balls not only let you squeeze the tension away, but they also provide little sayings to quiet, focus, and encourage you. It's nice to have a little reminder now and then as to what to do when we feel down.
Criteria Used for Evaluation
Design
We believe that in order for kids to reap the benefits of a stress ball, it needs to be used. Whether any toy is used really relies on the first impression. If it isn't immediately fun, then your kid is far less likely to ever try it again. When this list was created, we knew that the kind of stress balls that are common for adults may not be suitable for kids. While what makes them fun varies, there are some universal "rules'' that toy companies have long understood. Make it colorful, joyful, gooey, squishy, and happy to get kids excited about a stress ball. The size also matters since the smaller it is, the better they can manipulate it in their small hands. Make sure they are not too small as to pose a choking problem though.
Texture
Anyone that's visited a mattress store knows that people's preferred level of resistance varies. This list has the kind of variety you'd find at a mattress showroom. We know that finding the right resistance is crucial to your child benefitting from using a stress ball. So, we included a variety from super-soft to hard. Keep in mind that your child may need to try a ball before they know that they need softer or firmer material. It was our goal to provide enough information for you to make an educated guess, but we know a certain amount of trial and error may need to take place before the perfect fit is found. The softer ones are great for younger children as they build their muscles strength in their hands more. The harder ones can be used for older kids since they have more strength and anxiety.
Sensory Stimulation
It makes sense that we'd only allow balls on this list that are actually relaxing to use. When stress balls first became popular they were made with pellets inside like you'd expect to find in a bean bag chair. These hacky sack-type balls were calming just to toss around. When the benefits to corporate executives became clear, the main idea was that it allowed for the same pressure as kneading a soft dough. The senses of kids will be excited as they visually experience the designs that manufacturers have chosen to color the stress balls. Choose from the smiley faces, globes, and squishy nets of blobs to ease the stress of your child both visually and with tactile benefits.

Emotional Development
When children are given these small little globes of gleeful fun, they will be delighted instantly at just the site of them. Manufacturers made them this way on purpose, so children would get an uplifting moment of joy from the appearance. This helps with the acceptance of the toy by the child. We took into consideration what reviews said and provided the kind of info on this page that we think others would need to choose a ball for their child for their own emotional development. We know that not every child will love each ball and that's ok because we trust that as a parent you can choose a couple of them to try.
Most Important Criteria
(According to our experts opinion)
Experts Opinion
Editors Opinion
Users Opinion
By Default

Parents, Did You Know?
Since the purpose of these is to squeeze, stretch, bounce, and push on them, they need to withstand all the ways a child may use them. make sure that the stress toys you choose can withstand the treatment your child will give them.
Parents, Did You Know?
The top reason to buy your child a stress ball is to help them relax. Whether your kid uses it as a distraction or a sensory tool, they both lead to calmness. They are great just to keep near in their room or pocket for relief anytime.
Other Factors to Consider
Durability
Giving a child a toy only to have it broken after a couple of uses is extremely frustrating. That's why we wanted to be sure that every stress ball on this list was made with materials that are durable. So how did we come up with a way to choose only balls that are durable? Honestly, it's one of the trickiest criteria to define. We started with the understanding that how a child uses a ball varies. Without knowing all the variables like use frequency, the age of the child, etc. we had to use logic to narrow down the materials. Ultimately, we deferred to the wisdom of parents who'd left detailed feedback on the products. We know that if several parents have the same experience it's logical others would as well.
Entertainment Value
Bright colors, expressive faces, and familiar characters are all features that would make a stress ball fun for kids. Everything on this list looks like it was made for children. To us, that's a sign that we were able to choose the balls that your child will actually use long enough to benefit from them. Not only are the designs and colors entertaining and positive, but the textures will provide a means of enjoyment for them to experience. Even the ones that may be harder than they can easily handle now can be quite beneficial in keeping them interested in such a toy.
Frequently Asked Questions
q:

If I buy a set of stress balls that have various resistance levels, how do I choose which to have my child start with?

a:

We'd recommend starting with the least amount of resistance. This is based on the fact that the stress relief really comes from the physical act of manipulating the material. It's why the really squeezy slow-rise foam balls are popular. Younger children will need to begin with the ones that are the softest because they have less muscle strength than older kids. If the child is older, then let them choose which they prefer. Make sure to get a variety, as these are economical toys and can be bought in groups.
q:

What if my kid doesn't show interest in the ball?

a:

One great way to inspire a child to use it is to do so yourself. You could also integrate the stress ball into an activity that you know your child DOES enjoy. Ultimately every child has their own preferences so trying different textures and resistance levels may be necessary.
q:

How are these different than other toys?

a:

Theoretically, the only difference is their intended use. Balls that provide the resistance that helps kids relax and focus may even be sold in toy sections of online stores. We'd argue that they should be as fun as a traditional toy because that makes it possible for your child to experience the benefits.
q:

Which balls are best for kids who still put items in their mouth?

a:

That's an important question. We'd suggest choosing a ball that is too large to place in your child's mouth. This is especially important to reduce the choking hazard. As always we suggest careful supervision and to discard any broken balls. The ones that are the most durable are the best, so they will not come apart easily or be a problem of the child being able to bite off a portion of the ball.
q:

Should I buy a ball that's small enough to fit inside my child's palm?

a:

That depends on how old your child is. While we understand that a smaller ball may be your first choice, they CAN present more of a choking hazard for young children. Keep in mind that the benefit comes from the squeezing motion which can be done even if the ball is as large as your child's closed fist.
q:

If my child has low muscle tone would using a stress ball help improve her strength?

a:

Absolutely. The motion is commonly used in therapy for children who need help building their strength. We'd recommend asking your child's medical experts about the size and resistance level they'd recommend, then revisit this list to purchase one that's more likely to fit your child's needs.