From spooktacular hairstyles, high-fashion accessories, and trendy styles, Monster High Dolls are the perfect choice in the world of pretend play. These dolls give that spooky alternative to characters and your daughter will be able to choose their favorite monsters to accompany them on endless adventures.
Some of these dolls are even teenage daughters and sons of beloved monsters, which offer the perfect way for your child to recreate their favorite Monster High moments. We are here to help present you with the newest line of Monster High Dolls to help boost your child's creativity and encourage your children to embrace their individuality.
Our top 10 choices from the line of Monster High toys will elevate the playtime activities for your children. Remember parents, the Monster High series isn't just good for girls, they also have Monster High Dolls for boys as well. Make a selection from our list to give to your children as a Christmas present or even for their birthday, whatever the occasion is your child will be sure to love them!
Our Top 3 Picks
Monster High Elissabat

Our rating
doll stand included
Price:

See Here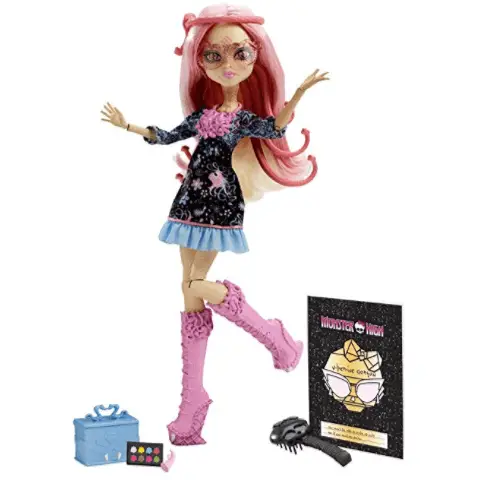 Monster High Gorgon

Our rating
doll stand included
Price:

See Here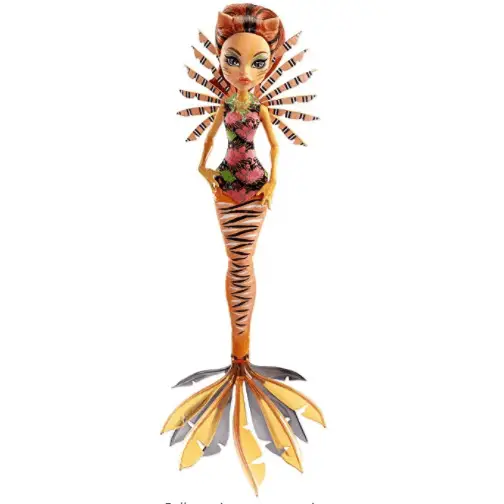 Monster High Ghoulfish

Our rating
doll stand included
Price:

See Here
Monster High Frights, Camera, Action! Elissabat Doll
Age Range 6 to 12 years old
Monster High Frights, Camera, Action! Viperine Gorgon Doll
Age Range 6 to 12 years old
Boo York Gala Ghoulfriends Luna Mothews Doll
Age Range 6 to 12 years old
Monster High New Scaremester Invisi Billy Doll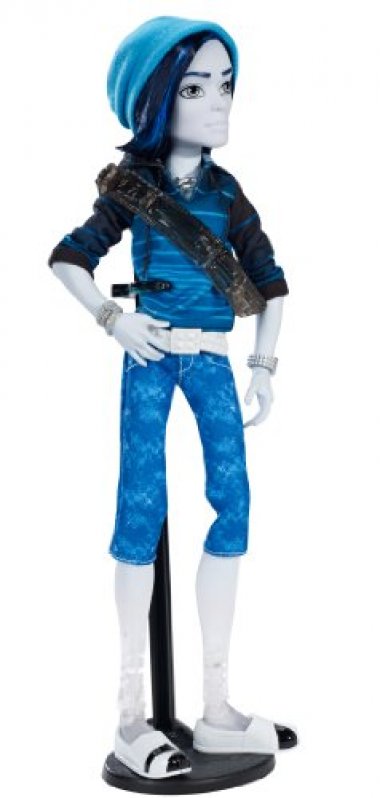 Age Range 6 to 12 years old
Monster High Freak du Chic Gooliope Jellington Doll
Age Range 6 to 12 years old
Monster High Freaky Fusion Sirena von Boo Doll
Age Range 6 to 12 years old
Monster High Frights, Camera, Action! Honey Swamp Doll
Age Range 6 to 15 years old
Monster High Haunted Student Spirits Kiyomi Haunterly Doll
Age Range 6 to 15 years old
Monster High Great Scarrier Reef Peri & Pearl Serpintine Doll
Age Range 6 to 12 years old
Monster High Haunted Student Spirits Porter Geiss Doll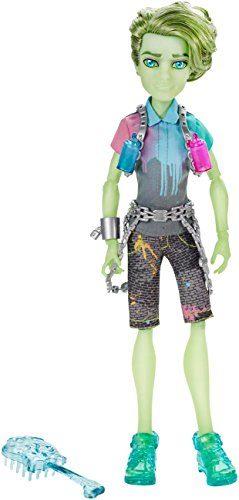 Age Range 6 to 15 years old
Criteria Used to Evaluate the Best Monster High Dolls
For our list of the top 10 best Monster High Dolls, we tried to keep our list as inclusive as possible. We wanted the products that we recommend to have some sort of educational benefit for your child. All the dolls that are mentioned can be used to make an excellent foundation for your child's creativity and problem-solving skills. They can also be great at advancing your child's manipulative play for dressing and grooming the dolls.
Monster High Dolls will encourage fun for your children while they enjoy their playtime. The great thing about Monster High Dolls is that they are appropriate for children of all ages and genders. Unlike traditional mindsets where dolls were only for girls, these Monster High Dolls are great for both boys and girls.
Similarly, unlike traditional dolls that have pretty and frilly characteristics, these Monster High Dolls depict those characters that can typically be seen in horror films and movies. This can be scary for some children but mostly it'll just create extra excitement for your children.
The various Monster High Dolls' names correlate with the themes and groups of the dolls. Children can use their creative skills at spinning stories involving their favorite dolls. The best part is that they can even reenact their favorite stories.
These make perfect gifts for little ones, and even for adult collectors. These dolls come in a variety of different conditions so it's best to do thorough research before purchasing.
With these dolls being available for collectors and Monster High Doll enthusiasts-–what more could you want? You can rest assured that these dolls will stimulate your child's imagination, boost your child's creativity, and help to build your child's problem-solving skills.
How We Chose the Dolls on Our List
We had to rely on the design of the Monster High Doll, while also making sure that each item was appropriate for the developmental age of children who will play with them on a daily basis. We examined each one especially in terms of benefits that they will have in the development of children. We read through hundreds of customer reviews as well as parent feedback regarding the usefulness in the doll bringing joy to their children or helping their children grow and develop more optimally.
Playing with Dolls and its Effects on Children's Development
Now, many of these self-help skills require manual dexterity. For example, unbuttoning one's shirt requires careful and very precise movements of the fingers as each button is carefully slotted out of its buttonhole. Buttoning is a similar endeavor where the different muscles of the fingers must be contracted at exactly the same time so that the button can be slotted through and in its hole. Perhaps, more importantly, is the mastery of using both hands in a coordinated manner. Buttoning, for example, requires one hand to hold the button while the other opens the buttonhole. This also requires hand-eye coordination, precision, and understanding of spatial relations. All self-help activities will require the balance and coordination of both hands. And all of these can be mastered using dolls such as those from Mattel's Monster High.
Cognitively, kids playing with dolls learn about the different parts of the body especially those that can be readily seen such as the eyes, nose, lips, hair, skin, arms, legs, feet, and a whole lot more. This can also help in their language skills by expanding their vocabulary. You can also teach them the names of the different types of clothes like pants, dress, shirts, socks, and jammies, among other types of clothing. With Monster High Dolls, there's so much to learn especially with the different accessories that come with each package. The different body parts of the doll, its clothing, and its accessories can also be used to teach kids about adjectives, verbs, or feelings associated with such things. For example, kids can learn that their Monster High Doll is "beautiful" and "tall" and that their dolls can go "hungry" if they are not able to "eat." If they don't eat in time, then they will be "sad."
Playing with dolls also help children develop their pragmatic skills or social communication skills. This helps them understand that certain social situations may require different manners of communicating. It essentially helps kids to use language for a variety of purposes and to adapt his or her language to the needs of the other person or even the situation. Likewise, pragmatics allow children to follow some of the unspoken rules of conversation. These can all be enhanced by their playing with dolls as they can practice using their language through the different scenarios that they have conceived for their dramatic and fantasy play.
Dolls like those from Mattel's Monster High can also be beneficial in enhancing the development of children's emotional and social skills. They learn to care and nurture their dolls and often re-enact caring interactions they have received from mom and dad as well as other caregivers, siblings, relatives, and even friends. This can also help them to prepare for becoming an older sibling. By loving, nurturing, and caring for their dolls, children develop a healthier sense of self which can also help boost their self-esteem. This can greatly influence their social interactions thus, leading to improved social development.
Perhaps one of the most often overlooked benefits of playing with dolls is the level of creativity and imagination it can help encourage in the child. By working with different doll accessories, children are able to think outside the box and create their very own hairstyles as well as fashion styles. Some can also use their dolls as wonderful instruments for exploratory play. They can think of many different ways in which the doll can be played with. Technically, this can give rise to the development of divergent problem-solving skills wherein children learn that there may be more than one solution to any given problem. This lays the foundation for critical thinking and counterfactual reasoning.
Playing with dolls can truly have many benefits to children. From the development of their psychomotor and cognitive skills to the enhancement of their language, social, and emotional skills, dolls like those from the Monster High collection by Mattel are great instruments of child development. These can also help prepare children for the many essential roles they will have to play later in their lives as adults.
Thus, we feel deeply honored to have been given the chance to share with you the top 10 new Monster High Dolls for 2019. We are very positive that any one of the dolls in our list will surely bring a wide smile in your child and reassurance in you that your kid will grow and develop to his or her full potential.
FAQ
Frequently Asked Questions
Q: Where can I buy Monster High Dolls?
A: Monster High Dolls are available at multiple stores both, online and in brick-and-mortar stores. The key to finding the best prices is to spend time researching. Amazon has been known to offer a range of Monster High Dolls at reasonable prices.
Q: How do I know what a doll comes with?
A: Your best bet is to read the product description. If you can't find your answers there, the reviews are the next best bet. You will most likely be able to find lots of other buyers who might have had the same questions as you. If all else fails, you should be able to contact the seller directly.
Q: Why do the dolls have choking hazards?
A: Most of the Monster High Dolls come with smaller accessories that might not be safe for younger children. For the highest level of safety, these dolls are only recommended for those above 3 years of age.
Q: Can I remove the clothes?
A: Each doll is different. Therefore, the answer will differ for each doll. Its recommended that you read questions and reviews beforehand to avoid any mishaps.
Q: Why don't all Monster High Dolls include stands?
A: Most girls like to play with their Monster High Dolls as well as collect and display them. Mattel says that they do this so that they can offer customers with a range of price points but they always include matching accessories.
Q: How do I keep my Monster High Doll in top condition?
A: If your dolls hair is tangled, don't brush it. Instead, you can remove the doll's clothing carefully and gently wet her hair over a sink. Do not apply shampoo-–only apply conditioner. Let the conditioner soak in for 30 minutes or so before rinsing it out. For Ghouls Rule Clawdeen, Clawd and Venus-–do not get their hair wet.
Q: Is there an educational element of Monster High Dolls?
A: Yes, playing with toys is an important part of your child's development. Monster High Dolls breed creativity and encourage learning through pretend play. They stimulate imaginative thoughts and help your little one develop their problem-solving skills.
Q: Are there Monster High Dolls for boys?
A: Yes. There is a vast collection of male Monster High characters available in doll form. These boy dolls increase the dramatic aspect, especially when interacting with other characters.
Q: Will Monster High Dolls be scary for my kid?
A: Though they might be scary, these Monster High Dolls can create a lot of excitement for young children.
Q: Can I use High Monster Dolls as a gift?
A: These dolls are perfect birthday gifts for your little kids who are especially fascinated by monster adventures and who are not afraid to have a freaky little friend.
Q: As a collector, can I benefit from Monster High Dolls?
A: Yes, collectors can also benefit from these dolls. Monster High Dolls have amazing features and mark a valuable addition to a collection.