If the time has come in your house and your teen is asking to wear makeup then it is time to buy them some of their own. Perfecting their look will take some time, but you want to make sure that they have good quality products to work with and the products are safe to use on their skin. Supporting them in this new adventure can be hard, but if their interest is there it is time to help them learn from the best. Creating their new look with makeup will be trial and error, but the products below are listed as the best makeup for teens. This should help you make sure that they are creating a look that works best for them.
The Best Teen Makeup
1. SHANY 'Woke Up Like This' Kit
When your teen is starting to become interested in experimenting with makeup it is time to get they their own makeup. This set is perfect. It is an all in one set that includes everything they need to get started with learning how to apply and use makeup in the correct ways.
Expand to see more
The set includes mascara, applicators, face blush, different shades of eye shadow, a great setup to check everything organized, and so much more. Included in the blushes are two different shades. The shades are pink and bright pink to be able to get those cheeks rosy and pink. There are 25 different shades of eyeshadows that range from nude to a bright range of colorful shades. The shades are also in both pearl and matte finishes. The set is great for beginners or your teen that is always on the go. The storage case and all in one design are great for taking along to a friend's house or to school. All the products created by a cruelty free company that does no testing on animals and are created in the USA. If you are looking for an all in one kit with everything ready to go for your teen then this is the kit.

Benefits
Learning to start to apply to makeup as a teen can be a struggle. Finding those shades that look just right on you and how to apply it to get the best look for your face shape is a challenge. This all in one kit is perfect for any learning teen. It has everything they need, plus all the shades that allow them to experiment with what works best for them.

What We Like About It
Gives the teens so many different shades of eye shadow and allows them to work with the makeup themselves. Awesome kit to get them started.
Pros
All in one makeup kit with case
Set includes; mascara, eye shadow, applicators, blush, and more
23 different shades of eyeshadow with matte and pearl finishes
Features two face blushes
Great set for learning teens
Cons
Kit is small in size
Eyeshadows can break easily if not careful when transporting
2. Maybelline Makeup Baby Skin
A primer will ensure that a foundation goes on smoothly and without any noticeable imperfections and Maybelline is one brand we trust for that. This primer offers hydration as well for an extra moisture boost during those dry seasons.
Expand to see more
If your teen is really serious about her makeup routine, a primer is the way to go. This works fabulously with the previously mentioned Maybelline Matte Foundation and is a great way to extend the wear of your foundation so it stays in place all day long. Primer is used as a base for foundation so that it doesn't slide around or become patchy and it can also moisturize
skin
and reduce the appearance of pores, which foundation can easily settle into. Overall, it'll make the look of your makeup much smoother and flawless-looking, which is a huge plus for teens who might have blemishes or acne that make them self-conscious. Rather than cover up their insecurities, primer and foundation allow teens to embrace their skin in such a way that makes them
feel confident
and accentuate the other features they love much more without allowing the ones they don't to come through. This primer is great for any skin type which means regardless of whether you have combination, oily, or dry skin, it will be beneficial to your foundation all the same. It's easy to use and won't feel heavy or clogging which is a common feeling left by some lesser quality priming formulas.
Benefits
There are plenty of things that teens might be insecure about when it comes to their skin. Because their bodies are going through puberty, their skin is undergoing major changes that aren't always welcomed and this is where makeup can help them learn to love their facial features again. Baby Skin Instant Pore Eraser helps to even out texture, minimize pores, and allow the foundation to glide over their skin easily.
What We Like About It
This primer does have a moisturizing element to it which is helpful for those suffering from dry skin, especially if they're using a matte foundation. This primer is also water-based which will make it highly compatible with other water-based foundations while also allowing breathability between makeup and skin.
Pros
Lightweight
Easy to spread out and is absorbed quickly
Minimizes the look of pores
Compatible with Maybelline foundation
Moisturizing formula
Cons
There's not very much product in one squeeze-bottle
3. Maybelline Volum' Express
Although this mascara might look simple, it offers plenty in the way of volume. This is a great way to introduce your teenager to mascara and they're sure to fall in love with the natural glam they're left with after one swipe.
Expand to see more
Sometimes all a teen needs to feel a bit more confident is a great mascara that will elongate her eyelashes and truly bring out her natural beauty and eye color. Mascara is often the number one makeup tool that many women use on the go and in a rush because it's the one product that pulls double duty as far as beauty goes. Mascara will make your lashes darker and longer and this one, in particular, adds a heaping amount of volume as well. Maybelline is very well-known for their mascara products and is really unparalleled in the world of affordable makeup. The Colossal helps to separate each eyelash and with every sweep of the brush, your teen will notice her eyelashes doubling in fullness and length. This is great for those who might have very minimal or short eyelashes and desire a fuller look in order to bring out their eyes while making them look more awake, feminine, and attentive. This mascara can do all of that while providing your
teenager
with that glam, chic feeling that you can only get from finding a stellar mascara. It's easy to use, adds fullness, and a great starter makeup product for any teen who is just learning how to create their own signature look.
Benefits
Maybelline promises up to nine times the average eyelash volume with this mascara and they definitely deliver. It's a great option for those who aren't yet ready for eyeshadow or don't like using it as it'll help to draw attention to the eyes without seeming overdone or bold.
What We Like About It
The Colossal adds drama without creating it if you know what we mean! The bristles are well-spread out and designed to hit each eyelash individually in order to provide one nice, even coat without clumping.
Pros
Creates plenty of volume
Makes eyes appear bigger and more open
Comes in two shades of black
Waterproof
Easy to use and won't clump up
Cons
It's challenging to take off without an oil-based makeup remover
4. NYX Professional HD Photogenic
Concealer is a must-have for those late nights when you're up
studying
(or maybe binge-watching Netflix!). NYX is a reputable brand with a passion for helping girls look their best and this concealer is an easy way to look a bit more naturally awake and radiant.
Expand to see more
Another aspect of having a natural look is finding a concealer that will provide ample coverage but still looks as though it's part of your skin. NYX is a brand that has gotten plenty of attention lately for having high-quality products that won't come at a high-end price. This brand is used by plenty of professionals and will make finding a daily makeup routine easy for your teenager. This concealer covers up dark undereye spots as well as minor blemishes and imperfections that can contribute to your teen not even wanting to leave the house in the morning. It comes in 14 different shade as well as lavender and green correction shades. The skin shades should be chosen in one shade lighter than your natural skin tone in order to brighten and lift their area that you're concealing. The color correctors go on under foundation in order to counteract redness, dullness, and dark spots. Green correction shades counteract excess redness while lavender is helpful to combat any yellow tones in the skin. Overall, this concealer has been created for all skin types and will provide medium coverage while also helping to hydrate the skin rather than drying and becoming a cakey mess.

Benefits
By having access to so many shades, there's a slim chance that your teen will end up with a concealer that will draw out blemishes rather than cover them. Since dark undereye circles are something that every teen deals with at one point or another, this concealer does the job without feeling or looking heavy.

What We Like About It
Color-correcting can really add a flawless finish to any makeup routine. The first step to having a natural look is ensuring that your skin is looking at its best without looking too full-on. The NYX Professional Concealer helps provide coverage without taking away too much from your child's natural skin appearance.
Pros
Covers a decent amount
Lightweight and doesn't feel heavy
Comes with options for color-correcting
Plenty of shades to choose from
Hydrating formula
Cons
Can look heavy on those who have dry or flaky skin
5. SHANY The Wanted Ones 12 Piece Lip Gloss Set
Perfect kit for highlighting the skin tones of the face on their lips. The kit has been created to allow teens to finish up their look with just the right shade on their lips. Included in the set they will find shades like; red, orange, nude, pink, and just sheer.
Expand to see more
These shades allow them to be worn individually or to be placed to build color for that perfect coverage. All of the lip glosses have been infused with vitamin e and aloe vera to keep their lips soft and well hydrated. The different shades all include both crème finishes and shimmer finishes. The glosses all come in a reusable box that is lined with a velvet interior. There are 12 different colors included in the set. The tray is great for them to be able to keep them organized and easily able to view each color. Keeping their lips hydrated and soft will never be the same once you introduce them to this set.

Benefits
The skin on your lips is very sensitive and needs care just like the skin on the rest of your body. Keeping the lips moist and soft is the best defense to chapped lips. These lip glosses have all been infused with vitamin e and vole vera to keep them soft and nourished.

What We Like About It
Set gives your teen lots of different shades to allow them to match their makeup and outfit. It also keeps their lips soft and nourished protecting them. The included tray lined with velvet is great for keeping them organized.
Pros
Lip gloss set featuring 12 different shades
Each tube of lip gloss is full sized
Colors included; pinks, oranges, nudes, and reds
Different finishes; crème and shimmer
Keeps lips nourished and soft
Cons
Pigment in the shades is very light
Sticky texture of the gloss
6. FCTRY Unicorn Snot
It sounds totally gross and unappetizing but looks truly spectacular. This vegan and cruelty-free glitter gel is a totally rad way to add some extra glitz and glam to any teen's life.
Expand to see more
Every girl needs a little bit of glitter in her life, right? This glitter gel is a bit of fun and a bit of glam all rolled into one. Unicorn Snot is attention-grabbing not only because of its outrageous name but also for its disco-like glitter glow that will truly help your teenager to stand out. Makeup should be used to accentuate as well as have fun with your features and glitter can be a neat, harmless way to add a bit of flair to an otherwise fairly boring makeup routine. This gel can be used on the face, on the body such as shoulders, arms, and collarbones, and even in your child's hair for a pumped-up vibrant look. The gel itself is easy to use and can be applied with the swipe of a finger. It comes in six different colors which all contain rainbow sparkles in order to provide your teen with all the glitz they need in one small container. A little goes a long way and this is such an awesome look for concerts, parties, or special occasions with friends.
Benefits
Unfortunately, animal testing is a process many makeup companies use in order to perfect their formulas.
Unicorn
snot is completely vegan and cruelty-free which means that not only is your child getting a high-quality product, but they can feel good while using it, too.
What We Like About It
This glitter gel is fun for any occasion. A little goes a long way and it's fun to use every once in a while to add a bit of glam to any normal look. The fact that it's so versatile only boosts our love for the product; anything that can go from your skin to your hair is a win in our book!
Pros
Vegan and cruelty-free
Provides a fun flair to any look
Can be used on the skin or in hair
Easily washed out
Easy to use and not overly heavy
Cons
Can't be used on or near eyes
7. Physicians Formula Happy Booster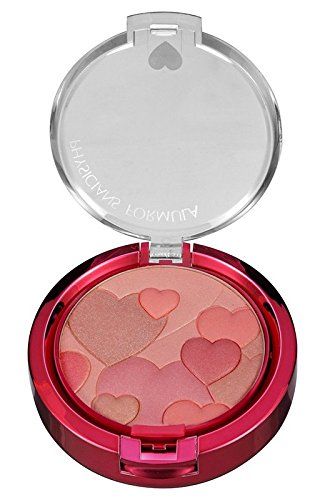 We can't guarantee that it'll take away your teen's attitude, but we can guarantee that they'll look gorgeous when they have it! This blush can be built up and provides a little pop of color that's perfect for any makeup beginner.
Expand to see more
Believe it or not, Physicians Formula actually claims that this blush is responsible for improving the wearers' mood via plant extracts that have been shown to boost happiness. Whether or not that's true depends on who's wearing it, but we can all agree that this blush is stunning. Physician's Formula has been around for quite some time and creates products that are long-lasting and vibrant in color as well as shimmer. There are several various hues of pink in this blush that all work together to create a beautiful shine and glow that looks completely natural. The blush itself does contain a violet scent that's soothing and pleasant without being overwhelming, in addition to the plant extracts that naturally improve moods. This blush also comes with a mini brush that helps to apply blush evenly and quickly for a fast morning application or touch-up on the go. As a blush, it adds a light, rosy shade to light skin tones and creates a subtle pink glow on darker shades. It can be layered for a more dramatic effect but is super versatile overall.
Benefits
This makeup has been
dermatologist-approved
which means it works well on sensitive skin and won't cause any irritation. It's hypoallergenic so even if you are prone to
skin irritation
, this blush will provide you a natural glow without being too heavy or uncomfortable.
What We Like About It
Aside from its mood-lifting properties, this blush is also subtle but buildable. It's the perfect day-to-night transition product that can easily be slipped into a purse or backpack.
Pros
Mood-boosting properties
Light and natural glow
Several different shades create a "glow from within" effect
Dermatologist-tested
Lightly scented
Cons
The brush isn't outstanding quality
8. Jcat Beauty You Glow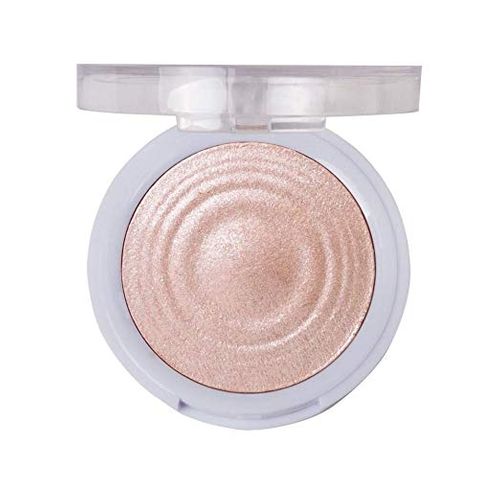 Highlighter is totally in right now and for that perfect, lit-from-within glow, J. Cat is the way to go. It packs a vibrant punch when layered and gives a subtle radiance when used minimally.
Expand to see more
There's definitely a difference between a baked highlighter and a pressed highlighter. Whereas a pressed highlighter is compact and can vary in sheen, shimmer, and texture, a baked highlighter often has a very intense shimmer or glow that can be layered. The texture of a baked highlighter is similar to an eyeshadow in the sense that it can be powdery which is helpful for an all-over glow. It can be layered in order to achieve a higher intensity or placed on the face minimally to create a more natural, subtle hint of glam. This highlighter comes in a neutral shade that won't add much extra color which is great for those who already use blush and don't want another tone interfering. It also works well for girls who seek a natural look without any added pigment and regardless of your skin tone, this highlighter will provide the same radiance for everyone. This is highly recommended for teens simply because of how easy it is to use; since it is baked, the texture is smooth and should glide on easily without picking up on texture or enlarged pores.

Benefits
Teens don't need super intense highlighters in order to look glowy and radiant. You Glow Girl provides just enough shimmer without being overwhelming and since it's baked, it's fairly easy to blend and mistake-proof.

What We Like About It
The neutral shade makes it skin tone-friendly and also kid-friendly, and since there are no extra pigments then there's no chance of layering on too much and making it obvious that your teen is wearing makeup. It can be built up without running the risk of your teen looking like a disco ball... Unless that's what they want!
Pros
Neutral pigmentation
Can be layered easily
Lightweight and not too bold
Provides a subtle and natural glow
Easily blended
Cons
Applying with a brush can take away from the shimmer
9. e.l.f. HD Under Eye
No, it's not a product made for elves. e.l.f. stands for eyes, lips, face, and it's a brand that has gained a following because of their high-quality affordable makeup products -- Including this clever concealer.
Expand to see more
This neat two-in-one by e.l.f. is something that should be in every teen's makeup arsenal. The dual-ended container features a lightweight concealer on one side that's intended to help cover dark undereye circles while the opposite side contains a subtle highlighter to accentuate eye brightness. While it looks complicated, this product is incredibly easy to use; simply dot the concealer under the eyes and blend with either your finger or a damp beauty blender, then do the same with the highlighter around the corners and over top of the eyes. This highlighter/concealer combo can also be used as a solid base for eyeshadows as well, making them brighter and providing excellent lasting power. e.l.f. is known for being an incredibly affordable, high-quality brand and one that has become extremely popular over the last few years. What began as an online-only store has slowly grown into its own international brand and its one that we love for teenagers especially.

Benefits
This concealer comes in several different shades that work well with most foundations. It can be blended very easily and provides lightweight coverage that's not heavy or too obvious.

What We Like About It
This product is a winner when it comes to a natural look. The concealer itself isn't incredibly heavy so it won't create such a heavy, full-on look like many others. It glides on easily and won't settle into pores or lines.
Pros
Lightweight
Light coverage for a natural look
Includes a subtle highlighter
Helps to balance out skin tone around eyes
Great for beginners
Cons
It can melt easily in hot environments if not set with powder
10. Neutrogena Moistureshine Lip
Lip gloss will never go out of style because it's a convenient way to add a subtle pop of color on days when you need something extra.
Lip care
is also important, which is why lip gloss with SPF, such as this one by Neutrogena, is so important.
Expand to see more
With all this talk of face makeup products, we can't forget about the lips! While teens might not be interested in lipstick, lip gloss is still something that seems to be in every teen's starter kit for makeup. Neutrogena is a brand that's known for providing very natural makeup with great quality. All of their products go above and beyond in providing that extra little something to make it helpful as well as beautiful. Their Moistureshine Lip Smoother Gloss is a great way to provide your teens with a bit of subtle color and shine while also giving them a way to protect and moisturize their lips. When it comes to makeup, lip care is just as important as face care. This gloss contains SPF 20 as well as a cool agent which helps keep lips hydrated and shining, all day long. There are four different colors that provide a bit of pink or red to the lips without looking too bold or full-on, making it
perfect for teenagers
.
Benefits
This lip gloss can be used repeatedly throughout the day without feeling too heavy or sticky. It provides a natural pigmentation while still packing in all the moisturizing power that's often needed in the summer and winter months.
What We Like About It
Lip gloss is the perfect in-between for teens who want a bit of glam without wanting to make the commitment to a liquid lipstick or regular lipstick, which can often get messy and be challenging to apply. This lip gloss provides subtle color without all the hassle of a lipstick that they don't have experience with quite yet.
Pros
Adds a subtle pop of color
Contains SPF 20
Formulated with a cooling agent
Comes in four different shades
Can be reapplied easily throughout the day
Cons
The applicator can be a bit messy and isn't always precise
Criteria Used in Evaluating the Best Teen Makeup
While many parents may agree that wearing makeup too soon can have adverse effects on your teenager, using the right type and kind of makeup can alternately produce the opposite effect. Makeup is a tool of encouragement and also of creativity, two things that we'll explore more of in just a bit. In order to find the correct types of makeup for teenagers, however, we had to go through a bit of a research process. We understood that teens don't need full-on glam for high school (excluding special occasions such as prom or events) and instead only need makeup that's conducive to a natural look. Teenagers have no need to fill in wrinkles or cover up age spots, which meant the makeup we were seeking had to be lightweight, minimal coverage, and be very easy to use. This led us to find makeup that was trusted by women everywhere and had a reputation for offering products that weren't too outrageous or bold. We also took into consideration the price point for each product and decided that everything needed to be super affordable, while maintaining the highest quality possible. Our reasoning for this was that teens would be just starting out with their newly-found makeup routines, therefore, higher-end makeup products could be something for parents to consider further down the line. Many teens also purchase their own makeup, which meant that we had to find the best quality products that were also within a budget. All of this led us to find only the essentials for a full face of makeup with viable options for subtle accents while also bringing to light products that would help to accentuate your child's naturally gorgeous features.
Additional Factors to Consider: Why Makeup Can Boost Confidence
There's a difference between using makeup to cover up perceived imperfections and using it to accentuate your best features while pushing others to the background. This is the difference that teens must understand in order to use makeup successfully and to be comfortable wearing it. If they only try and hide their blemishes, acne, or scars, they'll end up with a face of makeup that often looks cakey or heavy, which is not natural at all. By taking a moment to decide what they love best about their natural features — whether it's their eyes, cheekbones, eyelashes, smile, skin, etc. — they'll know what to focus on and what to try and bring out, rather than immediately focusing on hiding many of their less-loved features. When it comes down to it, makeup shouldn't be something to hide behind or used to cover up what you've been given. Makeup should be used to bring out all the features that you love and this is a wonderful lesson to teach your teenager. Teen years are hard enough as it is and if teens start out on a confident foot, then they can continue on their journey through self-discovery without the need to constantly spend hours in the bathroom altering their appearance. A great way to ensure that they understand this is to provide them with makeup slowly. If they really love their eye, mascara can be an excellent option and will show them that even if they have a pimple that day, mascara can counteract the attention on their face and instead draw it to their eyes. The opposite also works; if you provide them with a lightweight foundation, they might immediately notice a difference in how lovely their other features are once their skin tone is evened out a bit. By playing with facial features as individual components, you can help your child to realize that they are beautiful, regardless of what products are on their face.
How to Achieve a Natural Look
This is something that can be more challenging than it looks. It's so easy to go overboard with makeup which is why starting out without eyeshadows and lipsticks is a good idea. All of the products on our list can be controlled and don't provide a look that's too over the top, making them very teen-friendly. Even if all of these products were used together, they'd still provide a look that's flawless, yet natural. By using certain combinations, such as mascara, a BB Cream, and a lip gloss, your teen can play around with her own features while using tools that are designed to bring out natural beauty rather than cover it up or turn it into something drastically different. Eyeshadow is something that needs to be blended and worked on which is why you won't find it on our list, however, a highlighter can be used just as easy to add a bit of color or shimmer to the eyelids for some glam. Similarly, foundation or concealer can be applied to the eyelids to even out their tone and provide a neutral base so that when mascara is applied, teens will still have that natural, flawless appearance. There are plenty of combinations here that don't require a ton of products or work in order to achieve something that's pretty and subtle.
Setting Boundaries
If necessary, you can set certain rules for your teen's makeup use. Simple compromises such as lip gloss over lipstick, mascara over eyeliner, BB Cream over foundation, etc., can be helpful in teaching your teen moderation and how to accentuate their natural beauty first. As they get older, they'll have a basis from which to begin building their own personal makeup routine thanks to rules that were set in their teenage years. Some teens might not even have the desire to use a ton of makeup, in which case, anything on this list will suffice to provide a natural look.
FAQ
Frequently Asked Questions
Q: Are any of these waterproof?

A: Yes. The Colossal mascara by Maybelline is very waterproof and is best taken off with makeup remover. The foundation and BB Cream aren't waterproof but are best removed with a face wash designed for makeup or makeup remover in order to keep pores clean and clear.
Q: At what age is it appropriate to give these to my child?
A: We'd recommend ensuring that your child is over the age of 13 before encouraging their interest in makeup. Of course, you can wait longer, but many girls become interested as soon as they enter their teenage years.
Q: What other products would be useful in putting this makeup on?
A: A beauty blender is a useful tool for just about everything on this list. It can be used (and is recommended) damp for a foundation. It can also be used dry to apply highlighters and blush. While brushes are helpful as well, they can rough up the skin and must be cleaned with a brush-safe solution. Beauty blenders can be cleaned with a bit of dish soap and olive oil, then rinsed with warm water.
Q: Do you need a primer for use under foundation?

A: While it's not necessary at all, it's helpful. Depending on your teen's skin (whether it's dry, oily, or in-between), a foundation can have a habit of sliding or sticking to dry patches that can be avoided with the use of a primer first.
Q: Are all of these products cruelty-free?
A: Many brands will list on their product page if they are vegan or cruelty-free. The only one that we have listed here is Unicorn Snot.
Q: How can you test these first to ensure your child won't have a reaction to them?
A: A simple way to test for irritation is by putting a bit of the product on your child's wrist or forearm, where the skin is more sensitive. If there's no visible reaction after several minutes, try using in a small spot on the face (away from the eyes and mouth) and if no reaction occurs, you should be good to go.