When it comes to your little one, you can't be too careful with just any product that claims it's "made for babies". As a new mom or even one who is experiencing the miracle of life again, you probably already know that there are many lotions out there that are not as safe or efficient as they say. That's why here are Borncute, we take the time to research and investigate certain products to ensure that they're up to par with what you expect for your child. Call us the detectives of baby products, if you will… We're coming to the rescue to make sure that you're taking home only the best for your little one. Lotions are important because not only do they provide added moisture to a baby's skin but they also serve to protect it as well. Many lotions can promote a healthy barrier that encourages healthy cell growth, locks in hydration, and will soothe your baby. We couldn't have just any products on our Top Ten list so we've done our best to seek out only the most stellar of products for your baby.
This list varies in products that you might have heard of and will be happy to hear have lived up to the hype as well as those you don't yet know of — And we're happy to tell you about them! We've also included some products that are great for certain skin conditions as well as daily use which is helpful as we head into the winter months when skin can become dry and irritated. We only want the best for your baby and we're sure that at least one of these lotions will be just perfect for you and your family.
10 Best Baby Lotions Reviewed
1. Aquaphor Ointment Advanced
Aquaphor has ingredients that promote natural healing and are great when used for diaper and drool rash. It's gentle and forms a protective barrier over your baby's skin that they genuinely need.
Expand to see more
Aquaphor is known to be beneficial for many things and some people even use it as a healing ointment for post-tattoo care as well, it's just that gentle. The ointment formula serves as a protective, yet hydrating, layer in order to lock in moisture and promote healing to the skin underneath. This healing ointment has been created especially for babies suffering from diaper or drool rash since it helps to keep irritation from bothering them while their skin heals. Rashes can cause rough patches, itches, and often a burning feeling until it heals and Aquaphor helps to combat all three. It's gentle enough for babies and is very effective when applied in a light layer.

Benefits
The petroleum in this ointment is what helps to protect raw skin and provide a serious hit of hydration through the addition of glycerin. Additionally, Panthenol is a vitamin B derivative that helps to encourage healing while conditioning the skin underneath.

What We Like About It
Aquaphor has an entire line of baby-safe products, all just as reputable as this healing ointment. It's similar to Neosporin in texture but is much more gentle for use with newborns.
Pros
Promotes healing
Can be used for diaper and drool rash
A little goes a long way
Forms a protective barrier
Hydrating
Cons
It can feel heavy and is easily overused
2. Aveeno Daily Moisture
Often the first product parents think of when it comes to gentle lotions, Aveeno definitely has a reputation. With added oatmeal, this lotion promotes healing as well as hydration.
Expand to see more
When it comes to lotions that are extremely gentle on the skin, Aveeno is unparalleled in quality. They were one of the first and are now proud to represent a line of products for babies as well. Many adult Aveeno products are even gentle enough to use on kids which is why they're a brand that we turn to many times. This formula is designed for babies and contains oatmeal for extra hydration benefits, but it also provides a soothing effect when applied. Similar to an oatmeal bath, this lotion helps to calm skin and reduce irritation. Dimethicone helps to combat dryness and encourages a protective barrier on your baby's skin to prevent further redness and irritation. It has long-lasting power and will help your baby feel hydrated for a full 24-hours, all while being absorbed easily without clogging pores.

Benefits
The use of oatmeal, Dimethicone, and glycerin helps to provide a three in one team against dryness, irritation and adds a protective layer that your baby will be thankful for. It's a gentle formula that only needs to be applied once a day in order to be effective.

What We Like About It
This lotion is paraben-free, hypoallergenic, free of phthalates, dyes, fragrances, and alcohol. This leaves nothing but the essential ingredients that provide the moisture your baby seeks.
Pros
Contains no harsh chemicals or artificial ingredients
Oatmeal helps to moisturize and heal
Forms a protective barrier
Lasts a full 24-hours
Absorbed into the skin quickly
Cons
There are some faulty problems with the lotion bottle and dispenser
3. Earth Mama Calming Lavender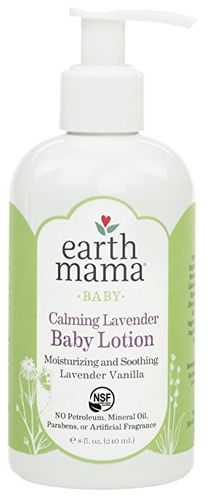 This all-natural option is perfect for newborns because it contains only the best. It's great for minor discomfort due to typical newborn dry skin without further adding to irritation.
Expand to see more
Earth Mama is a brand that many haven't heard of but if you haven't tried it yet, you should. This lotion has two secret ingredients that we absolutely love to see in products for babies: Lavender and calendula. The first is naturally soothing and provides aromatic benefits that relax and calm the mind. The second is a derivative of marigold and helps to soothe the skin and reduce irritation with its calming properties. When brought together, these two sing a chorus of naturally-calming benefits that are just perfect for babies of any age. Not to mention, Earth Mama is all-natural and contains organic herbs in order to provide the most gentle formula possible.
Benefits
Essential oils are the key to what makes this lotion so effective. It's great for us in babies who have sensitive skin or common skin irritations because it will calm and soothe them at bedtime and throughout the day.
What We Like About It
All-natural lotions are great but
organic ingredients
are even better. This lotion has been tested and certified which is why we feel great about recommending it to parents. It's not likely to cause irritation and will help calm angry skin.
Pros
Contains lavender which is a soothing aromatic scent
Calendula helps to calm irritation
Organic ingredients
Dermatologist-tested
Great for common skin ailments
4. Aveeno Therapy Nighttime
For strictly nighttime use, Aveeno comes in the clutch again to provide you with an option that will provide your baby with relief all night long. While they're asleep, this balm will help to heal raw skin that comes from eczema.
Expand to see more
You might be thinking that you're seeing double but we actually do have two Aveeno products on this list. This balm is used at night to alleviate irritation that comes from eczema, something that many babies suffer from. This can worsen depending on the weather and if untreated can often be uncomfortable and itchy. Aveeno incorporates the use of oatmeal and Dimethicone just like their baby lotion in order to relieve minor irritation and help soothe your baby so that they can fall asleep. The balm texture acts as a protective barrier in order to relieve that burning sensation and allow the skin underneath to heal.
Benefits
While other lotions are intended for all-day use, this balm is formulated for use at night for a very specific reason. Babies are already fussy when it comes time to be put down but with a little help from this night time balm, they might just be soothed enough to sleep.
What We Like About It
We love that this can be reserved specifically for
use at night
while you find another lotion to use throughout the day. The balm is a bit heavier than a lotion so it'll stay in place all night and with continue to protect and heal your child while he or she sleeps.
Pros
Contains Dimethicone and oatmeal for protection and healing
Designed specifically for night time
Helps soothe babies to sleep
Heavy enough to form a protective barrier
Encourages healing while your baby sleeps
Cons
Is a bit heavy for daytime use
5. Puracy Organic Lavender
This is one of the most all-natural products on our list and is great for any age. It's incredibly gentle and contains ingredients that are good for just about any skin type and any baby ailment.
Expand to see more
First of all, this bottle is positively adorable. With minimal artwork, Puracy keeps in theme with their natural reputation and features a cute giraffe in a design that is very baby-friendly. For parents who worry about finding lotions with all-natural ingredients, Puracy is a great option. They use only plant-based ingredients that are proven effective in combatting dry skin with a completely non-toxic formula. This product was actually developed by doctors so you can be fully assured that it's certified safe as well as effective. It can be used on literally any age, from newborns on up to toddlers, adding hydration with a blend of lavender and grapefruit essential oils. These two work together to help soothe and calm the skin and can be an appropriate at-home remedy for relief from dry skin caused by conditions such as eczema.

Benefits
The essential oils in this lotion are natural and safe for babies and can be used in nearly any age group. It's gentle but works, ensuring a success rate that has been noticed by parents and kids alike.

What We Like About It
We love that this product was developed by doctors. There's a sense of authenticity that comes with a product such as this knowing it's something you can trust as a parent.
Pros
Lavender and grapefruit essential oils aid in hydration
Gentle enough for any age
Developed by doctors
Lightweight
Plant-based formula
Cons
The scent is somewhat medicinal and slightly citrusy
6. CeraVe Essential Ceramides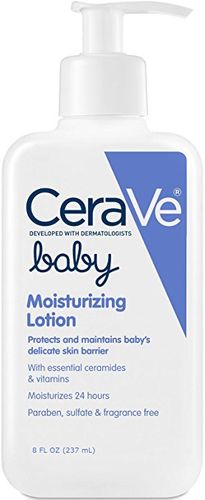 CeraVe isn't just a leader in global skincare, they also produce
quality baby products
such as this lotion. Its naturally moisturizing effects are what helps it get such a good reputation, so we decided to see what all the fuss was about and were pleasantly surprised.
Expand to see more
You know CeraVe for being a leader in skincare, but did you know that they have a line for baby care as well? This baby lotion contains everything your baby needs in order to have smooth, healthy-looking skin. It has been approved by the National Eczema Association as an appropriate at-home form of relief from the dry skin condition, making it stand out quite a bit. CeraVe's formula contains ceramides and vitamins that not only hydrate but form that protective barrier that we look for in order to maintain moisture and prevent further irritation. This is a key factor in encouraging healthy skin cell growth in babies who are suffering from a dry skin condition since the skin underneath needs time to heal.

Benefits
Dermatologists played a hand in developing this lotion in order to have a solid option for the at-home treatment of dry skin in babies. The use of ceramides provides the protection that skin needs in order to heal, which just doesn't happen overnight.

What We Like About It
Once you learn about the process of skin healing and how skin cells work, it becomes easy to understand why a protective barrier is necessary. It's imperative for the skin to maintain a constant level of hydration but it's equally important for it to be protected while it regenerates as well.
Pros
Promotes healing
Provides a necessary protective barrier
Certified by the National Eczema Association
Created by Dermatologists
Contains ceramides and necessary vitamins
Cons
It is a very light formula and might need reapplying
7. Cetaphil Organic Calendula
Gentle enough for babies, strong enough for adults is what many think when it comes to Cetaphil. This baby lotion was formulated with the gentle ingredients they're known for to provide one soothing product.
Expand to see more
Cetaphil is known for creating facial cleansers that are gentle enough for use on kids so it came as no surprise to us that their baby products are top-notch. This lotion is gentle and can be used throughout the day or at night, causing no breakouts or irritation. It does pack a punch when it comes to helpful ingredients so if your baby is sensitive, that's something to be aware of. However, the use of organic calendula, almond and sunflower oils help to soothe and hydrate, working in tandem to do so. As the name describes, it can be used daily and is gentle enough to be used on extremely dry skin for immediate relief. It's hypoallergenic and claims to make skin appear firmer, brighter, and more healthy overall... what more could you ask for in a lotion for your little one?

Benefits
The trio of hydrating ingredients in this formula adds a variation in traditional baby lotion ingredients. Each one serves a purpose but together they're nearly unbeatable.

What We Like About It
Organic products make a difference and this calendula s certified fresh to be good for you child and for their skin. It's calming and will soothe their dry skin without stinging or additional irritation. If there's anything we love, it's a gentle formula.
Pros
Organic calendula for soothing
Contains essential oils for hydration
Extremely gentle formula
Hypoallergenic
Contains no additives
Cons
The scent can be a bit overwhelming
8. Burt's Bees Nourishing
We're not talking about lip balm, although they do that pretty well too. We're talking about a 98% all-natural lotion that does wonders as far as your baby's skin and
smells pretty good
, too.
Expand to see more
Burt's Bees Baby is a line that we've used plenty of times before here at Borncute and it's not just because they craft incredible lip balms. Their nourishing lotion takes all the great, natural aspects of Burt's Bees that we love and combines them to produce something that works and is baby-safe. The secret ingredient is shea butter which helps to add waves of moisture while sunflower seed oil helps to lock it in and add all-day hydration to your baby's skin. One thing this product boasts that's very impressive is a natural ingredient rate of 98.9%, meaning almost every ingredient that goes into this formula is all-natural. In fact, it's gentle and natural enough that it can be used on your baby's face as well.

Benefits
Burt's Bees has a reputation that precedes it as they seem to excel in anything they create. This doesn't stop us from evaluating it in our own way, however, and this product definitely passed the test as far as hydration, soothing properties, and calming scents go.

What We Like About It
This lotion has been scented which is actually something we appreciate. It can be strong for those who don't enjoy scented products but would be naturally soothing to a baby when applied.

Pros
Almost all-natural ingredients
Designed to maintain a natural moisture level within the skin
Created by a reputable brand
Can be used on the body and face
Will last quite a while
Cons
The scent can be strong if used near the face
9. Live Clean Gentle Moisture
They aren't kidding when they say "Live Clean". This lotion puts many others to shame as far as an all-natural formula goes, and we're all for it.
Expand to see more
Similar to Burt's Bees, Live Clean boasts a natural ingredient rate of 97% which is significant when compared to many baby products out there. They pride themselves on their natural and safe products and this lotion is no exception. It's vegan and contains mostly plant-based products such as chamomile, lavender, and aloe vera. When it comes to hydration, those three can't be beaten. Chamomile is a natural when it comes to herbs that help to soothe and the scent alone is comforting to babies. Lavender also has strong aromatic properties and helps to eliminate stress and melt away anxieties. Aloe vera, of course, is a global leader as far as moisturizing plants go and we were happy to find it in this product. The combination of these three in conjunction with an all-natural formula makes us happy to have Live Clean on our list.

Benefits
This formal is anything but greasy and is easily absorbed into the skin, leaving behind hydrated, soft skin for your baby. The scent does remain in order to provide aromatic relief and a sense of comfort as the lotion does its job to soften skin.

What We Like About It
This lotion can be used during the day or at night which makes it a versatile component in your arsenal of baby products. It's easy to use and can be applied quickly and since it's also absorbed quickly, you won't need to worry about any greasy after-effects.
Pros
Non-greasy formula
Can be used during the day or at night
Contains chamomile and lavender for soothing aromas
Aloe vera provides much-needed moisture
All-natural formula
Cons
You don't get very much product
10. Johnson's 798ml
It's traditional, simple, and a parent favorite. Johnson's has been voted as the number one choice of hospitals and maintains its nearly flawless reputation to this day.
Expand to see more
We know that you'll recognize this product right off the bat. It seems as though many parents had this lotion sitting on their baby's dresser even when you were a kid which is just a nod to how great of a brand Johnson's actually is. This lotion is actually voted number one by hospitals and is a great place to start if you're unsure of whether or not your baby has sensitive skin. It doesn't contain anything strong-smelling and is just the basic of formulas in order to provide moisture without getting too complicated. It's clinically proven to be non-greasy and easily absorbed which makes it easy to apply. Your baby won't mind this one bit since it won't cause irritation, as it is hypoallergenic. It's the gentlest and most basic of products in order to provide your baby top-notch quality without anything extra.

Benefits
The simplicity of Johnson's is what has kept so many parents coming back to their products. If you're not looking to risk irritation with some of the other brands, this is a great option for just the basics of your baby's skin moisturization.

What We Like About It
Since a baby can often face dry skin quicker than adults can, we love that this product can be applied multiple times throughout the day. It's not heavy and won't cause further irritation which adds to the leading reputation that Johnson's has in baby care.
Pros
Lightweight and non-pore clogging
No overwhelming scent
Basic formula
Can be reapplied
Created by a leading brand in baby products
Cons
It doesn't have anything extra to treat skin conditions
Criteria Used in the Evaluation of the Best Baby Lotion
Obviously, we couldn't choose just any ten products at random to add to this list and called it the most perfect baby list out there. That's why we do thorough research before each list in order to present you with only the highest quality products for your baby, because their safety is our concern, too. Additionally, their health is very much something we care about which is why we did our job in seeking out only the best for them and their skin. It's not uncommon for babies to develop dry skin within a few weeks of their birth, but this is something we'll get into more of a bit later on. For now, we just want to explain the process we took in order to arrive at these ten brilliant baby lotions.
For starters, we sought out only products that would address the issue of that dry newborn skin that we briefly mentioned. Sometimes, this can turn into a form of eczema which is why all of our products here are safe for use on irritated skin. You should always talk to your doctor before considering an at-home treatment, but all of these products have been certified efficient for the temporary relief of dry skin. They do vary, with some containing things such as calendula, aloe vera, lavender, etc. Each one of these essential oils and essences helps to provide a benefit, whether it's through soothing the skin or maintaining a natural balance of hydration within the skin. Alternately, some of these essential oils function as aromatics in order to soothe babies via their sense of smell as well. While they're taking in the delightfully calming scent of lavender, the lotion you've just applied is doing its job in protecting, hydrating, and renewing the skin underneath.
We also had to find products that were highly approved and recommended by parents and/or doctors, which is what really helped us to narrow down our list. It was through this that we found a solid ten products that were mostly all-natural, and if they weren't, came highly recommended by those who created or used them. Taking chances isn't something that we like to do here at Borncute which is why we don't take stock in any products that haven't been baby, parent, and professionally approved. Additionally, we've included several products that have a long-standing reputation as well because there is a reason for that. We have no problem supporting those brands as long as they continue to create products that we can take pride in as well and feel comfortable recommending to parents.
What's Going On With Your Newborn's Skin?
You might notice that your baby has some dry skin issues and you also might think it's unusual since they just came into this world. On the contrary, it's quite normal for your baby to be experiencing dry skin! It's a condition that often clears up on its own and doesn't necessarily require and additional treatment, but that doesn't mean your newborn can't use lotion. If you notice dry spots on their ankles or arms, a bit of lotion or ointment can be lightly applied in order to help their skin heal and to reduce irritation. Keep in mind that it is normal and doesn't need heavy treatment as eczema would. At this age, their skin is still adjusting to the outside world and needs a little bit of time, but lotion can help to ease the process a bit. It's best to avoid lotions and creams that have heavy scents in this case, and we've cleared all of that up in the summaries of each product.
As far as how often to provide them with extra moisturization, experts recommend that you apply lotion at least once a day for babies with normal skin. It's best to choose all-natural lotions with no added scents; many of these options are what our list is comprised of. With these, you can be a little more liberally and apply them several times throughout the day, all over. You can even use them to aid in diaper rash relief and irritation that can come from babies who are just learning to crawl — Floors are tough on your tiny baby's arms and elbows!
There are several things you can do to minimize the need for lotions more than once a day. A common cause of extensively dry skin comes from too many baths. By bathing your baby too much, you can actually draw moisture out of their skin and cause it to become dry, thus adding to irritation. This can be avoided by only bathing them when necessary while they're still in their newborn stage and making good use of sponge baths or cleaning areas that are dirtier than others. It sounds a bit unnatural, but babies benefit more when they're not overly cleaned and their skin will be thankful for it. By bathing them too often, you're essentially stripping the skin of its natural layer of oils and causing it to become drier, faster. Additionally, experts recommend turning to lotion rather than resorting to baby powder. Baby powder can be dangerous if inhaled which is something that can easily happen as its shaken. If you do need to use it, it's best to shake it into your own hands first, then pat on your baby's bottom. Lotions can be just effective in treating diaper rash, however; we've even listed several that have natural healing properties for the stubborn rash. Another way to avoid bathing every day is to make sure that during diaper changes, every square inch of your baby is cleaned. this includes the folds of their legs and thorough cleaning with wipes and/or a damp towel. It's a messy process but someone has to do it and changing often, as well as thoroughly, can reduce the chance for diaper rash and also reduce the need for bathing every day. Babies should have no more than three baths per week and anything more than that is considered to be excessive. This is when you can begin to remove the natural layers of protection that your baby has in order to keep their skin moisturized and hydrated.
In closing, your baby might find that their irritation comes from a variety of things. You might even notice that your baby is not sensitive at all and suffers no dry skin (yay!). All in all, you always want to ensure that you're using a product that's recommended safe and doesn't contain anything that could be harmful to them. Since babies are still apt to absorb whatever is put on their skin, it becomes that much more imperative that everything you use is natural. We've provided products for a variety of baby stages, from newborn all the way up to toddlerhood. Based on your needs, we hope that our summaries, benefits, what we like about it sections, and pro/con lists will help you to make the best, parent-based decision possible. We understand that it's worrisome to be unsure of what's good for your baby and what's not, which is why we do our research in order to lessen the stress that you feel. Your stress is our stress and we get it — Parenting isn't easy! Picking out a lotion for your baby shouldn't add to that stress, which is why we thought we'd give you a helping hand.
FAQ
Q: How old does my newborn need to be before I use lotion on them?
A: This will vary based on who you talk to. As always, it's best to speak with your pediatrician in order to figure out what's best for your baby. After a few months, you might notice some dry skin, and if you decide lotion is necessary, it's best to use as natural a product as possible with no fragrance. Once a couple months go by, you should be able to continue using lotion without worrying too much about your baby absorbing its ingredients, especially if you continue with an all-natural product.
Q: Will any of these further irritate eczema?
A: They shouldn't, no. All of these products have been tested and actually include ingredients that are known to lessen the irritation of common skin conditions and promote healing.
Q: What happens if I notice irritation on my baby's skin?
A: You should stop using the product immediately and allow your baby's skin to clear up. In the meantime, you should consult with your pediatrician on what could have irritated your baby's skin, because it could mean an allergy or sensitivity. They also might be able to recommend a product to use in the meantime that's gentler.
Q: How long can I use lotion on my baby?
A: Once they're a few months old, you can use lotions daily. Just be sure not to overdo it, because excess oil can build up and lead to breakouts or even further irritation. Always use a light layer and ensure that the lotion is absorbed into the skin properly — Less is more.
Q: Will these become greasy if used underneath my baby's clothing?
A: If you apply a light layer, you shouldn't notice any significantly greasy or oily feeling. Ensure that all the lotion has been absorbed first before dressing your baby, otherwise, it could become somewhat uncomfortable for them. The only exception is Aquaphor which is an ointment and will remain as a thin layer on top of the skin.
Q: Can all of these be used on the face?
A: We wouldn't recommend using any lotions, ointments, or creams on your baby's face before first speaking to your pediatrician. The Burt's Bees Baby lotion can be applied to the face, but we'd avoid doing this on a newborn. Each product has their own purpose and it's best to check with a professional before involving anything on the face.