Backpacks are now an essential component for most school children in the United States. These allow the kid to be able to carry everything they need for school from their books, their notebook, their pens, pencils, and all other items in one easy to carry bag. The backpack has helped to eliminate the problem of having to carry textbooks to each class in their arms and removes the need to bring for extra bags such as a purse for personal items. As a kid advances in school, it may seem that maybe the backpack might no longer be needed and can be phased out. After all, the kid is growing up they will be entering high school and college, they are assigned lockers so, no need for the backpack any longer right? Actually, the opposite is true, perhaps the backpack is needed now more than ever before.
In high school, a student will have more need for one because they will have more books to carry from class to class along with a more substantial work schedule. They will also have more personal concerns to now deal with especially the female student. High school students are also heavily into tech devices such as smartphones and tablet computers. As for the college student, the demands are even more significant. They could even be required to use a tablet computer or laptop in their course. With these higher fields of learning in mind, we have taken the time to compile a list of some of the best backpacks for these higher institutions of learning.
Our Picks of The Best Highschool and College Back Packs in 2018
Vaschy Unisex Classic Water Resistant
BOLANG Water Resistant Travel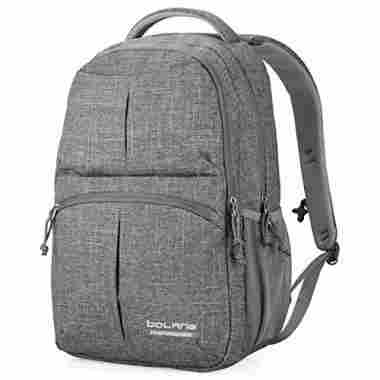 Vancropak Canvas USB Charging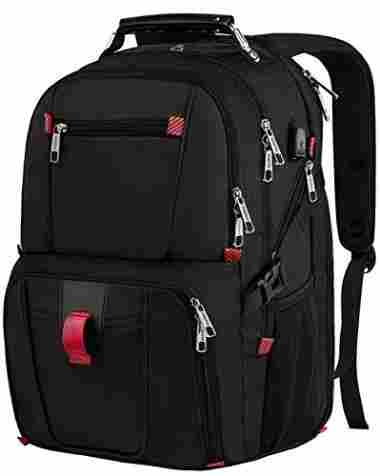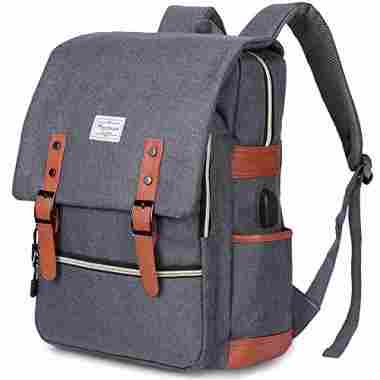 Kinmac Bohemian Water Resistant
AmazonBasics Laptop 17 inches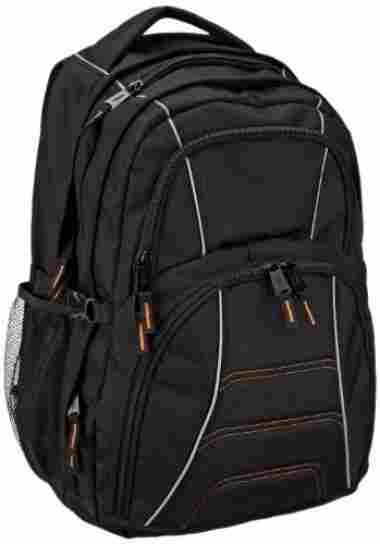 MarsBro Laptop Anti Theft
Sosoon Business Anti-Theft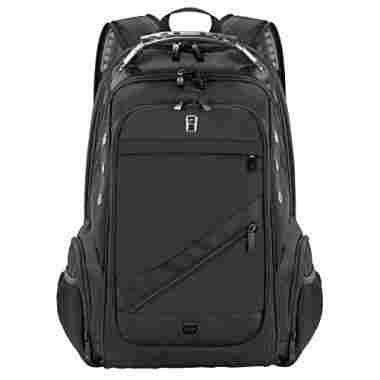 ProEtrade Water Resistant Travel
Criteria Used in Evaluation of the Best Highschool and College Backpacks
In higher forms of learning, there is still a need for the standard backpack. However, the older someone becomes, and as their styles of learning change, their needs in a backpack will change as well. When coming up with our choices for the best high school and college backpacks we took into consideration the following key factors that no doubt most more top academic students would be looking for.
Durability
An essential element of any backpack, we want one that is made to last. When its bought for either high school or college, we want to be able to get through the entire four years with this one backpack. So, having one that is built to last not just on the outside but the inside is essential. We want one where the lining won't start to tear, or the zippers start to break. After all, there will be enough to handle in both high school and college but a backpack falling apart shouldn't have to be one of them.
Waterproof
An essential element that high school and college students could look for in a backpack. Not only would having one that is waterproof protect the items inside in bad weather but there is the added advantage of providing constant protection to devices. After all, each of us at one time or another have accidentally dropped fluid of some kind or even got caught in automatic sprinklers. Imagine the damage that could be done to our high tech devices if it isn't waterproof.
Tech-Friendly
Backpacks for higher forms of education need to accommodate the growing technological age. These days students are expected to carry laptops or tablets to class especially in college. So, the backpack needs to be able to have the room for these to fit and not be obstructed by any other items. Another great feature that several laptops are going to accommodate the technological age is that there is now a USB charging feature included as was the case with some of the backpacks featured on our list.
Convenient
Despite what some schools may want to believe now, backpacks aren't a one size fits all proposition. Some students may require more room than others in their backpacks and may want more compartments to place things for more organization. Whatever the needs maybe it needs to be convenient for its owner to be able to navigate through school using it.
Security
Backpacks make it possible to keep all of our items close to us. We can keep our smartphones, our tablets or laptops close by at all times. We can also keep whatever money we need within the backpack as well along with any types of identification required. With a backpack, all this stuff is held securely with us, not in a locker where we may wonder if it is still safe and that someone hasn't managed to break in. So, a backpack will keep everything important closeby and with us at all times.
FAQ
Frequently Asked Questions
Q: Can the same backpack used in High School be used in College?
A: It may seem like an excellent economical thing to do but like a grade school backpack doesn't really work for high school a backpack designed for high school usually won't work for college. The more advanced in the grade levels a student goes, the more their course demands will require different things that they will need to provide themselves. Such as a laptop or tablet computer. Another factor is the older a student becomes to more personal obligations they take on such as having a driver's license and other forms of ID, they could also have a car and maybe a dorm room. Each of which requires a set of keys. One way around this would be to buy a backpack in high school that is designed for college-age students as some listed above, may seem a bit roomy at the moment, but no doubt the student will start to utilize it more as time goes on.
Q: When did students start using Backpacks more commonly?
A: It was around the early eighties that backpacks started to be used more in schools as a way for kids to carry necessary materials such as school books. Before this kids would use things such a book bags because lugging around books in their arms along with a notebook and pencil box was quite challenging to do. When kids entered high school and college, they were supplied with lockers to help keep track of these things. But even at this age students found that they still preferred the convenience of using a backpack instead because it helps them carry all their necessary materials from class to class.
Q: What about clear backpacks and the new mandatory rule by some high schools about these?
A: Some grade schools and high schools have gone to the clear backpack since they feel these are more secure and prevents concealed weapons from coming onto campus. But take a look at our list, no clear backpacks on it for three reasons. First of all, these aren't too durable, yes waterproof but not made to last and created more like one style for all students. Which means individuality and individual needs aren't taken into consideration. Second, there is no real proof that this solves the problem of violence in schools as several individuals against this idea including students themselves are quick to point out. Third, students don't like them and feel that these are an invasion of privacy more than anything that will keep them safe and is even filing grievances against being made to use these. However, if it is the school policy, it is necessary to follow it, since all schools have their rules from dress code to now cracking down on what type of backpack a student uses. So, if the high school has that rule only clear backpacks it has to be followed.
Q: Do backpacks cause back and other health problems in the body?
A: There have been reports of backpacks causing back pain and back problems. There have also been reports of shoulder problems and neck pain. All of this is understandable because a student is carrying their lives on their shoulders and their back. However, some backpacks such as some we featured on this list have considered this issue. Another thing to think about is how the bag is being carried believe it or not this is a factor, and there are videos online that illustrate how to wear a backpack to help eliminate these issues adequately.
Q: How can the heavy backpack problem be avoided?
A: First thing to remember that a backpack shouldn't weigh more than ten percent of the student's body weight. Second, only have the necessary items needed at any particular time inside the bag. That is where a locker could come in handy take out the books that are no longer required and place in the ones that are. Third and most important always clean out the backpack every month of unnecessary stuff that is no longer needed.
Q: Is it true some colleges won't allow backpacks in classrooms?
A: Unfortunately this is true, some universities do have this rule. They feel that fine to bring one to campus but leave it in your locker or your car. For the most part, the rule is as popular with college students as the clear backpack has been with high school students. The concern here for college students is that they would have to lug all necessary materials for each class including their laptops in their arms and if one class is right after the other no time to head back to the locker. So, they would have to take materials for more than once class carrying it all in their arms without the help of a backpack. A good argument but again rules are rules. The best course of action and it's one to follow with any school knows the university's policy before entering it as a student.