A fan or not, you've definitely heard of superheroes, sometime before now. During the '50s and '60s, these first stories were released through series' of comic strips and books. Many people who enjoyed the storylines of these heroes were thought to be "geeks" and "nerds." While that hasn't completely changed these days being a part of this category is celebrated. Marvel and DC Comics are two of the most well-known companies for releasing comics. With Disney now owning the rights to Marvel and the re-release of movies based on old storylines, superheroes are more mainstream than ever before.
Superheroes like Iron Man and Black Widow are being celebrated for things they stand for, while their action-packed storylines keep audiences enthralled. These days it seems a new superhero movie comes out in theaters regularly, sometimes one right after another. With all this attention brought back to the superheroes we loved as kids, we now have a fun and exciting world we can share with our own children and grandchildren. From movie dates to dressing up for parties or Comicon together, we can bond with our children over something we too loved, growing up.
With so many occasions that call for a superhero, your little one can have their favorite costume on hand so they are always ready for combat. The list below is comprised of 10 highly rated costumes available for both boys and girls ages 3 and up. These items are available in sets to offer children more variety during play time. Superhero costume sets are a great icebreaker for your little one whether feeling a little shy at the park or a bit anxious starting a new school.
You can help promote socialization, as children offer their new friends the chance to wear the other costume in the set. Children can engage together, in an action-packed game at the park or a new school. These set costumes are also great to use as party favors or as costumes for your child's themed birthday party. This list includes both cape sets and traditional style costumes so you are sure to find exactly what you need.
Our Top 3 Picks
RioRand Dress Up Costumes

Our rating
Good Quality Materials
Price:

See Here

iGearPro Cartoon Dress up

Our rating
Comfy & Breathable
Price:

See Here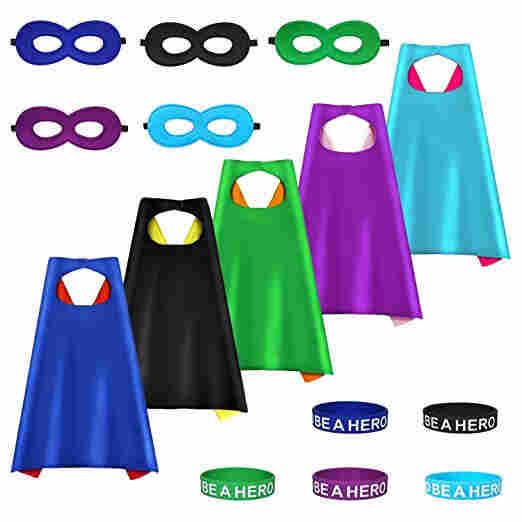 Aimike DIY Superhero Costumes

Our rating
Customizable Costume
Price:

See Here

The Best Superhero Costumes for Kids Reviewed in 2018
Rubie's DC Superheroes Flash
Disney The Incredibles Dash
Rubie's DC Superheroes Robin
Ruble's DC Superheroes Wonder Woman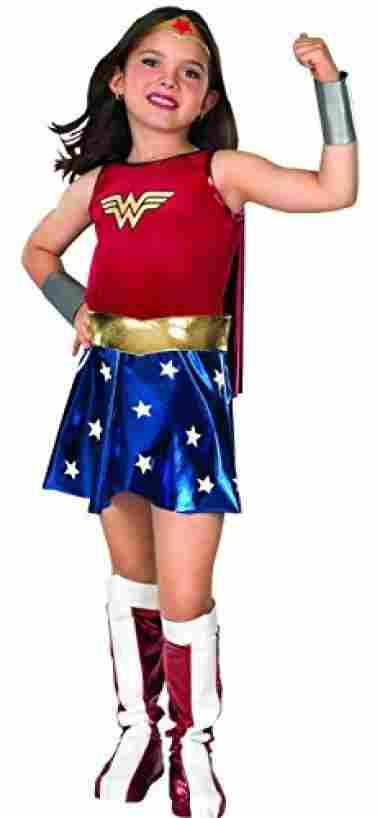 Disguise Gekko Classic Toddler
Rubie's DC Superheroes Deluxe Muscle Chest Superman
Rubie's Justice League Batgirl Tutu Dress
Teenage Mutant Ninja Turtles Michelangelo
Criteria Used in Evaluation of the Best Superhero Costumes on Our List
Clothes and costumes were once hand-stitched and took hours of care to make but with technological advancements, companies can now produce more units at a noticeably rapid rate. Parents hope to give their kids the best and it's a great feeling when we can do that while we avoid breaking the bank. Comprised above is a list of affordable costumes that are designed to be both aesthetically pleasing and durable.
These beautifully designed costumes are bright and vibrant to provide a fun and engaging tool to inspire imaginative play or to dress up for Halloween. Quality isn't measured solely on durability, these materials are safe and nontoxic. For example, the bracelets included in some sets, are made of vegetable-based silicone to avoid skin discomfort and irritation. Costumes are meant to enhance imaginative play experiences for both children and adults. These storylines provide a fun, action-packed source of entertainment that can help inspire quality time spent together.
Another important aspect we consider is a comfort. The new sensations of different fabrics can be off-putting, more specifically for a child who suffers from hypersensitivity. Children may also deeply resent the discomfort that comes with layering on cold nights. These superhero costume sets are made of materials that are soft and moldable to provide children with the most in comfort and flexibility. Some sets may also run a bit big, leaving extra space to be worn over regular clothes. The polyester and satin materials are lightweight and won't slow your little hero down. It is highly recommended to hand wash or wash on the cold/delicate cycle to prevent the colors from fading and to ensure a longer-lasting costume.
We, as parents and educators, are responsible for shaping today's youth and helping them to achieve greatness. With their stubborn mindsets, we are often left wondering if they are being exposed to proper decision-making skills. Superheroes are great characters to reinforce the notion of operating on a strong value system. Superhero comic stories, are depictions of relatable characters who've experienced great tragedy, loss or just simple rejection from the world and their peers.
They represent to children the ability to rise above their hardships. While female superheroes are not as well-known as their male counterparts, they do send a positive message to little girls about female roles. For years, women have fought for their rights and to achieve gender equality. These female icons are an exciting way to ensure young ladies are given the empowerment to feel adequate in male-dominated areas like sports, STEM studies, and politics.
Teachers become some of the most influential adults in a child's life. There is a large sentiment, both good and bad, associated with the education system. Often teachers are solely responsible for their own materials and tools. These costumes can be a fun way to inspire children to facilitate organization in the classroom.
Children can be appointed teacher's helper and ensure their peers are staying on track through the day. Allow children to set a goal of earning so many good behavior stickers and they get the exciting reward of dressing up as Superman or Wonder Woman for the day. Whether you are a family member or educator, you can give children a gift that will promote the use of skills to ensure they have the confidence and creativity to make their own dreams come true.
FAQ
Frequently Asked Questions
Q: Do superheroes promote violence?
A: You may notice your little one playing more roughly and aggressively than normal. Superheroes do send a strong message of only resorting to violence when there is no other option and only to use for the greater good.
Q: What are the dimensions of these capes? Sizes of costumes?
A: The costumes come in all ranges some with available in sizes for adults, while a couple are suited especially for babies. The capes are roughly 27 inches, or about 2 1/2 feet tall.
Q: Are there options for both boys and girls?
A: There are costumes that are made for either boys or girls.
Q: Are there good values taught by superheroes?
A: There are many values mentioned above that explain the many benefits of allowing children to explore superheroes and comic books. The criteria section above contains an explanation of some morals and values taught by these popular characters. At a quick glance, the most predominant themes across storylines provide strong values such as advocacy and respect for equality and basic human rights
Q: What are the age recommendations?
A: These costumes are recommended for children ages 3 and up. It is recommended adult supervision be used during playtime among young children. Strings and pieces can cause choking. Each costume has age recommendations specific to its own size chart.
Q: What can my child get out of this imaginative play scenario?
A: The world of superheroes has so much for children to discover, from intricate storylines to unlimited memorabilia. They can pretend to fight crime and embark on rescue missions. This, in turn, gives them a sense of confidence and good decision-making skills later in life.
Q: Who are some of the most popular/well-known superheroes today?
A: Most people have their own personal favorite, but some of the most well-known and recognized superheroes include, but are not limited too, Batman, Spiderman, and Superman.