Encouraging your child to unleash their imagination and creativity in the form of arts and crafts will stimulate their development in a variety of ways. Gripping a paintbrush, pencil, or crayon will increase their fine-motor skills and bilateral coordination. As they experiment with different mediums, they will increase their sensory skills as well as their cognitive thinking. Your child's self-esteem levels will rise as they complete each craft. By working on the crafts with your child, you will not only bond with them but also improve their social skills. Children often use art as a form of self-expression and as a way to communicate their feelings, thus it is highly important that you give them free rein to create their pieces. It is also important that you remember to enjoy the process, despite the mess. The glitter can be vacuumed up later, for now, enjoy crafting with your little one. You can easily foster a love of art in your child by providing them with arts and crafts kits. We've created a list of the 10 best kits that children of varying ages and skill levels can enjoy. All of them are guaranteed to be developmentally appropriate and will provide hours of fun.
Our Top 3 Picks
Klutz Coloring Cute

Our rating
72 Page Book
Price:

See Here
Crayola Inspiration Art Case

Our rating
140 Pieces
Price:

See Here
Art 101 Wood Art Set

Our rating
142 Pieces
Price:

See Here
Crayola Inspiration 140 Pieces
Age Range: At least 8 years old
Art 101 USA 142-Piece Wood
Age Range: 6 to 15 years old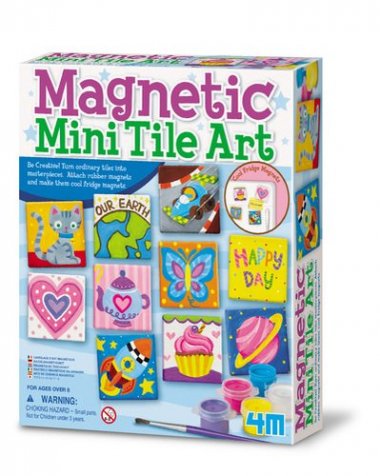 Age Range: 3 to 15 years old
Creativity for Kids Hide and Seek
Creabow Crafts Stencils and Drawing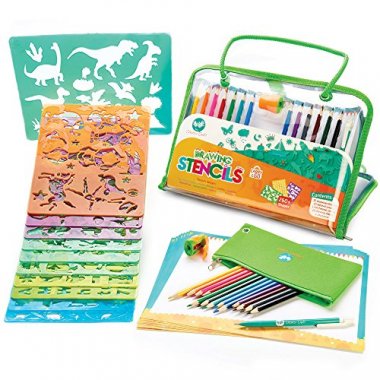 Age Range: At least 3 years old
ALEX Toys Little Hands Paper Bag
Melissa & Doug Stained Glass
Craftster's Sewing Kits Woodland
ALEX Toys Discover My Giant Busy Box
Craft-tastic String Peace Sign
Criteria Used to Evaluate the Best Art and Craft Sets for Kids
Our team searched the internet and reviewed a plethora of sets for kids. After exhaustive research, they generated the 10 best sets for 2019. We based this list on ages, functionality and how well-built the kits are. Some of the sets on the list are perfect for children just old enough to hold a crayon. Other sets are for slightly older kids who are exploring new color mediums and may want to take their kit on the road. Then there are the truly adventurous, the ones who need the tools to capture the elusive images in their thoughts. Then there are the ones who may need some encouragement to develop creative skills.
Each of the kits has been reviewed to ensure that all the materials included in the kit are of the highest quality. Quality materials to work with are very important. There is nothing worse than sitting down to create with your child to realize that everything has not been included in the kit or that the kit has included materials that are less than what you expected.
Along with quality materials, we want to make sure the kit provides children with an engaging experience, an experience that provides them with a period of time they are able to focus on a task while using their developmental skills.
As kids get a little older, they can upgrade to larger kits. The 142-piece wood art set is for children who are already enrolled in school. They can learn responsibility because these kits are larger and have the potential to lose pieces if they don't practice being tidy.
Benefits of social engagement 
There are many benefits of engaging in these projects, but one of the major benefits is to get people off their phones and provide them with a positive social experience. The projects these kits on our list offer is an easy way to provide young ones with an activity that allows them to express themselves' creatively in a positive social experience.
Whether children are creating at home with their parents or in a group of their peers, it is a social experience that allows them to engage with friends over ideas. This also creates a unique experience that they would not usually engage in. Projects like these create a natural environment to converse in and help spark their curiosity of what others create. It creates a social scene that is easy to engage in.
Why arts and crafts are important for children
These projects are fun for little ones and are important to their development. Getting messy and creating something is important to help them express creativity while also promoting their development. Teaching and allowing children to create has many lasting benefits. Some of the main benefits include:
Improves problem-solving skills
Encourages little ones to use technology less
Lowers stress levels and is relaxing
Creates a positive social experience with parents or peers
Promotes exploration of creativity
All of these benefits and more are achieved with simple and quality crafting
FAQ
Frequently Asked Questions
Q: What is the best way to encourage children to participate in an activity?
A: Often, children need a little encouragement to create because they may find it boring at first, but once they start, they usually love creating. It is recommended for parents to sit down and help them get started as this often helps encourage them to participate and try something new.
Q: Are there other things kids can draw on besides the usual paper or in a coloring book?
A: Yes, set up a dramatic play that interests them. For example, set up a pretend shop that needs a new sign. Or make paper airplanes that they can color on. The idea is that the activity is relatable to what they love best in order to encourage coloring and drawing.
Q: If I feel like I have terrible art skills, should I enroll my 3-year-old in art class? Is it too early?
A: It is a bit too early to send a 3-year-old to art class. Don't try so hard to teach a tiny kid how to draw the perfect elephant. At that age, it's all about having fun and learning how to enjoy drawing and expressing yourself. If both parent and child are terrible artists, that's O.K. Just remember, it's about having fun and exploring. When they are a little older and develop a love of drawing, enroll them in classes to enhance their talents.
Q: Are all crafting kits safe for a 4-year-old?
A: Not all kits are safe for 4-year-olds, but most will be. It is suggested that children under 3 not engage with kits with small pieces because of the choking hazard, but by 4 years old, most children grow out of that stage. The easiest way to know if the kit is safe for a 4-year-old is to check the manufacturer's suggested age group. All toys and kits must have this information included on their labels.
Q: Where can I find the kits listed on this page for sale?
A: Being able to find the kits listed on this page is easy. All you have to do is click the link below the picture. The link will take you directly to Amazon where the product can be purchased.
Q: Are there different drawing stages kids go through?
A: There are four stages of drawing and writing that kids go through. The earliest stage starts as young as 15 months old to 2½ years old. That is the random scribbling stage, where you'll have no idea what they're trying to draw, but that's fine. They're exploring different colors and practicing fine-motor skills. Between the ages of 2 and 3 years old, they go through the controlled scribbling stage. That's where their drawings start to make a little more sense. To learn more about the different stages, check out this article.
Q: What are the healthy ways to advance kids early interests in art?
A: Don't buy them complicated 3D animation software, they'll learn to hate you. And don't encourage kids by telling them they are the best and that one day they'll become the greatest artist in the world. That will fill their heads with dreams of grandeur and fame. And resist the urge to judge your kids' paintings. What is important is the understanding that it doesn't matter how good their works are. At a young age, the most important lesson is the love of art. Skill will come in time if the passion and love are there.
Q: Is crafting enriching?
A: It is one of the best enrichment activities that you can purchase. It provides children with the opportunity to foster fine-motor skills and cognitive development. This beneficial to their overall development and provides a relaxing activity to express themselves.
Q: Should parents draw something for their kids to copy?
A: Surprisingly, no. At a young age, children need to learn the love of drawing. When a child is shown how to draw then they are learning to copy drawings. If a child wants to draw something they see on a table, then use your finger to outline the object. This teaches kids to draw in the air by pointing their finger and outlining the object. Resist the urge to draw on their paper and instead help them learn by studying the thing or animal instead.
You May Also Like
20 Top Educational Toys
17 Best Board Games For Kids
12 Best Crayola Toys For Kids
15 Cool Jigsaw Puzzles For Kids