Charles H. Pajeau first designed Tinker Toys in 1913 after seeing children playing with sticks and empty spools of thread. The design centers around one singular round center with a hole drilled through the middle, and then shallower holes every 45 degrees or so along the sides. Meant to be reminiscent of Pythagorean's right triangle theory, these toys allow little ones to create all kinds of crazy structures with different sized sticks and wheels. Though they seem banal and useless, these silly sets were used to create a robot at Cornell University in 1998, and a tic-tac-toe computer now in the Computer History Museum of Mountain View, California. Their signature packaging started as a way to reduce shipping costs but has since stuck with them as an iconic component of the brand.
Tinker Toys are loads of fun for kids who enjoy building kits, and especially little creative types who might want to make more abstract structures. They're technically a STEM toy, as they do teach basic engineering and physics principles throughout construction. Most sets come with an easy-to-follow step by step guide, but don't feel tied down to "follow the rules." There's no wrong way to play with Tinker Toys!
The Best Tinker Toys for Kids
30 Model Super Building Set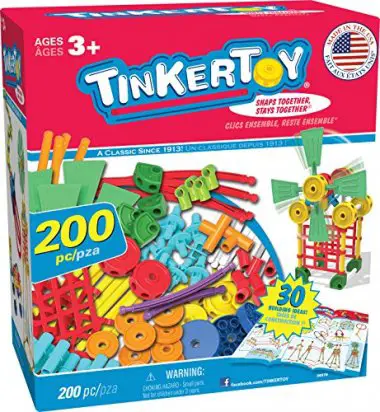 100 Piece Essentials Value Set
Essentials Value Set 150 Pieces
65-Piece Essentials Value Set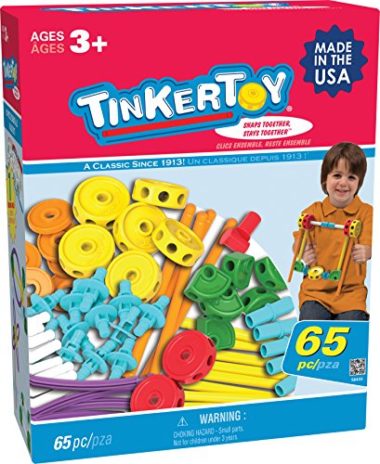 Little Constructor's Building Set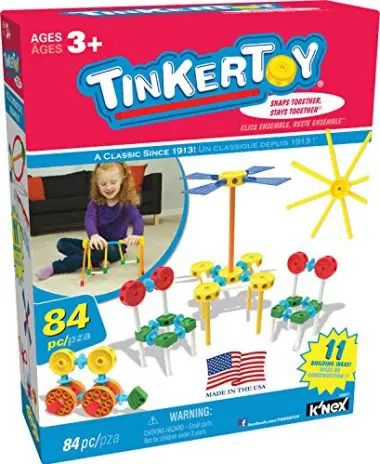 Criteria Used In Evaluation of the Best Tinker Toys for Kids
Many people are well aware of the company known as Tinker Toys. The company has been in business for more than 100 years and has undergone several new ideas in order to keep up with the times and continue to provide children and families with the ability to build and create together.
Offering a number of different building sets and products that are highly appealing to boys and in recent years even girls, their original goal was to provide children with a fun toy that will inspire imagination.
Over the years, studies have shown how different parts of the brain can be affected or even strengthened by partaking in certain activities or utilizing a specific set of muscles. Tinker Toys touch on a number of benefits for both fun and development.
From the very beginning, children may have a hard time clicking toys into place. If you find they have a hard time, this may be because their finger and wrist muscles are not strong enough to do these tasks. In addition to encouraging them to keep trying, as that is the only way to increase strength, some cool activities to try are sorting and counting pieces. While this may not seem like the most exciting or engaging activity you can do with your child, it will lay some very basic and important foundational skills.
Color and Shape Recognition
Color and shape recognition can also be strengthened by the use of these toys, as they come in a set that has a number of different shapes such as wheels and spools. You can help your child make associations by asking them what other things they know of that have or resemble the same shape. You can go deeper with your explanation by pointing out that there are shapes that look similar but they have major differences, for example, shapes like circles and ovals. By exposing children to these concepts early on, they are given the opportunity to get a few steps ahead and to see growth both physically and intellectually.
Hand Muscle Strength
Muscle in the hands and wrists are used constantly and improving and strengthening these muscles lay the foundation for writing and using scissors and other tools in school. This can also show abnormalities in your child and the way their muscles are developing. You can begin to recognize if they need more care and attention to a certain aspect. These activities can help to give you a better understanding of your child and their strengths and weaknesses.
During the years in which we spend nurturing our bodies and brains to prepare them for who we will become, we are told the importance of planning our future and knowing exactly what we want to do in life. As adults, we are well aware of how overwhelmingly intimidating it can be to decide what to do with our future. We know things in life don't always play out accordingly to our hopes and plans.
Using Tinker Toys to Introduce STEM Concepts
By providing our children with a range of games and activities, we give them an inside look at the most basic concepts pertaining to certain jobs or careers. For parents who think it vital to expose their children to STEM studies, Tinker Toys make a great selection. They will inspire hours of fun and creativity while simultaneously exposing children to certain engineering and mechanics concepts. Some sets even allow for exposure to architecture. Children can spend hours building a number of creations that will function as cars, bridges or even buildings.
How it All Started
Tinker Toys were originally created with the intended purpose of inspiring imagination and creative play among children in both social and solitary settings. These toys can be used to introduce children and get them excited to engage in playtime together. These sets are also ideal for inspiring family time spent together.
You and your children can experience hours of laughter with countless creations. Tinker Toy sets also provide benefits such as improving hand-eye coordination, fine-motor skills, and finger dexterity. Tinker Toys also do wonders for developing spatial awareness by providing a fun and nurturing toy to children.
And the Last Few Things We Considered When Picking
The last few aspects we took into consideration are prices, age recommendations and the size of the pieces. The pieces are sized in a variety that is great for little hands to easily grip. There are some small sets with mini pieces that are better-suited and intended for use by children who are a little older.
These toy sets are appealing to children who are ages 3 and up and they offer so many possibilities that the fun will never stop. These toys are great for use by people of all ages, giving your children, parents and even yourselves the opportunity to build and bond together. The last factor to address that went into the compilation of this list is cost.
While there is definitely something to be said about the correlation between high quality and high cost, it is entirely possible to give children a gift they'll love without going over budget. The sets on this list range in price, each offering a different number of pieces, that will allow you to find the right number of pieces for your little one at a price you will love.
FAQ
Frequently Asked Questions
Q: Are the pieces too small to use with or around toddlers?
A: There are sets that offer pieces of different sizes, however, it is still likely that infants and toddlers can fit these pieces in their mouths, increasing the possibility of choking.
It is highly suggested these toys be played with under great care or not around toddlers at all. Under no circumstances should a toddler with access to these sets, be left unsupervised.
Q: Are the pieces compatible with other sets?
A: The Tinker Toys company has spent years trying to perfect children's building toys. The new styles, designs, and materials used to make these sets have been improved for aesthetics or the health and well-being of our families. This means that with each new set, comes changes that may not be compatible with older sets.
Q: What materials are the toys made of?
A: Tinker Toys are made mostly of high-quality plastics, there are some sets that do come in wood if you are not comfortable having plastic in your home.
Q: Why are these kinds of toys beneficial for my child?
A: One factor that makes these sets great to consider is its gentle ability to offer mental stimulation to children who may suffer from hypersensitivity or in other words, children who easily face sensory overload.
They are engaging and offer a range of colors and textures but there is no noise, the colors are calming and familiar, and last of all, there are a number of textures to feel without each piece having too much going on.
Q: Do they provide developmental benefits?
A: In addition to many others, Tinker Toys help the brain strengthen pathways that are specific to improving memory, cognition and spatial awareness.
Q: What are the age recommendations for these toys?
A: They are not recommended for use for children who are younger than 3. Although they may or may not appeal to older children or teens, the age recommendations for these are up to age 50, and can probably go higher if you needed. They can do a lot for finger dexterity and have also been shown to stimulate the brain in a manner that can help to slow the process of dementia and other brain abnormalities.