What can't you build with the wonderful world of LEGOs? Responsible for some of the most varied toy lines out there, LEGO really has made sure there's a set available for everyone. From spaceships to real historical monuments, to fun, silly farms with colorful animals: you won't run out of options any time soon. And LEGOs are a developmentally beneficial toy as well. Building with them helps to improve problem-solving skills, dexterity, hand-eye coordination, logic and reasoning, and the ability to follow directions. Building in a group enhances social skills and the ability to cooperate.
But LEGOs aren't all fun and games. If you have a building enthusiast, you likely know by now the pain of waking up in the middle of the night and stumbling across a minefield of tiny, pokey bricks. LEGOs are often small and easy to lose track of. Make sure you're never missing (or stepping on) pieces by investing in a quality LEGO storage unit. There are storage chests with wide, deep, open spaces, ones with dividers for categorization and delineation, ones that are fun and thematic to accent your child's room and emphasize their love of creative construction. We've gathered our top 10 favorites below. Put a cap on the band-aid budget; these will save lots of little heartaches over missing pieces, and plenty of stubbed toes and sore soles.
Best LEGO Storage Ideas
Akro-Mils Craft Cabinet

With 12 large storage bins and 32 smaller ones, all virtually unbreakable, this Akro-Mils Craft Cabinet is also a pretty extensive option for LEGO organization. This hardy high-impact polystyrene frame can be wall-mounted or stacked. The drawer divides are molded into the back of the cabinet, so everything fits clearly and easily. The large drawers measure approximately 4⅜ x 2 x 5¼ inches, and the smaller drawers measure 2⅛ x 1½ x 5¼ inches. The transluscent plastic will allow your family to see the pieces inside, making organization accessible and identification easy. Fuss-free finger grips mean little ones can get in and out of the drawers for their favorite building blocks whenever they please.
Benefits– This system allows kids to categorize their LEGOs during clean up and storage. The translucent drawers mean children can see their toys as well when they go searching. With ample room and two different sized drawers, this craft cabinet could feasibly hold a pretty ambitious LEGO collection, and some other toys besides.
What We Like About It– This Akro-Mils unit allows lots of dividers for your children to sort their LEGOs. They won't just be storing them—they'll be organizing them as well. They can sort them by color, set, or size. And they'll always be able to see into the drawers to know what they're looking for!
Pros
44 total drawers for storage
12 large storage bins and 32 smaller ones
Clear, sturdy, flexible plastic that you can see into
Easy grips on the drawers
Compartmentalization promotes categorization when children clean
Cons
Drawers tip forward easily
Not ideal for storing finished LEGO sets
Rack Storage System 

This is a moveable storage wall that neatly organizes large Lego collections. Each bin can be labeled to help its owner pick up desired pieces quickly. These racks contain several storage bins of different sizes, and they are held on a 7-tier rack. The wheels are 3" in diameter and they can lock the entire unit in place.
Benefits– Categorizing Legos makes taking inventory a breeze. Kids who become Lego artists can focus on creating works of art instead of wasting too much time looking for the right pieces. Kids can also learn the fine art of organization. Great organization skills are in high demand for many professions. Leaning to organize early can help children do better in school and many other areas of life.
What We Like About It– The solid design makes it look clean and organized. It is also lightweight enough for parents to easily move around the house.
Pros
The bins lock into place.
When the bins are pulled out they can stay in place on the shelf without spilling its contents.
The size makes it a convenient storage space for any room in a home or office space.
It can be used to store other items too, but it does a great job of keeping the plethora of Legos organized.
Other colors are available like units that come with blue storage bins or yellow.
Cons
The bins are not see through, but each container can be labeled.
The insecure bins makes it easy for tiny toddler to take down and spill all of its contents.
Yellow Head, Boy and Girl Options
This is basically LEGO inception. Store your LEGO blocks and figures inside a giant LEGO head. The unit measures 9.4 x 10.6 inches and is made from PVC-free polypropylene. The top lifts off to reveal the storage space, and the head is a cute way to keep LEGOs tidy and out of the way. Kids will actually enjoy cleaning up with the silly assistance of this big yellow head. Put it on their desk or a shelf next to their completed sets to show their collection off!
Benefits– This unit makes tidying up a little more entertaining. Children will love using the giant smiling head to store all of their tiny bricks, and it looks great in a kid's bedroom or playroom.
What We Like About It- There's a smaller size unit available as well, if the large one is too clunky. This piece is versatile, with boy and girl heads to choose from in addition to the size. And it's a solid way to spice up an otherwise boring organizational system.
Pros
9.4 x 10.6 inches of storage space
Lid stays on but is easy to open up
PVC-free polypropylene
Fun, decorative way to stay clean
Available in both girl and boy units
Cons
Not practical for storing finished LEGO sets, as they may break apart inside
LEGO Storage Brick 8 Blue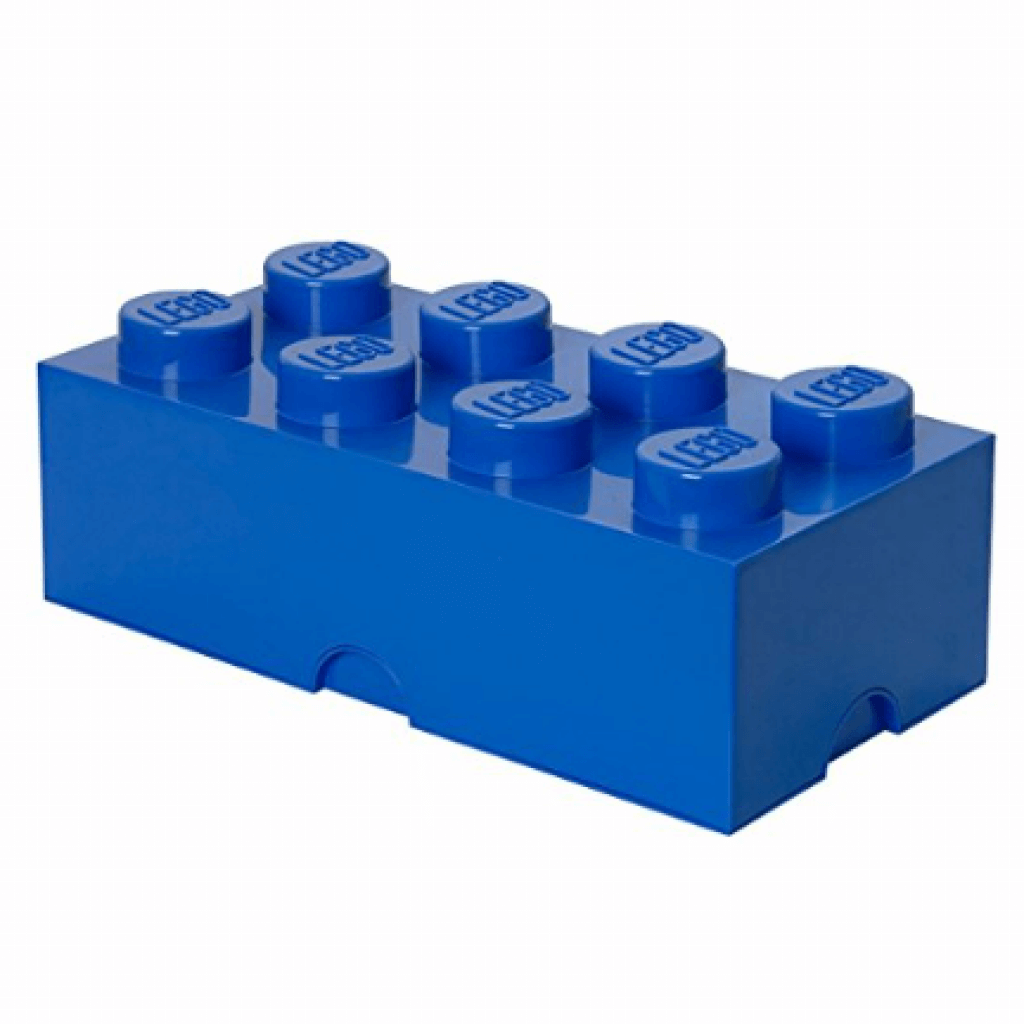 This is one of the coolest Lego storage devices on our list. It is a large storage case disguised as a Lego brick. The brick we are featuring is blue, but there are several colors to choose from like red, yellow, green, white, etc. The brick has the same feel as all the other Lego pieces and it looks great in a kids room. These are official Lego merchandise and they are a must have to complete a serious Lego collection.
Benefits– Picking up Legos and putting them away is fun when kids use this Lego brick storage. Larger collections can mix colors to grow storage with a collection. Parents can also play with their kids and teach them how to put their Legos away. People who have office pets can use these bins as fun novelty pet beds. We just don't recommend closing the lid on them.
What We Like About It– Parents can use this blue Lego storage bin to house a kid's presents at their Lego themed party. Ice and drinks can also be placed inside this large Lego instead.
Pros
This storage block can stack on top of other Lego storage blocks.
Other items can be stored in the Lego bin like blankets or kids toys.
This Lego storage brick can hold about 1,000 regular sized Lego pieces.
The lid fits snuggly on the bin, so when the Legos become unstacked the lid doesn't come off.
Cons
At the bottom of the Lego bin there are holes that little Lego pieces fall through and get stuck in.
Kids like to empty this units contents to make it easier to stack with other similar units
LEGO Dimensions Gaming Capsule

Not every kid on the block has the biggest collection in the land. Some have a modest collection because they like to build a few things here and there. Kids with a small Lego collection can normally build things like a tree with a car on a small island. But just because they are small doesn't mean they are basic. Lego sets come with many specially shaped blocks to enable pretty amazing plastic sculptures. This transparent case makes organizing Lego collections like these a breeze.
Benefits– This case is so compact and slick that it can easily be stored away. It can slide under a little toddler's bed or crib. It is lightweight, even with the additional weight of Legos, kids can carry it. The added weight will help them work out their little muscles as they haul their Lego case around the house.
What We Like About It– The cool blue color of the case makes it so that it can be gifted to both girls and boys. Girls and boys will love to decorate their box with stickers and make it personalized.
Pros
These cases can stack on top of each other.
Its small size makes it easy to take on trips.
Kids can share their Lego kit because kids can put the Legos back where they clearly belong.
Families can order a maximum of three boxes per order through this toys link to Amazon.
Cons
The kits don't actually snap together.
There is no handle for kids to use, they need to hold the box with both hands or under one arm.
LEGO Storage Brick 4

This red Lego brick is medium sized but compact. It looks great on desks and on tables. But this little brick can store a lot more than just Legos. It can hold fruit or drinks during an office party or blankets and books if enough pieces get lost.
Benefits– Kids can use this type of brick along with others from the same company to stack their giant Lego collection. The bigger their collection becomes, the more storage devices they'll need. This solution is compact and perfect for ensuring growing collections stay together.
What We Like About It– They can be used as snack boxes that hold tasty treats and drinks. They can also be used as gift boxes for birthdays and holidays.
Pros
It can stack on other Lego storage blocks, like the ones from our list.
It is made from safe materials; it is made pvc free and polypropylene free.
This Lego storage box is great as a gift box for the holidays.
The red brick comes in other colors like black, pink, green, blue, white, yellow and light green.
Cons
There are small grooves at the bottom of the container that tiny Legos get stuck in.
Cookies can be placed in this kit, but crumbs will fall into the inner creces.
My Brick Case

This is a fun kit that lets kids play with Legos just about anywhere and on-the-go. They can play in the car, at the park, and share their collection with friends and family. The Lego base inlays help keep the small pieces from scattering about and accidently falling out and getting lost. Kids as young as 4-years-old can benefit from this Lego storage bin.
Benefits– The design makes it comfortable for young children to manage. The case won't accidently pop open or easily break. Kids that regularly play with Legos may become inspired to pursue a career in engineering. Legos is so much fun that it keeps kids entertained while they work out their brains along with their bodies.
What We Like About It– This kit can be used inside a restaurant because it keeps kids sitting at the table instead of wandering around.
Pros
The plastic makes it easy to clean and wipe down.
This kit is also available in red, but always check to make sure it's available.
This case includes 50 Lego bricks.
The plastic materials the kit is made from is safe for children to use.
Cons
Taller stacked Lego pieces will have to be disassembled so that the lid can close.
The handle is big enough for small hands to use, adults fingers can get stuck.
Kids Construction Play Lego Table 

This is a classy table that has fabric drawers and a flappable table top. Kids can use the flat side to study, eat, or to color books on. The other side is designed to play Legos on. The different wood blends with many modern day furniture styles. It is also a great table to have in preschools and small classrooms. Kids as young as 4-years-old make great use of this fun activity table.
Benefits– One drawer can be used to house Legos, and the other can be used for small toys or items like crayon boxes and books. Kids can sit and play or study comfortably at this table. While it's small enough to easily fit in a nursery, kitchen or living room. If there is a covered balcony, kids can sit outside at the enjoy the weather at the table while building or having a refreshing lemonade.
What We Like About It– Kids can do almost anything at this table. They can play with puzzles, do crafts, play games, set up a doll house, etc.
Pros
You have two choice of colors: espresso and white.
The location of the drawers makes it easy for kids to slide their toys from the table to the drawer.
Additional chairs that match this set are available online for purchase.
Duplo play sets are also compatible with this table.
Parents can use this table for kids to sit at during large family dinners.
Cons
The table is made from real wood, it is susceptible to scratches.
This kit doesn't come with chairs.
Brik Tower by Strictly Briks

This tower is special because it is not your standard Lego storage devices. This type of tower is for builders who want a place to store their creations. Many Lego storage devices require builders to destroy their projects after playtime is over. This tower has 6 different platforms that Legos can be securely stored on.
Benefits– Kids can use this tower to do more than store their creations, they can also use it to play as they create. Kids can use their imagination to create tree homes for imaginary elf villages. Or they can build a Lego fort for their toy soldiers. With the right pieces, the possibilities are endless.
What We Like About It– It keeps Lego creations from being taken apart too soon. Lego fans of all ages can appreciate this type of Lego tower.
Pros
The base plates are stackable, people do this to give the bases sturdier support.
This type of tower can sit on a play table nicely, but it can also be placed on the floor.
Kids like to recreate Lego scenes within the tower, their imagination runs wild.
It helps keep Legos off the floor more often.
Cons
If too many Legos are stacked on one side the tower can fall over.
Only one color scheme is available with this classic baseplate kit.
Tot Tutors Kids 2-in-1 Plastic LEGO Activity Table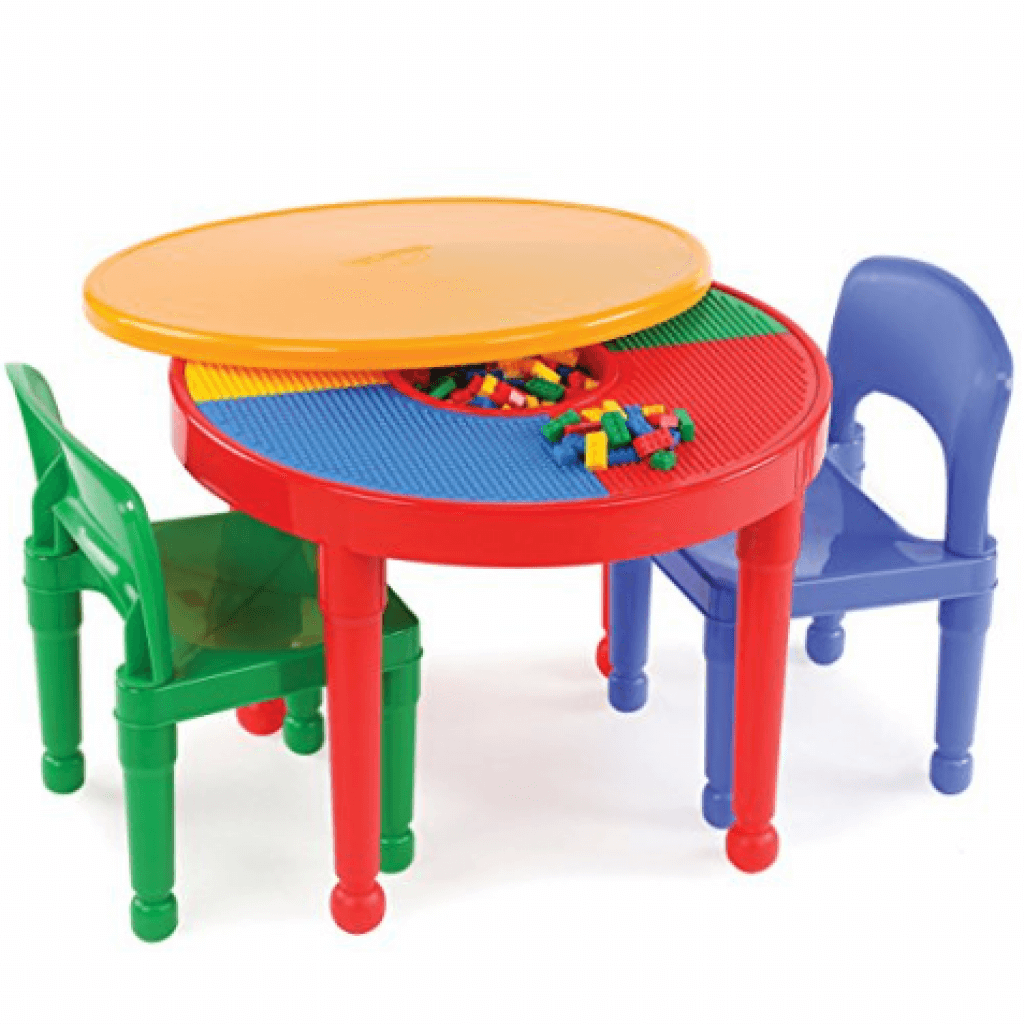 This is a neat table set that includes two chairs and a multi-functioning table. The table is short with a convertible top. The bottom layer contains Lego bases that kids can use to build Lego creations. The center contains a basket that can house loose Lego pieces. A flat top can be placed on the table so that it can be used as a place to eat, study, draw, etc. It comes with two chairs that little tushies can comfortably sit in.
Benefits– The table stands shorter than other standard tables. This makes it more comfortable for children to sit and play. The chairs and table set help kids to understand how adults sit at the table. But they don't have to sit all the time at their table, kids can choose to sit or stand at the round table to play. They can also invite other friends to play and create long lasting memories.
What We Like About It– This set fits well in a small kitchen area where kids can sit and play while parents are cooking. More matching chairs can be purchased online. Then four kids can play or eat at the table easily.
Pros
In all awesomeness this set is available in two different color schemes: bright and primary.
Built with a top that is easy to put back on the table, it snaps on.
The plastic materials the set is made of make it easy to keep clean.
It is so easy to assemble, a 3-year-old can do it.
Cons
The blocks shown are not included in this kit.
Has a table cover doesn't flip over, it can be cumbersome to have a lid lying around the house.
Here are some tips on how you can address the minor hiccup in having several sets of Lego in your child's playroom.
Sort Lego by the Shape of the Bricks 
One of the best ways to store your kid's Lego bricks is by sorting and organizing them into shapes. For example, you can group all 1x2s, 1x4s, 2x4s, and other sizes together. It doesn't really matter what color they are because what is more important is that they belong to the same shape. You can then put each shape in a container or even a resealable plastic bag. This should help your kid choose the right shape for the model the he or she is building. It's easy and a very effective way of storing your kid's building block set.
Sort Lego by the Color of the Bricks 
If you don't like sorting the bricks according to shape, why not sort it according to color? This should come in very handy in playtime building activities that call for uniform colors. Now, there are certain caveats to using this method. If your kid is using unusually odd or funny shapes of bricks, it may not be the best method to store your Lego. This is primarily ideal for the classic Lego System bricks. You can then store each colored brick in clear tubs or bins and create a wonderful rainbow of colors in your kid's bedroom.
Sort Lego by Purpose or by Type 
Not many individuals use this method but we find it one of the most useful ways of storing and organizing your blocks. For example, you can put building blocks used for building vehicles together like wheels and engine blocks. You can also group those blocks that are often used in the construction of houses and similar structures like windows and doors together. You can also organize them by people or the mini figures that come with each set.
Stack Similar Bricks Together 
Here's a really ingenious way to store your kid's Lego bricks. It doesn't need any container. All you need is the base board that often comes with the building play set. For example, if you have a 24×64 base board, then you can use this to stack the different shapes or sizes of bricks. You can stack 2x4s in one tower then add alongside it a 2×2. You can also stack other shapes in the baseboard. If you like, you can use one baseboard just for one particular shape or size of brick. Simple.
Use Your Tackle Box or Mini Drawer Cabinets 
You can use fishing tackle boxes or even small multi-drawer cabinets to help organize and store your child's playthings. You need those compartments to store the different shapes of the bricks. Or, you can also encourage your kid to arrange his or her bricks according to color. This is especially useful if your kid only has one or two sets of building toys. If his or her collection is already extensive, then you will need something definitely bigger.
Use Shoe Hangers or Organizers 
Know those shoe organizers that you can hang on the back of your bedroom door? You can use this same organizer to store your kid's building bricks. You can sort them according to color or even by their shape or size. Choose one with plastic pockets so your kid will know what is inside. Additionally, you can put labels in front of the pocket.
Use Large Empty Jars with Lids 
If you have plenty of empty jars which you no longer use, you can turn these into colorful containers for Lego bricks. All you need is a little creativity and a whiff of imagination and you now have a very simple yet truly effective storage system. Here's another tip – if your kid has a double deck bunk bed, why not attach the top of the jar's lid in the underside of the upper bunk. Your kid can then screw the jar onto its top. So you now have several colorful hanging jars. Alternatively, you can apply this same technique on other furniture in your kid's bedroom. Just make sure that it is low enough for him or her to reach it.
Use Plastic Bins 
Visit your favorite home and living retailer and get plastic bins. You can then use this to store the different bricks. This is especially useful if your kid already has an extensive collection of building and construction play sets. Additionally, you can decorate each bin.
Utilize Old Shoe Boxes 
Need a more practical solution to your storage woes? We're pretty sure you have plenty of empty shoeboxes at home. You can decorate these a bit, label them appropriately, and you could have one of the most inexpensive ways to store your kid's building blocks and other playthings. Here's how you can amp it a bit. Cut a rectangular window on the cover of the shoe box. Cover the opening with clear plastic on the inside surface of the box cover. This gives your kid an idea of what bricks are present in the box.
Repurpose Old Cabinets or Other Furniture 
If you have an old cabinet or any furniture in your basement, then why not let your creativity flow and turn this into a unique storage solution? Not only are you breathing life back into these old furniture, you are also addressing your need for efficient storage.
Organizing and storing your kid's Lego play sets should not be a headache. It's all about using an empty space to help store those colorful building bricks in a very organized and systematic manner.
Criteria used for the Evaluation of Best LEGO Storage
The storage kits on our list are meant for the average household. Some modern American families will own one storage bin of LEGOs while others may own dozens of bins. We chose not to include Tupperware bins on our list because they are often too big to store all but the largest collections in an organized manner.
Parents often get frustrated or angry after stepping on loose blocks. Kids get frustrated when they need to dig through all of their LEGOs to find the one block they need. LEGO storage bins that are designed to keep LEGOs together in one place and off the floor are the best. Having somewhere to keep them in one place make playing with LEGOs a more enjoyable experience for everyone. And parents will be more willing to buy more LEGOs if they don't step on them.
There are not many people who have collections with hundreds of thousands of blocks so we chose not to include industrial storage solutions in this list. They deserve one of their very own because some people own LOTS of LEGOs. These LEGO enthusiasts/artists create some of the most stunning work imaginable. Their massive collections of finished LEGO sculptures will be worth a fortune in the years to come. If they can keep them in good condition that is. Individual or damaged LEGOs are normally worthless but the sculptures builders make can be priceless.
People are sometimes employed by the LEGO company to create large statues made entirely out of LEGOs. Talk about a dream job, who wouldn't want to get paid to work with LEGOs all day? These artists can create pieces like a giant LEGO octopus, the giant yellow-headed LEGO man, large LEGO vehicles and so much more.
Adults who play with LEGOs don't have to be artists. They can be average joes who enjoy the nostalgia of playing with the LEGOs from their childhood. Perhaps they saw a kit from their favorite franchise and just want to create the picture on the box. Whatever the reason, people of all ages need a way to store these colorful little blocks.
FAQs
Frequently Asked Questions
Q: Why should kids store their LEGOs?
A: Storing LEGOs properly is the best way to keep them from being stepped on. Even a small collection can easily cause havoc underneath everyone's feet. LEGOs need to have their own storage boxes to keep the pieces from getting lost less often. The older kids get, the larger their LEGO collection becomes. As the collection grows, the LEGO storage containers need to become sophisticated and neat.
Q: How sophisticated should LEGO storage become for large collections?
A: There are LEGO enthusiasts who continue to collect LEGOs far into their adult lives. These adults dedicate rooms to house their LEGO collections. Their walls are filled from top to bottom with clean and easy to read storage bins that house their various LEGOs. The more organized, the easier it is to find each piece. Professional LEGO artists need to be extremely organized and require sophisticated LEGO storage units because they are working with millions of pieces.
Q: Should parents allow their kids LEGO collection to run wild?
A: LEGOs are fun, but not everyone should collect millions of LEGOs. Cleaning all the LEGOs will take hours of work daily, and the children aren't going to do it. Collecting a large amount of LEGOs is better for adults who can afford the care of these toys and the proper storage room to house them. If kids show that they are responsible and can keep their LEGOs clean and the floor clutter-free then why not let them have their LEGOs?
Q: What type of storage container is best to house kid's LEGOs?
A: The LEGO storage containers should be for LEGOs only. Other toys shouldn't be stored with LEGOs because of how many pieces there are to keep track of. Storage tables are great for kids because it keeps all LEGOs in one area of the home. If kids leave their LEGOs on top of the play table, then at least they are off the floor and away from feet. LEGO storage containers or any toy box doesn't need to be boring, it can be fun. Some toy boxes look like pirate treasure chests, LEGO chests are just as fun.
Q: Can people make their own LEGO storage containers?
A: Of course they can diy their own LEGO storage containers. It's just easier and convenient to buy an already-made container that works well and is made to house LEGOs. But for those who love to craft, making a personalized LEGO treasure box sounds like fun. It can also create a bonding memory if the project is done as a family with the kids involved.
Q: How many LEGOs is too many?
A: That is difficult to answer. Interesting fact, there is a man that owns more than 250,000 LEGO pieces. What makes him more interesting is that he neatly stores all of his LEGO pieces. He has a giant room with walls covered in perfectly aligned storage bins. It all depends on storage space available and how much love a person can have for these colorful, stackable little bricks. Is someone willing to pay a monthly storage fee to house their millions of LEGOs? I would like to see that kind of collection, but luckily there's a theme park called Legoland in California.
Q: Are there classes kids can take to learn how to handle LEGOs?
A: Yes, there are "masterclasses" that kids and adults can take. These classes instruct on how to store, maintain and keep the LEGOs clean. LEGOs are extremely fun to play with, but they can also become very dirty. It is important to keep the spread of disease and germs down to a minimum. Kids are notorious for getting sick and bringing illness home to their families. It's best to keep their toys as clean as possible.
Q: Who plays with LEGOs?
A: Kids are not the only people who play with LEGOs. There is a nurse who uses LEGOs to relax after she has a long shift. She says that LEGOs help her relax. It's not uncommon for average adults to play with LEGOs. Not all adults are professional LEGO artists, they just have a craving to build a LEGO Millennium Falcon or two. It's also fun to bring LEGO creations to show and tell at school.
Related Posts You May Like
Top Lego For Boys
Top Lego For Girls
Top Star Wars Lego Sets