10 Best Meccano Sets & Toys for Kids in 2019
last updated
Aug 12, 2019
The winner of multiple awards, these toys are perfect for curious young minds that are looking for something a little more flashy and challenging than standard building sets. Meccano has collaborated with multiple universities and schools to ensure that its toys are in line with their STEM incentives. Featuring metal and plastic components with motors and specialized mechanized functions, Meccano sets are laying the foundation for success for our future engineers and inventors. Here, you'll find 10 of the most well-rated and user-friendly toys in the Meccano line. It's their mission "to give today's young minds the tools to become tomorrow's innovators." We think they'll be well-equipped!
In a Hurry? The test winner after 37 hrs of research
Super Construction 25-in-1
Why is it better?
25 different builds
Includes 6V electrical motor
Recommended Age: 8 years and Up
Comes with over 640 parts, tools, and storage case
Promotes STEM learning
In a
Hurry? Editors choice:
Test Winner: Super Construction 25-in-1
21
Researched Sources
37
Hours Researching
18
Products Evaluated
Design
Educational Value
Entertainment Value
By Default
10 Best Meccano Sets & Toys for Kids Reviewed
1

. Super Construction 25-in-1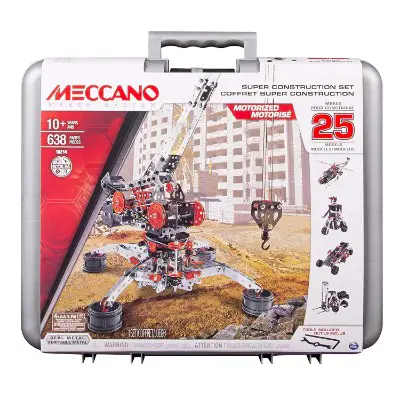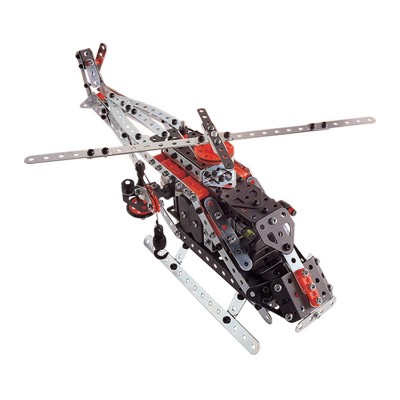 25 different builds
Includes 6V electrical motor
Recommended Age: 8 years and Up
Comes with over 640 parts, tools, and storage case
Promotes STEM learning
Builds are very difficult for the recommended age group and may require adult supervision
Pieces do not stay in storage compartments when the case is picked up
The Meccano Super Construction Set is a massive beginner's introduction to the world of erector kits. Providing over 600 different parts, this kit also includes instructions for your child to create one of 25 different vehicles from forklifts to helicopters.
Read more
Design
It comes with a 6-volt battery compartment that can also be built to provide power to their creations and turn them into real, working models that can spin, lift, and race. Use the provided design manual or create your own, either way, your kiddo can enjoy days of entertainment and education with this huge kit!
Educational Value
This kit encourages STEM learning that promotes the use of Science, Technology, Engineering, and Math skills in play. Real tools are included to provide a practical, hands-on learning experience that will teach your little one how to properly utilize construction tools and instructions. Follow along with the immense design booklet to follow one of 25 different available designs that can encourage reading comprehension skills as well as direction sequencing. The builds themselves are excellent ways to develop fine motor skills for younger children as well.
Entertainment Value
The sense of satisfaction from completing a model is also ideal for positively reinforcing good behavior and building self-esteem. Metal pieces, dozens of build designs, and hundreds of parts, this kit supplies all that your child could possibly need to encourage freeform creativity and get them to turn their screens off.
2

. Micronoid Green Switch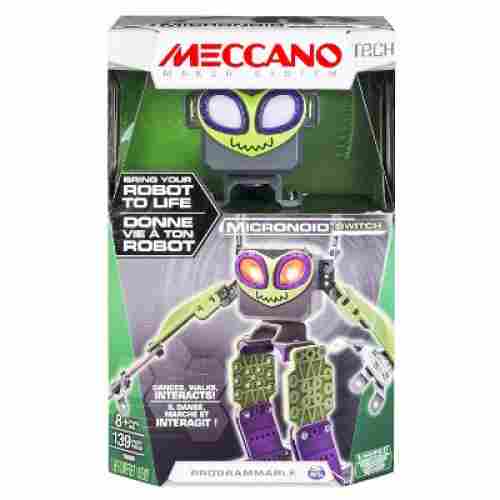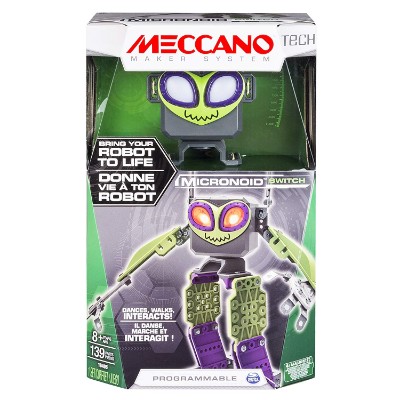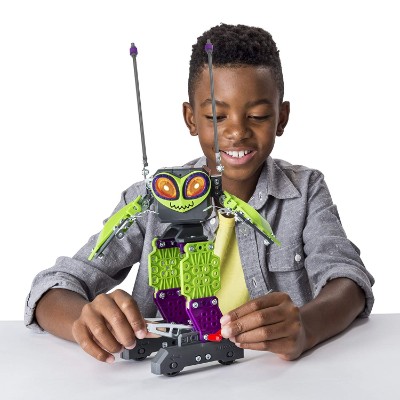 Has 139 pieces
Operates with push-button programming
Includes 3 modes of play – 8 balls, Dance, and autonomous
Comes with hand tools and instruction booklet
Will interact with other Micronoid robots if they are close
Parents say it comes with too many screws
Model is hard to put together for some kids
Socket, the Green Switch, is quite the personality among toy robots. Once kids put him together, he had three distinct modes of operation. He is easily operable with push button programming, so there is no need for remote controls or operation with a smartphone. A fully illustrated instruction booklet and hand tools come in the kit to make assembly easy and trouble-free.
Read more
Design
There is the 8Ball mode in which he will answer yes and no questions and say cute phrases. In the Dance phase, he will show you his moves if there is music close by. In the last mode, Socket does whatever he wants, whether it is whistling, moving about, passing gas, laughing or something else unique to his spirit. This robot does require batteries that are not included, so those must be purchased separately.
Educational Value
Programming and assembly have never been so fun as with this Meccano kit for Socket. He will teach kids how to follow directions, improve their fine motor skills, and increase their cognitive talents, all while they put him together. It is then that the real fun begins – when he comes alive!
Entertainment Value
This robot will interact with another robot of the same kind if they are nearby. They can talk and dance with each other to entertain kids for hours. This little guy has quite a personality! Seems like a real guy that likes to laugh, dance, whistle, and joke around. It is astonishing that it comes from a robot that you put together yourself.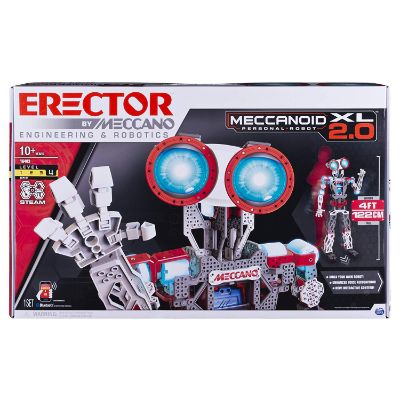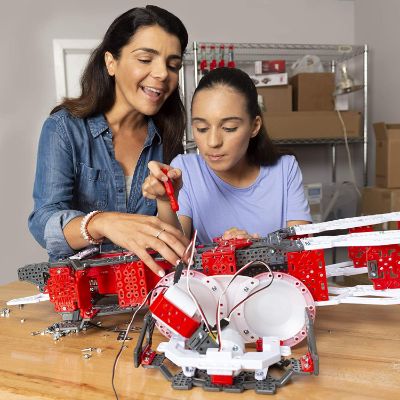 Learned Intelligence Movement
Connects to smart devices
Pre-programmed with over 3000 phrases/prompts
Motorized feet and articulated at head/arms
Can customize the programming
Instructions can be hard to follow as the pieces are not numbered in the guide
Some customers ran into updates and server problems and had to take apart and reprogram
The Erector XL provides the pieces and knowledge necessary for your child to build a personalized and fully-articulated robot. The robot will stand at almost four feet tall once constructed and contains over 3,000 pre-programmed phrases. You can program the Erector Meccanoid XL three different ways and it will even follow voice commands!
Read more
Design
Standing just under four feet, this robot pal is pretty sizable, making him all the more impressive! Kids will love getting to build the robot and learn the programming skills necessary to make him do all his cool little tricks. He looks friendly, moves around on motorized feet, and is articulated at the head and arms for more realistic movement.
Educational Value
Geared towards children ages ten and up, this STEM building kit combines logic skills, problem-solving, hand-eye coordination, dexterity, and computer programming. It has ten motors and stands pretty tall once constructed, making it a hit with kids everywhere.
Entertainment Value
Who doesn't want their own robot pal? This little robo-buddy features Learned Intelligence Movement (LIM), can communicate with smart devices and is equipped with all kinds of awesome party tricks. Program the Erector XL to follow your voice commands and to learn as you both grow together.
Includes over 78 parts and tools
2 unique ways to build
Promotes STEM learning
Recommended Age: 8 years and Up
The plane does not include motor and is not capable of flight
Contains both plastic and metal pieces
If your little one has shown an above average inclination towards the mechanical, the 2 in 1 Stunt Plane Model Building Kit by Meccano will provide the next level of difficulty above and beyond Legos that can help encourage and foster your young engineer.
Read more
Design
This kit includes over 70 different parts and tools as well as instructions to build 1 of 2 unique stunt plane models. This model is designed to provide an age-appropriate challenge to your child, so some reading skills and patience are required.
Educational Value
This kit can also be helpful in providing an outlet for special needs or autistic children who may have the artistic and mechanical skills needed to create but struggle with attention span or mobility issues. This kit allows your little builder to get a hands-on learning experience as they work with real metal pieces such as nuts, bolts, and wheels using the included tools. Hands-on building activities such as erector sets are an ideal way to develop hand-eye coordination as well as develop fine motor skills in young children. The complex instructions encourage reading comprehension and sequencing. Designed to stimulate your child's interest in STEM-based teachings, this model kit can introduce the major principles of science, technology, engineering, and math in an engaging way that also develops their persistence and resilience.
Entertainment Value
This kit can provide your little one with hours of enjoyable creativity without the use of screens or technology and give them an authentic sense of accomplishment once the plane is complete.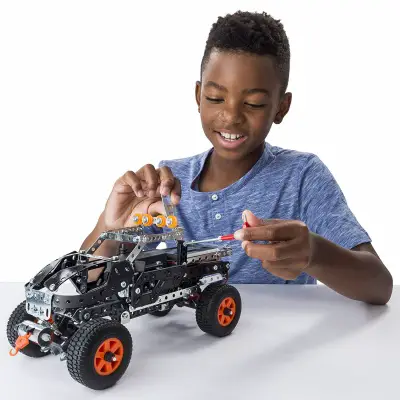 Make up to 5 different cars with the same set by taking apart and rebuilding
Tools are included
Real metal hardware and wheels come with the set, plus motors and instruction guide
Kids learn basic STEM principles in a fun interactive way
Is one of 25 fantastic models
Pictures in instructions are not clear and dark
Some of the pieces are very small to handle and connect together
Roadsters are great cars to build and drive, so this is a terrific model set to do just that. From the instruction booklet, kids should start out with one of the designs in print to get the feel of the parts and how they go together. After a few of these, ideas will begin to form for creations of their own.
Read more
Design
Tools are included to put everything in place, and the pieces are made of real metal. The wheels are genuine wheels also. This is just one of the twenty-five models of roadsters that the company produces, so if your kids like this one, then a few of the others would be a welcomed toy for a possible collection.
Educational Value
Kids learn basic STEM principles by working with and putting into place the over 443 parts to form perfect roadsters. The doors really open and close, plus to make the cars jet forward, a pull on the handle is all it takes. Most of these Meccano sets only makes one model type. This one gives kids the option to take it apart time and time again to recreate different cars.
Entertainment Value
Children can invent their own cars with this set or make any one of the five suggested models in the instructions. Their imaginations can wild thinking up new combinations for the many parts.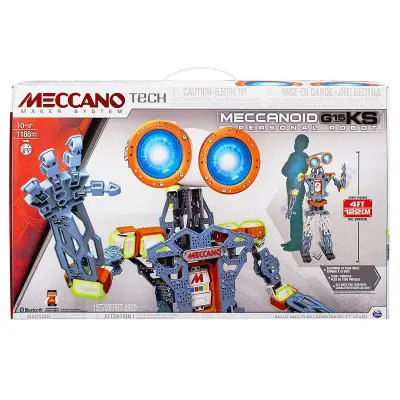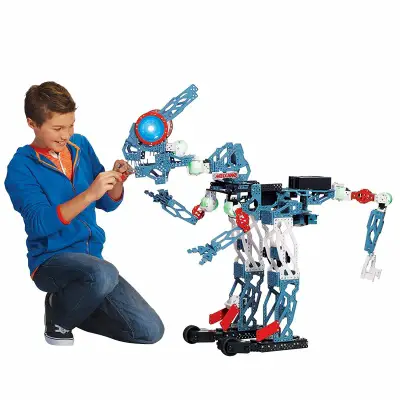 Learned intelligent movement
Ragdoll app feature
Multiple builds
Voice recognition
Knows lots of fun facts, jokes, and conversational topics
The build is challenging and fun, but the programmable novelty wears off quickly
This customizable robot is the 2016 winner of the Innovative Toy of the Year Award. It comes with over 1,000 phrases and voice recognition, so you truly can personalize your pal. How neat is it to build your own dancing robot? This little guy can be built and rebuilt in several different designs, and has a few fun party tricks up his sleeve! Program him to dance, or to recognize and mimic your own movement by attaching a smartphone camera to his front.
Read more
Design
This kit allows your child to build their own robot, which they can then program themselves, and play with! It's fully operational, 4 feet tall, and features life-like articulated limbs powered by 10 motors, so the movement is hyper-realistic. Simply assemble your robot, download the free app from Google Play or the Apple Store, and start your set up!
Educational Value
This personalized robot teaches children the basic concepts of mechanical engineering as well as computer engineering and programming. The robot has lots of fun functions kids can activate via programming and the app. The construction component also helps enhance hand-eye coordination and motor skills.
Entertainment Value
Your robot can learn to mimic your movements, can be controlled via the app in a ragdoll function, and will recognize your voice when responding to more than 100 pre-programmed commands. It can remember names, birthdays, fun facts, jokes, and knows how to start a conversation. With 1,188 total parts, you can build and rebuild your robot as any number of creatures or designs!
7

. Micronoid Code Magna Programmable Robot
Programmable and operational with your computer
Has a fighting mode, DJ mode, and 8Ball mode
The robot has a great personality and dances to music
Has push-button programming and free online software
Has built-in activities and games – and sound effects
Some had trouble getting the item to operate
A few state that there were not any instructions for the programming code
Can robots be cute? Absolutely. Just take a look at the Meccano Micronoid Code Magna. This little guy is a programmable and interactive robot build that kids can complete all on their own! (--Okay, maybe with a little help from mom or dad, depending on how experienced they are.) Magna can fight, DJ, or answer questions in the form of a Magic 8-Ball. He can even interact with other micronoids A.C.E. and ZAPP.
Read more
Design
It has several modes such as a fighting level, DJ mode, and an 8Ball form. This toy can be programmed and control with a computer and batteries are required for it to operate. There are 127 pieces in total, plus a USB cable, micromodule, instructions, and tools. This model can interact with two other toys in the same Code line. They are ZAPP and A.C.E. Your child can collect them all to see them perform together and join in the fun as they joke and dance.
Educational Value
Most construction sets have just one task and that is putting the pieces together. Meccano sets require assembly, programming, and interacting with the moving toy for maximum excitement.
Entertainment Value
Once assembled, this toy can interact with two other models in the same Code line. That adds value to this model, plus makes kids want to collect the others and do a wonderful job in putting it together.
8

. Flight Model 6028598 20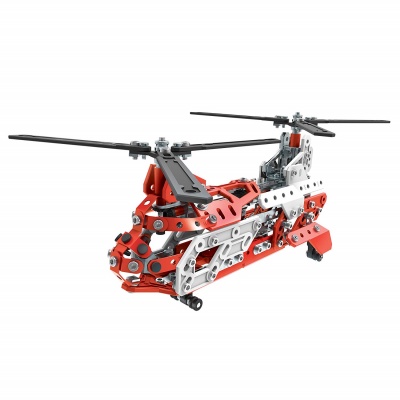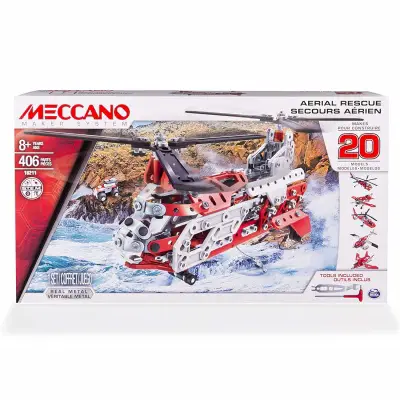 Build 25 different aerial models with this same kit
Also make a buggy, crane, and a helicopter
Includes a 6V electrical motor
No batteries required
Includes over 406 parts, instructions, and tools
Some received instructions that did not show guidelines for all of the 25 toys to build
A few comments that some parts do not stay in place as they should
The Meccano 20 Flight Model is a set that includes pieces capable of making over 20 different preconceived models. Kids can build construction vehicles one at a time to create 25 cool projects! The kit even includes a 6V electric motor so you can bring your projects to life! This kit includes 406 pieces, two real tools, and an instruction guide.
Read more
Design
Twenty-five various ideas are included in the instructions so children can build and rebuild the many types of transportation. A 6V electrical motor is included, so batteries are not required to operate the toy. There are a hook and rotary body for the crane, making it fully operational. With the more than 406 parts, kids can make objects such as a buggy, crane, and a helicopter. Included tools and instruction booklet will help your child create all of the combinations that he or she can think of when they become familiar with all of the pieces in this assortment of parts.
Educational Value
Kids can take these toys apart once they build something. Many different things can be assembled, even creations that they think of on their own.
Entertainment Value
Aerial models with real working parts are great for kids to build and operate. With 25 different objects to create, the fun seems endless.
Three programming modes
3,000+ pre-programmed phrases and prompts
Just over 2 feet when built; cute and easy to play with
Challenging and satisfying to build
Teaches children about programming and engineering
This is a long and complicated build so be prepared
Instruction guide is lacking
The Erector Meccano 2.0 is a small but mighty little build. This robot stands at two feet tall once constructed and features six different motors to mimic realistic human movement. Voice recognition allows this robot to understand you when you talk to it. It will even follow your voice command prompts! The arms and head is articulated and Meccano moves on motorized feet.
Read more
Design
This kit includes 497 parts, one meccabrain, four servos, three hand tools, one LED module, two rear wheel assemblies, and two motor gearbox assemblies. It also includes a USB cord but requires 4 D batteries to operate. It's appropriate for children ages ten and over. This robot can even be programmed in three different ways!
Educational Value
Program your Erector 2.0 in three different ways: Learned Intelligence Movement allows it to learn as you work together with the robot. Drag and Drop means you instigate commands from your smart device. And Ragdoll Mode lets you control it through an avatar on your smart device!
Entertainment Value
This little guy is the life of the party! He dances, he tells jokes, he walks around beside you. He even exercises! Kids can learn a lot from the process of building this robot (though parents will need to exercise some patience) and once the Meccano Erector is up and running, it creates hours of fun.
10

. Micronoid Code A.C.E.
Beat-detection; dances when music plays
A.C.E. is also a DJ
One hour or less in build time
Customizable personality
Interacts with other Micronoid bots
The instructions for assembly are a little vague and can be frustrating
The Meccano Micronoid is a mini programmable robot. With built-in beat detection, this robot starts dancing as soon as the bass drops. Let's see your best moves!
Read more
Design
This kit comes with everything you'll need to build and program your own 7.1 x 11 x 6.7"-inch robot. It connects to your computer and is equipped with tons of fun, interactive features. Micronoid A.C.E. DJs like a pro. This robot is comprised of 118 total parts, with a motorized micro-module. It has built-in games and sound effects, and when paired with another Micronoid robot, they interact!
Educational Value
This Micronoid robot teaches kids how to build with basic mechanical engineering and programming set at a novice level. The fact that A.C.E. loves to dance may even get little ones up and moving too!
Entertainment Value
This Micronoid robot loves to DJ and dance! It's perfect for kids interested in STEM toys who also love a good beat. The build is easy with some adult supervision, and the robot is compact and pretty cute. We love that Micronoids interact with each other when they're in the same space. With tons of fun, interactive features. Micronoid A.C.E. DJs like a pro. Groove to his tunes, or power him up for fighting mode! Change the mood by switching him to eight-ball mode. The build time is an hour or less, most suitable for children ages 8 and older.
Criteria Used for Evaluation
Design
All motors, modules, LED lights, tools, and instructions are included with all of the other smaller parts to fully assemble these toys. Kids must first sort out the pieces and match them to the parts inventory in the instruction booklet. Once they become familiar with the pieces, they can then start to assemble them. Batteries are required to operate the toys, but they do not come with the sets for operation. Some may have test batteries inside to test the toy, but they are not for the prolonged operation of the item. Nothing extra is needed besides the batteries. Kids will not need paint, glue, or other tools to enjoy these Meccano toys.
Educational Value
Each set exercises the skills of imagination, cognitive abilities, hand-eye coordination, problem-solving, fine-motor talents, and abilities to read and follow directions well. Construction kits test the mental and physical skills of children and push them to the limits of understanding these advanced toys.
Most of the pieces are small if not tiny and fine-motor abilities and dexterity of the fingers is needed to accomplish the tasks required. This is one of the reasons that the tools are included in the toy. Kids have the precise instruments they need to perform the intricate steps.
Comprehending and executing the tasks takes great cognitive skills and the ability to understand the directions and carry them through to the finished product. Sometimes children may have to look at several steps in advance in order to see how the step they are doing fits into the pattern of assembly. This takes foresight and creative thinking to do well.
Entertainment Value
These are great family activities that parents can do with small kids, watching that they do not put any small parts in their mouths. Most of the pieces of these assortments are very small and would choke a child if swallowed. As for older children, these educational kits are a lot of fun too. They'll spend hours and hours building the kits and develop a lot of different skills while doing it. Each product is rated and reviewed for its entertainment value.
Most Important Criteria
(According to our experts opinion)
Experts Opinion
Editors Opinion
Users Opinion
By Default

Parents, Did You Know?
Frank Hornby created the first Meccano set in 1898. The nuts, bolts, and basic construction sets allowed children all over England to explore basic principles in mechanical engineering. Fifteen years later, Alfred Carlton Gilbert created the first Erector Set in the United States. Inspired by the setup of girders in electrical railroad line plans, he created a set that equipped children to create their own miniature cities.
Parents, Did You Know?
Today, Meccano and Erector have combined powers to build and design under the same flagship company, Spin Master Ltd. Family. Together, they are creating sets for a new generation of young inventors to explore the wonders of STEM toys.
Other Factors to Consider
Age Range
Meccano toys are easy enough to be completely organized, assembled, and operated by the average 8-year-old child. Of course, they will be much easier for older kids, but 8 is the minimum age to understand the instructions and follow them precisely to complete the projects. The exception to this statement is #9 on this list-the Junior Advanced Toolbox 8 Model. This kit can be put together and enjoyed by kids aged 5 and older. For the other kits, younger kids can enjoy and possibly operate the toys after completion, but they will have trouble putting them together by themselves.

Brand
The authentic Meccano name is on every construction set we feature here. Parents know when they purchase these collections that the quality is good and they can trust the value of the toy. Collectors want to be ensured that the items they have are indeed Meccano products, as there are other very similar items on the market. The others may look just like a Meccano kit but without the Meccano name on the box, it is just another construction toy.
Frequently Asked Questions
q:

Are there any tools required to put these models together? Are batteries required and/or supplied?

a:

No tools are required for these toys because the tools come with the kits. Yes, batteries are required but not supplied.
q:

What is the most appropriate age that these toys are suited for? Are they equally well-suited for boys and girls?

a:

Most children under the age of 8 would enjoy having a fully assembled toy and can interact with them, as long as someone older puts them together. The many pieces and intricate instructions make small kids not good candidates for assembly. However, kids 8 and older should be able to understand the instructions and put the pieces together correctly. Boys or girls are equally suited for these toys. It just depends on their individual interests in toys.
q:

Are these Meccano toys hard to put together, program, and operate?

a:

This greatly depends on the skill level of the individual, but basically no, they are not difficult to assemble, program, and operate. Kids 8 and older should be able to do these tasks with the help of the instruction booklets that come with the package.
q:

If some of the pieces are missing in one of these kits, can individual pieces be ordered separately to finish the toy?

a:

Based on the reviews and questions posted, no individual pieces may not be ordered separately, even if they are simply left out of the purchase.
q:

Do these toys need any additional parts to finish them or paint to decorate them?

a:

No, everything that is needed to finish each model comes with the kit.
q:

Are these models just for one child to put together or can several children do this together well?

a:

They are made particularly for one child to put them together, but more than one child or other family members and friends would definitely be a big help in getting the model completed. Everyone wants to see the finished product move and interact with people, so the more the merrier.
q:

Are all of these toys controlled with a smartphone or electronic device? Do any of them use a regular remote-control mechanism?

a:

The ones that we feature on this page are all controlled by a smart device, except Green Switch, which has a push button control system. None of them use regular remote-control systems.
q:

Can any of these models be used for more than one item? In other words, do they make more than one toy?

a:

Yes, a few of them do such as the Junior Advanced Toolbox set. These can be taken apart many times and rebuilt into different things with the same included parts.