This Christmas, parents all over the globe will again be crowding department stores, novelty shops, specialty retailers, and even toy stores for the perfect gift they can give to their most precious loved ones – their kids. One of the perennially popular Christmas presents are playhouses for kids. Available in different shapes, sizes, styles, and designs, playhouse kits are a sure hit every time the season of giving draws near. This year, you can surprise your kid with one of our top 9 outdoor playhouses and watch their eyes glow with amazement and their hearts jump for joy.
Here are our 9 best and most amazing garden playhouse sets for your child.
Our Top 3 Picks
Step2 Neat and Tidy II Playhouse

Our rating
Open Design
Price:

See Here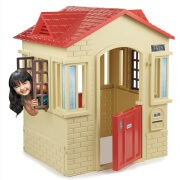 Little Tikes Cape Cottage

Our rating
Easy to move
Price:

See Here

ECR4Kids Indoor/Outdoor Boat

Our rating
With Pirate Flag
Price:

See Here

Step2 Neat and Tidy II Playhouse
Age Range: 18 months to 8 years old
Little Tikes Cape Cottage
Age Range: 2 to 5 years old
Buccaneer Play Boat with Pirate Flag
Age Range: 3 to 6 years old
Endless Adventures Tikes Town Playhouse
Age Range: 3 to 6 years old
Age Range: At least 1 year old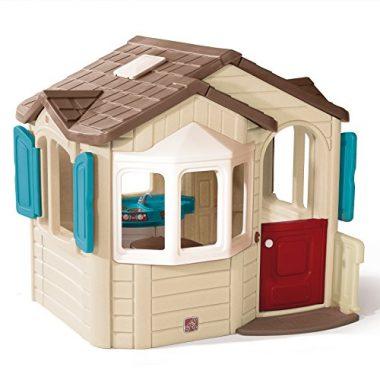 Age Range: 18 months to 8 years old
Age Range: 2 to 8 years old
Home and Garden Playhouse
Age Range: 18 months to 5 years old
Age Range: 2 to 6 years old
Criteria Used to Evaluate the Best Outdoor Playhouses for Toddlers & Kids
Educational
Each of these playhouses have educational value that goes beyond imaginative play. These playhouses promote physical and social play. In additional to that, they teach basic life skills such as:
Sending and receiving mail.
Gardening.
Carpentry.
Energy efficiency.
Telling time.
The proper way to welcome company.
And more!
Life skills are tools your kids need to succeed in life, and these skills usually aren't taught in schools by a teacher, but are taught through real life situations and during play time. These playhouses are an excellent tool for children to develop skills they'll use throughout life.
Gender Neutrality
The majority of the playhouses listed here are gender neutral. It's becoming more and more apparent in the stores of large toy retailers that gender stereotypes regarding toys are tired and out of date. Gender neutral toys are more beneficial to most children than gender specific toys, for the fact that children know no limits and don't like to be boxed in. Kids want to be free to play without thinking about if they're allowed to play with a certain item because it's blue or pink. Gender neutral toys are not only beneficial to kids but also to parents who have kids who aren't the same gender:
It saves money.
It's less time consuming to look for and buy one toy verses looking for and buying 2 gender specific toys.
Safety
No parent wants to worry about their kid getting hurt while playing on a nondurable toy. We listed some of the best safe outdoor playhouses above. When choosing and selecting a safe playhouse, the following should be taken into account:
Making sure that the toy doesn't contain any sharp edges or made from potentially dangerous materials such as glass or metal.
Could your kids become entangled on any part of the toy? Playhouses with strings, cords and ribbons pose a threat, and such things should be cut off completely.
Ensure that your kids playhouse stays in good condition. Children can be very harsh with toy's, conduct safety inspections often, to make sure there's no broken toys or pieces that could potentially cause an injury.
Developmentally Appropriate
With numerous playhouses on the market, it can be difficult deciding exactly which one to get. Our list contains durable playhouses that are developmentally appropriate for the specific ages listed. Below, are a few things we kept in mind while researching these toys for you:
Toy is challenging but not frustrating.
Play opportunities are endless.
The Playhouse stimulates divergent thinking.
The toy doesn't promote violence.
It's color, shape and style are appealing to kids.
What Determined the Top Outdoor Playhouse Kits in Our List
How difficult can it be to pick the top 10 outdoor playhouses, right? It's as simple as getting the best-looking product at the most affordable price. Unfortunately, there can be literally hundreds of "best-looking" and truly "affordable" children's playhouses. This means that you have to scrutinize each one of them. And this is exactly what we did.
First, we made sure to list down all the best-looking and realistically affordable kiddie house kits. Yes, we also included cheap playhouses just for those of us who are not really into buying very expensive stuffs that will only be used for a few years by our kids. We ended with less than a hundred items that match our preliminary criteria.
Next, we determined the developmental appropriateness of the product. Many of these products have features not found in other playhouse kits. In such cases, we knew we had to scrutinize the product feature and determine its implications in the overall development of today's young kids.
We then evaluated each one for the soundness of its overall design. This included the safety and quality of the materials that were used in its design and manufacture. As much as possible we tried to look for indicators of superb quality control measures such as certifications from recognized federal testing and evaluation agencies and third party quality testing organizations. If the product also received a particular award for its design or even its intended use, then we had to consider this, too. This also addressed our inherent need to make sure the company can be trusted to provide us with products that are of the highest possible quality and safety.
We then had to read volumes of customer feedback as well as comments regarding the product. We had to feel confident that we are also making the right choice in including a particular product in our list of 10 most amazing outdoor or garden playhouses. So, our evaluation of the products must be somewhat similar to what parents and other consumers think about these kiddie house sets.
The process was not really easy but somehow, we'd like to believe that we did a really excellent job.
Playhouses and Your Kid's Imaginative Play
Imaginative play among kids has always been equated to the development of their cognitive skills as well as emotional and social competence. One of the most useful toys or play sets when it comes to encouraging the full use of imagination by kids is a play house. It doesn't really need to be as real as what we adults call home but it should provide just enough structure to allow kids to use their imagination to fill in the gaps.
For example, a kiddie home that has only 4 walls, a roof, 3 windows, and a door is often enough to help encourage children to use their thinking abilities. They will have to think about how they would like their "home" to look like, where to place the kitchen, and how to improve the overall appearance of their home. Children will still look to what they have in their real house and then try to modify these a bit to fit in the small space of the kiddie home. This requires problem solving and a good sense of proprioception and spatial relations. For instance, they may require a kiddie refrigerator to complete their kitchenette. With their spatial understanding, they will know just how big, or small, their play ref should be to fit inside the already cramped space.
While playhouses can help children hone their cognitive prowess, it is the enhancement of their social and emotional skills that is worth noting. Children prefer to play kiddie houses with their respective friends. Each one will typically play a different role so that the home will be managed effectively. For example, one will serve as the Mom, the other as the Dad, and the rest as children in the family. The important thing to remember is that imaginative play using playhouse kits help develop social and emotional skills by giving children the opportunity to interact, cooperate, and collaborate with other children regarding the different roles each one has to play. We can look at the playhouse as a venue for these kiddie social interactions.
The Bottom Line
Getting a playhouse for kids this Christmas to give to your precious child could be the most amazing thing we can do for them this year. Not only are we giving them the instrument to have lots of fun, we are also providing them the tool to grow and develop better. With the 10 best outdoor playhouses we have listed herein, we are confident your kids will have a merrier Christmas this 2017.
FAQ
Frequently Asked Questions
Q: What's the best way to clean and sanitize the playhouses?
A: The best was to clean and sanitize your playhouse is to use your favorite eco friendly cleaner, and spray all of the surfaces as your wipe them down. The playhouse should be thoroughly cleaned before you sanitize it. After you use your eco friendly cleaner to clean all of the surfaces, you should then use an equally environmentally friendly sanitizer to remove any bacteria. For this step you should consider using a bucket of warm soapy water to wipe down and disinfect the surfaces and then, spray the entire playhouse down with a garden hose to rinse the soapy soapy solution off.
Using eco friendly cleaners are not only safe for the environment, but for you and your kid as well. In addition, to that, eco friendly cleaners will slow the deterioration process of your playhouse down, as standard cleaners are harsh on the surface.
Cleaning and sanitizing your child's playhouse should not be taken lightly. Just as cleaning our physical homes is important for general health, the same can be said for toy playhouses. For the fact that your kid will be using their playhouse often, cleaning and sanitizing it frequently is critical.
Q:Can I use these playhouse in a daycare?
A:Yes, you can use these playhouses in a daycare. Each of the playhouses on our list of Best Outdoor Playhouses for Toddlers & Kids are designed to entertain multiple kids at once and can be used indoors. This is excellent for the days that they weather doesn't permit outdoor play.
The majority of the playhouses we researched are gender neutral, ensuring that boys and girls can both enjoy their time as they play. With their vibrant colors and realistic designs, these playhouses will fit in great with typical daycare decor, and promote educational and social development.
Q: Can I find a flag that will perfectly fit into the flag holder on the Cape Cottage playhouses, and what type of flag do I need?
A: Yes, you can find a flag that will perfectly fit into the flag holder at many hardware stores. You will need a flag with a thick dowel, for the fact that most of the mini flags you purchase at the store will fit into the flag holder, but have a lot of wiggle room. This will bring forth potential hazards as your kid could remove it and become injured from the tiny, thin dowel.
You will need to find a flag that is approximately 18-24 inches tall, because the dowel is usually thicker. Having a thick dowel will provide a snug fit and prevent your child from removing the flag.
Q: Can I paint these playhouses?
A: Yes! Often, after years of soaking in the sun, the original paint on the playhouse may start to fade. Or you may want to customize the playhouse for your kid by painting it in colors of their preference.
To ensure a beautiful paint finish there's a few steps that you'll need to take:
Wash the house down with warm, soapy water to remove any dirt and debris.
Allow it to air dry. If you use a towel to dry it, small fibers may become attached to the surface of the playhouse and can potentially ruin your intended paint job.
Find a good brand of paint that can stand up against rough play and harsh weather. Also, be sure to choose a brand that is durable on plastic.
Using a can of spray paint will be easier and faster than using a traditional can of paint and a paint brush. There are several different types of paint brands on the market that are specifically made to bond to plastics. These paints are made with materials to ensure that the paint won't crack or peel whenever you wipe down and clean the surface of it.
Q: Do any of these items have replacement parts available?
A: For the most part, these are pretty inexpensive so in most cases it is cheaper and less of a hassle to just buy a new one if it is to break. Some do have replacement parts available, but it depends on which item. The easiest way to find out would be to call customer service.
Q: Are these well-built playhouses?
A: Yes. Most are made out of a sturdy plastic material and hold up very well in all types of weather and can last through a great amount of a childs rough play. Be sure to read through our pros and cons though, as we address if any item has a thinner plastic which would make it more susceptible to damage.
You May Also Like
18 Best Outdoor Playsets For Kids
8 Top Rated Kids Trampolines
11 Best Kids Play Tents This Year
10 Best Water Tables For Kids