Home is where the heart is! So it's no wonder that children love miniature houses and playsets so much. Whether they're playing house in a quaint little cottage or ruling their kingdom from inside a 5-foot castle, kids are highly imaginative creatures and giving them the resources to focus and grow that creative energy is beneficial to all. Role-playing games, such as those carried out in playhouses and structures, help children to develop a greater sense of empathy, improve their social skills, expand their imaginations, and much, much more.
Playhouses have been a popular pastime for years. Occasionally also referred to as Wendy Houses, the most notable first appearances of the concept happen in the story The Little White Bird and J.M. Barrie's famous Peter Pan. Toy manufacturers hurried to replicate the Wendy House the Lost Boys built her. Playhouses or clubhouses appear in all kinds of cultures and come in various models, constructed from a huge variety of materials that range from iron to wood to plastic.
There are all kinds of options available on the market. When shopping for a playhouse, you want to consider whether the structure is going to live indoors or outdoors. Most playhouses serve as a permanent or semi-permanent outdoor fixture and thus need to be weather-resilient, able to sit in the sun without severe damage, and relatively simple to clean when the inevitable dirt gets kicked up. The following 10 playhouses are all built to last, and give kids the space to have a blast.
Our Top 3 Picks
Step2 Neat and Tidy II Playhouse

Our rating
Open Design
Price:

See Here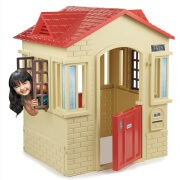 Little Tikes Cape Cottage

Our rating
Easy to move
Price:

See Here
ECR4Kids Indoor/Outdoor Boat

Our rating
With Pirate Flag
Price:

See Here
[/vc_column_text][/vc_column][/vc_row]
Step2 Neat and Tidy II Playhouse
Age Range: 18 months to 8 years old
Little Tikes Cape Cottage
Age Range: 2 to 5 years old
Buccaneer Play Boat with Pirate Flag
Age Range: 3 to 6 years old
Step2 All Around Playtime Patio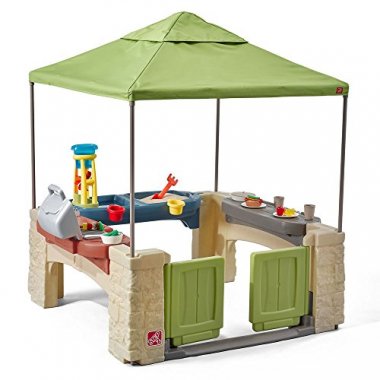 Age Range: 3 to 6 years old
Age Range: At least 1 year old
Little Tikes Princess Cape Cottage
Age Range: 18 months to 8 years old
Step2 Grand Walk-in Kitchen and Grill
Age Range: 2 to 8 years old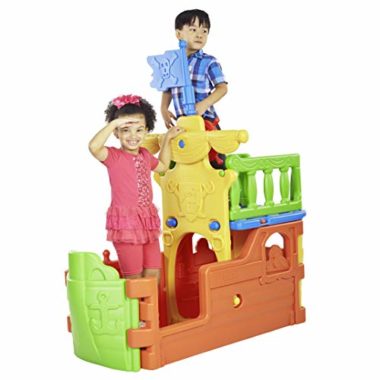 Age Range: 18 months to 5 years old
Backyard Discovery Cedar Wood Cabin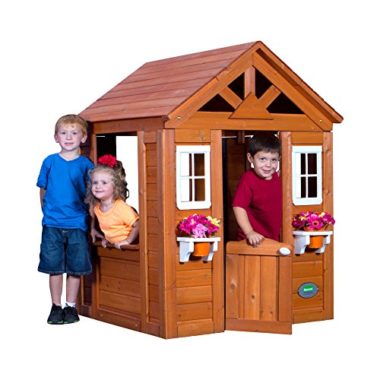 Age Range: 2 to 6 years old
Criteria Used to Evaluate the Best Outdoor Playhouses for Toddlers & Kids
It seems, these days, we have endless options for nearly everything in a consumer's world. Stores are growing more abundant with far more companies producing the same products and advertising theirs as the best. In recent years, online shopping has become a thriving industry.
As adults, we spend so much time in motion between work and running a household, finding time to accomplish errands can be a hassle. Online shopping is the perfect solution–everything you could ever need is at the touch of a button. While incredibly convenient, online shopping does, however, pose a downfall. With only a picture and a description, without visual confirmation, there is no guarantee you will be satisfied.
Amongst effective methods of guidance, our most significant resource is other parents whose personal experiences can offer essential factors in determining choices we make in the everyday lives of our children. This list contains products that hit a number of vital requirements to ensure you are, indeed, giving your family the safest and most beneficial playhouses available.
These playhouses, providing a range of benefits from fostering imagination to encouraging social play to stimulating fun and laughter, are sure to enhance any summer experience and promote the understanding of life skills.
The first and most significant factors to review–safety and durability–are essential for more than one reason. To begin with, our toddlers have little knowledge about the dangers of the world, so ensuring their safety and well-being becomes our responsibility. For example, they haven't quite mastered chemistry and the importance of avoiding harsh toxins, such as BPA in plastics.
They don't understand physics and how weight disbursement can affect the integrity of a structure. Children can climb and run around safely as these sturdy structures encourage physical play while simultaneously offering support and safety. These playhouses are made of high-quality and durable materials that are both aesthetically pleasing and safe, ensuring your little one gets the most from their adventures.
Next to consider is cost and value. We work hard to ensure our families' needs are met, but we often strive to go a step further, hoping to meet their wants as well. Hard work stresses the importance of frugal living to ensure our hard work is not in vain; this means the things found in our homes are often full of features and benefits to ensure we get the most for our money.
Due to its massive size, by comparison of other toys, a playhouse more often than not is an investment from which you hope your family will get years of entertainment. They are larger structures so they will be more costly than other toys. However, the houses on this list are some of the most cost-efficient options while still providing a variety of activities and games. Each structure features its own unique design that offers plenty of variety in both color and function. Due to their high-quality make, these playsets are meant to withstand weather and play for years to come.
Among the many activities offered by these toys, children will learn vital life skills through the action of mirroring day-to-day activities through a combination of physical, social, and imaginative play. They can learn skills such as telling time, being energy efficient and learning to take turns or share.
Learning to take turns and share brings us to our next factor, gender neutrality, and what that means for encouraging social play. Political correctness has become a huge factor when involving children in school or extracurricular activities. We give words and the opinions of others so much power we are left feeling as though we are regularly walking a fine line. In an effort to keep the peace, these days, we are now encouraging our children to share common interests despite their gender identity.
Most toddlers, while not set in personality, do portray certain gender stereotypes. For example, boys are more adventurous and drawn to things like mechanics, explosions, and monsters. Boys tend to climb and push their physical limits whereas little girls, who also crave adventure, may find themselves more drawn to tea parties, playing house or pretending to run a business, overall a softer tone in their day-to-day play.
Most of the sets on this list are gender-neutral and do an excellent job of encouraging play among siblings and friends no matter which gender they are. There are, however, a few options styled to be more appealing to little girls in the hopes they find excitement in the notion of an outdoor adventure.
In addition to motivating our children to enjoy some fresh air, these house sets foster imagination that can fuel in children such things as determination, organization, and setting goals.
Children learn to maintain and keep a well-stocked and clean house, in turn always striving to work hard in the hopes of achieving goals. In conclusion, these sets are the highest rated by other parents, offer the most variety and are designed to be safe and durable giving you overall, the best bang for your buck.
FAQ
Frequently Asked Questions
Q: What's the best way to clean and sanitize the playhouses?
A: The best way to clean and sanitize your playhouse is to use your favorite eco-friendly cleaner, and spray all of the surfaces as you wipe them down. The playhouse should be thoroughly cleaned before you sanitize it. After you use your eco-friendly cleaner to clean all of the surfaces, you should then use an equally environmentally friendly sanitizer to remove any bacteria. For this step, you should consider using a bucket of warm soapy water to wipe down and disinfect the surfaces and then, spray the entire playhouse down with a garden hose to rinse the soapy solution off.
Using eco-friendly cleaners are not only safe for the environment, but for you and your kid as well. In addition to that, eco-friendly cleaners will slow the deterioration process of your playhouse, as standard cleaners are harsh on surfaces.
Cleaning and sanitizing your child's playhouse should not be taken lightly. Just as cleaning our physical homes is important for general health, the same can be said for toy playhouses. For the fact that your kid will be using their playhouse often, cleaning and sanitizing it frequently is critical.
Q: Can I use these playhouses in a daycare?
A: Yes, you can use these playhouses in a daycare. Each of the playhouses on our list of Best Outdoor Playhouses for Toddlers & Kids is designed to entertain multiple kids at once and can be used indoors. This is excellent for days that the weather doesn't permit outdoor play.
The majority of the playhouses we researched are gender-neutral, ensuring that boys and girls can both enjoy their time as they play. With their vibrant colors and realistic designs, these playhouses will fit in great with typical daycare decor and promote educational and social development.
Q: Can I find a flag that will perfectly fit into the flag holder on the Cape Cottage playhouses, and what type of flag do I need?
A: Yes, you can find a flag that will perfectly fit into the flag holder at many hardware stores. You will need a flag with a thick dowel, because most of the mini flags you purchase at the store will fit into the flag holder, but have a lot of wiggle room. This will bring forth potential hazards as your kid could remove it and become injured from the tiny, thin dowel.
You will need to find a flag that is approximately 18 to 24 inches tall because the dowel is usually thicker. Having a thick dowel will provide a snug fit and prevent your child from removing the flag.
Q: Can I paint these playhouses?
A: Yes! Often, after years of soaking in the sun, the original paint on the playhouse may start to fade. Or you may want to customize the playhouse for your kid by painting it in colors of their preference.
To ensure a beautiful paint finish there are a few steps that you'll need to take: Wash the house down with warm, soapy water to remove any dirt and debris. Allow it to air dry. If you use a towel to dry it, small fibers may become attached to the surface of the playhouse and can potentially ruin your intended paint job. Find a good brand of paint that can stand up against rough play and harsh weather. Also, be sure to choose a brand that is durable on plastic.
Using a can of spray paint will be easier and faster than using a traditional can of paint and a paintbrush. There are several different types of paint brands on the market that are specifically made to bond to plastics. These paints are made with materials to ensure that the paint won't crack or peel whenever you wipe down and clean the surface of it.
Q: Do any of these items have replacement parts available?
A: For the most part, these are pretty inexpensive so in most cases, it is cheaper and less of a hassle to just buy a new one if it is to break. Some do have replacement parts available, but it depends on which item. The easiest way to find out would be to call customer service.
Q: Are these well-built playhouses?
A: Yes. Most are made out of a sturdy plastic material and hold up very well in all types of weather and can last through a great amount of a child's rough play. Be sure to read through our pros and cons though, as we address if any item has a thinner plastic which would make it more susceptible to damage.
You May Also Like
18 Best Outdoor Playsets For Kids
8 Top Rated Kids Trampolines
11 Best Kids Play Tents This Year
10 Best Water Tables For Kids