If you're staring down the impending arrival of a winter wonderland, it's time to gear up. Obviously, you'll need to check the snow boots, the winter coats, the gloves and underthings, and the various car accessories. But snowfall doesn't have to be all business and trying to evade catching a cold. If you can remember your first experience with snow as a kid, you know how special the season can be, especially for little ones who are still awed by the fields of white. (Understandably, being that they haven't yet had to shovel it out of the driveway yet.) Odds are you're going to need a few fun gadgets to get your family through the next few months, and at the top of your list should be the age-old classic: the sled. Sledding is a fan favorite when it comes to winter pastimes. Hills and snow and a solid sled have the ability to thrill kids and adults alike. We've gathered some of our favorite sledding equipment below. Snow tubes, toboggans, sleds for toddlers–there are plenty of safe, quality options to ensure your family gets the most out of one of the season's best sports. Ride carefully! Our collection of the 10 best sleds for kids in 2018 is the result of our commitment to give you the safest, most fun, and truly high-quality ride-on toy for your kids to enjoy during the winter season.
Our Top 3 Picks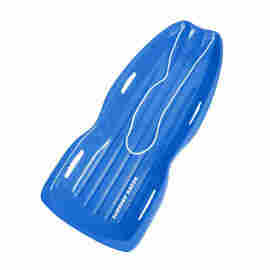 Slippery Racer Downhill Toboggan

Our rating
2 Sleds Included
Price:

See Here

Slippery Racer Downhill Ski Scooter

Our rating
Sturdy & Durable
Price:

See Here

Paricon 826T

Our rating
Amazing Vintage Design
Price:

See Here

Flexible Flyer Steel Saucer
EMSCO Group Toddler Toboggan
Age Range: 1 to 3 years old
Age Range: At least 5 years old
Flexible Flyer Toddler Toboggan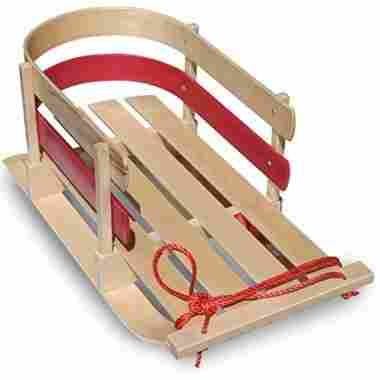 Age Range: 1 to 3 years old
Aqua Leisure Kiddie Snow SEAL
Age Range: 1 to 3 years old
Lucky Bums Toddler Pull Toboggan
Age Range: 1 to 3 years old
Age Range: At least 5 years old
Snow Screamer by Flexible Flyer
Age Range: At least 5 years old
A-DUDU Snow Tube – Super Big 47 Inch Inflatable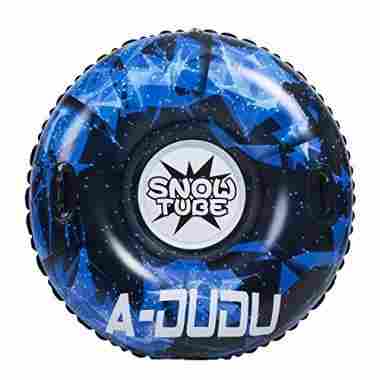 Age Range: At least 5 years old
Criteria Used in Evaluation of the Best Sleds for Kids
When shopping for the perfect snow sled for your children and family, there are certain things one must look for before making the final purchase. One of the major issues of concern is the price, in which all of these sleds are to be under the $100 price range. Here are some more things to look for and think about before making that final purchasing decision.
Compatibility
What are the ages of the children who will be using the sleds the most? Are they under 3 years old, under 5 years old, or tween or teenager? These are all things that must be taken into consideration because there are age limits on most sleds and you don't want to purchase a sled that your 15 year old won't be able to use because it is meant for a child under 5.
Safety
What are the safety features of the sled you are planning to purchase? Did the manufacturer make safety a priority? If you are purchasing a sled for a toddler, you want to make sure there are sufficient safety features like a seat belt and shoulder straps, because you don't want an unfortunate accident to ruin your child's fun in the snow. If the sled is made of wood, metal, or plastic, you want to ensure that all safety measures have been addressed so that no parts will come detached and cause injury. In the case of a blow-up sled, ensure that the sled is made with durable material that won't puncture easily or loose air.
What Determined the Best Kiddie Sleds on Our List
Like all ride-on toys, the safety of the ride was a major consideration in our selection of the top 10 sleds for children. It was imperative that the toddler sled is of sound quality construction affording it superb stability, especially when tugged or pulled at relatively high speeds. So, the design integrity of the product was carefully examined to help make sure that it won't break easily into tiny bits and pieces after just a quick run. Also, it should be able to accommodate the weight of children, based on their recommended weight limits.
Part of the evaluation process was the slickness of the design. Because sleds operate on a different physical principle compared to wheeled vehicles or ride-on toys, we deemed it very important to make sure that the bottom of the sled, or the surface that is in constant contact with the soft powdery surface of snow, is slick or smooth enough to allow for more efficient gliding over snow. Features built into the overall design of the product were also evaluated especially in terms of their effects on the efficiency of sled motion.
The portability and ease of maintenance were also carefully noted. As these products are to be brought from the home and up to the snowy slopes of a mountain winter resort or even in the park or anywhere else outside the home, it was crucial that these were made of lightweight materials so kids can easily carry them. Likewise, the cleaning and upkeep of these gadgets must also be made super-easy so children will be more responsible in managing the overall integrity of the device.
Lastly, it was imperative that the voice of the masses was equally represented in our selection process. Hence, products that were able to obtain a minimum customer satisfaction rating of 4.0 stars were automatically included in the final list. We are cognizant of the fact that many potential buyers will also want to consider what other consumers are saying about the item before making any commitment to purchase.
Tips for Ensuring Kids' Safety while Sledding
Winter time can bring an entirely different kind of joy to kids in almost the same way that summertime can bring up images of fun in the sand, surf, and sun. Sledding is one of the more popular winter activities, especially for kids. However, like all ride-on toys, safety is a major consideration in kids' sleds. While today's sleds are built with safety in mind, there are still some things we need to observe to make sure that our kids are kept safe while they are enjoying a great day in the snow. Here are some tips to ensure kids' safety while sledding.
Always wear the correct apparel and gear when sledding. Helmets are a must as you never know if the sled will tip over or not. Wearing the appropriate clothes is also very important as exposure to cold temperatures can have devastating effects on the body. Make sure your child wears the correct protective gear for the hands and feet.
Don't ever think that your kid will not need sun protection. The sun's rays can be reflected by the snow. Make sure your kid is adequately covered. You may also have to consider getting him or her a pair of sunglasses to protect his or her eyes from the sun's glare.
Scout the area where you intend to go sledding. Make sure there are no obstacles or hazards along the path that may contribute to serious physical injuries.
Always pick a gently sloping area rather than a steep one. Be sure that there's a wide open flat area at the bottom of the run and that it is away from potential hazards.
Follow the recommended rider number for the type of sled that you have. A single rider sled means only one person should ride it at any given time.
The Bottom Line
Sledding is fun. But, it can also be quite risky especially if you don't observe basic safety precautions. Regardless, our 10 best sleds for kids in 2018 should give you peace of mind every time you head to your favorite sledding spot.
FAQ
Frequently Asked Questions
Q: Can you also pull a child on the beach in wet or hard-packed sand?
A: Yes. As long as it is hard-packed sand; however, if it doesn't work you can always use it on snow!
Q: We have 1-year-old twins. Can both children sit on this sled; one behind the other? They are l size for 1-year-olds.
A: No. This isn't recommended. It probably isn't a good idea to strap two babies in a strap that is meant to secure one baby.
Q: Can a 4-year-old use this EMSCO sled?
A: The answer is probably No. A 4-year-old is likely to be too tall for this type of sled. This sled is meant for 2 and under.
Q: Would these sleds be good for pulling with an ATV at around 15 to 25 miles per hour?
A: No, It would not be beneficial nor safe for the rider of the sled to do so.
Q: Can a sled be towed by a pick-up truck or any other four-wheelers?
A: No, not a recommended activity for this sled.
Q: Can these sleds also be used as water toys?
A: The answer would depend on the material the sled is made of, the blow up/plastic sleds could possibly be used as water toys.