There's nothing better than taking a leisurely bike ride on a sunny day while feeling the fresh air on your face and admiring the beautiful scenery. Biking has become such a popular hobby that many working professionals consider biking to be their chief form of exercise. It's now commonplace to see bike trails on the weekends filled with cyclists, especially during the summer months. America's love affair with the bicycle has reached a new era of innovation and engineering, bringing new and exciting styles to the market. Since the 1880s when the first bicycle craze gripped the nation, families are once again learning to appreciate the relaxed versatility and friendly nature of the humble bicycle.
Now the whole family can be included on your next bike outing with these high-quality bicycle trailers that are tailor-made to tow your little ones safely along for the ride. There are so many different types of bike trailers, each with their own features and styles, so that is why our list features only the best ones.
We compared the cost against craftsmanship, as well as the company's reputation in the industry to make sure that you are getting top-notch recommendations that won't disappoint. Safety was another top concern as we were curating this list, which is why all of these bike trailers are vetted and backed by some of the toughest critics out there; thousands of other parents just like you. Here are the best bike trailers in 2018.
Best Bike Trailers for Kids and Babies Reviewed in 2018
Pacific Cycle InStep Take 2 Double Bicycle Trailer
Pacific Cycle InStep Sync Single Bicycle Trailer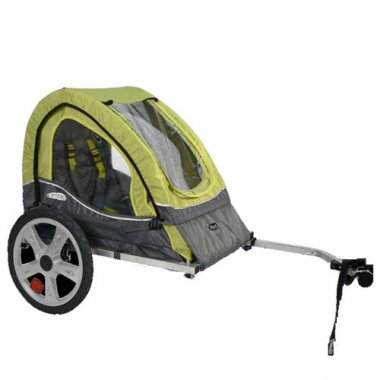 Burley Design Bee Bike Trailer for Kids
Allen Sports 2-Child Steel Bicycle Trailer
Schwinn Trailblazer Double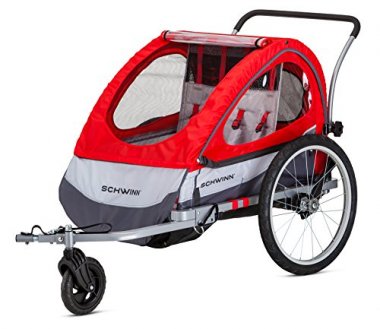 Schwinn Echo Double Bike Trailer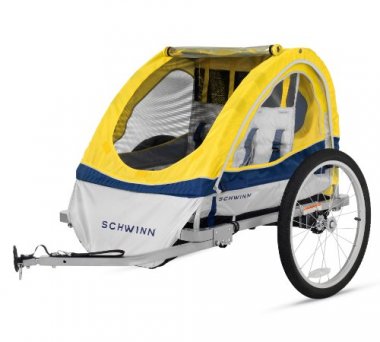 Schwinn Trailblazer Single Bike Trailer Red
Pacific Cycle InStep Sierra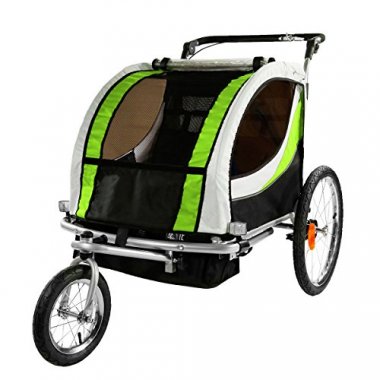 Pacific Cycle InStep Quick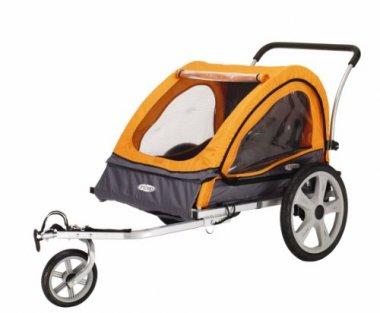 Aosom Elite II 3in1 Double Child Bike Trailer
Criteria Used in Evaluation of the Best Bike Trailers for Kids and Babies
Safety
Not all child bike trailers are created equally, so it was critical for us to spend a significant amount of time researching the trailers that had the best reputation for safety and security. Thankfully, there are several modern innovative features and details that are now considered standard, such as included safety flags, hitch systems that keep the trailer upright even if the bike falls, and internal protection cages that keep your child from injury in the case of a crash. Many of the bike trailers on our list have gone through rigorous testing by the manufacturer to ensure it is truly invulnerable. Such tests include simulated bumps repeated countless times, as well as simulated sharp turns and winding curves. All of these tests are designed to push the trailer under some of the most challenging conditions, thereby guaranteeing a safer ride for you and your family.
Structure
Nothing impacts the ultimate safety performance of a bike trailer more than the structure of the trailer itself. This is why the majority of children's bike trailers on the market today are designed with similar structures that are low to the ground with curved roofs and flat bottoms for better stability. Just as important is the material used for the trailer's internal frame; steel and aluminum are both popular options within the industry because of their toughness and reliability.
In addition, many manufacturers now include extra structural details like reinforced edges or joints, safety locks, and metal wheels. Plastic is often rarely used in the structural design except for small conjoining parts or extra rigging. When buying a bike trailer for kids, always look for one that has a metal frame, as this provides the best stability for the structure.
Attachment Capabilities
These days, there are several different variations of hitches and attachments that allow you to choose how you want the trailer attached to your bike. Each may have its pros and cons depending on how much access you want to the hitch and arm. This can be a crucial deciding factor for many parents who want quick and easy contact to the hitch in case of an emergency.
Whether the trailer attaches to the rear wheel of the bicycle via an axle mount or mounts to the frame of the bike itself, these and other attachment capabilities are the results of painstaking design research and leading-edge experimentation on behalf of the industry. There are even bike trailers that use adjustable straps which attach to the seat post of your bike. All of the bike trailers on our list feature these and several other attachment mechanisms, so you can feel confident no matter which one you choose.
Features
While it's important and necessary to evaluate a bike trailer first and foremost on its safety design and structure, the next category of evaluation should be on any extra features which can make the experience more enjoyable for both you and your child. Many of these extra features are designed to increase the comfort level inside the trailer, reducing the degree of uncomfortable vibrations and friction for your child during the ride.
Some examples of simple yet intelligent design features are included foot rails inside the trailer which protect your child's feet, safety flags, and wheels that can detach from the trailer to make packing easier during traveling.
Sun protection is also a common concern among parents, and luckily today's bike trailers feature darkened or tinted windows that help to shield your child from too much sun exposure. This also ensures they stay cool and don't overheat during rides on longer trails.
FAQ
Frequently Asked Questions 
Q: I've never used a bike trailer before, so which one would be a good first introduction?
A: If it's your first time trying out a bike trailer with your child, it's understandable that you'd be a bit nervous. For this reason, it's probably best to buy one that is moderately priced since you will be testing it out to see if you like it long-term.
But you also want one that doesn't skimp on the quality design and safety features of the more expensive options, so, for this reason, the InStep Take 2 Double Bicycle Trailer would be a great option. It is an Amazon's Choice bike trailer with over one-thousand reviews, so it's definitely a worthy buy.
Q: I'm concerned about the safety of my kids. How securely do these bike trailers attach to a bike?
A: Safety is the number one priority for all of the bike trailer manufacturers on our list. That's why all of them come with included safety precautions to ensure that the hitch and arm attach securely to almost any bicycle.
Many of them come with an extra strap or safety harness in the rare case the bike becomes detached from the trailer and reinforced tightening locks that help to fasten the hitch securely to any bike wheel. You can rest assured that all of these bike trailers have passed the most stringent testing and have gone through endless scrutinization by both engineers and families.
Q: How old does my child have to be before I can take them for a ride in a bike trailer?
A: The general rule of thumb is that any child taken for a ride in a bike trailer should be old enough to wear a helmet, which excludes all children under one year of age. This is because children under one year simply aren't developmentally ready to wear a helmet, and taking them for a ride in a bike trailer is putting them at serious risk for injury.
It's best to wait until they're at the bare minimum two years of age when they are able to wear a helmet comfortably. Most bike trailers for kids are made to accommodate children up to six years old.
Q: What is the maximum weight that these bike trailers can carry?
A: The maximum weight capacity that the bike trailers on our list can carry vary from brand to brand. Generally, however, most bike trailers for kids can carry a weight range of anywhere between 85 to 125 pounds. Many parents find that this is quite a generous weight capacity given that most small children under six years old rarely reach the maximum weight. This is also great for families who like to use their bike trailers as occasional gear carriers, especially on camping trips or extended trail rides. With all that room for weight, some people even put their labrador retriever in these bike trailers with zero problems!
Q: Since these bike trailers are low to the ground, does that make them less visible to other cyclists or cars?
A: Yes, they can be slightly more difficult to see because of their low height. However, this is why it's extremely important to avoid taking your child near or on any heavily trafficked vehicle roads. Cars will have the hardest time seeing any bike trailers, so it's best to stick to bike trails when taking your little one for a spin. And even though bike trails are always safer, it's always recommended to attach a tall orange safety flag to your child's bike trailer before starting.
Q: If I take my older child in a bike trailer, do they still need to wear a helmet?
A: Absolutely. A child should never be riding in a bike trailer without a helmet; although they may seem old enough for a helmet to be unnecessary, it's always wiser to avoid the risk of any injuries. Most bike trailers are not made to accommodate any child older than six, which means that a helmet is still definitely required. And remember: it's better to be safe than sorry!