Our lips go through a lot throughout the course of one year. Inevitably, you know you'll always start out with your favorite chapstick at the beginning of the year and by the time fall rolls around, you've lost three of them. Even more so, you know that your child isn't really keen on using chapstick or lip balm in the first place so of course, there are plenty of half-empty tubes rolling around in the back of your car somewhere from them. What many parents don't realize is that lip balm is important year-round and should really be part of your child's routine, especially if they're going to be spending time outdoors.
The science behind lip balms and why they work is fairly simple. Your lips are essentially part of your skin, however, they don't produce oils the same way that your face, scalp, and other parts of your body do. It's due to this lack of oil production that leads to them becoming dry, cracked, and even sunburned if precautions aren't taken to use a balm with SPF. Your lips can dry out very quickly without any protective layering which is why in the winter, your child will notice their lips peeling and cracking. In the summer, lips can absolutely become burnt the same way skin can, which can cause them to feel raw, blistered, and eventually peel. Chewing on your lip can also cause dryness as you're peeling and irritating the top outermost layer, causing other layers to become exposed and thus, unprotected. It's something that can be quickly and easily remedied with the regular use of a lip balm, but it's not something you'd think of as part of your winter or summer-care routine for your child. Luckily, we've been diligent in our research and have come up with ten lip balms that are tested tried and true to be winners when it comes to lip protection. Some of them are all-natural, some come in fun and fancy "flavors" and some have beneficial properties that go beyond the job of your average lip balm. We're sure you'll find one that's perfect for your little one but make sure you get two — Our money is on the fact that you'll probably steal it for yourself!
10 Best Lip Balms for Kids Reviewed
1. Sky Organics USDA 6 Pack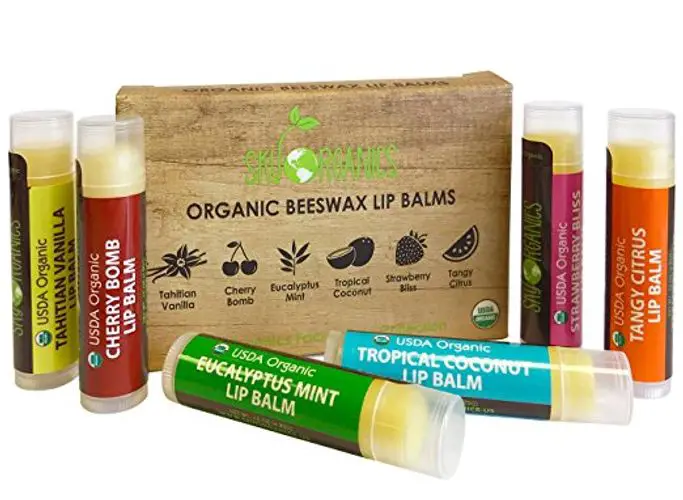 With six delightful flavors and a formula that just can't be beaten, this balm should be as high on your list as it is on ours. The organic beeswax is just the cherry on top -- Or should we say the wax on top?
Expand to see more
Food isn't the only thing that can be made organic! Lip balm can also be crafted with all-natural, pure ingredients, and Sky Organics is a brand you can trust with the best. They've created six original flavors that your kids are sure to love, including eucalyptus mint, Tahitian vanilla, tangy citrus, cherry bomb, strawberry bliss, and tropical coconut. There's a flavor in this variety pack for everyone and there's almost enough to use one each day of the week! In addition to being outrageously flavored, these lip balms help to soothe lips with vitamin E, coconut and sunflower oils, and calendula, all combined in an organic beeswax formula.

Benefits
This lip balm is a great alternative for those who are often sensitive to other products. Since everything is certified organic, there's no need to worry about extra additives that can cause irritation or a reaction upon application.

What We Like About It
Additionally, just because it's organic doesn't mean it can't smell great! Having a choice of six different flavors not only adds great variety to an otherwise boring lip balm, but it also serves as motivation to avoid losing each one.
Pros
Six different flavor options
All organic ingredients
Contains essential oils
Calendula helps to calm irritation
Very safe for kids of all ages
2. Beessential All Natural 3 Pack
Bees are a crucial part of our world and the wax they produce has
health benefits
that are unparalleled. This lip balm is formulated with natural beeswax and a few extras to ensure moisture, comfort, and protection for you little one throughout the year.
Expand to see more
The beautiful thing about lip balms is that there's no one right way to create them. Each formula contains something different and beneficial to your lips, and Beessential contains it in the form of shea butter. This is an ingredient that you're probably familiar with in body lotions but it's also helpful in the fight to keep lips
hydrated and moisturized
. This is especially helpful in the winter months when dry, cold air threatens to crack unprotected lips. Additionally, this formula contains Cupuacu butter which provides that extra kick of hydration. Each balm is naturally flavored with honey to provide a slightly sweet taste and aroma, but not enough to be overwhelming during application or wear time.
Benefits
These lip balms can be applied easily throughout the day and won't interfere with eating or drinking due to their flavor. The addition of natural shea butter helps them to glide on effortlessly and melt into the skin.
What We Like About It
There's nothing unnatural in this lip balms and they won't leave you with a strange aftertaste if you happen to ingest some, making them a good option for young kids. If your child doesn't do well with strong smells or tastes, give these a try!
Pros
Formulated with butter rather than oils
Natural ingredients are good for long-term lip health
Can be reapplied throughout the day
Light honey flavor is not overwhelming
The formula provides a natural protective barrier
Cons
The formula can feel a bit waxy upon application
Contains no SPF
3. Treat Jumbo Organic Soft
You know what they say, everything is better when it comes in a jumbo-pack... Even lip balm! What's even better? This balm is certified organic with a delicious flavor to it.
Expand to see more
We're just going to say it right off the bat -- This lip balm is massive! It's roughly three times the size of a normal chapstick which is great for the price point you're getting. Having a larger chapstick allows the application to be quicker and easier since you're dealing with much more surface area. This balm is certified organic and contains a blend of coconut oil, shea butter, and vitamin E for a moisture-packed application each time. It's ideal for days at the beach or in the park since it's big and won't likely get lost at the bottom of a bag or purse.

Benefits
The flavor of this balm is addicting according to fans of the product and is pretty true to its description. This is great for kids who can't help but turn their noses up at traditional flavorless lip balms.

What We Like About It
While the size of it is a bit amusing, it's actually very practical for those who are in dire need of daily lip balm. It contains the same amount, if not more, of the product as three normal chapstick tubes, making it last for quite some time.
Pros
Contains tons of balm
Won't get lost easily
The flavor is true to its name
Contains butter and oils for hydration
Goes on very smooth
Cons
Does not contain SPF
Contains Stevia for sweetness
4. La Lune Naturals USDA 4 Pack
If just the basics are what you're looking for, La Lune is bringing it to you in an organic, all-natural formula. These balms come in four great flavors, none too overwhelming or strange-tasting.
Expand to see more
Another great organic option is La Lune Naturals. Their lip balms contain only the most natural of ingredients to provide kids with the best formula possible to protect and hydrate lips, any time of the year. These balms come in three flavors, including Asian pear, peppermint, vanilla bean, and raspberry. Each flavor has also been formulated with natural and organic ingredients to not interfere with the natural healing properties of coconut oil, rosemary extract, sunflower oil, vitamin E, and calendula. Each of these things helps to promote healthy lips as well as encourage regrowth of lips that are already damaged, dry or cracked.

Benefits
This winning blend is the way to go if you're noticing that your child has a lot of lip irritation or dryness. The organic formula contains nothing extra that would cause irritation and only has the most natural and gentle of oils to promote healing.

What We Like About It
None of these flavors are overwhelming in any sense, nor will they interfere greatly when it's time to eat or drink something. Other flavors have a tendency to leave a strange taste in one's mouth, but these are neutral enough to prevent that from happening.
Pros
Subtle flavoring
Packed with hydration
Easy to apply
All organic ingredients
Safe for all ages
5. EOS Visibly Soft Vanilla Mint
With a brilliant, compact design and a fantastic scent and flavor, eos is well-loved by the lip balm-wearing community. However, they also contain a secret hydrating agent: Jojoba oil!
Expand to see more
These lip balms have a reputation due to their unique design. Rather than the traditional chapstick tube that most balms come in, this spherical design allows the wearer to reach all the balm contained in one container, rather than having it stuck at the very bottom. This also provides the option for application either with the container or with your finger if you're near the end of the balm. eos balms come in a variety of flavors which are subtle but still there and contain both cocoa and shea butter for maximum hydration and all-day wear.

Benefits
eos balms also contain jojoba oil which has been proven effective for extremely dry skin. This delivers an immediate rush of hydration to the affected area for fast relief during harsh-weather months.

What We Like About It
The design of this balm is unique and truly ingenious. It prevents waste and is also easy to carry and fun to apply. Kids will love the different take on the shape of this balm and will probably be more inclined to use it.
Pros
Contains jojoba oil for extra moisture
Formulated with a unique blend of hydrating ingredients
The application is simple and quick
Unique shape lends itself to minimal waste
Each flavor tastes good yet is subtle
Cons
Contains Stevia
Does not have SPF
6. Nature's Bees Cocoa 24 Pack
Cocoa butter is a powerful contestant when it comes to maintaining natural hydration. Combined with a few other key ingredients, Nature's Bees has found a formula that really works.
Expand to see more
Cocoa butter is often an essential ingredient when it comes to hair and facial products and while you wouldn't think it's something that goes on your lips, Nature's Bees has found a way to implement it in their dynamic formula. This lip balm contains mostly cocoa butter which has been shown to dramatically smoothen out skin while maintaining its natural moisture. Additionally, you'll find olive oil in this formula which is a great partner to cocoa butter as it provides a natural protective barrier against dryness and cracking.

Benefits
This is an excellent option for large families since this variety pack comes with 24 variously flavored lip balms. For the price, you're getting an incredible deal with more than enough extra in case your kids lose a few.

What We Like About It
Cocoa butter is wonderful for sensitive skin because it's not known to cause reactions or irritation upon application. This formula is gentle and won't irritate lips that might already be chapped or dry, making it a good remedy as well as a preventative measure.
Pros
Contains cocoa butter for hydration
Contains olive oil to promote healing and a protective barrier
Comes with 24 lip balms
Four fruity flavors to choose from
Paraben-free and safe for all ages
7. Burt's Bees 100% Natural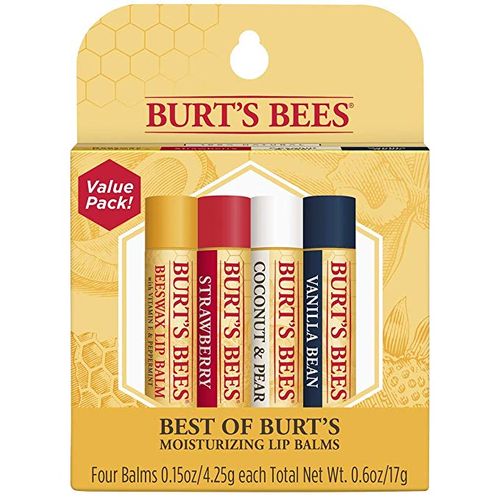 You know this brand and you might even love it already, but did you know they produce several flavored lip balms in addition to their original? This is the perfect way to convince your kids to wear that lip balm that they previously hated -- Because now it comes in three different flavors.
Expand to see more
Perhaps one of the leading contenders for lip balm, Burt's Bees has a reputation for excellence that precedes it. This four-pack comes with four different flavors, strawberry, vanilla bean, coconut & pear, and original, and provides all of nature's natural benefits in the form of 100% beeswax. They're the original when it comes to the natural protective qualities of beeswax in a lip balm and simply can't be beaten. The neat thing about these balms is that each one packs a blast of fruit extract to naturally promote healing and keep lips feeling smooth and healthy.

Benefits
Beeswax forms a natural protective barrier over the lips so not only is this formula hydrating, it's also helping to lock in moisture as well. It will stay on throughout eating and drinking for the most part and you won't need to reapply as often throughout the day.

What We Like About It
Burt's Bees care about the quality of their products and that's evident in the formulas they put forth. This is a collection of solid lip balm products that are long-lasting and come at a great, affordable price.
Pros
Four flavors formulated with fruit extracts
Contains an original flavor for those who don't like fruity scents or tastes
Beeswax is a natural barrier
Locks in moisture
Helps to promote healing
Cons
Product claims there are four balms to a set but only provide three
8. ChapStick Holiday Limited Edition
Ho ho ho, we come bearing gifts of good tidings and extraordinarily good-tasting lip balm! These three flavors will definitely be a welcome addition to any child's stocking stuffer, as long as they don't eat them first.
Expand to see more
We know there are kids out there who absolutely flip over seasonal items (and probably some adults, too!) and ChapStick definitely delivers when it comes time for spooks and holiday jingles. This Limited Edition variety pack contains crazy flavors such as pumpkin pie, candy cane, and even sugar cookie, for those who are extra sweet. Each of these flavors is incredibly realistic when it comes to the name that's stamped on them, so watch out -- Your child might be more tempted to eat them rather than use them! Additionally, ChapStick is known for providing that powerful hit of moisture exactly when you need it -- During those cold winter months. Besides, who wants to risk having chapped lips when there are carols to be sung and Christmas cookies to be eaten? Not us!

Benefits
These flavors are delectable to little kids. They're a great way to encourage an interest in lip health, especially when it's cold out and kids are more prone to getting cracked lips than they are the rest of the year.

What We Like About It
We'll let you in on a little secret: There are more than just these three flavors! ChapStick has created several other variety packs, each containing flavors specific to kids' favorite foods or flavors.
Pros
Unique flavors encourage more use
They're perfect for the holiday season
Provide hydration and protection
They come in several other fun variety packs
Great as a gift or stocking stuffer
Cons
Contains petroleum
Scents might be too strong
9. Lip Smacker Coca-Cola Party
You can't go wrong with anything flavored like a soda when it comes to kids. The great news is that these will protect and hydrate their lips without all the added sugar of carbonated drinks.
Expand to see more
Of course, we couldn't leave off without including the original in lip care. Lip Smackers have been around for a long time (we're sure some of you parents even remember them!) and for a good reason -- They work! These are specifically designed for use amongst younger kids and are nontoxic, safe for reapplication throughout the day, and always come in a variety of wild flavors. While they're not breaching medical marvel standards as far as lip healing goes, they will help to form a protective layer on your child's lips while helping them to remain hydrated. Did we mention they come in crazy flavors that kids are sure to love?

Benefits
While these balms are made to wear for fun, they do also provide helpful moisture that's perfect for any child who doesn't suffer from dry lips but doesn't want to, either. This variety pack contains eight different flavors that all correspond with a different soda flavor, making them totally kid-friendly.

What We Like About It
Lip Smackers help to keep lips feeling smooth and work as a preventative measure when it comes to dry or cracked lips. These flavors will peak the interest of kids and will surely have them applying lip balm all day, every day.
Pros
They come in eight different flavors
Popular amongst kids of all ages
Helpful in encouraging lip help
Help to smooth and keep lips hydrated
They go on smoothly
Cons
They contain some additives
They don't contain SPF
10. MindWare Science Academy
What better way to help kids learn about the importance of lip care than by helping them create their own lip balm? This kit will have them well on their way to creating the next great chapstick.
Expand to see more
Now for something completely different! The MindWare Science Academy for lip balm allows your child to pick, choose, and actually create their own lip balm. This is perfect for the little scientist in your life and would make an excellent gift. It's a great way to promote healthy lips and encourage kids to wear lip balm often and regularly. This kit comes with everything they need to create their own flavors and also includes things such as berry wax beads, baby oil, and even sunblock. Additionally, your child will have a blast adding their own sparkles and flavors to whatever they come up with.
Benefits
The addition of sunblock to this kit was truly inventive. It's not often that you find a lip balm that
hydrates
, protects, and keeps lips safe from damaging sun rays, but this has it all.
What We Like About It
The balance between being able to create a helpful product and one that's fun to make is evident with this kit. It combines a little bit of science, health advice, and fun to create something brilliant.
Pros
Everything is included
Contains sunblock
Allows kids to be creative with their lip balm
Promotes hydration
Easy to use
Cons
Does not contain natural beeswax
Criteria Used in the Evaluation of the Best Lip Balms for Kids
By just simply saying, "use this, it's good for your lips", you're not really convincing anyone, kids included, of the importance of lip protection. Not only do we use our mouths to eat and drink, but we also use them to talk, help form facial expressions, and make various sounds and noises in pronunciation. That's why it's so important to not only take care of your lips but to continue that care throughout the entire year. Many lip balms boast of healing properties but don't actually pull their weight when it comes to harsh winters and brutal summers. Luckily, we've found the lip balms to end all lip balm questions (which we'll get to later on) and we're sure your kids will love wearing them as much as we loved finding them. The process of finding these, however, was just that: A process. Let's talk a bit about it.
For starters, kids aren't interested in a traditional lip balm that's boring, doesn't smell like anything, and looks insignificant as far as packaging and formula. While there are plenty of balms out there that are excellent for your lips, not all of them appeal to kids. This was one hurdle we found ourselves jumping over early on in our quest for the best smelling, best looking and best working lip balms. We ended up weeding through some interesting options but ended up with a solid list of choices that would both surprise and delight kids the second they popped that cap off. Simply put, these chapsticks and lip balms had to smell awesome, look fun and unique, and be totally kid-friendly.
Secondly, we didn't want anything that was too strong. After all, we're talking about kids — There was no concern of need extra moisturization (although it was an additional perk) or need something that was tinted or had pigmentation. Therefore, we threw out lip balms that seemed too strong either in scent or in feel. This meant no heavily minty lip balms and nothing that smelled like it came out of a cotton candy machine (after all, we don't want kids eating their chapstick).
Lastly, it had to have a reputation as any products do that are to be directly applied to the skin. Whether it was through the recognition of a brand name or through the beneficial properties of the natural ingredients used, these lip balms needed to be certified through others' opinions. We've found that the best way to learn about a product isn't just by taking into account our own opinion of it, but by listening to others as well and painting the whole picture rather than just part of it. With this in mind, we were able to move forward with the ten best choices that we'd found through our research.
Additional Factors to Consider: What if Your Child Doesn't Have Lip Problems?
If your child doesn't struggle with any lip problems whatsoever, then you're probably wondering why you're reading this list, right? Unfortunately, skin damage doesn't just appear in the form of dry and irritated skin. Your child could be receiving sun or windburn without even realizing it because the damage is hidden underneath several layers. Since we do have so many layers of skin on our bodies, damage doesn't always float to the surface immediately and might take days or even weeks to make itself known. Lips take a large part of this hit because they're completely unprotected and always in the open, and there's simply no way of avoiding this. Gamma rays from the sun can penetrate layers of skin and eventually cause damage deep within, which is why lip balms can be so crucial to any outdoor activities. This is important when you're at the pool or beach as well because chlorine and saltwater can both have drying effects on skin — Including lips. These are small things that we never think of but should really be routine as far as skincare. While lip balms don't need to be applied every single day, it's important, at least in the winter and summer months, to have it on-hand just in case. It's a precaution as well as a remedy.
Benefits of Letting Your Child Create Their Own Lip Balm
We have included a lip balm kit here which might bring about a few eyebrow raises. It can be tough to get kids interested in anything regarding their health, especially at such a young age. By encouraging them to take control of their health in a way that's creative and fun, you're providing them with a lifelong lesson that they'll remember as well as continue to use. Lip health is just as important as overall skin health and can even be fun when you're the one creating the products. The kit we've included here contains everything your child needs to become their own little scientist. It also gives them the choice of what they need in a lip balm whether it's extra hydration, sun protection, heavy flavoring, etc. By providing them with the tools, they'll be engaged and learning all while creating something that's useful to them and will last quite some time.
How Long Will Lip Balms last?
The general shelf life of one lip balm or chapstick is generally under one year. It's a good idea to swap lip balms out every six months at least in order to reduce the buildup of bacteria, food, and drink particles, etc. These balms can also air out if the caps aren't on tightly enough which can lead to a lack in flavor as well as a dryer application. While a wax is great at providing a barrier once applied to something, it also needs to be protected in an airtight environment in order to continue being successful as a lip balm. Additionally, the ingredients within lip balms normally won't last forever, especially if they're organic or natural as many are on our list. So how do you ensure a long life for your child's lip balm? Make sure that the cap is always pushed on tightly, for starters. Secondly, make sure that upon application, the lip balm is simply gliding across the lips rather than causing friction and dragging. This can occur upon first opening a lip balm as well since wax does need to be warmed up a bit in order to glide on smoothly — This can be remedied by first rubbing the balm across the back of a clean hand to add friction and heat. Lastly, it's best not to take any chances and to throw out a lip balm that has been around for longer than six months, especially if it's not been used regularly. If the top layer does seem a bit dingy or hard and it hasn't been a full six months, you can always slice a layer off to check how it looks underneath. Depending on temperature storage, lip balms can solidify even more due to the oils that are in each formula.
While it can be tempting to share lip balms with your child or encourage them and their siblings to swap flavors, it's not the greatest idea. Since the lips are exposed to a lot of things including air, you never know what could be sitting on them. Viruses and bacteria can easily be transferred to individual lip balms and due to the nature of wax, oils, and butter, it creates a prime environment for growth when too much of something foreign builds up. While it might seem harmless, your kids could be swapping viruses and bacteria without even realizing it. While lip balms are safe to use on your own lips once you've used it once, it's not safe to swap them out and apply to your lips, what someone else has already applied to theirs. That's why most of the products on this list are variety packs; everyone will be able to have access to their own lip balm and maybe even have a backup if one is lost. If there's no need to share lip balms, then they should never be used on more than one person after the initial opening of one.
FAQ
Frequently Asked Questions
Q: Is this safe in case my child ingests it?
A: While it's definitely not advised that this chapstick gets eaten, it is non-toxic, as any lip products always should be. To avoid accidental ingestion, your child should only apply a thin layer of lip balm to their lips and wait several hours between applications.
Q: Can these be used on lips that are already dry or cracked?
A: Yes. Their intended purpose is to help soften lips while also providing an adequate layer of protection. It might sting to apply if your child has open wounds or sores, but once the chapstick is applied, he or she should be fine.
Q: How young an age can children use these?
A: We'd recommend not using them on any children under the age of four. The reason for this is to avoid excess ingestion of chapsticks or lip balms.
Q: Do the flavor variety packs also come individual packs?
A: You'd need to do a search for the flavor that you're looking for along with the brand of chapstick or lip balm that makes it. We don't see why they wouldn't but if you buy the variety pack, you'll always have a backup. It's worth the investment!
Q: Do these all contain SPF?
A: No, not all of them. Some chapsticks are made purely for hydration purposes while others are intended for sun protection as well. Any lip balms that do contain SPF are listed under the summary as well as in the pros/cons section of each product for easy referral.
Q: Is there any benefit to making your own lip balm versus purchasing one that's already made?
A: The only difference is that your child will decide what goes into their lip balm if they go with a lip balm-making kit. Professionally-made lip balms can contain other ingredients that naturally help to soothe, protect, and hydrate, but lip balm kits contain the same protective qualities. Additionally, purchasing a lip balm means that you can seek one out that contains SPF, whereas many kits won't have this option. It all depends on what you're looking for and if your child is interested in creating their own personal lip balm. This is often a great option to get kids to use chapstick when they wouldn't otherwise.