Did you walk in on your daughter staring at herself in the mirror while covered in your favorite lipstick and mascara? Or were you simply led to this page due to your little one asking for her own makeup set? Either way, you've come to the right place. If your child is starting to show an interest in makeup it doesn't necessarily mean they experiencing low self-esteem. Children often enjoy putting on makeup because it is a form of dress up. It allows your child to unleash their creativity and imagination. We have created a list of the ten best makeup sets for kids. Whether your daughter is a toddler or a tween, there is a set on this list that is appropriate for their age.
Our Top 3 Picks
Glamour Girl Pretend Play Make up Kit

Our rating
Not Real Make Up
Price:

See Here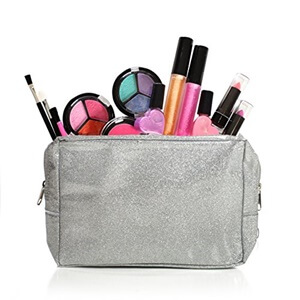 Kids Washable Makeup Set

Our rating
Travel Portable and Non Toxic
Price:

See Here
Petite Girls Heart Shaped Cosmetics

Our rating
Ages 5+ And Non Toxic
Price:

See Here
SHANY Glamour Girl Makeup Kit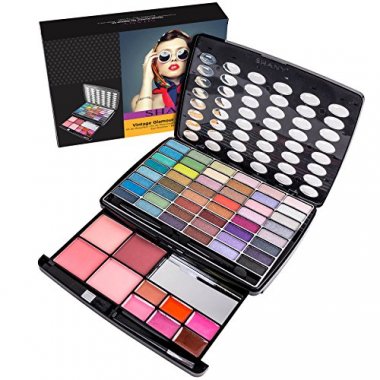 Joyin Toy All-in-one Girls Makeup Kit
Click N' Play Pretend Play Cosmetic and Makeup Set
BR Makeup Glamur Girl Kit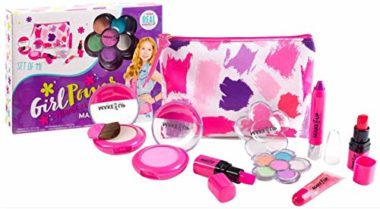 Little Cosmetics Pretend Makeup Signature Set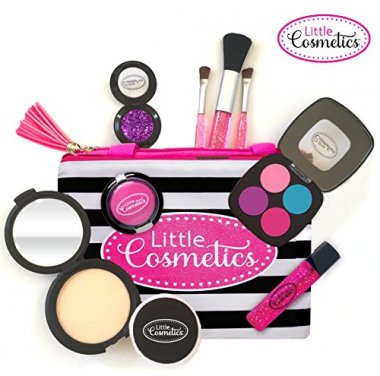 Age Range: At least 3 years old
Washable Makeup Set with a Glitter Bag
Age Range: At least 6 years old
Petite Girls Heart Shaped Play Set
Age Range: At least 5 years old
Criteria Used to Evaluate The Best Makeup Kits for Kids
The criteria used to compose the list of the 10 best makeup kits that appear on this page are something that we do not take lightly. Every kit on the list was first evaluated for safety. We want to make sure anything listed on our pages is completely safe and nontoxic to the children using the kits. Each kit was researched to ensure that if they included real makeup that the makeup was chemical-free and easy to clean up. We want all kids to look beautiful and have fun playing with the makeup but we also want to make sure it is safe.
Once each of the kits that we selected was narrowed down by the safety criteria, then they were evaluated by our panel of experts. The panels of experts consists of toy experts, parents, and child psychologists. The panel reviews the makeup kits based on others customer's review and their own feedback of each of the kits. We always want to make sure anything that is listed on our site is completely safe and fun.
Encouraging kids to role-play
When kids role-play they are not only having fun but they are learning as well. Role-play has many developmental benefits. Encouraging kids to engage in role-play helps them explore their creativity and inspires their imaginations. When you help kids explore their creativity, you are giving them the power to learn while engaging in a fun activity. Whether you are pretending to be a pirate on a ship in the ocean or doing a makeover on the bathroom floor, everything experienced is something they can learn from and builds their developmental skill sets.
When you inspire a child's imagination, you are giving them an outlet to express themselves. When kids are able to express themselves they learn about verbal social cues and nonverbal social cues. They are able to engage in a social setting without ever having to leave their own environment. This helps to not only create a developing social skill set but it also works on motor skills as well. No matter what way you look at it, inspiring a kid to engage in role-play is very beneficial.
Development of social skills through playing with makeup sets
When children engage in creative play with makeup sets they are building their social skills through learning about themselves and also learning about others. This allows children to engage in a social setting which creates interactions and helps them communicate with each other about their feelings and interests during the play session. They are able to learn about themselves through communicating with others and it also allows them to explore their interests. When using makeup sets, it allows a child to pretend they are a princess and how it would feel to be in that role. This teaches them skills and builds their thoughts for the future.
When engaging in social play with makeup kits with others, children also get the social experience of learning about others. It teaches them to communicate with others and encourages them to work as a team. This allows them to also learn about different social roles and how different people react in different situations. Engaging in pretend-play with makeup sets or any other props that are provided give children an environment to explore and learn while developing social skills that will help them through their lives.
What Determined The Best Make Up Kits on Our List
Picking the correct makeup set for children is almost the same as selecting the best kit for us adults. However, since we're talking about children here, we don't want any harsh chemicals come into contact with their very sensitive skin. It was therefore, very crucial for us to determine the safety of the materials used in these products. Kits that contain chemicals that are difficult to wash away and clean-up are thus avoided. We don't want any of these clogging the pores of the skin or even irritating your child's skin. True, they will look gorgeous, but if they develop skin allergies to it, we'd rather not risk it.
Additionally, we only focused on make-believe or pretend-play makeup kits. While some of our selections really do provide fantastic results, the materials used are considered to be kids-safe. We wanted to provide children with the correct tools to help them learn about the basics of grooming especially in the application of makeup.
We also read numerous opinions, reviews, and comments from very satisfied customers. That's why we're pretty confident about our shortlist as they do represent the prevailing sentiments of many parents. Of course, we don't expect all of the feedback to be positive. That's why we also had to review the negative comments and determine whether these can impact the overall usefulness of these makeup sets for kids.
Pretend-Play and Role-Playing in Children
Pretend-play is regarded as one of the best ways to encourage imagination in our young children. These activities are often seen by many child-care experts as children's means of communicating their understanding of how the world works. They may have difficulty expressing their ideas verbally but, when given the chance to act out what they have in mind, the picture can take on a very dramatic meaning. Aside from this, there are other benefits of pretend-play. These can include enhancement of their cognitive abilities, the establishment and strengthening of their social skills, and the refinement and continuous growth of their emotional skills.
Unfortunately, not all parents understand the concept behind pretend-play.
Children playing pretend typically use props or objects to represent real things. Experts say that the more realistic the object is, the least helpful it is in stimulating a child's imaginative potentials. For instance, giving him or her a stick allows the child to use his or her imagination to pretend that the stick is a magic wand, a conductor's baton, or even a spaceship. Now, if you give him or her an actual magic wand, then his or her mind no longer has to imagine simply because it knows that what it has is a magic wand and not something else.
This is not to say that realistic-looking toys are not beneficial. These are important in role-playing where kids are able to act out their understanding of the world. For example, drinking from a toy teacup teaches kids the art of actual tea-drinking itself. In like manner, applying on a toy makeup teaches them about the art of wearing a makeup. This helps prepare them when they grow up so they can do the things that adults are expected to do.
The point is, if you want to stimulate imagination, then you need to encourage pretend-play. If you want your child to learn a specific adult task, then help them with role-playing activities.
The Bottom Line
Learning to put on a makeup is important for girls as they grow up. With the 10 best makeup sets for kids in our list, we're confident you'll be in the right track helping your child learn this task.
FAQ
Frequently asked questions
Q: Are all the products/makeup on the list safe for kids?
A: All of the products and kits listed on the list are safe and completely nontoxic. We researched each product and kit to make sure that the manufacturer has selected ingredients and products that are safe and meet all US requirements. We want nothing butthe best suggestions for our visitors.
Q: How are the sets on the list selected?
A: The makeup kits selected on our list are put together by a panel of experts that review products for safety, quality, and the level of fun each kit provided. When selecting the kits that we have, we want the kits best reviews from parents, our experts, and other consumers as well. We want to make sure that anything listed on our list is a great kit and allows hours of fun.
Q: Where can I find the kits listed on this list?
A: You can find the kits listed on the page either by clicking the link provided in the description or by completing a simple search on the internet. Using a search engine is one of the easiest ways to find an item. Entering the item and pressing enter will display results of tons of places that carry the kit. The places will be both online stores and physical stores as well.
Q: Why is encouraging a child to play with makeup set important?
A: Having a child encouraged to play with makeup sets is important because it allows them to express themselves, see how others express themselves and learn through the experience. Each time a child is engaging in a creativity-play setting they are learning. They are learning social skills, motor skills, and expressing themselves. This is important to their development and helps them prepare for situations in their lifetime.
Q: Are all the makeup products on the list washable?
A: All kits that are listed on our list are completely washable. It the kit suggested included real makeup we reviewed the manufactures information to ensure the ingredients are washable along with being nontoxic as well. We want to make sure any suggestions on our list are safe and fun.
Q: Where can we find makeup designs to inspire creative play with makeup?
A: You can find makeup designs and information on styles of makeup to inspire the child in your life by either using books and magazines or searching the internet for makeup designs. Some of the kits suggested above even come with books that give have looks to help with inspiration.