10 Best Magic Kits for Kids Reviewed in 2019
last updated
May 29, 2019
The world of magic can be pretty amazing to children. It can provide them with an amazement that engages them for hours and sometimes even years. Watching magic, learning magic, and completing the illusions on their own can give them some of the strongest developmental benefits. Performing illusions and tricks takes lots of practice. It requires children to master several skills that benefit them both physically and mentally. The challenges will benefit them with a skill set that gives them hand dexterity, excellent fine-motor skills, gross-motor skills, and self-confidence that cannot only be seen in a social setting but also in the classroom as well.
Giving your children a magic set will allow them to experience the art of illusions first-hand.
In a Hurry? The test winner after 12 hrs of research
Jim Stott's 'My First
Why is it better?
Helps younger kids get creative
Allows kids to master tricks with ease
Helps younger kids develop fine motor skills
Helps younger kids to think critically
In a
Hurry? Editors choice:
Test Winner: Jim Stott's 'My First
16
Researched Sources
12
Hours Researching
15
Products Evaluated
Age Range
Creativity
Logic
By Default
10 Best Magic Kits for Kids Reviewed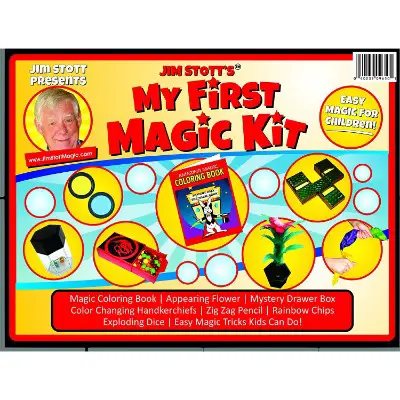 Helps younger kids get creative
Allows kids to master tricks with ease
Helps younger kids develop fine motor skills
Helps younger kids to think critically
Some parts are small and could be considered a choking hazard
You have to use the internet to get the instructions
This set is the perfect entry for beginners. It's also just such a creative kit. Anything that encourages imaginative thinking and creativity at a young age is always a plus in our book.
Read more
Age Range
At least 5 years old.
Creativity
This set is great for stimulating your child's imagination at an early age. Not only will this kit help your kid to quickly master the art of illusion, but it's going to open up new doors in your child's mind. Everything is so easy to learn which ensures that your kid has an absolute blast while learning about all that the wonderful world of magic has to offer.
Logic
This is another great set that's geared towards beginners as it's recommended to kids aged 5 and up. The kit was developed by Jim Stott who has years of experience performing at birthday parties, festivals and picnics, corporate events, schools and libraries, and even fundraisers. With so much experience under his belt, you know that your child is going to be learning from one of the best magicians out there. Jim Stott's ' My First Magic Kit' comes with a Welcome Letter Postcard that has a link to a super-secret website where you and your kid can find tutorial videos and free magic downloads. You can also download Jim Stott's best selling book Learn Magic with Jim Stott from the website. It even comes with a magic coloring book! We can't stress enough how great this product is for younger kids. Learning magic is meant to be a fun experience, and these tricks are so easy to learn which guarantees that your child won't feel any frustration in the least when learning new tricks.
2

. Learn & Climb Beginners Kit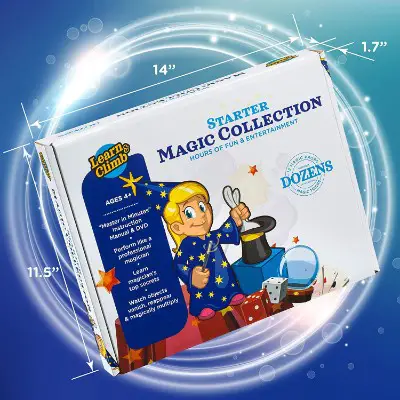 Beginner magic kit with classic tricks
Set includes 12 props that create endless hours of magical fun
Featured is an easy-to-follow instruction manual along with DVD
Best-suited for children ages 4 years old and up
Promotes self-confidence and self-esteem
Many have issues with playing the included DVD
Very simple kit, great for beginners
Learning magic has so many benefits for children plus the look on their faces when they have mastered a trick and are able to show others is priceless. This is a very rewarding kit that allows children to learn and also great for bonding time with your kids.
Read more
Age Range
4 years and up.
Creativity
Learning how to perform magic tricks for the kids has never been as easy as this kit makes it. The set includes a very easy-to-follow and clear instruction manual that enables kids to perform the tricks easily and will allow them to replicate them each time with confidence. Included is also a DVD that has step-by-step instructions. This is great for children at different reading levels. Included with the set are 12 props that are super-magical and which can be used to create a variety of different tricks and illusions. A magic show would not be complete without a magic wand that has hidden properties to perform illusions of its own. Everything that the kids need to start their own magic show has been included. All that is left to do is find the magician.
Logic
Magic tricks aren't just all fun and games, they actually teach children real skills that are used throughout their life. Performing a magic show raises their self-confidence and increases their self-esteem. Building these skills can not only benefit their personal life but will also be seen in the classroom as well.
3

. Melissa & Doug Magic in a Snap!
Set designed for one kid or to entertain a group
Instructions are easy to read
Set up tricks quickly and be ready to entertain in a snap
Set designed for children ages 4 years old to 8 years old
Improved social interaction and developmental skills
12 pieces included, not 12 different tricks
Pieces to the kit are really small, be careful when handling around younger kids
Kids can learn how to perform magic tricks that are on the professional caliber with this kit. The collection has been created for a target audience of children that are between the ages of 4 years old to 8 years old. They have simple and easy instructions that allow the kids to be able to master these tricks in no time. Included in the set are 12 pieces of magic equipment that come together to create a wonderful experience for all. The audience will be in wow over the great magician that your child has become.
Read more
Age Range
This kit is best suited for a kid from 4 years old to 7 years old. There are very small items/pieces included in the kit. They could be a choking hazard to young children. The kit is also based on skill level and interest.
Creativity
Included with this magic kit are professional-quality magic tricks that are designed just for kids. They are easy to learn how to perform and with the kid-friendly instructions they will be able to master the tricks in no time. Included in the kit is; one magic coin bag, a cash case, vase and ball trick, and a magical tube. All the materials used to create the items are kid friendly and high quality. It has been created to be able to use it with frequent use and stand up to the test of time.
Logic
When children perform magic tricks it really is a boost of confidence for them. When they are up there in front of the audience it gives them the boost that they need to enjoy the experience and work towards getting better and better each time. It also sparks their imagination and allows them to get real hands-on experience with performing.
4

. Scientific Explorer for Wizards Only Kit
Chemicals included with the set
Supplies; test tubes, wand, wand caps, paper, and stickers
Detailed activity guide included
Teaches science behind the art of magic
Build self-confidence
Experiments branch off from each other; one experiment may display 3 or 4 tricks
Once chemicals are used the kit has been completed
The reactions and watching the kids perform the experiments that will benefit their magic shows will just light up their eyes. It is easy to use the kit and require adult supervision so you are able to get involved as well.
Read more
Age Range
At least 6 years old.
Creativity
Self-confidence can be built at a very young age. Children that are exposed to magic and have the chance to perform their magic for others will have better self-confidence and perform better under pressure. This is a skill set that is great to have as an adult.
Logic
A very unique way to learn and perform magic is learning the science behind it. It allows children to master the art of being a magician. It gives them the basics of how the magic works and the knowledge behind why it works. This set includes nine different activities that will teach the kids how chemical reactions occur and how they can use them in their magic trick performances. Plus they will learn about the wizards that inspired the art of Magic. The set includes chemicals like baking soda, red cabbage powder, zinc sulfide, and much much more. Plus it even comes with the supplies needed; test tubes, wand, wand, caps, measuring scoops, paper, stickers, and guide. The activity guide is easy to read and follow. It is best suited for children over the age of six with adult supervision.
5

. Spectacular Magic Show Suitcase
Comes with 100 tricks
Portable
Stimulates imagination
The hat and wand let your kid really feel like a magician
Not suitable for children under 8
Some parts are small and may get lost if you aren't careful
This fantastic (not to mention fantastically) set has 100 tricks that are guaranteed to blow the minds of family members and friends. There is a wide multitude of tricks for your kid to master (100 in fact), and it even comes with a hat and wand to give your kid the authentic look of a magician.
Read more
Age Range
At least 8 years old.
Creativity
It stimulates the imagination and the portability, hat, and wand is definitely a plus. Also, 100 tricks guarantee a ton of fun and will open up your kid's eyes to new possibilities. This magic set is bound to stimulate your child's imagination, and we all know that an endless imagination is key to a child's creative and critical abilities. The wide variety of tricks lets your kid practice tons of different magical feats which will help your child's imagination grow even further than you probably thought possible.
Logic
It comes with a step-by-step instructional DVD starring professional magician Ryan Oakes. Learning all the ins and outs of being a magician from a true professional always guarantees that your kid learns all the skills needed to become a master magician. The storage suitcase also doubles as a portable table which means your kid can perform magic tricks anywhere at any time.
Just imagine how happy this set will make both you and your kid. You get the joy of seeing your kid with a huge smile on her face as she impresses friends and family with all of the amazing tricks she learns, and your kid gets the joy that comes from performing an endless amount of cool tricks.
6

. Learn & Climb Jumbo with Instructional DVD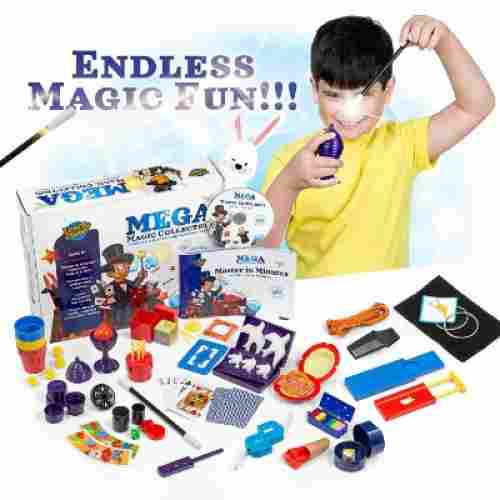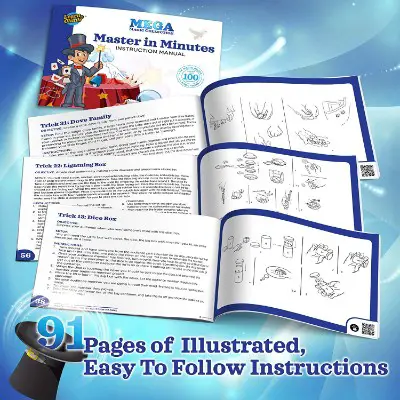 Magic set features 28 props
Props allow over 100 tricks to be performed
Includes step by step simple and easy to follow instructions
Constructed from high-quality materials
Risk-free guarantee, 30 days
Instructions are on a paper booklet, no DVD to explain tricks
Drawer storage is constructed from cardboard
A large set like this that allows your children to create multiple tricks with a great base of props is a great set. It allows them to practice and perform magic and challenges them as they get better with different skill levels.
Read more
Age Range
At least 8 years old.
Creativity
Let your children become the next big star as a magician with this magic set. It features 28 props that move that magical. These props will make it able for your child to perform well over 100 tricks for their audience. The set includes step by step instructions on how to perform the tricks and they will have them mastered in no time. They are easy to follow and simple to complete magic acts. Inside the set, your child will find different levels of tricks. This continues to keep them engaged in the set time after time, plus is a huge audience pleaser.
Logic
Sets come with a risk-free guarantee. If your child does not like the set, it is not to your liking or anything you can return it free for the first 30 days. It is a completely risk-free investment in the world of magic. All the materials used to create the tricks have been made of the highest quality materials. Plus there is a bonus performance table included that has two drawers for storing the items when they are not performing or magic their act. Your kids will never get bored with this versatility of this magic set.
7

. Solid-Wood Set by Melissa & Doug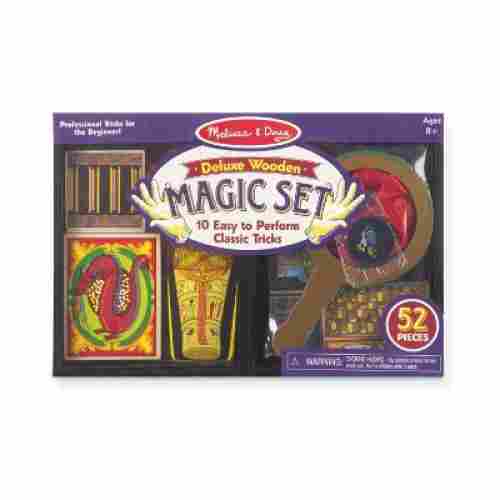 The tricks are easy to learn
Good for developing fine motor skills
Sturdy and durable
Builds critical thinking skills
Only 10 tricks
Some parts are small and may be considered a choking hazard
It's a great set for beginners. Also, the fact that the set is made of wood makes it unique.
Read more
Age Range
At least 8 years old.
Creativity
It's a great way to expand your child's imagination while learning critical thinking skills and developing fine motor skills. The Melissa & Doug Deluxe Magic Set is a fantastic way for a child to create a world of wizardry and wonder.
Logic
This magic set doesn't have as many tricks as Marvin's Magic Box, but that doesn't mean it isn't an excellent kit for introducing your kid to magic. The set comes with ten tricks: magic coin box, Egyptian prediction, great escape, disappearing ball, money maker, cylinder squeeze, vanishing zone, vanishing coin, magic number prediction, and secret skills. The Melissa & Doug Deluxe Magic Set is a solid wood set. If your kid is looking to wow and amaze family and friends with incredible magic tricks while simultaneously developing fine motor skills, then the Melissa & Doug Deluxe Magic Set is a great way to go.
8

. Playz Unlimited Mind Boggling Science Kit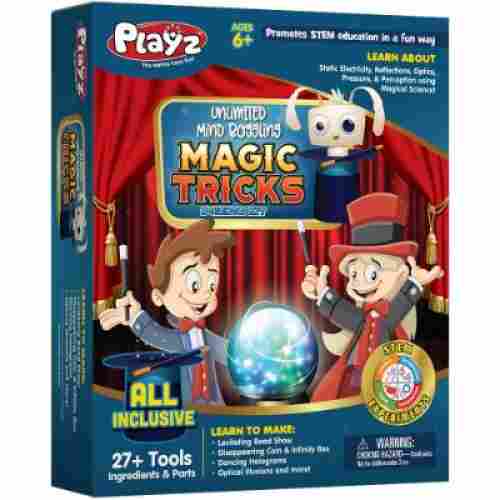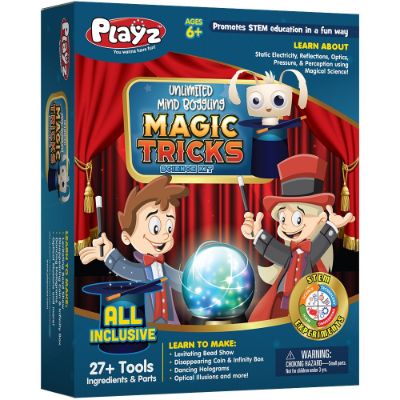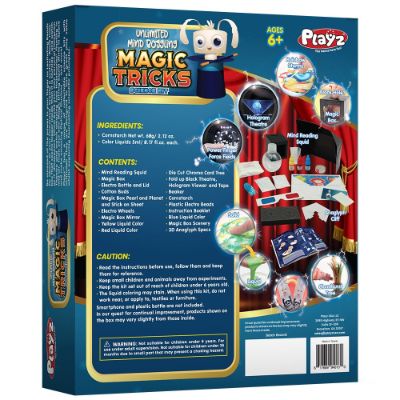 Everything included inspiring the true magician in anyone
Included 27 plus tools, simple design for a fun
Easy to use with instructions that feature full pictures and information
Features a fact filled lab designed guide
Promotes STEAM learning and development
Included pieces are very size
Instructions lack written details, pictures lack the details
Let your little one become the next magician. This kit is perfect for inspiring young kids to become masters of the tricks. It features some really cool tricks that teach them about static electricity, optics, reflections, and pressure. It is the perfect magical science perfection. Included are all the tools, ingredients, and parts. It will bring the fun of science and the mystery of magic together in one fun-filled kit of magic.
Read more
Age Range
The magic kit is best suited for children age 6 years old or older. Inside the kit, there are small pieces that are a choking hazard to small children. There are also many experiment based tricks in this kit that are best for kids that are able to understand the reactions and how to follow mixing directions.
Creativity
Magic meets science with this engaging all-inclusive set. It is a fun-filled magic lab kit that features a full guide that included pictures and information about each trick. It is the perfect way to bring magic together with science to create a lab right in the home. Learning has never been so much fun.
Logic
Engaging the mind and activating the body is what this kit has been designed to do. It takes the STEM challenge and sets your child's mind to a place where they are able to learn and have fun at the same time. Following the easy to read and understand instruction guide the kids get to learn about classroom like lessons in a fun magical way. As they work through the tricks and perform the magical experiments the set as a guide included to help test them and grade as they improve.
9

. Jim Stott's Ultimate Card
Anyone of any age can get a kick out this set
Tricks can be performed anywhere
Builds confidence
Tricks are easy to learn
Not as comprehensive as a typical magic kit
Not accessible to younger children
The sole focus on card tricks is pretty great considering that card tricks are pretty much the most popular form of magic. The fact that the tricks can be done anywhere is also great.
Read more
Age Range
At least 6 years old.
Creativity
One of the great things about this kit is that it allows your kid the opportunity to perform tricks at any location. Your kid can bring her card decks with her wherever she goes, or she can use anyone else's card deck if your kid is performing a trick that doesn't require the special deck. This gives your kid the chance to impress friends and family members in a variety of environments--allowing your kid to mystify audiences without having to carry around a full magic kit. For a majority of these tricks, the special decks that come with the kit are needed, but there are also many tricks that can be performed with a regular deck.
You get a secret Welcome Letter postcard that has the address to Jim Stott's website where you can find all the instructions needed to perform these mind-bending tricks.
Logic
This is another kit created by the great Jim Stott. The cool thing about this magic set is that its focus is solely on card tricks. Now, all magic tricks are amazing--there is no doubt about that. But, card tricks are definitely the most popular of magic tricks, and best of all card tricks can be done anywhere. That means that your kid can take her deck of cards anywhere she pleases and show the world what magical feats she's capable of reaching.
Everyone loves a good card trick, and your kid can impress anyone and everyone with these mind-boggling tricks. Your kid will derive a great amount of joy while also bringing joy to others. There's nothing like seeing your kid have a blast while spreading the infectious happiness that goes hand in hand with card tricks.
10

. Criss Angel Ultimate Black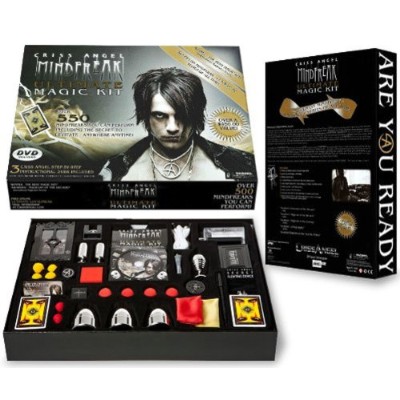 From the master illusionist seen on TV
Includes props for over 550 different tricks
Features classic magic tricks; cup and ball, money printer
Instructional DVD teaches the tricks
Promotes the development of fine motor skills
Hand on money printed comes off easily
Packaging is not used for storage, lacks storage feature for all the props
The kids are interested from the start by just looking at the box. It features one of the biggest names in the industry and it really sparks their attention to the set. This is a great magic set for varying age groups.
Read more
Age Range
At least 8 years old.
Creativity
The ultimate mind freak magic tricks will come right to your living room with this magic set. It features mind-blowing tricks that are illusions just like the ones performed on TV. One of the biggest and best names in the industry has created this kit for use right at home. It includes props that allow the user to create over 500 different magic tricks even the classics like Money Printer and Cups and Balls has been included. With the set, they will receive detailed step by step instructions on how to perform and execute the illusion with ease. The instructional DVD makes it easy for the kids to even learn without help from an adult. It has been created for anyone from the ages of 8 years old to 108 years old. The set is mind-blowing illusions that will have them learning more and more about the skills.
Logic
Performing magic tricks is a great way to promote the development of fine motor skills. A lot of the tricks use complex hand movements that require very refined hand movements with the fingers and wrists. These movements are great for fine tuning fine motor skills.
Criteria Used for Evaluation

Age Range
We also took into consideration age appropriateness. People of all ages love magic, which means that certain kits have to be geared towards certain age groups. We made sure to include kits for young children, elementary school-aged children, and even preteens.
It's also important to us that kids of varying skill levels get the best magic kits they deserve. We understand that some kids are beginners and that some kids already have experience in the world of mystery and illusion. It's important that every kid gets the opportunity to explore the realm of magic, and giving you a wide variety of kits to suit any skill level is the best way to do just that.
Creativity
It is important to encourage pretend and imaginative play in children. Pretend and imaginative play is important because they help prepare children for the world outside of their homes. Whether pretending to cook a meal or dealing with a crying baby, their minds are developing and preparing them to deal with real-life social environments. Pretending also allows children to play out new roles for themselves. Performing and entertaining a crowd is a self-confidence-building activity that few classroom activities can teach a child.
Learning to perform magic is a great way to encourage pretend play and use imaginative play. Learning to perform at a young age helps prevent stage fright and builds self-confidence. Both skills are awesome social skills that will help prepare a child for real life and dealing with people. Any experience is an experience to learn from when young.

Logic
We definitely want your kid to have a good time, but we also strongly believe that fun should always be accompanied by learning and should encourage creative and imaginative skills and critical thinking; the art of magic does just that. Yes, magic kits are an absolute blast, but they're also great for developing the mind of your child. Given that we put such a strong value on creativity, we selected the best magic kits to get your kid thinking in ways you never thought possible.
Most Important Criteria
(According to our experts opinion)
Experts Opinion
Editors Opinion
Users Opinion
By Default

Parents, Did You Know?
We want to make sure your kid gets a magic kit that stimulates the imagination, has easy-to-learn tricks for both novices and seasoned magicians, and that are accessible to a variety of age groups.
Parents, Did You Know?
Giving your children a magic set will allow them to experience the art of illusions first-hand. The kits usually have everything that is needed to complete many illusions or provide all the information for them to be able to make the props to complete them.
Other Factors to Consider
Safety
The safety of a magic kit all depends on the age of your child (that's one reason that kits are geared to certain ages after all). If safety is something you're concerned about, then you should definitely supervise your kid while she starts to learn new tricks. And of course, keep the magic kits out of the reach of babies and toddlers.
Frequently Asked Questions
q:

Will learning magic give my kid confidence?

a:

Absolutely! In fact, learning the art of magic is one of the best ways you can instill confidence in your child. Magic is meant to be performed; none of the tricks will even be deemed as tricks if no one sees them. The point is to wow an audience; not just to learn how a trick is done.
q:

What are some of the kids' favorite magic tricks?

a:

Card tricks
Disappearing coin
Levitating card
Bending spoon
Magnetic pencil
q:

Can magic teach my kid valuable life lessons?

a:

Magic can without a doubt teach your kid valuable life lessons. Magic requires dedication and hard work, and your kid will learn those values whether she realizes it or not. If your kid can't get a trick at first, well, she'll just have to try again. Magic will teach your kid that perseverance is needed to accomplish so much in life and that giving up will get you nowhere.
q:

Will magic help my kid become a more creative thinker?

a:

Magic is all about creativity. It makes us question what's possible and creates new ways of thinking about the world.
q:

Can magic help my child develop critical-thinking skills?

a:

In addition to developing creative skills and teaching valuable life lessons, magic is a great way to foster critical thinking. In order for your kid to learn a new trick, she's going to have to use her brain quite a bit. It may seem as if magic is the sort of talent that just comes out of thin air, but it takes tons of thoughtful dedication and smarts to successfully pull off a trick.
q:

How can parents help kids learn to do magic tricks?

a:

While your kid is probably very smart and is an independent thinker, she might not be able to figure out how to do every trick on her own right away. But, helping your kid learn magic is kind of a tough subject to tackle considering your kid doesn't want you to know how a trick is done. So if you notice that your kid is having some trouble, just show some encouragement and reaffirm her intelligence. If you believe in your kid, she'll believe in herself.