While not everyone believes in magic, we can safely say that everyone gets fascinated every time someone plays magic tricks. Whether it is on the streets, during a party, in a theatre featuring a magic show, in parks, or even in the classroom, performing magic, no matter how simple, is a sure draw. It can literally attract the attention of other people within the immediate vicinity of the magician – aspiring or otherwise. That's why there are a lot of kids who often start very young trying to learn a variety of simple magic tricks using ordinary playing cards. While these have become the norm, you can elevate the magician's training of your child by giving him or her any of the 11 best magic kits for kids in 2018 we have especially collected just for you.
Our Top 3 Picks
Stupendous Hocus Pocus Magic Show

Our rating
Learn Professional Tricks
Price:

See Here
Melissa & Doug Deluxe Magic Set

Our rating
10 Classic Tricks
Price:

See Here
Ideal Magic Show Suitcase

Our rating
100 Great Magic Tricks
Price:

See Here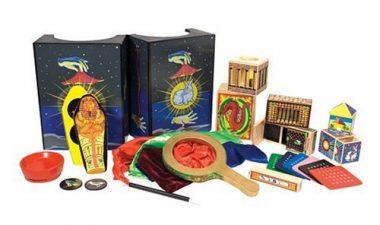 Age Range: At least 8 years old
Spectacular Magic Show Suitcase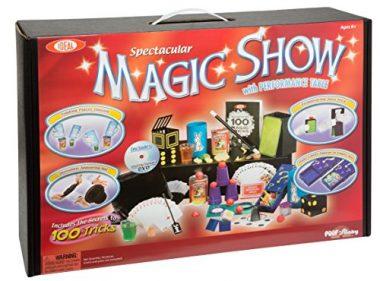 Age Range: At least 8 years old
Age Range: At least 4 years old
Jim Stott's 'My First Magic Kit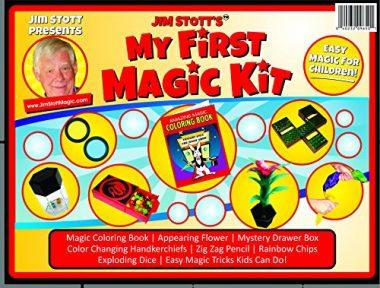 Age Range: At least 5 years old
Age Range: At least 8 years old
Age Range: At least 6 years old
Discovery Magic Set With 4 Tricks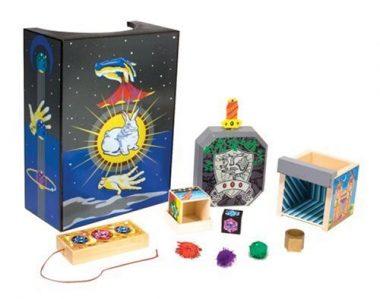 Age Range: At least 6 years old
Jim Stott's Ultimate Magic Kit
Age Range: At least 10 years old
24 Magic Tricks To Master In Minutes
Age Range: At least 8 years old
Magic toys encourage pretend and imaginative play
It is important to encourage pretend and imaginative play in children. Pretend and imaginative play in important because it helps prepare children for the world outside of their homes. Whether pretending to cook a meal or dealing with a crying baby their minds are developing and preparing them to deal with real-life social environments. Pretending also allows children to play out new roles for themselves. Performing and entertaining a crowd is a self-confidence building activity that no classroom can teach a child.
Learning to perform magic is a great way to encourage pretend play and use imaginative play. Learning to perform at a young age helps prevent stage frights and builds self-confidence. Both skills are awesome social skills that will help prepare a child for real life and dealing with people. Any experience in an experience to learn from when young.
Criteria Used to Evaluate The Best Magic Kits for Kids
The criteria used to create the list are a comprehensive task. The list is designed to give you 12 great magic kits that are used by kids. Our panels of experts evaluate each kit for age appropriateness and quality. Each of the kits on the lists has undergone an evaluation that includes ratings from parents, child physiologist, and toy experts. No kit on the list received less than a 4 out of 5-star rating from our panels.
When reviewing the kits age appropriateness was a huge consideration. We want to make each of the kits required the appropriate cognitive skills known to the age group. The degree of learning and difficulty should match the age rating. This was very important to our team. Along with age appropriateness was quality. We want to suggest nothing but the best for the kids receiving kits from our list. Quality consisted of both safety and integrity of construction. If they were not both they did not make the list. We always want to make sure that each item of on our list is the best.
Encouraging Children to Learn Magic Tricks
When you encourage children to learn magic tricks you are building their self-confidence, inspiring social skills, and encouraging fine motor skills. These skills will last a lifetime. Performing tricks teaches a confidence that cannot be taught. These are skills that are learned through the interaction that learning magic and other performing arts that will bring out the engaging part of their personalities. Also when performing magic children are encouraged children to interact with their family and peers which develops an important psychological skill.
Performing magic also encourages the development of fine motor skills in children. Tricks are performed using the hands and sometimes the use of the body. This helps develop fine motor skills and also teaches children how to create illusions using a few props. When our children learning and having fun while developing skills that will help them in the long run what could be more beneficial?
Development of Social Skills through Magic Play
Children are able to develop social skills through learning and performing magic. The skills learned while performing magic are self-confidence building and often prevent stage fright in adults. Some of the best social skills learned while performing magic are role playing and imaginative play. These are great social skills to develop in preparation for jobs and adult life.
Everything about the performing experience is learning from the audience and their reactions this is a social skill that is sometimes hard to learn for people. When learning to perform magic at a young age it allows a magician to learn to feed on the audience and know the reactions of the people around them. This is also a great social skill to have.
What Determined The Best Magic Kits for Kids in Our List
Honestly, we really quite didn't know what to do when we were given the task of coming up with a comprehensive listing of the world's 10 best magic kits specifically designed for kids. So, we listed all of the available magic kits in the market and found out some striking similarities in them. We also noticed that each one has a consumer product rating, a very subjective measure of the product's supposed "usefulness" and quality as evaluated by ordinary citizens and consumers. Mind you, these reviews do not represent professional-grade evaluations. As such, while we limited our shortlist to those that have no less than 4 stars, we knew we had to support our selection with a thorough understanding of what makes them really unique.
First and foremost, we had to consider the age appropriateness of the kit. These products require intense cognitive processes at a certain age level. It is thus imperative that the published recommended age matches the degree of learning difficulty needed to master the magic trick. If it is too much for the cognitive age of the child, then the kid will simply be frustrated. If it is too easy, he or she will simply lose interest. This is how crucial age appropriateness is especially when we're talking about a product that requires sleight of hand and the nimbleness of wit.
Second, the safety of the magic kit was considered together with the quality and integrity of its construction. Sure, these may be like any other children's toys, but even simple toys need to be made of only the safest and highest grade materials. Otherwise, we may be helping our children learn the principles of illusion but are inadvertently exposing them to harmful elements. So, it's always better to err on the side of quality and safety.
Third, in a world that is defined by fierce competition, only the toughest survive. And by this we mean only companies that have a well-established reputation in the design and manufacturer of such children's toys will be able to survive this long. So, we knew we had to consider this, too.
The Benefits of Learning Magic Tricks for Kids
Everyone loves magic, especially kids. That's why it's not really a big surprise if one day your child will be bugging you to let him or her learn how to perform magic tricks. Leading experts say that magic is a great social and educational learning tool while others look at it more as a form of entertainment. Regardless of what you believe in, here are some of the most common benefits of learning magic tricks for kids.
It boosts our child's self-confidence as well as self-esteem. Being able to execute a trick flawlessly can be a great ego-booster. Now add the applause from the audience and the confidence can literally skyrocket.
It's a great way to improve public speaking skills. Magicians need to communicate in front of a large crowd. This helps build confidence as well as social interaction skills which are a must when speaking in public.
It fosters creativity. Kids can start learning the fundamental principles of magic through the use of kits. In time, once they have fully understood these principles, they can start experimenting with other stuffs to perform magic on.
It improves problem-solving abilities. Learning tricks requires the understanding of the different principles associated with such tricks. This entails problem solving skills as children will have to work with existing conditions and apply the most appropriate principles of magic into the problem identified.
The Bottom Line
Helping our kids learn how to play magic tricks can have a lot of positive developmental effects on them. That's why you simply have to get any one of the top 10 magic kits for kids in 2018 that we have just shared with you.
FAQ
Frequently asked questions
Q: How do I find the magic tricks on this list in a store near me?
A: You can find magic kits at a store near you using a simple search on the web or using the white pages. When searching online find the kit that most interests you and enter the name in the search. Both physical stores carrying the item and online stores should appear on the list. Once you find a store near you we would always suggest making a call to the store to confirm its availability.
Q: How do the magic kits on this list make the list?
A: The kits on our list are picked by a panel of experts. The panels are made up of parents, child psychologist, and toy experts. The magic kits that are reviewed for quality and age appropriateness. We want to suggest nothing but the best kits that offer the best props and will challenge a child enough to get them to engage. The list is then composed of the best of the best.
Q: How do magic tricks help with developmental skills?
A: Magic tricks help develop a number of developmental skills. The biggest benefits to performing magic are the social developmental skills and the fine motor skills. Both of these skill sets are vital to the development of a child's bright future. Encouraging children to perform also prevents the fright of speaking in public which is a skill that can be used throughout their lives.
Q: Do kids learn anything when learning magic tricks?
A: Kids learn many things when performing magic tricks. When first learning is taking dedication to the illusions and props to make these appear real. Learning the dedication that it takes to master the art of magic is a trick all on its own. Then when performing the tricks children are learning social interaction, fine motor skills along with gross motor skills. Everything about magic is a learning experience.
Q: How do I know if the magic tricks on this list are safe for my child?
A: You can make sure that each of the kits listed on our 12 best magic kits for kids is safe for the child you are buying it for by checking our rating. Each of the kits on the list has an age appropriateness listed under the benefits section. The age rating was taken directly from the manufacturer's rating and was found on the package. If you are buying a kit in a store each label has to include the safety rating to be put on the market.
Q: What are some tips for parents to help their kids learn the art of magic tricks?
A: The best and easiest ways for a parent or person to help a child learn magic is through encouragement and support. Make sure you are there to help guide them when learning a new trick. Guidance and support could be reading the step by step instructions out loud as they perform them or just watching as they go through the steps. Encouragement could be through your praise or just simply showing an interest in the new tricks they are learning. Every kid needs encouragement and support in everything they do. It is important in helping build a strong and confident individual.