We all know them well and they have been around for many, many generations. Nursery rhymes are our beginnings in the world of our verbal and written language. Through simple nursery rhymes, we learn to talk, sing, read, and appreciate colorful illustrations in the books. These sing-song phrases seem so childish and unimportant, but they are the foundations of our budding knowledge of reading, writing, listening, and understanding. While there are hundreds of these often witty stories in enjoyable rhyme, some of them are timeless classics that will never go out of style. The Mother Goose versions contain most of these treasures, and we highlight several that have varying numbers of the rhymes. Each is different in the illustrations as well as the rhyming content. Some of these books even the smallest of kids can enjoy because they are electronic versions that read the rhymes out loud to the child. They also have big colorful buttons that also explore numbers, colors, and letters for the child to learn. Most of these nursery rhyme books are for the age range of three-months-old to three-years-old, so your choice will vary according to the intended user. They are all the best-rated and most-purchased items online by buyers who overwhelmingly loved the products and would certainly purchase them again. We highlight them here for your easy shopping experience. Here are the best nursery rhyme books for kids in 2019.
Our Top 3 Picks
VTech Rhyme and Discover

Our rating
4 Movable Pieces
Music Note Button
Price:

See Here
The Real Mother Goose

Our rating
Colorful Pictures
Preschool
Price:

See Here
VTech Musical Rhymes

Our rating
2 Modes of Play
Visually Stimulating
Price:

See Here
12 Best Nursery Rhyme Books for Kids
1. VTech Rhyme and Discover
The
Vtech
Rhyme and Discover Book includes seven well-known nursery rhymes and has four pieces that move. It contains a
music
button and cute page tabs of animal faces that light up.
Expand to see more
This electronic book of nursery rhymes is great for kids six-months-old to three-years-old and is very colorful and bright. It develops emotional and social skills, cognitive and language abilities, and motor and physical talents. Children can explore the classic nursery rhymes as they twist and slide the fun pieces of the book. An automatic shut-off will save the life of the battery when not in use. The pages turn easily for small hands as the book introduces the familiar sounds and names of animals that kids love. This book has volume controls for quiet-time play and a durable design that will last for many years of enjoyable fun.

Benefits
An automatic shut-off feature will save on the battery life of this electronic book of nursery rhymes. Kids will always leave toys on and just leave them. They can do that with this book and not run the batteries down.

What We Like About It
Even children that cannot read yet can enjoy this adorable book of nursery rhymes because of the lovely sounds, music, and buttons. The extra components of this book make it much more enjoyable than a regular hardback book of rhymes.

Pros
Includes seven nursery rhymes
Contains a music button and movable pieces
Is colorful and bright
Develops many skills and abilities
Has volume controls
Cons
Sounds may not be clear as expected
A few buyers had books that did not have sounds long
2. The Real Mother Goose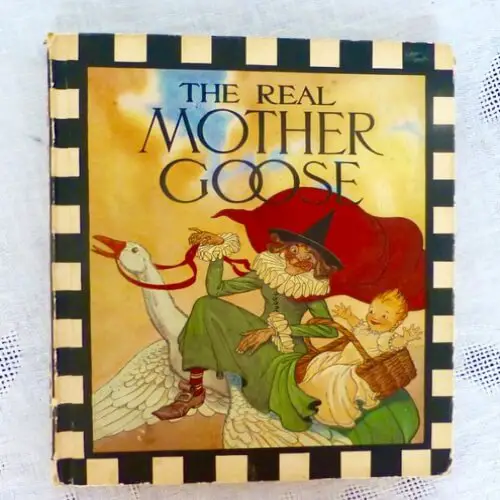 Known as the standard edition of Mother Goose stories by librarians, teachers, grandparents, and
parents
, this wonderful classic book of nursery rhymes includes many old favorites.
Expand to see more
The gorgeous illustrations on the cover and inside the book are one of the reasons this book has been so used and well-known for over seventy-five years. It includes such timeless classics as: As I was going to St Ives; Barber, barber shave a pig; Bird of a feather flock together; Donkey, donkey, old and gray; Goosey, Goosey, gander; Hey! Diddle, Diddle; Hickory, dickory, dock; Little robin redbreast sat upon a tree; Mary, Mary quite contrary; I do not like thee Doctor Fell; Ole King Cole; Old Mother Hubbard; Jack be nimble, Jack be quick; and Pat-a-cake, pat-a-cake. It is available in several formats including Kindle, hardcover, paperback, and audiobook editions.

Benefits
Preferred and well-liked by adults, The Real Mother Goose Illustrated has been popular for many decades. Children everywhere have learned over the years how to read and rhyme from these simple classics that delight all ages.

What We Like About It
This classic book of nursery rhymes comes in several wonderful formats, so kids can read or listen to them whenever they want. It comes in a regular book format, Kindle version, or an audiobook edition.


Pros
Includes gorgeous illustrations
Is available in several formats
Popular for over seventy-five years
Known as the standard edition of Mother Goose
Includes many favorite rhymes
Cons
Some of the stories do not rhyme
Is an older version that may be seen as outdated
3. VTech Musical Rhymes
Perfect for kids six-months-old to three-years-old, this interactive book of nursery rhymes has a learning mode and a music mode. It provides visual enthusiasm with the sounds and light up star and buttons.
Expand to see more
The star lights up and flashes in coordination with the sounds of the book, and the five piano key buttons introduce instruments and colors. Included are over forty songs, sounds, phrases, and melodies, plus six nursery rhyme classics. It includes large pages that are easy to turn and handle, which along with pressing the big buttons, will build fine motor abilities. Batteries are included but only for the demonstration of the book.

Benefits
The large pages of this interactive book are easy for little hands to manipulate. This is important as children develop and build their fine motors skills that aid them in such precise tasks.

What We Like About It
Children will not only learn the nursery rhymes in this charming little book, but they will be exposed to musical instrument names and sounds with the bright colorful buttons they can press. This is much more than just a simple nursery rhyme book.

Pros
Contains six nursery rhyme classics
Builds fine motor abilities
Includes over forty songs, sounds, and phrases
Has five piano key buttons
Provides visual enthusiasm
Cons
There is no volume control
Songs may not play in order
4. One Fish, Two Fish, Three, Four, Five Fish
Dr.Seuss does not disappoint with this lovely shorter version of One Fish, Two Fish, Red Fish, Blue Fish. For babies and toddlers, it is a chance for them to listen and experience rhyming verse while looking at the
colorful pictures
and fun illustrations.
Expand to see more
It includes five colorful beads for counting on the top of the board book that are shaped like fish. This nursery rhyme book comes in three different formats of hardcover, paperback, and board book. It has been safety-tested on all ages of children for quality and enjoyment value. The material is presented in a simple and bold format and contains interactive elements and bright colors to excite and engage children.

Benefits
This is a much simpler version that the original One Fish, Blue Fish book of Dr. Seuss. It is perfect for younger kids who are just learning rhyming phrases, colors, reading, and counting.

What We Like About It
The colorful fish beads on top of the book are just adorable! Toddlers and babies can practice their counting skills with this miniature abacus of fish while parents read them the story.

Pros
Includes five fish beads for counting
Comes in three book formats
Has been safety tested on kids
Contains interactive features and bright colors
Presented in a simple and bold format
Cons
Some received damaged books
Is shorter than the original book
5. Favorite Nursery Rhymes
The Mother Goose rhymes come in many formats and versions, as we highlight a few of them here including this one. It is from the artist, Scott Gustafson, who is the illustrator and author of this rhyming book.
Expand to see more
This book of favorites is available in both hardcover and Kindle versions, so parents have a choice in reading it with them. The illustrations and colors on the cover and the inside pages of the book are gorgeous and well-done. Children will love looking at these glorious pictures as parents read the book to them in their younger ages. Great illustrations make kids understand the stories much better than books without them. They feed the imagination and the mind with wonder and excitement. This treasured book includes forty-five classic nursery rhymes such as Jack Sprat, Little Bo Peep, and The Man in the Moon.

Benefits
The illustrator and writer of many children's books is the creator of this version of the Mother Goose rhymes. Scott Gustafson is a talented artist who can both write the words and draw the lovely pictures for kids to look at and enjoy.

What We Like About It
This is a much shorter version of the Mother Goose classics. However, it does include all of the popular stories that parents will recognize from their own childhood reading adventures.

Pros
Available in hardcover and Kindle versions
Includes forty-five classic nursery rhymes
Made by an award-winning illustrator and author
Illustrations and cover are gorgeous
Builds the imagination, language, and reading skills
Cons
The book is really big
Some of the rhymes were long
6. 365 Bedtime Stories and Rhymes
With a rhyme or story for each day of the year, this wonderfully illustrated book for kids will develop young imaginations and build adventure. These stories are perfect for bedtime reading and even during the day possibly for nap time.
Expand to see more
Children that do not like long stories or those that have trouble sitting still for most stories will love the witty and catchy rhymes and sing-song verse in this wonderful book. This collection includes rhymes, poems, and short stories of no more than four pages in length. Parents can read just one selection a day or use the shorter choices for more than one a night when your child wants to hear one more story. This huge volume makes a terrific gift for birthdays, holidays, and baby showers.

Benefits
Nursery rhymes and poems like the contents of this book are great for kids with short attention spans or those that do not like long stories. They can still build their reading and listening abilities with these fun rhymes.

What We Like About It
This is a nice mixture of rhymes, poems, and short stories to read to kids at bedtime. Parents will love the diversity, and children will appreciate that they can hear more than one story in a day.

Pros
Has a story for each day of the year
Wonderfully illustrated
Develops the imagination
Perfect for nap time and bedtime reading
Good for kids with short attention spans
Cons
Some parents did not like the mixture of stories and rhymes
Might not have enough illustrations
7. Mary Engelbreit's Mother Goose
Mary Engelbreit's version of the One Hundred Best-Loved Verses of Mother Goose is filled with humor and warmth. It is colorful and bright on the cover and in the interior and is perfect for gifts for new parents, holidays, birthdays, and baby showers.
Expand to see more
Many formats of this book of rhymes are available including Kindle, hardcover, board book, audiobook, and audio CD. It includes in the one hundred selections the popular rhymes of Jack and Jill, Old King Cole, Humpty Dumpty, and Little Bo Peep plus many more. This terrific book features an introduction from Leonard S. Marcus, who is a historian of children's books, as well as a special message from the author about making the book. Included is an index of the first lines of each rhyme, so readers can find their favorites quickly and easily. This is a wonderful book to hand down to future generations of readers and should be a mainstay in libraries, schools, and personal collections.

Benefits
The layout of this book is clean and uncluttered because the author limited the number of rhymes on a double-page layout to three. This leaves plenty of space for the gorgeous illustrations that kids love to look at so much while reading.

What We Like About It
It is a great idea to have an index of these rhymes by the first line only. Favorites can be found easily if the child or adult forgot the title. It can also be a wonderful way to play a game guessing the title from the first lines of the rhymes.

Pros
Many formats are available
Has an index of the first lines
Pages are not cluttered
Perfect for schools and libraries
Is a good book for future generations
Cons
Illustrations may be old-fashioned for a few kids
The Kindle version lacked most of the pictures
8. Read-Aloud Rhymes
Meant to be read aloud just like the title states, the rhymes in this fabulous book are accompanied by beautiful colored-pencil illustrations to bring the stories to life. It is offered in hardcover and paperback editions and was originally published in 1986.
Expand to see more
There are over 200 rhymes and poems for kids in this book of rhymes that have been selected as a Common Core standard book for schools and libraries to carry on a regular basis. Children will develop their listening and reading skills when these rhymes are said out loud because they will hear adults sound out the syllables and words in perfect form. This large volume of stories will make a terrific gift for the beginning reader in your family.

Benefits
With over 200 selections to pick from, children have a large assortment of topics, characters, and story lengths to entertain them. Because of the great variety, they will never be bored with this lovely book of rhymes.

What We Like About It
This read-aloud rhymes book has been a favorite since its first publication in 1986. At least two generations of kids have enjoyed its many rhymes and colorful pictures at bedtime and story time.

Pros
Offered in hardcover and paperback editions
Originally published in 1986
Will develop reading and listening talents
Chosen as a Common Core standard book
Includes beautiful colored-pencil illustrations
Cons
Not the best for short attention spans
Some parents were disappointed with some of the rhymes
9. The Itsy Bitsy Spider
The Itsy Bitsy Spider is a timeless classic that every child and adult knows. It is one of the first rhymes that kids learn in kindergarten and is well-remembered into the adult years.
Expand to see more
This version of the popular story has the little spider going on new adventures because it is an extended version of the original. Offered in hardcover, paperback, audio CD, and board book editions, this lovely book of rhymes has gorgeous color illustrations in watercolors. The spider faces excitement with a large maple tree, a cat, a rocking chair, a mouse, and a fan in this edition. It is a fantastic read-aloud book because of the sing-song rhyming verse.

Benefits
Several format options are available with this book, so kids can enjoy it in a few ways. They can listen to the CD as they look at the words in the book, or just enjoy the colorful illustrations as parents read to them.

What We Like About It
This author takes the classic Itsy Bitsy spider and adds to the adventure of the story. It is a new spin with a lovable character and catchy sing-song rhyme.

Pros
Offered in several versions for reading and listening
Has great illustrations in watercolors
Is an extended version of the classic
The spider faces exciting new adventures
Makes a fantastic read-aloud book
Cons
Some parents did not like the flow of the lines
A few kids were not interested in the book
10. Fisher-Price Laugh & Learn
From Fisher-Price, we highlight this Storybook Rhymes Book that includes six nursery rhymes to sing along with. The pages are thick with plastic edges, will not tear, and are easy to turn for little hands. The book is very colorful, bright, and eye-catching with the fun pictures and buttons.
Expand to see more
The rhymes include Hickory Dickory Dock, Pat-a-Cake, Animal Fair, One Two Buckle My Shoe, Row Row Row Your Boat, and Itsy Bitsy Spider. It is perfect for kids six-months-old to three-years-old and will exercise the toddler's auditory and visual skills plus
fine motor abilities
as they play. This cute book has a handle on the top, so kids can bring it with them wherever they go. The Laugh and Learn character personalities make the activities fun and enjoyable. Each page contains numbers, colors, letters, and other fun surprises, and the large colored buttons on the side of the book encourage the child with the ABCs, 123S, and various shapes.
Benefits
Not only will kids get practice with the included nursery rhymes, but they will also learn about the ABCs, numbers, and shapes with the colorful buttons they can press on the side of the book. This interactive rhyming book will keep little ones busy for hours of positive play.
What We Like About It
Children can play with this book alone and discover the many wonders of the rhymes in songs. The pages are friendly for babies and toddlers to turn themselves as they listen to the rhymes.
Pros
Pages are thick with plastic edges
Very colorful, bright, and eye-catching
Includes the Laugh and Learn characters
Has a handle on top of the book
Will exercise the auditory, visual, and fine motor abilities
Cons
Songs may play too fast
Some received damaged books
11. Hickory, Dickory, Dock
Not only will children get the famous Hickory Dickory Dock nursery rhymes in this book but also a few other greats. These include Twinkle Twinkle Little Star, Old King Cole, Little Miss Muffet, and Humpty Dumpty.
Expand to see more
This durable board book contains soft pastel illustrations and lullabies and verses ideal for bedtime, naptime, and quality time reading. The sturdy pages have rounded corners and are thick, plus the covers are padded and squishy for kids to grasp well. Because of the care the manufacturer took in making this book, children will not tear the pages, be cut by the edges, or be able to destroy this book in any usual way. It can be enjoyed for many years and handed down to younger siblings and children for generations. These wonderful nursery rhymes never go out of style and children always love hearing and reading them.

Benefits
The little user of this book was certainly a deciding factor in its design. This book is very safe for the youngest of readers and page flippers with its rounded edges, and padded covers.

What We Like About It
This is a wonderful first book of rhymes for toddlers because it contains just a few of the most popular ones we learn at the earliest age as we are learning to talk and sing. These verses are easy to say and remember and will last a lifetime.

Pros
Comes in a board book format
Includes several popular rhymes
Contains soft pastel illustrations
Includes lullabies and verses
Comes with rounded corners, sturdy pages, and a padded covers
Cons
A few parents thought the book was musical
Has a few religious rhymes that may not be suitable for some
12. Twinkle, Twinkle, Little Star
We all love the story of Twinkle, Twinkle, Little Star but how many of us have ever read this wonderful extended version. Kids can now take a journey with the young girl in this version that wishes upon a twinkling star.
Expand to see more
The star takes her on a wonderful trip into the night sky among the beautiful planets and stars on a magical night. this book is gorgeously illustrated for children to learn of the night sky and all it offers. This author has several expanded books of popular nursery rhymes, as many reviewers stated they collect them for their children for bedtime enjoyment. This book will make a fabulous gift for birthdays, holidays, baby showers, and new parents.

Benefits
Children can enjoy this extended nursery rhyme in three great ways. They can read the paperback, board book, or library bound books of their choice.

What We Like About It
This expanded version of the popular classic story adds a new twist for children as well as parents who know the story well. It is a way of enjoying the well-liked characters in more adventures and excitement.

Pros
Available in three reading formats
Is an expanded version of the classic story
Is a journey of a young girl and a twinkling star
Will exercise the imagination
Beautifully illustrated
Cons
Some parents did not like the hard to read gold lettering in the book
Fans of the author say this is not her best work
Criteria Used in Evaluation of the Best Nursery Rhymes for Kids
Top-rated and most-purchased items
All of these selections we feature are the best-rated and most-rated items online from customers. They purchased these items and would buy them again because they are pleased with the quality. We search through products of a category to bring you only the best of what is on the market currently, so you can make the best choices for you and your family quickly and easily. We break down the details for you in concise paragraphs of the best features and what is most liked about each one.
Includes the best well-known classic nursery rhymes
Each nursery rhyme book contains the classic rhyming words that we all know and love so well. Most of the books are collections of many rhymes, but a few of them have just several rhymes to entertain kids. The Mother Goose collections have some of the more extensive amounts of rhymes, but other such as 365 Bedtime Stories and Read-Aloud Rhymes have many selections to choose from.
Is well-illustrated and interesting to look at
These fabulous books are all well-illustrated with colorful drawings and graphics that will delight and excite your child as you read the nursery rhymes aloud to them. Children love looking at pictures in storybooks because they help them understand what is going on. As the pictures help the story, the story also helps the pictures as the child connect the two and learns how to read. Nursery rhymes are the best way to learn how to read because they are interesting and fun. The words are also simple to learn and the sing-song verse is easy to remember.
Is beneficial to kids in reading, listening, and developing motor abilities
If your child is not reading yet and you read the nursery rhymes to them, they are actively looking at the pictures and taking in every word you say. Eventually, they will connect your verbal words with the printed words they see on the pages and begin to read on their own. These books provide exercise in such abilities as listening, reading, and motor skills in turning the pages. The electronic versions of the nursery rhyme books from Fisher-Price and Vtech also develop cognitive abilities of colors, numbers, and phrases with colorful buttons and audio sounds.
FAQ
Frequently Asked Questions
Q: What is the difference in the various Mother Goose nursery rhyme books? Are these all the same?
A: Each one of these Mother Goose books has a varied selection of nursery rhymes in them. One has well over two hundred while another has one hundred and the other has fifty rhymes. It was the choice of the author in the selections as well as the differing illustrations and sizes of the books.
Q: Why are several of these books extended versions? Do they not contain the original story too?
A: The author of these extended versions decided to take the well-known classics a bit further to entertain kids with additional plots. They do not contain the original story.
Q: Which of these books are kid-friendly?
A: The Fisher-Price book, the two Vtech books, and the Hickory Dickory Dock books are all kid-friendly because they are very durable with thick pages that cannot be torn and will keep a child interested all by themselves.
Q: Which books can toddlers and babies use by themselves without tearing the pages?
A: The Hickory Dickory Dock book, the two Vtech books, and the Fisher-Price book can all be used by very young kids without harm coming to the book itself. The pages are sturdy and thick, so they cannot be torn.
Q: Do the electronic version books have more than just nursery rhymes?
A: Yes, these give kids practice with letters, numbers, colors, and phrases too. The nursery rhymes are audible, so the child can follow along in the book and say them out loud too.
Q: Which of these books has longer stories as well as the nursery rhymes?
A: The 365 Bedtime Stories and Rhymes book has plenty of rhymes, poems, and stories to keep children interested in reading and listening to the content. All of the other selections we highlight have just nursery rhymes in them.
Q: What skills do kids learn from nursery rhyme books?
A: There are many talents that children need and learn from listening to these books read out loud and then eventually reading the books themselves when they have the skills. In the beginning, while listening, they are taking everything in from the tone of your voice to the words as they are spoken. The rhyming verses keep them entertained, as do the colorful graphics on the pages. All of the picture details are noticed by even the smallest of children as they try to follow the story with the pictures and your voice. Once they can read on their own, the words then help them to decipher the details in the pictures that they possibly did not understand before. It is at this point that the reading, language, and visual abilities merge into one understanding of the whole story. When they begin to flip through the pages on their own, fine motor skills will begin to develop too.
Purposes of nursery rhymes for kids:
They make kids better readers in future years with other topics.

They help exercise an idea of community and promote valuable social skills.
They open the world of reading all books for kids.
They develop early language skills.
They are perfect story firsts for babies and toddlers.
They are exciting and enjoyable fun for families.
They enhance coordination and fine motor talents when they are read out loud.
They join and reconnect us with the past.
They invite kids to be creative with the lovely illustrations.
They increase and begin vocabularies when children listen to the rhymes.