10 Best Vitamins for Kids & Toddlers in 2023
We've all seen the commercials on television promoting body health via the way of vitamins, but how many of us actually do it and make sure they and their children get all the vitamins they need every day? As parents, you are always looking for the best and easiest ways to keep your children healthy and get their vitamins into them without them pitching a fit and fighting against it. While it's true that children do get some valuable nutrients from the fruits and vegetables they eat, chances are they are only getting a small percentage of what they really need every single day. Without the daily recommended dosage of each of the vitamins, they need your children may grow up with various deficiencies that can limit and hinder their growth and performance later on in life.
Each and every vitamin serves a specific purpose, and is just as important as the next! Check out the list we have compiled of the best kids vitamins to make sure your child has all the nutrients and vitamins they need to succeed and be healthy from their earliest years of life and set them up for a healthy future.
SmartyPants Kids Complete Gummy Vitamins
SmartyPants Kids Complete Gummy Vitamins: Multivitamin & Omega 3 DHA/EPA Fish Oil, Methyl B12, Vitamin D3, 120 count (30 Day Supply)
Kids will eat virtually anything that's in a gummy form. It's simple when their vitamins taste and look like candy; what they don't know is that in every SmartyPants multivitamin they're getting an essential daily source of 13 different nutrients, including vitamin D3, B12, and Omega 3. These vitamins focus on the nutrients that kids wouldn't normally get in their every day diets (say, for example, the Omega 3 from fish oil), based on extensive research from an average child's daily meal routine.
The sweeteners used in these gummies are also organic, which makes these vitamins not only wholesome, but healthy. For parents who are worried about their child having an allergy, all vitamins are certified non-GMO, gluten-, casein-, and allergen-free. Therefore not only are they good for you, but they're also environmentally and allergen friendly!
They also pay it forward in their own way: SmartyPants works with Vitamin Angels to match one-for-one nutrient grants for every vitamin bottle purchased. This has brought them to an astounding total of over 3.2 million grants, so not only do they make you feel good, but they're doing good as well! These gummies truly are nutrition-forward, which is why they made our Top Ten list.
Benefits – These delicious gummy vitamins include all of the nutrients that the average child normally would not receive on a daily basis. Starting early will put them on the right track later on, especially if they have a tendency to hate fish or certain dark leafy veggies!
What We Like About It – We love the fact that these vitamins do a double justice by keeping growing kids healthy and strong, but also by helping an outside organization. It's a win-win, and we truly appreciate that in a brand.
Pros
Contains unique nutrients — D3, B12, Omega 3
Organic sweeteners
Non-GMO products
Completely allergen-free
Helps towards Vitamin Angels cause
Cons
Not suitable for kids with potential fish allergy
Kids 3+ need to take a total of four gummies daily
Yummi Bears Organics Gummy Vitamins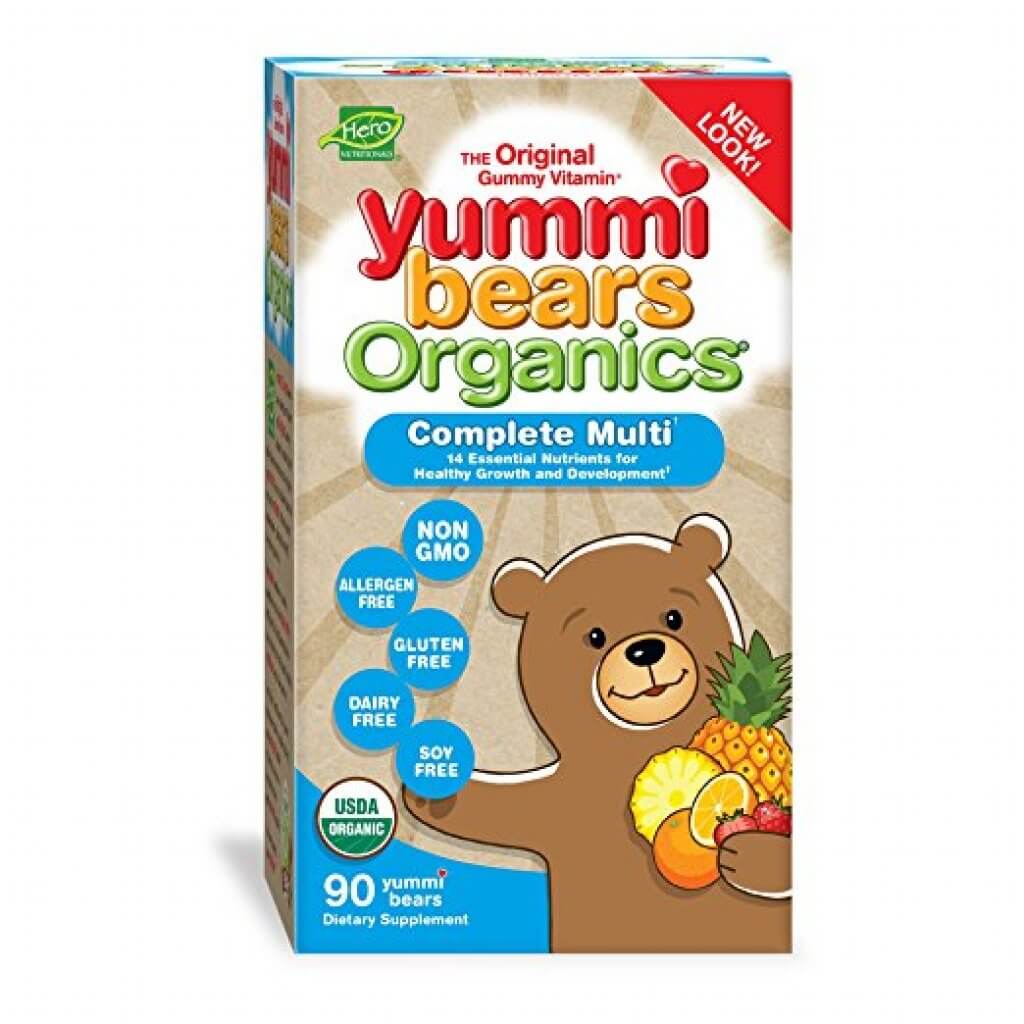 Yummi Bears Organics Gummy Vitamins, Multi-Vitamin for Kids 90 Gummy Bears
Kids are not artificial, which means that their vitamins shouldn't be, either. Yummi Bears has a unique blend of flavored gummy vitamins (strawberry, grape, orange, pineapple) that are uniquely all-natural. The gummies feature a blend of 16 different vitamins and nutrients, all needed to sustain healthy growth in children.
In addition to being all natural, you can rest assured that your child will not have any unwanted ingredients often found in other vitamins. Yummi Bears are free of GMO, gluten, fish, yeast, soy, salt, nuts, gelatin, egg, dairy products, and wheat — so you are left with strictly the essentials.
We haven't even mentioned the best part, since they are made without fish oil, the gummies are suitable for a vegetarian lifestyle. Make your child's path to a healthy life a fun on with Oliver and Olivia, the Yummi Bears!
Benefits – We trust the Oliver and Olivia organic Gummy bears to lead kids into a fully nutritious and healthy life. With no extra added surprises, it's nice to be sure of what you're child is getting and what they're avoiding.
What We Like About It – Vegetarian and Vegan lifestyles are gaining in popularity, and with more and more food options, it's nice to know there are also vitamin supplements out there to support it. We like the vegetarian-friendly aspect of these gummies!
Pros
16 essential vitamins and nutrients
Non-GMO
Completely allergen-free
Vegetarian
Cute gummy "bears" to follow along with
Cons
Fish-free means no Omega 3
Zarbee's Naturals Children's Elderberry Immune Support* Gummies with Vitamin C, Zinc, Natural Berry Flavor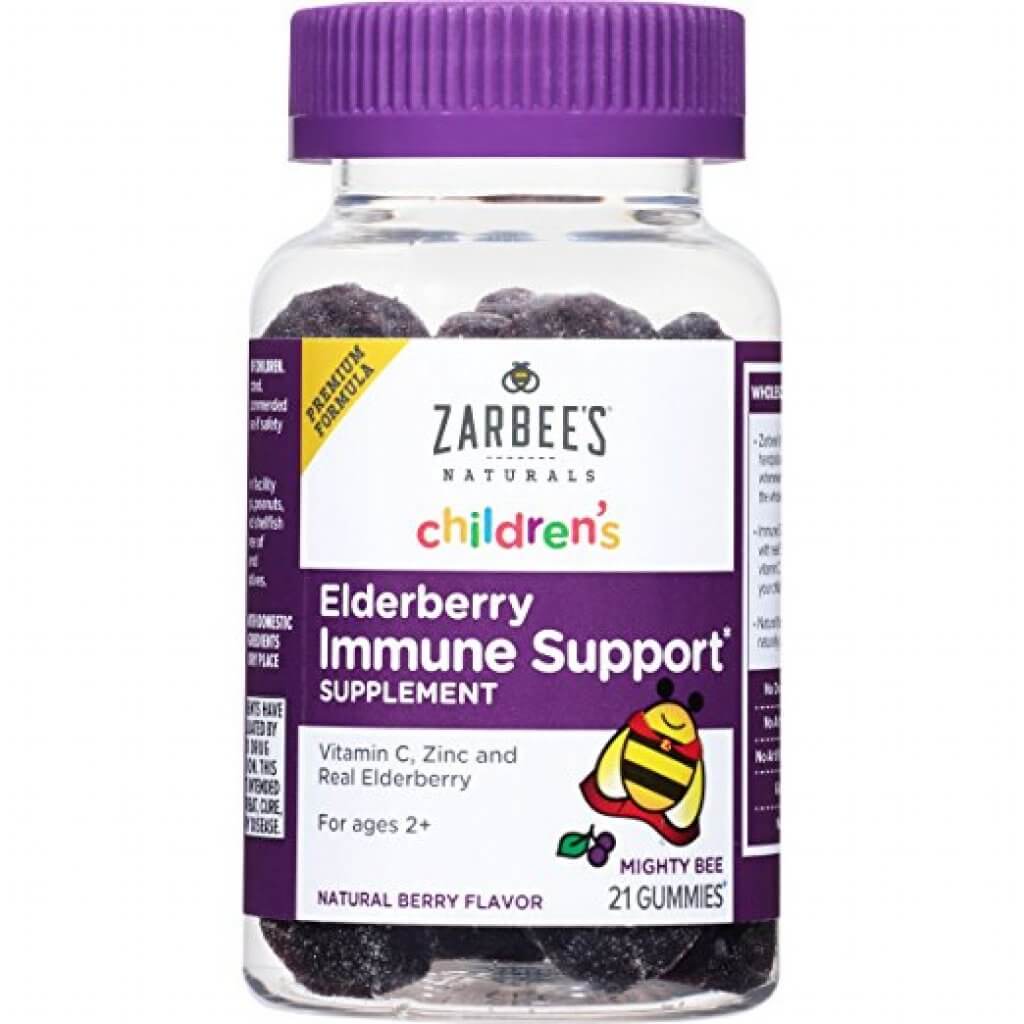 Zarbee's Naturals Children's Elderberry Immune Support* Gummies with Vitamin C, Zinc, Natural Berry Flavor, 21 Count
It happens — the dreaded flu season. Inevitably, kids will always pick up viruses whether it's at school, at a friend's house, or just being out in the world doing what kids do. As a child, their immune systems are much more susceptible to a host of different illnesses. We know you hate the sight of your child home sick fighting off a cold, and sometimes chicken soup just isn't enough.
Zarbee's knows that too, and created a multivitamin that is specifically targeted for immune system health. With all natural, hand-picked ingredients, Zarbee's Naturals is a wonderful gummy for the kid who always picks up whatever is in the air. Elderberry extract, vitamins A, C, D, E, and zinc pack a punch in the battle to fend off unfriendly immune foes.
These gummy vitamins taste great, and come in vegetarian-friendly, all-natural easy to chew gummies that are sure to be one of the favorite parts of beginning your child's day.
Benefits – Immune health is one of the most important things when it comes to a growing child. Some illnesses can seriously set them back, especially when they reach a grade school age and begin exposure to much of the common cold and other viruses. Having a gummy vitamin made with nutrients proven to strengthen the immune system is as good as gold.
What We Like About It – Elderberry supports wellness and overall health, and we love that this gummy makes it safe for children to take on a daily basis.
Pros
Elderberry immune support
All-natural ingredients, no artificial additives
Easy-to-chew for younger kids
Good for kids ages 2+
Cons
Specifically made for immune health means it may lack certain other vitamins
Flintstones Children's Complete Chewable Multivitamin
Flintstones Children's Complete Chewable Multivitamin, 150 Count, 2-pack
"Flintstones, meet the Flintstones, they're the modern stone age family…!" It's stuck in your head now, isn't it? While the Flinestones family may be stuck in the stone age, their multivitamins certainly aren't. There's a reason these chewable vitamins have been such a strong foundation in many a childhood, they're not only full of essential vitamins for growth, but also contain some that are necessary for immune health as well. These fun
Flintstone shaped vitamins are completely free of high-fructose corn syrup, wheat, artificial sweetener in the form of aspartame, dairy, and fish. What they do contain are sufficient daily amounts of vitamins A, B, C, D, E, zinc, and ten other nutrients and minerals that are necessary for growing kids.
Benefits – Having a two-in-one anything is great. Having a two-in-one daily multivitamin plus immune support that is specifically formulated for kids is even better!
What We Like About It – We like the fun shape of these vitamins, often times gummies can be confused too much with candy and potentially send young kids the wrong message. Flintstone chewables not only taste good, but still give that taking-vitamins-is-fun feel.
Pros
Multivitamin and immune support
Free of common allergens
Chewable
Safe for kids ages 2+
Cons
May taste chalky from chewable consistency
Premium Liquid Multivitamin & Superfood 
Premium Kids Liquid Multivitamin & Superfood -100% DV of 14 Vitamins for Kids. Multi-Vitamin for Children Ages 4+. Great Tasting, Non-GMO, No Sugar – Max Absorption – 16 oz, 32 Serv
Now for something completely different. Sometimes kids are just super picky with what they ingest. Gummies can have a strange chewy consistency, and chewables can oftentimes be chalky or unpleasant. Luckily, we do have good news! Multivitamins now come in a liquid form, and even better news? Premium has one that also includes superfood nutrients.
It's been proven that liquids, taken on a full stomach, can be absorbed faster and more efficiently into the body. This vitamin supplement can easily be taken after breakfast for kids, which means it's easy to incorporate into your daily routine. This liquid vitamin is free of gluten, fructose, and sugar, while also being low in carbohydrates and calories.
The all-natural liquid formula contains a whopping 100% of recommended daily vitamins, 66 minerals, and 23 essential amino acids. Regardless of your child's picky diet, this yummy tasting liquid vitamin is sure to pack in everything they could possibly be missing. Chock full of vitamins, good taste, and it's easy to give? Sounds great to us!
Benefits – Liquid absorption is a better option for kids who may be low on certain vitamins and minerals. It's a proven fast method, as well as easier to administer than pills to be swallowed or chewed.
What We Like About It – We like that this vitamin can be given to kids just as easily as orange juice after breakfast. It's a one and done deal, and we find that super appealing to parents with picky or fussy kids!
Pros
Contains nearly every vitamin, mineral, and amino acid a child needs
Easy to give
No artificial ingredients
Low in sugars and carbohydrates
Cons
Not suitable for kids younger than four years
Liquid vitamins may not appeal to everyone
Flintstones Children's Complete Multivitamin Gummies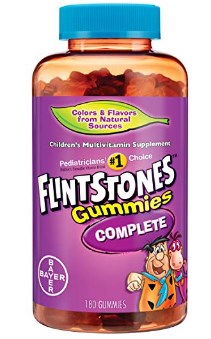 Flintstones vitamins have always been the pediatricians choice for best children's multivitamin. However as time goes on, we are having to develop new products and new ways to get our children the vitamins and minerals they need on a daily basis to ensure they remain healthy and are developing the way they should. So as the chalky Flinstone vitamins begin to take the back burner, a new version has taken its place as number one children's vitamin. Flintstones gummy vitamins are free of high fructose corn syrup, gluten, wheat, aspartame, dairy, and fish as well. Flintstone Gummy Vitamins are so well loved that some adults still take them! You just take 2 instead of the 1 that a child would normally take.
Benefits – What is more important than starting your child on a path to healthy adulthood early by teaching them to take vitamins and take care of themselves at an early age? Being able to wake up every day and get there little "treat" of a sweet gummy that most kids see as candy is the perfect way to get the vitamins without them even knowing it.
What We Like About It – Getting a child to take a pill or drink a liquid medication is ALWAYS a struggle of some sort, with these vitamins, your child thinks they are getting rewarded because what little kid doesn't love their gummies? Aside from that, they are fruit flavored in assorted different fruit flavors so they won't always get the same thing every old day.
Pros
Being gummy form, you should have no issues getting your children to consume them
Currently pediatricians' #1 brand choice for children's vitamins
Flintstones Vitamins have been the most common and popular children's vitamin on the market for the last 50 years, so they must be doing something right.
Cons
Have to be careful your kids don't get ahold of them and eat them like candy because you can get sick from overdoing vitamins.
Nordic Naturals – Vitamin C Gummies
Nordic Naturals – Vitamin C Gummies, Immune System Support for Adults and Kids ages 4+, 60 Soft Gels 250 mg
You'll notice that the word "kids" is specifically missing from the title of this vitamin supplement — it's not a mistake! The Nordic Naturals vitamin C gummies are completely family-friendly, offering gummies for the entire family. From toddler, to teen, to adults alike, this vitamin is age appropriate for everyone. Vitamin C is essential for immune health, growth, development, and the repairing of tissue. These gummies are formulated with triglyceride for a faster absorption rate. With a tart, upfront bright tangerine flavor, the gummies deliver 250mg of vitamin C in each serving. When orange juice just isn't enough, you can rely on Nordic Naturals to get you and your family back in the immune game.
Benefits – Vitamin C is among one of the most popular vitamins for kids. Nordic Naturals offers gummies that not only taste good, but give your entire family the vitamin C they need daily.
What We Like About It – We like the fact that this vitamin is perfect for entire families. No more buying tons of vitamins for different age groups, with Nordic Naturals, you can please your entire family in the form of two daily gummies!
Pros
Good flavor
Gummies are great for kids
Daily recommended dose in two gummies
Appropriate for all ages
Cons
Can only be used for kids age four and older
Not a multivitamin
Renzo's Iron Strong, Dissolvable Vitamins for Kids, Vegan, Zero Sugar, Oh-Oh-Oh Orange Flavor, 90 Melty Tabs 
Renzo's Iron Strong, Dissolvable Vitamins for Kids, Vegan, Zero Sugar, Oh-Oh-Oh Orange Flavor, 90 Melty Tabs
Our list wouldn't be complete without exploring all options. We're happy to include meltables to that list! Picky eaters rejoice, taking these iron and vitamin C supplements are as easy as opening and closing your mouth.
Iron is a common factor in anemia, and also one that does not cross the minds of many parents — when in fact, iron is yet another necessary mineral. These dissolvable tabs lend themselves to easier and faster absorption, with a tasty orange flavor so as to not turn kids off with an extra irony aftertaste.
The vitamins are combined with vitamin C to help the absorption process, and also offer immune health to your growing child.
Benefits – Iron makes you strong, and vitamin C helps build a strong immune system and functioning organs. These tabs hold the key to both!
What We Like About It – No fuss, zero sugar, and no chew time! We love that these tabs are easy and fast.
Pros
Daily iron dosage
Extra added vitamin C
Dissolvable tabs make it easy for kids to take
No extra added sugars, gelatin, etc.
Cons
Unlike other vitamins, iron can cause an overdose in young children — Not safe for children under 6, do not go over the recommended dosage
Nordic Naturals Vitamin D3 Gummies
Nordic Naturals Vitamin D3 Gummies – Chewable Vitamin D Gummy For Kids, 400 IU of Vitamin D Supports Immune System, Mood, Sleep and More, Watermelon Flavor, 60 Count
Just like before, Nordic Naturals offers vitamins for the entire family. Vitamin D provides essential support for mineral absorption, immune system help, and a well-functioning nervous system.
Normally, human beings get their D vitamin from a wholesome diet and sunshine, however in kids, too commonly it is something they lack. Whether it's due to a kid that doesn't like bright sunlight, is sensitive to it, doesn't like being outside, or is a picky eater and hates kale, vitamin D is not one to neglect.
It's one that your child, as well as your entire family, needs to maintain good overall body health! Nordic Naturals once again gives us that in a good-tasting gummy form.
Benefits – Mineral absorption, immune system health, and a well-functioning nervous system are all things that are, obviously, crucial to a growing child. Vitamin D3 has a strong hand in all of those functions!
What We Like About It – Once again, we love that this vitamin can be taken by the whole family. A vitamin D deficiency isn't child-specific, and by giving it to your child, you may be helping the other members of your family as well.
Pros
Cool watermelon splash flavor for kids
Appropriate for the whole family
Daily dose of vitamin D
Gummy makes it approachable for younger kids
Cons
Not suitable for kids under age four
Nature Made Kids First Vitamin C Gummies
Nature Made Kids First Vitamin C Gummies, 110 Count
A surefire way to get kids to take their vitamins, is by adding a little something sweet. Not all sugar is bad for kids, and Nature Made uses it to their benefit when creating vitamin C gummies that kids will actually want to take. Lightly coated in sugar, these orange slice-shaped gummies contain all the daily intake of vitamin C that your child needs. The good news is that a little bit of sugar is a good sacrifice for a lifetime of healthy immune system support. We could all take a lesson from Mary Poppins — "A little bit of sugar makes the medicine go down!"
Benefits – Children of all ages depend on their immune systems to help fight off unwanted bacteria and viruses. There are some things that medicines just can't help with, and a strong immune system — with help from vitamin C — is the first step to taking care of that.
What We Like About It – The addition of a little sugar really makes these gummies kid-friendly. We like that they're especially formulated with a younger age range in mind.
Pros
Sweet taste for kids
Sufficient amount of daily vitamin C
Fun orange slice shape
Easy to eat
Cons
Not suitable for kids who can't have sugar
5 Best Vitamins for Kids in General
Vitamin A 
One of the most important vitamins for optimum growth and development is Vitamin A as it is needed for the development of good vision and the maintenance of a fully functioning immune system. Children need good eyesight to help them gather as much information as they possibly can about their environment. This becomes one of the fundamental components of sensory development and is one of the building blocks for cognitive development.
Infants require about 400 to 500 micrograms of Vit A per day while children 1-3 years old will need about 300 micrograms with a maximum of 600 per day. Older children 4 to 8 years old have a daily recommended allowance for Vit A of 400 micrograms and not to exceed 900 micrograms per day. For 9 to 13 year olds, their Vit A RDA is 600 with a maximum of 1,700 micrograms. Excellent sources of Vit A include liver, sweet potato, carrots, broccoli, collard greens, egg, apricots, papayas, tomatoes, and milk.
Vitamin B-Complex 
The family of B vitamins including thiamine, riboflavin, niacin, pantothenic acid, pyridoxine, biotin, folic acid, and cyanocobalamin are needed for a variety of functions in the body. These are primarily needed for the metabolism of carbohydrates, fats, and proteins as well as in the production of energy. These vitamins are also important in maintaining a healthy nervous and circulatory system as well as a fully functional integumentary system.
These are important in children's optimum growth and development particularly in terms of their psychomotor development. They need all the energy they can get whenever they have to play. They also need a healthy functioning nervous system to enable them to solve simple to complex problems while at the same time enhancing their cognitive abilities.
Excellent sources of B vitamins include milk, eggs, chicken, meat, soybeans, cheese, fish, avocados, brown rice, bananas, asparagus, mushrooms, tree nuts, peanuts, cereals, potatoes, and other vegetables.
Vitamin C
We all know that Vitamin C is good for strengthening the immune system especially if we have colds. However, one of the more important functions of Vit C is the stimulation of the body's ability to synthesize collagen. As you know, collagen is the most abundant protein in the body and is found in almost every organ including the muscles, the bones, and the skin. It also enhances the absorption of iron which can play a significant role in improving the delivery of oxygen to the different cells of the body.
This is very important for children as they need strong muscles and bones to help them in their exploratory plays. This also allows them to enjoy more physically demanding activities such as running, jumping, and hopping. They are also able to pedal their bikes and balance on their skateboards because of the healthy levels of collagen that is brought about by the right amounts of Vit C.
Good sources of Vit C include fruits like guava, kiwi, lychee, papaya, strawberry, and orange as well as other fruits. Vegetables like parsley, broccoli, and cauliflower are also excellent sources.
Vitamin D 
There's a popular notion that the best source of Vitamin D is sunlight. Unfortunately, this is not entirely true. You see, not many foods have Vit D; they contain either cholecalciferol or ergocalciferol, the 2 most important compounds of Vitamin D. These 2 compounds are also synthesized by the skin. However, dermal synthesis only occurs in the presence of sunlight. So, sunlight does not provide Vit D but it does stimulate the skin to start producing the 2 compounds that will be converted by the live and the kidney into what we know as Vitamin D.
Why is this important? Well, this particular vitamin is important in the more efficient absorption of essential nutrients like calcium, phosphate, iron, zinc, and magnesium. Without Vitamin D, these minerals won't be absorbed leading to problems in the bones, muscles, and the blood. This can have serious implications in the health of children particularly their bone development. Without healthy bones, children may not be able to enjoy their childhood to the fullest.
Some of the best dietary sources of Vit D include mushrooms, fish liver oils, cooked egg yolk, beef liver, and fatty fish like tuna, salmon, and mackerel.
Vitamin E 
Known as one of the body's most effective antioxidant, Vitamin E is beneficial among children in terms of strengthening the immune system as well as enhancing the function of the nervous system. This simply means that kids will be able to ensure the full development of their cognitive abilities while at the same time protecting them from a variety of harmful substances that they may be exposed to during playtime activities. Vitamin E is also essential in the growth and development of smooth muscles like those found in the lungs, the heart, the blood vessels, and the gastrointestinal tract. These provide a healthier picture for our kids.
Vitamin E is naturally found in nuts like peanuts, walnuts, cashew, and almonds as well as vegetables like broccoli, asparagus, tomatoes, and sweet potatoes. It is particularly abundant in oils like wheat germ oil, almond oil, canola oil, and sunflower oil.
Do Kids Really Need Vitamin Supplements?
If we are to believe aggressive advertisements saying that all children need a daily dose of Gummy Bear or Flintstone vitamins, then our task of maintaining the optimum growth and development of our children will be much easier.
Unfortunately, it doesn't work that way. Good nutrition doesn't come from a pill or a syrup that you pour from a bottle. Optimum nutrition only comes from fresh and highly nutritious food. These vitamins and minerals that companies market and sell can all be found in the food that we eat. Just look at the list of the food sources of the different vitamins below and you will see that we don't need vitamins in a capsule.
Vit A – Yellow and green leafy vegetables, ripe yellow fruits, fish, liver, and milk
Vit B1 – Brown rice, eggs, potatoes, oatmeal, vegetables, and liver
Vit B2 – Asparagus, dairy products, green beans, bananas, and popcorn
Vit B3 – Eggs, fish, mushrooms, vegetables, meats, and tree nuts
Vit B5 – Broccoli, meat, and avocados
Vit B6 – Vegetables, bananas, meat, and tree nuts
Vit B7 – Peanuts, liver, egg yolk, and green leafy vegetables
Vit B9 – Green leafy vegetables, liver, pasta, cereal, and bread
Vit B12 – Eggs, milk, meat, fish, and poultry
Vit C – Citrus and many other fruits, vegetables, and liver
Vit D – Eggs, fish, liver, and mushrooms
Vit E – Nuts, legumes, seeds, fruits, and vegetables
Vit K – Green leafy vegetables, liver, and egg yolk
These are just some of the more common food sources of these vitamins. The fact of the matter is that we don't need vitamin supplementation.
But there's a big exception.
We don't need vitamin supplementation if and only if our diet is well-balanced. It means, if we have the correct distribution of the different food groups in all of our meals, then we are able to achieve the correct balance of nutrients. Then there is no need for supplementation.
The same is true with kids. If they are able to obtain the right amounts of the right nutrients from the food that they eat, then there simply is no need for supplementation. And this is where the problem lies.
Most kids are finicky or very choosy especially when it comes to food. Sometimes, we parents become hostage to the tantrums of our kids that, if they don't like the food that you serve them, they will no longer eat. Then, we give in to their demands rather than risk starving them and face the wrath of society for neglecting to feed our children. So, they tend to eat only those foods that they like. And honestly, not many children love vegetables. Majority of today's children love sweet and fatty fried foods. So they simply won't get the correct nutrition that their bodies need.
It is also possible that children are drinking way too much carbonated beverages which favor the leaching of vitamins from their young bodies. Children who are eating a lot of processed foods, junk foods, and fast foods will also have insufficient amounts of the right vitamins.
To help address this issue, vitamin supplementation can be of help. However, it should be clear that these vitamins are not replacements. They are merely intended to supplement the otherwise insufficient amounts of vitamins our children obtain from their diet. It doesn't mean that you can forego with regular feeding your kids.
The Bottom Line
What experts recommend is to use vitamin supplements only when there is really a need. The best nutrition will still be that coming from natural food. The challenge therefore, for us parents is how to encourage our kids to love eating highly diverse yet equally balanced meals. This is something that all of us have to strive accomplishing.
Like What You See? Please Rate This Post And Let Us Know What You Think!
Criteria Used in Creating the Top Ten Vitamins for Kids
As with anything else, much research went into finding the best vitamins for kids. However that was not the only factor that we took into consideration when conducting our research. Things such as a child's diet, age range, and lifestyle all went into finding which vitamins would be the best and have the longest lasting effects and lended support. Every child is different, which is why we have compiled a significant variety of vitamin types that far exceed traditional, swallowed pill forms, which are not kid-friendly in the least. We bring to you a unique Top Ten list of easy to take, good-tasting, recommended daily dose vitamins to keep your child and family healthy.
Diet
Kids can be incredibly picky eaters. This is no secret to anyone who has or takes care of them, but because of those picky habits, essential vitamins and minerals are often left out of a child's diet. While kids should still be pushed to eat foods they haven't tried and are good for them, vitamins can be a substantial help in the fight to keep your child full of all the things they need for a healthy, strong body. If they don't want to eat their broccoli or grapefruit, let vitamins fill in the body blanks for them!
Appropriate Age Range
Vitamins can be daunting when dealing with young children. Bodies develop differently and process vitamins and minerals in various ways during various ages, and we took this into consideration as well. On each vitamin, we've noted the appropriate age range to begin administering daily doses of each vitamin (doses vary, read directions for individual vitamins for accurate amount of each). Therefore, we've got you covered from age two, all the way to adulthood. We even included vitamins that are family friendly!
What Kids Really Need
The fact is that vitamins are not a required part of a child's daily diet. What is required is getting the vitamins they need to promote healthy growth, but with the ease of today's food and so many kids starting out as picky eaters, it's a common parental concern that their child is not getting enough nutrition. Vitamins are a simple way to ensure that your child is as healthy as they can be, while also being patient as their diet and flavor palette develops enough to consume the healthy, wholesome foods that they need.
FAQ
Frequently Asked Questions
Q: How big is the dissolvable tablet?
A: Roughly the size of a flattened chickpea. The tablets are small for easy absorption and a quicker dissolving rate, so kids will be comfortable letting the vitamin tabs sit in their mouths.
Q: Can you crush the chewable tablets and put them into food?
A: There's no reason you couldn't do that; however the food make take on the flavor of the vitamin slightly if there is no other flavor added to overcompensate. Crushing the vitamin will not reduce the nutritional value.
Q: There's nothing on the label that is certified specifically "organic" — how can the products used be organic?
A: The only product that the USDA can't certify as "organic" is fish oil. However, the fish is eco-friendly and comes strictly from cold-pressed, USP certified anchovies and sardines.
Q: My son is only 20 months old — is there a multivitamin for that age range?
A: Multivitamins are intended for the use in children ages two and up, any younger than that would be considered an infant-friendly multivitamin. Those vitamins are designed specifically with infants in mind, which may entail lower vitamin percentages and less minerals.
Q: Are these GMO free?
A: All vitamins that are GMO-free are stated in the "Summary" section of each vitamin, but yes, most of them are!
Q: Are these vitamins Kosher?
A: None of the above vitamins are certified Kosher. Some are vegan and vegetarian, but Kosher vitamins would be certified separately.
Most Read