While a bassinet might not seem like something necessary for new parents to purchase as their baby might outgrow it in a couple of months it is, in fact, a wonderful purchase. Bassinets can help several needs like establishing a sleeping routine in new babies so that not only babies get to sleep throughout the night, but parents can too, and this makes bassinets a necessity to have around.
A bassinet for newborn babies is much like being swaddled. They can reduce overstimulation and help keep your baby nice and cozy while they try and sleep. Some bassinets can also be portable so if you're planning on traveling their an easy on hand item to bring with you and easy to store. While co-sleeping is never recommended due to safety reasons a bassinet will help keep babies close without taking up a lot of room and having to have that baby next to you at all hours of the night. It will give new parents and their baby a bit of a break so that everyone will be able to get rest.
Our Top 3 Picks
Graco Pack 'n Play On the Go

Our rating
Removable Bassinet
Price:

See Here
Dream On Me Karley Bassinet

Our rating
Up to 25 Pounds
Price:

See Here
Delta Children Sweet Beginnings

Our rating
Removable Canopy
Price:

See Here
Our Picks For The Top Bassinets for Infants
Graco Pack 'N Play Playard – Forecaster
Recommended Maximum Weight: 15 pounds
Recommended Maximum Weight: 17 pounds
Sweet Beginnings Bassinet
Recommended Maximum Weight: 15 pounds
SwaddleMe By Your Side Sleeper
Recommended Maximum Weight: 15 pounds
HALO Premiere Series Bassinest Swivel Sleeper
Recommended Maximum Weight: 30 pounds
BRICA Fold N' Go Travel Bassinet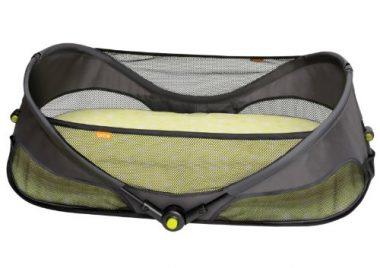 Recommended Maximum Weight: 15 pounds
Chicco Lullago Travel Crib
Recommended Maximum Weight: 20 pounds
Rock 'n Play Portable Bassinet
Recommended Maximum Weight: 25 pounds
Graco Dream Suite Bassinet
Recommended Maximum Weight: 15 pounds
Summer Infant Soothe & Sleep Bassinet with Motion
Criteria Used in Evaluation of the Best Bassinets
We know that choosing the right bassinet for your baby isn't going to be an easy task. With so many options in today's market, we wanted to make sure that we came up with the best ten that would also help save you spending hours of research. When choosing the right bassinet for our list, our main concern, of course, was safety. Newborns need a sturdy, secure place to sleep which made it easier for us to narrow down our list when it came to safety criteria. We looked at safety-compliant certifications on each product that's listed above. These specific certifications are only awarded to products that are not only built to a specific standard but are also tested.
We are also well aware that when it comes to shopping for bassinets that parents often will go towards well-known manufacturers. It's important to go to well-known manufacturers not just because of the reputation they've established along the way but because of their overall customer service. We did include a few of these on our top ten list a few lesser known brands as they had wonderful features and surpassed our safety standards.
One other thing that we considered when coming up with our list is how easy the product is to use. We know that parents – especially new parents – need baby gear that is easy to use and will make their lives a little bit simplified so that they can get a few good hours of sleep before having to start their day over again.
Choosing a Safe Bassinet
Here are some great ways to ensure a bassinet is safe:
 It has safety certifications from ASTM and/or JPMA
 The base is wide and stable
 The mattress is smooth and firm
 Breathable side panels made of mesh
 Folding mechanisms lock into place
As always, we suggest only using with approved accessories. Another important consideration is that though each item has a weight limit, a bassinet's ability to be used safely relies more on the stage of development than weight. Bassinet use should ALWAYS be discontinued once baby can push himself/herself up.
Bassinets are a great item to make that first couple of months easier. Select a safe one, use it as directed, and allow our list of top 10 bassinets to be your guide.
What Determined the Top Bassinets Included on Our List
When choosing our top ten list for newborns and infants, safety was our main concern. We all know babies' bodies are extremely fragile. Our research team was tasked to investigate so that only products have been tested and certified safe and compliant with global safety standards will be shortlisted. Trustworthiness of the manufacturer was also something that we looked into.
We researched all of the manufacturers on our list and made sure that each had exceptional customer service. We also made sure that every bassinet on our top list was gear that was easy enough for parents to use and use to travel with. After passing each of the ten that are listed above through our extensive research criteria list, we were able to come up with our list of the bassinets that parents might consider getting for their new bundle of joy.
Should You Buy a Bassinet or Invest in a Crib Instead?
While it's important for babies who can't exactly pull themselves up, yet bassinets are wonderful gear parents should have. It is recommended that babies under four months of age are placed in them. The bottom line as well as the difference in price. While of course, parents want something that their new child is going to be able to use over time, a bassinet also will help a parent bond with their baby and keep them in with a snug fit until they can get used to a crib.
Another issue that was concerning was of course safety as we've mentioned several times above. We can't stress enough how important safety is when it comes to a new bundle of joy. It is required that all cribs must pass a certification mandatory test using ASTM's standards. Bassinets, however, are tested and certified only on a voluntary basis.
Should you decide to buy a bassinet, make sure to observe the following tips.
Always look for a trusted seal such as the ASTM as well as the JPMA.
Always choose a bassinet with a wide and stable base as well as a sturdy bottom.
Check the sleeping pad or mattress; this should be extra-firm yet smooth.
Always choose one with mesh side panels to prevent suffocation.
Make sure you understand your baby's developmental needs. As soon as he or she starts pushing himself or herself up, then it's time to say goodbye to the bassinet.
Always check the security of the unit's folding mechanisms. Make sure these locks into place.
The Bottom Line
Bassinets can be adorable to look at and can be very valuable for your child. However, as there are certain safety issues that you have to understand, it is crucial that you think very well before buying one. Should you decide to go for it, let our list of the top 10 bassinets for infants be your guide.
FAQ
Frequently Asked Questions
Q: Can I add a pad to make the mattress more comfortable?
A: No. Unfortunately, bassinets are certified safe for babies only when used with the included mattress.
Q: How do I know which sheets will fit my bassinet?
A: The best way to know is by comparing the dimensions of the bassinet mattress with the sheets you're interested in. Some manufacturers include a sheet with the bassinet.
Q: Could I use the travel bassinets in a bed as a co-sleeper?
A: Yes! If you plan to use them in bed, keep the dimensions in mind. Some beds may not be wide enough to fit a travel bassinet comfortably.
Q: Do I need tools to assemble the Graco Dream Suite Bassinet?
A: No. The bassinet was designed for easy, tool-free assembly.
Q: Will the Halo fit in small spaces next to a bed?
A: It may. The Halo was designed to be versatile even in small spaces. Since the feet can slide under a bed, it may be perfect for your room. View the dimensions to be sure.
Q: Why does the SwaddleMe have compressional mesh sides?
A: The manufacturer knew that parents would be reaching in to comfort the baby throughout the night. The sides are designed to make that movement comfortable so that everyone can get more sleep.
Related Posts
10 Top Rated Baby Cribs
10 Best Baby Formulas
12 Best Baby Carriers Mum's Will Love
10 Best Baby Gates For Safety