10 Best Baby Mobiles for Infants in 2019
last updated
May 26, 2019
You might not guess it right away, since they can't communicate on our level, but babies' minds are always whirring. Thrust into consistently unfamiliar environments, they're like tiny computers, processing everything around them as they explore. That's why baby mobiles are one of the most popular and iconic toys on the market, and have been for some time: mobiles are meant to aid in baby's mental development. Some mobiles are meant to stimulate little ones, while others are meant to soothe them to sleep, so choose accordingly as you browse our top ten. Whether you're looking for a gentle lullaby, a flashy lights show, or just something cute and engaging, hang around: we've got you covered
In a Hurry? The test winner after 38 hrs of research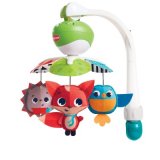 Tiny Love Meadow Days Take Along
Why is it better?
5 Different Melodies
30 Minutes of continuous, uninterrupted play with an auto-shut off
Spinning, visually engaging toys
Multiple attachment options for cribs, pack and plays, strollers, car seat, chairs, changing tables, etc.
In a
Hurry? Editors choice: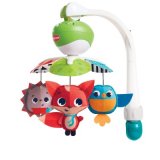 Test Winner: Tiny Love Meadow Days Take Along
17
Researched Sources
38
Hours Researching
16
Products Evaluated
Design
Sensory Stimulation
Portability
Effectiveness
By Default
10 Best Baby Mobiles Reviewed
1

. Tiny Love Meadow Days Take Along
5 Different Melodies
30 Minutes of continuous, uninterrupted play with an auto-shut off
Spinning, visually engaging toys
Multiple attachment options for cribs, pack and plays, strollers, car seat, chairs, changing tables, etc.
Music volume is low
Rotation may be too slow to engage some infants
As a new parent, finding time for yourself is a rare luxury. Newborns are so used to the sounds and smell of mommy that they want to spend all of their time with and on you...which doesn't leave a lot of time for mom to get some sleep of her own. The Tiny Love Meadow Days Take Along Mobile is the perfect tool to help get baby...and mommy some much-needed sleep. This delightful mobile plays music, spins, and features 3 delightful forest creatures to help lull your little one to sleep. Since it is capable of being mounted pretty much everywhere it's an ideal take-along companion for everything from long car trips to trips to the bedroom and everywhere in between!
Read more
Design
Whether you're strapping it the infant carrier to keep your little one calm while you shop, hooking it onto the car seat to help baby sleep during the inevitable car trip to see the in-laws, or strapping it onto the changing table to help keep your child focused on it instead of the millionth diaper you are changing-this mobile is going to become your go-to for every situation!
Sensory Stimulation
Designed to both engage and soothe your baby, this mobile showcases three plush and friendly woodland creatures that spin and stimulate your little one's visual senses.
Portability
Velcro fasteners allow it to attach to your infant carrier. The large sturdy clip will easily slip on to most strollers and the arm attaches to cribs and pack and plays with ease
Effectiveness
Five unique melodies will perk up those auditory senses and they play continuously for 30 minutes before automatically shutting off to lull your baby to sleep.
5 cute characters in mobile
Adjustable volume and song selection
60 minutes of musical material
Toys double as rattles and squeakers
Soft, plush material
Plastic holder doesn't look very durable
Only get a snippet of melodies, not full songs
This soft and sweet little mobile features stuffed planes, buses, automobiles, and birds! Each piece has multiple functions: two are squeaker toys, two are rattles, and one plays music! There are five total ornaments on the mobile and with sixty total minutes of music, your little one will have plenty of favorite lullabies within just a few weeks.
Read more
Design
We love the plush design of this particular piece. It's nice to see mobiles that are cuddly! This design also keeps functionality in mind. There are six total buttons on the mobile that allow you to control your baby's listening experience: spin, music, volume up, volume down, previous song, and next song.
Sensory Stimulation
The bird in the middle plays music to help lull baby to sleep. There are sixty total minutes of content but after thirty minutes, the music automatically shuts off so as to allow baby to sleep. The toys can be taken off as your baby grows and used as squeaker toys and rattles to keep baby's senses constantly expanding.
Portability
This mobile is easily disassembled and transported. It doesn't feature too many pieces and it's soft, so you can easily fit it into a large bag or a regular sized backpack if you intend to commute with it. The setup is easy and the holder fits cribs that are 1.8" thick.
Effectiveness
The color palette is pleasing but not so bright as to be loud and overly stimulating. The music volume can be controlled and the sound automatically shuts off after thirty minutes so that it won't accidentally wake baby once they've dozed off. The mobile has three height adjustment settings so you can tailor it to baby's needs. Little ones will love the characters and the music will help ensure only the sweetest of dreams.
3

. SHILOH Baby Crib Decoration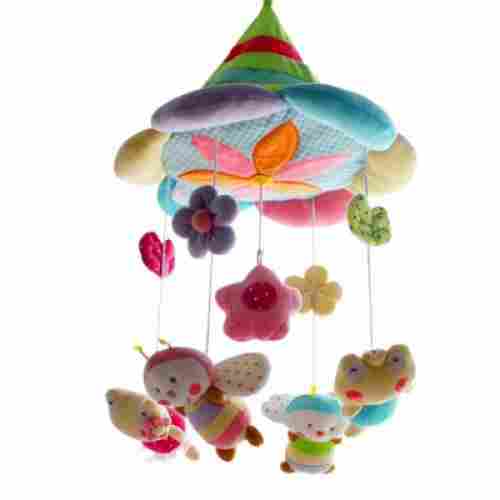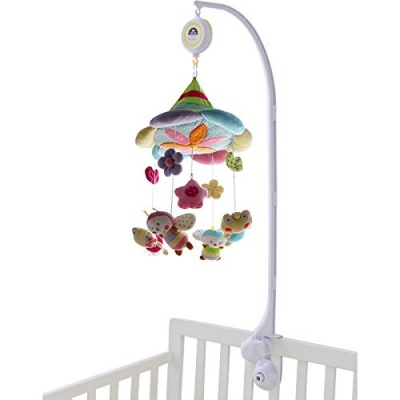 5 removable animals double as play toys
BPA-free
Plays over 60 different melodies
Multiple positioning angles for mobile arm
Not washing machine safe, spot clean and air dry only
May not properly attach to cribs with thicker crossbars
Introduce your newborn to their very first plushy friends with the Shiloh Plush Musical Mobile. This forest themed mobile is made of soft, gentle velvet and cotton materials that are soothing to your little one's sensitive skin. Five delightful stuffed bees and frogs dangle as the mobile spins and twirls, dancing among the flower shapes. Each of these little friends can be quickly and easily detached from the mobile and instantly become stuffed animals! Sensory experiences await your baby as they learn to squeeze the squeakers and shake the rattles contained in each new friend. This mobile also features a built-in music player that features over 60 different melodies, including some made famous by the Disney franchise.
Read more
Design
The music player also includes many adjustment options to make bedtime perfect for your little one including a volume up and down control, a 30-minute automatic shut-off timer, and the ability to turn the spinning off independently from the music.
Sensory Stimulation
Your newborn will have the freedom to explore several new sensory experiences with this mobile that can encourage cognitive growth. Each plush toy contains a rattle or squeaker to encourage auditory development. Visual tracking expands as well as they watch the mobile spin and dance above their head. Music has also been shown to help boost early language skills and brighten your little one's mood.
Portability
Very few mobiles on the market have the option to allow the music to play independently of the rotation so the versatility of the Shiloh really stands out.
Effectiveness
This adorable forest is sure to lull your little one into a peaceful sleep in no time.
4

. Tiny Love Sweet Island Dreams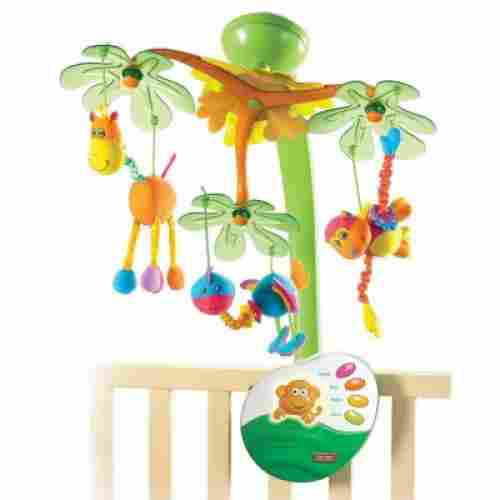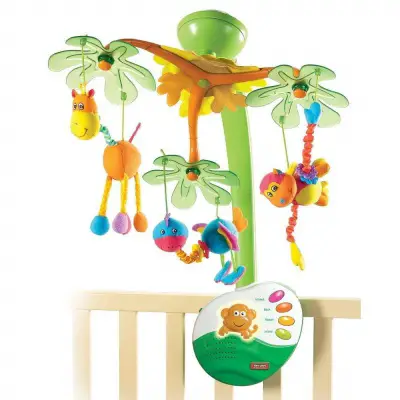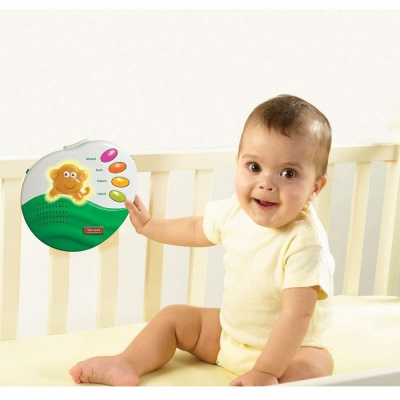 Three cute puppet-like animals
Plays continuously for 20 minutes
Monkey also acts as a night light
Four different songs to choose from
Easy to attach to most standard sized cribs
The arm fastening is only one piece and one screw so assemble it tightly
Some users have complained about a buzzing, motorboat noise
Sweet, tropical dreams are made of this: a giraffe, a bird, and a monkey dangling from rotating trees. This Tiny Love baby mobile will help to strengthen baby's eye muscles, develop their spatial awareness, and hone their focusing skills, specifically when it comes to objects. The mobile plays twenty continuous minutes of music as the soft little puppets move around and around. This mobile is meant to help soothe your baby rather than over-stimulating them, and there are four different songs you and baby can scroll between by pushing a button on the base.
Read more
Design
The Sweet Island Dreams model attaches easily to most standard sized cribs via a knob on the base of the mobile.
Sensory Stimulation
In addition to focus, spatial awareness, and strong eye muscles, this mobile will also help teach little ones the basic principle of cause and effect. Simply work with baby until they are comfortable pushing the button on the base and changing the songs all by themselves.
Portability
The monkey doubles as a night light and can remain stationary at the crib even if you detach the rest of the mobile
Effectiveness
The whole set is fun, funky, and perfect for focusing and soothing sleepy little ones.
5

. Tik Tak Design Co. Stars and Planets in Monochrome
17 color schemes to choose from
Handmade in New Zealand
Soft but shapely feltCute stars and planets design
You can move the shapes around on their strings
Doesn't come with the necessary pieces to hang it; you'll buy those separately
With Tik Tok Design Company's Felt Monochrome Mobile, your baby will be reaching for the moon and stars each and every night. This mobile features soft felt in the shape of globes and stars, all hanging in a beautiful gradient of white, medium gray, and black. It's simple, elegant, and hand-crafted.
Read more
Design
The felt balls' positions on the strings can be adjusted, but they won't slip and slide of their own accord.The company offers a 100% Satisfaction Guarantee, and users have all agreed that the delivery was succinct and well packaged.
Sensory Stimulation
Little ones will drift up to dreamland with their heads up in the clouds--well, in another atmosphere, really. This intergalactic hit is soft and dreamy, so babies will mellow as they watch it.
Portability
It's lightweight and easy to hang, plus it comes in seventeen total color schemes, so if the monochrome pattern isn't quite for you, browse their more bold options.
Effectiveness
It's a simple and elegant design. If you're working with more of a minimalist aesthetic in baby's room, or if you just want a product that is high-quality and straight forward, sans all the bells and whistles, this is the mobile for you.
6

. Infant Stim Mobile To Go Travel Toy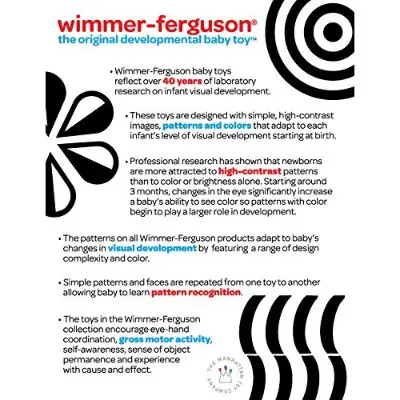 This ultra-sleek mobile weighs in at less than a pound.
The clamp is sturdy enough to adhere to any and all baby furniture.
The Infant Stim Mobile To Go Travel Toy can be assembled and installed in under 10 minutes.
Comes with interchangeable image cards to keep your child stimulated.
This mobile is extremely easy to travel with, and it even comes with its own bag.
The materials are rather thin, so be gentle with this product.
Wimmer-Ferguson may be a name that you recognize especially in combination with the delightful black and white colors of this Infant Stim Mobile to Go Travel Toy. This simplistic mobile lacks any of the complicated mechanics of more contemporary mobiles and opts instead for visually engaging colors and movement
Read more
Design
The large clip is strong and easy to clip onto everything from an infant carrier to strollers and the two-dimensionally designed cards fold flat for easy packing.
Sensory Stimulation
The fact that the Wimmer-Ferguson has been designed primarily for children's sensory development, particularly their visual senses. It may even be a great introductory tool to discerning the different colors. And since it only focuses on a single sense visual – the brain is not really flooded with a lot of information at the same time.
Portability
We find the lightweight, portability of this mobile to be highly beneficial. If you and your baby travel a lot, then this is the perfect mobile for you. On top of its great travel ability, the mobile also comes with interchangeable cards to stimulate your baby for years and years to come.
Effectiveness
The gentle rhythm of each piece swaying back and forth is guaranteed to help soothe baby while the concentric circle design and the stimulating color scheme will encourage visual development.
7

. Manhattan Toy Wimmer-Ferguson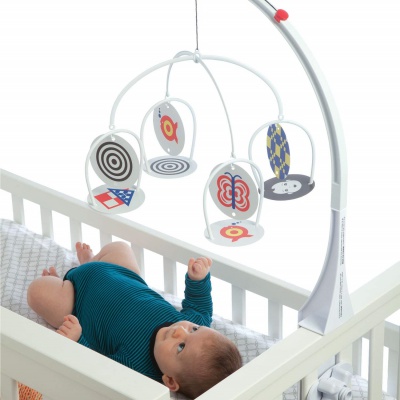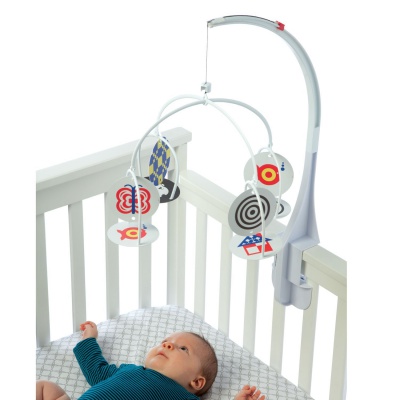 10 interchangeable cards encourage vision development from birth to 3 months
Comes with an adjustable arm to modify the distance between baby's eyes and designs
The quiet design is perfect for easily overstimulated children
The simple design is easy to mount and assemble
The design will not support 3rd party music boxes
Cards can be easily pulled off by babies once they learn to stand
The Wimmer-Ferguson mobile from Manhattan Toys is a stimulating experience for infants. You can customize the look of your mobile as it includes ten interchangeable cards. Make the rotation as colorful or as calm as you'd like! The graphics cards are even labeled with the recommended age range so you have a guide as to what's most appropriate for your baby's developmental stage.
Read more
Design
This mobile is so well loved that it has received numerous awards including being named #1 in Best Mobiles in Reader's Favorites by Baby and Children's Product News.
Sensory Stimulation
Included with this mobile are ten uniquely designed and interchangeable cards that are will introduce your little on to high-contrast images, colors, and simple shapes to encourage visual and gross motor skill development. Each card is labeled as to the age at which they should be used to give the best stimulation possible. The adjustable arm will also change the distance the cards hang above baby as their visual acuity grows with time.
Portability
This mobile is one of the best adjustable mobiles on the market as the simple cord style makes it easy to modify the height of the cards above your little one's head which is ideal to continue vision development as they grow.
Effectiveness
Many mobiles on the market employ a multitude of characters, lights, movement, and music to engage and sooth. Research suggests that, while these mobiles may be stimulating for older babies and toddlers, infants observe simple and high-contrast shapes the best and these designs are better for encouraging eye development in newborns.
8

. GEENNY Musical Teddy Bear
Wind-style spin and music player requires no batteries
Plays Brahms Lullaby
Coordinates with matching crib bedding sets
Machine washable
Not compatible with thick or curved crib railings
Some assembly is required
This gorgeous musical mobile from GEENNY features a Teddy Bear theme and if that doesn't match your nursery theme there are over a dozen different design options to choose from. A designer of boutique nursery products, GEENNY has created an entire line of mobiles with matching bedding sets. Find your nurseries perfect match with themes like sailors for a nautical room, monkeys for a jungle room, or even cowgirls for a western!
Read more
Design
No batteries are needed, simply twist the mobile a few times and it will slowly spin and twirl while playing Brahms lullaby. Your little one will slip sweetly into dreamland surrounded by their favorite things.
Sensory Stimulation
Imagination and creativity can be instilled in your baby's cognitive growth from a young age. Mobiles can help strengthen visual acuity and improve gross motor skills as your little one tries to reach and grasp at the spinning features. Music can promote positive sleep impressions which can help your baby develop proper sleep patterns from an early age.
Portability
Each mobile features a wind-up spinner and music player.
Effectiveness
With dozens of coordinating bedding and mobile designs available, GEENNY is a one-stop shop for the perfect themed nursery.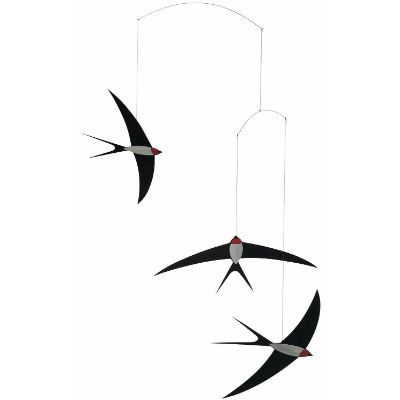 Elegant design
No additional assembly required
Makes a great gift for adults as well
Calm, simple mobile
Birds aren't weighted so baby's view may be less aesthetically pleasing
Very delicate
The Flensted 3 Swallows mobile is a handmade piece of art from the Danish island Funen. This beautiful mobile is calming and simplistic. It's so beautiful, you can easily hang it in other rooms once baby outgrows it and let it serve as a mellow moving sculpture. You can opt for the five swallow design if you'd like a little more motion, as well!
Read more
Design
Designed with physics in mind, this mobile is perfectly balanced such that all of its ornaments are constantly in motion. The three birds are sleek and elegant. It doesn't play music or do tricks, but it is a beautiful statement piece we think everyone in your family can appreciate and enjoy.
Sensory Stimulation
This mobile knows that an understated but high-quality design can be just as effective as the more suited up mobiles out there. The little birds will soar overhead in constant, even motion, which will help baby to relax and sleep. It isn't distracting nor is it over-stimulating, which is perfect for naps and helping them to sleep through the night.
Portability
The birds are made out of light cardboard, so you'll need to be careful during transportation not to crush or bend them. It does come pre-assembled though, so no further setup is required on your end other than to hang it. It's lightweight and measures about 14" x 20", making it small enough that you could easily carry it between rooms or destinations.
Effectiveness
If you're looking for something that won't distract or stimulate baby, this is your best bet. It's an understated piece but it accomplishes what it set out to do, which is to be beautiful and soothing. Adults love this piece as much as babies do! (Some probably even appreciate it more!)
10

. Schylling Tin Hot Air Balloon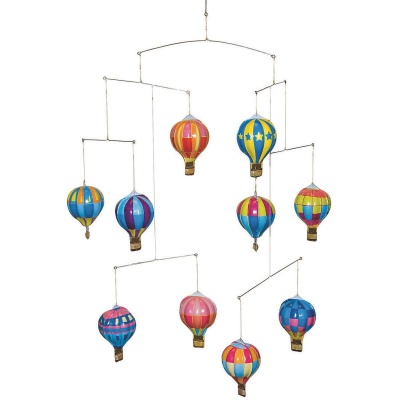 No batteries required
Composed of lightweight tin
Visually stimulating
Soothing design helpful for both young children and adults with special needs
Strings can tangle easily upon removal from the box
Length and fragility of design require ceiling mounting to avoid damage
If you have ever had the chance to watch a hot air balloon dance playfully through the sky on a calm sky, you will understand the charm and fascination that the Schylling Tin Hot Air Balloon Mobile will bring to your child. The beautiful and intricately decorate balloons are designed to spin and twirl with even the lightest of breezes or household currents.
Read more
Design
The bright pastel colors will draw your baby's eyes with delight and help encourage those precious little fingers to reach out and touch the sky.
Sensory Stimulation
This mounting style will keep all of those beautiful balloons out of little one's reach while maintaining the illusion that they are flying around the room. As this mobile focuses on gentle movement to soothe baby it is ideal for children who are easily overstimulated and can even prove helpful to adults with similar needs
Portability
Although this mobile can be mounted on a standard crib arm it is designed to be hung from the ceiling.
Effectiveness
Even toddlers remain awe-inspired by the 'floating' balloons dangling from the ceiling making this mobile ideal even for older children.
Criteria Used for Evaluation
Design
When evaluating these mobiles for this top 10 lists, we like to keep three key aspects in mind. As always, our most pressing concern is safety. When judging a mobile's overall safety, we like to look at the mobile's sturdiness and weight to gauge its potential risks. For more on the safety of mobiles, go down to the safety section. We then like to look at the development, these mobiles can offer infants and toddlers. Typically, we look at the auditory and visual development a mobile should offer. For more on the developmental aspects of mobiles, go down to the development section. And, finally, we like to look at the entertainment values of the mobile. This is typically measured by how engaged a child is when playing or engaging with a mobile. For more about the entrainment aspect of mobiles, go down to the entertainment section.
Sensory Stimulation
It's important that you begin developing your child's sense of sight and hearing now because it's these senses that allow your child to communicate with the world. Mobiles with both a musical and visual component took precedence over those that didn't because they had more to offer in the developmental department. We also found it very important that the mobiles had a moving component to help with children's hand-eye coordination.
Portability
Just like choosing the best crib or even the best sleep essential for babies, the process for selecting the best cot mobile to be included in our list is pretty straightforward. We just utilized the same formula we have been adhering to ever since we embarked on this mission to bring you only the best products that you will find invaluable in caring for your children. To choose a crib mobile to include on our list, we looked at the developmental appropriateness of the product. While these can be classified as toys, they are more geared towards one very particular aspect of a young infant's development – his or her sensorimotor development. As such, it is imperative that a baby musical mobile or even a lights-up kiddie kinetic structure should fulfill this very fundamental requirement. Now, if the baby soother comes with another feature that will help address another aspect of a baby's development such as his or her cognitive abilities as well as a beginning sense of self and social awareness, then we'd give that particular product an extra point for each feature that has a developmental benefit to infants.

Effectiveness
Finally, what use is a mobile if it doesn't entertain and engage your child? We wanted to be certain that the mobiles on this top 10 list appealed to children of all ages and kept them entrained from the moment they went into the crib to the moment they fell asleep. To gauge this, we looked at numerous parent reviews to order and chose the best mobiles for this list. Only mobiles that were extremely engaging and entertaining to children between infancy and the age of three made it onto this list.
Most Important Criteria
(According to our experts opinion)
Experts Opinion
Editors Opinion
Users Opinion
By Default

Parents, Did You Know?
We did not stop there. We also had to scrutinize the design of the playpen or crib attachment. These must be fully constructed of only the safest materials available. It is also imperative that there are no small parts that can be easily removed or detached as infants have this very fierce reputation that any object they can put their hands on can be moved straight to their mouths. While they don't necessarily think of it this way as the action is more reflexive, it nevertheless poses a threat to their safety. Dangling cords are also examined as too long a cord can wrap around the baby's neck. Such little details can mean a lot if it's all about your baby's safety.
Parents, Did You Know?
We also read quite a number of customer reviews and feedbacks that gave us an idea of the personal experiences of parents and their babies regarding the use of such baby soothers and kinetic structures. We wanted to make sure that when we included a musical cot mobile on our list, parents have the same views as we did. And with these, we were able to complete our list of ten truly amazing baby mobiles any infant will love.
Parents, Did You Know?
Baby cot mobiles are more than mere attachments to our kids' cribs, playpens, or bassinets. These are important tools for infants' development. Our top 10 baby mobiles will help you choose the best one for your baby
Other Factors to Consider
Safety
As we said earlier, safety is the most important aspect of any product we review for our top 10 lists. But mobiles need to be especially safe because they literally hang over a child while they sleep. For these top 10 mobiles, we made sure they weren't too heavy and very sturdy so that they had the smallest possible chances of falling over. We also made sure that the assembly of these mobiles was easy to understand and follow so that the smallest chance of error was possible.

Educational Value
We all know that baby cot mobiles are important for their development. But did you ever wonder what aspect of their development we are actually helping? Here are the developmental benefits of these types of baby gadgets.
Stimulate the senses – Mobiles for babies make excellent tools for the development of their senses particularly their visual perception. If the gadget comes with additional features such as music and textures, then auditory and tactile sensory perception are also developed. This serves as the foundation for your young child's cognitive abilities.
Develop motor skills – Babies will naturally attempt to reach for these gadgets as they get stimulated. In some devices, they will be pressing buttons and feeling on plush toys. These will require the coordination of motor movements which can help in the overall expansion of their motor skills.
Helps soothe and relax babies – Musical mobiles provide superb soothing benefit for young children. Those with projector features and night lamps can all provide a more relaxed environment for young kids. These will help them feel more relaxed, secure, and safe in their cribs or nursery room.
Helps babies learn – The animals, shapes, and colors that are hung on the cot mobile can be great learning tools for children. They learn colors, shapes, patterns, and even animals and other things. They also learn different phrases and sounds. All of these can help in their cognitive development.
Frequently Asked Questions
q:

What is the purpose of a mobile?

a:

The purpose of a mobile is to relax and lull your child to sleep. The mobile is also used to help stimulate your child's overall growth and development. Many have light, sound, and moving components to give your child a stimulating, and overall beneficial experience.
q:

When will my child stop needing a mobile?

a:

Typically, children stop needing mobiles once they begin to sleep in beds. This is different for all children as some mature faster than others, but that's usually when they stop needing mobiles.
q:

When should I get a mobile for my child?

a:

Most professionals recommend getting a mobile for your child as soon as they are born. The faster you can begin to develop their visual and auditory senses, the better. And, because newborns have very difficult sleep schedules, the mobile will help them sleep through the night.
q:

If my child has special needs, what kind of mobile should I get?

a:

Well, that depends on the kind of special needs your child has. Most special needs children are very sensitive to light and sound, so buying a mobile with either soft light and sound, or no light and sound, might be the best move.
q:

Are there different kinds of mobiles?

a:

There are mobiles that strictly play music, ones that strictly rotate, ones that do both, and ones that project images. Depending on your child's needs, any one of these mobiles will work. Usually, mobiles that both turn and play music are the most popular, but for children that get overstimulated rather quickly, a mobile that does one or the other might be best.
q:

What can I use instead of a mobile?

a:

If you're worried about mobiles because of certain safety issues, then a music box will work in a similar fashion. A music box can play soothing music to help get your child to sleep, but, unfortunately, cannot entertain your baby the same way a mobile can.
q:

How often should I get a new mobile?

a:

Depending on the kind of mobile you get, you might never need a new one. Specifically look for mobiles that can be used from infancy all the way through toddlerhood to avoid buying multiple mobiles.
q:

What are the safety issues with mobiles?

a:

The biggest safety concern with mobiles is them falling on top of your child. If a mobile isn't properly clamped onto the crib or is too heavy for the crib, it can fall and seriously harm your child. Always follow the setup instructions precisely when setting up a mobile, and always keep a baby monitor handy so you can hear if it falls.