10 Best Kids Doctor's Kits Reviewed & Rated in 2019
last updated
Nov 14, 2019
Often when kids talk about what they want to become when they grow up the answer is, "a doctor." Many kids see doctors as superheroes and aspire to be just like them. Many even have gotten to witness the awesome things they are able to do to save family members and friends from illnesses. Being a doctor is an extremely rewarding career and many parents would love to say that their child is a doctor.
If your child is an aspiring doctor then giving them a toy doctor kit as a gift gives them the chance to roleplay as a doctor or even if your child is fearful of a visit to the doctor's office these kits can help overcome that fear. Either way, you have come to the right place if you are looking for Doctor Kits for Kids.
In a Hurry? The test winner after 13 hrs of research
Learning Resources Pretend & Play
Why is it better?
Large doctor kit featuring 19 pieces
Great kit for inspired junior surgical staff
Aids in helping ease anxiety from check ups
Includes large carrying case for storage and taking along toy
Encourages the development of social and behavioral skills
In a
Hurry? Editors choice:
Test Winner: Learning Resources Pretend & Play
14
Researched Sources
13
Hours Researching
15
Products Evaluated
Educational Value
Safety
Creativity
By Default
10 Best Doctor Kits for Kids Reviewed
1

. Learning Resources Pretend & Play
Large doctor kit featuring 19 pieces
Great kit for inspired junior surgical staff
Aids in helping ease anxiety from check ups
Includes large carrying case for storage and taking along toy
Encourages the development of social and behavioral skills
Heartbeat sound from stethoscope does not sound real
Blood pressure cuff strap is very short
Featuring 19 different pieces in this doctor set it includes everything that a kid needs to become the next junior doctor of the family. It includes all of the medial tools that a surgical staff would have, but in the toy version. It is a great tool for helping kids that have anxiety about going to the doctor.
Read more
Educational Value
Each set includes 19 pieces; a cell phone, multiple bandages, a name tag, a scalpel, thermometer, forceps, tweezers, syringe, stethoscope, blood pressure cuff, scissors, eyeglasses, reflex hammer, bedpan, ear scope, a dental mirror, plus a carrying case to put it all in. The carrying case is large enough to place all the pieces in and measures at 14 ½ inches long by 3.38 inches wide with a height of 12 ½ inches. It is great for easy cleanup and storage along with being able to take on a playdate. The stethoscope and cell phone both make noises and require batteries that have not been included. This is a great doctor for kids that are over the age of three years old. If you are looking for a doctor kit that has a bit of everything then this is the kit you are looking for.
Safety
The large kit that includes all the pieces that your kids will love playing with, designed to be child-friendly. The noises that cell phone and stethoscope make give it an extra interactive feature that was cool.
Creativity
Playing doctor is a great way to help children develop their social skills. The interaction between patient and doctor is an ideal way to teach children to interact with others. It develops their social and behavioral developmental skills.
2

. Learning Resources New Sprouts Cure It!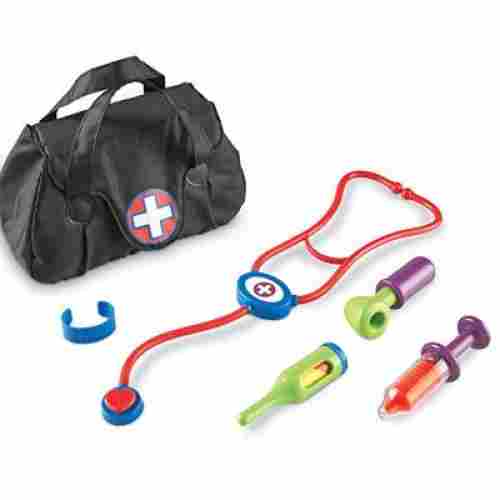 Fun doctors bag to carry and store components
Intuitive blood pressure gauge
Includes patience bracelet to promote cooperative play
Thermometer displays temperatures and if a patient is sick or not
This kit doesn't come with a doctor play coat.
Carrying bag is easy to get dirty
If you have a little one who's afraid of going to the doctors and are looking for a tool to help ease that fear look no more. This doctor kit is designed to help any fear or anxiety about doctor visits that your little one may be feeling. It's a great way for your little one to act out whatever they might be afraid of regarding those visits and might even make a future career of. It's perfect for any toddler ages 2 and up.
Read more
Educational Value
This is a great tool for your little one to enhance their vocabulary. Doctor visits can always be a hit or a miss and for some parents, they can be dreaded entirely. Having your child play doctor is a great way for your child to not only learn about a doctor's professions but they'll also be able to learn about the tools they use, why they use them, and they might even be able to list off some body parts. This doctor kit is also a great way to help your little one get over that fear they might have which in the end will benefit parents as well.
Safety
Specifically designed for children with small hands this kit is safe and made of non-toxic materials for your child to enjoy playing with. The bag that all of the tools come in is vinyl and extremely durable. The toys themselves are made up of a crush-resistant type of plastic ensuring that they will last over time.
Creativity
This set includes a stethoscope, bandage, ear scope, thermometer, and a syringe. It's a great way for your little one to enhance their imagination as they'll begin to enter dramatic scenarios and must cure some of their closest patients. It's also a great way for your little one to get inspired by storytelling. Having your child act out whatever they are having worries about their doctor visits is also a wonderful tool for parents to encourage and ensure that their child is okay. This is a great learning tool for your child to have.
3

. Kidzlane Deluxe 12 Pieces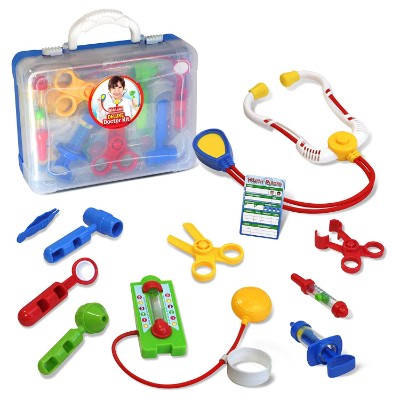 The Kidzlane Deluxe Doctor Medical Kit is perfect for children ages 3 and up.
This colorful playset is bright and vibrant to appeal to younger children.
The kid friendly design interests' young children in the wonders of imaginative playtime.
Includes over 10 pieces like: tweezers, surgical scissors, syringes, a stethoscope, and much more.
All these pieces can fit nice and neatly into the convent doctor case provided.
Due to the more childlike design, older children might not be as interested in this medical kit.
Intended to be as playful as possible, the Kidlane Deluxe doctor play set differs from the Kidzlane Durable primarily in terms of its carrying case and the number of pieces that come with the kit. The Kidzlane Deluxe nevertheless, is a fantastic set for stimulating children's interest in playing the role of healthcare professionals like doctors and nurses, among others.
Read more
Educational Value
It comes with the usual stethoscope and blood pressure apparatus, thermometer, syringe, scissors, and tweezers. It also comes with an ophthalmoscope which should be quite interesting to see how kids will play with it, pretending to check the health status of the eyes. There's also a dental mirror which gives our young MDs an idea of the oral health status of their patients. The Kidzlane Deluxe may not have some fancy interactive elements but it can serve the purpose of enticing children to use their role playing abilities.
Safety
The Kidzlane Deluxe is a good toy medical kit that comes with most of the essential tools of modern-day MDs.
Creativity
Though older kids might be turned off by the vibrant colors and more childlike ascetic, we actually love it! We love that the bright colors and child friendly design interests' children in wonderful ways and they love it as well!
4

. B. Toys Deluxe 10 Pieces
Case is made of durable material to keep contents secure
All components made from non-toxic plastics
The stethoscope can actually emulate a heart sound
No really sharp or metal parts to worry about
Does not include the 2 AAA batteries needed for full playtime.
We love the realistic nature of the B. Dr. Doctor Toy Medical Kit. With 9 pieces for realistic playtime, children can truly immerse themselves in the role of 'doctor.'
Read more
Educational Value
The B. Dr. Doctor Toy Medical Kit for Kids is a wonderful way for children to learn empathy for others. This also aid in their social development because of the medical mindset. Children learn the importance of taking care pf one another, and those empathic tendencies transfer into their adolescents.
Safety
All the pieces included in this kit are still child friendly, but bare enough resemblance to the real thing for children to truly engage with the products. It's details like this that make the roleplaying experience so much more memorable and wonderful for the child.
Creativity
The greatest benefit of this kit is the different tools and devices included. Items like the working stethoscope, otoscope, and Plextor create a realistic world in which children can express empathy and concern. These realistic instruments also give children a greater knowledge of the medical world and how those tools can help others.
5

. KPretend with Light Up X-Ray Machine
Batteries included
Sturdy construction
Unique kit selections
Soft but vibrant colors
Doctor coat not included
Lack of carrying/storage case
Let your kid be the new doc on the block with this fun pretend doctor kit! The nineteen-piece kit comes with everything your little doctor needs: X-ray machine, stethoscope, syringe shot, ear scope, magnifier, reflex hammer, kid-safe scissors, pretend glasses, identification card, doctor chart, clipboard, plus a surgical tray and its tools.
Read more
Educational Value
The kit's encouragement of interaction with its tools is a great influencer for pretend play helping your child to be creative and imaginative even when just checking a heartbeat or two.
Safety
This kit is very interactive with operating room features that light up and create sounds when in use and with all the different medical tools included, your child can live out their doctor dreams. It's a great set for boys and girls alike and is appropriate for toddlers and older kids alike.
Creativity
The large and diverse selection of the doctor tool accessories gives your child a lot of play options and helps to prevent boredom.
6

. Kidzlane with Electronic Stethoscope
Suitable for toddlers
Easy-to-fit carrying case
Sturdy and durable case
Diverse accessories selection
Choking hazard-very small pieces
Not to be outdone when it comes to stimulating children's make-believe abilities is the Kidzlane Durable Kids Doctor Kit. Housed in a sturdy, durable, and reliable heavy-duty plastic carrying case, this 12-piece doctor play set can literally take the pretend play activities of kiddie doctors to a whole new level. It may not be as numerous as the kit from Learning Resources but it can get the job done.
Read more
Educational Value
Inside the heavy-duty case your kid will find an electronic stethoscope that gives him or her the chance to listen to recorded real-life heartbeats. This gives him or her an idea of how blood traverses across the many arteries and veins of the body. Then there's a blood pressure apparatus complete with a flexible cuff that junior physicians can wrap around the upper arms of their respective patients to simulate the taking and reading of their patient's blood pressure.
There's also a dental mirror which is excellent for looking at the condition of a patient's oral cavity and an otoscope for looking into the inner structures of the ear. The Kidzlane Durable doctor toy set also comes with a reflex hammer, an essential instrument for establishing the status of the nervous system as well as the other mainstays in a physician's arsenal of tools like a syringe, thermometer, scissors, and bandages. These are just the right tools that every child needs to begin living the dream of becoming a renowned doctor. Although it is still a few decades away from realization, it does pay to start with small easy steps.
Safety
We find the ultra-sturdy carrying case extremely beneficial for clumsier or more rambunctious children. Because all the toys are packed safely away in the case, parents can rest easy that the toys won't scatter everywhere and break.
Creativity
The Kidzlane toy medical kit's main advantage is the sturdiness and durability of its storage case. This helps protect the different tools of your child while also giving the idea that these instruments are precious and, as such, should be protected.
7

. Joyin 31 Pieces Dentist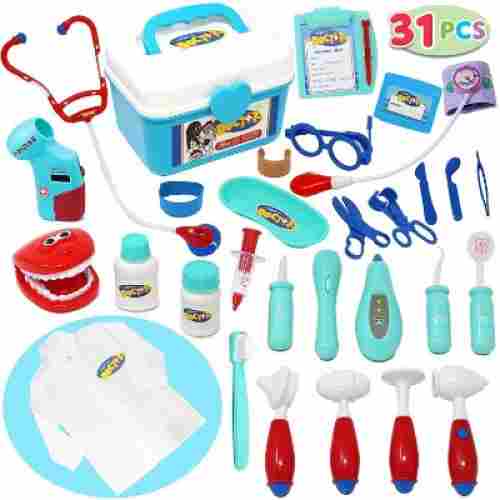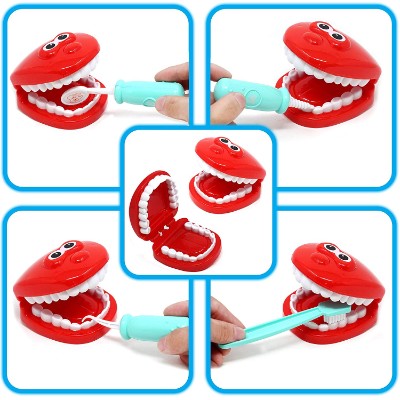 31-piece set incorporates both doctor and dentist tools
Durable plastic doctor's case provides storage for all included toys
Crafted from kid-safe and toxin-free materials
Encourages positive adult emulation and stimulates creativity
The toys will only fit inside the included storage container when placed strategically which can make cleanup difficult
Made from thinner plastic that may not hold up to rough or long-term play
Visiting the doctor or the dentist can be a scary time for a toddler, especially since their previous experiences may have always resulted in a shot or teeth cleaning which can be painful. Pretend-play not only helps your child learn appropriate social cues but also can lessen some of this fear and make their next checkup or dentist appointment a little easier.
Read more
Educational Value
Pretend play introduces many early concepts of positive adult-child interactions with professionals in the medical fields. Manipulating the small tools and storage box is a great way to build hand and grip strength and encourages the development of fine motor skills. Several dentist-themed tools are also included such as an oral mirror, toothbrush, and even a pair of fake teeth for them to practice on! This can present an opportunity to teach your child about proper oral hygiene and self-care in a fun and entertaining way.
Safety
Doctor, dentist, or somewhere in between, this playset provided a plethora of medical toys for the perfect kid-appropriate pretend play!
Creativity
The Joyin Toy's Pretend-n-Play Dentist/Doctor Kit comes with more than 30 unique medical tools that can make your child feel like a real doctor! Don the lab coat and open your doctor kit to find all the tools that you could possibly need to diagnose and treat physical and teeth-related issues. Several tools come with realistic effects such as the beeping pulse machine and lighted otoscope. Even the stethoscope features lights and sounds to bring a deeper element of enjoyment to your little one's play time. At the end of the day, all of the pieces slot back inside the doctor kit case, making clean up a breeze!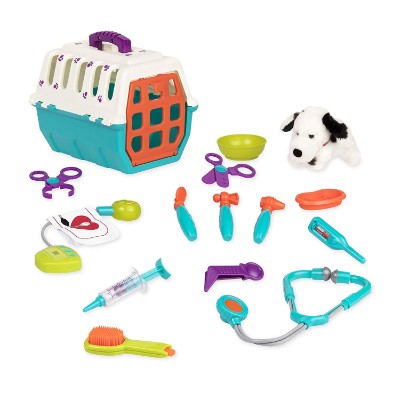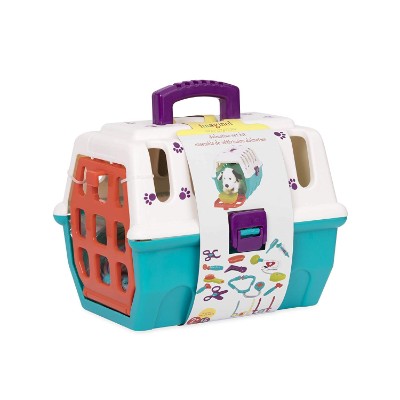 Doctor kit created for taking care of animals
Set includes 15 different pieces
Features carrying case or create for 4 legged friends
Created by family owned company
Encourages children to aspire in life
Plush puppy is stiff
Carrying case or crate is hard to open and close the door for the little ones
When your little one is an inspiring veterinarian this is the doctor set for them. It is a portable animal clinic that is ready to serve all types of species. The set includes a carrying case for the animals that they are caring for and all the toys that are needed to provide the care.
Read more
Educational Value
When you kid loves taking care of animals but is not at the age where that is possible this is a great way to develop their care abilities and love. Encouraging their dreams and their aspirations in life is a great way to help them develop life goals and objectives.
Safety
What a great set that has thought of everything. When they open the kit everything has been included and they can get right to work. The plush puppy was a nice added touch to the set.
Creativity
In the set they will find 15 different pieces to play with; includes one plush puppy, carrying crate, stethoscope, brush, thermometer, syringe, medical tray, bowl, tongs (one pair), a mirror, hammer, scissors, blood pressure cuff, ear viewer, and tweezers (one pair.) The crate or carrying case includes is great for caring for any pretend 4-legged friend anywhere they go plus all the toys that come along with the set are able to fit inside for storage or carrying along. It a durable set that features lots of colors. It is best suited for kids over the age of 2 years old. If your little ones love pets and are always looking to take care of them this is a great set to get them started on an early career path.
9

. Doc McStuffins Hospital Bag Set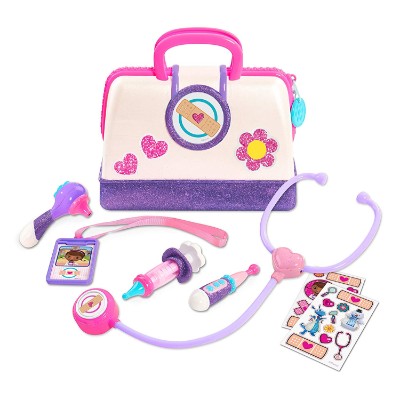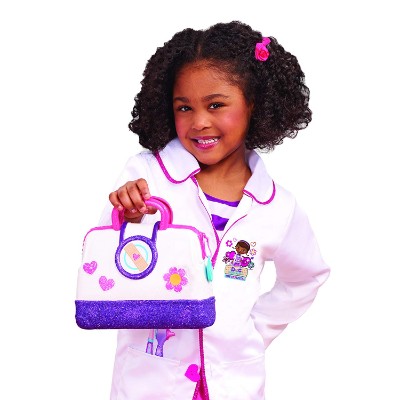 Includes doctor tools such as an otoscope, thermometer, syringe, and more
The stethoscope lights up and plays sounds
Comes with two sheets of Doctor McStuffins stickers
Recommended for ages 3 and Up
Stethoscope requires non-standard AG13 batteries that may need to be replaced often
The glittery coating on tools and bag can rub away over time and may come off on hands and clothes
Your child is going to go gaga over this Doc McStuffin's Hospital Doctor's Bag Set! This adorable doctor's kit features colors, designs, and even stickers based on the extremely popular Disney Junior cartoon, Doc McStuffins. Your little one can join in with Doc to give all of their toys a checkup with a full assortment of play medical tools like an otoscope and thermometer.
Read more
Educational Value
Doctor kits are the perfect toy vessels for encouraging pretend play. Emulation can help young children develop appropriate mental and social interactions and learn proper social cues through play. These kits can also help deter fears stemming from vaccinations and shots which can cause your little one to be afraid of going to the doctor. By presenting checkups as a positive way to maintain health, your child will be less likely to throw tantrums or cry at their next doctor's visit.
Safety
It's time for your checkup with this delightful and safe doctor kit featuring the popular Doctor McStuffins character!
Creativity
The magical stethoscope will even flash and play different music and sayings from the show when they check your heartbeat. All of the tools fit neatly inside the hospital bag which is made from hard and durable plastic to hold up to even the roughest of pretend play. Put on your ID badge and step into the world of make-believe as your child learns that they can truly be anything that they want.
10

. Role Play Costume Dress-Up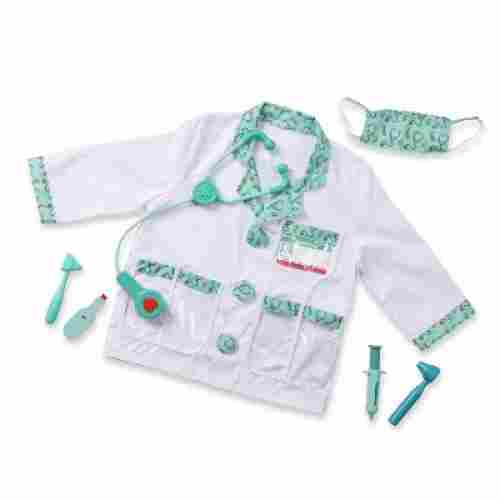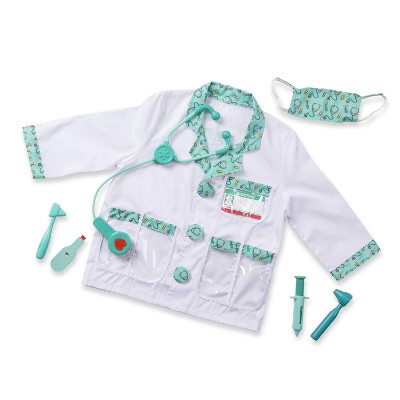 Machine washable
Includes doctor tools
Encourages pretend play
Comfortable and durable
Lack of carrying/storage case
What's a toy doctor kit without the appropriate uniform? It's for this reason that Melissa & Doug's Doctor Role Play Costume Dress-Up Set is considered as one of the best as it provides not only the essential tools to help aspiring young kiddos become the physician they dream to be but also to allow kids to look the part.
Read more
Educational Value
What we find very beneficial about this costume set is the high quality and durability of the materials. What's the use of a costume if it doesn't last? The Melissa and Doug Doctor Role Play Costume is designed to last your child through the years, and it's also designed to grow with them. The jacket is a bit oversized, but it's adorable and gives your child space to grow.
Safety
The inclusion of a realistic doctor's jacket significantly enhances the value of playing the role of a distinguished physician.
Creativity
The Dress-Up costume lets children play the role of a doctor with much gusto. It also comes with the basic medical instruments like stethoscope, otoscope, reflex hammer, and syringe. These are just enough to let our young doctor provide the best care possible to his or her patients. Adding to the realism of the doctor's jacket is a surgical mask that matches the colorful print on the jacket's trim. This is one sure hit among toddlers and preschoolers who love to play pretend doctors and patients.
Criteria Used for Evaluation
Educational Value
Intellectual development is more difficult to pin down. We picked toys that we believed children would be curious about, and would, therefore, wish to know more about what they play with. Items like stethoscopes make a child interested in the overall biology and workings of the body, prompting them to ask questions, seek out answers, and learn.
Safety
As always, we take the safety of children very seriously. Doctor kits are already very safe toys, so the main feature we evaluated was the recommend age. We tried to get a good range of ages so that all children, from babies to preschoolers, could enjoy playing doctor. We also advise parents to strictly follow the recommended ages. Many doctor kits contain small parts that could possibly choke a child.
Creativity
For the imaginative play section, we judged the doctor kits on just how well the children engaged with the materials. We consulted many parent reviews for this section, and we can guarantee that the majority of parents were very pleased with them. The level of engagement displayed by the child proves that the child is actively imagining and enjoying the experience.
Most Important Criteria
(According to our experts opinion)
Experts Opinion
Editors Opinion
Users Opinion
By Default

Parents, Did You Know?
Choosing the top toy doctor kits for this particular endeavor involved a couple of steps. First, we had to include only those with at least 4.3 stars in their current customer satisfaction rating for the simple fact that a greater proportion of positive reviews will almost always point to higher quality products. The second step was to evaluate the medical and health care tools or instruments that are included in the kit.
While we did not aspire for an extensive set that can rival that of a hospital setting, we believed that for the most successful pretend play or role-playing activities, the basic or fundamental devices and gadgets must be present; otherwise, the kit was scrapped off the list. The third step was to check for the integrity of the toy. This included the philosophy embedded into its design as well as its overall safety especially when taken in the light of a certain child's developmental level. So, these three–design, safety, and developmental appropriateness–served to cement the position of the product in our final listing.
Parents, Did You Know?
Pretend play is more than just simple acting out different roles of various characters. For children, it is a serious business and one that they can put their hearts and minds into. Scholars around the world continue to expound on the importance of pretend play, especially among younger children. While we can always argue about the validity of these claims, it is more important to look at some of the many benefits of pretend play among kids.
Parents, Did You Know?
Nurtures their imagination
Playing the role of someone else or of something requires the use of imagination especially if there are no clear blueprints on who the person being portrayed really is. So, kids have to imagine the different aspects of the character's life. This, in turn, substantially increases their ability to create mental images of the character. We call this imagination.
Parents, Did You Know?
Aids in the continuing development of cognitive skills
One of the natural results of imagination is the use of a variety of cognitive skills particularly reflection, problem-solving, and memory recall. These play important roles in the development of imagined things or concepts about the role being played.
Parents, Did You Know?
Enhances emotional and social skills
When kids play pretend they are essentially voicing out their deepest thoughts and desires which ultimately leads to better appreciation of oneself. This improves self-confidence which becomes the necessary starting point for improving social interaction skills.
Boosts their language skills
Pretending to play the role of a doctor introduces kids to a lot of medical and healthcare terms. They can use these to expand their vocabulary, allowing them to communicate with a much larger audience.
Other Factors to Consider
Design
When judging the doctor kits for safety features, we mainly looked at the overall design and recommend age of the doctor kits. Next, we dealt with imaginative play and how effective each kit could be in that endeavor. For this aspect of our evaluation we looked at the tools included in the kits and their overall quality. Finally, we judged the toys are their ability to stimulate a child's intellect and brain. This was a bit more difficult to determine as each any form of imaginative play stimulates a child's intellect. For a more in-depth analysis of our criteria, look below.

Social Development
Your little one will learn the ins and outs of the doctor's world. With each kit your little one will be able to learn the names of the tools that they'll be able to use. They'll also be able to pick up some doctor phrases. This is a great way for your little one to enhance their vocabulary and storytelling skills. Your child will also be able to list off different body parts throughout their adventure as well as tell you about the latest happenings when it comes to helping their next patient.

Effectiveness
These kits are a great way for your little one to get active and into their story telling mode. Having your child act out what they are afraid of is also a great way for your child to not only express themselves but also get over that fear without realizing it as well. For younger children, this kit is a great way to also get your child excited and thrilled about their upcoming doctor visits.
Frequently Asked Questions
q:

What exactly is a doctor kit?

a:

A doctor kit is any playset or costume set that invests a child imaginatively in the medical world. This includes playing as a pretend nurse, doctor, or some other form of medical practitioner.
q:

What are the benefits of playing with doctor kits?

a:

There are many benefits to playing with doctor kits. Many children develop their social skills with the aid of doctor kits because they often play as doctor and patient. Doctor kits also help a child creatively. They think up and envision scenarios based on the kit they are provided, and it the tools are varied, they also grow intellectually.
q:

How will doctor kits grow my child's imagination?

a:

By envisioning different scenes and circumstances, children stimulate their imagination.
Depending on the tools provided in the kit, children can imagine different types of illnesses and then how to cure those illness. This also helps build a child's empathy.
q:

Do doctor kits promote social and cooperative playtime?

a:

Yes, doctor kits are great for social development and cooperative playtime. Usually, children want to engage in that doctor-patient dynamic. This is super beneficial because it helps to build empathy within children.
q:

How will doctor kits aid my child's overall intellectual growth?

a:

Doctor kits can stimulate a child's overall intellectual growth by introducing children to different instruments and concepts. When you pique a child's interest, they display an insatiable curiosity until they feel they've learned all they can. For instance, the stethoscope can make a child curious about the human heart. They might want to know why it beats, how it beats, and how that all connects with the rest of the body.
q:

What kind of safety precautions should I take when my child plays with doctor kits?

a:

Doctor kits are already very safe. But, be sure you always follow the recommend age. Some doctor kits include small pieces that can be dangerous to younger children.
q:

What other types of imaginative playtime give the same kind of benefits and knowledge as doctor kits?

a:

Any imaginative play that engages children in some kind of career path has the same benefits as the doctor kits. Lawyer customs, school teacher kits, toys alike this immerses children in imaginative playtime that can build skills to last them their life.
q:

How is imaginative playtime important to a child's overall development?

a:

Imagination touches every part of a child's life and development. This is because imagination translates into problem-solving, creative thinking, and complex reasoning later in on life. The sooner you start honing those skills, the better off your child will be in life.