10 Best Baby Dolls Your Kid Will Love in 2019
last updated
Aug 12, 2019
Toddlers start having those moments when they no longer want to be babied and are ready to take on the world. While they are still developing, toddlers are very perceptive and pick up social behavior rather quickly. They'll notice the way that parents take care of them and they want to be just like their favorite person. By giving your little on the perfect playmate they will be able to coddle and care for them just like how a parent would. Baby dolls are essentially a wonderful tool in teaching children basic responsibilities, empathy, and social skills.
Through role playing and imaginative play, children will learn their own basic needs on a more comprehensive level as well as the needs of other people. We're sure if you take a look at our list below you will find the perfect companion for your child.
In a Hurry? The test winner after 165 hrs of research
New York Collection 11" Soft Body
Why is it better?
Eleven inches; perfect size for little ones, and fits all compatible clothing
Soft, squeezable midsection
Beautifully crafted vinyl head, hands, and feet
Comes in a cute matching onesie and cap
Easy to clean
In a
Hurry? Editors choice:
Test Winner: New York Collection 11" Soft Body
16
Researched Sources
1457
Reviews Considered
165
Hours Researching
10
Products Evaluated
Design
Style
Value
By Default
In Depth Review Top 10
New York Collection 11" Soft Body
Playskool Classic Dressy Kids Boy Plush
Melissa & Doug Mine to Love Brianna
Baby Alive Snackin' Luke
Paradise Galleries Lifelike Realistic
Manhattan Toy Sleepy Time Stella
Manhattan Toy Stella Peach
Mariana With Romper and Hat
JC Toys Twins
JC Toys Berenguer Boutique
Table of contents
Criteria Used for Evaluation
Expert Interviews & Opinions
Other Factors to Consider
Frequently Asked Questions
Sources
10 Best Baby Dolls Reviewed
1

. New York Collection 11" Soft Body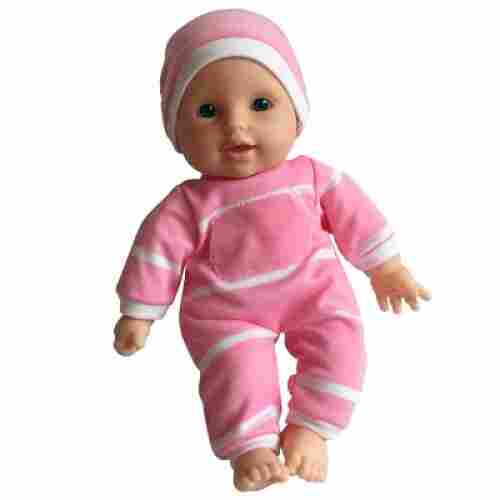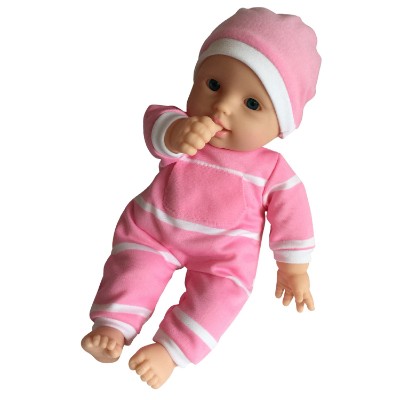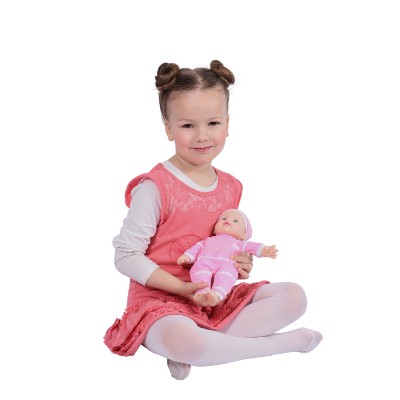 Eleven inches; perfect size for little ones, and fits all compatible clothing
Soft, squeezable midsection
Beautifully crafted vinyl head, hands, and feet
Comes in a cute matching onesie and cap
Easy to clean
Some customers had dolls with defects; two left feet, or an eye that popped out of the socket and back into the head
This eleven-inch cutie features a soft, plush body and vinyl head, hands, and feet, all with realistic detailing. The New York Collection understands the importance of representation and offers this particular model in four ethnicities: Caucasian, African American, Asian, and Hispanic. Each wears a darling onesie and a matching hat. They're a great size for young ones to be able to hug and easily carry around and their soft body makes them extra great to squeeze!
Read more
Design
The doll measures eleven inches total from toes to the tip of the head, making it the perfect size for smaller children to hold and tote around with them. The New York Doll Collection offers this same model in several different ethnicities so children can have a mini-me to dote on that really does look just like them. The babydoll can be gently machine washed, and is soft and huggable in its middle, making it safe to sleep in the bed with your child.
Style
Children gain many skills from role-playing, including the ability to empathize and think outside their own experiences, as well as social skills and responsibilities.
Value
It's a small, cuddly baby doll that is also easy to clean and is beautifully detailed. Children will be delighted to have a little friend that looks just like them and their much bigger friends used to when they were babies too.
2

. Playskool Classic Dressy Kids Boy Plush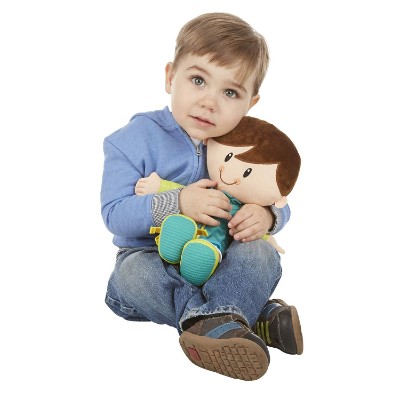 Perfect for ages 2 and up
Machine washable
Boosts motor skills
Features 5 different styles of dress
Some toddlers have issues with buttons and lose interest
This Playskool baby doll is perfect for your toddler. He features five different styles that your child can practice dressing including zippers, opening, and closing buttons, tying, fastening and more. He's the perfect companion that your child will love to travel with.
Read more
Design
This baby doll is perfect to help boosts your child with fine motor skills. Not only will this doll help your child learn how to zip, button, fasten and tie clothing on their doll but they'll be able to adapt it in their everyday life and be able to soon do it on their own as well. It's the perfect toy to help them gain that little bit of independence at a young age.
Style
Designed to help children learn to get ready on their own this doll has everything they need to learn about clothes. It features buttons, zippers, strings, and more. It is also great for tuning in those fine motor skills. From development to fun this doll is an interactive toy that your child will love.
Value
We love this doll because he is machine washable and easy to travel with. He's toddler-friendly and has a modern every day look that your child will love.
3

. Melissa & Doug Mine to Love Brianna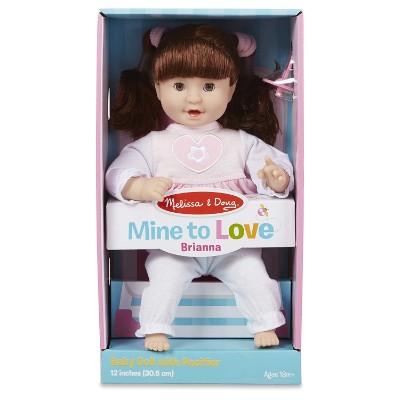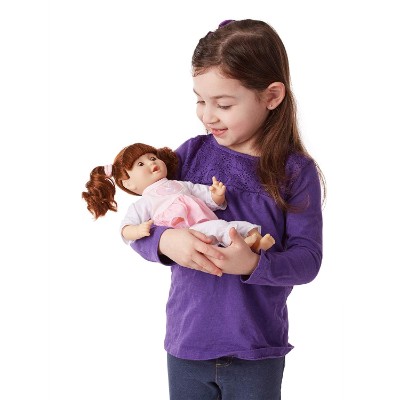 Silky brown hair and detailed vinyl body
Soft center for hugging and cuddles
Two piece removable outfit
Can hold her pacifier or thumb in her mouth
Softly, sweetly scented
Clothes on new models are thinner and more cheaply made Hair on newer models snags quickly
Melissa and Doug are at it again with this perfect Mine to Love Doll. Brianna measures twelve inches tall and comes in a two-piece outfit (with a sweet little embroidered heart on the front), and sports a functional pacifier as well. She can hold the teether or her thumb in her mouth and is faintly scented. A soft body makes her extra huggable, while the vinyl limbs are detailed to look like a toddler.
Read more
Design
Brush her soft brown hair out or leave it up in her perky pigtails, change her outfits, help her through teething, lay her down, sit her up--take her wherever you and your family go. She's the perfect, pretty, hassle-free companion for little ones looking to cuddle up with and care for a baby doll of their own.
Style
Children will love to snuggle up with these gorgeous toddlers baby dolls and play house with her. She looks a little older than some of the other baby dolls, giving them a playmate that's closer to their own age to practice their social skills and nurturing abilities on.
Value
It's nice to have an option that is closer in age to the toddlers looking for their first (or second! Or so-on!) baby doll. She can sit and lie down with relative ease and the pacifier accessory is a nice touch, especially since you don't have to hold it in her mouth the whole time.
4

. Baby Alive Snackin' Luke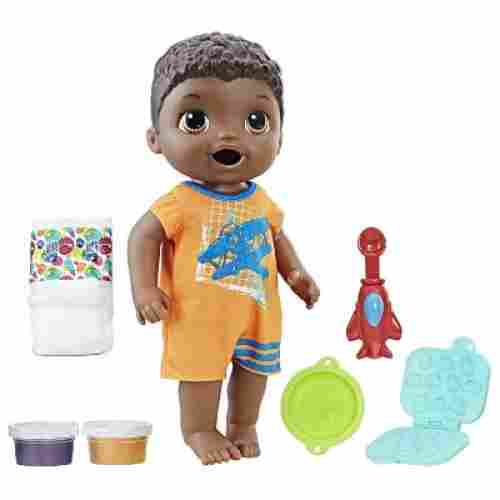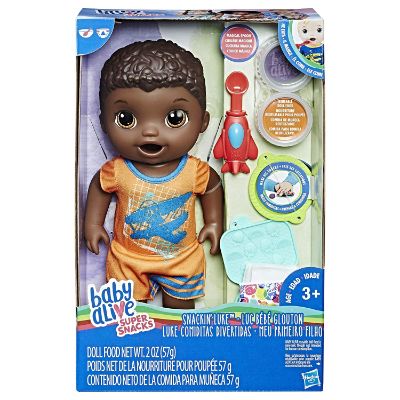 Constructed from 100% durable polyester materials
Soft and cuddly design
Features tutu and dance shoe outfit
Smiley face and lovable arms
Easy to clean, machine washable
Food sometimes gets stuck inside and need digging out
Growing babies need nourishment! Little Luke from the Baby Alive Super Snacks line is ready to chow down. Baby alive snackin luke comes with his own bowl and airplane-shaped spoon as well as pretend snacks! He play-"poops" and comes with a diaper so children can practice changing him and get used to the ways in which we have to care for babies and ourselves.
Read more
Design
This doll is a fun, interactive toy. Luke comes with two tubes of reusable "baby food" which is really just play-doh. You can use the food maker accessory to form that play-doh into tiny molds and then feed him. He poops the play-doh out so kids can practice cleaning up after him as well.
Style
Luke is all about the world of transportation, it seems. His romper features an airplane design and his spoon is shaped like a rocket ship, so his dreams are sky high! His food molds help children to build dexterity and motor skills in addition to the role-playing and nurturing skills one usually gets with a baby doll.
Value
Baby Alive Snackin' Luke is pretty fairly priced, and certainly inexpensive when held up next to other baby dolls. We love that you get some accessories and interactive features with him at such a low price-point.
5

. Paradise Galleries Lifelike Realistic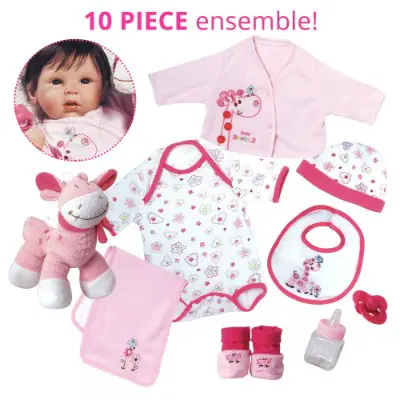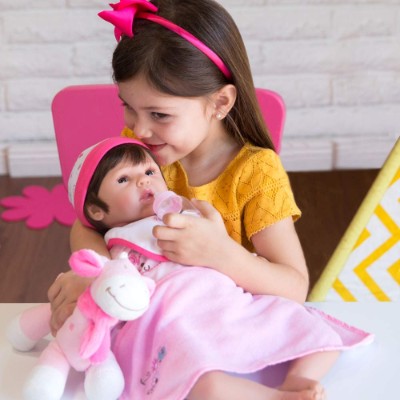 Made of GentleTouch Vinyl that gives a resemblance to the exact human skin
Comes with its respective gadgets and accessories and clothes that provides more interaction with the child
They are well detailed and have realistic features and body parts of a normal human being
Considered as a snuggle buddy for the child
They are easily addictive to the child
Paradise Galleries offers an artistic take on the modern baby doll. These beautiful models are incredibly detailed. Sculpted by the artist Michelle Fagan, they feature highly realistic molding, including sweet little eyelashes, applied entirely by hand. Each doll's arms, legs, and head are made from gently vinyl, while the body is soft and made for hugs. The dolls come in a range of outfits, from fluffy dresses to soft knit onesies with matching bibs and caps. These dolls are so beautiful, your child will want to treasure them even as they grow.
Read more
Design
Over the Moooon, Sarah Safari, and Tall Dreams. Each of these meticulously handcrafted and well-detailed 19-inch models comes with very realistic features from the eyes to the lips, the nose, ears, hands, and even hair. Even creases on the skin and the characteristic sheen of nails have been captured in awesome detail in these toys. Each of these realistic baby dolls are made of GentleTouch vinyl, giving it superb likeness to human skin. The infant figures come with their respective accessories such as clothes, feeding accessories, and even dolls gadgets to provide a more engaging experience for children who are going to play with these lovely baby doll for girls. The Paradise Galleries gift sets are lifelike baby dolls that we wouldn't really be surprised if you thought these were real babies.
Style
When your little one is growing up and ready to start playing with more realistic toddlers baby dolls. This is just the doll for them. The realistic design and feel let children understand what a baby looks and would feel like without having to have a baby around. This is a great doll for developing and forming great pretend play time routines.
Value
The realism and superb details of the Paradise Galleries gift set are simply breathtaking. We couldn't really believe somebody would go to such great lengths to come up with lifelike baby dolls.
6

. Manhattan Toy Sleepy Time Stella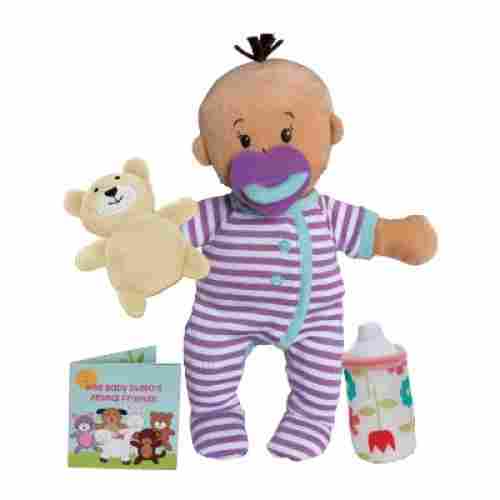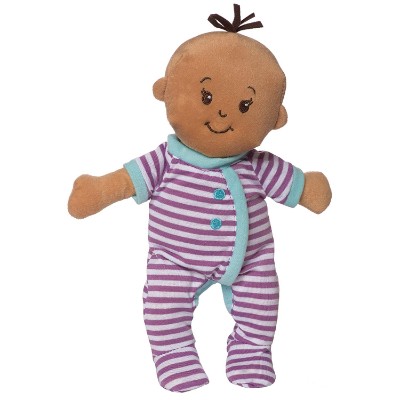 Completely plush, head to toe
Includes magnetic pacifier
Cute striped baby onesie means Stella is ready for sleep
Bedtime story, teddy bear, and bottle included (all plush as well)
Smells of light lavender
Machine washable
Scent is a little too strong and sweet for some customers
Soft, sweet, clean-scented, and fully accessorized for play, Manhattan Toy provides the perfect option for those searching for a soft-bodied doll with this Stella plushie. Wee Baby Stella is the cousin of Baby Stella, and ultra soft with no vinyl parts to be found.
Read more
Design
Her face is embroidered carefully, and the soft tuft of her hair is made of fleece so there are no hard parts whatsoever for little ones to hurt themselves on. She comes with a magnetic pacifier, a bottle, a teddy bear, and a book of bedtime stories. Tuck her into bed in her fuzzy striped onesie and read her to sleep. Wee Baby Stella measures twelve inches toll and releases a clean lavender scent when you hug her.
Style
This baby doll is soft enough to sleep on or with and comes equipped for great bedtime role-playing. While you tuck your little one in for naps or for the night, they can tuck Stella in with her teddy bear, and read to her as well. Before you know it, everyone is dozing peacefully, and mom and/or dad can sneak off to catch some z's themselves.
Value
Plenty of soft-bodied toddlers baby dolls still have vinyl bits that children can hurt themselves on if they're too young and not careful. Wee Baby Stella is entirely plush from head to toe, comes with cute accessories, and is easy to clean with a delicate washing machine cycle.
7

. Manhattan Toy Stella Peach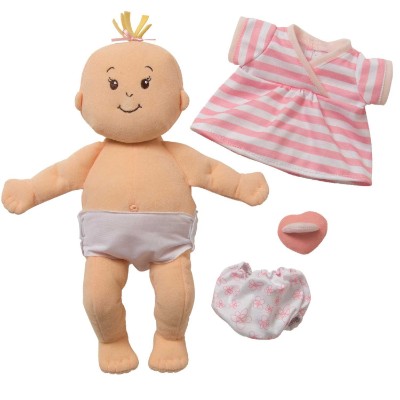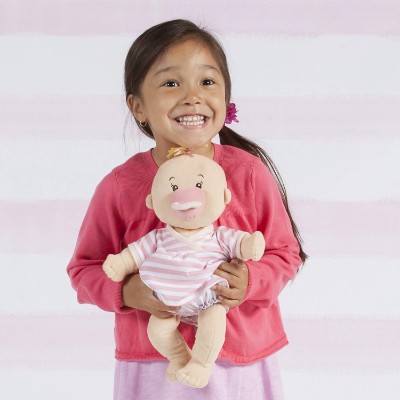 Made to have a soft body to give safety for the child as she is playing
The 15 inch doll is cuddly
Designed to have realistic body features like the eyes, nose and arms
Contains cute embroidered belly button and toes
Only suitable for children in the range of 1 to 6 years of age. Might be unsafe for younger kids while older children and teens may find it not that advanced for their age bracket
From head to toe, manhattan toy baby stella doll peach is so soft! A product of Manhattan Toys, this 15" doll is adorably oversized and the perfect bedtime buddy. Her detailing is all done via embroidery so she's safe for young children to drag and toss around. She has a magnetic pacifier and removable outfit. Featuring a plump little tummy, diaper, and spry tuft of hair, she's a true cutie and a great gift for children looking for their first baby doll or a sweet stuffy to fall asleep beside!
Read more
Design
Our 15-inch Peach comes fully dressed in a striped, soft onesie complete with a cloth diaper, both of which can be easily removed. Her pacifier magnetically sticks to her mouth so there are no buttons involved. Her eyes and other facial features including belly button and toes are embroidered, rendering it super-safe even for younger babies. She even sports a soft tuft of hair made of fleece. Baby Stella Peach helps make sure that your young angel will have someone she can turn to when mommy needs to be away for a minute or two. She's cute and lovable and provides the reassuring comfort that all babies need.
Style
This nurturing baby doll for girls inspires the child to be creative while role playing as a young child. This helps develop cognitive skills and also encourages the child to use their imagination while having fun.
Value
Peach is the perfect companion for young children learning the idea of nurturing and caring for others.
8

. Mariana With Romper and Hat
It is cuddly and snuggly
It is pose-able
Proven to be safe for kids to play with
Contains realistic features like those of a real baby
Appropriate to only kids from 18 months to 5 years of age
Melissa and Doug are just full of smash hits. The Mariana Mine to Love Doll is a darling 12" baby doll with a soft body and wipe-clean vinyl extremities. She's a good size for toddlers and is beautifully painted. Mariana comes in a romper and matching cap. Her little thumb fits into her mouth, as do her pacifier and many separate but compatible Melissa and Doug accessories. She can even close her eyes when you rock her to sleep!
Read more
Design
Oh, if Annie has a pacifier and a milk bottle, 12-inch tall Mariana has here thumb to provide pleasure during those times that mommy cannot give milk just yet. And if she grows tired of sucking her thumb, she can always count on her pacifier to bring her instant calm and relaxation. Mariana is dressed in a beautiful romper with a matching hat which can be both removed for washing and cleaning. These dolls for toddlers from Melissa & Doug make perfect tools for helping toddlers express their ideas and feelings while encouraging them to use their imagination and creativity to the fullest.
Style
Helps toddlers under the age bracket of 18 months to 5 years to be expressive with how they feel while they are practicing their imaginative and creative skills while playing.
Value
Mariana loves to be cuddled and snuggled. And she is bound to get that and a whole lot more from today's babies.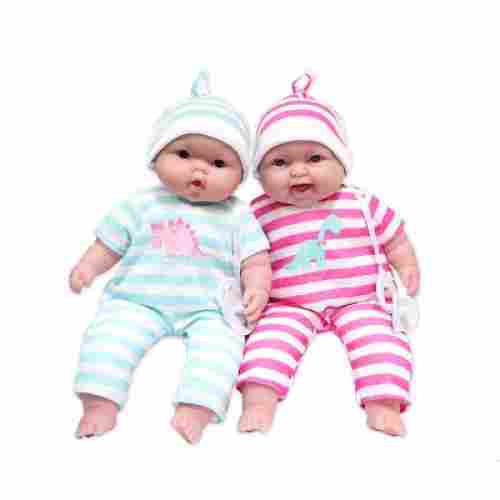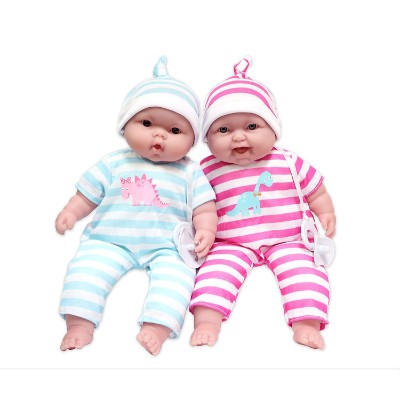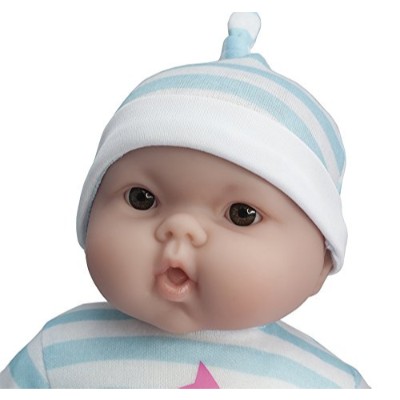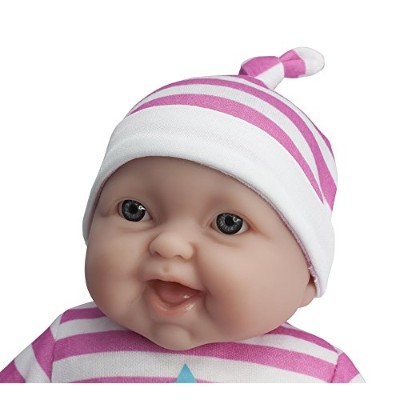 They come as a pair of two adorable dolls
More interactive and engaging since they are two dolls
They have soft and cuddly bodies
Have machine washable outfits
The thirteen inch dolls are suitable for only 2 to 15 years old kids
In this set, JC Toys brings you not one but two angelic baby dolls! This set of twins come in matching rompers (one blue and one pink) and have different colored eyes. They are 13" with soft bodies and vinyl heads, hands, and feet. Their outfits are machine washable and you can spot-wash the cloth of their bodies with simple soap and water. JC Toys has over 30 years experience manufacturing products for families and little ones and it shows!
Read more
Design
The lifelike and super-soft bodies of the twins are designed to make pretend play really awesome. The 13-inch tall twins come with the sweetest sets of little eyes, one brown and another blue, to complement two adorable facial expressions that will simply melt your heart away. The twins are designed for non-stop hugging and caring and holding which can then form the basis for the development of self-soothing techniques by young children.
Style
Facial expressions are one of the things that children are picking up on as they are learning to walk and talk. This set of dolls is a perfect way to help introduce facial expressions and what they mean to others. The twins are also great for teaching them how to care for others while understanding and developing their own techniques for self-soothing.
Value
The different facial expressions of the twins teach kids about the uniqueness of each person.
10

. JC Toys Berenguer Boutique
Large size doll with realistic characteristics
Features open and close eyes
Included is; extra outfit, shoes, bottle, pacifier, feeding tools, and rattle
Body constructed of soft and cuddly materials
Detailed features in arms, legs, and face
Difficult to place shoes on the feet
Doll head does not turn
If you liked the JC Toys twins set, here's another for you! The Berenguer Boutique line has six different doll options: a single doll in the pink or blue set, a single doll in a pink or blue elephant set, a doll in a purple set, or a set of twins. This model is 15" with a soft body and vinyl head and limbs. The dolls come with a great starter set of accessories including shoes, a bottle, a pacifier, a rattle, and feeding utensils!
Read more
Design
Its adorable eyes open and close with each change in position from standing to lying and come with highly detailed vinyl anatomy including the head, torso, and the limbs. The Berenguer Boutique makes the perfect doll for promoting social skills among toddlers as they will be enticed to talk to and care for this baby for a long time.
Style
Encouraging children to learn how to care for their dolls is something that we should always do especially when you can purchase a doll that comes with everything they need to teach them nurturing skills. Included with this set are the items needed to teach special, from the clothes changing to feeding.
Value
The large size of the Berenguer Boutique makes it ideal as a growing kid's favorite toy.
Criteria Used for Evaluation
Design
Any manufactured baby doll for girls has a recommended age appropriate range that is suitable for your child. This is mainly due to the range of physical development and requirement of your child's age. For instance, if you buy a doll that is for an older child, maybe around the age of seven, you could give it to a three-year-old and they wouldn't understand how to enjoy the doll properly like the seven-year-old would. The hair of the doll will also be difficult to maintain as well as the clothing. The doll also might not be cuddly enough for a three-year-old and too heavy for her to move around with it.
At the end of the day, the child would abandon the doll in the toy box and then everyone else would assume that they just don't like dolls rather than having a doll that's age appropriate for that child. This is why finding a suitable age appropriate doll is extremely crucial for your child because it's not just based on the advancement of your child but on his or her physical capacity and developmental stage.
Style
For infants, it's recommended that dolls should have two types of hair, the rooted and the wigged. Mostly because hairstyles for these baby dolls are usually long and most girls in this age bracket are generally going to start having an interest in hair styling. For these children, the more and longer the hair available on the doll, the more adventurous it can be.
Dolls with rooted hair: this is securely and systematically attached to the head of the doll by use of a specific machine that knots the hair of the doll to the inside of the head which prevents hair from loosening. Rooted type of hair is very very tough and washing, brushing or styling it can do no harm whatsoever. It's very easy to notice if a doll has rooted hair because you will see small sections of hair that are arranged in specific order.
Dolls with wigged hair: Wigged hair is made of a mesh and the hair is knitted by hand in particular rows to mesh. The already made wigs are securely glued to the head of the doll. There are instances where short strands of hair can be visible. These are the end of the strangs that are knotted on the wig lace. Wigged hair is more expensive as compared to the rooted hair option.
Wigged hair gives allowance to manufacturers to design hairstyles that are realistic in the appearance of the doll and can stay longer than rooted hair. Partings and fringes are muddled and able to give the baby doll a lot of hair styling options that your children could give her. These different hairs can be brushed and styled to any liking that your child wishes.
However, it can be delicate since it requires your child to take a lot of care of it so that that the hair doesn't get wet. It's preferable and recommended not washed. Careful babies are best with playing with wigged hair since they will take good care of it. While the rooted hair can suit any baby since no special attention is required.
Value
Among the different kinds of toys known to man, dolls remain one of the most sought after and the most valuable especially in terms of helping young children find more meaning in the world they live in. That's why we had to keep this in mind when we chose the best dolls for this list. First, they must be soft enough for younger children to find comfort in playing with these toys.
Second, they should have movable features to allow children to manipulate these easily to conform to what kids have in mind. Third, they must also be made of safe materials while their construction must also not bring harm to kids, especially the little ones. Fourth, these infants' and older children's toy figures must have obtained a considerable acceptance among parents and their children as evidenced by the number of positive reviews as well as the average customer satisfaction score of each product which we pegged at a minimum of 4.2 stars.
Lastly, in cases where there is a tie between two or more products, we considered the reputation and credibility of the toy manufacturer. These were essentially the steps that we had to take in coming up with a list of the 10 best baby dolls for toddlers in 2019.
Most Important Criteria
(According to our experts opinion)
Experts Opinion
Editors Opinion
Users Opinion
By Default

Parents, Did you Know?
Baby doll for girls are a great way to teach developmental skills like social interaction. When playing with dolls children often play house and this helps teach them how to communicate with each other and how to cooperate.
Parents, Did you Know?
When playing with toddlers baby dolls children are able to learn about caring for others. As they learn to care for others it helps teach them about compassion and selflessness.
Other Factors to Consider
Safety
For every parent the safety of their children is one of the most important things that parents have to worry about every day. This is why we made sure to always consider this when looking for the best baby dolls for toddlers. The dolls material should be made of nothing but harmless materials so that it can be used by your child endlessly without parents having to worry.
More kids these days are reckless and would do anything with the doll including beating or throwing the dolls at each other as they are playing. Signs of the doll's material tear and wear or even the doll's pieces getting loose could be a choking hazard as your child is playing with it.
The manufacturers details are either on the packaging of the doll or on the doll itself. It's recommended that whoever is buying the product should not pick a product that has no manufacturer's details and sometimes the CE marking, no matter how attractive, appealing or enticing the doll might be.

Effectiveness
Whether we care to admit it or not there are just so many benefits of playing with dolls. These can include remarkable improvements or enhancements in a child's psychological and emotional well-being to complement developments in his or her physical and social aspects. Now, we said "his or her" because experts strongly recommend that "ALL" kids should play with baby dolls. And here are the reasons why.
Develops nurturing and caring skills – The traditional view of men as uncaring and unfit for showing caring and nurturing attributes is now slowly being dissolved. In its stead are daddies who are more hands-on when caring for their babies. They are not ashamed to be seen in public carrying their little ones, hugging them, feeding them, and even changing their diapers.
Children today need to appreciate this changing norm and that young boy will be better prepared for the future if they play with dolls today so they will develop essential caring skills and nurturing techniques that will make them better dads in the future.
Enhances motor skills – Young children will learn to button and unbutton their shirts a lot better if they train using dolls. This provides them with the needed motor skills to accomplish other things.
Boosts cognitive skills – Doll play is not all about having fun as it also involves thinking in the form of imagination. Kids can conjure of images of a caring mom or a nurturing dad. These provide the necessary ingredients for optimum cognitive development.
Helps build social skills – Dolls don't talk back yet they provide the medium upon which young tots will learn how to communicate and build relationships with others. This helps prepare them in interacting with other people.
Frequently Asked Questions
q:

Will buying my little girl a doll that looks like her affect her negatively?

a:

No, buying your girl child a doll that looks like does not affect her negatively. Instead, it is a very good way to positively reinforce the child's self-image. Most manufacturers have embraced not creating dolls with a range of skin colors and hair. To reflect on the modern society, they produce a mix of dolls with varying looks.
q:

Is the doll's price a factor to consider while choosing the best doll for my girl?

a:

The price of the baby doll for girls is definitely a good factor to look upon when selecting the perfect doll for your child. You should always stick around your approximated budget to ensure that you do not spend more than you should have on a just a doll. But at the same time, one should keep in mind that most of the economic units are most times not trustworthy.
There are different price ranges for different categories of baby dolls. Doll models manufactured from famous brands are considered to be on the higher price point and having good quality. You can also find not well-known brands that have good quality dolls at a fair price. The bottom line should be one should consider other factors in selecting the best doll for the child alongside the price.
q:

What are the general safety tips while using the baby dolls?

a:

It is important to make sure safety measures are put in place when you have a baby doll for your child for her, especially if she is younger than six years. The following are some of the tips.

Always be on the check, monitor and supervise your child while playing
After buying the baby doll, make sure you read and understand the instructions. You can also keep the packaging and the manual for future reference
It is equally important to read the major instructions to the child and help her understand
The toy should only be used for its intended manufactured purpose
Do not take safety tips and warnings lightly
Make regular checks on the dolls in case of damage
Have good storage for the doll, different from the other toys and to their intended age groups
Give clear instruction to the children to play with appropriate toys for their age
Be more attentive to the child as she plays with new dolls or toys
q:

Is it recommended for my girl to change the baby doll's clothing on a daily basis?

a:

Change of the doll's clothes on a daily basis is not advisable because they lead to the paint and/or the seal to wear thin and can lead to damage of the baby doll. Washing of the doll frequently is not advisable either or brushing/combing the hair regularly can lead to the hair strands of the baby doll to break, damaged or pulled out. More care instructions of the baby doll are explained in the user manual from the manufacturers that comes in the packaging of the baby doll.
q:

What is used in making the insides of the dolls?

a:

There are different materials that are used when making the inside of baby dolls. Most top baby doll companies, through use the recommended best quality materials. The best weighing and stuffing materials are premium poly-fill and premium glass beads. Most baby dolls though are supposed to be light enough for the targeted age range child. Some baby dolls, especially for younger kids are rather not filled with anything or just a little premium poly-fill. For the hair bows and pacifiers, strong earth magnets are used.
q:

Do real baby clothes fit baby dolls?

a:

Most manufactured baby dolls are designed to approximate the size of a real baby and hence, often the clothes of a small baby can fit a baby doll. Just like there is no exact size of a real baby, different dolls are also sized differently depending on the age bracket it is designed to fit. Baby clothes also come in different sizes, it is best to try the clothes on your baby doll when you get it home.
q:

What are the materials used in composing most babydoll products?

a:

For purposes of safety assurance to the customers, most babydoll manufacturers comply with their materials to the international toy testing standards and also the individual state standards within the region the manufacturers are situated. This will guarantee the safety of your child when she is playing with the doll. Mostly, vinyl and ABS plastic are used to make the body of the baby dolls. This is because the PVC used in the products does not have Phthalates and are lead-free.