Toddlers start having those moments when they no longer want to be babied and are ready to take on the world. While they are still developing, toddlers are very perceptive and pick up social behavior rather quickly. They'll notice the way that parents take care of them and they want to be just like their favorite person. By giving your little on the perfect playmate they will be able to coddle and care for them just like how a parent would.
Baby dolls are essentially a wonderful tool in teaching children basic responsibilities, empathy, and social skills. There are so many different kinds of baby dolls available for your children and their suitable for any age. Through roleplaying and imaginative play, children will learn their own basic needs on a more comprehensive level as well as the needs of other people. We're sure if you take a look at our list below you will find the perfect companion for your child.
Our Top 3 Picks
JC Toys La Baby

Our rating
Realistic Design
Price:

See Here
Melissa & Doug Annie

Our rating
Comes with Accessories
Price:

See Here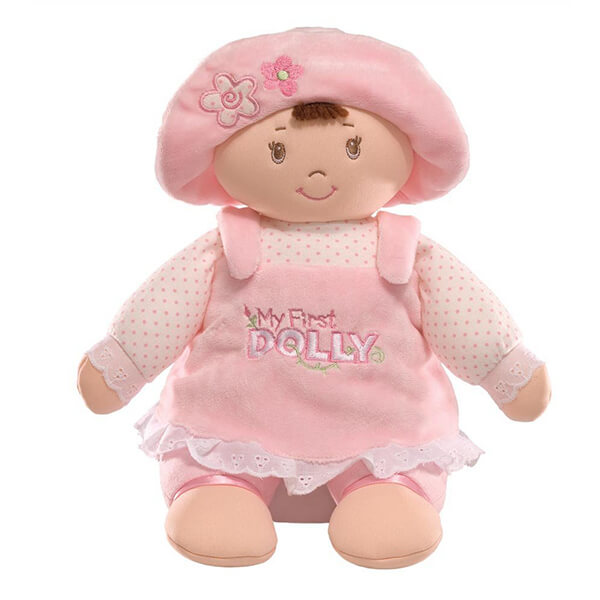 Gund My First Dolly

Our rating
Soft & Huggable
Price:

See Here
Indeed it's amazing how helpful baby dolls can be to a child. You can try any of the 10 best baby dolls in 2019 and see for yourself how happy your little one can become. Surely you'll be just as happy considering the benefits.
New York Collection 11″ Soft Body Doll
Age Range: At least 18 months old
Playskool Classic Dressy Kids Boy Plush Toy for Toddlers Ages 2 and Up (Amazon Exclusive)
Age Range: 18 months to 6 years old
Melissa & Doug Mine to Love Brianna 12-Inch Soft Body Baby Doll
Age Range: At least 6 months old
Baby Starters Plush Snuggle Buddy , Sugar N Spice Doll
Age Range: 1 to 6 years old
Paradise Galleries Lifelike Realistic
Age Range: At least 3 years old
Baby Stella Peach Soft Nurturing First Baby Doll
Age Range: 1 to 6 years old
Manhattan Toy Wee Baby Stella Plush Doll
Age Range: At least 18 months old
Mariana Baby Doll With Romper and Hat
Age Range: 18 months to 5 years old
13-Inch Baby Soft Doll Soft Body Twins
Age Range: 2 to 15 years old
JC Toys Berenguer Boutique 15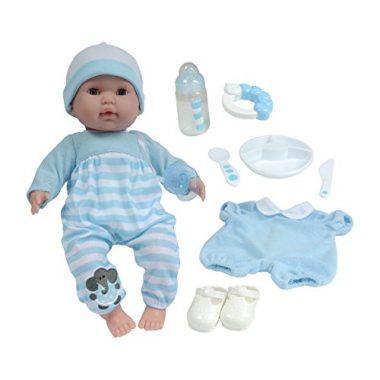 Age Range: 2 to 8 years old
Criteria Used in Evaluation of The Top Baby Dolls
We know that searching for the best baby dolls for your child can be a little bit tedious especially if you're not even sure what type of dolls are the best fit for your child. Happiness of a parent or caregiver lies when seeing that their child is having fun and happy while playing independently or playing with other children. This guide is here to help you understand what baby doll is perfect for your child and we are sure that you will find one that they will love.
Safety
For every parent the safety of their children is one of the most important things that parents have to worry about every day. This is why we made sure to always consider this when looking for the best dolls for your children. The dolls material should be made of nothing but harmless materials so that it can be used by your child endlessly without parents having to worry. More kids these days are reckless and would do anything with the doll including beating or throwing the dolls at each other as they are playing. Signs of the doll's material tear and wear or even the doll's pieces getting loose could be a choking hazard as your child is playing with it.
The manufacturers details are either on the packaging of the doll or on the doll itself. It's recommended that whoever is buying the product should not pick a product that has no manufacturer's details and sometimes the CE marking, no matter how attractive, appealing or enticing the doll might be.
Your Child's Age
Any manufactured doll has a recommended age appropriate range that is suitable for your child. This is mainly due to the range of physical development and requirement of your child's age. For instance, if you buy a doll that is for an older child, maybe around the age of seven, you could give it to a three-year-old and they wouldn't understand how to enjoy the doll properly like the seven-year-old would. The hair of the doll will also be difficult to maintain as well as the clothing. The doll also might not be cuddly enough for a three-year-old and too heavy for her to move around with it. At the end of the day, the child would abandon the doll in the toy box and then everyone else would assume that they just don't like dolls rather than having a doll that's age appropriate for that child. This is why finding a suitable age appropriate doll is extremely crucial for your child because it's not just based on the advancement of your child but on his or her physical capacity and developmental stage.
The Hair Type of The Doll
For infants, it's recommended that dolls should have two types of hair, the rooted and the wigged. Mostly because hairstyles for these baby dolls are usually long and most girls in this age bracket are generally going to start having an interest in hair styling. For these children, the more and longer the hair available on the doll, the more adventurous it can be.
Dolls with rooted hair: this is securely and systematically attached to the head of the doll by use of a specific machine that knots the hair of the doll to the inside of the head which prevents hair from loosening. Rooted type of hair is very very tough and washing, brushing or styling it can do no harm whatsoever. It's very easy to notice if a doll has rooted hair because you will see small sections of hair that are arranged in specific order.
Dolls with wigged hair: Wigged hair is made of a mesh and the hair is knitted by hand in particular rows to mesh. The already made wigs are securely glued to the head of the doll. There are instances where short strands of hair can be visible. These are the end of the strangs that are knotted on the wig lace. Wigged hair is more expensive as compared to the rooted hair option. Wigged hair gives allowance to manufacturers to design hairstyles that are realistic in the appearance of the doll and can stay longer than rooted hair. Partings and fringes are muddled and able to give the baby doll a lot of hair styling options that your children could give her. These different hairs can be brushed and styled to any liking that your child wishes. However, it can be delicate since it requires your child to take a lot of care of it so that that the hair doesn't get wet. It's preferable and recommended not washed.
Careful babies are best with playing with wigged hair since they will take good care of it. While the rooted hair can suit any baby since no special attention is required.
The Eye Type of the Doll
Dolls for babies in this age group have different types of eyes. Some of them have closing eyes, sometimes referred to sleepy eyes, while some have fixed (inset) eyes. The fixed eyes are constantly opening and always have a natural appearance because of that. The eyelashes are designed to be bushier than the closing eyes. Closing eyes tend to have real eyelashes, placed on the top area of the eyelid, just like normal human beings. In most cases, the closing eyes are the most expensive options as compared to the fixed eyes dolls.
The quality of the eyes defines the general beauty of the doll. The more sparkly they can be, the more appealing, realistic and attractive the appearance of the doll. Despite that, different babies prefer different doll eyes. Some prefer closing eyes while other prefer fixed. It then narrows down to like different colors of the doll's pupil. Before choosing the best doll for your baby, it is good to have his or her preference.
The Doll's Body Type
All dolls have the articulation of joints so as to allow them to pose. Some of the articulated joints are better than others depending on the material quality. The articulated limbs have joints that give allowance to the limbs to move in all the expected directions while limbs with swivel joints are only able to move back and forth within the joints circle.
Most of the advanced dolls have an extra joint in their knees, elbows, and wrists. These features make the doll look more natural in appearance. Multi-jointed dolls, however, they are complex for a less than a six-year-old girl to pose. They are therefore not recommended to them since they can get injured while trying hard to make the doll pose.
Soft fabric bodied dolls are tactile and comfortable for young girls to play with and even carry around or cuddle with in bed.
What Determined the Top Baby Dolls in Our List
Among the different kinds of toys known to man, dolls remain one of the most sought after and the most valuable especially in terms of helping young children find more meaning in the world they live in. That's why we had to keep this in mind when we chose the best dolls for this list. First, they must be soft enough for younger children to find comfort in playing with these toys. Second, they should have movable features to allow children to manipulate these easily to conform to what kids have in mind. Third, they must also be made of safe materials while their construction must also not bring harm to kids, especially the little ones. Fourth, these infants' and older children's toy figures must have obtained a considerable acceptance among parents and their children as evidenced by the number of positive reviews as well as the average customer satisfaction score of each product which we pegged at a minimum of 4.2 stars. Lastly, in cases where there is a tie between two or more products, we considered the reputation and credibility of the toy manufacturer. These were essentially the steps that we had to take in coming up with a list of the 10 best baby dolls in 2019.
Reasons Why Kids Should Play with Dolls
Whether we care to admit it or not there are just so many benefits of playing with dolls. These can include remarkable improvements or enhancements in a child's psychological and emotional well-being to complement developments in his or her physical and social aspects. Now, we said "his or her" because experts strongly recommend that "ALL" kids should play with baby dolls. And here are the reasons why.
Develops nurturing and caring skills – The traditional view of men as uncaring and unfit for showing caring and nurturing attributes is now slowly being dissolved. In its stead are daddies who are more hands-on when caring for their babies. They are not ashamed to be seen in public carrying their little ones, hugging them, feeding them, and even changing their diapers. Children today need to appreciate this changing norm and that young boy will be better prepared for the future if they play with dolls today so they will develop essential caring skills and nurturing techniques that will make them better dads in the future.
Enhances motor skills – Young children will learn to button and unbutton their shirts a lot better if they train using dolls. This provides them with the needed motor skills to accomplish other things.
Boosts cognitive skills – Doll play is not all about having fun as it also involves thinking in the form of imagination. Kids can conjure of images of a caring mom or a nurturing dad. These provide the necessary ingredients for optimum cognitive development.
Helps build social skills – Dolls don't talk back yet they provide the medium upon which young tots will learn how to communicate and build relationships with others. This helps prepare them in interacting with other people.
The Bottom Line
Doll play is important for all children. Both boys and girls can benefit immensely from role-playing caring and nurturing attributes of mom and dad. With the 10 best baby dolls in 2019, you can give them the right tools to learn these important life skills.
FAQ
Frequently Asked Questions
Q: Will buying my little girl a doll that looks like her affect her negatively?
A: No, buying your girl child a doll that looks like does not affect her negatively. Instead, it is a very good way to positively reinforce the child's self-image. Most manufacturers have embraced not creating dolls with a range of skin colors and hair. To reflect on the modern society, they produce a mix of dolls with varying looks.
Q: Is the doll's price a factor to consider while choosing the best doll for my girl?
A: The price of the doll is definitely a good factor to look upon when selecting the perfect doll for your child. You should always stick around your approximated budget to ensure that you do not spend more than you should have on a just a doll. But at the same time, one should keep in mind that most of the economic units are most times not trustworthy.
There are different price ranges for different categories of baby dolls. Doll models manufactured from famous brands are considered to be on the higher price point and having good quality. You can also find not well-known brands that have good quality dolls at a fair price. The bottom line should be one should consider other factors in selecting the best doll for the child alongside the price.
Q: What are the general safety tips while using the baby dolls?
A: It is important to make sure safety measures are put in place when you have a baby doll for your child for her, especially if she is younger than six years. The following are some of the tips.
Always be on the check, monitor and supervise your child while playing
After buying the baby doll, make sure you read and understand the instructions. You can also keep the packaging and the manual for future reference
It is equally important to read the major instructions to the child and help her understand
The toy should only be used for its intended manufactured purpose
Do not take safety tips and warnings lightly
Make regular checks on the dolls in case of damage
Have good storage for the doll, different from the other toys and to their intended age groups
Give clear instruction to the children to play with appropriate toys for their age
Be more attentive to the child as she plays with new dolls or toys
Q: Is it recommended for my girl to change the baby doll's clothing on a daily basis?
A: Change of the doll's clothes on a daily basis is not advisable because they lead to the paint and/or the seal to wear thin and can lead to damage of the baby doll. Washing of the doll frequently is not advisable either or brushing/combing the hair regularly can lead to the hair strands of the baby doll to break, damaged or pulled out. More care instructions of the baby doll are explained in the user manual from the manufacturers that comes in the packaging of the baby doll.
Q: What is used in making the insides of the dolls?
A: There are different materials that are used when making the inside of baby dolls. Most top babydoll companies, through use the recommended best quality materials. The best weighing and stuffing materials are premium poly-fill and premium glass beads. Most baby dolls though are supposed to be light enough for the targeted age range child. Some baby dolls, especially for younger kids are rather not filled with anything or just a little premium poly-fill. For the hair bows and pacifiers, strong earth magnets are used.
Q: Do real baby clothes fit baby dolls?
A: Most manufactured baby dolls are designed to approximate the size of a real baby and hence, often the clothes of a small baby can fit a baby doll. Just like there is no exact size of a real baby, different dolls are also sized differently depending on the age bracket it is designed to fit. Baby clothes also come in different sizes, it is best to try the clothes on your baby doll when you get it home.
Q: What are the materials used in composing most babydoll products?
A: For purposes of safety assurance to the customers, most babydoll manufacturers comply their materials to the international toy testing standards and also the individual state standards within the region the manufacturers are situated. This will guarantee the safety of your child when she is playing with the doll. Mostly, vinyl and ABS plastic are used to make the body of the baby doll. This is because the PVC used in the products does not have Phthalates and are lead-free.
Sources
Baby Dolls Buying Guide ,

Buying Guide

,
,
The best doll for a girl of age 5 or over ,

Buying Guide

,
,

Buying Guide

,
,
The Baby Doll Buying Guide ,

Buying Guide

,
,