10 Best Justice League Toys & Action Figures for Kids in 2019
last updated
Jul 20, 2019
Calling all Justice League fans! Whether you're looking to start a collection or add on to a preexisting one, we have the just thing to help you. We created a list of the ten best Justice League Toys and Action Figures. The toys on are list are geared towards people of all ages and can be used for play or display. Purchase any of the items on our list to watch a world of action and adventure unfold!
In a Hurry? The test winner after 12 hrs of research
Fisher-Price Imaginext Flight City
Why is it better?
Combines Metropolis and Gotham City in one playset
Includes 4 power pads, landing pads, and projectile launchers, trap doors, elevator, and jails
Has lights and sounds – batteries included
Great for 3 years and older
Includes Batman and Superman figures
In a
Hurry? Editors choice:
Test Winner: Fisher-Price Imaginext Flight City
13
Researched Sources
12
Hours Researching
16
Products Evaluated
Educational Value
Materials
Creativity
By Default
10 Best Justice League Toys Reviewed
1

. Fisher-Price Imaginext Flight City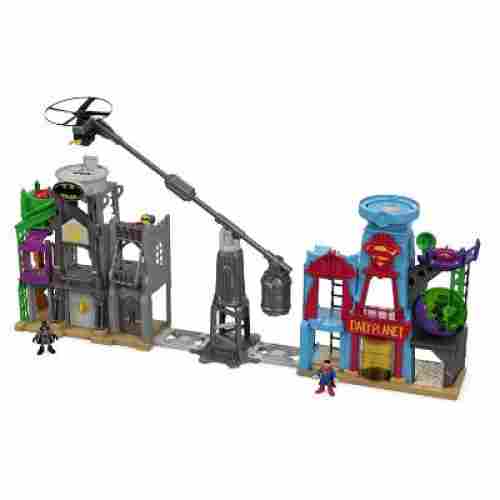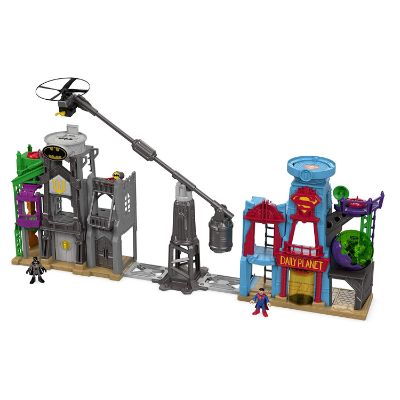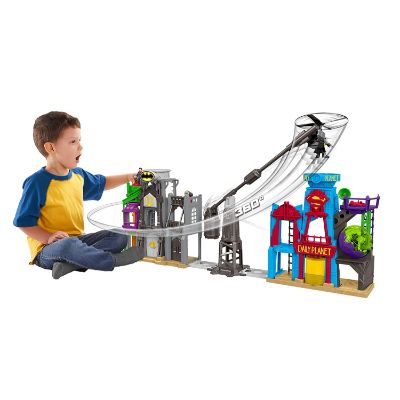 Combines Metropolis and Gotham City in one playset
Includes 4 power pads, landing pads, and projectile launchers, trap doors, elevator, and jails
Has lights and sounds – batteries included
Great for 3 years and older
Includes Batman and Superman figures
There are no switches to turn off sounds
Complaints of the helicopter not working properly
The Justice League Flight City is a large playset that combines several activities into one. It basically combines Metropolis and Gotham City, plus it comes with a Batman and a Superman figure.
Read more
Educational Value
There are so many different things to do and operate that children will be happy and engaged in productive play. This toy is ready to go out of the box because it comes with the batteries and the figures needed to play. People are more satisfied with an item if the manufacturer includes everything needed for operation.
Materials
This wonder toy includes trap doors, jails, a functioning elevator, four power pads, landing pads, and projectile launchers. There is just so much to look at and explore that your child will be busy for hours with this set. One of the power pads has a 360 degree flight motion. With action sounds and lights, it is a fantastic toy for kids three years old and older. Batteries are included, so play can begin immediately when the item arrives.
Creativity
Kids will get plenty of motor skill development and imagination creativity with this activity set.
2

. LEGO The Ultimate Batmobile 70917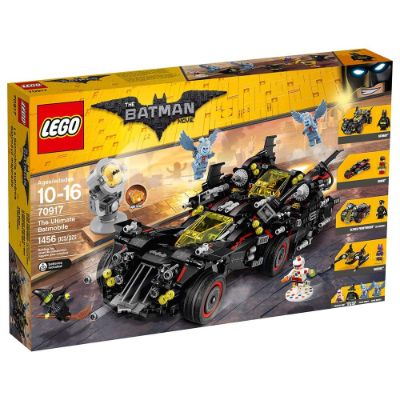 Has many exclusive parts to the car
Includes 8 mini figures
Accessories for the figures come with the set
Is a great imagination and motor skills building toy
Can be combined with other Justice League sets for intense play
Complaints of damaged boxes
Some parents had missing pieces and characters
LEGOs are great, but when they are themed for the superheroes, they are super great! This set includes, besides the blocks to make the car, Batmobile stud shooters, hidden cannons, fold out boosters, and translucent lights.
Read more
Educational Value
LEGOs with their many pieces and unlimited combinations exercise the mind as well as the hands. The hands and fingers get a workout from picking up and putting the pieces together. Hand-eye coordination is at work too, just as cognitive skills from deciding how to use the blocks.
Materials
Once kids build the car, they can start playing with the miniature figures that come with the building set. There are Batman, Batgirl, Robin, Alfred Pennyworth, Flying Monkeys, and Wicked Witch of the West to entertain children. These can be put in the car and possibly combined with other playsets to form a large Justice League area. Character accessories for the figures comprise a utility belt, a hat, a helmet and capes for five of the personalities. Kids five and older should truly appreciate this set to explore the beginning of imagination toys available for this age group.
Creativity
Fun toys like LEGOs have so many parts and they can be combined with other sets to make huge constructions. LEGO collections have been around for a long time because they keep kids busy for hours of interesting play.
3

. Fisher-Price Imaginext Mobile Command Center
Stimulates the imagination
Remote is easy to use and can be stored on the car
Includes Batman Minifigure
Equipped with preloaded sayings and tons of cool features
Children over the age of three can join forces with Batman using the Fisher-Price remote control command center. Turning the power pad will send the Justice League heroes into the sky. Using the remote, your child can steer the vehicle forward and backward.
Read more
Educational Value
The remote control can easily be operated by children as young as three. The back of the vehicle is designed with a storage spot for the remote thus making it easy for your child to keep up with it.
Materials
Once the vehicle has reached its destination, your child can transform it into a playset. Designed with a jail inside the vehicle, your little crime fighter can lock up any villain they defeat. Pushing the red transform button will raise the batwing platform and launch the batwing into the sky.
Creativity
With preloaded sayings and tons of cool features, the opportunities for adventure are endless. The command center will unleash your child's imagination and encourage them to dive into a world of pretend play. The remote is designed to fit onto the back of the car, thus making it easy for your little one to keep up with.
4

. Battle-Ready Wonder Woman Doll
Gorgeous details in face and hair
Comes with traditional Wonder Woman accessories
Many articulated joints
Fits standard Barbie clothes
Clothing is made out of cheap cloth
Her feet are custom and only fit in shoes styled for this specific doll
Themyscira's incredible princess has been a fan-favorite for decades and with the recent live-action movie, Wonder Woman's popularity only continues to climb. This gorgeous doll by Mattel stands at 12". She articulates at the elbows, hips, neck, and shoulders, and she comes dressed in her traditional warrior outfit. Or, if you want something a little fancier, you can choose the Diana and Sword doll, which includes a stunning blue dress and Wonder Woman's mighty blade!
Read more
Educational Value
Creative play allows children the ability to explore social dynamics and narratives of their own making. Kids gain empathy, communication skills, confidence, and much more from role-playing games. And Mattel has opened up all kinds of worlds for young children to explore with their beloved dolls.
Materials
This plastic doll is articulated at several points and comes with the traditional Wonder Woman outfit, including her iconic accessories such as the lasso of truth, her cufflinks, her golden belt, her tiara, and her boots! You can brush and style her hair and she fits in standard Barbie clothing.
Creativity
Is Wonder Woman on a solo mission or is she teaming up? Does she need to work undercover or is she blazing onto the battlefield in her traditional armor? There are limitless adventures to be explored with this beautiful doll modeled after the recent movie starring Gal Gadot.
5

. Fisher-Price Imaginext Batmobile
Accessories included
Fully interactive
Comes with Batman figurine
Great for older toddlers
Can be somewhat of a choking hazard to kids under three
This Batmobile has lost no wheels, contrary to what that silly jingle might have you believe. It's fully suped-up and ready for action! An open cockpit allows Batman to fit inside and drive around Gotham. Put Batman's armor on, spread the Batmobile's wings to show off the bat signal, load the missiles, and get ready to catch the baddies! This Fisher-Price Imaginext Batmobile Set is compatible with other Imaginext DC friends.
Read more
Educational Value
The fact that the Batmobile actually works just like in the movies is what has our attention. It'll be fun for kids to figure this toy out, but even more fun for them when they realize they can pit Batman against their other toys to duke it out for humanity.
Materials
There's nothing better than having a superhero action figure, but it's even better when you have his mode of transportation as well. This Batmobile is the perfect accessory to go with a fun recreation of Batman and it's perfect for toddlers. This toy is fully interactive which will make playtime a blast -- Literally! The Batmobile fires "missiles" just like in the comics, cartoons, and movies, and it even has bat wings that lift up to reveal Batman's always-recognizable logo. The cockpit of this car opens to reveal a seat specifically made for this Batman figurine, and it's one of those toys that will definitely have your kids moving around and fighting crime in no time.
Creativity
All the accessories your child needs are included in this playset. Batman even has a change of clothes just in case he needs to go on the run from any villains!
6

. Superman Plush by Animal Adventure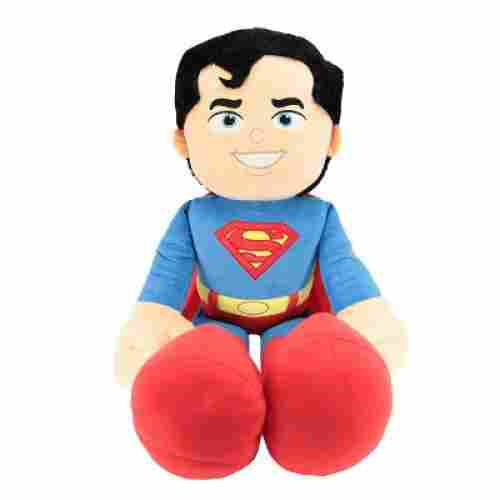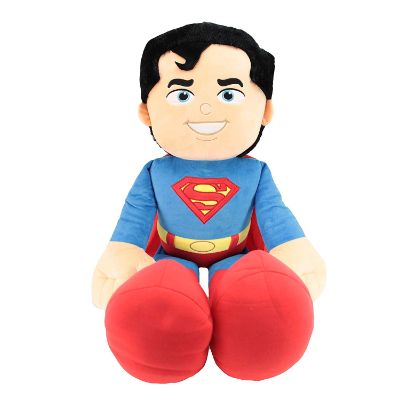 Easy for children to carry
Super Soft and durable
Sized perfectly for children
Provides your child with a sense of security
Only three members of the Justice League are available
With the Animal Adventure plushes, your child can cuddle with their favorite member of the Justice League. Composed of super-soft fabrics, your child can snuggle it comfortably.
Read more
Educational Value
Children will love cuddling their favorite superhero or villain as they plushies are super soft, lightweight, and sized perfectly for younger children.
Materials
Measuring in at 21 inches long, these stuffed heroes are the perfect size for children. When purchasing you can choose between Superman, Batman, Wonder Woman, or Supergirl. If your little one is a fan of the villains, Harley Quinn and the Joker are also available for purchase. Be prepared for your child to want to collect all six after you provide them with their first DC plush.
Creativity
Stuffed animals provide children with a sense of security. With a member of the Justice League by their side, there is no doubt that your child will feel safe at all times. Designed with high-quality stitching, these characters are made to survive countless adventures and bedtimes with your child. They are lightweight thus making it easy for your little one to tote around.
7

. NJ Croce Bendable Boxed Set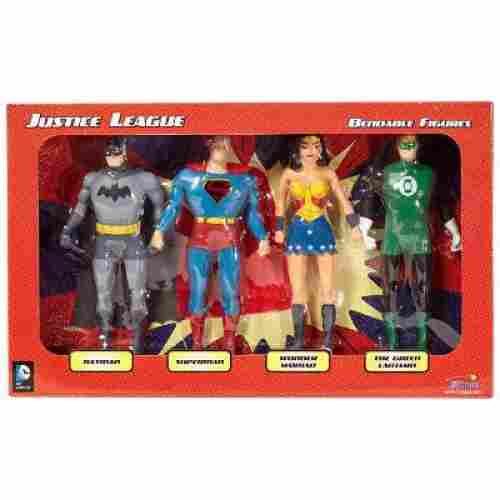 Full Justice League set
Great price for a collectible item
Flexible
Good for toddlers and older
They're rather small and don't come with extra accessories
You can tell just by looking at this Justice League collectible figures set that it is, indeed, a collectible item! However, that doesn't mean that it's not also a great toy for kids who know how to care for them. This box set comes with the full Justice League: Superman, Batman, Wonder Woman, and even Green Lantern.
Read more
Educational Value
For DC fans, this is a great starter Justice League gift or just a cool gift to give anyone who loves to collect superhero items. Whether it's sitting on a shelf or in a toy box, this will be great fun for kids any age.
Materials
It's great for ages three and up because there are no small parts and these action figures are durable due to their bendable flexibility. Each one has been carefully created and painted to look just like the superheroes from the comics, but fans of DC will also be delighted to know that they resemble the superheroes from popular DC movies as well. A few years down the line, they'll also be happy to know that they have a collectible item that they can save and keep on their shelf for years after they've grown out of their imaginative play stage.
Creativity
Kids of all ages will enjoy playing with these and bringing their own crime-fighting stories to life! Oftentimes, bendable action figures have a tendency to look warped or unrealistic due to their stretchy material. These are top-quality and will still hold their likeness, even after years of play.
8

. Batman vs Steppenwolf Figures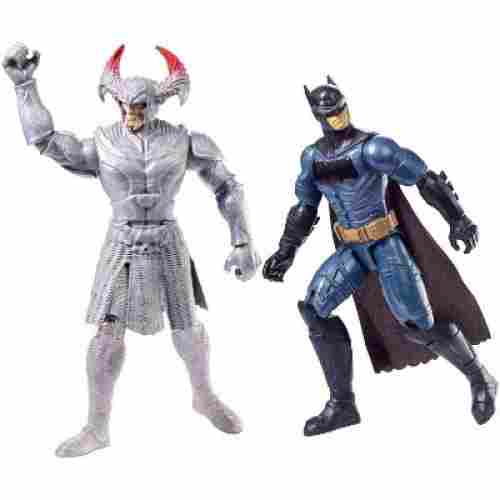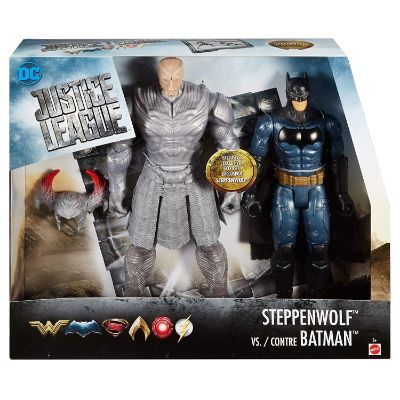 The joints on both figures are posable
Designed with fine details to accurately represent the characters
Easy for children to grasp
Lightweight
Batman's up against the notorious villain SteppenWolf and only your child can help them see the battle through. These oversized DC figures are roughly 12" and poseable with joints at the knees, hips, elbows, and shoulders. SteppenWolf's helmet is removable and Batman's cape is fabric so it swooshes and moves as he darts through the night. With beautiful articulation and a unique sculpted design, this set is sure to be a hit.
Read more
Educational Value
Children ages three and up can easily grasp and light these characters. Batman is twelve inches tall and Steppenwolf measures in at 13.5 inches tall. Your child is encouraged to create their own adventures using the characters.
Materials
Batman is dressed in his tactical gear and is even equipped with his cape. Steppenwolf is also prepared for the fight as he is dressed in his grey armor and removable helmet. The figures are designed with movable joints thus making it easy for your child to pose them as they please.
Creativity
The beautiful craftsmanship of each character's outfit and the posable joints will enhance the level of fun your child has while playing with these action figures.
9

. Fisher-Price Imaginext Hall of Justice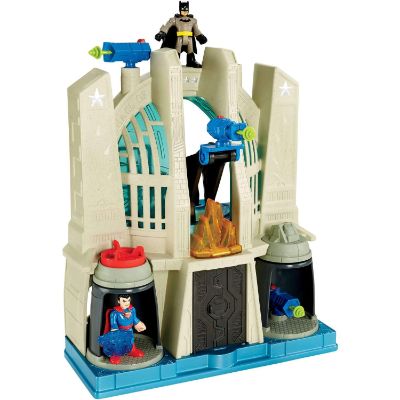 Includes Batman and Superman figures
Comes with Hall of Justice and 5 projectiles
Great for ages 3 to 8
Has lights – batteries included
Wonderful imagination building toy for kids
Some say item is too small
A few remarked about overall poor quality of materials used for the product
Children love to use action figures and activity play sets to recreate movie scenes they see or make up some of their own. Toys like this Hall of Justice for the super friends are a perfect toy for that.
Read more
Educational Value
It is wonderful that kids can enjoy toys like this one while they practice their fine motor skills with the many activities in this set. Manipulating the moving parts, controlling the lights, and placing the action figure toys all increase this ability in the hands.
Materials
The superheroes Superman and Batman are included in this set to place in the different areas of the toy. The Hall of Justice contains five projectiles, power pad, projectile launcher, computer screens, jail, and a team-gathering area. Some of the items light up and the batteries are included.
Creativity
Kids three years old and older will find this toy fascinating because it gives them practice with imagination and fine motor skills. Action figures are great toys to play with alone, but when a child has an activity set like this one to act out scenes and events with the figures, playing becomes so much more fun and meaningful.
10

. Hot Wheels Justice League 5-Pack
Five awesome Justice League designs
Can race on Hot Wheels tracks
1:64 scale and amazing detailed work
Durable
Some car designs may be a little clunky on tracks
Some customers received damaged packaging (though the cars themselves were fine)
Hot Wheels is back with a Justice League 5-Pack that's sure to rev the engines of any DC fans! This set includes cars modeled after five members of the Justice League: Superman, Aquaman, Batman, Wonder Woman, and Cyborg. The 1:64 scaled models feature awesome detailing and die-cast work. Race these cars on any standard Hot Wheels tracks or accessories. Or build miniature Metropolis, Gotham, or the Justice League Headquarters and send out your patrols to cruise the city streets.
Read more
Educational Value
Toy cars have a wide appeal to children. They love the imaginative possibilities that accompany Hot Wheels. Toy cars also help strengthen hand-eye coordination, motor skills, dexterity, and more! Plus they're a great social toy, especially with all the awesome Hot Wheels tracks and sets out there to build and race around.
Materials
These cars are scaled-down (1:64) toys designed to match five of the Justice League members. Specifically, they complement the live-action movie portrayals of these characters. Cyborg's car features a power-up deco to help him fight the baddies. They're plastic and die-cast with beautifully detailed painting and sculpting work.
Creativity
Zoom around the house freestyle or build some tracks and race your favorite cars! Hot Wheels toys can be played with for hours on end and tracks can be disassembled and rebuilt in countless ways. With these awesome superhero-themed cars, your little one will be racing out to save the day time and again.
Criteria Used for Evaluation
Educational Value
Toys in one way or another provide some advantage for kids as they play or collect their favorites. Action figures and playsets give them the opportunity to explore their creative geniuses and make up scenes and scripts. Motor skills are also exercised greatly in the building, setting up, and moving pieces around.
Materials
From the superhero vehicles and action playsets to the character figures and tattoos, all of these items have the Justice League images on them or the figures are included with the product. The vehicles, building sets, and playsets are replicas from the movie scenes that kids can play with for hours of fun recreating the scenes and making up some new ones. Included action figures have authentic details in their designs to make them look realistic for enhanced play. Each item was created with the child enthusiast or collector of Justice League items in mind.
Creativity
Slap bracelets, wall decals, activity books, and tattoos are all a part of artistic expression, just as the large, soft blanket helps with security issues. Because the slap bracelets are durable and can withstand repetitive motions, they aid in calming those with anxiety issues. Each product in its own way helps children with motor, cognitive, or imagination skills to advance their growth and level of enjoyment.
Most Important Criteria
(According to our experts opinion)
Experts Opinion
Editors Opinion
Users Opinion
By Default

Parents, Did You Know?
The Justice League made their debut in 1960.
Parents, Did You Know?
There were seven original members in The Justice League: Flash, Superman, Batman, Green Lantern, Aquaman , Wonder Woman, and Martian Manhunter.
Other Factors to Consider
Age Range
Most of the items are well-suited for kids three years old and older, except for the remote control Batmobile. This toy requires the dexterity and mental capabilities of an older child to use safely. Even some of the safer products, such as the tattoos and wall decals, should be used under adult supervision to ensure they are being used correctly. Any child that likes the superheroes would love to have any of these artistic items to play with or decorate their rooms.
The ideal age for the majority of the products here is five years old. This is because that is the age where kids start to dream and fantasize about the characters they see in the movies. They can at this age recreate with playsets and action figures and make up their own scripts. All items are also wonderful for superhero collectors of any age. It is never too early to start your child's collection today if they are attracted to the Justice League characters.
Frequently Asked Questions
q:

Do figures come with the action toys of the Super Hero Flight City and the Super Friends Hall of Justice? Also are batteries required and included?

a:

Yes, for both of these toys the figures of Batman and Superman come with the set. Batteries are required and included for both of these to work the lights and sounds of the item.
q:

Does the Ultimate RC Batmobile come with batteries or must they be purchased separately? How is this vehicle controlled? Do you have to buy a separate remote?

a:

This vehicle has a rechargeable battery. Once charged it should last for 30 minutes to an hour for play. It is best to recharge the battery when not in use so it is always ready to be enjoyed. This toy is controlled by a smartphone. There is no separate remote control. It is guided by a downloaded app to your phone.
q:

What superheroes make up the Justice League?

a:

The original team included Aquaman, Flash, The Green Lantern, Batman, Superman, Wonder Woman, and Martian Manhunter. However, the roster has rotated over the years from when the team was first introduced in 1960.
q:

Are the Justice League Plush characters machine wash safe?

a:

With each character being composed of a super soft fabric you can toss them into the wash when needed. However, we recommend letting them air dry.
q:

I see the Joker pictured, is he included in the command center?

a:

No. Only batman is included in the set. However, additional characters can be purchased separately.