These Justice League action figures and toys are wonderful for anyone who's a superhero enthusiast or starting to become one. These items make wonderful collectibles or for play. Superheroes like Batman, Superman, Wonder Woman, and many others have been around for decades completely entertaining with their stories. Each individual superhero is so recognizable by both parents and children. Superheroes have permeated the market, and are not just relegated to movies and clothes, but they have blankets, dolls, and party supplies. The market is seemingly endless for these superhero-related products–-and they are always current and in high demand. Therefore, we have chosen the top-rated items that parents are buying for their children for any occasion. Of course, while these heroes are suitable for any age, the items on our list are more suitable for children 3 years old and up, with the ideal age for most of these items on our list being 5 or older. Children at the age of 5 can use their imaginations to create scenarios needed for any toys that you have to build, their favorite action figure, or play sets. From watching these heroes in action on the big screen, these kids can act out later their favorite parts or can create their own. These toys also increase your child's motor, creativity, and hand-eye coordination skills.
LEGO construction play sets and activity booklets help children with problem-solving and cognitive thinking. They also boost confidence levels for children when they have successfully finished a creation. The activity books, wall decals, and tattoos we feature help a child express themselves artistically. Children can profit from idolizing these heroes and continue to love them even as an adult. These action figures bring out the best in everyone, so, it is a great must-have item when your child has their eye on them. To make it even better, these are the good guys too! Here is our top 10 list of the best Justice League toys and action figures for kids.
Best Justice League Toys & Action Figures for Kids Rated
Fisher-Price Imaginext Flight City
Fisher-Price Imaginext Hall of Justice
Ecparty Superhero Slap Bracelet
NJ Croce Bendable Boxed Set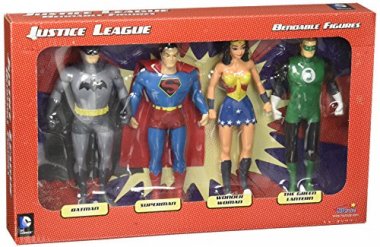 Fisher-Price Imaginext Batmobile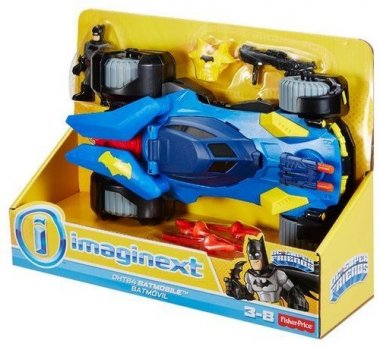 Mizzuco Kids Cartoon Dress up
LEGO The Ultimate Batmobile 70917
LEGO Scarecrow Fearful Face-Off 70913
Superhero Ultimate Coloring Book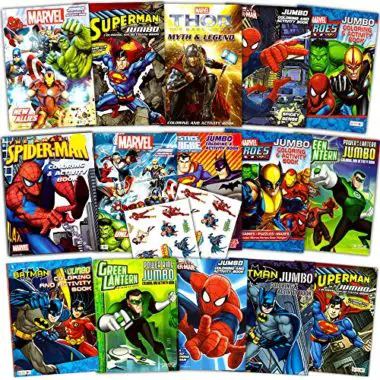 Criteria Used in Evaluation of the Best Justice League Toys and Actions Figures
Superheroes adorn each item in some way
From the superhero vehicles and action playsets to the character figures and tattoos, all of these items have the Justice League images on them or the figures are included with the product. The vehicles, building sets, and playsets are replicas from the movie scenes that kids can play with for hours of fun recreating the scenes and making up some new ones. Included action figures have authentic details in their designs to make them look realistic for enhanced play. Each item was created with the child enthusiast or collector of Justice League items in mind.
Items are appropriate for children ages three and older
Most of the items are well-suited for kids three years old and older, except for the remote control Batmobile. This toy requires the dexterity and mental capabilities of an older child to use safely. Even some of the safer products, such as the tattoos and wall decals, should be used under adult supervision to ensure they are being used correctly. Any child that likes the superheroes would love to have any of these artistic items to play with or decorate their rooms.
The ideal age for the majority of the products here is five years old. This is because that is the age where kids start to dream and fantasize about the characters they see in the movies. They can at this age recreate with playsets and action figures and make up their own scripts. All items are also wonderful for superhero collectors of any age. It is never too early to start your child's collection today if they are attracted to the Justice League characters.
Children benefit either mentally or physically from all items
Toys in one way or another provide some advantage for kids as they play or collect their favorites. Action figures and playsets give them the opportunity to explore their creative geniuses and make up scenes and scripts. Motor skills are also exercised greatly in the building, setting up, and moving pieces around.
Slap bracelets, wall decals, activity books, and tattoos are all a part of artistic expression, just as the large, soft blanket helps with security issues. Because the slap bracelets are durable and can withstand repetitive motions, they aid in calming those with anxiety issues. Each product in its own way helps children with motor, cognitive, or imagination skills to advance their growth and level of enjoyment.
FAQ
Frequently Asked Questions
Q: Can the Superhero slap bracelets fit an adult's wrist?
A: These are made for small kids, so if the adult's wrist is very small, then yes, an adult can wear them.
Q: Do figures come with the action toys of the Super Hero Flight City and the Super Friends Hall of Justice? Also are batteries required and included?
A: Yes, for both of these toys the figures of Batman and Superman come with the set. Batteries are required and included for both of these to work the lights and sounds of the item.
Q: Does the Ultimate RC Batmobile come with batteries or must they be purchased separately? How is this vehicle controlled? Do you have to buy a separate remote?
A: This vehicle has a rechargeable battery. Once charged it should last for 30 minutes to an hour for play. It is best to recharge the battery when not in use so it is always ready to be enjoyed. This toy is controlled by a smartphone. There is no separate remote control. It is guided by a downloaded app to your phone.
Q: How many decals do you get in the Justice League Decals package? Also, do they manage well when they get wet? I want to put them on a car.
A: Twenty images come in the package of several superheroes and they are a very good size. One reviewer put these on a bathroom wall in the shower and said they take the water well. No information on how they would do on a car.
Q: Which characters are on the jokers and aces of the Justice League playing cards?
A: the jokers have groups of the personalities on them. One has Martian Manhunter, Zatanna, The Flash, Wonder Woman, Batman, and Cyborg. The other joker has Green Lantern, Superman, Black Canary, Hawk Girl, Red Tornado, and Aquaman.
The Aces have all of these same characters, but with three on a card divided into spades, clubs, hearts, and diamonds.
Q: What is the problem with the colors on the playing cards? One reviewer complained that the cards were not in color, is this true?
A: The cards are in color, just not that many colors. It seems like only a few colors were used throughout the artwork to depict all of the characters. The reviewer mistakenly said there were not any colors.
Q: Does the Knightcrawler vehicle require batteries? If so, are they included?
A: Yes this toy does require batteries and yes, they are included.
Q: Would the Voice-Changing Helmet fit a very young child, such as a four-year-old?
A: The helmet, according to reviewers it a bit large for small kids, so no, it probably would not fit a four-year-old very well. The ideal age would be six years old and older.