One of the oldest toys, tool sets have been given to children almost as long as they have existed. In the past, these tools would most likely have been standard-size implements that were also used by adults and were given to children in order to educate them on their use so that they could help out around the family home/farm. As cities developed and fewer people made their homes in rural locals, the need to teach children about tool use lessened but never entirely disappeared. Simple tools such as hammers and screwdrivers are something that almost every person on the planet finds the need for at least a few times in their lives so the tradition persisted. Modern advancements paved the way for kid-friendly plastics to replace the more traditional and more dangerous metal tools and a new wave of kids toys was born.
Learning how to safely use tools has a number of developmental and social benefits, the least of which is the confidence that your child gains with self-independence. Being able to hammer in a nail or turn a screw by themselves helps to prepare them for a future where they live on their own. Hammering and twisting can also build and strengthen gross- and fine-motor skills, building grip strength as well as hand and arm muscles. Hand-eye coordination and critical thinking skills are also enhanced.
In a world of electronics, it can sometimes be difficult to see the joys or even the usefulness of simple abilities such as knowing how to wield a hammer. Blue collar jobs in construction and other forms of manual labor still make up a huge amount of the workforce in the United States. These fields grew 12 percent over the course of the last two years and don't show any signs of slowing down. Even the more technical jobs that you may think of such as computing require certain physical skills to create everything from circuit boards to automotive glass. Giving your child an early education on the use of these tools is an easy way to give them a step up in the job field of the future.
From farmers to photons, tool set toys can have a long-standing impact on how your child grows and learns to craft and create. We have gathered a selection of tool sets from across the internet in a wide variety of shapes, sizes, and styles. Some of these sets are designed so that your little one can actually craft and create right alongside you while others are best left to pretend play. We hope that one of our Top 10 Best Tool Sets & Workbenches for Kids will be the right "fix" for your family.
Our Top 3 Picks
NEOWOWS Take-along Tool Kit

Our rating
Vibrant Colors
Price:

See Here

Take-Along Construction Kit

Our rating
Sturdy Wooden Construction
Price:

See Here

Black & Decker Jr. Tool Box

Our rating
14 tools and accessories
Price:

See Here

The Best Tool Set for Kids Reviewed in 2018
USA Toyz 29-Piece Foldable Wood Tool Bench
Melissa & Doug Take-Along Wooden Construction Kit
Kidzlane Durable Set with Electronic Cordless Drill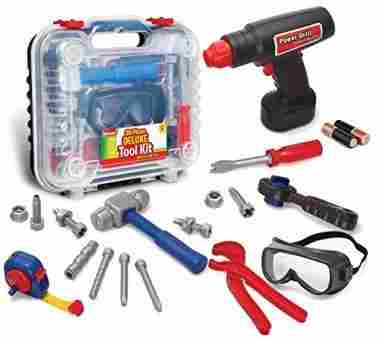 Black & Decker Jr. Tool Box
Ertl John Deere Deluxe Talking Toolbelt
Learning Resources Sprouts Fix It!
Black & Decker Jr. Mega Set
WolVol Musical Learning Toy
Criteria Used in Evaluation of the Best Tool Sets for Kids
The tools on our list have many things in common. From high-quality materials to a wide range of specific tools, these sets have everything a child could want. While some sets have more pieces than others, every set comes with enough to challenge and encourage children.
These sets aren't just packed with junk either. They are the most popular and sought-after tool sets for kids on Amazon. They are all well-made and last for a very long time. These are not disposable toys. They grow with kids and are designed to withstand their rough play.
The tool sets on our list are designed for different age groups but they all keep kids engaged and actively playing. A nice feature about these sets is that they are simple toys that are incredibly educational. These toy tools are colorful and have a close resemblance to "grown-up" tools. Kids can use their tools to learn about colors, shapes and activate their imaginations.
There are a few kits on our list that look so good that they can stay on display long after the kid is grown up. Some of our toy kits are more for function, like the set in #5. It is a miniature version of real tools, no plastic here. They are so well-made, many parents admit they sometimes borrow tools from their child's kit for quick fixes around the house.
Other kits are designed with nostalgia in mind such as #2, which is a prime example of a tool set that harkens back to a simpler time. It looks like an old-school toy that can be used as a display piece in the home. It looks like a great decoration piece in a holiday background. It can be the one toy that doesn't end up getting recycled.
Crafty parents looking to actually build something with their kids often struggle to find real tools small enough to fit in their tiny hands. Most toys small enough are plastic or otherwise unsuited to actual crafting, instead relying on mimicry.
But not every child has the same level of skill with every tool. Hammers may be a gimme but pliers and wrenches tend to be more difficult to master. So we ensured that the tool kits like #4 on our list included a large selection of different tools. These tools encourage children to explore and discover the world of crafting and that every job has a tool.
We also realize that many families have children of different ages in the house. These families need toys that can challenge older children without exposing the younger ones to dangerous choking hazards. So we made sure to include kits like #7 and #9 that are designed with multiple ages in mind. These kits are safe for families with mixed-age children to use.
FAQs
Frequently Asked Questions
Q: Why should children play with power tools?
A: Not all parents are comfortable with their kids using grown-up tools. Most parents are comfortable with their kids playing with toy tools.
Q: Which is best? Kids playing with toy tools or real tools?
A: When kids play with tools (real or toy) they start to develop their vocabulary, new actions, cause and effect, and a sense of empowerment. When kids help their parents pick up dirty messes, they get a sense of accomplishment because they feel helpful. Children learn by imitating parents. When they play correctly with their toys (real or fake) it's important to show praise. Kids will feel included, empowered and they'll become more responsible.
Q: What educational benefits are there for kids playing with toy tools?
A: Babies learn by playing with toys that teach them about the world around them. They are discovering new shapes, colors, textures, sounds, and tastes. Giving babies toys that are stimulating and safe will help them discover their senses. Toy tools are colorful, make simple sounds like rattling, and have different textures. Toy tools for babies are great starter toys. As babies grow older, their tastes change. They require toys that engage them about letters, numbers and language skills. Many toy tools are made for the different stages of life. They basically grow with children.
Q: How are parents buying their kids the wrong toys?
A: Toys need to be fun and age appropriate. But since kids develop so quickly, it can be a challenge for parents to pick the right toy at the right time. Parent's often base their choices off of emotion or fantasy rather than research and specific intent. But it doesn't have to be that way.
A great toy engages kids and encourages them to use it in any way they can imagine. Kids build skills through mimicry and natural play. They see parents working with tools and naturally, they'll want to play with tools too. But before they're ready to build a house with dad, kids need to learn the names of tools and where they go. A good set of toy tools and a kid's workbench can make that process almost automatic and encourage interaction with parents.
Studies show that parents don't play with their kids often enough. Many parents buy their kids toys that completely mesmerized them when they were young. It's ok to buy kids a toy that they absolutely love, but it's not recommended to use toys as babysitters. Parents can't just sit their kid down with a toy and walk away to check their emails or do chores. It's recommended that parents get on the floor and play with their kid to encourage development.
Q: Should kids use real tools in preschool?
A: There are preschools that carry both toy tools and real tools. They believe that kids should use both types of tools to engage in a helpful learning experience. One school, in particular, has a fix-it-box. It is used for kids to fix their own toys. This helps them become independent and more responsible with their toys. But children do require supervision with real tools. Their developing brains and tiny muscles can get them into trouble if left with sharp objects. Little ones don't understand that a hammer can cause real damage when used on someone. So it is up to parents to ensure real tools are used only in the manner they are supposed to be.
Q: How do tools enhance children's development?
A: Toys create learning opportunities for kids. They learn the differences between good guys and bad guys when playing with action figures. And they work on their fine-motor skills and dexterity when they play with interactive toys. Tools provide the same mental and motor stimulation as other toys because of their inherent interactivity. The more kids play with toy tools, the better-equipped they are to develop the skills they need for adulthood.
Q: How can kids use toys as tools?
A: There are so many toys out there it's difficult to find the right one kids need and want. Purchasing the right toys can be tricky. The best toys are not the fanciest or the brightest but instead stimulate the imagination. Toys like blocks, balls, cardboard boxes, dress-up clothes, and crafty bits and pieces are the best toys for kids. Toy tool kits are amazing toys because they stimulate kid's imagination, creativity, and problem-solving skills.
Q: What do kids get out of using a woodworking bench?
A: Kids as young as 3 years old spend time hammering. It's not uncommon to see preschools and elementary schools using a tree stump, nails, and a hammer as a classroom toy. In middle school, kids get the opportunity to learn how to use a workbench in shop class. They have tools that need to be kept clean and put away after each use.
Kids learn responsibility while they are learning how useful their shared workbench is. They can use their bench as a desk to draw up their next project. It's a place that can neatly hold tools and kids can sit in front of their bench to put together something fun. They can make their own toys at their workbench.