Minerva (alright, alright, Minnie) Mouse was born to two farming mouses in early 1928 comics. She is the established girlfriend of Mickey Mouse, friend to Daisy Duck, and confidante to Clarebelle Cow. Designed in the image of a flapper girl, initially, Minnie began as a playful and bubbly personality, often playing the part of an entertainer whom Mickey was trying to win the affections of. She initially played the damsel in distress role frequently, but since a recent reboot, has become a more self-sufficient and autonomous role model. In the House of Mouse series, she had her own Maestro Minnie segment in which she had to constantly conduct and tame a group of live instruments.
In 2008, she received a star on the Hollywood Walk of Fame. She has appeared in hundreds of shorts, movies, and television shows. Today, Minnie is most often depicted in her iconic polka dot dress, with a big bow and her classic round heels. She sometimes has a pet, Figaro (from Disney's Pinocchio), and lives in her own cute little cottage, which you can visit in any of the Disney theme parks.
Minnie's cheery disposition and no-nonsense spirit have won the hearts of many, especially little girls. The following are our favorite picks for Minnie Mouse toys we think your toddler is bound to love! Yoo-hoo! This is the place to be if you've got a little one with a Minnie obsession.
Our Top 3 Picks
Minnie Mouse Disney Saucer Chair

Our rating
Folds Up For Easy Storage
Price:

See Here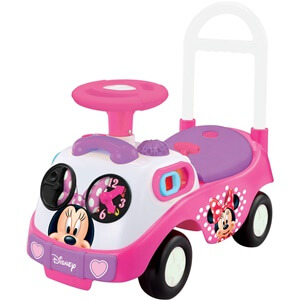 Kiddieland My First Minnie Ride On

Our rating
Includes Hands On Clock
Price:

See Here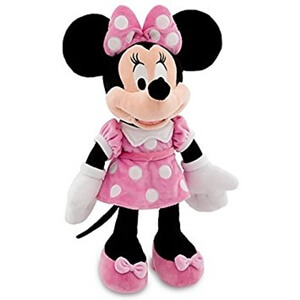 Disney Plush Minnie Mouse

Our rating
Features Jingle In Tummy
Price:

See Here
[/vc_column_text]
Our 10 Best Minnie Mouse Toys for Toddlers
[/vc_column][/vc_row]
The First Years 3 Piece Disney Baby Minnie
My First Minnie Ride On Toy
Disney Plush Minnie Mouse
Minnie Mouse Fabulous Shopping Mall
Fisher-Price Little People Magic of Disney Playset
Minnie Mouse Mix and Match Dress-Up Wooden Play Set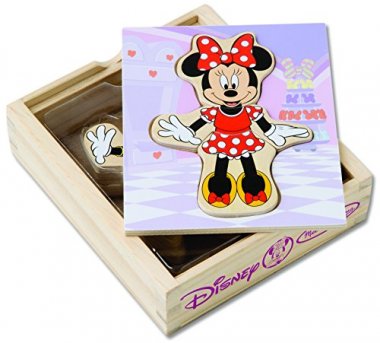 Minnie Mouse Matching Game
Minnie Me Toddler Bike Helmet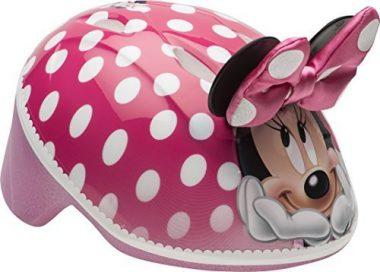 Minnie Rainbow Dazzle Doll
Disney Baby On the Go Soft Teether Book
Criteria used to Evaluate the Best Minnie Mouse Toys
The criteria used for the best Minnie Mouse toys consider safety ratings, developmental appropriateness, and review ratings. It is important to us that the toys that make the list have great scores in all three areas. This assures us that the toys are safe for your toddlers, helps them meet their developmental milestones, and meet the approval of all our teams. We focus on these three areas because we want to make sure that each toy is the best toys that can be listed.
The safety reviews are important to our toys on the list because we never want to suggest a toy that would be harmful to your toddler. We always try and list if small parts are included in our descriptions. The development of your toddler is important to us and we only want to select and display toys that have the optimum development activities for the toddler using them. We understand the developmental milestones and choose the most relevant toys on the Minnie Mouse market. Lastly, the list is reviewed by parents, our panel of experts, and child psychologist. We want to make sure any toys on our lists are nothing but the best.
Encouraging developmental milestones for toddlers
It is important for a child to meet developmental milestones during the toddler age. These milestones are building blocks for both physical and mental capabilities. Toddlers are always learning new things and exploring their environments. Giving them support and toys that encourage their developmental skills is an awesome way to make sure they are meeting those milestones. As they strive to become more independent, they master a whole new set of skills. Learning to walk, run, and jump are milestones that help them strive for that independence along with using toys during pretend play. As toddlers develop, their pretend play becomes more and more complex.
As toddler's brain grows, they learn and develop more and more skills. A child's brain learns more in the first five years than at any other time in their life. Encouraging that development through playtime and using toys for support is a fun way to make connections. The toddler's environment plays a huge role in their development. Supplying toddlers with toys that encourage their gross- and fine-motor skills while promoting their imagination is a great way to help meet those milestones.
Encouraging pretend-play with character toys
The power of make-believe is a wonderful skill to see develop within a toddler. Toddlers learn through their imaginations and sometimes need a little encouragement from their parents. Using character toys like Minnie Mouse is a fun way to encourage a toddler to engage in make-believe playtime. There are many toys on the market that help support and develop pretend play. With the use of toys and encouragement from parents, you can almost see the things becoming alive through their eyes.
Character toys are a simple and fun way to encourage a toddler to pretend because they can almost see themselves acting out the roles that they see on TV and in movies. Using well-known characters allows a large choice of toys. Guiding and supporting your toddler can really stimulate their pretend play and help develop the skills more and more. Encouragement of pretending and imaginative play fosters their cognitive skills and allows for a more creative personality.
Development of gross- and fine-motor skills
A toddler's progression of gross- and fine-motor skills is very important to their development. Being able to master both gross- and fine-motor skills is instrumental for a toddler's independence and growth. Mastering good gross-motor skills help toddlers explore the environment around them and it is vital in their cognitive development. Gross-motor skills are large movements as with their arms and legs. Toddlers are practicing and fine-tuning gross-motor skills everyday with normal everyday activities.
Fine-motor skills are the movement of smaller muscles groups like using the muscles in the hands and wrist to write. Using toys to develop and encourage the use of fine-motor skills is a perfect way for toddlers to perfect those skills. It is important for toddlers to strengthen their fine-motor skills as they prepare for preschool and kindergarten. Development of fine-motor skills also helps with language skills. The development of fine- and gross-motor skills is an inessential part of becoming an independent person.
What determined the most amazing Minnie Mouse toys on our list
Since toys are viewed as important tools for the optimum development of all children, we had to focus on the developmental appropriateness of these products to children aged 18 months to 3 years. As such, we had to have an excellent understanding of the developmental milestones of these children so that we could make a very accurate assessment of the appropriateness or relevance of the item to the different developmental areas in a toddler's life. If the developmental benefit was questionable or downright absent, then we scrapped the product off our list.
Obviously, before we can begin doing this, we had to narrow the selection pool. We decided to include only those Minnie Mouse presents and toys that have been rated with no less than 4 stars by parents and consumers alike. This is crucial as it gave us an idea of the overall acceptability and usefulness of the toy in real life. The issue is that there are certain products that are technically good on paper but in reality are mediocre. And we clearly don't want you to experience that. At least, if there are no less than 4 stars in the consumer-product rating, then we're guaranteed that we're making the right decision in including the product on the shortlist.
The safety of the materials used in the design and construction of the Minnie Mouse toy was also evaluated. While toddlers have outgrown their reflexive hand-to-mouth activities found in early infancy, they are still naturally curious. If the material looks interesting to them, there's a chance that they might put this in their mouths and choke in the process. Also, they may lick the surfaces of the toys so we want these products to be as safe as possible. Closely related to safety is the integrity of the construction of the toy. If it is easily broken, torn apart, or damaged, then it is still a safety issue that we have to take note of.
The different features of the Minnie Mouse baby toys and presents were also evaluated. We wanted to see what particular benefit these features will bring and whether these are developmentally appropriate at all.
Developmental milestones of toddlers
Many parents are not really aware of the different developmental milestones of toddlers. If they understand the hallmarks of development of this age, then they will be able to customize the way they interact with their tot as well as be more empowered to choose the appropriate playtime activities for their children. Here are some key milestones that we can expect from a developing tot.
Between 12 and 18 months, they can throw and kick a ball, push and pull objects, and squat.
Between 12 and 24 months, they can already climb, so safety is a must.
Between 18 and 24 months, they can run like the wind as well as use very simple sentences.
Between 2 and 3 years, they should already be potty-trained as well as be able to jump and leapfrog.
Between 18 and 36 months, they are now gaining independence, seeing themselves as separate entities from their parents. This is often the period where they would like to do it their way. And this is where most parents start having issues.
By age 2, they should already start learning empathy.
These just summarize the different developmental milestones that we can expect from toddlers. It's up to us to use this understanding to better care for them.
The bottom line
Minnie Mouse may be the quiet, loving partner of Mickey but it doesn't mean she is any less popular. Kids, especially young girls, always look to Minnie for inspiration. And with the 10 best Minnie Mouse toys for toddlers, we're absolutely certain your child will have a heyday playing with these toys.
FAQs
Frequently Asked Questions
Q: How are the best Minnie Mouse toys found?
A: We review Minnie toys on the market with an age-appropriate safety rating then we focus on the developmental appropriates of the toys as well. We make sure that the toys are products that can be used by toddlers aged 18 months to 3 year olds. Then we review the ratings from our parents, a panel of experts, and child psychologist. Then the list is created with the top toys.
Q: Where can I find these Minnie Mouse toys in a physical store?
A: To find the best Minnie Mouse toys in a physical store is simple and easy with the use of the Internet. You can use a simple search engine to type in the name of the toy and search away. It is an easy way to find the best price and to research what stores are selling the toys. Many stores now even feature a tool that allows you to make sure it is in stock and sometimes even buy it online then pick it up right in the physical store.
Q: Who was the creator of Minnie Mouse?
A: Minnie Mouse is a cartoon character created by Ub Iwerks and Walt Disney. Both she and Mickey Mouse were first drawn in 1928 by Iwerks. It was featured as a comic strip story. Minnie was designed as a fashion "flapper" girl and this is displayed in her main iconic outfit. This made the Minnie Mouse character very distinctive along with her oversized shoes. Her playful, cute, and musical personality made her a great match for Mickey and together they have become an iconic part of American history.
Q: Are all the toys on the best Minnie Mouse list safe for my toddler?
A: All the toys on the list have been reviewed and selected for toddlers of various ages. While we do always consider the construction and design of the toys, it is best to also check the package for the safety age rating. The toddler's age that you are buying the Minnie Mouse gift for should always be considered when buying a toy and you should always double check to make sure that safety rating is suggested for that age.
Q: How is the selection narrowed down to the list?
A: The toys that are included on this list were selected and narrowed down based on their ratings. We selected Minnie Mouse toys for this list with a rating of no less than four stars. The ratings are compiled from parents of toddlers and general consumers. We want the toy to be an overall great toy that stimulates and engages toddlers who love Minnie Mouse.
Q: How can I find replacement parts? Is there a warranty or return policy?
A: Many of these manufacturers and sellers offer things like a satisfaction guarantee or a hassle-free return policy. There are specific parts or pieces as well as extra parts or add-ons that can be purchased separately
You May Also Like
10 Best Sensory Toys For Toddlers
16 Best Toy Cars For Toddlers
10 Best Minion Toys
10 Best Transformers Toys for Kids