You've probably heard plenty of talk about developmental milestones–those important markers in your child's continuing growth, that let you know they're on track for their age, and whether or not there are any areas you need to work on together. With toddlers, it takes some careful observation, especially on the younger end of the scale, when they still can't quite communicate themselves. You want to make sure that they're practicing their fine-motor skills, cognitive skills, social development, and emotional development. But how do you do that? The simplest and most fun answer is: play. Play with them, watch them play, set them up to be able to play in ways that are exploratory and promote important skills. There are thousands of toys out there specifically designed to help your child learn as they're having fun. Some are very obviously academic, some are geared toward emotional or social skills, and some promote reasoning and logic skills in craftier ways. This article showcases the 10 best learning and developmental toys for 2019 that are sure to help your child develop their learning skills and prepare them for school in the years to come.
Our Top 3 Picks
ALEX Discover My Busy Town

Our rating
Wooden Activity Cube
Price:

See Here
VTech V.Reader Chuggington

Our rating
5 Reading Games
Price:

See Here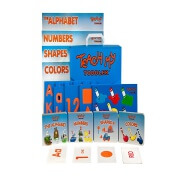 Teach My Toddler Learning Kit

Our rating
68 Pieces
Price:

See Here
[/vc_column_text][/vc_column][/vc_row]
VTech Sit-to-Stand Learning Walker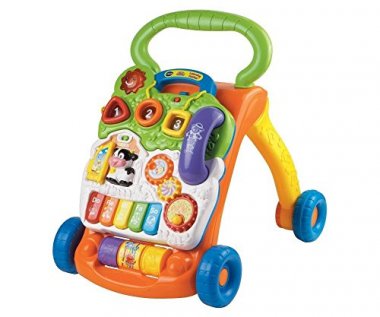 LeapFrog Shapes And Sharing Picnic Basket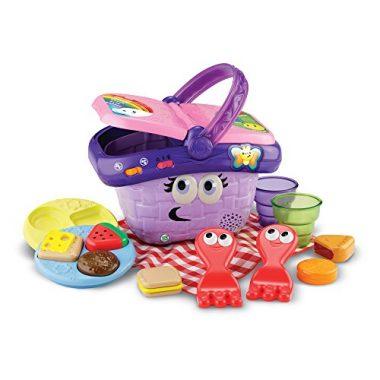 Kidzlane Color Matching Egg Set
Touch and Learn Activity Desk
Spin and Learn Flashlight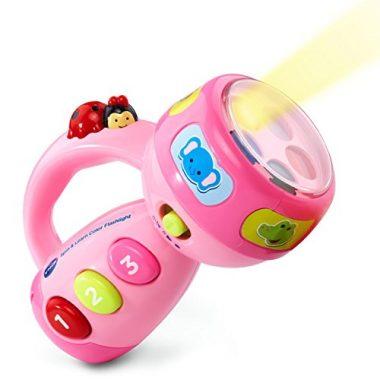 WolVol Activity Play Center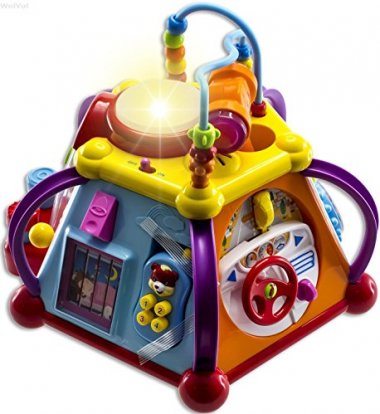 ALEX Toys Little Hands String A Farm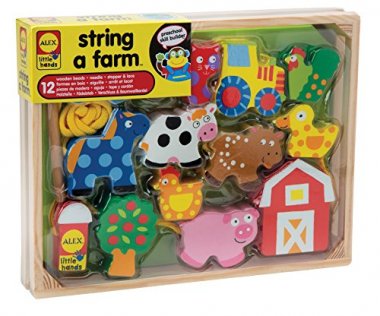 My Busy Town Wooden Activity Cube
Earlyears Roll 'n' Swirl Ball Ramp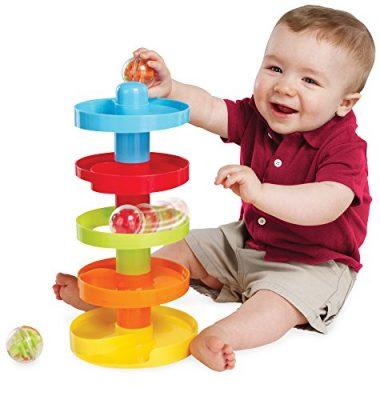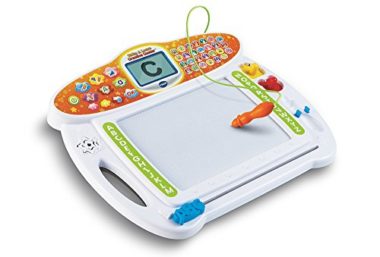 Criteria Used to Evaluate the Best Educational and Learning Toys for Toddlers
Interactive
Interactive educational and learning toys are toys that engage your child's mind. A high-quality interactive toy offers entertaining activities that will help keep your child's mind active while also teaching your child essential knowledge to learn outside of the classroom and develop abilities they'll need to use later in life.
Social
Educational and learning toys should encourage social skills because social skills can teach your child how to communicate, create friendships, how to share and care, and learn the proper response to social situations. It can also help your child to develop an appropriate emotional outlet to express themselves, be comfortable in unique roles when socializing with others and also teach your child how to respect and obey others.
Cognitive
If your child is learning from a toy, your child's cognitive ability is developing. Such toys will help your child learn and identify colors, shapes, letters, numbers and will help to enhance their problem-solving, logical, and reasoning skills. Your child will also need to learn pattern recognition and object relationships from such toys.
Language
Language development from an educational and learning toy is very important. The toy must be able to teach how to not only learn and identify letters but also to learn how to put the letters together to create words and then put the words together to create simple sentences. Such toys should help build vocabulary, comprehension, and how to communicate in a simple way with their family and friends.
Physical
Educational and learning toys should help develop your child's motor skills. Such toys should help develop the fine-motor skills by incorporating the fingers and hands and help develop the gross-motor skills by incorporating the feet, legs, and even their whole bodies. This also includes helping your child to develop balance and coordination.
How We Chose the Products on our List
So, how did we choose our 10 super-educational products? We researched and studied a number of toys online and hand-picked our results based on which toys were best sellers, had a high number of positive product reviews, the quality of the build and application toward development.
We then used this list to examine each entry taking into consideration a variety of factors including its educational value. We are confident that you and your beloved little one will also love at least one of these toys on our list of the best 10.
We hope you have enjoyed the article and have come away with some creative ideas to help you decide what to get your precious tike to help them grow and develop to their full potential.
FAQ
Frequently Asked Questions
Q: How can an educational and learning toy help my child?
A: An educational and learning toy can help your child by developing multiple abilities and skills that will enhance their life in multiple ways from school to socialization. Such toys can help your child learn how to think, speak, calculate, problem-solve, reason, and be creative.
Q: Why should I choose an educational and learning toy?
A: You should choose an educational and learning toy because you desire to enhance your child's abilities and skills. Educational and learning toys are also great to prepare your child for school and supplement any school curriculum. If you want your child to have playtime with a purpose, then an educational and learning toy is the best way to go.
Q: Is toy safety and age-appropriateness important?
A: Yes, a safe toy means a safe play time. Your child will not be exposed to harmful toxins and your child will not be injured by toys that could have weak structural integrity or possibly sharp edges. Toys for the correct age are important as well because a toy that is too young for your child can result in boredom and a toy that is too mature for your child can result in frustration. It's best to choose a toy made for their age and developmental level.
Q: How should an educational and learning toy appeal to a child?
A: An educational and learning toy should appeal to your child's senses. Your child should be captivated by the colors, textures, lights and sounds. Also, educational and learning toys that encourage your child to interact by sorting shapes, pushing buttons, and moving parts will help appeal as well.
Q: What other benefits should an educational and learning toy provide?
A: An educational and learning toy should be able to be used in more than one place from the playroom to the park and used in more than one position from sitting to standing.
Other benefits include:
Usage of both hands
Durability and sturdiness
Ease of use, carrying, and storage
Encouragement of communication and interaction
Encouragement of problem-solving and creative thinking
Q: How else can I discover educational and learning toys?
A: You should start with the Born Cute "Best Educational & Learning Toys for Toddlers in 2019" list: Click the link of the educational and learning toy that interests you and when you arrive at the Amazon page for the educational and learning toy you selected, scroll down to the "Customers Who Viewed This Item Also Viewed" or "Customers Who Bought This Brand Also Shopped For" lists. Those two lists can give you great starting points in discovering other educational and learning toys.
Another option is to speak with educators, preschool teachers, and even child psychologists who can help with choosing educational and learning toys for your child.