They're tiny, they're slimy, some of them are pretty darn cute–is it really any wonder that kids are so obsessed with bugs? Plenty of T-Ball teams have gone down in flames because the tots in the outfield were too busy picking up rollie pollies to pay any actual attention to the game at hand. But you can't blame them; insects are fascinating. With over 900,000 different types of insects across the globe, they're the most diverse organism currently known to mankind. Some bugs are creepy, crawly, and off-putting. Others are sweet and harmless. Almost all of them are fascinating to children at some point in their young lives.
So skip the unintentional roach or ant infestation when your child brings in their new friends to play, and offer them a safer, cleaner alternative with these top-rated bug toys for kids. From realistic sets of magnified plastic critters to cute, nonspecific bath toys, to fuzzy, friendly finger puppets; we've collected the market's best bug toys and activities. Unlike the real deal, these bugs won't eat your food, infest your home, or require a whole large-scale production in order to catch and safely keep. The family can enjoy learning about and playing with these carefully crafted toys sans all the drama that follows real spiders, bees, and butterflies. They're easy to clean up after, easy to store, and a great opportunity to start your child on an educational path studying the world around them and all of the fascinating bounties nature has to offer.
Our Top 3 Picks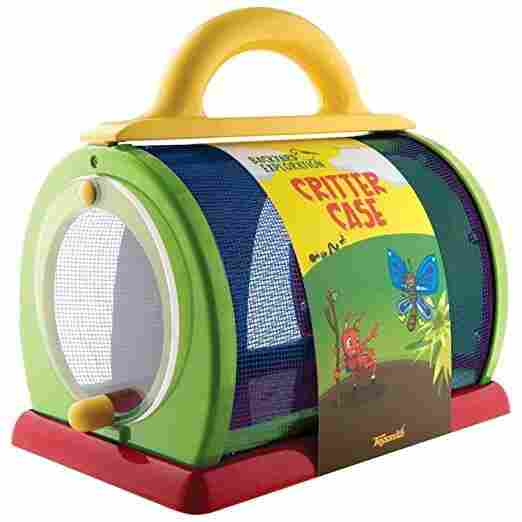 Backyard Exploration Critter Case

Our rating
Easy to Carry Around
Price:

See Here

Darice Plastic Insects

Our rating
16 pcs. Insect Set
Price:

See Here

Melissa & Doug Wooden Puzzle

Our rating
Fine-Motor Skills Development
Price:

See Here

Our Picks Of The Top Bug Toys:
Backyard Exploration Critter Case
Age Range: 5 to 15 years old
Ravensburger Bugs in the Kitchen
Age Range: At least 3 years old
Magnetic Wooden Puzzle Game Set
Age Range: 3 to 5 years old
Carson BugView Bug Catching Tool and Magnifier
Age Range: 4 to 10 years old
Fun Express Insect Finger Puppets 12 Pack
Age Range: At least 4 years old
Melissa & Doug Sunny Patch Bag of Bugs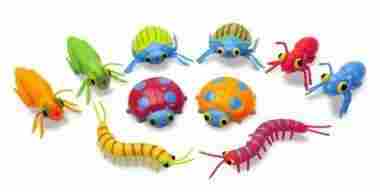 Age Range: 3 to 5 years old
My Critter Catcher – Spider & Insect Catcher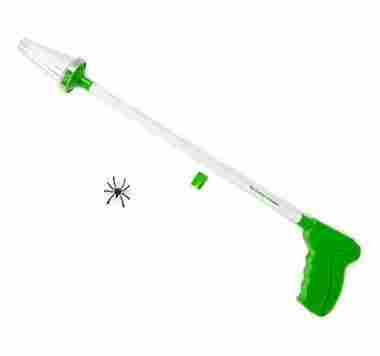 Age Range: 4 to 15 years old
Wild Republic Polybag Insect 10 Pieces
Age Range: 3 to 6 years old
Melissa & Doug Deluxe Bug Jug Fill and Spill Soft Baby Toy
Age Range: 18 months to 3 years old
Boon Water Bugs Floating Bath Toys with Net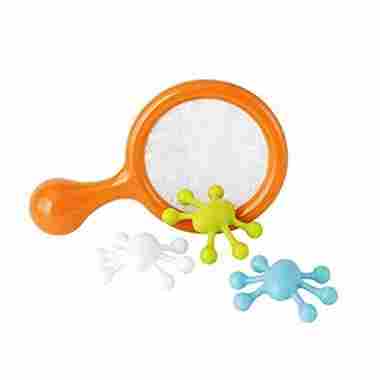 Age Range: 3 to 6 years old
Criteria Used in Evaluation of The Coolest Bug Toys
Bugs may be creepy to many adults but they play many important roles in the development of children. Some of those roles include sensory developments and the different types of insect toys help grow those skills. Each new sight, sound or color is a learning experience. Stimulating toys encourage children to continue growing those skills. Plus, kids can have so much fun with these bugs they won't even notice they are learning so much. Remember the focus is on experimenting and exploring, so there shouldn't necessarily be a right or wrong way to play.
All the different types of bug toys create a compassion for all creatures. They can develop their unique interests while building experience in the great outdoors. It's never too soon to teach your little ones how the world around us works. These bug themed toys also provide imaginative play. They can take the knowledge they learn and apply it to games around the house. All these toys can strengthen curiosity and role-playing skills.
Developing fine motor skills and gross motor skills are very important for child development. Gross-motor skills are things that use large muscles of your body. We start learning how to use these skills from birth, starting with the trunk and upper body and then the lower body. These skills grow and develop over time and lead to more specific skills that kids can do. Gross motor skills need to be strengthened before fine motor skills. These are so important because they build confidence and strength. Children will need all these skills entering Kindergarten.
There are also numerous social aspects to playing with science-based toys. Children can experience first hand the way things work through a cause and effect process. This can work on a physical level as well as a social level. By using these bug toys in their environment, kids can experiment with this cause and effect. Children can explore their relationship with the world and other creatures around them. These toys become tools to help your child build skills and learn new ways to interact with people and nature.
Understanding the Importance of Bugs in Our Lives
The importance of nurturing kids' love for animals goes beyond showing them how to care for their dogs and cats. It is equally important for children to learn to understand and appreciate bugs, too. And while we can always accompany our kids to go bug hunting, it is equally crucial that we have a clear understanding of the importance of insects and critters in our lives.
Bugs kill pests – Many critters are the predators of other critters. For instance, aphids can easily destroy crops which can have an impact on our food sources. Ladybugs are known to be the natural predators of aphids.
Bugs are excellent at recycling – Have you ever heard of the dung beetle? If you have then you know what it does. There are a lot of insects, bugs, and critters that use all of the materials that we consider waste and turn it into something more useful. This is recycling at its best.
Bugs spread pollen – We wouldn't be able to enjoy the colors of spring and the blooms of summer without insects that fly from flower to flower, carrying with them precious pollen that impregnates another flower. As flowers become the fruits that we enjoy in our tables, without these insects, there wouldn't be any fruit at all to have.
Bugs are producers of stuff we enjoy – You know that expensive type of fabric known as silk? It's made by a type of insect called the silkworm. The honey we use in many of our dishes is produced by bees. There are many other products that we now enjoy because of the work of these insects.
The Bottom Line
Some members of the bug family have very important roles to play in preserving the balance in the ecosystem. With these 10 Cool Bug Toys in 2018, we are essentially helping our kids to understand and appreciate this invaluable role that bugs play.
FAQ
Frequently Asked Questions
Q: Is the Melissa and Doug Magnetic Wooden Puzzle Game Set: Fishing and Bug Catching waterproof?
A: No, it is not waterproof. Each piece is made out of wood with a printed design on the top. These toys are best played inside. Other bug toy options listed here are waterproof plastic and would work perfectly in the bath or outside.
Q: Is the Carson BugView Bug Catching Tool and Magnify humane for bugs?
A: Yes. Because of the design, bugs can be safely placed inside the viewing box and then released outside. It replaces the old-school place a cup over an insect and slides a piece of paper under method. This is an all-in-one, convenient tool with no harm to the critters.
Q: Are the Wild Republic Polybag Insect 10 Pieces safe for bath time?
A: Many families have fun incorporating these bug into bath time. They are large and they float, so perfect for some fun in the tub. Not to mention, these bugs are made out of a sturdy plastic and are high quality.
Q: Can the Melissa and Doug Deluxe Bug Jug Fill and Spill Soft Baby Toy fit in a bag for travel?
A: These toys are squishy and easily collapsed. Therefore, they can be compressed to fit in different bags for travel. As long as you don't mind the silly noises these toys make while driving around.
Q: How big are the Bug Counters?
A: They are all about 2 inches. The size is important because it requires growth of fine- motor skills. Fingers have to grasp the smaller pieces and sort them during the different games. They are also easy to store all 72 pieces conveniently. At the same time, they are not too small. Children on the younger end of the spectrum can still enjoy these fun creepy crawlies.
Q: How do you order bugs for my Insect Lore Ladybug Growing Kit Toy?
A: The ladybug home and the larvae are delivered separately. Once you order the growing kit and it delivers, it comes with a coupon. Send in that coupon and your larvae will be delivered straight to your door. This is for the safety of the bugs and so they have the best potential of making the long trip.