While traveling with young children can pose as a bit of a challenge, it offers your little one the chance to explore the world. Investing in the perfect luggage set for your child can make your travels much more smooth. Instead of throwing your whole family's belongings into one suitcase, keep things more organized by allowing each member to have their own. As you're gearing up for your trip you probably have a long list of things to do. We didn't want to make that list any longer. We created a list of the ten best luggage sets for kids, to keep you from spending hours scouring the internet for the perfect one. Our list is composed of suitcases that are appropriate for children of all ages and trips of all kinds. Happy Travels!
Our Top 3 Picks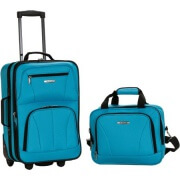 Rockland Luggage Set

Our rating
2 Pieces
Price:

See Here
Goplus Kids Luggage Set

Our rating
Four Durable Wheels
Price:

See Here
American Tourister Disney Hardside

Our rating
ABS/PC Shell
Price:

See Here
Rockland 20 Inch Polycarbonate Carry On
Backpack and School Travel Trolley
Travel Buddies Bella Butterfly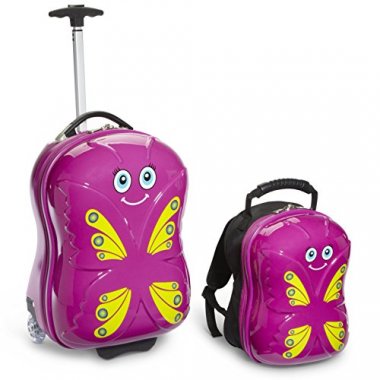 AmazonBasics Hardside Spinner Luggage
Zoo Rolling Luggage Backpack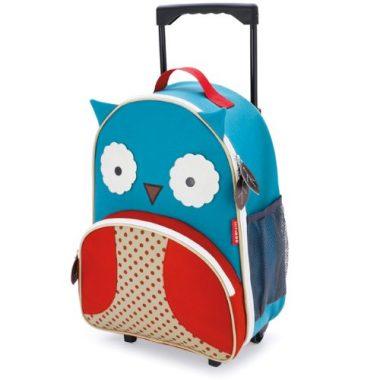 J World New York Kids' Lollipop Rolling Backpack
Star Wars Hard Side Spinner
Stephen Joseph Classic Rolling Luggage
yodo Upgraded Kids Insulated Luggage Bag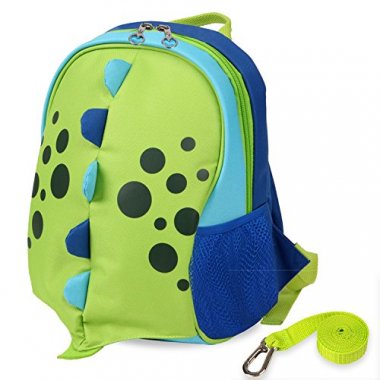 American Tourister Kids' Softside 18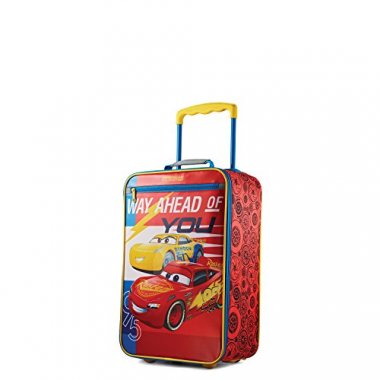 Criteria Used to Evaluate The Best Kids Luggage Sets
The criteria for the best luggage sets that are featured are chosen by two important thing–weight and style. While are other factors like sturdiness and durability are also reviewed, when making the list, the most important things that we considered for kid's luggage is weight and style.
The weight of the luggage is important because we wanted the child to be able to handle the luggage on their own and feel confident when using it throughout the trip. The weight of the bag plus the added contents is important because you don't want an oversized piece of kid's luggage that causes them to load the bag down. The size plays into the weight of the bag. Making sure the weight was light and the size was right was very important to the criteria.
Once the list had all the lightweight kids' luggage on it, it was time to break it down by style. The style is important to kids, plus with a little added style, the luggage is easy to spot, making it easier with traveling in the masses. The style of the luggage had to be fashionable, yet durable. We wanted to make sure that the luggage on the list is able to make it through those long trips without being handled often.
The criteria of the style had to make the luggage fun to look at and want to be carried by a kid. Once, the best luggage with the right weight and fashionable style were selected, then it was reviewed by our panel of experts. Our experts selected the top luggage sets on the list with the best reviews from each panel. We hope that the list makes it easier when you are picking the next luggage set for a kid in your life.
Benefits of kids having their own luggage when traveling
When kids have their own luggage when traveling, it is a benefit because it takes away weight from each piece of luggage and it also helps develop a sense of independence. When traveling these days, it is easy to over-pack and add too much to one suitcase. When traveling by air, it can be very easy to over-pack one of those large adult suitcases. When children have their own bags, all their clothes, accessories, and toys can be packed in the bag. This frees up space and weight from the adult suitcase.
This is often helpful when traveling by air because luggage is usually weighed in and each ticket-payer gets one free bag or you pay for each piece. So, when kids have their own luggage, it causes less weight and often the bags are small enough to be carried on. This will either save you money or space in your suitcase.
When kids have their own luggage, it also helps them develop a sense of independence. Nurturing a sense of independence in a child is important because it helps them develop a strong sense of identity and self-confidence.
When children start to see themselves as separate from their parents, they are able to develop their own styles and interests. It makes them able to manage challenges easier later in life and builds a strong foundation of who they will become. Nurturing the process of independence is great to build them up and prepare them for life. Traveling with their own luggage is a large step of independence that benefits children as well as the parents.
Safety is important when traveling with kids and family members
Safety is always a big concern when traveling, especially with kids and additional family members. It is important to have a plan if you get separated and to review what to do in an emergency. When kids and family members are prepared and have a plan on what to do if something happens when on vacation, it mentally prepares them for any situation. It is good to have a plan if you get separated because with busy airports and travel attractions, it happens often.
It is good to have a list of contact numbers on a written list that is not on your cell phone and to create ID bracelets for the little ones. The bracelet should have all emergency information needed. This is very helpful in a stressful situation of being separated from the group.
When reviewing an emergency plan before you go on vacation, it allows everyone to ask questions and review what needs to be done or what to do when something occurs. The plan should cover everything from a natural disaster to accident. This allows each member to prepare and know what to do.
The emergency contact list and ID bracelets also work well in these situations. Traveling with kids and family members is fun and stressful all at the same time, but making sure everyone is prepared and is safe should be the main concern.
Encouraging kids to pack and carry their own luggage
Encouraging kids to pack their own luggage is helpful for parents on a time schedule and allows kids to build self-confidence. When kids pack their own luggage, it saves time and energy for the parents. Traveling is stressful enough let alone having the time-management problem of getting everything completed before leaving.
When kids pack, they are able to pack the things they want to wear and are ready for the events of the adventure. It is a good idea to have them lay everything out and have a parent approve the items before placing them in the bag. This makes sure that the items are correct, are the best for the situations, and they have the right amount of each clothing item. This builds their self-esteem and confidence levels.
When kids pack their own luggage, it allows them to build their self-confidence. When they know what the task is and are able to complete it with success, it builds them up. When they have completed the task many times it helps them feel confident at also completing new and additional tasks. When kids travel, it is a great time to build their self-confidence and add some adventure to their lives. Packing and carrying their own luggage is a perfect way to start a great experience.
What determined the amazing kiddie luggage sets on our list
Choosing a travelling bag just for kids entailed looking at three important things: weight, sturdiness and durability, and overall styling. We knew that the bags we include in this list should be pretty lightweight so that kids will not have difficulty carrying them. Any feature that made carrying a lot easier such as casters, rollers, wheels, handles, or any other contraption, was carefully examined both for its functionality and integrity. Of course, the primary focus of our evaluation was the construction of the kids' luggage. It was imperative that this was super lightweight.
Since we're talking about the materials used in the construction of these luggage sets, we had to be certain that they also provide the kind of strength or durability that we expect. If the luggage was poorly manufactured, there's a great chance that all of the contents might just spill out into the open. That's why we had to make sure each component of the luggage set have been duly certified to be of the highest quality that it won't lose its integrity in the middle of the journey.
We then looked at the overall styling of these luggage sets. Since it's kids who are going to use them, we thought that the travelling bags must be fun to look at. These must have designs that kids will appreciate or even love so they will feel a lot prouder strolling in ports or even in hotel lobbies with their kids' luggage in tow. Without a doubt, kids will be taking care of these luggage sets knowing that it contains many of their prized possessions.
Obviously, we had to narrow down our choices so we included only those that have no less than four stars in their customer review scores. The more positive the reviews are, the greater the chance the luggage set was included in this particular project of ours. Likewise, the company's reputation as a luggage maker was also evaluated and given weight in the final scoring.
Benefits of going on a family holiday
Going on a holiday with the whole family can have tremendous benefits especially to the youngest members of the family. For the most part, family holidays are an excellent source of happy memories. There are also a lot of studies showing that family holidays provide real health benefits, particularly in terms lower levels of stress and lesser risk of cardiovascular diseases. Here are some other benefits of going on a family holiday especially for kids.
Strengthens family ties by creating more time for bonding.
Allows kids to focus on the accumulation of a wealth of positive memories and experiences.
Helps kids learn more about their larger world.
Facilitates the enhancement of kids' social skills especially when interacting with kids of other cultures.
Helps provide emotional reinforcement to kids by showing what a happy family really means.
The bottom line
Whether you're going out of state, overseas or simply to another city, going on a holiday can be very beneficial to your kids. Make sure they have one of the 15 best kids' luggage sets we have shared here so they'll really appreciate what traveling and going on a family holiday is all about.
FAQ
Frequently Asked Questions
Q: Is the luggage featured on this page made for air travel?
A: Each of the pieces on the list is featured for air travel by the manufacturer. We always check to make sure that the best luggage is on this list and it the best luggage that suits their needs. We did ask you to please review each piece of luggage and your airplane regulations. The regulations for travel are changing every day and it is always good to double-check when getting ready to travel on a plane.
Q: Are all kids' luggage lightweight?
A: Each piece of luggage listed on our best luggage for kids is lightweight. It was important to our criteria that each of the pieces be lightweight and easy to handle for kids. The weight of the luggage along with the contents can make the luggage heavy, so making sure it is a lightweight bag was important and makes the overall experience better for the child.
Q: Why is it important for kids to travel?
A: It is important for kids to travel because it exposes them to new adventures and different cultures. Giving children the experience of travel at a young age opens their eyes and allows them to experience the things that help in their development. It is a very rewarding experience for both children and parents when traveling. It is a great way to experience life and build strong, long-lasting relationships.
Q: What is the best way to have a kid carry their own luggage?
A: The best way to have a kid carry their own luggage is however they feel comfortable. Once you receive the luggage your child will be using, it is a good idea to pack it with the things they will need for the trip and then before the trip have them practice carrying or rolling it around, sometimes even both. This gives them a good idea of the best way for them to carry their own luggage and helps them become familiar with it. This will help both the child and ensure the adult they are ready for the experience.
Q: Is it safe for kids to carry their own luggage?
A: It is safe for kids to carry their own luggage. Always check to make sure that the luggage is not overweight or hard to carry. The only safety concerns would be them losing the bag, having someone steal it, or them carrying something too heavy. Which are all the concerns that adults have as well. The added bonus is, this allows them to feel a part of the experience and gives them a sense of self-confidence.
Q: Where is the best place to take kids on vacation?
A: The best place to take kids on vacation is somewhere that the whole family will love. You want to make sure it is a great experience for both adults and children. Going somewhere that is out of the ordinary and is safe is always a fun experience. It allows kids to experience new things and make memories that will last a lifetime. It is most important to make sure it is a safe place to travel and explore.