As we near the holiday season, the time for long car trips and family journeys is upon us. Whether you are anticipating a multi-hour car ride to grandma and grandpa's or planning for a mid-winter vacation, finding ways to pack everything you need in one car can be difficult if not impossible. As your child grows, so does the size of their stuff! Gone are the days when you could simply strap your infant into their car seat with a diaper bag and a few toys and be set for an entire weekend. Now that your child is getting older they need much more to feel comfortable and secure while away from home.
One of the biggest concerns with family trips are the sleeping arrangements once you arrive at your destination. Hotel rooms can be expensive and shelling out even more moola for an extra bed for your toddler may not be in your budget. Staying with family can be easier but guest space is often limited. The last thing that you want is to be forced to share your bed with your sleep-talking, hyperactive, cold-foot shuffling, midnight bed-jumping toddler! Lack of sleep can make everyone from mom and dad to the kiddos irritable and can ruin an otherwise fun visiting experience so finding your little one their own sleeping space is essential.
Beyond the lack of sleep issues that can occur without a space of their own, your child's mind and subsequent fears are also come more into play. This is the age where night terrors end and nightmares begin. Finding themselves in an unfamiliar place upon waking can exacerbate these fears and cause your child undue stress. Finding room to pack some of their normal bedtime items, like a favorite blanket, night light, and a stuffed animal can help alleviate travel fears and help your child feel more safe and secure when away from home. This can also help prevent nocturnal potty accidents.
There are several types of sleeping tools you can utilize to help your child feel secure while away from home. Air mattress can provide the largest amount of sleeping space and feel the most like a real bed. The downside is that they tend to take up a large amount of room and trunk space, even when deflated and may be difficult to bring if you are working with a small vehicle or using public transit. If you do opt for an air mattress, finding one with raised edges or sides can help prevent your little one from sliding off during the night. Built-in pillows can also help offset the packing size.
Another option is a travel cot. These cots fold closed similar to camp chairs making them ideal for transporting as they are smaller and more lightweight than their air mattress counterparts. The downside to these cots is that they tend to be less comfortable and may require additional padding for your child to want to sleep on it. They also may not be suitable if your little one is a roller as they stand off the floor and do not have raised sides to help keep them from falling out of bed.
Relatively new alternatives are nap mats and pillow beds. These sleeping options lay flat on the floor like an air mattress and are pre-stuffed so there is no inflation necessary. They often include built-in pillows and blankets as they are designed to be used for nap times but can work as on-the-go bedding in a pinch. The downside to this type of mat is that they are thinner than other sleeping products and may leave your child asking for more blankets if they are sleeping on a hard surface. They also do not condense as well as an air mattress or travel cot and can take up a lot more packing space in your trunk.
Choosing the best travel bed for your toddler is a very individual choice as it really comes down to your child's unique preferences and your family's travel, storage, and budget choices. We have gathered a selection of toddler travel beds from across the internet in a wide variety of sizes and types. We hope that one of our 10 Best Toddler and Kid's Travel Beds will help ease your little one into peaceful slumber…regardless of where they are.
The Best Toddler Travel Beds & Portable Air Mattresses Reviewed in 2018
Lazery Built-in Electric 7
Hiccapop Inflatable with Safety Bumpers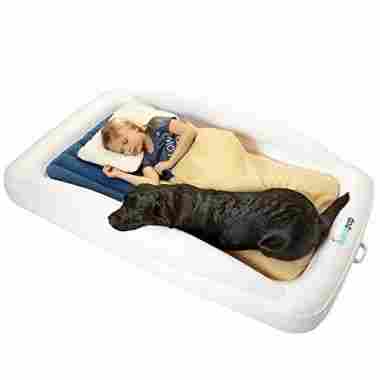 SoundAsleep Dream Series Queen
Butterfly Craze Floor Pillow Bed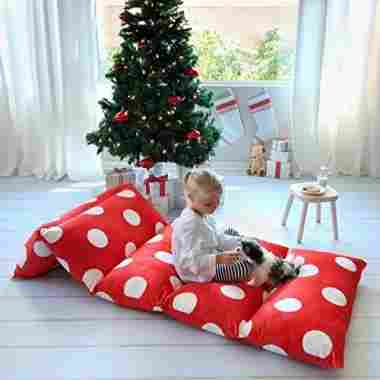 Cozzzi Trifold Foam Multi-Purpose
Active Era Premium Twin Size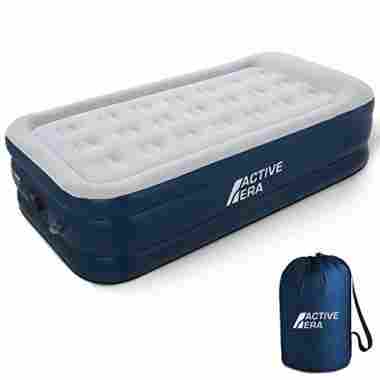 Criteria Used in Evaluation of the Best Toddler Travel Beds & Portable Air Mattresses
Suitable for Toddlers
Bedding options that are suitable for toddlers must be the proper size, able to fit well with sheets and blankets of crib- or twin-size and be safe and secure. These requirements must be met for a good night's sleep for the child and the parents. Each of these items that we feature is perfect for young kids because they were created specifically for them. Most fit crib-sized sheets and blankets and can support the usual weight of a child in the toddler-age range. Some of the mattresses come with a raised edge or guard rail to prevent the kid from unexpectedly falling off of the mattress and hitting the floor. This edge also provides a security zone for the child so they feel safe. They can simply reach out to feel this raised section to know that they are still safely tucked into their bed.
Transportable (Deflate or Fold)
One of the most-desired features of portable sleep equipment is that it be very easy to transport and handle. All of these items meet that condition very well. They are lightweight, flexible, and can be compacted into easy-to-carry parcels. The air mattresses can deflate and inflate quickly, especially the ones with electric pumps. These can fold into small packages for storage and travel. The foldable options, such as the foam-sectioned mattresses, compress into neat bundles for convenience. Most come with storage or carrying bags to make them care-free travel items. Because they do not weigh very much, these mattresses make great sleep options that can be carried onboard airplanes, buses, and trains to be used at the destination point. Even kids can tote most of the bed options we list here.
Comfort Level/Easy to Use/Durable
Durability is a necessity of a portable mattress because it will probably be used quite often and by children that may not be the most kind to it. Toddlers have plenty of energy and they love to jump on inflatable or spongy things, so these mattresses must be able to withstand some amount of abuse. A few of them come with patches or repair kits for that occasional blow-out when it is least expected. All mattresses here are very easy to use, set up and take down. As far as comfort for transportable beds, these bed options are the best that purchasers liked and wanted to tell others about. Kids should be quite restful and snug on any of these mattresses because they have been created for children at their unique comfort-level, size, and body shape.
FAQ
Frequently Asked Questions
Q: Concerning the portable folding cot, could a 4 year old flip out of the bed? Does it have a bar or something in the middle for support? Is this support uncomfortable?
A: Yes, a toddler could flip out of this cot. It is best to wedge it between beds or against a wall to provide some boundaries. There is a support bar in the middle of the cot. There were a few complaints from purchasers concerning this, but overall toddlers were comfortable with the support bar.
Q: For the LUCID Folding Mattress, does it keep its shape after many uses? Is it latex-free?
A: Yes, reviewers say it does hold its shape and firmness after many uses. Yes, it is a latex-free product.
Q: Can the pillow be removed from the Intex Built-In Pillow Air Mattress? Does it come with a carrying case?
A: No, the pillow cannot be moved or adjusted on this mattress. It is made into the product. Yes, it does come with a duffel bag to transport it. The mattress folds up rather compactly and fits in the duffel bag that has a shoulder strap.
Q: Is the AeroBed Air Mattress for kids good for a 6-year-old?
A: Yes, this is the perfect size for a child that age. One reviewer said that even an 11-year-old slept on it comfortably. It can hold up to 150 pounds and it has raised edges to keep the child in place on the mattress.
Q: Are the pillows included with the Kids Floor Pillow or is it just the cover? If the pillows have to be purchased separately, which size should be bought and how many?
A: As the description states, the pillows for the cushion part of this mattress/lounger are not included. This is just the cover that you put the pillows in. Each section has a zippered area to put one pillow of your choice. It takes five pillows to make the entire mattress. These can be any size, but reviewers say that the firm, queen-sized pillows are best. These can be bought cheaply at dollar stores.
Q: Can the Trifold Folding Mattress be used as an extra cushion for a cot?
A: Yes, it would be ideal for an extra layer of support on a folding cot. These don't usually come with much support for the back, so this would be a great solution.
Q: What size sheets would the Trifold Mattress take and does it make any squeaking noises when you use it?
A: The sheets that fit this mattress best are twin-sized sheets. No, it does not make any noises when you sleep on it or roll over on it. It is mostly air mattresses that make these noises which can be quite bothersome at night when you are trying to sleep.