There are many times when a portable bed or mattress is needed for a toddler, especially when traveling. Sometimes hotels have cribs or foldable beds for the guests that have children, but it is far better to bring your own because of sanitary and comfort reasons. For families that travel a lot to other family members households for prolonged visits or just for vacations, inflatable or foldable bed arrangements are a necessity. Although many options are available, we feature the best-rated, transportable bedding solutions for toddlers on this page that should give you and your child peace of mind and fantastic comfort. All portable travel bedding must be restful, lightweight, compact, and manageable. If just one of these features is left out, then the travel experience will suffer for it.
Your little ones should enjoy superior comfort while sleeping even when on-the-go. Our team carried out an extensive research to find the top-rated toddler travel beds that will have your tots sleeping as sound as ever. Some very exciting and wonderful options are on the market today. On this page, we have beds that inflate or fold, and one that is made up of your king-sized pillows. Some of the toddler beds have choices of size and color, while others come with some nifty added accessories to make the sleeping encounter more pleasurable. Several of the bedding options can even be taken on airplanes because they pack up so well for transporting.
Once you have the mattress or other types of transportable bed chosen for your toddler, you have the perfect item for a great night's sleep. However, you can improve the event by heeding some tips. Before you travel, let your child sleep in the bed or on the mattress at home that they will use on the trip. The shock of a new place to sleep will not be so much and sleep will come much easier. Let the child bring along a favorite toy or stuffed animal that they can sleep with to make the occurrence calmer. Even using sheets or blankets from home will make a big difference in decreasing the excitement level of the toddler. To prevent disruption of sleep patterns, plan trips so they begin right after the child's nap time. Now let's look at our selections for the best toddler travel beds and portable air mattresses for kids in 2018.
The Best Toddler Travel Beds & Portable Air Mattresses Reviewed in 2018
The Shrunks Toddler Travel Bed Portable Air Mattress
AeroBed Air Mattress for Kids
Lazery Sleep Air Mattress Airbed
hiccapop Inflatable Toddler Travel Bed with Safety Bumpers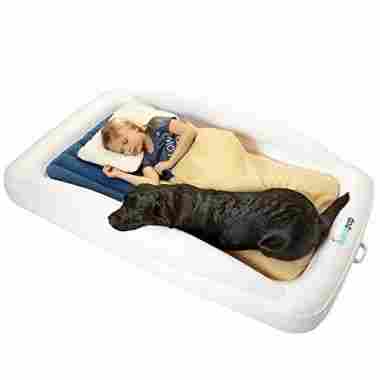 SoundAsleep Dream Series Air Mattress with ComfortCoil Technology & Internal High Capacity Pump – Queen Size
Kid's Floor Pillow Bed Cover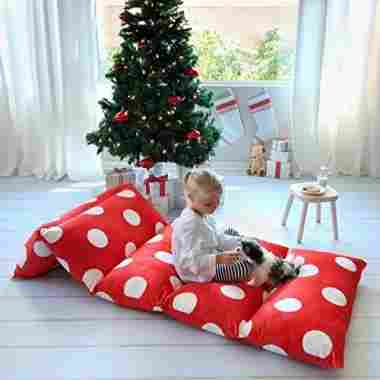 Trifold Foam Folding Mattress
Intex Kids Travel Bed Set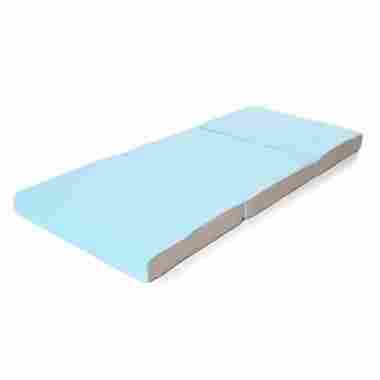 Regalo My Cot Portable Toddler Bed
Intex Pillow Rest Classic Airbed
Active Era Premium Twin Size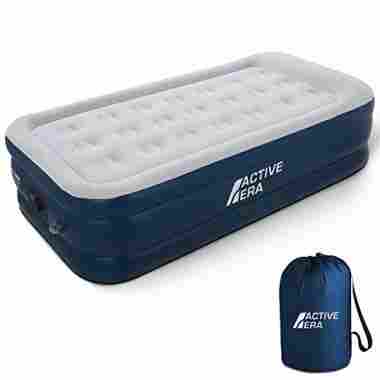 Criteria Used in Evaluation of the Best Toddler Travel Beds & Portable Air Mattresses
Suitable for Toddlers
Bedding options that are suitable for toddlers must be the proper size, able to fit well with sheets and blankets of crib or twin-size and be safe and secure. These requirements must be met for a good night's sleep for the child and the parents. Each of these items that we feature is perfect for young kids because they were created specifically for them. Most fit crib-sized sheets and blankets and can support the usual weight of a child in the toddler age range. Some of the mattresses come with a raised edge or guard rail to prevent the kid from unexpectedly falling off of the mattress and hitting the floor. This edge also provides a security zone for the child so they feel safe. They can simply reach out to feel this raised section to know that they are still safely tucked into their bed.
Transportable (deflate or fold)
One of the most desired features of portable sleep equipment is that it be very easy to transport and handle. All of these items meet that condition very well. They are lightweight, flexible, and can be compacted into easy-to-carry parcels. The air mattresses can deflate and inflate quickly, especially the ones with electric pumps. These can fold into small packages for storage and travel. The foldable options, such as the foam sectioned mattresses, compress into neat bundles for convenience. Most come with storage or carrying bags to make them care-free travel items. Because they do not weight very much, these mattresses make great sleep options that can be carried onboard airplanes, buses, and trains to be used at the destination point. Even kids can tote most of the bed options we list here.
Comfort Level/Easy to Use/Durable
Durability is a necessity of a portable mattress because it will probably be used quite often and by children that may not be the most kind to it. Toddlers have plenty of energy and they love to jump on inflatable or spongy things, so these mattresses must be able to withstand some amount of abuse. A few of them come with patches or repair kits for that occasional blow-out when it is least expected. All mattresses here are very easy to use, set-up and take down. As far as comfort for transportable bedding, these bedding options are the best that purchasers liked and wanted to tell others about. Kids should be quite restful and snug on any of these mattresses because they have been created for children at their unique comfort level, size, and body shape.
FAQ
Frequently Asked Questions
Q: Concerning the portable folding cot, could a 4-year-old flip out of the bed? Does it have a bar or something in the middle for support? Is this support uncomfortable?
A: Yes, a toddler could flip out of this cot. It is best to wedge it between beds or against a wall to provide some boundaries. There is a support bar in the middle of the cot. There were a few complaints from purchasers concerning this, but overall toddlers were comfortable with the support bar.
Q: For the LUCID Folding Mattress, does it keep its shape after many uses? Is it latex-free?
A: Yes, reviewers say it does hold its shape and firmness after many uses. Yes, it is a latex-free product.
Q: Can the pillow be removed from the Intex Built-In Pillow Air Mattress? Does it come with a carrying case?
A: No, the pillow cannot be moved or adjusted on this mattress. It is made into the product. Yes, it does come with a duffel bag to transport it. The mattress folds up rather compact and put in the duffel bag that has a shoulder strap.
Q: Is the AeroBed Air Mattress for kids good for a six-year-old?
A: Yes, this is the perfect size for a child that age. One reviewer said that even an eleven-year-old slept on it comfortably. It can hold up to 150 pounds and it has the raised edges to keep the child in place on the mattress.
Q: Are the pillows included with the Kids Floor Pillow or is it just the cover? If the pillows have to be purchased separately, which size should be bought and how many?
A: As the description states, the pillows for the cushion part of this mattress/lounger are not included. This is just the cover that you put the pillows in. Each section has a zippered area to put one pillow of your choice. It takes five pillows to make the entire mattress. These can be any size, but reviewers say that the firm, queen-sized pillows are best. These can be bought cheaply at dollar stores.
Q: Can the Trifold Folding Mattress be used as an extra cushion for a cot?
A: Yes, it would be ideal for an extra layer of support on a folding cot. These don't usually come with much support for the back, so this would be a great solution.
Q: What size sheets would the Trifold Mattress take and does it make any squeaking noises when you use it?
A: The sheets that fit this mattress best are the twin-sized sheets. No, it does not make any noises when you sleep on it or roll over on it. It is mostly air mattresses that make these noises which can be quite bothersome at night when you are trying to sleep.