10 Best Toddler Travel Beds & Portable Air Mattresses for Kids in 2019
last updated
Jul 15, 2019
When traveling the last thing a parent wants to worry about is finding a bed that suitable for their tiny toddler. When having your own travel bed with you, parents won't have to worry about their toddler falling out of a bigger bed instead of a toddler bed meant for them. We came up with a top ten list of the best toddler travel mattresses that we know parents will love. We are sure you will find one that will match your families style and your little one will peacefully sleep during those traveling nights.
In a Hurry? The test winner after 23 hrs of research
The Shrunks 60 x 37 x 9
Why is it better?
Comes with a lifetime warranty
Has a safety wall around the perimeter
Uses standard-size crib sheets and blankets
Includes a carrying bag, repair kit, and a Jetaire Electric Pump
Constructed of safe materials – is BPA, lead, and phthalate free
In a
Hurry? Editors choice:
Test Winner: The Shrunks 60 x 37 x 9
15
Researched Sources
23
Hours Researching
14
Products Evaluated
Design
Comfort
Value
By Default
10 Best Toddler Travel Beds & Portable Air Mattresses Reviewed
1

. The Shrunks 60 x 37 x 9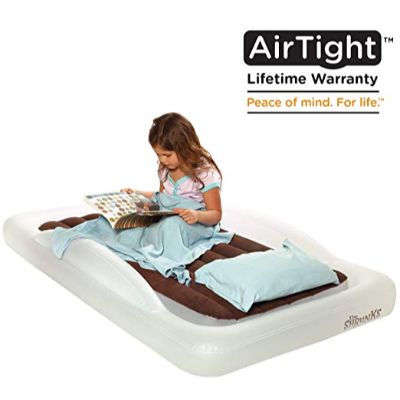 Comes with a lifetime warranty
Has a safety wall around the perimeter
Uses standard-size crib sheets and blankets
Includes a carrying bag, repair kit, and a Jetaire Electric Pump
Constructed of safe materials – is BPA, lead, and phthalate free
Some say it is hard to clean
A few remarks about patches not staying in place
Some air mattresses squeak and make loud noises while they are in use, but this marvelous air mattress does not. Because of its flocked material top, it will make noises that other plastic mattresses do. With an award-winning design, this air mattress was specially created in size and shape for a toddler's body. The outer rim of the bed is raised to create a wall of safety that will help keep the child on the mattress and make them feel secure while they sleep. Another safety measure taken by the manufacturer is that the item is constructed of only the safest materials, making it free from phthalates, BPA, and lead chemicals.
Read more
Design
Standard-sized crib sheets and blankets tuck easily into the inner part of the mattress for a perfect fit. Along with the mattress, you get a nice carrying bag and a repair kit for an unfortunate air leak. Inflating the item could not be any easier than with the included Jetaire Electric Pump. It is a compact, strong pump that will inflate the mattress very quickly. This is an all-around nifty package for your toddler's sleeping needs.
Comfort
When an air mattress comes with an air pump to inflate it, it really becomes a wonderful item. Nothing could be more inconvenient that having to blow up a mattress manually or having to purchase a pump separately. This nice little package takes care of it all.
Value
The Shrunks Portable Inflatable Mattress is on the slightly higher end of the price spectrum when it comes to children's portable mattresses, and is still a smaller investment than other styles of travel bed. It does, however, also sport some pretty cool features that explain the price difference. It's designed for easy sheet tucking so kids can roll and thrash without getting tangled, while inflatable guard rails keep them safely in place.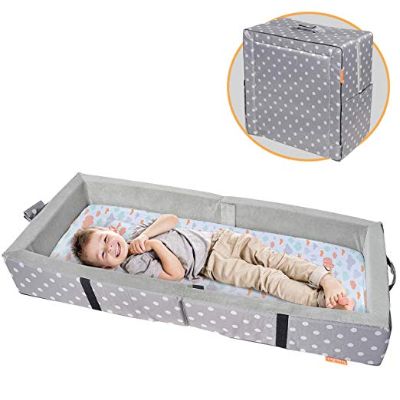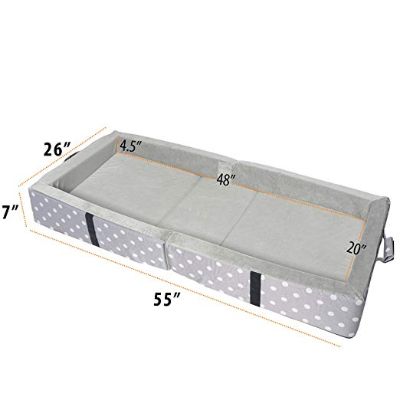 Easy to clean
Waterproof
Easy to store
Perfect bed for transitioning
Some customers had issues with the zipper
Even inflatable beds can be a pain in the behind. The air pumps, the deflating, the folding and dragging the heavy material in and out of storage. If you want something that truly just folds up and moves with you, consider the Milliard Portable Toddler Bumper Bed. This bed is safe, cozy, convenient, and it travels as sweet as the dreams your little one will have in it.
Read more
Design
This mattress is waterproof and made of a plush material so it is nice and soft. It also makes it extremely comfortable for your little one to sleep on for all of those family travels. This mattress is easy to store as it can just fold right up into a little square making it take up no space at all once morning time comes.
Comfort
It's also machine washable. This bed even comes with a fitted sheet. It's the perfect bed as well if you are transitioning you're toddler into a toddler bed.
Value
This is definitely a bigger investment than the air mattresses, though not by too much if you're comparing it to the higher-quality inflatable beds and to some of the other travel bed options. It also requires a lot less maintenance, is easier to use if you're traveling/transporting it frequently, and will last children until they're roughly 5 or 6 years old.
3

. Lazery Built-in Electric 7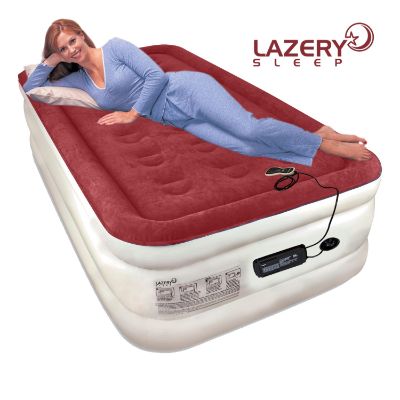 Twice the height and thickness of regular air mattresses
Has a built-in inflating pump with LED remote control
Includes a waterproof soft-textured top covering
Comes with 7 remote settings for firmness controls
Features material resistant to punctures and tears that will hold up to 500 pounds
One reviewer says the color fades
A few stated that the item was smaller than expected
Given that this is not a single-toddler air mattress, it's one of the most expensive items on our list. It's big enough to fit 2-3 toddlers though, or mom or dad can use it to cuddle up with their favorite little bean! If you're in the market for something the whole family can use, this is your best bet.
Read more
Design
This will prevent the user from waking up to a partially deflated mattress and being uncomfortable in it. It is twice the overall thickness and height of other brands air mattresses, offering the most comfortable sleep possible. A velvety soft covering tops off this bed, which is very easy to clean and maintain. The durable plastic vinyl of the mattress is resistant to tears, rips, and punctures, plus it can hold up to 500 pounds of weight. Thus, more than one person can use this mattress at a time. It would make a wonderful sleep-over option for family members, too.
Comfort
An air mattress with settings for firmness is absolutely fantastic! Mattress firmness is such an individual thing and with seven choices, your child can certainly find the most perfect selection. The fact that the firmness level will be maintained automatically is just a superadded plus!
Value
This is the thickest air mattress we have viewed yet in our findings. It just looks so comfortable because it is almost the same height as a regular bed.
4

. Hiccapop Inflatable with Safety Bumpers*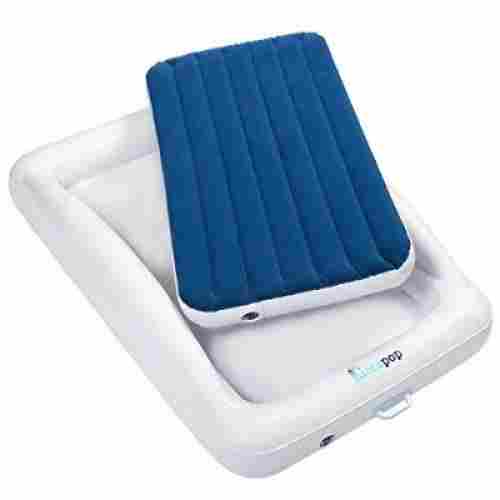 Includes a large travel bag and a turbo-electric pump
Has reinforced seams and a super sturdy air valve
Easy to store – deflate and roll up
Fits most standard crib sheets and blankets
Has rail bumpers for safety
Can have a plastic smell right out of the box
A few people did have problems with sheet sizes
Kids will love this hiccapop air mattress because it is so comfortable and fun to sleep in, even just for home use when a baby bed is too small. It is covered with a velvet material that is soft to the touch and easy to clean. This mattress has a lifetime guarantee that you will be satisfied with it because a lot went into the design and construction.
Read more
Design
It has seams that are reinforced along with a sturdy air valve that will make it almost leak-proof. An electric air pump is included to make inflating hassle-free. The vinyl of the mattress is 40% thicker than what competitors use for these items. The whole bed is 25% longer and taller most other mattresses too. Raised rail bumpers will keep your toddler snug and secure in this cute bed that is made with chemical-free materials.
Comfort
The rail bumpers on this mattress make it one of the safest bedding options on the market for your toddler. Even if the child does not usually have an issue with falling out of bed, these features add to the safety and security level so the kid can have a peaceful night's sleep.
Value
This inflatable toddler bed sits right around the median price, hovering just above it. The middle removes so you can tuck your sheets tightly, and it includes a compact storage and travel bag you can roll the mattress up into for when you're on the go or need to put it away for a while.
5

. SoundAsleep Dream Series Queen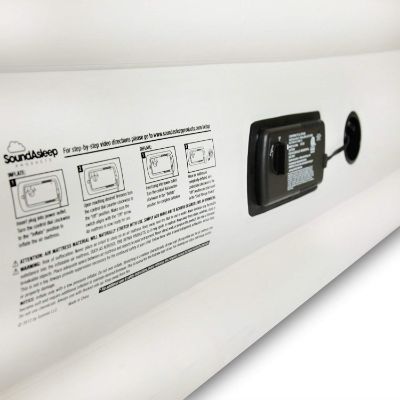 Modern 40-coil technology for added support
Inflates in less than four minutes
Deflates easily
Can be rolled up and stored away
Large enough to fit multiple kids
This bed does have some height to it and no way to keep kids from rolling off
If you want your toddler to have an air mattress that's fit for a king or queen, then SoundAsleep offers one that will make your entire family happy. This bed features 40 air coils that help to comfort and soothe your child as they lay down at bedtime to offer proper support, which is often lacking in air mattresses.
Read more
Design
It takes less than four minutes to inflate this which makes it ideal for traveling and great if you need to save space quickly. It can be rolled up to store away and can fit a toddler comfortably; since it's a queen-size mattress, it can probably fit more than one child for bigger families.
Comfort
This bed comes with a one-year guarantee in case anything goes wrong which is comforting with the price you pay for it. It's great for larger families and extremely helpful when you don't have space for an extra bed.
Value
Another family-sized mattress, this one is not a light investment to make and throw around. This mattress is large enough to sleep an adult and child, or a few kids at once. It's heavy-duty, so it will last a while! But it's also bulkier and not the best option if you're looking for something small and light to take to grandma's every other weekend.
6

. Butterfly Craze Floor Pillow Bed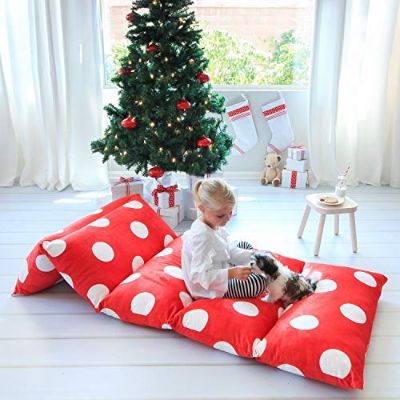 Made of soft material that is delicate to sensitive skin
Easy to handle – even for kids
Can fold unfold completely for a bed or fold into a chair
Several colors are available
Comes in two different bed sizes
Zippers may break easily and stitching is not the best
Complaints that the description was not explicit in saying that this was the bed cover (pillows must be purchased separately to make the mattress)
It's pretty, it's puffy, and it's portable: it's the Butterfly Craze Floor Lounger. This comfy, fluffy, floor-bed comes in seven different styles. It's probably the least amount of maintenance and the lightest option on the list. It's a pillow bed, so the cover comes separately and then you can stuff it with pillows from around your home or buy spares that always live inside the casing. It's even machine washable so you can rest easy that your little one is always cradled in something soft and clean.
Read more
Design
Kids will love the colors and huge polka-dot design, and parents will love the versatility of this wonderful item. The material is so soft and not abrasive to sensitive skin. It can be used every day for watching TV, traveling, and family gatherings, but it is most used for slumber parties say, reviewers. Several wonderful color choices are offered, so just pick your favorite. These mattresses are so easy to handle and move around, plus they are machine washable and fade-resistant. Two mattress sizes are available, so portable beds just don't get any easier than this.
Comfort
The versatility and lightweight design make this mattress so easy for kids to use. They can put it together themselves and put it wherever they want. It can be carried and stored effortlessly by even small kids.
Value
The Butterfly Craze Lounge Sleeper is one of the least expensive options on our list. It's not inflatable nor is it as sturdy as some of the other fold-up mattresses. But it's great if you just need something to use time to time and don't want to drop a lot of money on an item you don't frequently take out.
7

. Cozzzi Trifold Foam Multi-Purpose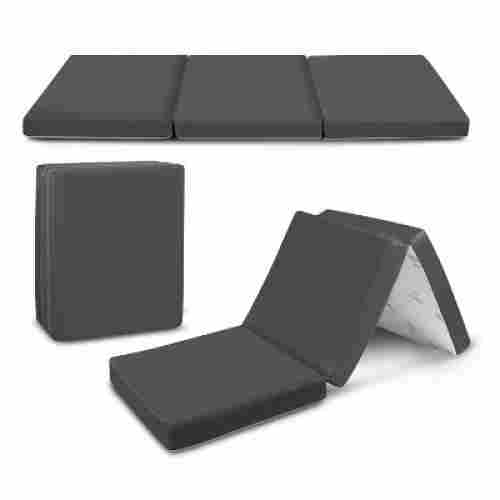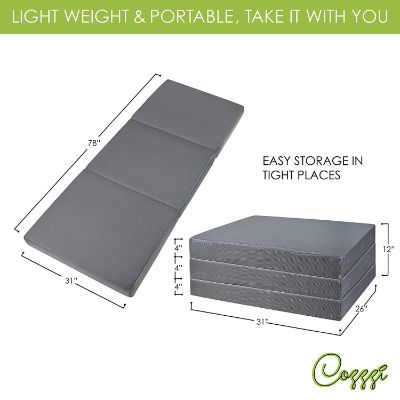 A comfortable and convenient substitute for air mattresses
Made of high-density firm foam material
Lightweight and easy to transport
Can also fold into a couch or chair
Cloth covering can be unzipped to clean – machine wash and dry
Some complaints of the item smelling like plastic
A few remarks about the thickness of the mattress
This folding mattress is a wonderful alternative to air mattresses, especially if you do not want to bother with air pumps and air leaks. Foam mattresses such as this one can be counted on to hold their shape, so you don't wake up on a flatbed. This one is made of high-density foam that is chemical-free, so it is safe for kids.
Read more
Design
It folds into a chair, sofa, or bed, and can be used almost anywhere one of these is desired. It is easy to transport because you only need to fold its three sections on top of each other and carry it away. The velvet-soft cloth covering can be unzipped and machine washed, so it is trouble-free in keeping it clean.
Comfort
Because this mattress is not filled with air, there is no need to have to deflate, inflate, or patch up the air leaks that usually develop over time with air mattresses. This folding foam bed option should outlast the competition by several years because it is hassle-free.
Value
This is a pretty average price for a folding bed, a little more expensive than some competing items and less expensive than others. It's sound in quality and design, easy to use, and doesn't take much time, technique, or strength to fold up and put away. It's great for kids who might want to drag it around and put it away without adult assistance.
8

. Active Era Premium Twin Size*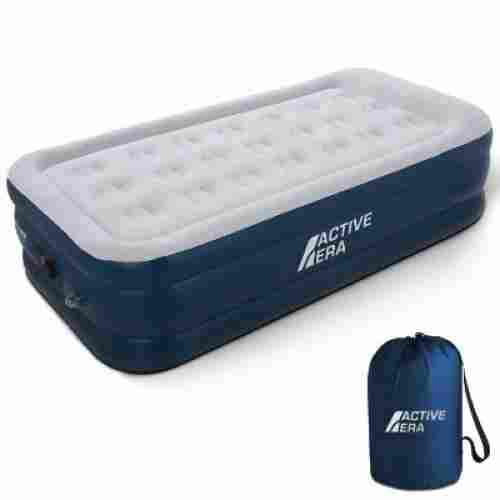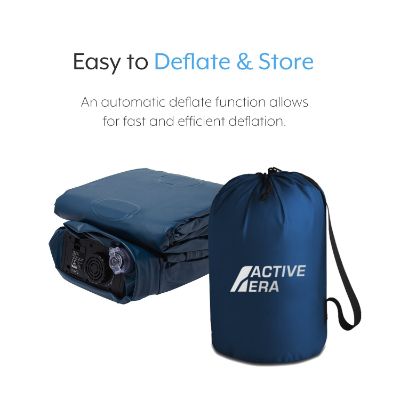 Built-in electric pump fully inflates the bed in 90 seconds
Integrated raised pillow section provides neck support and added comfort
Made using 15-gauge puncture-resistant material for long-lasting use
Waterproof top layer easily wipes clean in case of accidents
The valve can be difficult to close and may leak air if not shut properly
Shorter than a standard twin-size mattress (71 inches rather than 75 inches)
Your little one is getting big! They have outgrown their crib at home and have moved on to a toddler bed or even a twin big kid bed. Now it's time for the annual trip to grandma and grandpa's for the holidays and you're in a pickle. The pack 'n play is too small and letting them sleep in the spare guestroom bed with you pretty much guarantees that you'll spend the whole trip running on little to no sleep!
Read more
Design
The Active Era Premium Twin Size air mattress is here to save the day! This portable, inflatable mattress is the perfect size for your little one to have their own sleeping space in the hotel room, guest room, or even back of the car during your next family vacay! This highly durable mattress is made of a puncture-resistant material to prevent leaking and popping. No amount of jumping or jostling will leave your little one on the floor! Once deflated, the mattress quickly rolls flat and stores in the included tote bag for quick set up and tear down!
Comfort
This air mattress utilizes an extra-thick flocked top layer that, while soft to the touch, is made with a waterproof and highly durable material. It can wipe clean in the event of any nighttime accidents and is extremely difficult to puncture or pop. It also incorporates a built-in electric pump that can fully inflate the bed in less than two minutes. One of the best features of this mattress is the built-in pillow which has been designed to provide neck support which can prevent headaches and help your child get a long night of restful sleep. It also helps you pack lighter as there is no need to bring an extra pillow!
Value
This air mattress is thick, a great size for kids (as it allows them plenty of room to grow), and it's less expensive than a lot of similar options. It's twin size and durable, but it's not easy for children to handle on their own so be prepared to do the setup and strike labor on your own.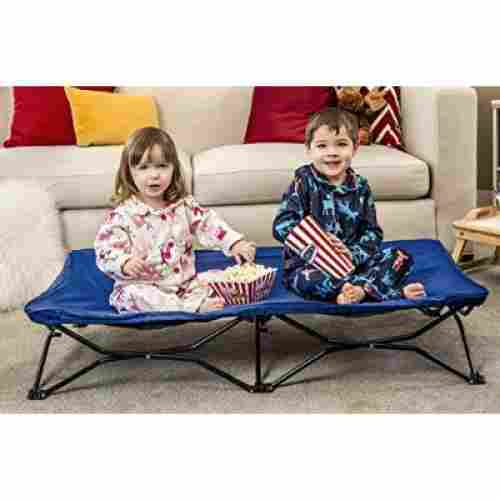 Has a flocked top for comfort and quiet sleep
Is waterproof and easy to clean
Includes a repair patch and an inflatable pillow
Great for 2-year-olds and older
Several color choices are available
A couple of complaints that it is too small even for small kids
Some say that neither twin nor crib-sized sheets fit it well
For one of the best economical mattresses for kids, this inflatable air bed is fantastic. It is covered with a flock material that makes is soft and comfortable. This will make the mattress less noisy when in use as well because uncovered plastic tends to squeak. Even the inflatable pillow is covered with it also. Both pieces are waterproof and very easy to clean.
Read more
Design
There are several bright, neon colors to choose from and this makes a great sleeping option for kids two years old or older. A repair patch is included in case of an unfortunate hole or tear. This mattress can be securely wedged between other beds or mattresses to make a safe sleep environment for any toddler.
Comfort
The cute little blow-up pillow that comes with this mattress is just adorable. It is a perfect match not only because of the material but because of the size and color. Any child would love to use this wonderful sleep set.
Value
It's not the most comfortable bed on the list as a standalone, but it is the least expensive and you can easily spruce it up. This cot folds up and sets up without much hassle. If you want a more luxurious sleeper for your sweetpea, add a foam pad on top for a little extra cushioning.
Super easy to set up
Includes a pump
Features side walls to keep kids on the bed
Comfortable
The patches don't always hold to the bed
Put your little ones in the ring! This toddler travel bed features a soft, inflatable bumper all around to keep toddlers out of too much trouble. The inner mattress is removable so you can tuck the fitted sheet around it without trouble and keep it in place throughout the night. It's roughly the size of a twin and includes an air pump and a travel bag.
Read more
Design
The pump is included and will make inflating this bed an absolute breeze -- No pun intended. It's great for camping since it has good support on the solid ground. It's also a great little bed to have handy in the event that family or friends come to visit since it can be pulled out and set up at a moment's notice with no fuss whatsoever.
Comfort
For a simple and super affordable bed, Intex is the original pioneer of the inflatable bed world. You can be assured that this bed will be comfortable and won't give you issues deflating in the middle of the night or becoming uncomfortable.
Value
This sits just below the median price for travel beds and is also in the less expensive tier of our guide. The quality of the mattress itself is pretty standard but the pump might give you a little extra trouble. If you're happy to exchange a bit of extra grit for a discount, this is your item! If you don't want the hassle, opt for one of the other inflatable beds.
Criteria Used for Evaluation
Design
When coming up with our top ten list we needed to make sure we found nothing but the best of these mattresses for our list. We looked at everything from style, how easy these were to store, how easy these mattresses are to clean. We also looked at reviews and looked at all customer feedback including what was positive and what was negative. We carefully considered the materials that each mattress was made of making sure that there were no materials that could be harmful to toddlers.
We wanted to make sure that toddlers could also easily get in and out of these mattresses but without the fear of them rolling off in the middle of the night. Some of the mattresses on our list don't even make noise because of the material that they were made which are perfect for those children who have some sensory issues come night time. We are sure whatever mattress you are looking for you will find one with our top ten list.
Comfort
Durability is a necessity of a portable mattress because it will probably be used quite often and by children that may not be the most kind to it. Toddlers have plenty of energy and they love to jump on inflatable or spongy things, so these mattresses must be able to withstand some amount of abuse. A few of them come with patches or repair kits for that occasional blow-out when it is least expected. All mattresses here are very easy to use, set up and take down. As far as comfort for transportable beds, these bed options are the best that purchasers liked and wanted to tell others about. Kids should be quite restful and snug on any of these mattresses because they have been created for children at their unique comfort-level, size, and body shape.
Value
Bedding options that are suitable for toddlers must be the proper size, able to fit well with sheets and blankets of crib- or twin-size and be safe and secure. These requirements must be met for a good night's sleep for the child and the parents. Each of these items that we feature is perfect for young kids because they were created specifically for them. Most fit crib-sized sheets and blankets and can support the usual weight of a child in the toddler-age range. Some of the mattresses come with a raised edge or guard rail to prevent the kid from unexpectedly falling off of the mattress and hitting the floor. This edge also provides a security zone for the child so they feel safe. They can simply reach out to feel this raised section to know that they are still safely tucked into their bed.
Most Important Criteria
(According to our experts opinion)
Experts Opinion
Editors Opinion
Users Opinion
By Default

Parents, Did you Know?
Having a toddler bed makes traveling with a toddler more comfortable for everyone. Not only is the bed compact and easy to travel with, it also allows them to bring everything special from home. It makes bed time routine that much easier.
Parents, Did you Know?
Travel toddler beds are a great way to provide your toddler with a comfortable place to sleep, but it also opens up the world of accommodations for traveling. The more kids you have the more expensive traveling gets. Having them travel with their own bed gives you more choices and gives them great accommodations.
Other Factors to Consider

Portability
One of the most-desired features of portable sleep equipment is that it be very easy to transport and handle. All of these items meet that condition very well. They are lightweight, flexible, and can be compacted into easy-to-carry parcels. The air mattresses can deflate and inflate quickly, especially the ones with electric pumps. These can fold into small packages for storage and travel. The foldable options, such as the foam-sectioned mattresses, compress into neat bundles for convenience. Most come with storage or carrying bags to make them care-free travel items. Because they do not weigh very much, these mattresses make great sleep options that can be carried onboard airplanes, buses, and trains to be used at the destination point. Even kids can tote most of the bed options we list here.
Frequently Asked Questions
q:

Concerning the portable folding cot, could a 4-year-old flip out of the bed? Does it have a bar or something in the middle for support? Is this support uncomfortable?

a:

Yes, a toddler could flip out of this cot. It is best to wedge it between beds or against a wall to provide some boundaries. There is a support bar in the middle of the cot. There were a few complaints from purchasers concerning this, but overall toddlers were comfortable with the support bar.
q:

For the LUCID Folding Mattress, does it keep its shape after many uses? Is it latex-free?

a:

Yes, reviewers say it does hold its shape and firmness after many uses. Yes, it is a latex-free product.
q:

Can the pillow be removed from the Intex Built-In Pillow Air Mattress? Does it come with a carrying case?
q:

Is the AeroBed Air Mattress for kids good for a 6-year-old?

a:

es, this is the perfect size for a child that age. One reviewer said that even an 11-year-old slept on it comfortably. It can hold up to 150 pounds and it has raised edges to keep the child in place on the mattress.
q:

Are the pillows included with the Kids Floor Pillow or is it just the cover? If the pillows have to be purchased separately, which size should be bought and how many?

a:

As the description states, the pillows for the cushion part of this mattress/lounger are not included. This is just the cover that you put the pillows in. Each section has a zippered area to put one pillow of your choice. It takes five pillows to make the entire mattress. These can be any size, but reviewers say that the firm, queen-sized pillows are best. These can be bought cheaply at dollar stores.
q:

Can the Trifold Folding Mattress be used as an extra cushion for a cot?

a:

Yes, it would be ideal for an extra layer of support on a folding cot. These don't usually come with much support for the back, so this would be a great solution
q:

What size sheets would the Trifold Mattress take and does it make any squeaking noises when you use it?

a:

The sheets that fit this mattress best are twin-sized sheets. No, it does not make any noises when you sleep on it or roll over on it. It is mostly air mattresses that make these noises which can be quite bothersome at night when you are trying to sleep.