If you're putting the baby down for some well-earned Zzz's, you probably want to give them the best shot at sleeping soundly through the night. (We know this is a long shot for most infants–but can you blame us for trying?) Cribs can be a wonderful, cozy place for little ones to dream the night away. After you've picked out the right crib and mattress for your family, next up is the sheets. You'll want something soft, easy to clean, and safe. It will need to be fitted so that it won't bunch up or slip out from under the mattress, and preferably hypoallergenic. Bonus points if the design is cute! Luckily, we know our way around when it comes to selecting high-quality products. Take a look at our top ten crib sheets, curated specifically for the best night's sleep a baby (or parent!) could ask for.
10 Best Crib Sheets Reviewed
1. Brolex Stretchy Fitted
The Brolex Stretchy Fitted Crib Sheet is number one on our list. This sheet is
made of soft material
so your baby will be comfortable. It will not slip off of your baby's crib mattress.
Expand to see more
This sheet set will have your nursery looking fashionable and your baby feeling comfortable. The fabric this sheet is made of can help to keep your baby cool on a warm summer night. The soft cozy Brolex sheets in this set will have your baby snuggling down to sleep in no time.

Benefits
These sheets are super soft and will keep your baby feeling cozy. The jersey knit fabric will keep your baby cool during the night. The elastic edging makes it easy quickly change this sheet as needed when your little cutie makes a mess. You and your little one will be glad to have these crib sheets around.

What We Like About It
This crib sheet will help keep your baby at a comfortable temperature while they sleep. It is soft and cozy and will stay in place as your little one wiggles around the crib. The fully elastic edging is a great safety feature to keep this sheet fitting snugly all night long.

Cost and Value
This crib sheet is priced at the bottom of our list. It is a fantastic value for a great jersey knit sheet. You will be pleased with the money you spend on this crib sheet.
Pros
Jersey knit material
Full elastic edging
Machine washable
Soft
Cute patterns
Cons
The material can pill over time
2. Burt's Bees Thin Stripes
Burt's Bees Crib Sheet nabs our number two spot. This crib sheet is 100%
organic
so you don't have to worry about synthetic materials near your baby's precious skin.
Expand to see more
This sheet is packed with safety features so both you and your little peanut can rest easy. The gender-neutral design will work with any nursery decor. This is the perfect sheet for your baby's sleeping needs.

Benefits
Burt's Bees fitted crib sheets contain BeeSnug 360 degree premium elastic. This premium elastic is around the entire edge of the sheet and it is fully encased. This sheet also has an extra long overlap at the bottom to keep the sheet in place. These amazing safety features will help to keep the sheet from moving around and keep your little one sleeping safely.

What We Like About It
The best feature of this sheet is the GOTS certified 100% organic cotton fabric it is made from. You don't have to worry about harsh chemicals in this sheet, because Burt's Bees only uses organic cotton that was grown without the use of pesticides. This material is anti-pill and super breathable, so your baby will be comfortable for many nights to come.

Cost and Value
The price for this premium crib sheet is near the top of our list. You will love the fact that you are laying your baby down on an organic sheet that is loaded with safety features. Your little love bug will love the fact that it is made from super soft and breathable material.
Pros
100% organic cotton
BeeSnug fully encased elastic edging
Anti-pill fabric
Gender neutral design
Easy to care for
Cons
The extra material near the bottom can cause the fabric to sag on some mattresses
The 360 elastic can make it difficult to put on the crib mattress
3. Amazon Basics Heather Jersey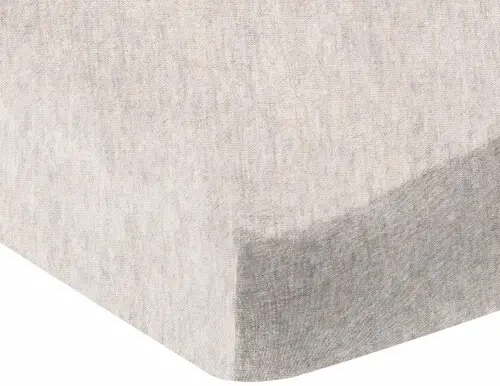 This Amazon Basics brand crib sheet has our number three spot. This super soft crib sheet is like sleeping on your favorite old t-shirt.
Expand to see more
The material is very breathable to keep your little peanut at peak comfort throughout the night. It will stay put snuggly on your crib mattress. This is one crib sheet you will love to use again and again.

Benefits
This sheet comes in a variety of colors to fit your carefully thought out nursery decor. The one hundred percent cotton fibers work to wick away moisture. If your baby sweats during the night, this sheet will keep your little one comfortable and dry. You will be glad you have this crib sheet on hot summer nights.

What We Like About It
The jersey knit material is super soft and comfortable. Your little one will love to rest their face against this sheet. The softness will help to lull them into a deep sleep. When it inevitably gets dirty just pop it in the washer and dryer for a quick and easy clean.

Cost and Value
This crib sheet is near the bottom of our price list. It is a fantastic buy for a cozy comfy sheet that will help your baby sleep well. This sheet is super affordable, you should go and buy a few!
Pros
Easy to clean
Soft
Durable
Fashionable
Safe
4. M & Y Fitted 3-PACK
The M&Y Fitted Crib Sheet is our number four pick. This sheet is soft and
safe for your little love bug
. You will feel confident that your baby is safe with this sheet in their crib.
Expand to see more
The material is breathable so it is good for any climate. This soft and durable sheet will keep your baby comfortable for a cozy night of sleep. It is perfect for nap time too! This crib sheet will have you feeling safe and baby sleeping soundly.

Benefits
This sheet has a nine-inch skirt. A sheet skirt is the section of the sheet that goes around the sides of the mattress. The reason a nine-inch sheet skirt is a benefit is that it will have more material to tuck around the bottom of the mattress and be less likely to come off during regular use.

What We Like About It
This sheet set comes in a package of three so you already have half of the sheets you will need all in one package. This is the perfect set of sheets to purchase for a baby shower gift. These sheets will stay put and keep your baby comfortable while they sleep. These are the best sheets for your little peanut.

Cost and Value
The price of these sheets is near to the bottom of our price list. These sheets are a great value! your pocketbook will be pleased and your baby will be snuggly in the soft comfort of these sheets.
Pros
Hypoallergenic
Soft material
Easy to clean
Breathable fabric
100% money back guarantee
Cons
Not as stretchy as other sheets
Double check the size of your mattress, this sheet will sometimes fit to loose or too snug
5. American Baby Company
The American Baby Company has our number five spot. This sheet is super soft like your favorite t-shirt. It will surround your crib mattress in cozy comfort and make sleepy time comfy for your little baby.
Expand to see more
These sheets are perfect to grow with your little one. They can fit on your crib mattress and your toddler mattress.

Benefits
American Baby Company made these sheets out of three different pieces of soft jersey material. The longer sides of the sheets ate separate pieces of material to help the sheet stay in place on your baby's crib mattress. This is a great safety feature that will make you feel comfortable leaving your new baby to sleep for naps and bedtime.

What We Like About It
This soft sheet only has elastic on the short sides so it will be easier to put on your baby's bed. You don't have to fight with pulling it down on all sides. It also has extra large nine-inch pockets so it won't slip off the baby's mattress.

Cost and Value
The price of this sheet is the lowest on our list. It is a fantastic value. You will feel comfortable leaving your baby to sleep on this cozy sheet.
Pros
Stylish
3 piece construction
9-inch side pockets
Soft
Easy to clean
Cons
Elastic is only on the short sides
6. Ely's & Co. 2 Pack 100% Jersey Cotton
Ely's & Co. takes our number six spot. This sheet set comes in a group of two and it is gender neutral. It is the perfect pick for a family that does not want to know the baby's gender until birth or a family that is having multiples.

Expand to see more
This is also great for a family that is choosing gender neutral decor for the nursery. This cozy sheet set will keep your baby comfortable and cozy. You will have a fashionable nursery with this sheet choice.

Benefits
This jersey knit cotton sheet is as cozy as an old t-shirt. Your baby will relax into its soft coziness. It comes in a set of two sheets. This sheet set is great to have on hand so you have a spare ready for any messes. You and your baby will love this sheet set!

What We Like About It
This sheet is made with adaptable elastic so it will properly fit different size crib mattresses. The Ely's & Co. sheet set is the perfect addition to your nursery. It will allow you to quickly change the crib linens in case of messes.

Cost and Value
The price of this sheet is in the middle range for out list. You will be pleased with the price and the features this sheet set offers.
Pros
Set of 2 sheets
T-shirt like softness
Gender neutral pattern
Adaptable elastic
High quality
Cons
Shrinks if washed in hot water
7. TILLYOU Microfiber Silky Soft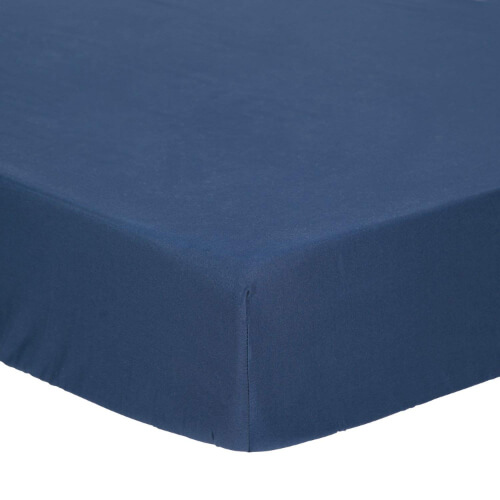 The Till You Microfiber Crib Sheet is our number seven pick. This sheet has superior softness, because of the soft microfiber material it is made from. It is environmentally friendly.
Expand to see more
It comes packed with safety features! You will love having this comfortable sheet around for your little one. They will love the silky softness and you will love the fact that it is hypoallergenic.

Benefits
This sheet is made of microfiber material that makes it feel extra silky against your baby's soft new skin. This hypoallergenic sheet will not irritate your baby's skin because it is allergen free. This company follows the Consumer Product Safety Standards when creating and manufacturing products. You can rest easy knowing this crib sheet is safe for your little one.

What We Like About It
This sheet has three-piece construction so you won't have to struggle to figure out how the sheet fits. It has a fully encased elastic band that is on the bottom edge of the sheet to keep it snugly secure while your baby sleeps and plays in their crib.

Cost and Value
The price point for this sheet is on the lower side for the sheets on our list. You will feel comfortable with this sheet because it is hypoallergenic and follows national safety standards. This sheet is a great value and will be easy on your pocketbook.
Pros
Microfiber material
Fully encased elastic band
3 piece construction
Follows federal CPSA standards for safety
Comes in a variety of colors
8. Cuddly Cubs Jersey Knit Cotton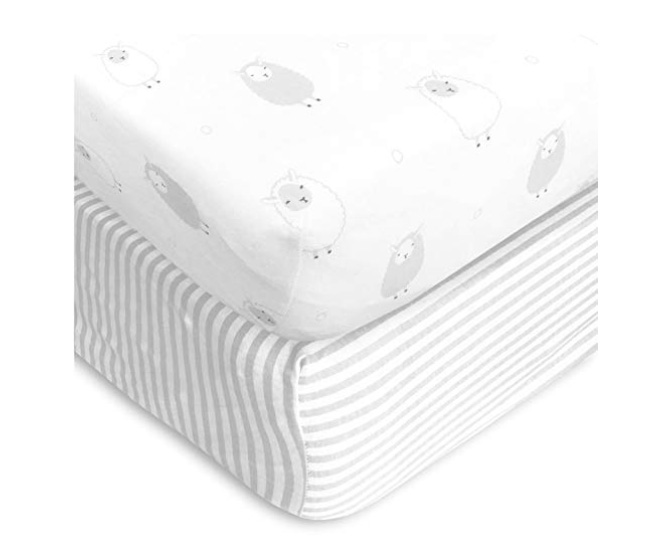 With a 150+ gsm fabric, these sheets are made from ring-spun cotton, with a jersey knit that is not just soft but warm and breathable, giving your baby the utmost in comfort. They're responsibly sourced and made, products of non-harmful textile production, and pesticide free.
Expand to see more
They come pre-washed, and can be put in the machine washer and dryer for simple clean up. An elastic band surrounds the entire perimeter of the sheet, keeping it snug and secure against the mattress. A ten inch deep pocket prevents these bed sheets from coming untucked and getting in baby's way or presenting a choking hazard. This two-pack allows you to always have an extra one handy, even when your standard sheet is in the wash.

Benefits

The elastic perimeter keeps this mattress carefully in place so babies won't kick up a storm and accidentally tangle themselves amid all their squirming. The sheets are easy to wash, meaning less hassle for you, with a soft, warm, breathable feel that is bound to put baby to sleep.

What We Like About It

Two packs are always a plus. When you're in a pinch, you'll have an extra sheet so baby isn't waiting on the laundry to enjoy naptime or a good night's sleep. The designs are cute and gender neutral, and jersey cotton is a favorite among little ones given how soft it feels against their skin.

Cost and Value

These sheets are about middle-of-the-road as far as pricing goes, and they're meant to last. They might shrink a tad in the wash, but they're supposed to be snug on the mattress, and they don't pill or run easily.
Pros
Extra soft
Breathable fabric
Keeps baby warm
Fits snugly on mattress
Cute design
Cons
These are a tight fit, especially on rectangular mattresses; check your mattress dimensions against other users' comments for safety
These sheets can run a little warm
9. TILLYOU Cotton Flannel
Winter's coming (as the Starks would have you know), and baby will need somewhere warm and comfy to cozy on down for the night. These flannel TILLYOU sheets are made from 100% cotton, with 270g per piece. They've passed the SPSCIA test and all safety requirements.
Expand to see more
Free of pesticides and harmful chemicals, these are great for sensitive little ones, as they're also hypoallergenic. They fit a standard sized crib mattress, measuring 28" by 52" with 8" deep pockets. An elastic band on all four sides helps fit the sheet safely and securely to the mattress. These sheets are machine washable on gentle cycles, and can be tumble dried on low heat. Since 1997, TILLYOU has been crafting high quality, safe products for your family and young ones. These sheets live up to their usual premium standards, and if you have any troubles, simply contact them within the first 30 days for a money-back guarantee.

Benefits

These are thick, free of harmful chemicals, and elasticized to stay in place so baby can sleep safely at night. They're soft and warm, making them the perfect pick for dreamy little ones.

What We Like About It

It's a solid option, especially if your house gets cold at night. The sheets are warm, but they're still breathable, and they're ultra plush.

Cost and Value

These sheets are in the low-to-mid range when it comes to price. They're certainly not more expensive than most of their competitors, and you're getting a quality product.
Pros
Warm
Soft, 100% cotton
Elasticized to hold the sheets in place
SPSCIA tested and approved
Breathable fabric
Cons
These pill and collect lint easily, so wash them mindfully
10. Touched by Nature
Touched by NAture created our number 10 crib sheet. They are a company that is committed to creating goods for baby made of 100% organic cotton. These sheets are no exception to the rule.
Expand to see more
This crib sheet comes with safety features so you can feel comfortable leaving your baby alone to sleep peacefully. The soft material will have your baby wanting to lay down in the cozy comfort of their crib. You will be able to rest easy when your little one is snug in bed with these crib sheets.

Benefits
The jersey knit material feels like your favorite old t-shirt. You love that t-shirt because of its softness, and the baby will lose their crib sheet for the same reason. This sheet is chemical free so you can feel good about allowing your baby to sleep soundly when this is their crib sheet.

What We Like About It
This specific sheet comes in a variety of colors and designs to fit any nursery decor. These sheets should last longer than nonorganic cotton sheets because they are free from harsh chemicals that can deteriorate fabric fibers over time. This is a fantastic sheet to have in your nursery.

Cost and Value
This sheet in on the higher end of our price list. If you want o to have organic cotton near your baby, you must pay a bit more. These sheets will provide your little love bug with many comfortable nights and naps.
Pros
Soft material
Well made design
Organic fabric
Bottom edge is fully elastic
Easy to clean
Cons
The super stretchy fabric may be difficult to put on the mattress
Criteria Used in Evaluation of the Best Crib Sheets
Soft
Our first and most important criteria are that the crib sheets we selected be soft against your baby's sensitive skin. No parent wants to take their well-rested baby out of the crib to find irritated skin from a rough sheet. Comfort is key with little babies, they are new to the world and came from a place of maximum comfort. In order for your little one to get the best sleep possible they must have the highest comfort and safety levels possible. The softness of your crib sheets can easily positively affect your baby's sleep. Use a soft crib sheet and both you and your baby will be pleased with the comfort provided.
Easy to Use
We made sure to stay away from complicated or gimmicky crib sheets. You want something easy to use. Boone wants to fiddle with a finicky sheet when their baby has a leaky diaper at night. All of the sheets on our list are easy to put on and easy to remove. The sheets go on a crib mattress the same way they go on a traditional mattress. Just pull the elastic corners around the mattress corners and you are ready to help baby settle down for some quality rest time.
Stays in Place
One big issue with fitted sheets is that they have a tendency to slip out of place with extended use. After a few days of getting into and out of bed a corner might shift off. This is not the case with the crib sheets on our list. They are all sized to perfectly fit a standard sized crib mattress. Each sheet on our list has elastic edging and corner stitching to help it stay in place even with the most wiggly little ones.
Easy to Clean
When you have a small human that poops, pees and pukes everywhere their bedding needs to be easy to clean. Each one of the crib sheets we have chosen can be washed in your washing machine for optimal cleanliness. You won't have to worry when your little one makes the inevitable mess in their bed.
FAQ
Frequently Asked Questions
Q: Can't baby just sleep on the crib mattress?
A: No, your baby should not sleep on a bare crib mattress. Crib mattresses are made of a waterproof plastic-type material that can be harmful to a baby's sensitive skin. If you lay your baby directly on the crib mattress they could stick to the plastic material and damage their new skin. When you sleep your skin sheds, those dead skin cells remain in your bed when you wake up. This is why we use sheets instead of sleeping directly on a mattress. You need to be able to easily remove the dead skin cells so your baby can sleep in a clean environment. The proper crib sheet will keep your baby comfortably sleeping in a clean environment.
Q: How many crib sheets do I need?
A: You will want to have between four and six crib sheets for your baby. You need this many crib sheets because you will have to have extras around when you are washing dirty sheets. Having this many sheets will make night time accidents less worrisome. There will be days when your baby goes through three or four sheets in one day for various reasons. This is why you need to have quite a few crib sheets on hand.
Q: What fabric should I choose?
A: Jersey, cotton, and flannel are all types of sheets you can use for your baby. The type of sheet you choose depends mostly on your personal preferences at first. What do you think is more comfortable for your baby? As you get to know your baby you will get a better idea of what makes them comfortable. If your baby sleeps hot you will want to stick with a cooling jersey type material for crib sheets. Flannel sheets are good for babies that tend to get cool when sleeping. Cotton sheets are great to have on hand because they are soft and help keep the bed at the same temperature as the room. If you know that your baby's room is hot or cold, then you will want to get the correct sheets to keep baby cool or warm enough. Remember jersey to cool and flannel to warm. If your baby has a room that is temperate and generally comfortable then go with a cotton sheet. The most important thing to remember is that you know your baby best and you can select the sheet that will make them the most comfortable.
Q: Why do crib sheets have elastic?
A: Crib sheets need to be able to stay securely on the crib mattress. This is for the safety of your baby. The elastic on the edges of the crib sheet holds the sheet in place as your baby sleeps and moves around their crib. If the sheet comes to lose it can get tangled around your little one. Sheets without elastic will come loose and endanger your baby. Always choose a properly sized crib sheet with elastic around the edge to keep your baby safe.
Q: How do I clean a crib sheet?
A: You will clean a crib sheet the same way that you clean a regular bed sheet. If you are using specific gentle baby detergent, then wash your crib sheets with that detergent. Otherwise, crib sheets can be washed in the washing machine and dried in the dryer. Check your sheet's care tag for specific water temperature and dryer heat setting.
Q: Where is the top sheet?
A: You should not use a top sheet with babies. Top sheets can get tangled around your baby and cause them to have respiratory distress or get tangled around their arms or legs and cause your baby to lose blood circulation. Both of these scenarios are very scary to deal with. Top sheets are best avoided until your child is over two years old. If your baby gets cold in the night or seems to like the feeling of being covered then carefully choose appropriate baby sleepers for them to wear to bed. There are a variety of sleepers available for your baby to wear to bed. These are safe alternatives to a top sheet.
Q: Why can't the baby have a blanket?
A: Babies should not sleep with blankets for the same reason they do not sleep with top sheets. The thicker material of blankets can be even more dangerous than top sheets. A blanket can get in the way of your baby's airway and cause them to not be able to receive enough oxygen and go into respiratory distress. This is a very scary scenario for all parents and caregivers. No one wants to put their baby in danger. There are many available alternatives to baby blankets for sleeping. You should find your baby a cozy sleep sack or some comfortable pajamas so they can sleep soundly, comfortably, and safely.
Conclusion
Cribs are one of the top purchases that parents make for a baby nursery. Parents will worry about crib construction and versatility before purchasing. They will look into ergonomic, comfortable, and waterproof crib mattresses for their baby. For many parents, the crib sheets are an afterthought. They just go with the set that matches their nursery or whatever was given to them at the baby shower. Crib sheets should really be thought about more. The sheets on your bed help determine your comfort level almost more than the mattress itself.
Parents love to sleep in a comfortable bed with soft, cozy sheets. Babies also enjoy sleeping on soft sheets. Soft sheets help to avoid unnecessary skin irritations. Your baby's skin should be cared for carefully. You want to keep materials near them that are going to promote softness and luxury so your baby can be comfortable and not irritated. The crib sheets we have selected will help you make the right choice for your family.
All of the sheets we have picked for our list have multiple safety features. I bet before you had a newborn in your life sheet safety wasn't even on your radar. What adult thinks about getting tangled up and having respiratory distress because of a fitted sheet? We don't think about these things because we can move freely around our beds and can easily put a stray sheet back into its place. A little baby cannot do that. You must make sure that the sheets you select will stay firmly in place. All of the sheets on our list have elastic edging and are made to fit around a standard sized crib sheet. You will not have to worry about your little peanut getting tangled in these sheets.