Expecting a new baby? New parents sometimes don't realize how important it is to find a car seat cover for your baby not only the right car seat. This handy item is perfect to protect your baby from dreary weather conditions, cold, or if you're out and about and don't want your baby to be distracted when they're taking their morning nap. Whatever your reason for shopping for a car seat cover, we have your solution. There are so many choices out there, from covers that are completely fitted to blankets that just loosely cover the opening of your car seat! First, it's best to decide what's right for your baby by basing it on your family's lifestyle: Do you spend a lot of time outdoors, inside or traveling? It's also helpful to take into consideration the climate in which you are located and whether you want something that will help keep your baby warm on those cold days or if you still want your baby to feel a light breeze instead. With all the options out there, it can be overwhelming choosing the right cover for your child, but don't fear!
That's why we're here! We're going to help you figure out exactly what's right for you and your baby! There are so many options, from those that are elaborately decorated to just simple, sweet designs. We've carefully gone over every option, looked at every feature, and all you need to do is choose what seems right! We're sure there's a cover out there that's perfect for your family and will help protect your baby while you can still enjoy the day or evening out.
The Best Baby Car Seat Covers & Blankets Reviewed in 2018
Copper Pearl Multi-Use Stretchy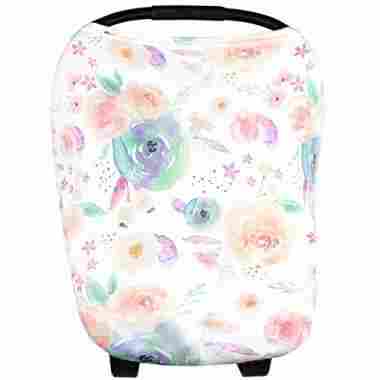 JJ Cole Original Bundleme
Cool Beans Baby Soft and Stretchy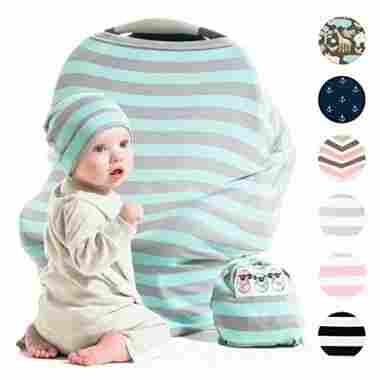 Kids N' Such Arrow Pattern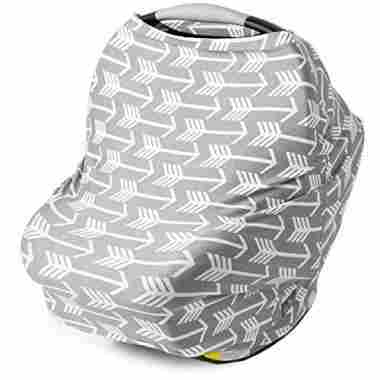 JJ Cole Weather Resistant
Matimati 5-in-1 Ultra Soft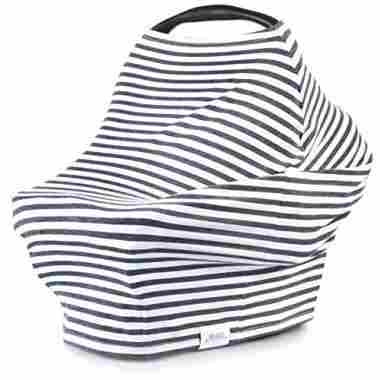 AMAZLINEN Stretchy Elephant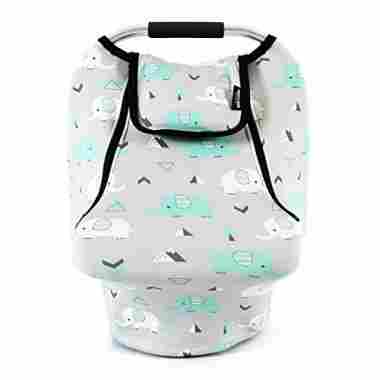 Kids N' Such 2 in 1 Peekaboo
Jomolly Unisex Large Lightweight
Criteria Used in Evaluation of the Best Baby Car Seat Covers & Blankets
We have investigated hundreds of products looking for what is the most convenient, affordable and safe items for you and your family. Ultimately, the final choice is yours. We balance between giving you the most variety of styles to choose from and giving you the best information that's out there.
Car seat covers are safe otherwise no one would buy them! They keep babies warm and protect them from flying debris, bugs, and they even provide privacy when it's time for your little one to nap while you're out shopping. The covers stretch over the top of the car sear and seem to be the most secure choice that parent's make-–protecting all surroundings of your baby while you're out. In cold weather climates, the bag style of covering might work a bit better for you and your baby. Of course, there's conflicting information out there about this so we can't exactly make that decision for you.
We have read many, many customer reviews for each item on our list and always update our list making sure that we always have the highest-rated and best products on the market. Of course, people write reviews based on the heat of the moment and what they are feeling at that time to fit their circumstances, but we choose our products whether or not the product worked for them.
In many industries, customer service is a thing of the past, so when people say that a company has great customer service, we listen and take that into consideration. We try to find a wide range and variety of products from different manufacturers with solid reputations. We check their websites to see how much information they release to customers. We check for a customer service number, product reviews and of course, company history. We try to choose well-established companies, and sometimes like to support newer companies, especially if we think they'll have a more fresh, current idea.
Child Development
Babies like to feel wrapped and enclosed in a safe, warm place, similar to their mother's womb. One best practice is to keep baby close to mom some of the time. This can be done by carrying the baby with you in a sling. It is said that the mom-baby bond becomes stronger through doing this.
Another good practice is to allow the baby to be on the floor when at an appropriate age. This way, as the baby grows she can move her arms and legs freely, building up the muscles that will eventually support her as she learns to roll, crawl, and walk. It also helps the spine to develop properly. Kids who are always kept in their car seat or other seats/stabilizers like a bouncer, swing, or even a nursing pillow, may not grow or develop correctly. That's not to say spending a little time in these seats is bad. Babies need to experience varied positions for their spine to grow properly.
We know that we need car seats to protect our babies. It's the smart thing to do, and in most places, it's the law. We must use them. But allowing our babies to always nap in those seats is detrimental to the growth of your baby's spine and muscles. Babies who are in the carriers for too long get stressed, their airways may be compromised, and their bones and muscles may not grow properly. They need changes in position and the exercise that comes from playing on the floor so they can move and walk properly when they get older.
Sometimes, it's nice that a baby can sleep in the car seat, and if they are in a moving vehicle, it's a must. Choose a car seat cover that can shade the baby and give her a comfortable space to be sleepy. But realize that the cover may be too heavy so that it restricts air flow. That is not what we want. The best practice is to not cover the baby's face.
Car seats and covers – Do's and Don'ts
Do's
Check on your baby often to make sure her head is in the right position and she is breathing.
Take the baby out of the car seat every hour or two so he doesn't tip his head forward and compromise his airway.
Make sure the car seat harness is tight and not interfered with by the car seat cover.
Read the directions for your car seat to see what the manufacturer allows.
Make sure the car seat cover is properly installed.
Don'ts
Never leave a baby unattended in a totally covered car seat, especially if the canopy fabric is heavier. You have to make sure they can breathe and they are not too hot.
Don't leave your baby in the car seat too long or allow him to nap for extended periods as they may get choked by the harness or not be able to keep their head straight.
Never let your baby sleep in the car seat carrier overnight.
FAQ
Frequently Asked Questions
Q: How can I use my stretchy car seat cover in other ways?
A: With some, there are infinite possibilities. Most have a hole in the top so you can check the baby and access the carrier handle. You can use these as a high chair cover to catch flying food, as a stroller cover to protect the baby from the weather and prying eyes, as a cover in a shopping cart to keep germs off the baby, or drape loosely over the baby so that you can nurse him with some privacy.
You can even use it to change the baby in an inopportune spot. You can also use these canopies as clothing for yourself: a scarf, a skirt, a blouse, a belt, a head scarf to wear in lousy weather, or anything else you can dream up.
Q. How do I wash my baby's car seat cover?
A: Your best practice is to follow the manufacturer's instructions. Many are machine washable and dry on low heat or air dry.
Q: Can face flaps be left in the down position safely?
A: That would depend upon your car seat size and how far away the cover is from the baby. Also is the airflow good in your particular car seat cover? The face flap should not be left down for an extended period of time nor while the baby is unattended.
Q: Will a baby car seat cover void my car seat warranty?
A: You will have to check the labels on your car seat and the cover. Some manufacturers will void the warranty if you add any accessories to the car seat.
Q: I live in a place where the winters are harsh and the summers tend to be hot. Should I buy one car seat cover for each season?
A: You should probably make your decision based on the current weather conditions and over the next few months. Many car seat covers can be used year-round. Your baby may grow like a weed over the next months, so you may end up wanting to change the style from fitted to wrapped or vice versa.
Q: I'm getting a cover with a full flap in the front so I can make sure my baby has air. Are zippers or snaps the best closure?
A: Zippered covers seem to have fewer complaints than those that snap. On some covers, the snaps sometimes break.