Changing diapers is not a job that anyone looks forward to doing, but it is definitely a task that if you have the right tools, the job is a lot easier. When your bundle of joy enters your life, you know that changing diapers will now be a part of your daily routine for a while. During their first years, it will be a task that you do all day long, but it doesn't have to be such a chore when you have a safe and easy-to-work-at the changing table.
Changing tables make it more comfortable for both caregivers and babies when they are having their diaper changed. It provides a safe place for the baby to lie plus the height of the changing table is much easier on the back than hunching over baby on the floor or couch. Also in the event that the baby has an accident where the mess comes out of their diaper or goes to the bathroom while you are changing them, it is much easier to clean up.
On the market, there are many different styles of changing tables. Some come with storage; some have higher sides than others, and often you can get them to match the rest of the furniture in the room. To find the best fit for the nursery you are shopping for, we have created this list of the best changing tables and units. This list will help you find the best match possible.
Our Top 3 Picks
Delta Children Eclipse

Our rating
Meets All Safety Standards
Price:

See Here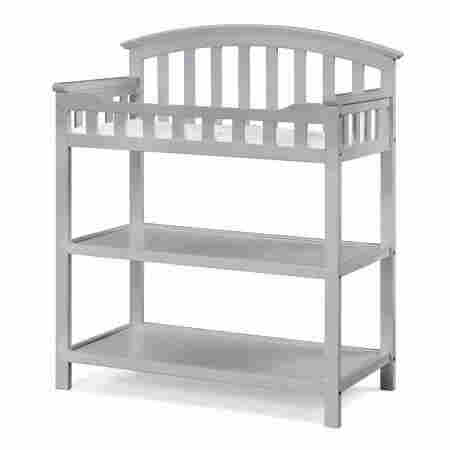 Graco Changing Table

Our rating
Functional & Stylish Design
Price:

See Here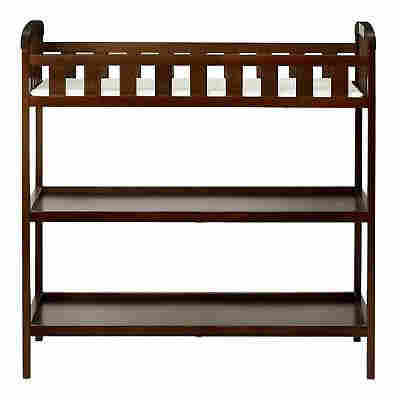 Dream On Me Emily v

Our rating
Sturdy & Durable
Price:

See Here

Our Picks of the Best Changing Tables for Babies in 2018
Delta Children Eclipse, Black Cherry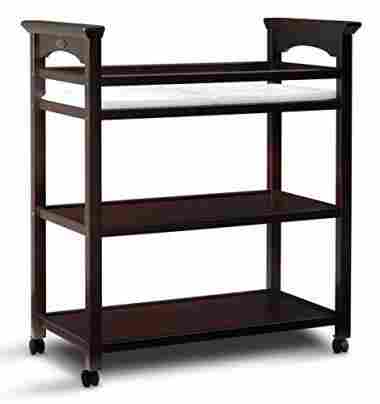 Delta Children Infant with Pad
Horizontal Fold Down, White Granite
DaVinci 3-Drawer Changer Dresser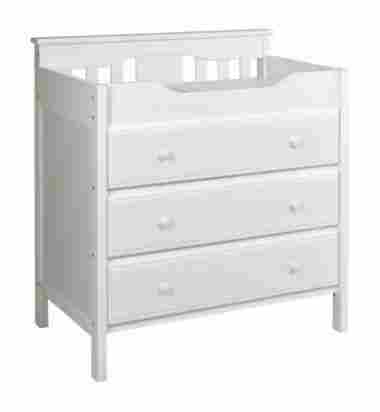 Storkcraft Portofino 4 in 1 Convertible Crib Changer
Dream On Me, 4 in 1 Crib and Changer
Criteria Used in Evaluation of the Best Baby Changing Tables and Units
Since your changing unit will be used to take care of your bundle of joy, there were lots of important things to consider when choosing the best ones for our readers. We looked at changing stations that are well-designed, practical and attractive. First, we wanted to find a table that is sturdy and solid and that does not feel rickety when you shake it.
The table should be built solidly and painted with nontoxic paint. Check to be sure it meets all the government guidelines for safety and security. We found products with plenty of options for colors too, so you can find one that matches or at least complements the other furniture in your nursery.
It is nice to have a table with plenty of room for changing on top and a comfy changing table pad. Many of the tables come with one that is quite thin so you might want to consider buying a separate one. Look for a pad that is thicker and maybe even contoured. They are made of foam and come with a fabric or vinyl cover. Finding one that is easy to clean with a non-skid bottom is helpful. A safety strap to put around the baby while you are changing them can also be a nice touch.
We looked for changing stations with good storage options. Many have nice open shelves with easy access to supplies while you are changing a busy baby. There are also options to add baskets to the shelves for more organized storage. Finally, some of the choices have nice deep drawers to handle plenty of storage or some of them have a combination of the above.
There are a few extra features to keep in mind. You want to find a table that is fairly easy to assemble and comes with all the necessary tools if you do not have a toolbox at home. Some are easier than others and we have seen a few that work better with two people doing the building. Also, note the height of the changing table to be sure it will be comfortable to use.
You might want to base your shopping decisions on the size of your nursery area as well. Would you have more room if you got a crib/changing table combination unit? Would you save needed space if you got one of the changing tables which fit in a corner? These can be helpful decisions as well. Looking for a changing table with wheels on it might be helpful too if you have limited space. They may not be as sturdy but they can be helpful if you need to move it around with baby or at bath time if you have limited counter space.
The last feature to keep in mind is versatility. We liked to find a table that can be used for other things once your child is potty-trained. We discovered a few favorable options for these changing tables including ones that can be turned into toddler beds, ones that the top changing table can be removed to become a changing table dresser and ones with nice shelves which can later become bookcases.
FAQs
Frequently Asked Questions
Q: What is the best height for a changing table?
A: Of course, it would depend on your height but we would say to look for one that is at least 36 inches tall at the changing area or taller. That seems to be the average.
Q: I found the perfect table but I am worried about the holes in the railing. What should I do?
A: The easiest answer to that would be to just keep a close eye on baby, but if you want to be extra safe you could also throw a large blanket over the changing table topper and cover the holes.
Q: What is phthalate?
A: That is an industrial chemical which is used to soften plastics. They are dangerous and can cause damage to many human organs like the liver and kidneys.
Q: What are the ASTM and CPSC safety standards?
A: Those acronyms stand for the American Society for Testing and Materials and the Consumer Product Safety Commission. These safety standards bring together industry groups, government groups, and consumer groups so they can agree on the best baby product safety practices.
Q: What does JPMA-certified mean?
A: It stands for Juvenile Products Manufacturers Association. If they carry that seal, it means they have been tested by an independent facility and have met the guidelines.
Q: What can I use my changing unit for after the baby is potty-trained?
A: In our research, we found a multitude of answers to this question. Of course, there are some obvious answers depending on what kind of table you purchased. Some of them can turn into bookcases, toy shelves or dressers if they have drawers. You could put a small curtain across the front. Use the top for your bedside table and slide your pet's kennel/bed underneath. There was one person who installed a small sink into the top of her changing table and made a bathroom vanity out of it. The ideas seem endless!