It's time to talk about the environment! If you're a little eco-friendly and expecting or have a new little bundle of joy at home, as a new parent you have a lot of decisions to make. One of those first important choices is deciding if you are going to use cloth diapers or if you're going to go the disposable route. If you choose cloth diapers, they offer a lot of advantages for you and your family. Using cloth diapers helps to leave a smaller footprint on the environment, which is also probably why cloth diapers have become a lot more popular over the last few years. If you happen to come across an organic diaper, you can bet your bottom dollar its cloth! Parents who make the decision to use cloth end up finding that it's not difficult at all, which makes all the other options a bit confusing. That being said, before we jump in, we're going to help you with some information about cloth diapers for those who may be considering or are completely unfamiliar with the different types of cloth diapers you can choose from. We won't list all of them, but here are the six most common types available. Flats are regular old-fashioned cloth diapers that can be folded and secured with pins or used as inserts in diaper covers. They are about the size of a dishtowel. Prefolds are a little smaller than flats and have already been folded to provide multiple layers of absorption in the middle. Diaper Covers are waterproof covers that typically hold the flats or pre-folds. They come in a range of materials and do not necessarily need to be replaced with every diaper change. Pocket Diapers are basically a diaper cover and prefold combo with a pocket inside where additional inserts can be placed. The entire diaper is changed with every use. All-in-one cloth diapers are very similar to pocket diapers, but the inserts are not removable. Like a pocket diaper, they are very convenient. A hybrid combines the best of cloth and disposable diapers. They have a waterproof outer shell and can be used with a disposable or cloth insert.
There are a few others, such as the all-in-two and the cloth swimmers, but most cloth diapers will fit into one of these six categories. Each style has its own pros and cons and many parents use multiple styles to suit different occasions. With a little research, you will find the best style for you and your baby. In an effort to make that decision a little easier, we have compiled a list of the 10 best cloth diapers for babies.
Our Top 3 Picks
Bambino Mio Miosolo

Our rating
Stylish & Comfortable
Price:

See Here
bumGenius Freetime

Our rating
Leak-proof Material
Price:

See Here
GroVia O.N.E.

Our rating
Heavy-Duty Construction
Price:

See Here
Our Picks of the Best Cloth Diapers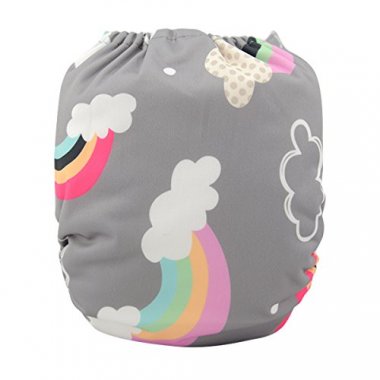 BumGenius Freetime All-In-One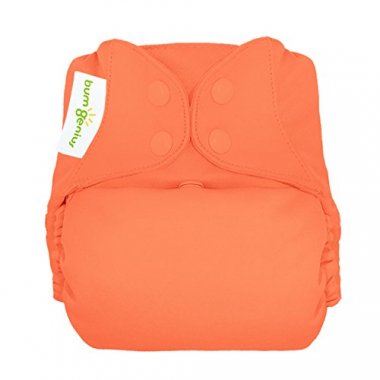 GroVia O.N.E. Reusable Cloud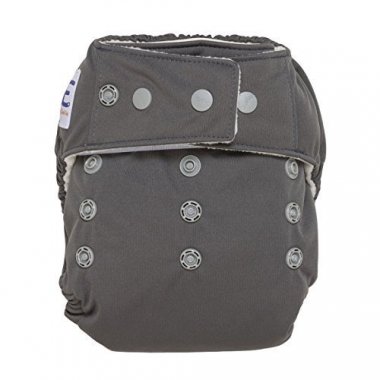 Best Bottom Shell-Snap Camo
Thirsties Natural One Size All In One
Mama Koala One Size Microfiber
Kanga Care Lil Joey Dandelion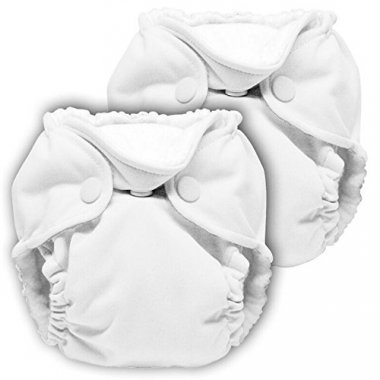 Gerber 10-Pack Prefold Premium
Anmababy 4 Pack Adjustable Size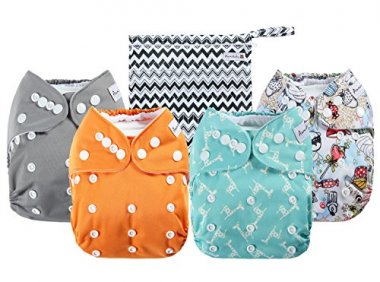 Criteria Used in Evaluation of the Best Cloth Diapers for Babies & Newborns
The criteria that were used to determine which diapers might be the best for babies' bottoms was pretty lengthy. We know how important your little one is, so the diapers that made the list were carefully considered from every aspect. While doing extensive research, we thought about how well they meet babies' and parents' needs, the materials that each diaper is made of, convenience and ease of use, and whether there are organic options. The design of the diaper, like if it's slim fitting or a little bulky, was taken into consideration and even the cute design itself. We looked at companies and if they were socially responsible and strived to make life with a baby easier for parents and caregivers that was also taken very carefully into consideration.
Even though there are is a wealth of information regarding disposable diapers versus cloth, the debate between the two still continues. Disposable diapers take almost 500 years or more to decompose and there are many positive sides when choosing cloth. However, we are not taking part in the great debate. We're just here to help give parents and caregivers a little more information to help them choose what is right for their families. In the end, it is your choice, and we're here to help make that choice a little easier while keeping your baby comfortable, happy and healthy.
We know each baby is different and has different needs. It's not always easy to take care of babies, but it is the most rewarding thing you can do and we strive as parents to give them the best of the best. That's why we considered how each cloth diaper was made, where the materials are sourced, how well they'll fit and if they're adjustable. We looked at diapers with customizable options that allowed them to be used well into potty training days. We looked at whether the diapers make changing a squirmy toddler easier or if they're convenient for busy families. Many families must have a caregiver for their baby and we also considered how simple it would be for those who are unfamiliar with using cloth diapers.
We all just want our babies to look and feel their best. We considered whether these were hard to fit, if babies are able to pull their diapers off, or the options that are out there for a baby who has sensitive skin. We took each of these special needs into account when we created our top 10 list. We wanted to make sure that each of these diapers is simple to use, durable and come in more than one color. Some even come in gender-neutral colors which is versatile for households with multiple babies. Most of all, we looked for cloth diapers that really work and can stand the test of time.
The decision to cloth diaper is yours. Which cloth diaper best suits your budget and your baby is not always as simple as we think it should be. You have enough to do so we did the research for you and compiled our findings into this list. With a little bit of trial and error, you are sure to find a cloth diaper that both you and your baby love.
FAQ
Frequently Asked Questions
Q: How many cloth diapers do I need to get started?
A: Well, that depends on many factors such as the age of your baby and whether you are using cloth diapers exclusively. If you are only using cloth diapers, and no disposables, you must consider how often you want to launder them. Infants can use around a dozen diapers daily and toddlers use a little less, maybe six or eight. You want to ensure that you always have clean diapers to put on your baby, so you need at least two dozen. Depending on the type of cloth diaper you decide on, you'll probably need to have at least a dozen liners as well. This quantity, along with half a dozen diaper covers, should allow you to launder every other day.
Q: How do I wash cloth diapers?
A: Again, there is a little leeway here depending on personal preference and the type of diapers you choose. Most come with manufacturers' directions. The majority recommend something similar to this. Remove solid soiling in the commode and rinse. Run them through a warm rinse cycle in the washing machine then let them soak in hot water with the recommended detergent before laundering. Some diapers can be tumble dried while others must be line dried and certain materials release stains easier.
Q: How long does a cloth diaper last?
A: Many cloth diapers are engineered to grow with babies until it is time to potty train. However, there are many factors that will affect the life of the product. The number of diapers you have and how often they must be used is a consideration. The type of detergent used can affect the life of the diaper as well. The fastest way to shorten the life of a cloth diaper is to tumble dry. Sometimes it is just plain necessary, but a dryer is very hard on clothes and diapers and it will shorten their lifespan.
Q: Do cloth diapers really cut down or prevent diaper rash?
A: If used properly, they certainly can. Many cloth diapers are made with super-soft or organic materials that are gentle on baby's delicate skin. Most of them do not contain the same harsh chemicals that disposable diapers do, which also helps prevent diaper rash. Of course, if a baby sits in a wet diaper, it will eventually get diaper rash no matter what the diaper is made of. So cloth diapers and frequent diaper changes can prevent diaper rash.
Q: Is a hybrid cloth diaper as good as a regular cloth diaper?
A: Absolutely, it is. A hybrid cloth diaper is designed so that caregivers can use cloth or disposable inserts for convenience. These are washable and reusable diapers. This helps customize each baby's protection to their circumstances. Hybrid diapers are just as good as cloth diapers with the convenient option of using a disposable insert instead of a washable. This can be great on long car rides and in daycare centers.
Q: Will switching to cloth diapers save me money?
A: It can certainly save you money if you get started with that in mind. It's easy to go overboard with all of the cute designs and available accessories which make life easier, especially with a baby. It also depends on whether you are diapering one or more children. There are many online cost calculators available to help you decide if the bang is worth the buck. Another thing to take into consideration is the resale value. If your cloth diapers are cared for properly, you may be able to sell them when you are finished and make some of your money back.