10 Best Cloth Diapers For Babies & Newborns Rated in 2019
last updated
Aug 15, 2019
It's time to talk about the environment! If you're a little eco-friendly and expecting or have a new little bundle of joy at home, as a new parent you have a lot of decisions to make. One of those first important choices is deciding if you are going to use cloth diapers or if you're going to go the disposable route. If you choose cloth diapers, they offer a lot of advantages for you and your family. Using cloth diapers helps to leave a smaller footprint on the environment, which is also probably why cloth diapers have become a lot more popular over the last few years. Each style has its own pros and cons and many parents use multiple styles to suit different occasions. In an effort to make that decision a little easier, we have compiled a list of the 10 best cloth diapers for babies.
This is the best product on our list that is currently in stock: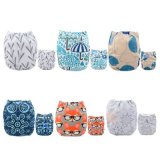 AlvaBaby Pocket Washable
Why is it better?
BPA, Phthalate, Latex, and Lead-free
Snap adjustable from 8 lbs to 35 lbs
Machine washable and dryable
Includes 6 diapers and 12 inserts
In a
Hurry? Editors choice: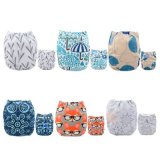 Test Winner: AlvaBaby Pocket Washable
19
Researched Sources
35
Hours Researching
12
Products Evaluated
Design
Effectiveness
Ease of Use
By Default
10 Best Cloth Diapers For Babies & Newborns
1

. BumGenius Freetime All-In-One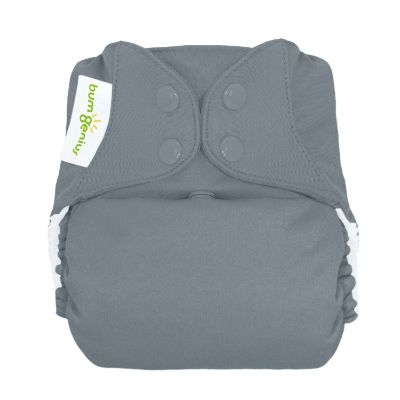 Patented butterfly closure
Snaps grow with baby
Outside waterproof
Machine washable
Simple and convenient
Sewn inserts make cleaning solids difficult
Synthetic fabrics
This product is a fantastic cloth diaper designed to fit babies primarily eight to thirty-five pounds. It offers a custom butterfly closure system, patent pending, which ensures a snug fit around baby's legs and waist. The cozy fit keeps babies comfortable and dry without sagging.
Read more
Design
These cloth diapers also offer an adjustable snap system, so they can grow with baby making them a simple favorite. bumGenius has found a way to incorporate features which make the diapers easy to use, even for those unfamiliar to cloth diapering. Caregivers, such as babysitters and grandparents, have no problem using these cloth diapers because of their simple design. The inserts are sewn in so there is no need to learn the folding art of origami before purchasing, but they are adjustable, so it is easy to accommodate where little ones tend to get wettest. The combination of polyester, nylon, and spandex offer a snug, comfortable fit while still preventing leaks. They are available in a large assortment of vibrant colors to keep babies looking as good as they feel. Since this is an all-in-one, there is no need to purchase a bunch of extras. These waterproof diapers are machine washable and fast drying, so they are ready to go when you are.
Effectiveness
They feature a suede inner fabric, part of two layers of absorbent cloth, which helps wick moisture away from little one's skin. The simple design makes these diapers easy to use for busy families and caregivers while the adjustable snaps allow the diapers to grow with baby. Stretchy leg and back elastic have rolled out casings to help keep messes in without leaving marks on babies.
Ease of Use
We love that these cloth diapers are so easy and convenient to use.
2

. AlvaBaby Pocket Washable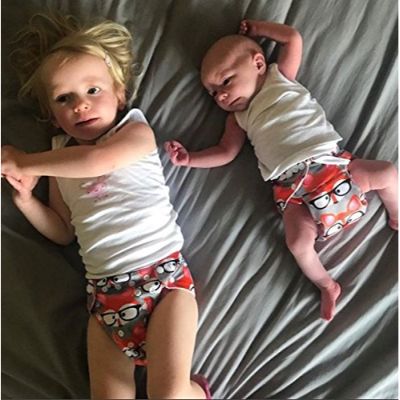 BPA, Phthalate, Latex, and Lead-free
Snap adjustable from 8 lbs to 35 lbs
Machine washable and dryable
Includes 6 diapers and 12 inserts
Microfiber inserts are not overly absorbent and may leak with a heavy wetting
May develop an unpleasant odor over time
When considering options for cloth diapering there are a couple of bullet points that can make or break a diaper brand. The number one priority is your baby's comfort of course. Your little one will be wearing these diapers all day, every day for at least the first two years of their life so an adjustable, comfortable fit is very important.
Read more
Design
The next important factor is absorption. Cloth diapers, or any diapers really, become all but useless if they are incapable of containing your baby's wetting. Leaking can also cause diaper rash and exacerbate other skin conditions such as baby eczema. While none of these conditions are overly concerning ones, they will cause your baby discomfort which can translate into poor sleeping and eating habits and overly fussy behavior. Besides, as parents, we want our babies to be as safe, happy, and healthy as possible. Finally, there is the concern of style. Cloth diapers tend to be bulkier than disposables and are often left exposed especially in warmer weather. Almost all cloth diapers come with some type of 'cover' and finding one that matches your style can be difficult. Alvababy's Pocket Cloth Diapers get high scores across the board for all of these bullet points as they provide a soft, stylish diaper with highly absorbent inserts that can grow with your little one from infancy to potty training.
Effectiveness
These cloth diapers are made of chemical-free, baby-safe materials designed to provide a gentle but secure fit. The outer layer of the diaper is composed of polyester. It is waterproof to prevent exterior leakage and the material is also highly breathable to reduce odor and provide proper air flow. Inside the diaper is a suede cloth layer that is mildly hydrophobic. Since water cannot stick to the suede it is drawn into the insert to keep your little one dry and prevent diaper rash. The inserts themselves are made of triple-layered microfiber. One insert alone is designed to slide into the diaper and provide moisture absorption for at least 2-3 hours but many reviewers recommend doubling up on the inserts for overnights or long trips. One of the best things about Alvababy is their three-layer snap design that allows the diaper to grow in size with your little one. Snaps located on the hips as well as crossover snaps also assist with proper adjustment and the diaper can be modified to change from a small (8-15 lbs) to a medium (12-25 lbs), to a large (20-35 lbs). This can save a lot of money in the long run as a single pack of 6 diapers can last your child from the time they are born up to and including potty training.
Ease of Use
This diaper bundle is perfect if you are looking for a quality baby shower gift that will provide a low-cost introduction cloth diapering in an easy-to-use form for the parents-to-be.
3

. GroVia O.N.E. Reusable Cloud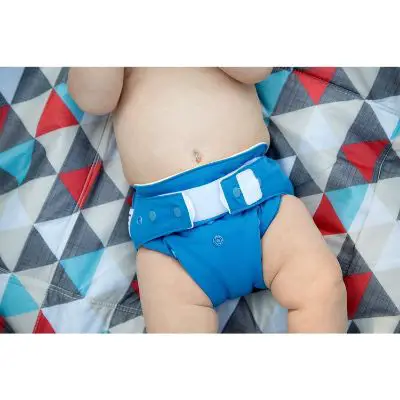 Comes ready to use
Soft and supple against baby's skin
Two pads allow super absorbency
Grow with baby
Interchangeable snap and Velcro options
Fits chunkier babies better
Cover can't be wiped and reused, must be washed
This diaper is an all in one cloth diaper designed to fit babies from ten to thirty-five pounds so if you have a very small newborn you are not quite ready for these. However, they are fully adjustable to grow with the baby once they are big enough to use them. The GroVia O.N.E includes everything you need to cloth diaper a baby.
Read more
Design
They come with snaps and a Velcro option that is fully interchangeable so when your baby is small you can use Velcro for a gentle fit. As your baby develops into a toddler, you can switch over to snaps without having to purchase a whole new system. This cloth diaper offers a super soaker system comprised of a small and a large cotton blend soaker pad. The larger soaker pad has grooves in it to help catch any leaks and the pads can be snapped together for maximum absorption. Even though this is a heavy-duty cloth diaper that is built to last, it is still super soft and cozy for baby. Polyester microfiber and microfleece feel supple against delicate baby skin. These cloth diapers are the best of both worlds for those needing convenience and the option to transition to a more reliable snap closure as their baby grows. Seventeen stylish color options keep babies as hip as they are cute, even when the diaper is the only thing they are sporting.
Effectiveness
This item is a fantastic all-in-one option for those who need convenience. Interchangeable snap and Velcro options satisfy different parental preferences while giving the baby snug, comfortable fit. The large and small soaker pads allow you to adjust absorbency, such as when you need more for an overnight while stopping leaks. They offer a wide variety of trendy styles to keep baby dry and dressed to the tee.
Ease of Use
They can be tossed into the wash just like other laundry, and they have a reasonable price point.
4

. Best Bottom Shell-Snap Loch Ness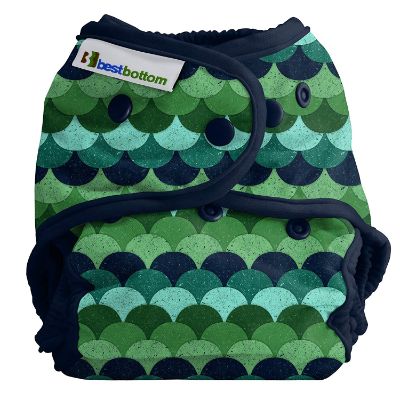 Inside and outside wipes clean
Special leg gussets help prevent leaks
Waterproof
Inserts snap in place
Machine washable
Not breathable
Inserts snap in midback
This is designed for babies ranging from eight to thirty-five pounds, so this is a great long-term option for cloth diapering. It offers simple front snap closures which allow you to customize a comfortable fit, even as your baby grows.
Read more
Design
This waterproof shell is comprised of a double layer of polyurethane laminate or PUL, so it is wipeable on the interior and the exterior, which makes it easy to keep clean between washes. The adjustable rise has four settings and specially designed leg gussets keep everything in. This diaper is fully machine washable and dryable, so it is easy to care for. It is a trim-fitting, highly absorbent diaper designed with the parent and baby in mind. The inserts snap in so they stay where you put them, and they are offered in three sizes. The inserts are also available in organic cotton/hemp which is a nice option for those who may have allergies or don't like synthetic fabrics. Extender tabs can be purchased and used for larger sized or faster-growing babies when this diaper gets too snug around the waist, which is a nice option. It offers a fantastic color selection for boys as well as girls and even the snaps are color coordinated to keep baby styling.
Effectiveness
This is a fabulous option to last little ones all the way through to their potty training days. Extender tabs can be purchased, if needed, for growing babies and the customizable snap closure ensures a good fit every time. Specially designed leg gussets help prevent against leaks and the inserts are available in three sizes. They also snap into place, so they stay where you put them. This cloth diaper shell also wipes clean in between washing so it is easy to care for.
Ease of Use
We love that these diapers are made of high-quality materials and come in twenty-seven unique color options. The special legs gussets help guard against leaks and the customizable snap closure means the diaper can grow with your baby.
5

. GroVia Reusable Hybrid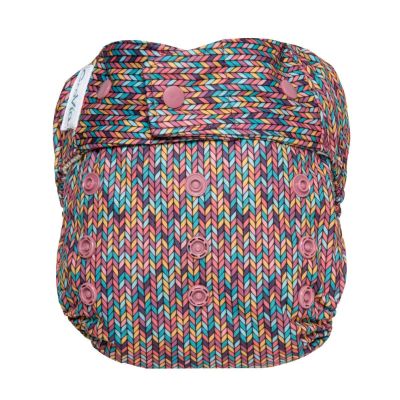 Super durable
Grows with baby
Machine washable
16 color options
Adjust absorbency with inserts
Must be line dried
Branded inserts are thick
This item means convenience can now be combined with a greener option. A hybrid is an all-in-two option with two components, the shell, and the liner. Busy families on the go can still enjoy all the advantages of a disposable diaper without a huge environmental footprint.
Read more
Design
This reusable snap diaper shell is designed to fit babies eight to thirty pounds, so it will grow with baby. Parents have the option to use a cloth insert or a disposable biodegradable insert, depending on the occasion. Although other liners can be used, GroVia offers three different soakers which snap into this diaper. They are all the same size but do offer different features such as organic cotton, stay-dry, and no-prep options. The diaper is machine washable but must be line dried as the dryer causes too much wear. They do dry quickly and if cared for properly, these diapers last a very long time. GroVia has gone the extra mile to combine the best of modern textiles with the tried and true concept of a reusable cover, which just so happens to be waterproof. This is a good quality affordable option which offers all the benefits of a disposable diaper without the huge negative impact. This is a trim cloth diaper which offers maximum absorbency and comfort for little ones.
Effectiveness
These are super easy to use. They show us that cloth diapering does not have to be a complex process. The cloth or disposable insert option keeps things simple and convenient in most circumstances and makes things really easy for caregivers. The snap closure allows this diaper to grow with the baby so there is no need to purchase another system when they get bigger. It is also waterproof in addition to being machine washable.
Ease of Use
We love that it incorporates everything which makes cloth diapering simple.
6

. Thirsties Natural One Size All In One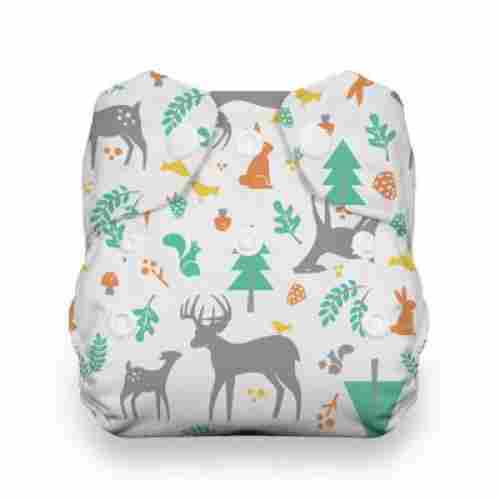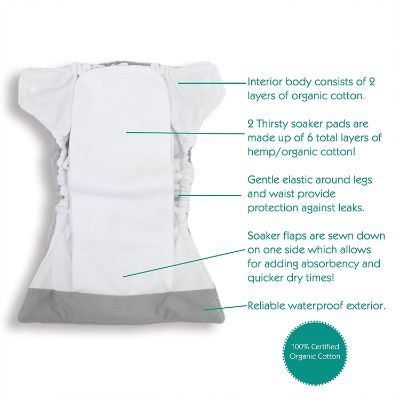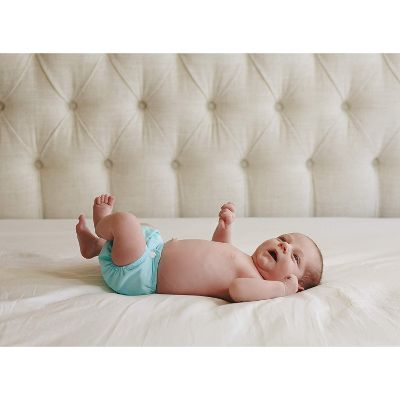 Organic
Doesn't take long to dry
Made from natural fibers
Convenient
Elastic Waist
Absorbs
Made from organic cotton, Thiristies is an all-natural cloth brand that parents can choose for their baby.
Read more
Design
This diaper fits well, is absorbent, and easy to use. It's made from organic cotton and hemp and comes with two soaker pads along with 11 different layers of material to help that absorption for your baby.
Effectiveness
While it's made from natural oils and the elastic waist helps hold and protect any surprise leakage, you're going to want to throw this diaper in the wash before putting it on your baby so that it can remove any of the oils that are also used to create this organic diaper.
Ease of Use
We love this product because it can hold heavy loads and it's slim fitting. Perfect for those babies who are a bit more on the tinier side. This brand also comes with a cute woodland design.
7

. Mama Koala One Size Microfiber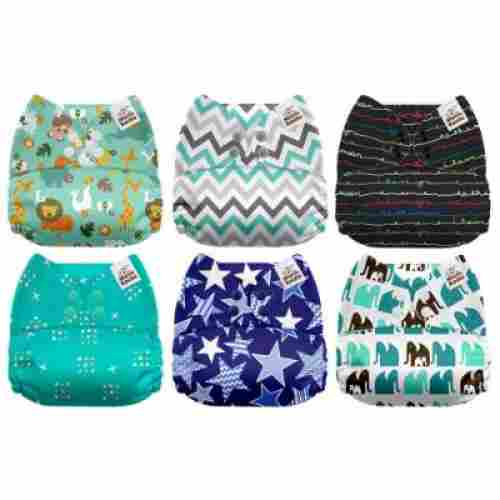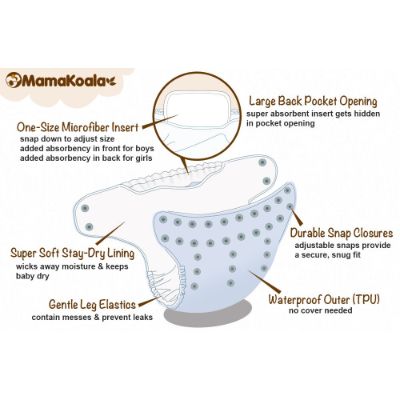 Waterproof and breathable materials
Adjustable size from 8-35 lbs
Includes 6 diapers and 6 inserts
Machine washable and dryable
Included microfiber inserts are small and may not adequately hold up to heavy wetting
Snaps can come undone easily and lacks hip snaps for thigh size adjustment
Cloth diapering can not only be a great way to save your pocketbook some of the high cost required to raise a baby but it is also extremely eco-friendly. Pocket diapers such as Mama Koala's One Size Baby Pocket Cloth Diapers are fully machine washable and reusable. They are also designed to grow with your little one utilizing the three-row snap closure to provide an adjustable fit from 8 pounds up to 35 pounds.
Read more
Design
Let's do the math. On average most babies go through 8-10 diapers a day. That's almost 3,000 diapers during the first year alone! Forget cost for a second and think about the idea of 3,000 dirty diapers sitting in a landfill, the plastic-like composition of which will not biodegrade for 500 years and can cause serious problems to the surrounding plant and animal life. The cost to you isn't a tiny one either. Even if your little one is able to wear the cheapest disposables available the price can quickly skyrocket to anywhere between $500-$600 a year. Give your wallet and the Earth a break by utilizing Mama Koala's cloth diapers. Two 6 packs of these highly absorbent and comfortable diapers can stay with your little one throughout their entire diaper-wearing life at a fraction of the cost of just one year's worth of disposables!
Effectiveness
These diapers are not only leak proof but also have some of the best styles available on the market today. Whether you're outfitting a macho man or pretty princess, each of Mama Koala's packs comes with 6 beautifully designed diapers made of waterproof TPU material. The inner layer is composed of suede which pulls moisture away from your baby's skin, healing and preventing diaper rash. The moisture is absorbed by the microfiber insert which is quickly and easily removable for fast changes. The insert is hidden inside a pocket with a large opening at the back of the diaper so you won't have to wake your newborn up to switch inserts. These diapers also incorporate small snap wings on the side which allows the rear elastic to wrap entirely around your baby's backside, preventing blowouts.
Ease of Use
While Mama Koala diapers are easily compared to Alvababy diapers and even utilize the same weight ratings, many reviewers report that these diapers provide a slimmer shell for thinner babies and have a snugger elastic around the legs to prevent blowouts.
8

. Kanga Care Lil Joey Dandelion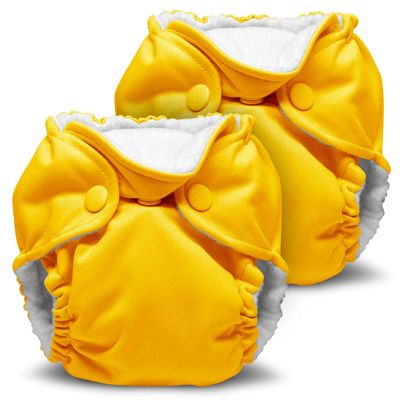 Hypoallergenic
Double leg gussets
No stuffing required
Machine washable
Umbilical cord cutout
The Lil Joey All-In-One Cloth Diaper is designed to fit babies from four to twelve pounds, making it the perfect cloth diaper for small newborns and premature babies. It can be very difficult to find a cloth diaper small enough to fit a preemie so this one takes a lot of the guess-work out of the process.
Read more
Design
It is an all-in-one, which is great because those with preemies already have plenty to take care of. There is no need to worry about folding or stuffing with these diapers. Four different layers of sewn in hypoallergenic microfiber make up the core of this diaper to keep little ones snug and dry so no additional materials are needed. Two soft inner leg gussets create a barrier to help protect against leaks and blowouts while gently hugging little legs. The Diaper features an umbilical cord cutout for easy care and there is also a snap down option to keep it from rubbing against the area. This makes clean up a breeze and keeps babies happy. The exterior of the diaper is water resistant via a solvent-free polyester fabric which has been heat bonded without chemicals, so it is better for the environment. These cloth diapers are machine washable and can be tumble dried or air dried, making them easy to care for.
Effectiveness
This diaper has been specifically designed with small newborns and preemies in mind. They have been engineered for easy umbilical care and less irritation. The double leg gussets on this diaper are a patented leak proof technology which helps keep all the mess inside. Sewn-in microfiber keeps babies dry while the waterproof exterior keeps their clothes dry too. They also come in a variety of forty fun colors and prints.
Ease of Use
We love that these cloth diapers are specifically designed with baby's care in mind. The fact that there is no folding and stuffing required makes them convenient and easy to use. The snap down option for umbilical cord care keeps irritation to a minimum. The leak-proof technology really does its job and it's great that these can go right into the washing machine. It takes the guesswork out of cloth diapering a newborn or a preemie.
9

. Gerber 10-Pack Prefold Premium
100% cotton diaper with polyester blend insert
Meets all CPSC and CPSIA standards
Fits babies between 5 and 20 lbs
Machine washable and dryable
May not be absorbent enough to withstand heavy wetting without leaking
Diapers can shrink and wrinkle from washing
If you are looking for a more traditional cloth diapering option rather than a pocket diaper, then the Gerber 10-pack Cloth Diaper Prefold Premiums are for you. These 6-ply cloth diapers are composed of 100% cotton material with a padded polyester blend in the center for extra absorption.
Read more
Design
There are no complicated snap systems to figure out or stitching to fail over time which makes these diapers some of the most durable cloth options currently available. They are easily washable and can fit securely beneath most styles of diaper covers giving you more options for dressing your little one than some of the bulkier pocket diaper alternatives. The cotton material also gets softer as you wash so your baby will always have a gentle and comfortable fit against their fragile skin. These diapers have a million and one uses! They can be used as burp cloths and changing pads while your infant is still little and make some of the best wash rags once they are grown. Throw them in the stroller or car seat during long trips for extra protection in case of leaks. You can even throw them in the fridge and let your little one suck on cooled fabric for teething relief!
Effectiveness
These diapers are the perfect cloth choice for preemies or smaller babies. Most pocket diapers can only support infants that are at least 8 lbs due to their multi-snap and elastic design. These diapers can easily double over themselves allowing you to secure them tightly onto babies as small as 5 lbs. They can also be used to transition little ones from disposables into a cloth as they provide a less bulky fit and feel than pocket diapers. If your baby suffers from allergies or other skin issues the simple, gentle material of these pre-folds won't exacerbate those issues. The excellent breathability of the cotton can also help soothe and heal diaper rash.
Ease of Use
These cloth diapers provide an excellent old-school diapering feel and are highly versatile in that they can be used as burp cloths and changing pads as well.
10

. Anmababy 4 Pack Adjustable Size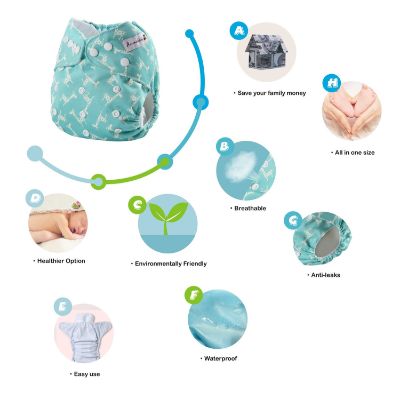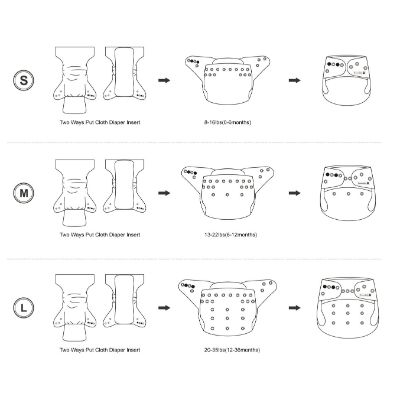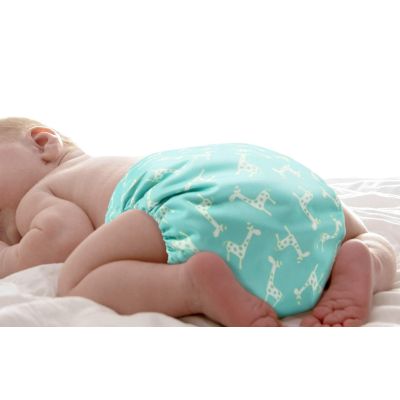 Includes 4 diapers and 4 inserts
Comes with a wet/dry storage bag perfect for on-the-go changes
A waterproof and breathable outer layer
Chemical free and eco-friendly
Piling can form quickly on the inner layer after washing
May irritate sensitive skin especially if your baby suffers from eczema
Anmababy's Pocket Cloth Diapers are an eco-friendly parents dream. They are composed of chemical-free and environmentally friendly materials to help reduce landfill waste and give your little one a diaper that can grow with them.
Read more
Design
These diapers are also a great way to save money as they are cheaper than many similar cloth alternatives and can save you from the $500-$600 a year costs of disposables. They are available in a multitude of adorable prints to fit any theme or style and can prevent leakage from even the heaviest of overnight wettings.
Effectiveness
These diapers feature a three-row snap system that allows the size to be adjusted from 5 lbs up to 30 lbs. This allows the diapers to be used for premature infants as well as active toddlers without leaking. This is one of the few pocket diaper options currently available that can shrink down small enough to give adequate coverage for preemies as most pocket diapers recommend that your baby weighs at least 8 pounds before use. The outer layer is designed to repel water both internally and externally so you won't have to worry about accidentally getting peed on at the store! The included microfiber liners are not attached to the exterior diaper so they can be easily removed for quick and easy washing. You can even replace the liners with your own if you find that these do not hold up to your child's urinary needs.
Ease of Use
These diapers are budget-option for anyone who is thinking about giving cloth diapering a try and, as a bonus, they include a wet/dry storage bag which can hold your little one's dirty diaper without leaking or smelling.
Criteria Used for Evaluation
Design
The criteria that were used to determine which diapers might be the best for babies' bottoms was pretty lengthy. We know how important your little one is, so the diapers that made the list were carefully considered from every aspect. While doing extensive research, we thought about how well they meet babies' and parents' needs, the materials that each diaper is made of, convenience and ease of use, and whether there are organic options. The design of the diaper, like if it's slim fitting or a little bulky, was taken into consideration and even the cute design itself. We looked at companies and if they were socially responsible and strived to make life with a baby easier for parents and caregivers that was also taken very carefully into consideration.

Effectiveness
Even though there are is a wealth of information regarding disposable diapers versus cloth, the debate between the two still continues. Disposable diapers take almost 500 years or more to decompose and there are many positive sides when choosing cloth. However, we are not taking part in the great debate. We're just here to help give parents and caregivers a little more information to help them choose what is right for their families. In the end, it is your choice, and we're here to help make that choice a little easier while keeping your baby comfortable, happy and healthy.
Ease of Use
We know each baby is different and has different needs. It's not always easy to take care of babies, but it is the most rewarding thing you can do and we strive as parents to give them the best of the best. That's why we considered how each cloth diaper was made, where the materials are sourced, how well they'll fit and if they're adjustable. We looked at diapers with customizable options that allowed them to be used well into potty training days. We looked at whether the diapers make changing a squirmy toddler easier or if they're convenient for busy families. Many families must have a caregiver for their baby and we also considered how simple it would be for those who are unfamiliar with using cloth diapers.
Most Important Criteria
(According to our experts opinion)
Experts Opinion
Editors Opinion
Users Opinion
By Default

Parents, Did You Know?
When using cloth diapers something that makes life easier is a wet bag. This is a lined bag that you can place the dirty diapers in until they hit the washer. It is great for when outside of the house and when at home as well.
Parents, Did You Know?
Always be careful with what creams that you are using on the bottoms of your little one when using a cloth diaper. They can affect the quality and design of the absorbency.
Other Factors to Consider

Comfort
We all just want our babies to look and feel their best. We considered whether these were hard to fit, if babies are able to pull their diapers off, or the options that are out there for a baby who has sensitive skin. We took each of these special needs into account when we created our top 10 list. We wanted to make sure that each of these diapers is simple to use, durable and come in more than one color. Some even come in gender-neutral colors which is versatile for households with multiple babies. Most of all, we looked for cloth diapers that really work and can stand the test of time.

Logic
The decision to cloth diaper is yours. Which cloth diaper best suits your budget and your baby is not always as simple as we think it should be. You have enough to do so we did the research for you and compiled our findings into this list. With a little bit of trial and error, you are sure to find a cloth diaper that both you and your baby love.
Frequently Asked Questions
q:

How many cloth diapers do I need to get started?

a:

Well, that depends on many factors such as the age of your baby and whether you are using cloth diapers exclusively. If you are only using cloth diapers, and no disposables, you must consider how often you want to launder them. Infants can use around a dozen diapers daily and toddlers use a little less, maybe six or eight. You want to ensure that you always have clean diapers to put on your baby, so you need at least two dozen. Depending on the type of cloth diaper you decide on, you'll probably need to have at least a dozen liners as well. This quantity, along with half a dozen diaper covers, should allow you to launder every other day.
q:

How do I wash cloth diapers?

a:

Again, there is a little leeway here depending on personal preference and the type of diapers you choose. Most come with manufacturers' directions. The majority recommend something similar to this. Remove solid soiling in the commode and rinse. Run them through a warm rinse cycle in the washing machine then let them soak in hot water with the recommended detergent before laundering. Some diapers can be tumble dried while others must be line dried and certain materials release stains easier.
q:

How long does a cloth diaper last?

a:

Many cloth diapers are engineered to grow with babies until it is time to potty train. However, there are many factors that will affect the life of the product. The number of diapers you have and how often they must be used is a consideration. The type of detergent used can affect the life of the diaper as well. The fastest way to shorten the life of a cloth diaper is to tumble dry. Sometimes it is just plain necessary, but a dryer is very hard on clothes and diapers and it will shorten their lifespan.
q:

Do cloth diapers really cut down or prevent diaper rash?

a:

If used properly, they certainly can. Many cloth diapers are made with super-soft or organic materials that are gentle on baby's delicate skin. Most of them do not contain the same harsh chemicals that disposable diapers do, which also helps prevent diaper rash. Of course, if a baby sits in a wet diaper, it will eventually get diaper rash no matter what the diaper is made of. So cloth diapers and frequent diaper changes can prevent diaper rash.
q:

Is a hybrid cloth diaper as good as a regular cloth diaper?

a:

Absolutely, it is. A hybrid cloth diaper is designed so that caregivers can use cloth or disposable inserts for convenience. These are washable and reusable diapers. This helps customize each baby's protection to their circumstances. Hybrid diapers are just as good as cloth diapers with the convenient option of using a disposable insert instead of a washable. This can be great on long car rides and in daycare centers.
q:

Will switching to cloth diapers save me money?

a:

can certainly save you money if you get started with that in mind. It's easy to go overboard with all of the cute designs and available accessories which make life easier, especially with a baby. It also depends on whether you are diapering one or more children. There are many online cost calculators available to help you decide if the bang is worth the buck. Another thing to take into consideration is the resale value. If your cloth diapers are cared for properly, you may be able to sell them when you are finished and make some of your money back.